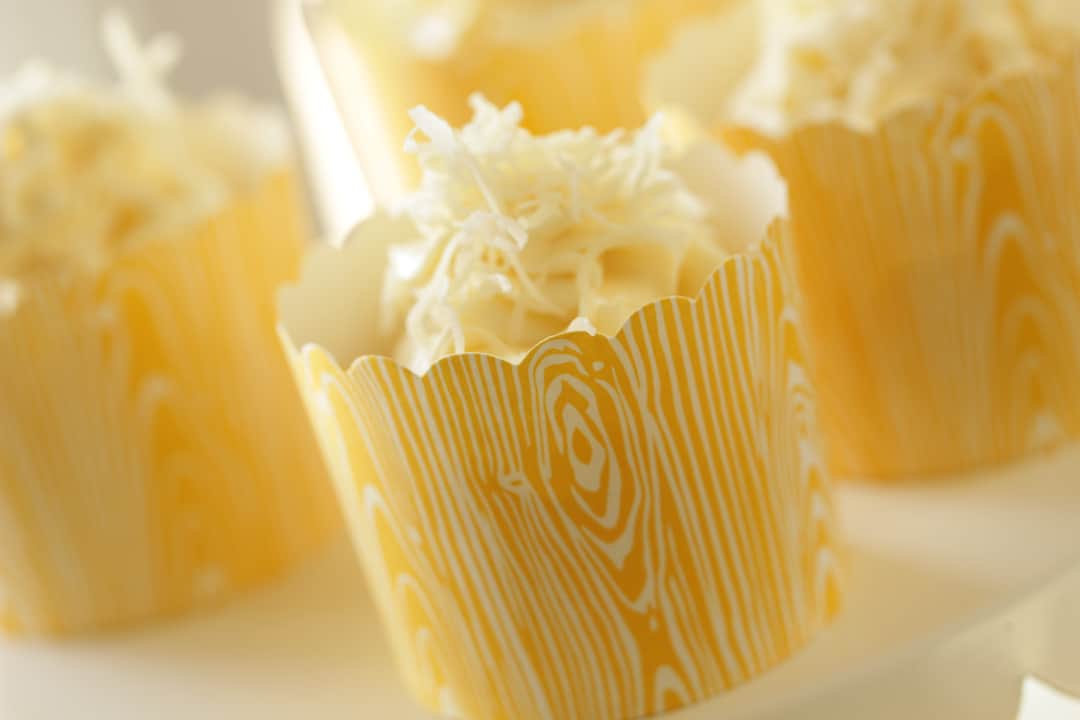 Spring is a great opportunity to host a baby shower or bridal shower!  For these occasions I always like to serve something dainty and sweet for dessert. And even better if the treat can be enjoyed on one's lap 🙂  This is why I LOVE these adorable little baking cups from Simply Baked. Your guests can eat them right in the cups with little spoons and it makes the whole thing so easy and elegant.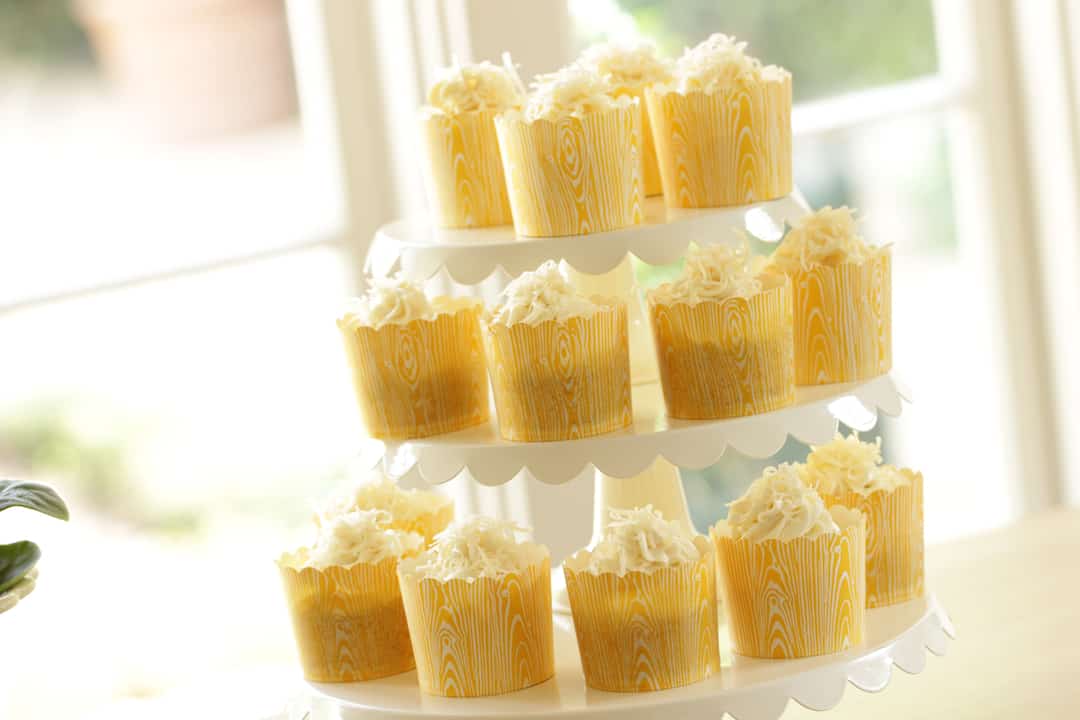 The other nice thing about this recipe is that it can be easily adapted to make them Gluten-Free or Vegan.  Vegan Recipe, adapted from my favorite Vegan Cooking Blog Hot For Food follows.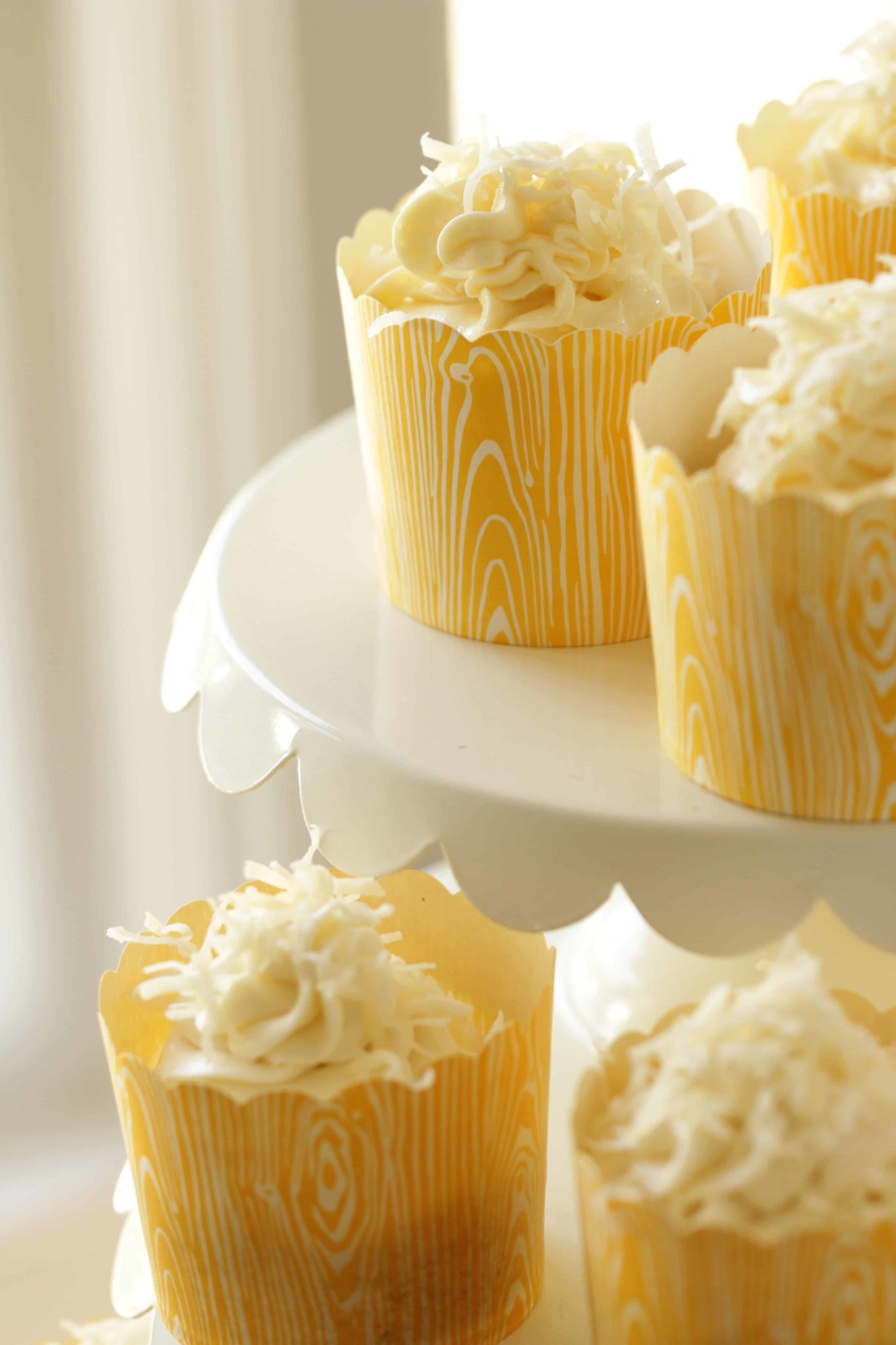 And to make these Gluten-Free just swap out the flour for Gluten-Free Flour and use Gluten-Free Baking Powder. Easy peasy!
For ultimate "cuteness" you can then identify your cupcakes with these handy little food flags. How cute are those?!
For a step-by-step tutorial watch my video demo.  SUBSCRIBE TO MY YOUTUBE CHANNEL and never miss a recipe! (it's free!) and new videos post each Saturday!

Print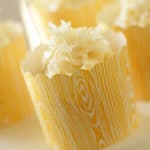 Beth's Banana Coconut Cupcake Recipe
---
Author:

Prep Time:

45 mins

Cook Time:

25 mins

Total Time:

1 hour 10 mins

Yield:

12 cupcakes

Category:

Dessert

Cuisine:

American
Ingredients
2 ripe bananas
2 eggs
¾ cup (150 g) sugar
¾ cup (180 ml) Canola oil
½ cup (120 ml) water
1 tsp (5 ml) vanilla
1 ¼ cup (150 g) flour
1 tsp (5 ml) baking powder
½ tsp (2.5 ml) salt
FROSTING:
16 oz (460 g)cream cheese
½ cup (50 g) powdered sugar
1/3 cup (80 ml) milk
1 tsp (5 ml) vanilla extract
GARNISH:
½ cup (120 ml) Sweetened Coconut Flakes
---
Instructions
METHOD:
Preheat oven to 400F/(200C)
In a large bowl mash two very rip bananas into a paste. Add eggs, sugar, oil, water, vanilla. Whisk until combined.
In a small bowl combine flour, baking powder, and salt. Whisk until combined.
Slowly add the dry ingredients to the wet ingredients until combined.
With an ice cream scoop, scoop 1 scoop of batter into each baking cup.
If using the Simply Baking Cups bake for 25-27 mins until golden brown and baked through. If baking in regular muffin papers bake for 20mins-22 mins until golden brown and baked through.
Allow to cool completely.
Combine the cream cheese, sugar and vanilla in the bowl of an electric mixer and beat until smooth. Add milk and beat until combined.
Transfer frosting to a pastry bag fitted with a star tip. (I really like the Wilton 2D tip for these)
Pipe a mound of frosting and dust with the coconut.
Print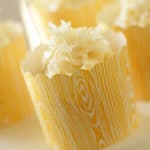 Hot For Food's Vegan Version
---
Author:

Prep Time:

25 mins

Cook Time:

20 mins

Total Time:

45 mins

Yield:

12

Cuisine:

Vegan
Ingredients
1 cup (120 g) all-purpose flour
¼ cup (30 g) almond meal
1 tsp (5 ml) baking powder
¼ tsp (1.25 ml) baking soda
½ tsp (2.5 ml) sea salt
1 cup (240 ml) soy milk
1 tbsp (15 ml) apple cider vinegar
¾ cup (150 g) organic sugar
1/3 cup (80 ml) coconut oil (melted)
1 tsp (5ml) vanilla
2 very ripe bananas, mashed
FROSTING:
1 C powdered sugar
1/4 C earth balance buttery spread (room temperature)
1/4 tsp vanilla extract
1/2 tbsp warm water
1 vanilla bean, scraped
---
Instructions
Pre-Heat oven to 350F (176C)
Combine apple cider vinegar and soy milk together and set aside for 10 minutes to curdle.
In another bowl combine flour, almond meal, baking powder, baking soda, and sea salt. Set aside
Whisk sugar, coconut oil, mashed bananas and vanilla extract into the curdled soy milk mixture.
Add wet ingredients to dry ingredients and mix until just combined (don't over mix).
Scoop cupcakes into liners or muffin tip and bake at 350F (176C) for 20 minutes.
Allow to cool and frost with Hot For Foods Buttercream Frosting.
FOR FROSTING:
Slice the outer rind of the vanilla bean length wise and open up with a butter knife.
Scrap the inside of the vanilla bean with the tip of the knife and remove as much of the vanilla bean as possible.
Put the paste in a bowl along with the remaining ingredients and beat together with a hand mixer until smooth.
Transfer the icing with a spatula to a piping bag fitted with a piping tip of your choice. Frost the cupcakes as desired.
Top with sweetened coconut flakes
Serve immediately at room temperature. Store left over cupcakes in the fridge and remove from the fridge 10-15 minutes before serving/eating again.