Bacon Cheddar Potato Soup Recipe
This Bacon Cheddar Potato Soup Recipe is the perfect comfort food for cold weather cooking! It's one of the easiest potato soup recipes to make and will last throughout the week.
For a potato soup without bacon or cheese, try my Classic Potato Leek Soup without Cream. Another wonderful soup to try!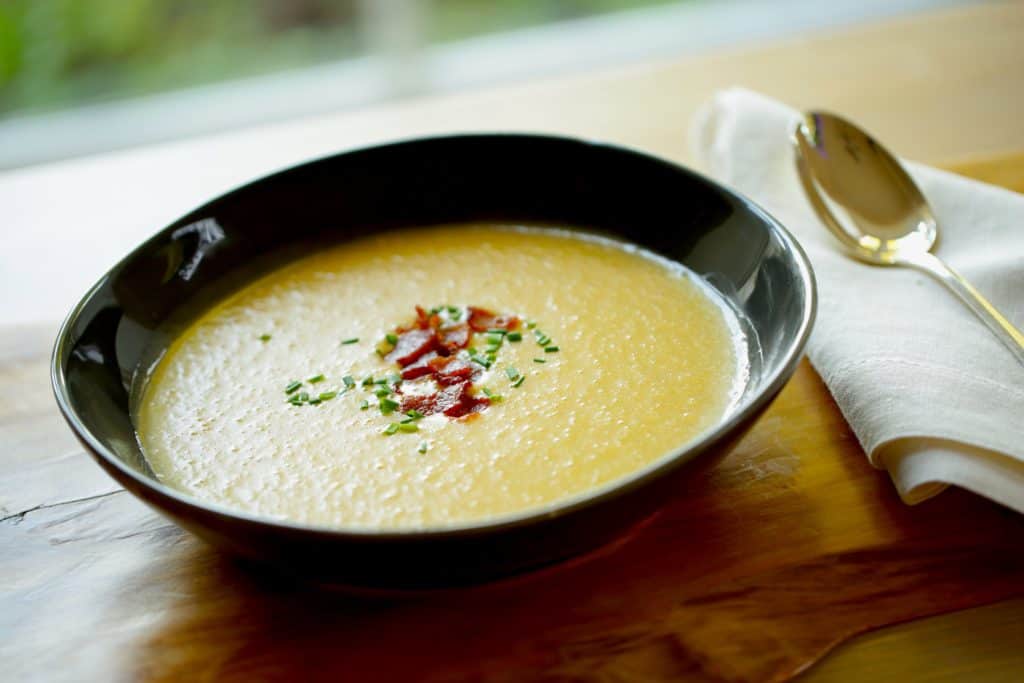 Watch my Video Demo of This Soup Recipe Below!
Subscribe for weekly recipes
and new videos!
Step#1: Dice and fry the Bacon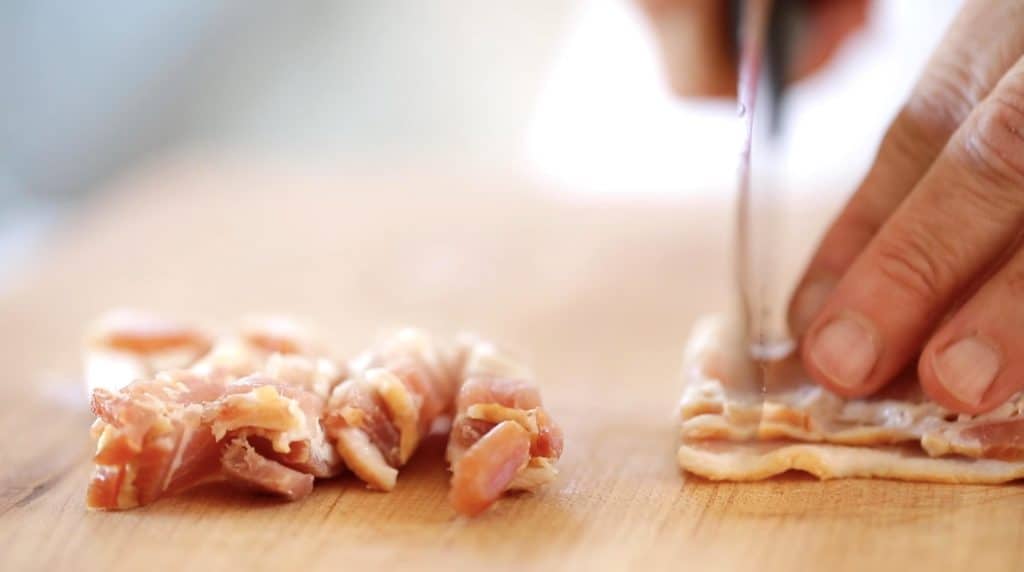 Cut the bacon into bite-sized pieces then fry it in a dutch oven until crispy. I find the bacon fat is enough to fry the bacon in, no need to add any additional fat.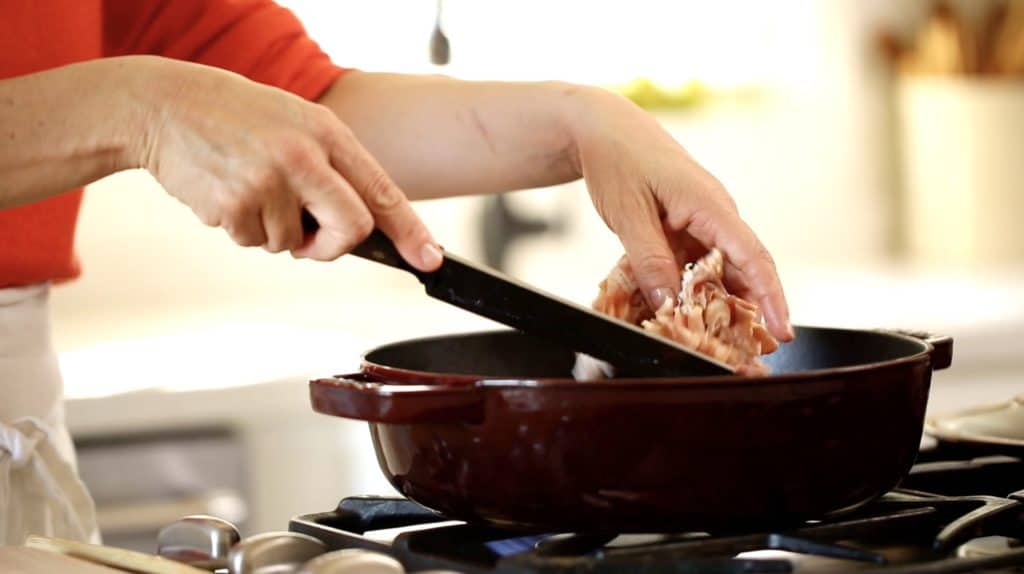 Step#2: Cook Veggies
Next sauté the onions and celery until soft and fragrant. It's best to do this in a Dutch oven, or large soup pot, so you can build upon the flavors and accommodate all the broth.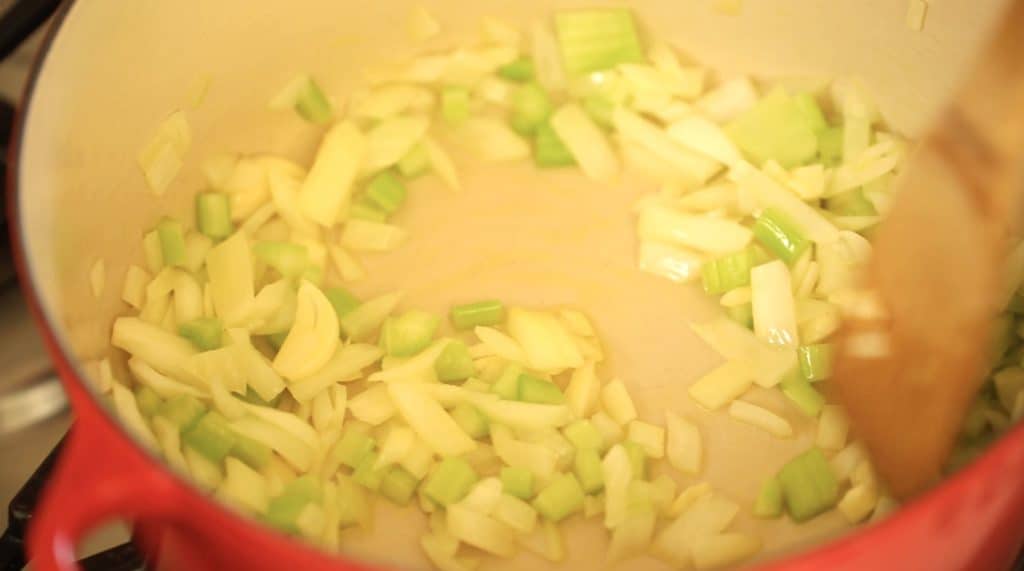 Step#3: Add Potatoes
Just be sure they are cut into cubes and are roughly the same size. This will allow them to cook at the same rate. I like to use russet potatoes for this recipe, because I think they create a creamier soup.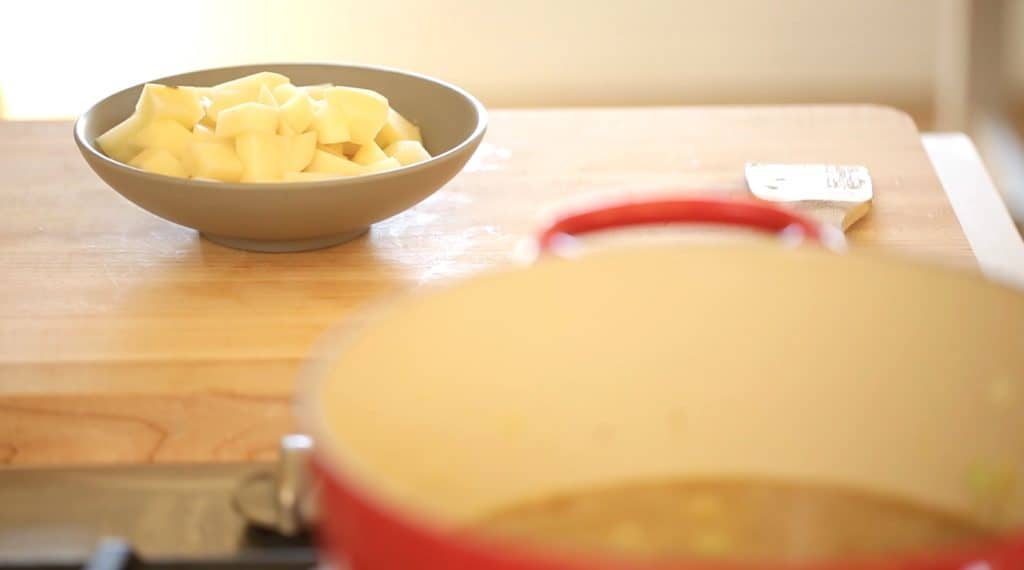 Step#4: Add Chicken Broth
You could use vegetable broth too, but I find the chicken broth will give you more flavor and will create a richer tasting soup.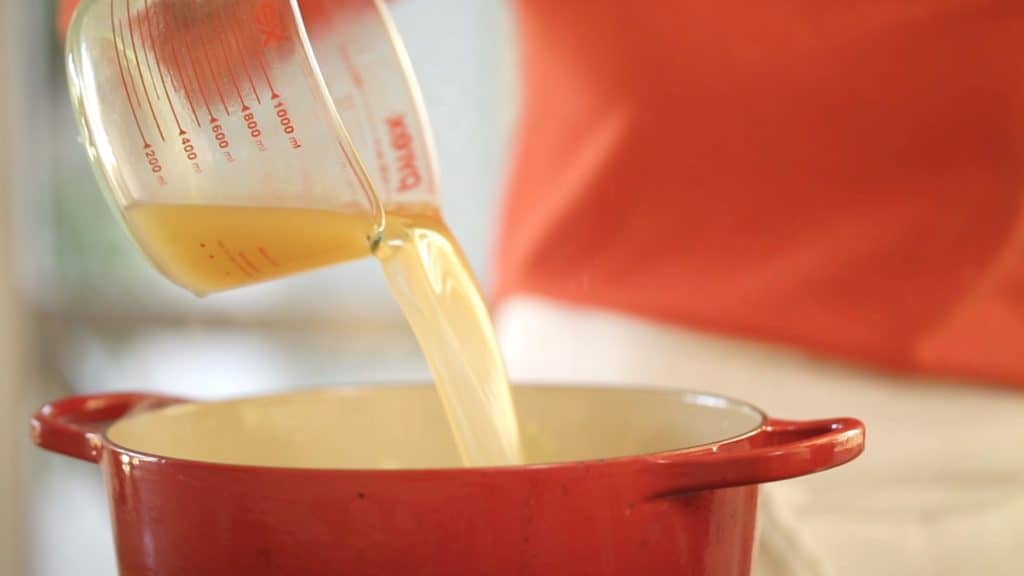 Step#5: Blend!
Once the potatoes are tender you can blend the soup on high until smooth. If your blender has a soup setting, this is a great time to try it out. It will heat the soup as it blends it, which not only helps to puree the vegetables, but will keep your soup warm too.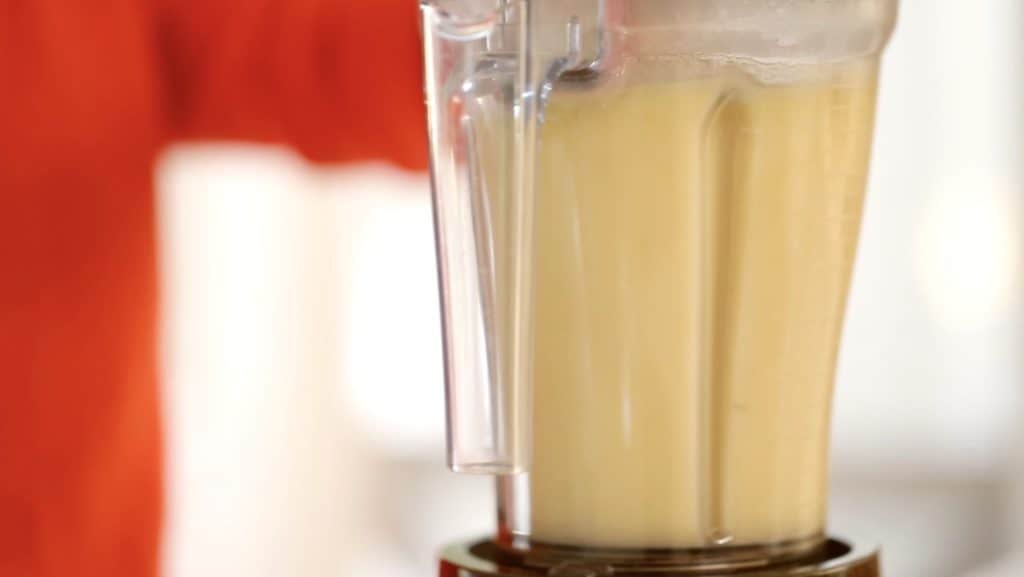 Transfer to a Cleaned Out Stock Pot
Place the soup back in the pot to re-heat. The Pot should be cleaned out and free of any residue or vegetables. This will ensure a smooth and creamy texture.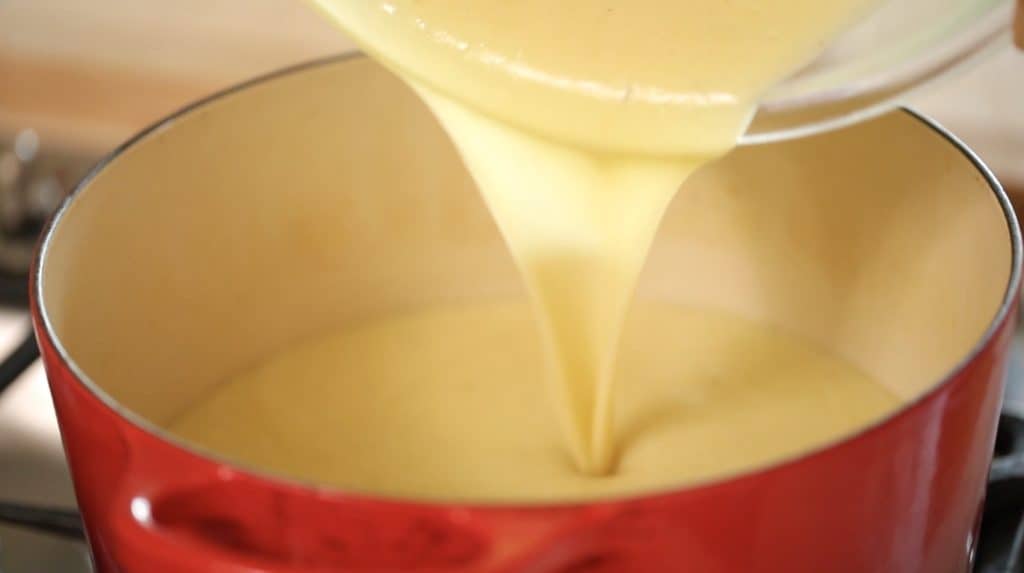 Step#6: Add the Cheese, Chives and Bacon
Then all you have to do is stir in the cheddar cheese until melted. I like to use sharp cheddar cheese for the best flavor. Having the cheese already grated also helps it melt quickly and evenly.
Then ladle the soup into bowls and garnish with chives and the crispy bacon.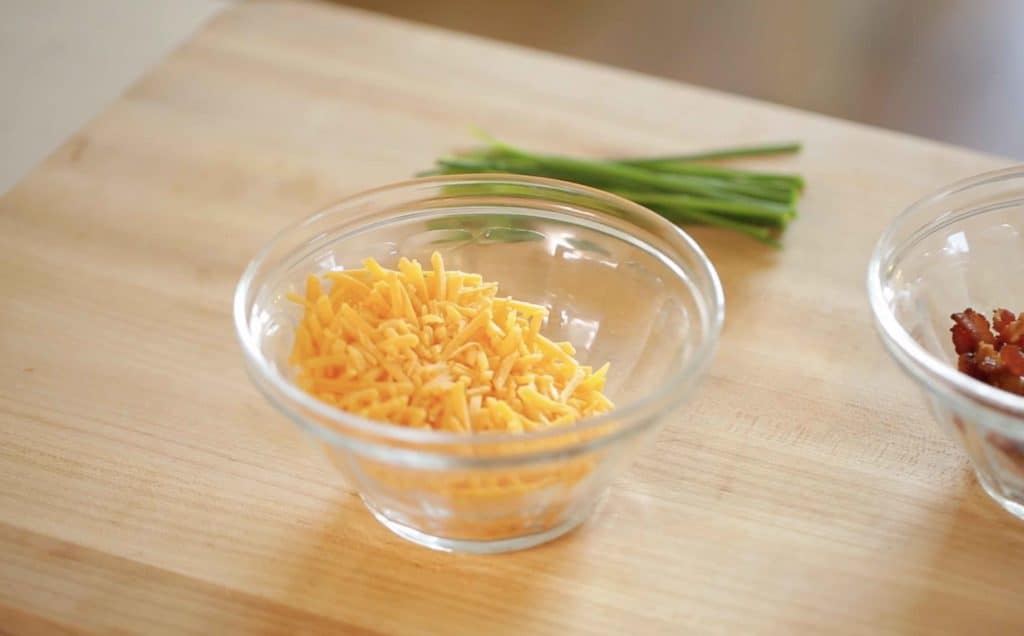 Et voila! The most delicious Potato Cheddar Bacon Soup is yours! As far as soup recipes go, this one is hands down, my favorite. It's like a warm, cozy blanket that's sure to soothe the body and soul.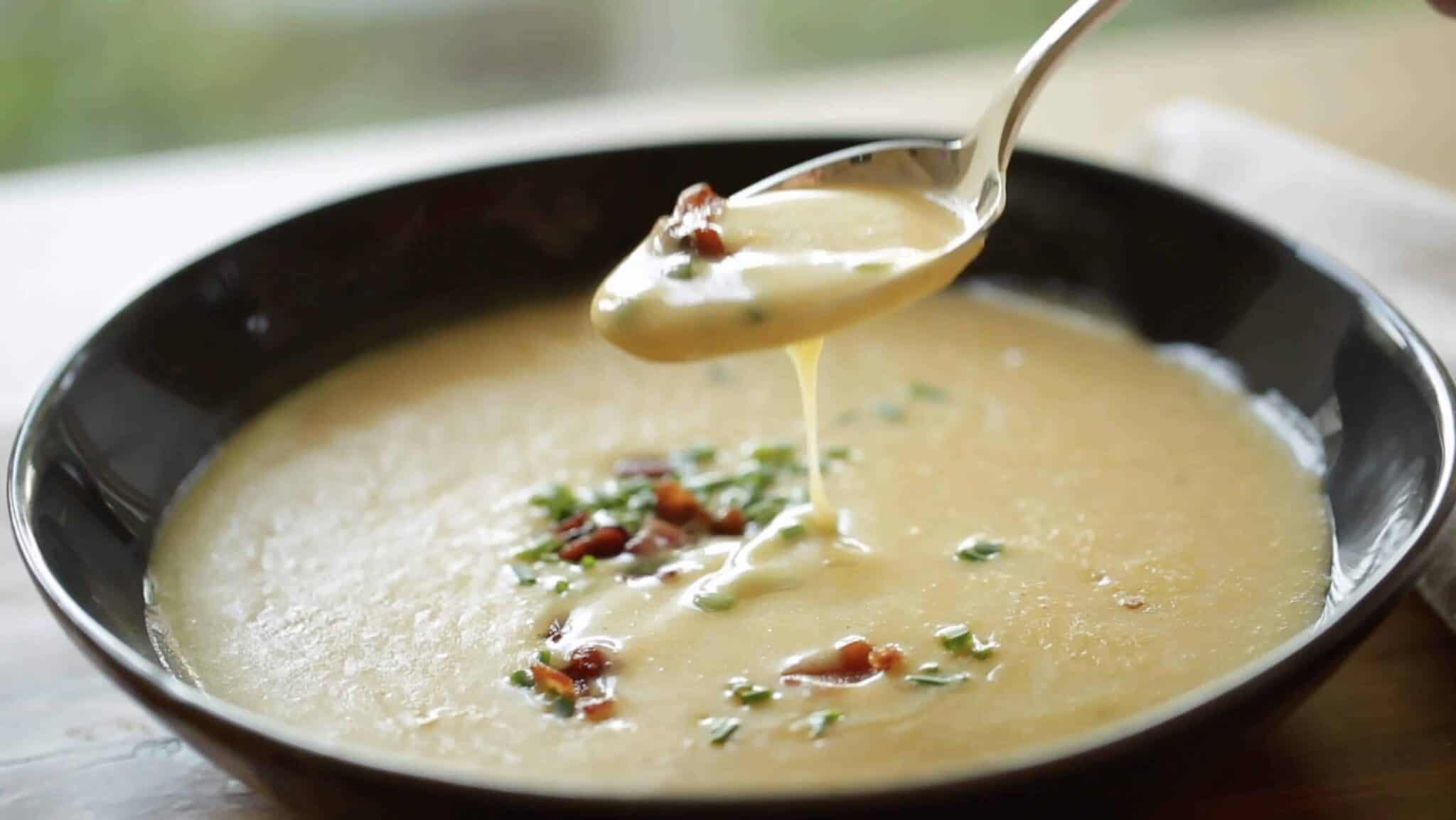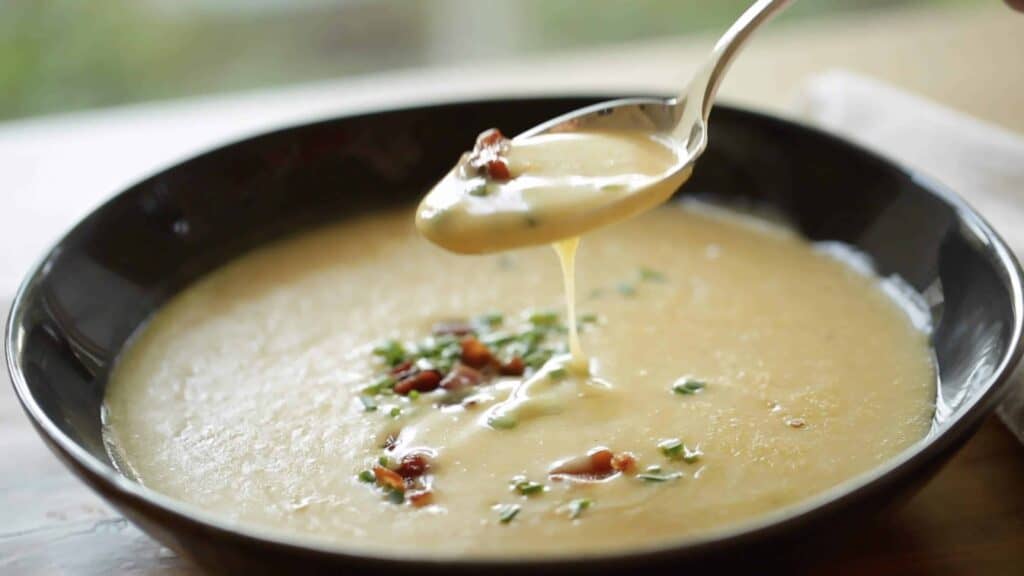 More Potato Recipes You'll Enjoy!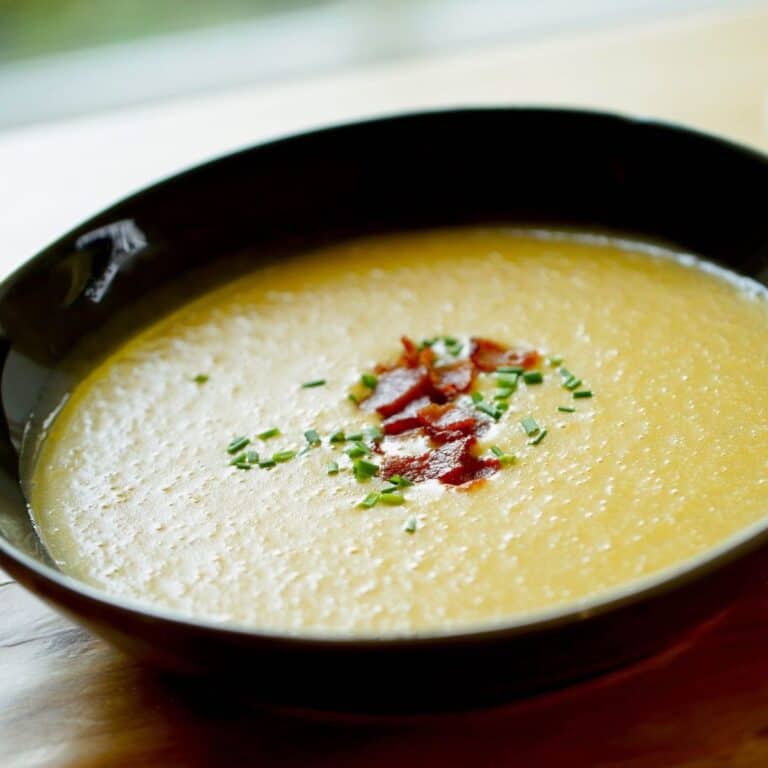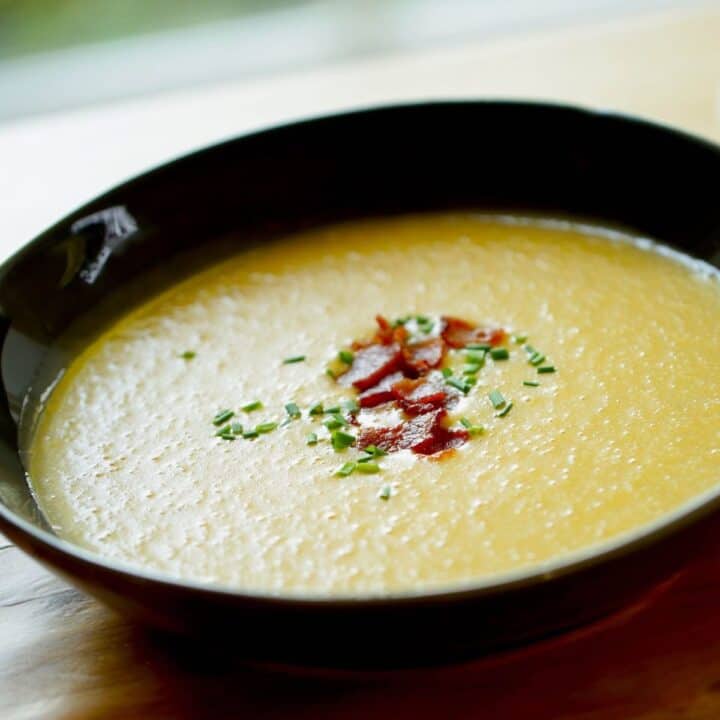 Bacon Cheddar Potato Soup
This Bacon Cheddar Potato Soup Recipe is the perfect comfort food for cold weather cooking! It's one of the simplest soups to make and will last throughout the week.
Ingredients
5 slices of bacon, cut into ½" (13 mm) strips
1 tablespoon (15 ml) olive oil
1 ½ (225 g) cup onion
¾ cup (110 g) celery, diced
2 garlic cloves sliced
4 cups (950 ml) chicken broth
1 large russet potato, peeled and cut into 1" (2.5cm) cubes
¾ cup (180 ml) sharp cheddar cheese
1 tablespoon (15 ml) chives, minced
Instructions
Heat a large Dutch oven over medium-high heat. Cook bacon until golden brown and crispy. Transfer with a slotted spoon to a plate lined with a paper towel to drain. Set aside.
In a large clean Dutch oven, heat olive oil. Add onion, celery and garlic and cook until fragrant and fork tender. Add chicken broth. Add potatoes. Cover and simmer for 15 mins or until potatoes are soft.
Transfer soup to a blender and puree until smooth. Transfer back into the Dutch oven and add cheese, season with salt and pepper to taste.
To serve ladle into shallow bowls, top with minced chives and crispy bacon.
Notes
Russet potatoes work best for this soup. They will contribute to the soup's creamy texture!
Nutrition Information:
Yield:

4
Serving Size:

1
Amount Per Serving:
Calories:

293
Total Fat:

13g
Saturated Fat:

4g
Trans Fat:

0g
Unsaturated Fat:

9g
Cholesterol:

27mg
Sodium:

632mg
Carbohydrates:

28g
Fiber:

2g
Sugar:

6g
Protein:

15g