Traditional Potato Salad Recipe with Bacon
This Traditional Potato Salad recipe with Bacon is an American classic guaranteed to be devoured at any summer cookout. You'll love this recipe because it's quick and easy and can be made hours ahead of time! Just reserve the crispy bacon until right before serving. This will keep it crispy on top!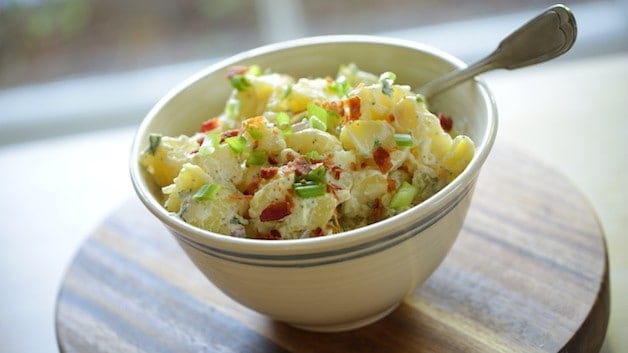 No Love for Mayonnaise?
Potato salad is typically made with mayonnaise. But many potato salad lovers have a love-hate relationship with mayo, so if mayo is not your thing, check out my recipe for No-Mayo Potato Salad made with vinaigrette which is also in the video demo below (in the recipe card).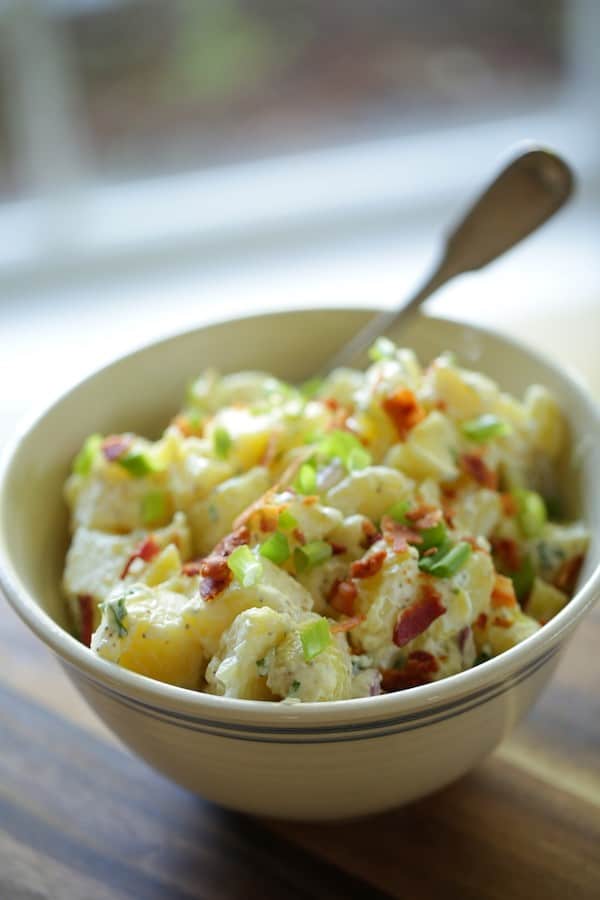 What to Serve with This Recipe:
What Are The Best Potatoes To Use for Potato Salad?
Personally, I find the "waxy potatoes" are best for potato salad since they hold their shape. Unlike a starchy potato, such as a Russet, which doesn't hold its shape well after boiling. However, Russets are great for mashed potatoes!
One of my favorite waxy potatoes is a Yukon Gold potato. Personally, I love them for the buttery flavor they give to the recipe.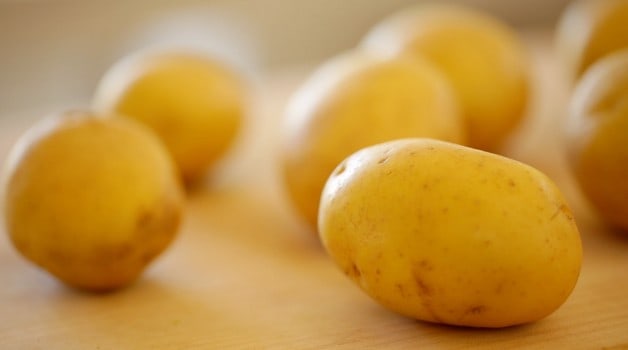 Do You Need To Chop Potatoes Before Boiling?
Personally, I say NO. All you need to do is peel them first.
If you chop them, they will become waterlogged and mushy.
Keeping the potato whole protects the potato from absorbing too much water.
You can chop them after they are fully cooked and cool.
Watch My Video Demo of This Recipe Below
Step#1: Peel and Boil Potatoes
After the potatoes are just fork-tender, carefully strain and allow to cool. When they are cool enough to handle, chop them into bite-size pieces for easy eating.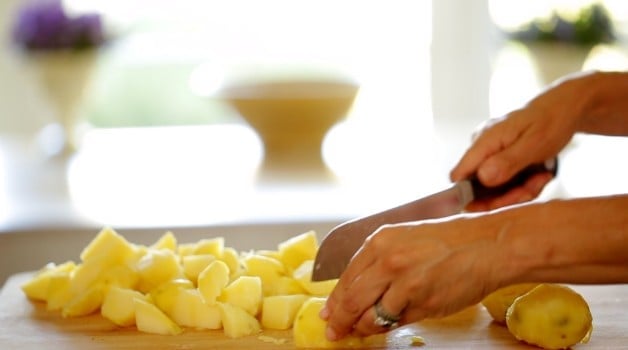 Place the potatoes in a small bowl and set them aside.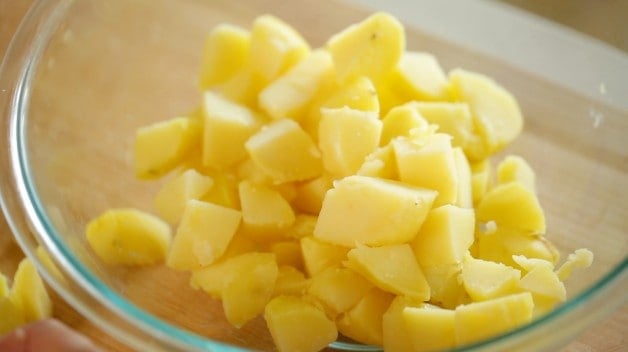 Why Does My Potato Salad Get Watery?
A watery potato salad can be caused by mixing the potatoes while they are too hot or the ingredients used in your potato salad (for example too much vinegar or other liquid).
Make sure to drain potatoes well and allow them to cool to room temperature before mixing.
If you mix them while hot, the potatoes will continue to sweat adding moisture to the salad and then resulting in a watery potato salad.
If you are adding relish or chopped vegetables to your salad, make sure you drain all excess water.
Some vegetables like pickles, celery, or cucumbers can release moisture after they are handled or chopped which can also make a potato salad watery!
Step 2: Make the Dressing
I like to use a combo of both mayo and sour cream to give the dressing a nice smooth and silky texture. They both contribute great flavor with the richness from the mayonnaise and a nice bite from the sour cream.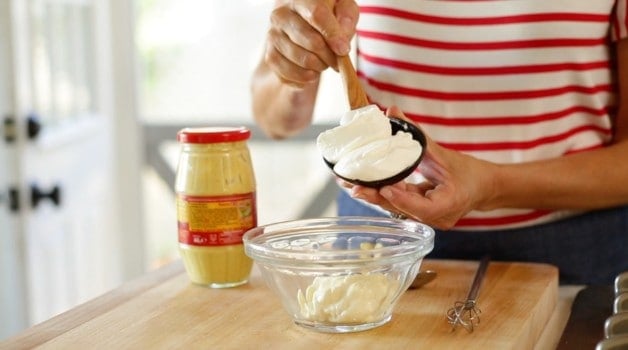 To that base, you'll add a series of other flavorings and textures. I love a bit of mustard for some heat, some celery salt for some classic spice and red onion and parsley for a bit of summer freshness!
Can You Make Potato Salad the Day Before?
Yes! The longer the ingredients in the potato salad sit, the longer the flavors will marry. If you make this the night before, hold off on adding the bacon garnish until serving to avoid soggy bacon. It's much better to have it nice and crisp!
Step 3: Assemble the Potato Salad
Now, pour the dressing over the potatoes and gently stir to combine. I like to transfer this to a serving bowl and top it with chopped scallions. If you really want to jazz it up, add some crumbled bacon for a beautiful finish.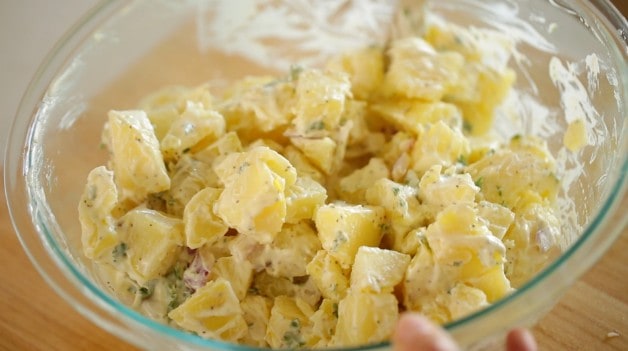 Cooking the Bacon
For this recipe, I actually prefer to cook the bacon in the microwave since it's the quickest and easiest method. And since the bacon gets chopped up, having perfectly formed bacon is less of an issue. I find it's also easier to get it extra crispy in the microwave too.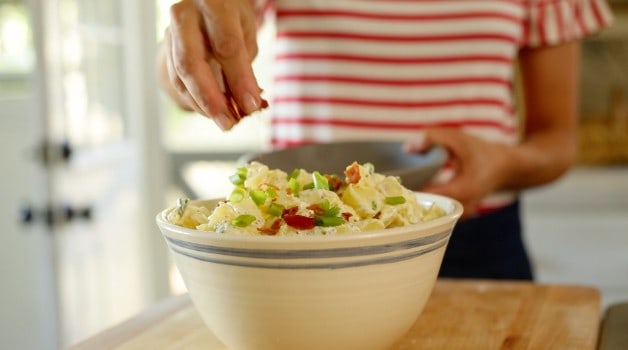 Place your salad in a pretty serving bowl. I love the combination of a classic salad like this, served in something beautiful like this hand-thrown bowl from House Copper
This bowl has been made by a single artisan in Wisconsin, and it is just gorgeous! It comes as a trio in three different sizes. They are heirloom pieces you will treasure for generations.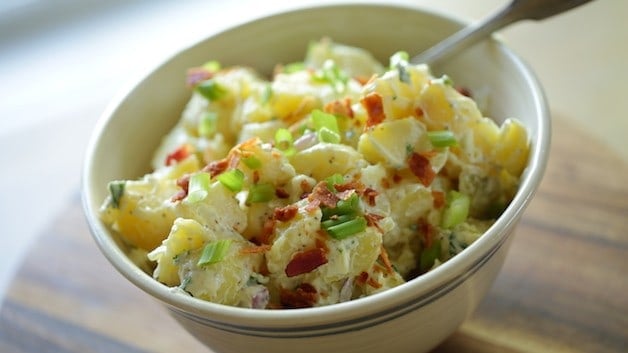 If You Enjoyed This Recipe
Please Leave a Rating and a Review Below!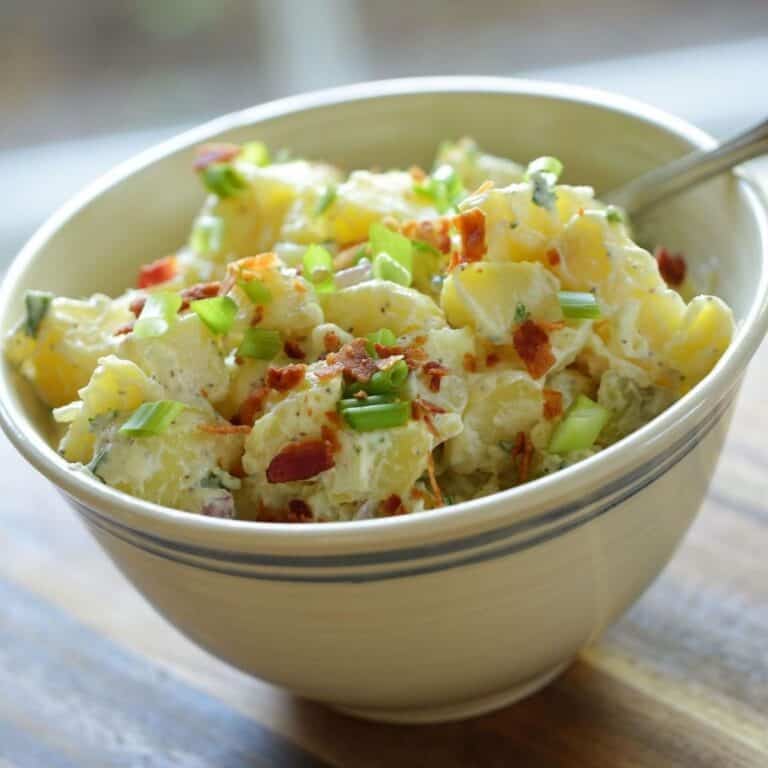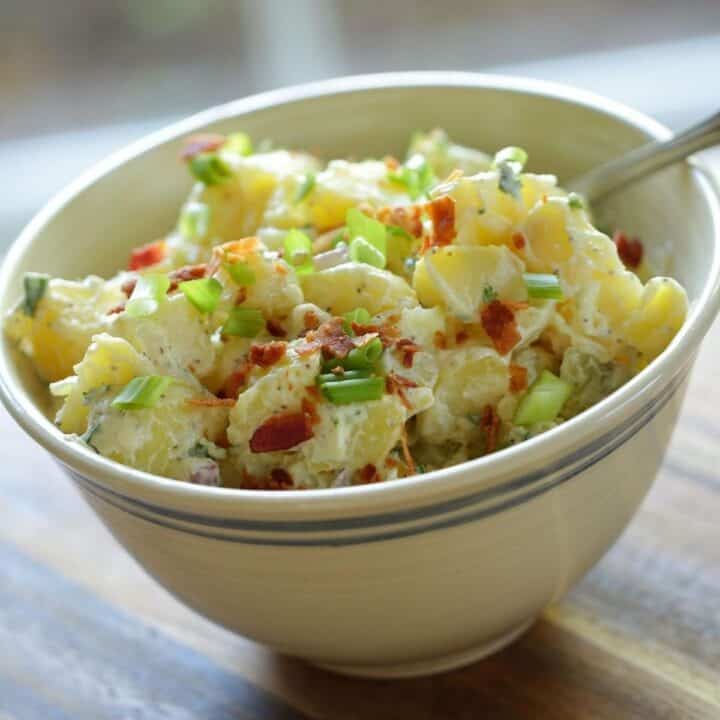 Traditional Potato Salad Recipe with Bacon
Traditional Potato Salad recipe is an all-American classic guaranteed at many summer cookouts. It's a quick and easy recipe to pair with sticky ribs or burgers!
Ingredients
2 ½ lbs of Yukon Gold Potatoes, peeled
⅓ cup (80 ml) mayonnaise
⅓ cup (80 ml) sour cream
2 teaspoon (10 ml) Dijon mustard
½ teaspoon (2.5ml) salt
1 teaspoon (5 ml) celery seed
1 tablespoon (15ml) parsley, chopped
¼ cup (60 ml) red onion, diced
2 scallions, sliced
5-6 sliced cooked bacon, roughly chopped
Instructions
Boil potatoes until fork tender. Allow to cool. Cut potatoes into bit-sized chunks and set aside.
In a small bowl mix together the mayonnaise, sour cream, mustard, salt, celery seed, parsley and red onion. Pour dressing over cut potatoes and toss to combine. Transfer potato salad to a serving bowl.
Top with sliced scallions and crumbled cooked bacon.
Notes
If you cannot find Yukon Gold Potatoes look for "Dutch Babies" or Red Potatoes. These are also waxy potato varieties.
Nutrition Information:
Yield:

8
Serving Size:

1
Amount Per Serving:
Calories:

180
Total Fat:

4g
Saturated Fat:

1g
Trans Fat:

0g
Unsaturated Fat:

2g
Cholesterol:

10mg
Sodium:

174mg
Carbohydrates:

31g
Fiber:

3g
Sugar:

2g
Protein:

7g