Grilled Chicken Sandwiches with Teriyaki Sauce
These Grilled Chicken Teriyaki Sandwiches with homemade teriyaki sauce are a great recipe to make for Dad on Father's Day. It's less predictable than the traditional Burger Recipe but equally delicious!
It's also easier than you think to make your own teriyaki sauce and so delicious too! You'll never go back to anything store-bought once you make your own!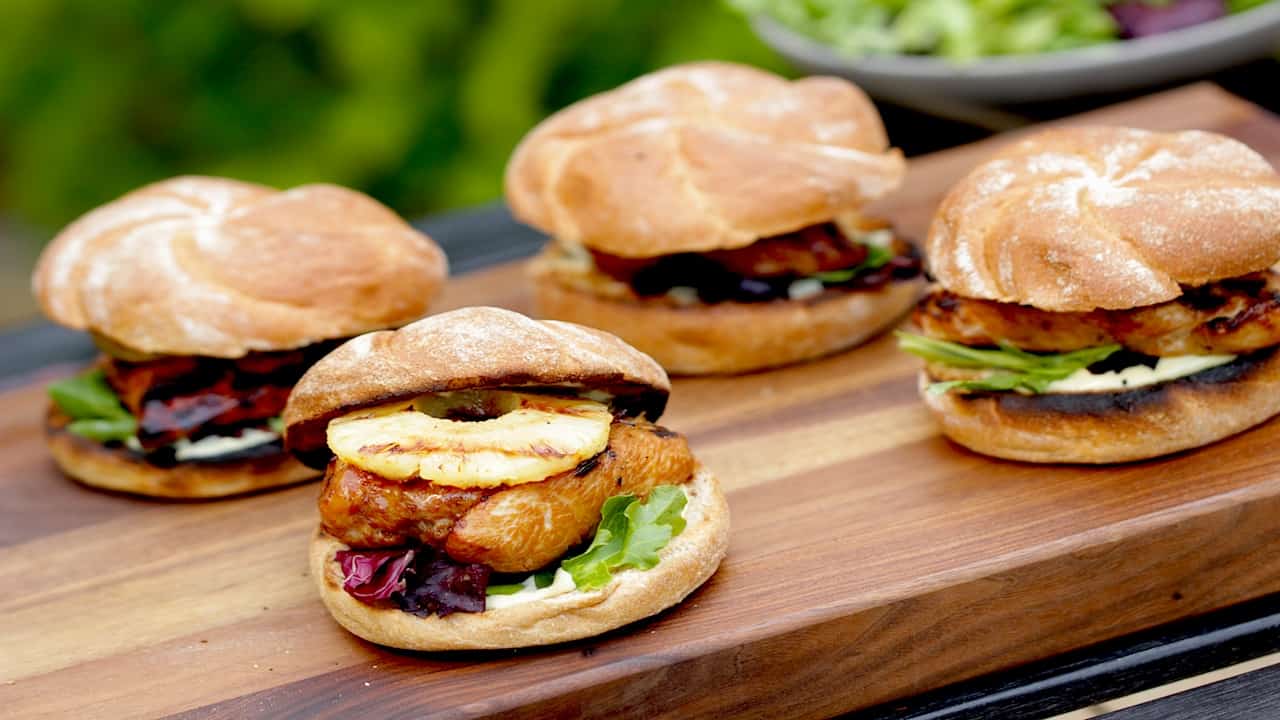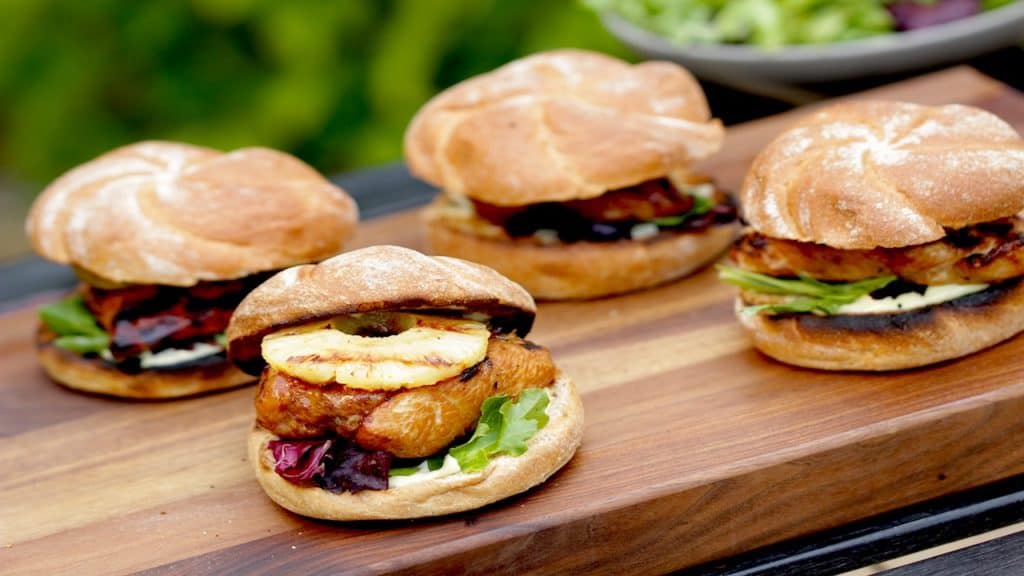 What to Serve with Grilled Chicken Sandwiches?
These sandwiches would pair really well with my Mexican Corn Salad, my Cous Cous Salad or my Traditional Potato Salad.
What's For Dessert?
Try my super easy Triple Berry Campfire Cake! So quick to throw together and so delicious too!
Or try my classic Blackberry Crumbles. Make ahead then bake when you sit down to dinner and serve!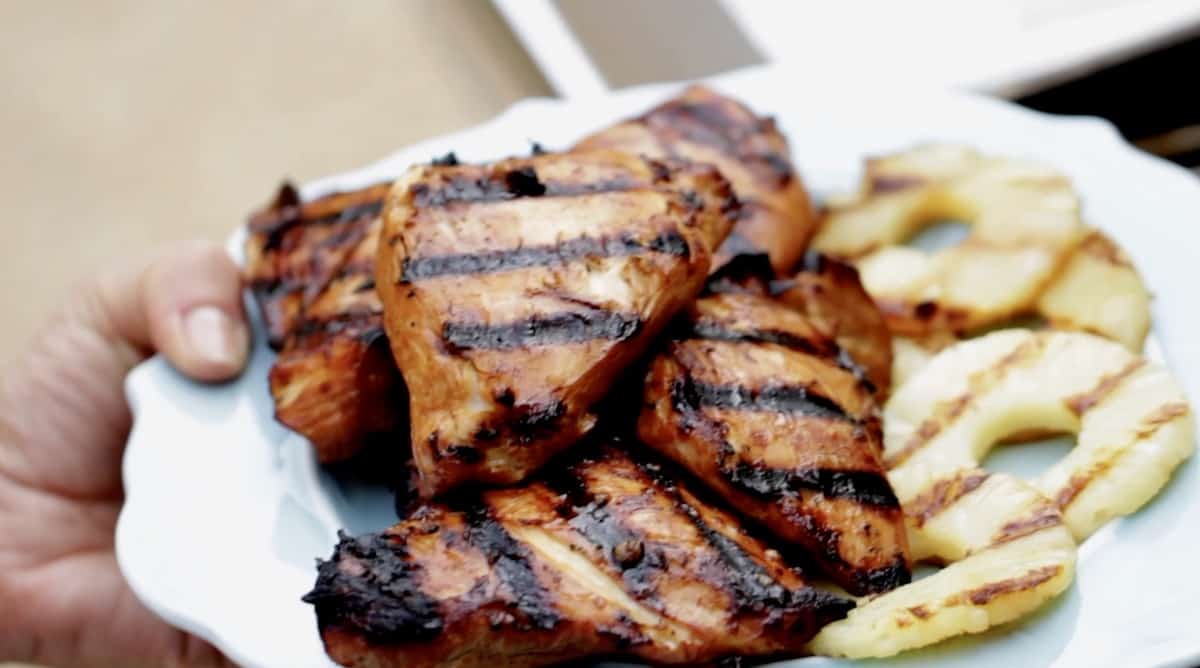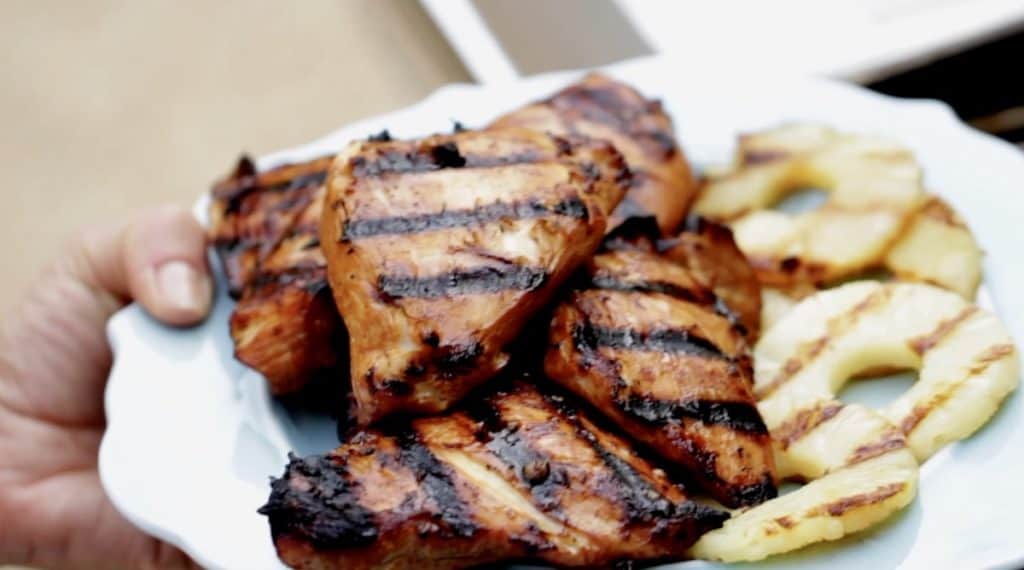 Watch My Video Demo of This Recipe Below!
How To Make Teriyaki Sauce?
Homemade teriyaki sauce is so easy to make, you probably even have all the ingredients on hand. It needs to be made on a cooktop in a medium saucepan to dissolve all the ingredients and marry the flavors.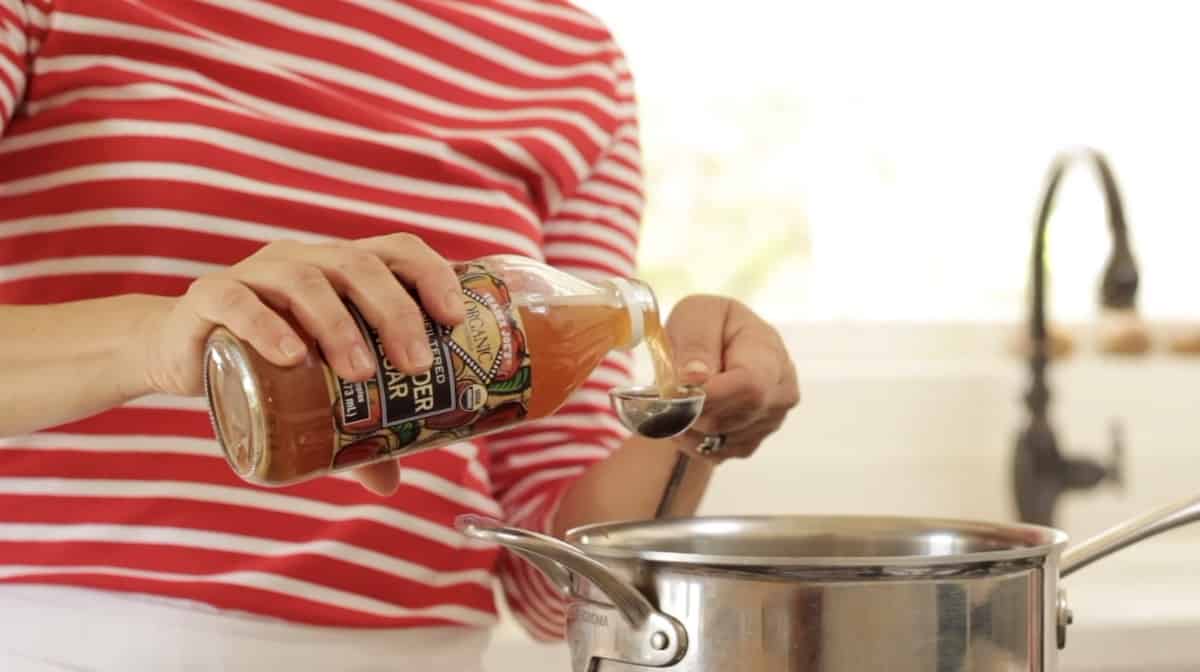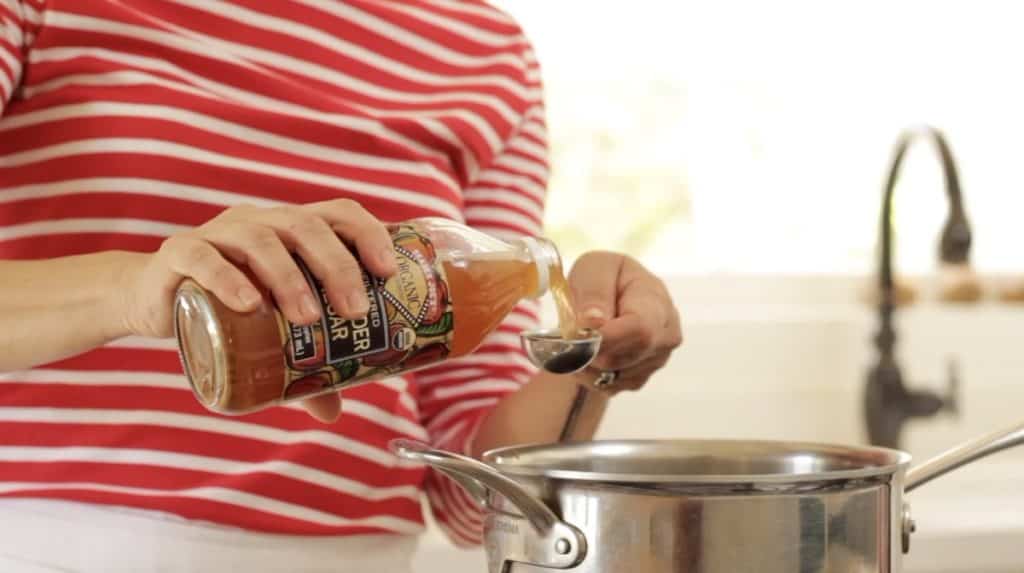 I use teriyaki sauce as a marinade in this recipe, so I don't bother to thicken it, but if you wanted to split the recipe, and use half to marinate the chicken, and the other half as a dipping sauce when serving, you may want to thicken it.
How To Thicken Teriyaki Sauce?
To thicken teriyaki sauce you have two choices:
You can either simmer it until it reduces to the consistency you desire
You can bring the sauce up to a boil and add a slurry of cornstarch.
To make a "slurry" combine 2 teaspoons of cornstarch with 1 tablespoon of water. Stir until combined and then add to the sauce and whisk until thickened.
Be sure you cool the teriyaki sauce completely if you are using it as a marinade. Otherwise, you'll start to cook" the chicken before you are ready.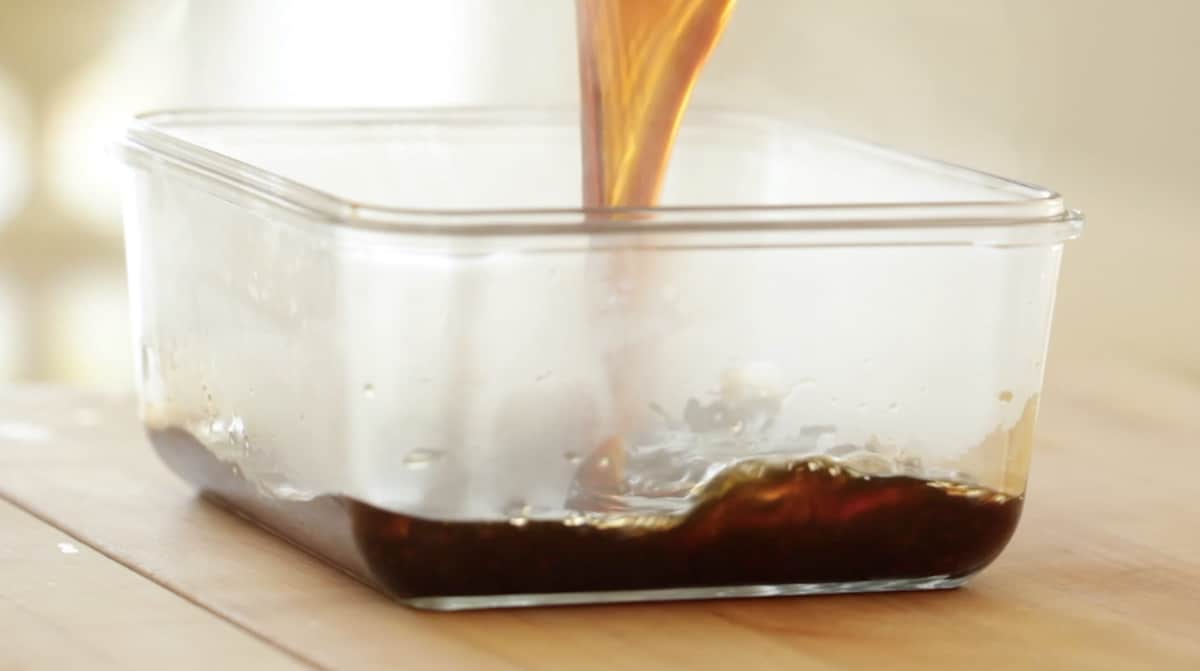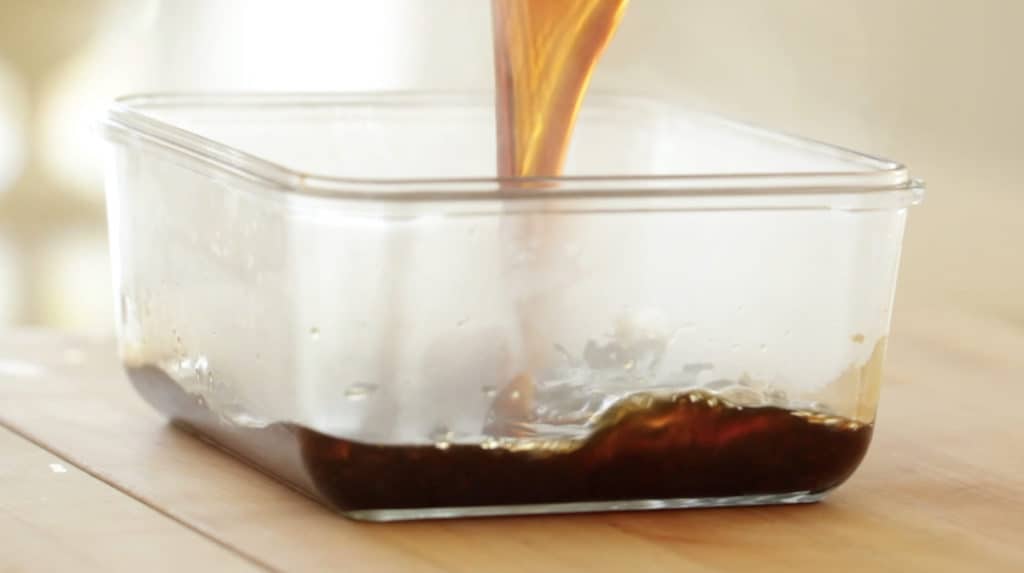 For this reason, I typically make the sauce the day ahead and place it in the refrigerator so it's really chilled before using it as a marinade.
I also think it's better to cut the chicken breasts in half because they will fit in the buns a bit better.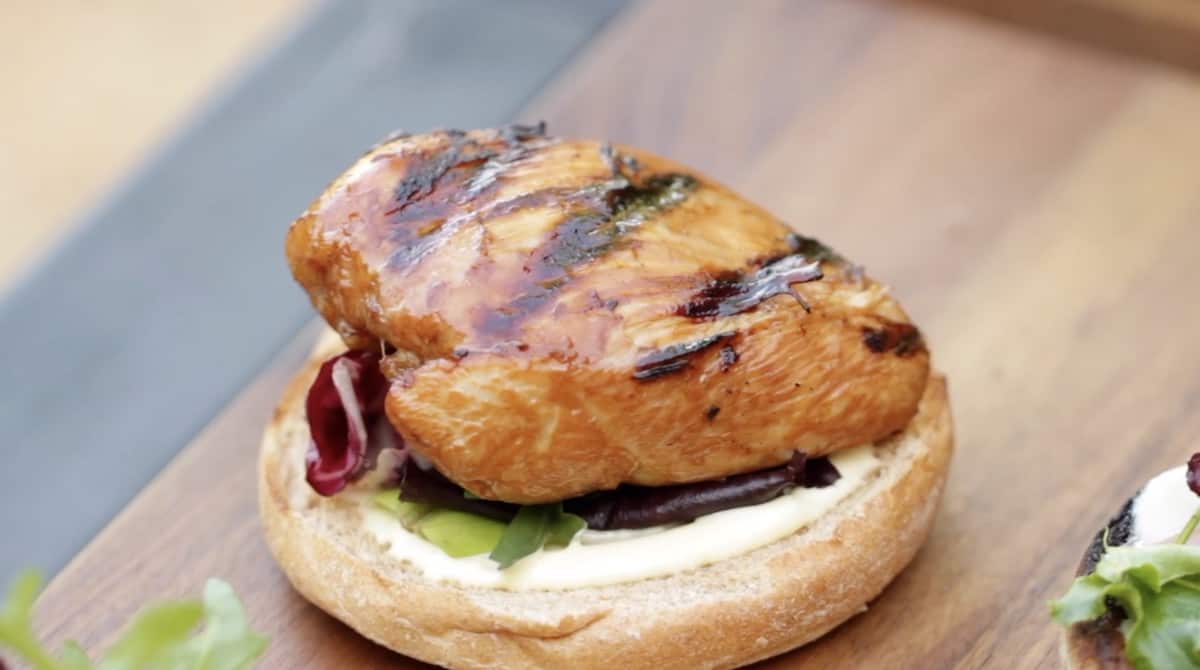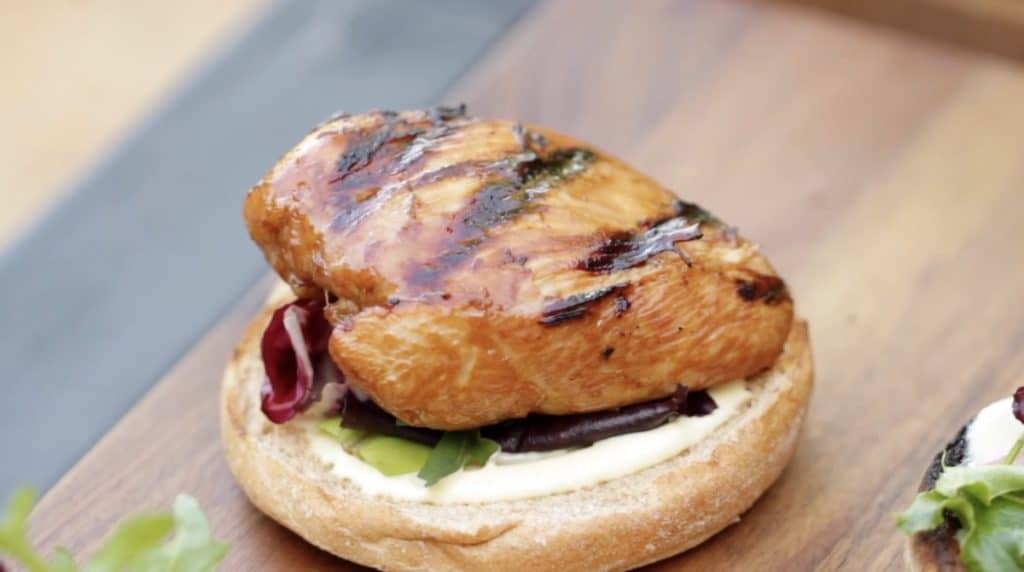 Or you could also grill the whole breast and then slice the chicken to serve it.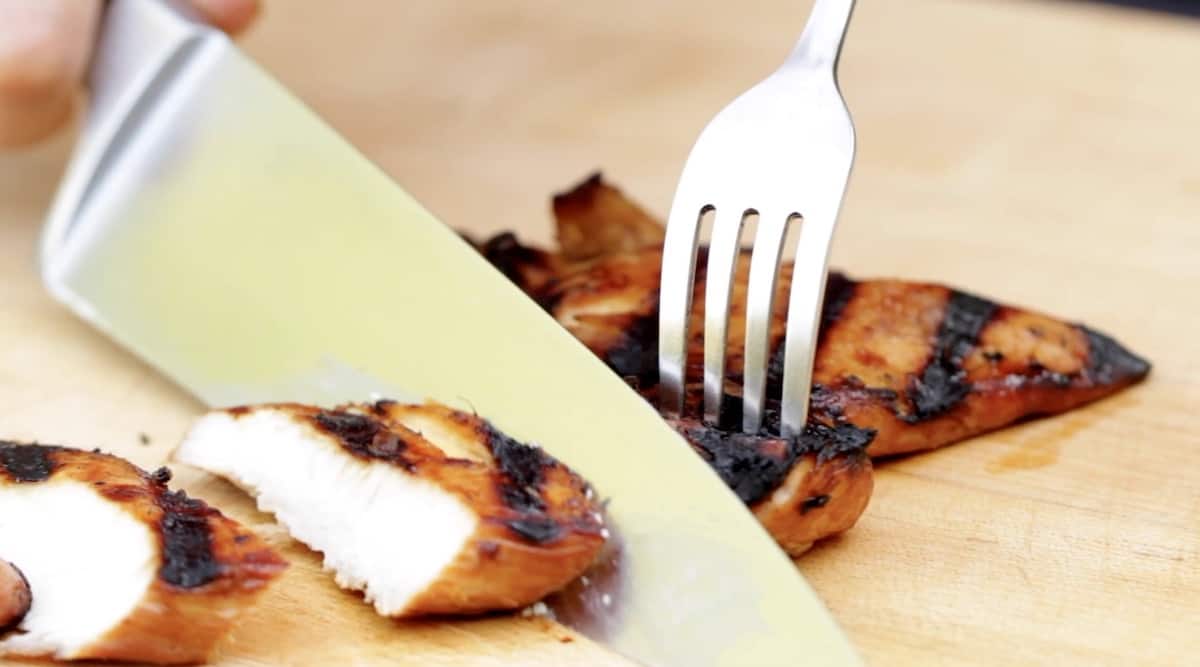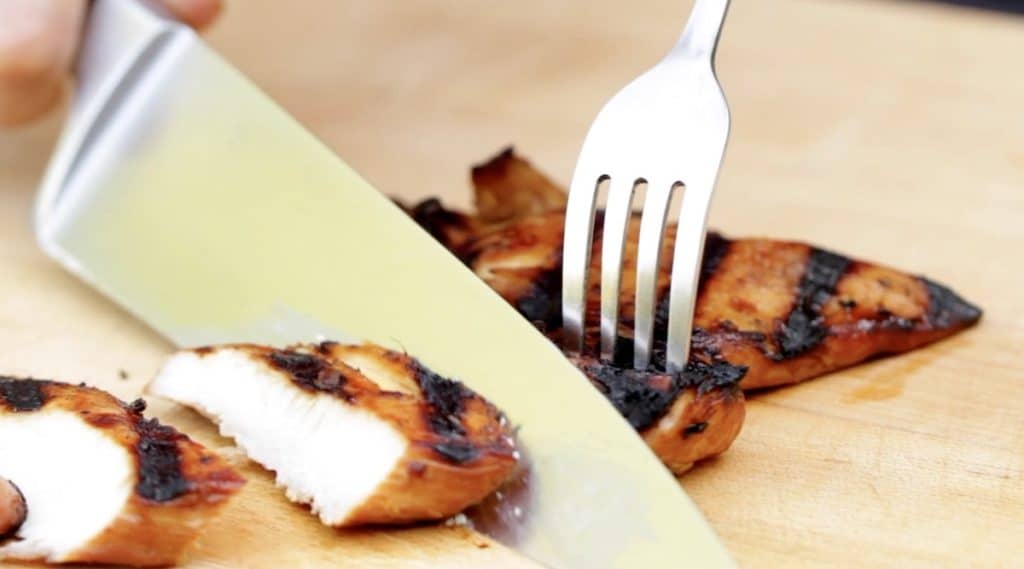 What sauce should you put on chicken teriyaki sandwiches?
You could put extra teriyaki sauce on your sandwiches but be sure you are not using the marinade which has been contaminated by the raw chicken.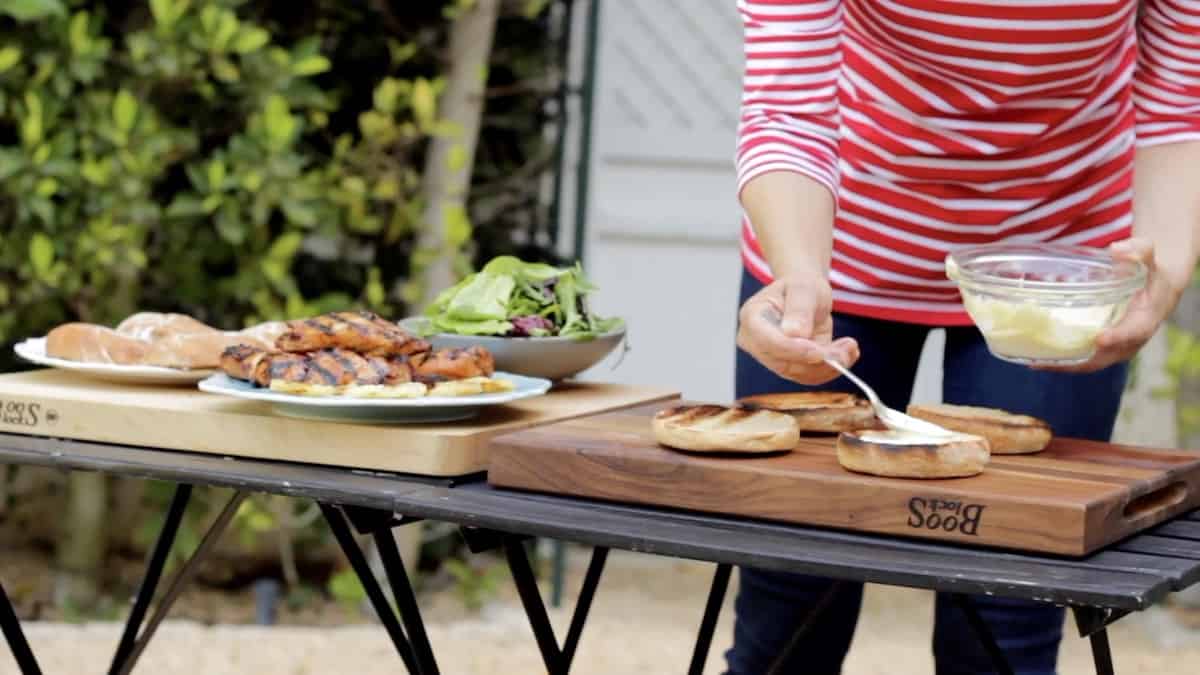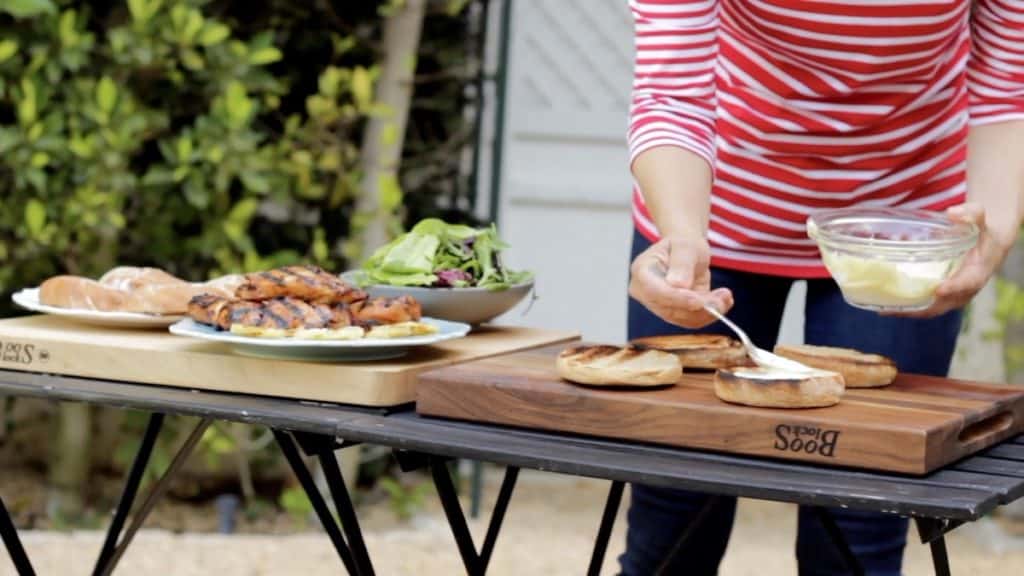 I find a honey mustard mayonnaise to be the perfect complement to these sandwiches! And it's so easy to make too. Just mix some store-bought honey mustard into your favorite mayonnaise and you're done!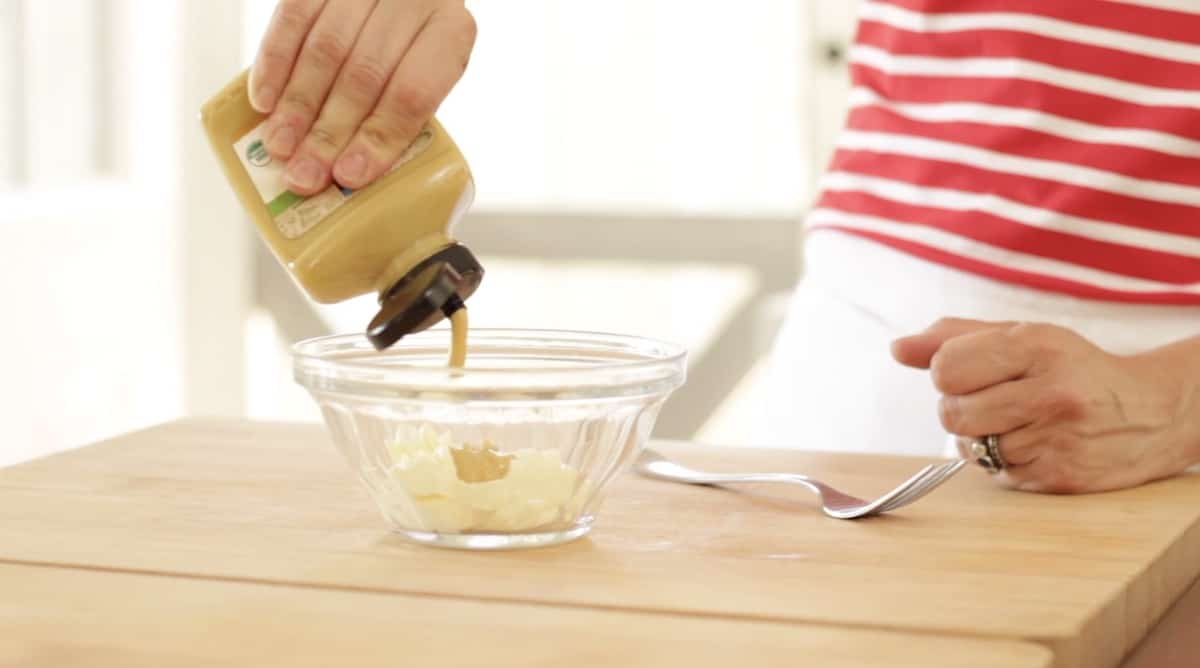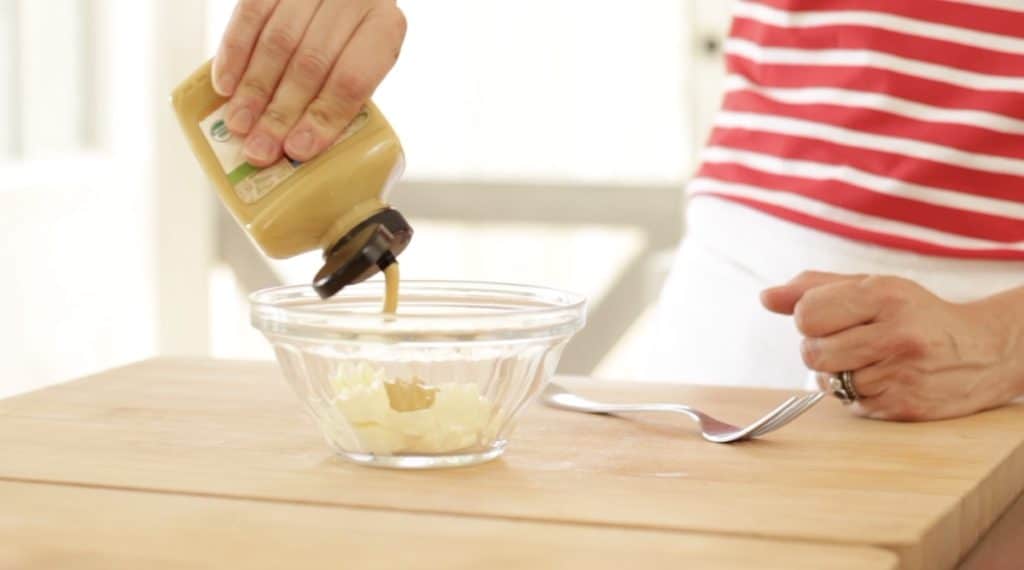 No honey mustard? No problem you can make some! Combine 1 tablespoon of dijon mustard with 1 teaspoon of honey, and then add the mayonnaise.
How do you grill pineapple?
Pineapple is one of those fruits that hold up well under the heat of the grill. But I find the canned pineapple rings will give you a better, more uniform size, than the fresh ones and are more practical too for using on top of sandwiches.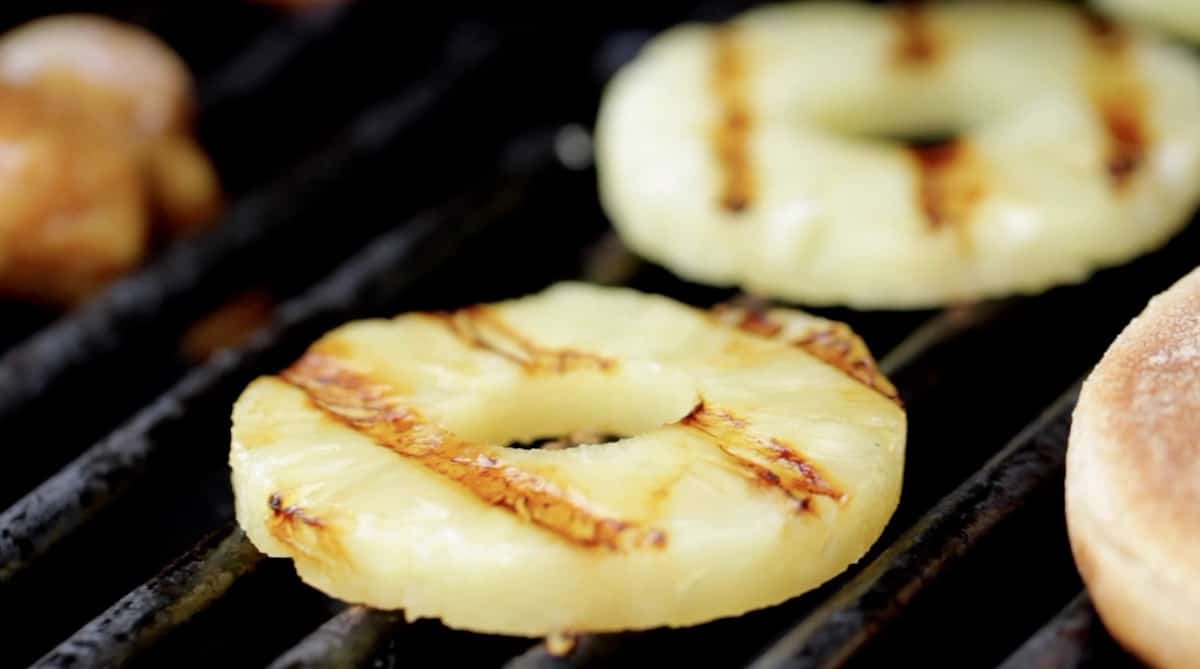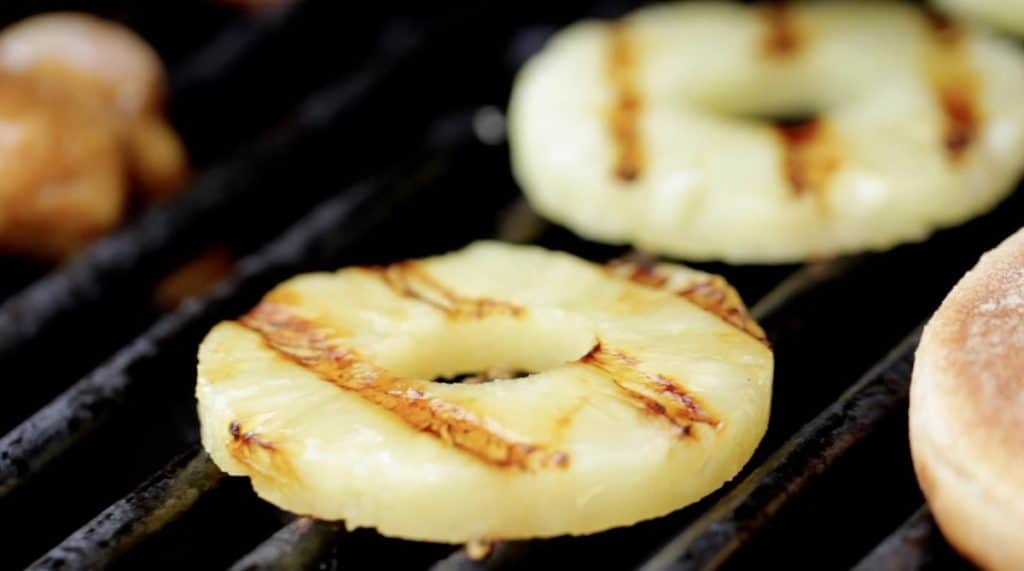 Just brush the pineapple lightly with some unflavored oil and grill until nicely they are nicely charred and warmed through.I typically do this once I flip the chicken since the pineapple takes less time.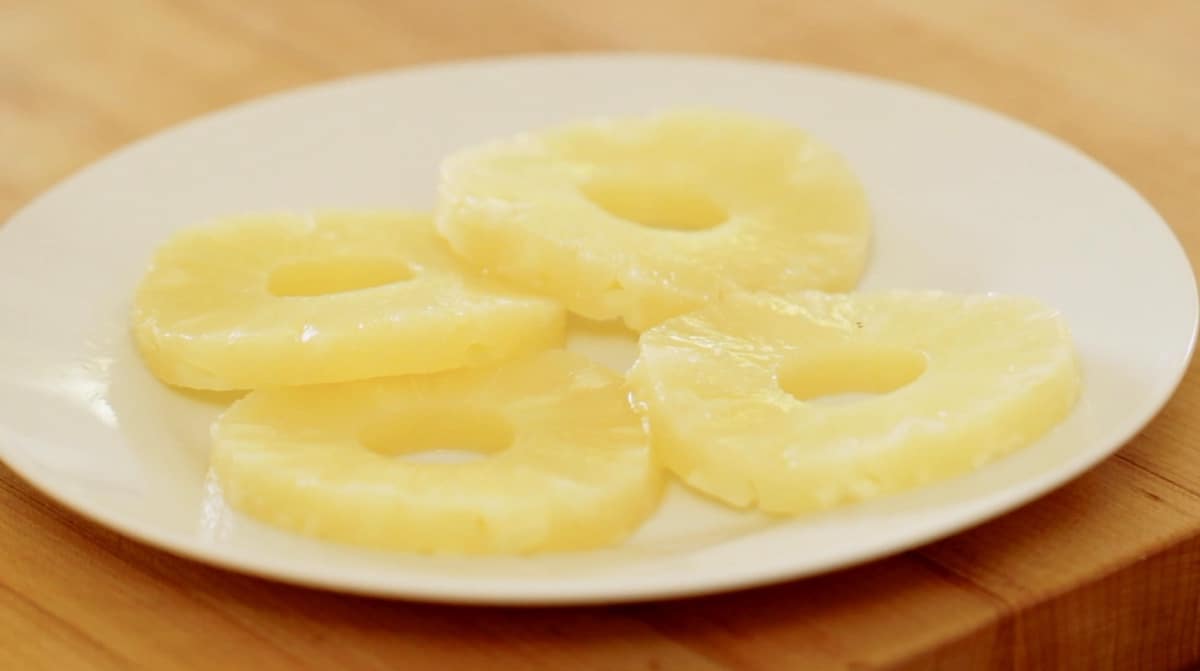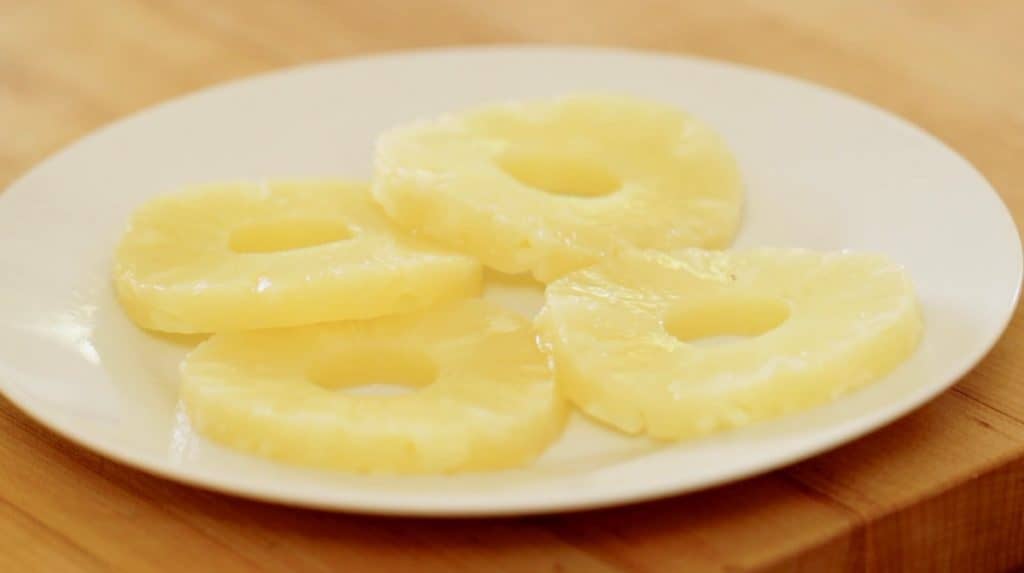 How long do chicken breasts grill for?
You'll want to grill your chicken for 6-8 minutes on each side until cooked through. Depending upon the thickness of your chicken breasts it could take less or more time but I find 6-8 minutes is a good place to start.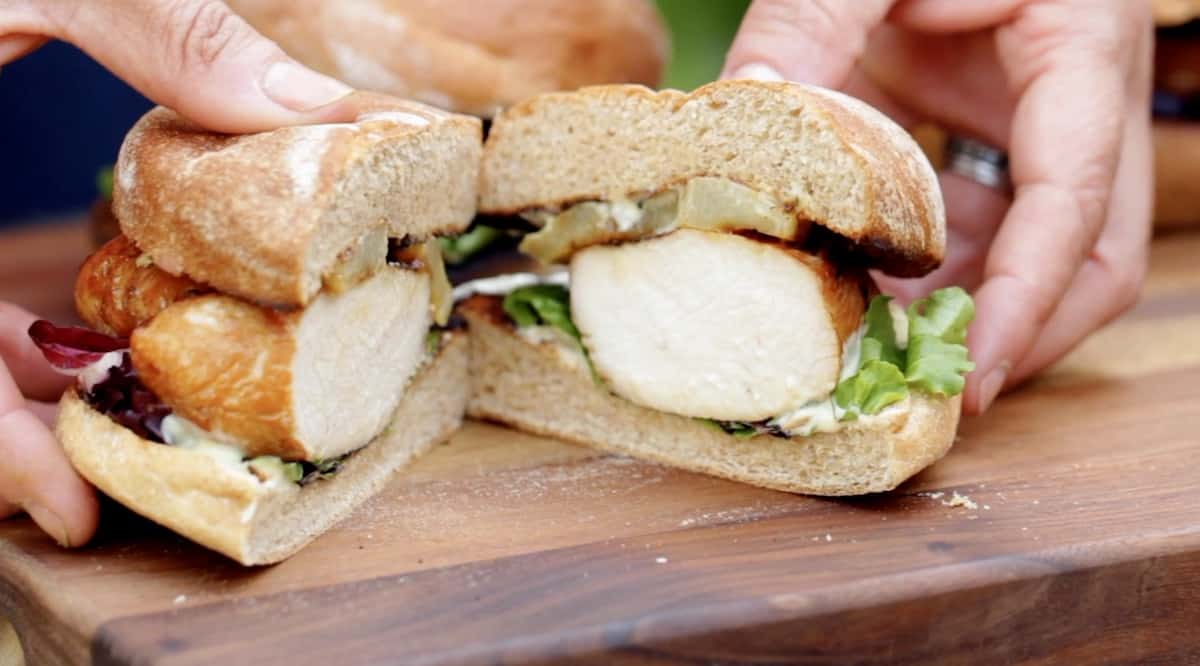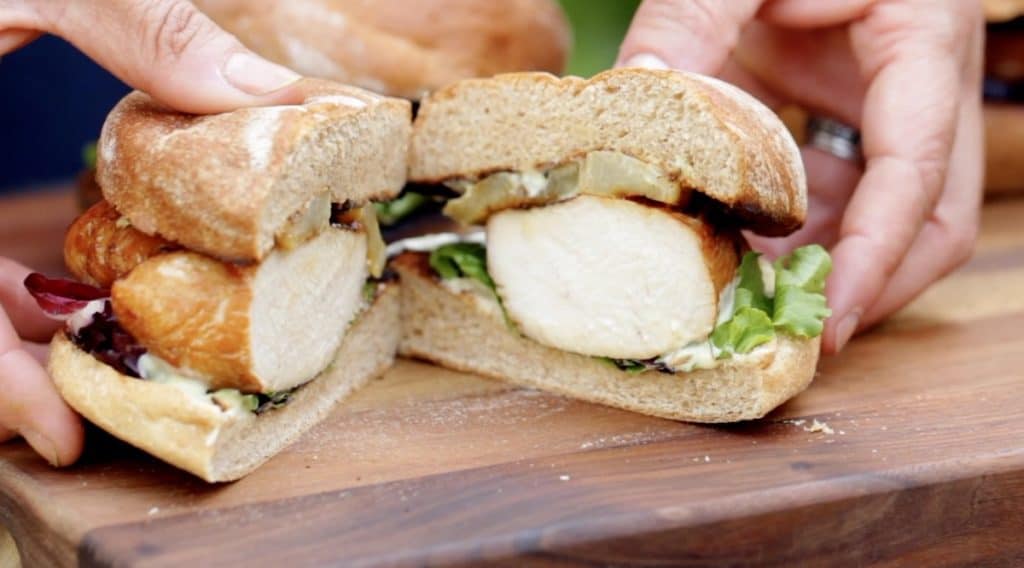 Please let me know if you make these Grilled Chicken Sandwiches
by leaving a rating and review below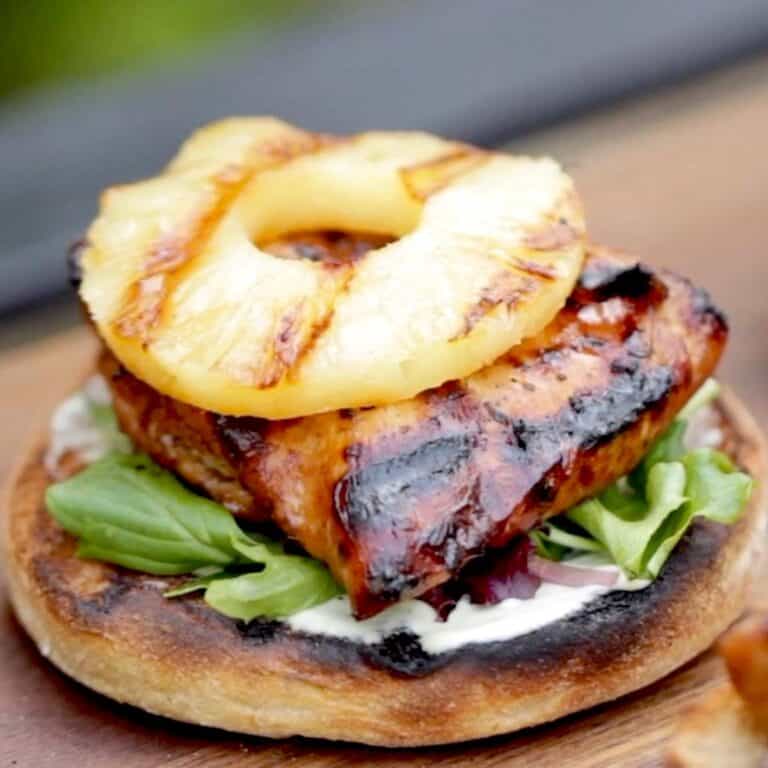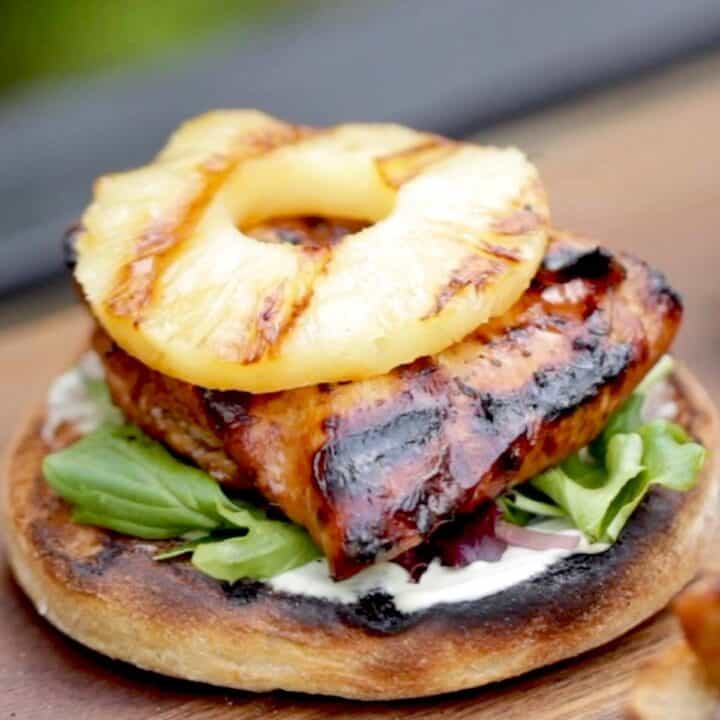 Grilled Chicken Sandwiches with Teriyaki Sauce
An easy recipe for Grilled Chicken Teriyaki Sandwiches that makes for a great BBQ dinner for summer entertaining!
Ingredients
For Teriyaki Marinade:
1 Cup (240 ml) of Water
⅓ cup ( 60 g) brown sugar
½ cup (120 ml) of soy sauce
2 teaspoon (10 ml) honey
2 garlic cloves
2 tablespoon (30 ml) apple cider vinegar
1 teaspoon (5 ml) fresh grated ginger
For Sandwiches:
2 boneless skinless chicken breasts cut in half
4 pineapple rings
4 whole wheat honey buns
Lettuce of choice
2 tablespoon (30 ml) honey mustard + ¼ cup mayonnaise
Instructions
In a large sauce pan combine all ingredients for the teriyaki sauce and allow to simmer for 10 mins for the flavors to marry. Allow to cool completely otherwise the hot marinade will "cook" your chicken!
Pour the marinade in a dish and place chicken breasts on top, making sure chicken is coated on all sides with the marinade. Refrigerate for 1-2 hours or overnight even better!
Oil your grill well and then heat to medium high. Grill chicken 6-8 mins on each side until cooked through. You can grill pineapple rings at the same time 3-4 mins each side.
To assemble. Combine the mayonnaise and honey mustard to create a honey mustard mayo spread. Dollop spread on bottom and top of grilled buns.
Place lettuce on bottom bun, add grilled chicken, top with pineapple, slice sandwiches in half. Et voila! Dinner is served!
Serve with a fresh corn salad or potato salad.
Notes
You can make the marinade at least 1-2 days in advance. Keep covered and refrigerated until ready to use.
Nutrition Information:
Yield:

4
Serving Size:

1
Amount Per Serving:
Calories:

1015
Total Fat:

22g
Saturated Fat:

6g
Trans Fat:

0g
Unsaturated Fat:

15g
Cholesterol:

58mg
Sodium:

344mg
Carbohydrates:

165g
Fiber:

27g
Sugar:

23g
Protein:

51g