Grilled Chicken Teriyaki Sandwiches with homemade teriyaki sauce. It's easier than you think! And so delicious too! Includes video tutorial.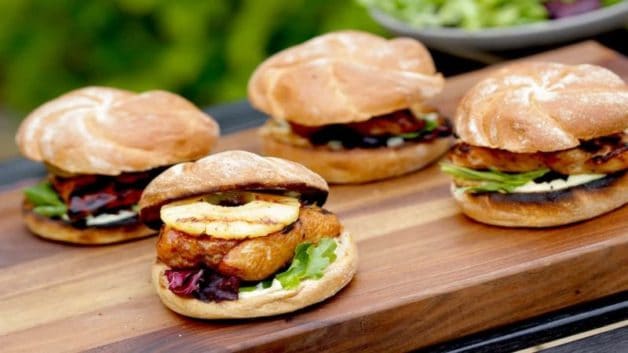 What sauce should I put on these chicken teriyaki sandwiches?
You could put extra teriyaki sauce, but I find a honey mustard mayonnaise is the perfect compliment! And so easy too.  Just mix in some store-bought honey mustard to your favorite mayonnaise and you're done!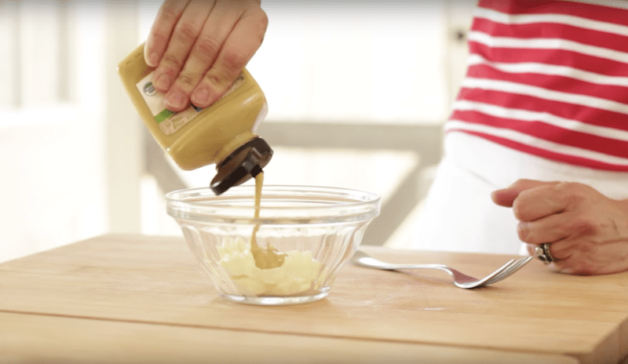 How do you grill pineapple?
Pineapple is one of those fruits that holds up well under the heat of the grill.  I also find the canned pineapple rings give you that nice uniform size for using on top of sandwiches.  Just brush lightly with some unflavored oil and grill until nicely they are nicely charred and warmed through.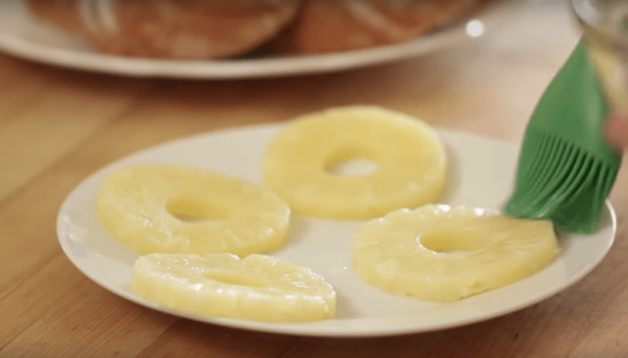 How long do chicken breasts grill for?
You'll want to grill your chicken for 6-8 minutes on each side until cooked through.  Depending upon the thickness of your chicken breasts it could take less or more time but I find 6-8 minutes is a good place to start.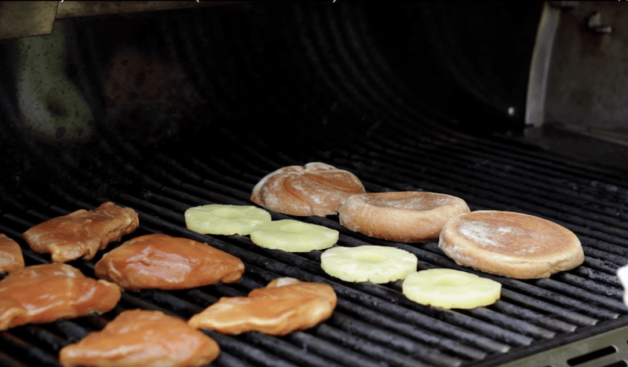 If you're looking for an easy BBQ recipe that will wow a crowd, look no further!  My Grilled Chicken Teriyaki Sandwiches are sure to do the trick. Made with an easy homemade teriyaki marinade that will take you minutes to put together, these sandwiches will become your new summer favorites!
Subscribe to my YouTube Channel and never miss a recipe! (It's free!)
SHOP THIS EPISODE: (These links go to Amazon where I am an affiliate)
Glasslock Marinating Dish I love this little container for marinating meat or traveling a side dish for a potluck. Once you start buying Glasslock products you'll never settle for anything else 🙂  they are the best!
Walnut Boos Board  The size of this board makes it easy to whip out for quick chopping, but I also think it's so beautiful too that I use it as a serving platter too!  Great for outdoor entertaining.
WHAT TO SERVE WITH THESE SANDWICHES:
These sandwiches pair beautifully with my easy corn salad or creamy cucumber salad.
Easy Corn Salad Recipe
Creamy Dill Cucumber Salad
FOR DESSERT
You can't go wrong with my foolproof peach cobbler or a batch of my Ginger Molasses Ice Cream Sandwiches!
Please let me know if you make these Grilled Chicken Teriyaki Sandwiches by leaving a rating and review below
Sign up to get recipes in your inbox- click here to sign up! And make sure to follow us on Youtube, Pinterest, Instagram, Facebook & Twitter!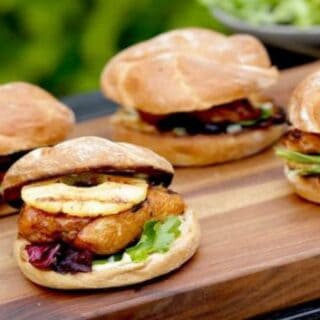 Grilled Chicken Teriyaki Sandwiches
An easy recipe for Grilled Chicken Teriyaki Sandwiches that makes for a great BBQ dinner for summer entertaining
Ingredients
For Teriyaki Marinade:
1 Cup (240 ml) of Water
1/3 cup ( 60 g) brown sugar
1/2 cup (120 ml) of soy sauce
2 tsp (10 ml) honey
2 garlic glove
2 tbsp (30 ml) apple cider vinegar
1 tsp (5 ml) fresh grated ginger
For Sandwiches:
2 boneless skinless chicken breasts cut in half
4 pineapple rings
4 whole wheat honey buns
Lettuce of choice
2 tbsp (30 ml) honey mustard + ¼ cup mayonnaise
Instructions
In a large sauce pan combine all ingredients for the teriyaki sauce and allow to simmer for 10 mins for the flavors to marry. Allow to cool completely otherwise the hot marinade will "cook" your chicken!
Pour the marinade in a dish and place chicken breasts on top, making sure chicken is coated on all sides with the marinade. Refrigerate for 1-2 hours or overnight even better!
Oil your grill well and then heat to medium high. Grill chicken 6-8 mins on each side until cooked through. You can grill pineapple rings at the same time 3-4 mins each side.
To assemble. Combine the mayonnaise and honey mustard to create a honey mustard mayo spread. Dollop spread on bottom and top of grilled buns.
Place lettuce on bottom bun, add grilled chicken, top with pineapple, slice sandwiches in half. Et voila! Dinner is served!
Serve with a fresh corn salad or potato salad.
Notes
You can make the marinade at least 1-2 days in advance. Keep covered and refrigerated until ready to use.
Nutrition Information:
Yield:

4
Serving Size:

1
Amount Per Serving:
Calories:

1015
Total Fat:

22g
Saturated Fat:

6g
Trans Fat:

0g
Unsaturated Fat:

15g
Cholesterol:

58mg
Sodium:

344mg
Carbohydrates:

165g
Fiber:

27g
Sugar:

23g
Protein:

51g