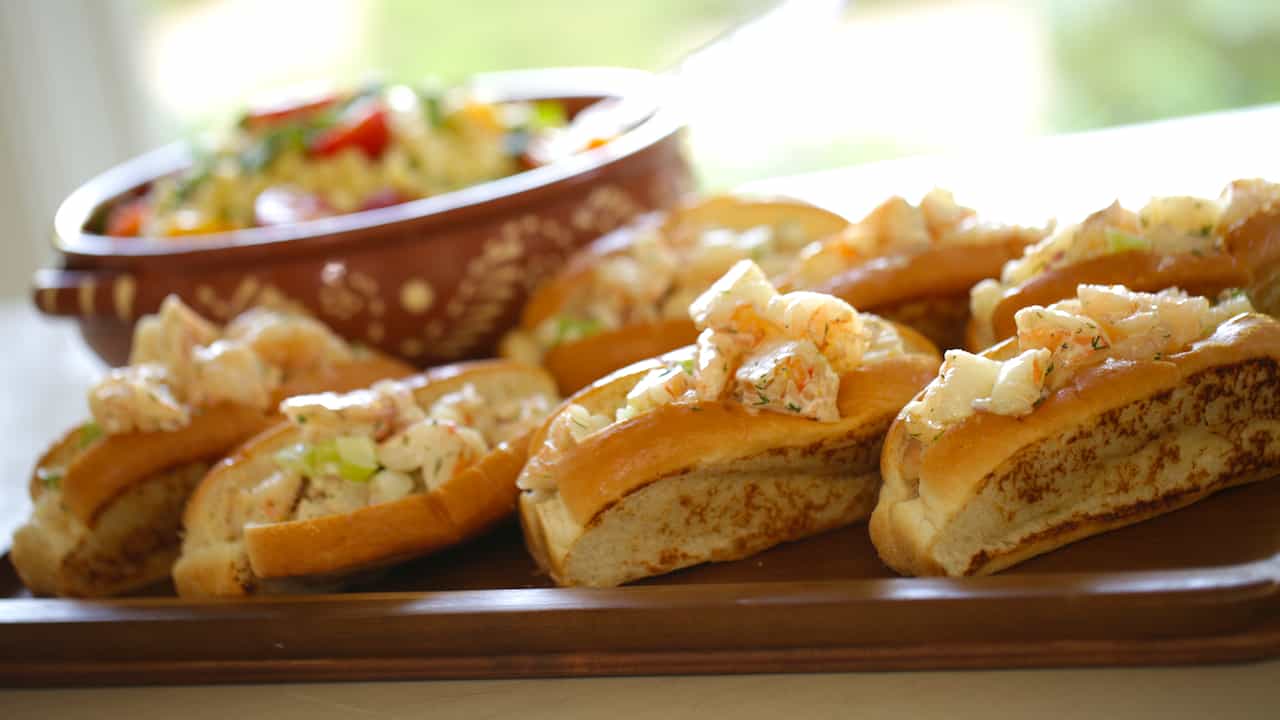 I grew up in New England and summers for me always meant lobster rolls down by the beach.  Buy here in L.A. good lobster can be hard to find, at an affordable price, so instead I find my New England Style Shrimp Rolls are the next best thing!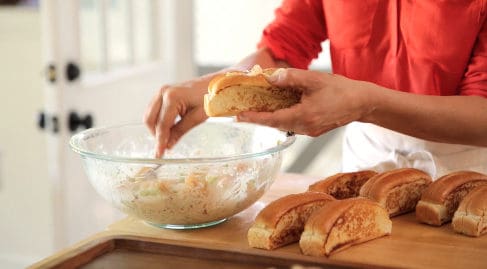 But a critical component is of course the split top buns, a bit of a unicorn here on the West Coast.  No seriously, they don't exist.  Not anywhere!  It's the strangest thing I'm come across from living out west, the complete absence of a split top bun.  Why?  I'm sure Westerners would love them as much as New Englanders do, but atlas to no avail.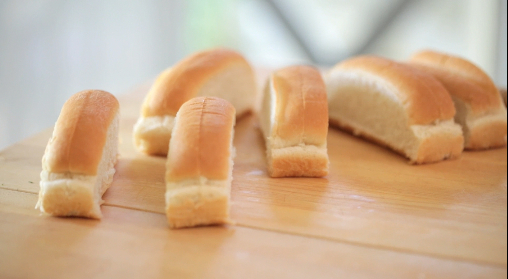 But I found a source online that sells them. They are also known as "hot dog buns" so don't be confused. I buy a big batch of them and then freeze them 🙂  Yes they are pricey, yes a tad inconvenient.  But when you bite into the buttery, crispy roll that is as light as a feather, you'll agree it was worth the effort.
For a step-by-step tutorial of this recipe you can watch my video demo below.  Subscribe to my YouTube Channel and never miss a recipe! (It's free!) and new videos post each Saturday!
This recipes pairs beautifully with my summer corn salad recipe. A match made in heaven!  And for dessert (to continue the New England theme) go for my plum crumble. A fabulous summer dinner awaits! 🙂
Print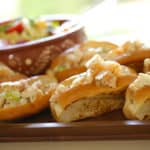 New England-Style Shrimp Rolls
---
Author:

Prep Time:

45 mins

Cook Time:

10 mins

Total Time:

55 mins

Yield:

Serves 6

Category:

Main

Cuisine:

American
Ingredients
2 lb shrimp (900 g), shelled, deveined, tails on and butterflied
1 tbsp (15 ml) olive oil
salt and pepper to taste
½ cup (120 ml) mayonnaise
1 tsp (5 ml) lemon zest
2 tbsp (30 ml) lemon juice
Pinch of Cayenne Pepper
½ cup (120 ml) celery, diced
2 tbsp (30 ml) shallots, minced
1 tbsp dill, minced
salt and pepper to taste
Split top hotdog buns
2 tbsp melted butter
---
Instructions
Preheat oven to 400F (200C).
Butterfly shrimp by slicing shrimp down their backs ¾ of the way. Shrimp halves should stay intact.
Toss with 1 tbsp (15 ml) olive oil, salt and pepper to taste. Roast in the oven for 5 mins each side, or until pink and opaque. Allow to cool. Remove tails. And roughly chop shrimp into bite-sized pieces.
In a large bowl combine mayonnaise, zest and juice, celery, shallots, dill, salt and pepper. Reserve 3 tbsp (45 ml) in a small bowl, and then toss the rest with the shrimp. Cover and keep refrigerated until ready to serve.
Moments before serving, brush outsides of split top buns with butter, grill each side until golden brown.
Add reserve dressing to shrimp and toss to re-freshen. Scoop shrimp salad into buns and serve immediately