No-Mayo Potato Salad Recipe is sure to please those who are just not into mayonnaise. This is an easy recipe with an elegant presentation. Perfect for a casual BBQ but elegant enough for a dinner party too.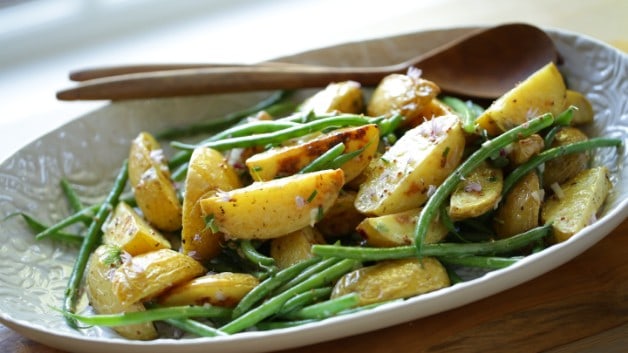 Traditionally, potato salad is made with mayonnaise. If you aren't the biggest fan of mayo, this recipe is for you! It has a bit of French flair and is a little more gourmet than its creamier cousin with mayo and bacon.
No-Mayo Potato Salad Recipe
Traditional Potato Salad
This salad pairs beautifully with my Sticky Ribs Recipe or my Ultimate Burger!
HOW TO MAKE No-Mayo Potato Salad Recipe
Step 1: Prepare the potatoes
I like to use Fingerling potatoes for this recipe, but if you can't find those, the Yukon Gold variety will work just as well.
For these pictures, I had to use Yukon Golds. I cut those in half, then in quarters to give a slender, delicate look.


Toss the potatoes in a bowl with olive oil.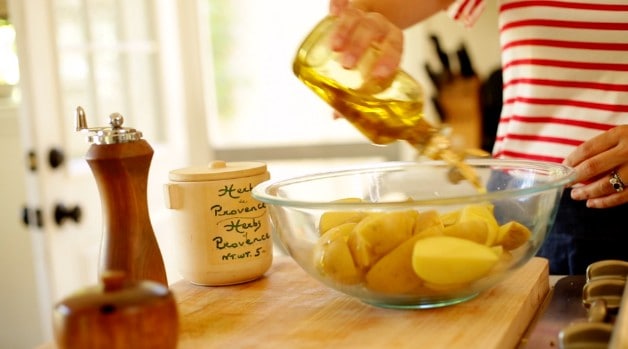 Add salt and pepper and a good pinch of Herbs de Provence.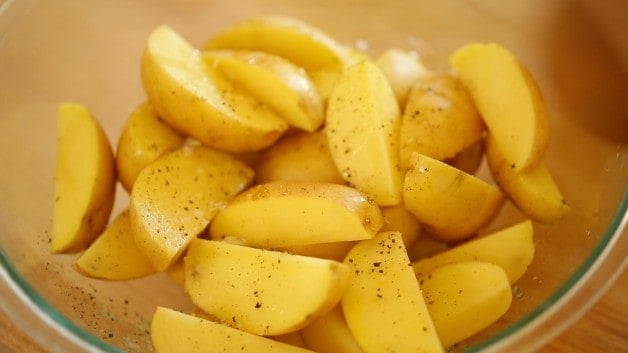 Place the potatoes cut-side down on a baking sheet.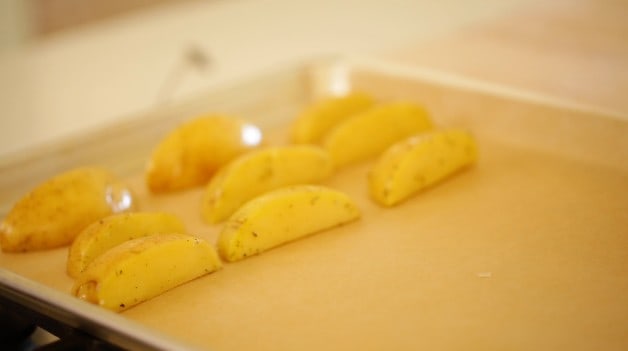 Roast at 400F (204C) degrees for about 25 minutes until they are golden brown and fork tender.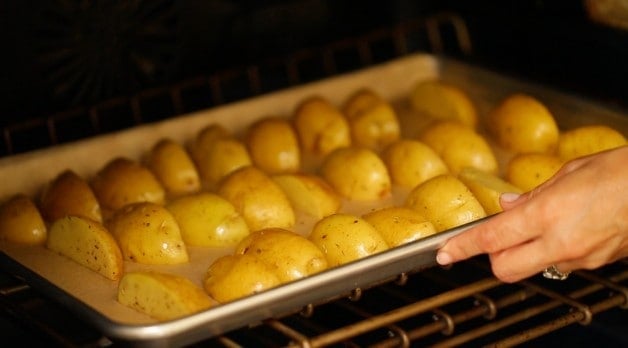 Remove from the oven and set aside.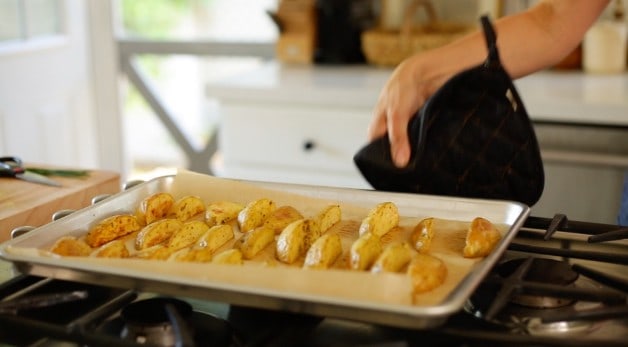 Step 2: Prepare the Green Beans
Haricot Vert and fresh green beans are very similar and can be used interchangeably for this recipe.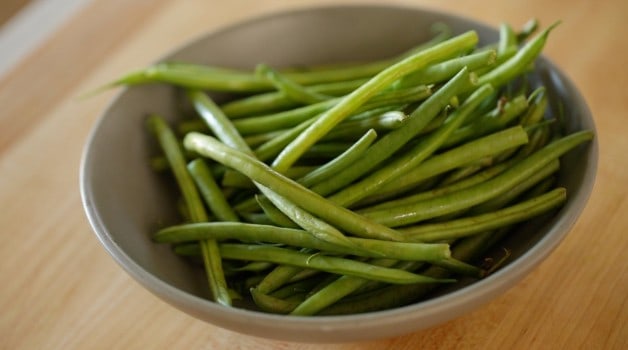 Place the green beans in a pot of boiling water for about a minute or two, then quickly transfer to an ice bath. This "shocks" the vegetables and stops them from cooking. It also helps the beans preserve their bright green color!


Pat them dry and set aside.
What is an ice bath for vegetables?
An ice bath is used to quickly stop the cooking process and preserve the colors of the food - just like in this recipe. There aren't really any specific measurements for an ice bath. But equal amounts of ice and cool water is a good place to start.
Don't let your vegetables soak in the ice bath. Just dunk them to "shock them with the cold" and then quickly remove them to drain on a dry paper towel.
Step 3: Make the Vinaigrette
In a small bowl, add Dijon mustard, whole grain mustard, white wine vinegar, and then whisk to combine. Slowly add the grapeseed oil and whisk.



I like to use the two different mustards for texture, and the whole grain mustard looks beautiful on the potatoes as well.
Add chives and tarragon and whisk until well-combined.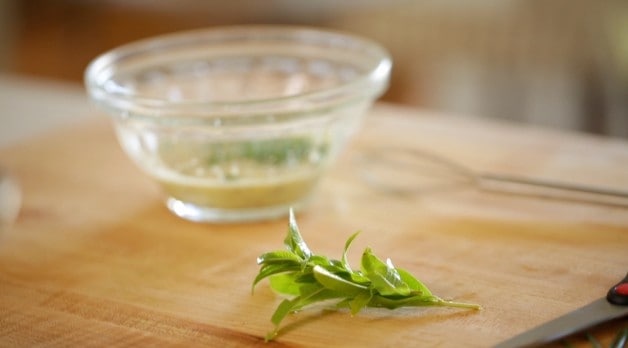 Step 4: Assemble the Potatoes and Green Beans
Place potatoes and green beans in a large bowl.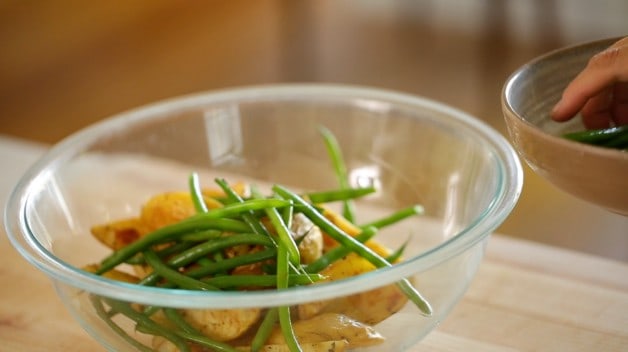 Then, pour the vinaigrette over the top and toss to combine. If you like shallots, you could add a minced shallot for a nice punch of flavor!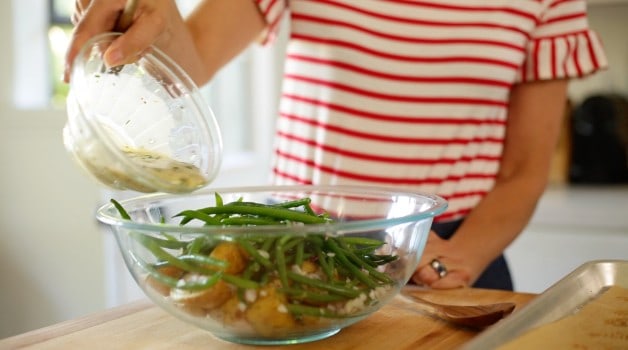 After the potatoes and green beans are coated with the dressing, transfer to a large serving bowl or platter.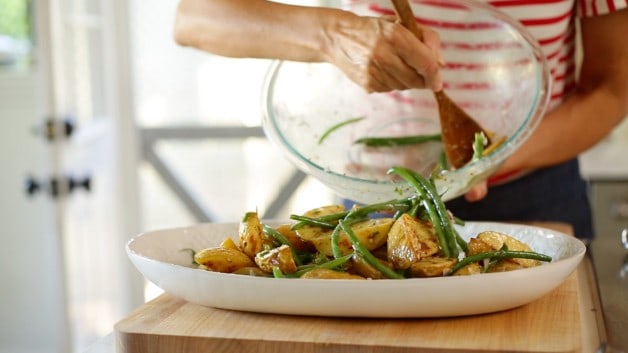 For another elegant touch, use the blossoms from the chives if you are growing your own. They are perfectly edible and add a beautiful color and elegant presentation to this dish.


PLEASE LET ME KNOW IF YOU MAKE THIS RECIPE
BY LEAVING A RATING AND REVIEW BELOW!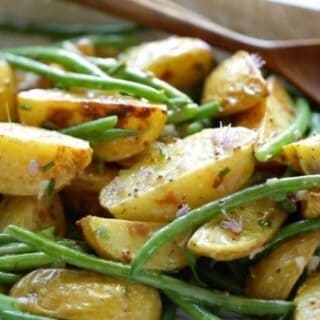 No-Mayo Potato Salad Recipe
Total Time:
1 hour
5 minutes
A No-Mayo Potato Salad for those who like their potato salad on the lighter side! Great with BBQ Chicken, fish or burgers!
Ingredients
3 lbs (1350g) fingerling potatoes or Yukon Gold potatoes, sliced lengthwise
1 tbsp (15ml) olive oil
¼ tsp (1.25ml) herbs de provence
Large pinch of salt
Freshly cracked pepper
8 oz. (230g) French green beans, cleaned and trimmed
1 tsp (5ml) Dijon mustard
1 tsp (5ml) whole grain mustard
1 tbsp (15ml) white wine vinegar
5 tbsp (75ml) grapeseed oil
1 tsp (5ml) fresh chives, minced
1 tbsp (15ml) fresh tarragon, minced
Instructions
Preheat oven to 400F (200C).
Toss potatoes with olive oil, herbs de Provence, salt and pepper. Transfer potatoes to a rimmed sheet pan, cut side down and roast for 30 minutes. Allow to cool and set aside
In a large bowl prepare an ice bath of ice and water. Set aside. Boil a medium pot of water. Submerge green beans to cook for only 2-3 minutes or until they turn bright green. Then remove with a strainer and shock in the ice bath. Once cooled, remove beans from bath, pat dry and set aside.
In a small bowl, whisk the mustards and vinegar, slowly add the oil, whisking all the while, then add shallots and herbs and season with salt and pepper to taste. Transfer potatoes and beans onto a large serving platter, drizzle vinaigrette over the top.
Notes
To make ahead of time keep the vegetables and vinaigrette separated, then toss together just before serving.
Nutrition Information:
Yield:

4
Serving Size:

1
Amount Per Serving:
Calories:

379
Total Fat:

21g
Saturated Fat:

1g
Trans Fat:

0g
Unsaturated Fat:

19g
Cholesterol:

0mg
Sodium:

78mg
Carbohydrates:

37g
Fiber:

4g
Sugar:

2g
Protein:

5g