How-To Host a Mixed Grill Party
Lamb Chops? Chicken? Sausages? Can't decide on what to grill? Then host a mixed grill party! A mixed grill party involves grilling a selection of meats along with some paired condiments and grilled veggies. It's a fun way to skip the predictable BBQ Ribs and Burgers and elevate a BBQ night, into something extra special and delicious!
It's a wonderful main course recipe to serve in the summertime when you have a large group of people because it's easy to up the quantity, and suit a variety of tastes! It's also fun and interactive to serve too.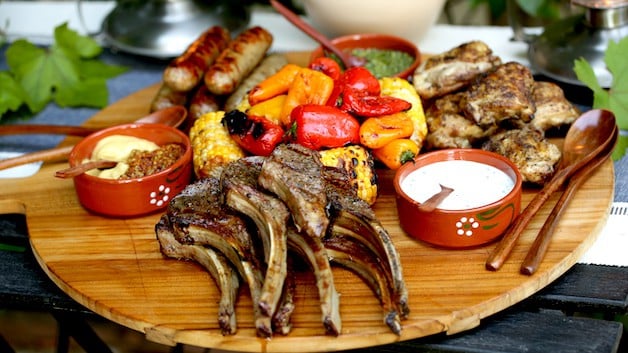 What's in a Mixed Grill Platter?
In this mixed grill platter, I like to include chicken, lamb, and sausages and then fill in the rest with grilled vegetables and a variety of dipping sauces.
For the chicken I use chicken thighs, which are seasoned with garam masala spice, giving them a wonderful sweet and savory flavor. The chicken thighs stay extra moist and juicy on the grill, unlike chicken breasts which can dry out while waiting for the inside to cook.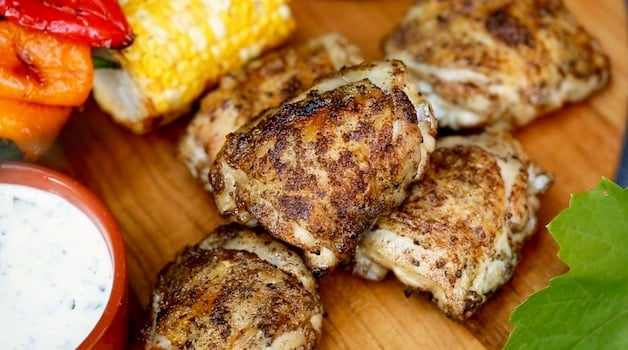 The Lamb Chops
The second meat I like to serve is grilled lamb chops which are seasoned with a simple rub of salt and pepper and herbs de Provence. Their small size makes them perfect for a mixed grill party since they provide just a bite or two.
This is the other secret with hosting a mixed grill party, keep the portions small, so everyone can try a little bit of everything without getting too full on any single item.
The Sausages
You really can add any type of sausages you like. For a little heat, try some hot Italian sausage. For something a bit milder, you could try some chicken sausage too. Or do a combination of both.
Recipe Pairing Ideas:
Watch My Video Demo of This Recipe Below!
Step#1: Prepare the Lamb Chops
For your lamb chops, you'll want to buy them as "French cut" chops. French cut is when the butcher will trim the fat along the bone exposing a little handle for your chop.
They make for a prettier presentation this way, and they will be easier to grill because, without all that fat, you won't have to deal with flare-ups from your grill.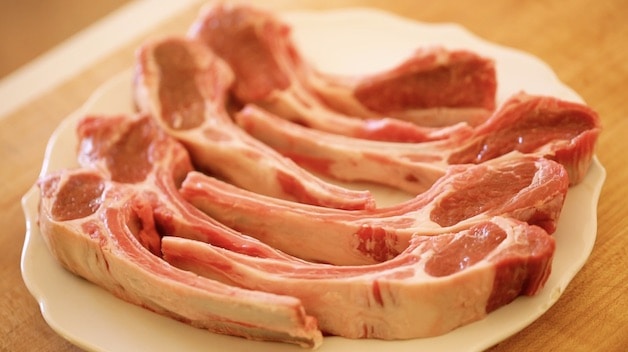 Seasoning the Lamb
The lamb chops are easy to prepare, just season with salt and pepper on both sides and herb de Provence, which is a French spice blend consisting of dried basil, rosemary, thyme, and sometimes even dried lavender!
I use it in so many of my recipes, that if you invest in a bottle, you'll also have it to make my Provencal Chicken Stew or my Angel Hair Pasta with Roasted Tomatoes, Mozzarella and Basil.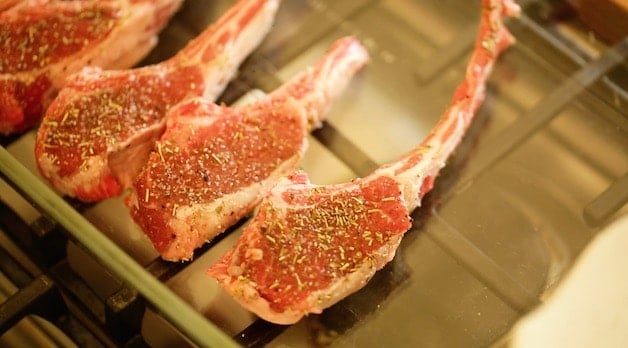 Allow the lamb to rest in your refrigerator for a few hours before grilling to allow the seasonings to take effect. Typically, I season the meat in the morning and pop it in the fridge until I'm ready to grill in the evening.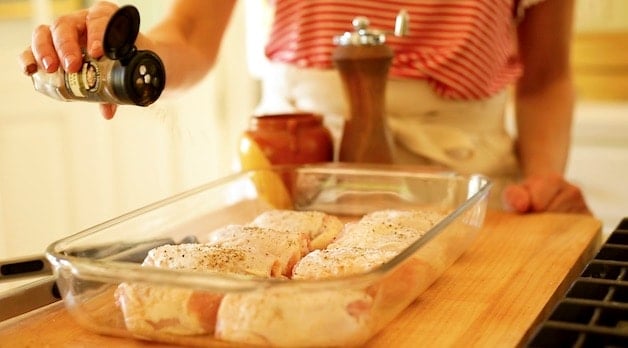 Seasoning the Chicken
For the chicken thighs, I love to use Garam Masala spice. It's an Indian spice blend that has a warming, yet savory flavor to it.
It includes spices such as cumin, cinnamon, coriander. It's a really easy rub because all the spices are in one blend, which also saves you money from having to go out and buy all those spices individually.
It has so much flavor to it you don't need much. It's a delicious match against the yogurt sauce you'll make to serve with the chicken.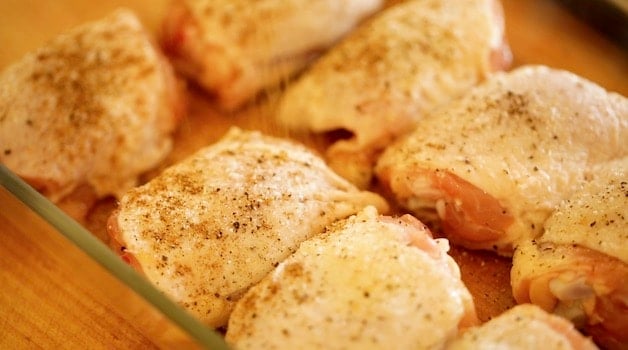 Step#2: Prepare the Condiments
Each grilled meat has its own condiment. They are easy to prepare and adds a great interactive element to a mixed grill party as guests enjoy trying all the sauces and commenting on their favorites.
We even had a guest who mixed all the sauces together to form his own "special sauce" so you could try that too!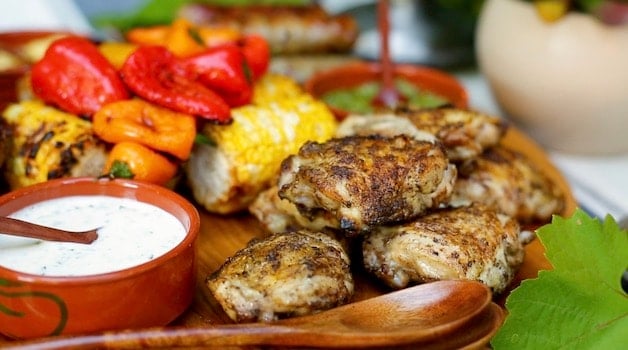 Condiment #1: Yougurt Sauce
The first condiment is a yogurt sauce that pairs so well with the chicken. It's made simply by combining plain yogurt, mango chutney, lime juice, and fresh cilantro. It's such an easy sauce that delivers so much flavor.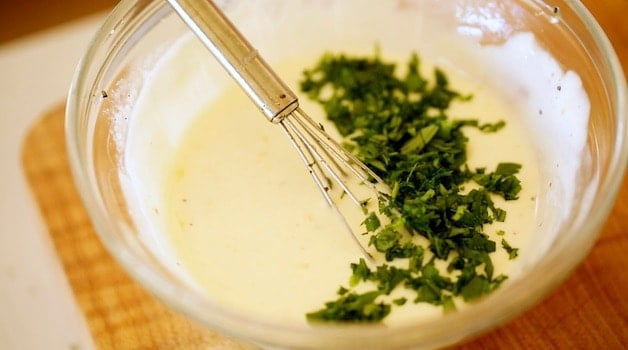 Condiment #2: Mint Pesto
For the lamb chops, I like to serve an easy mint pesto, which pairs perfectly with the lamb. If you've never tried fresh, homemade pesto, you are in for a treat! The flavors are so fresh and summery and it also is another option to pair with the chicken as well.
It's a twist of serving mint jelly with lamb chops but provides a more savory mint flavor. But to save time and effort you could certainly serve mint jelly with the chops as well. And that would be as easy and opening a jar and transferring it to a serving bowl.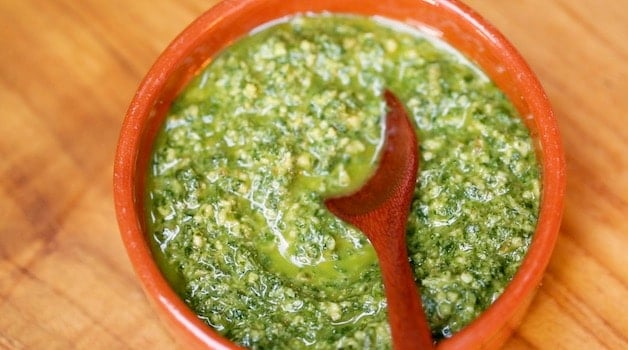 There's something so delicious about the fragrance of fresh mint in the summertime! You'll need a food processor for making the pesto, but it's worth the extra effort of cleaning it out, because the pesto is really a great match against the lamb, and you can make it ahead of time.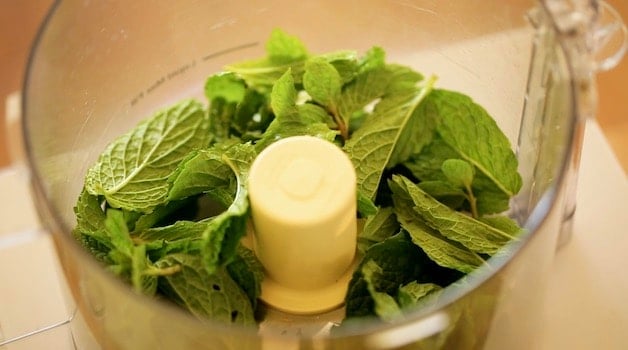 Condiment#3: A Selection of Mustards
For the sausages, it's an easy one. Just serve a selection of mustards with those. I like to mix the textures to make it more interesting. I serve a Dijon mustard for the kick and whole grain mustard for the texture.
The mustards also pair well with the lamb chops and the chicken too!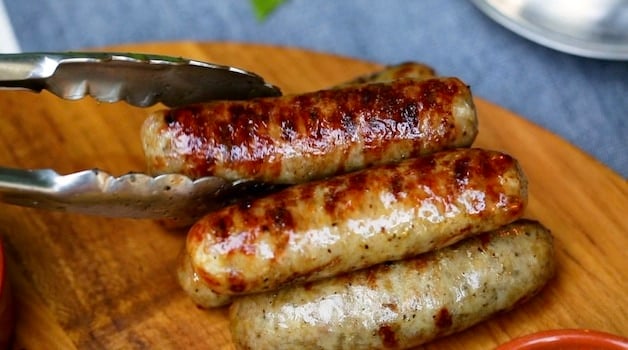 Serving the Mustards
To make your mustard serving bowl more interesting, and lessen your dishes at the end of the night, use one bowl to serve both and just share the bowl by dedicating aside to each. It looks prettier this way, assuming guests don't try to mix them together ha!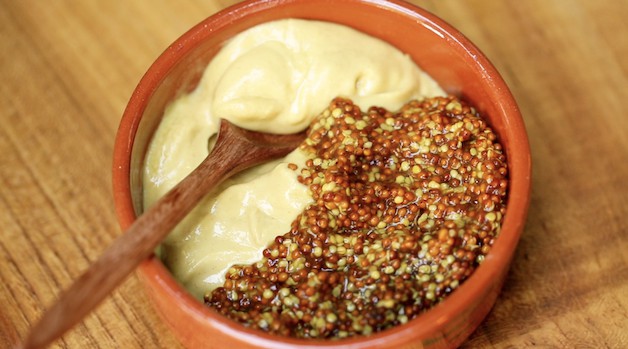 Step#3: Prep The Veggies
The center of your mixed grill platter should include some veggies.
I think the easiest ones to prepare are corn and small bell peppers.
They take hardly any prep and just get tossed with olive oil, salt, and pepper. Not only do they look beautiful on the platter, but with all this grilled meat, guests will appreciate a few vegetables!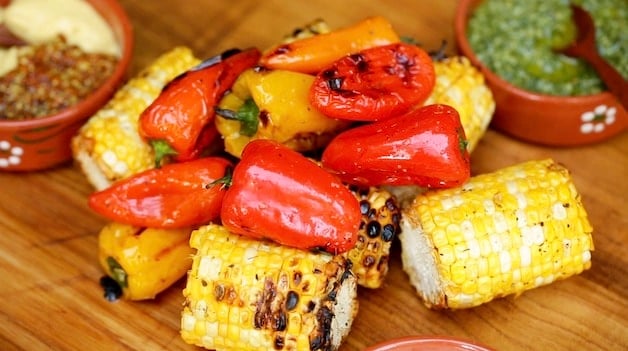 Step#4: The Preparation and Grilling
OK, once you are ready to serve dinner, here's your game plan. Enlist the help of a buddy, as you'll be juggling a few platters as you bring everything out to the grill.
Dedicate a large serving board or platter to your mixed grill.
I like to use a large circular board because it naturally creates little areas to dedicate to each cut of meat.
I place the sauces in equal-sized bowls and place them in a triangle platter on my board.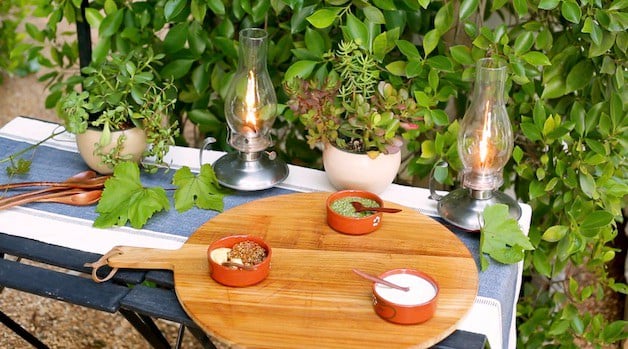 The Grill Order
Grill the chicken and vegetables first. The chicken will take the longest so it's best to get that going first.
And the vegetables once they are done, can be pushed to the corner of the grill, with the flame turned off, to keep warm while you grill the rest of the meat.
A few minutes later, add the sausages.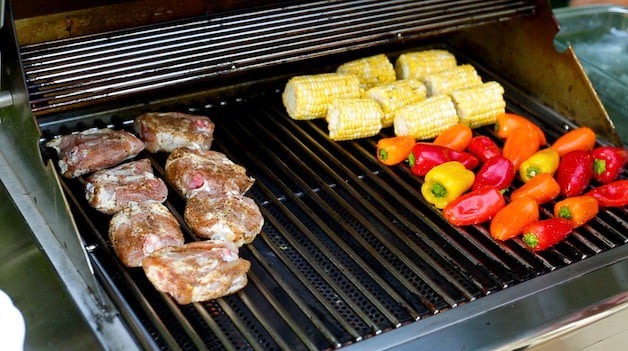 Adding the Lamb Chops Last
Once you flip the chicken, and it has some nice color on it, you can lower your flame a bit since at this point you are just looking for the chicken to cook through.
This is the time to add the lamb.
It will only take a few minutes on each side for medium-rare, which I think is the perfect doneness for lamb chops.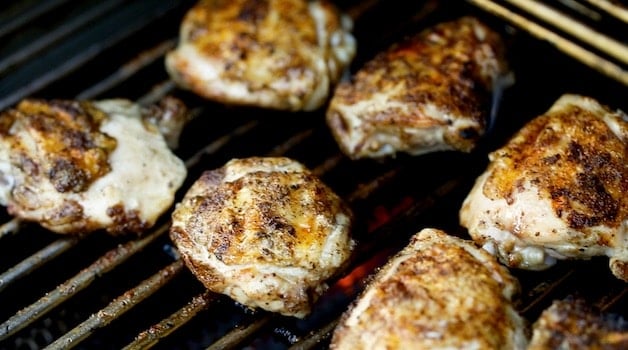 The Presentation
Once all your meat is grilled, pile your veggies in the center of your board, and dedicate a section for each cut of meat. Be sure to include little serving spoons for the condiments, and a serving fork or tongs for the meat.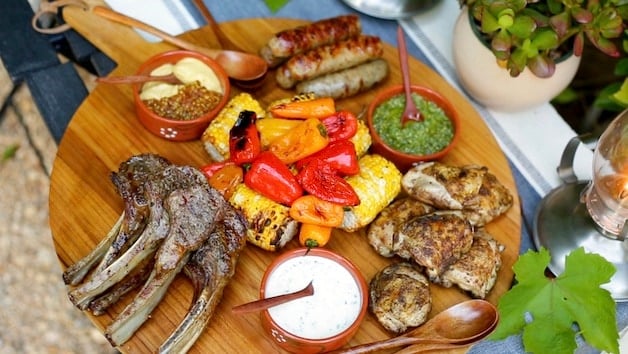 A mixed grill party is such a fun way to grill in the summertime! Your guests will enjoy all the different flavors, and have fun commenting on their favorites!
If you enjoyed this recipe
please leave a rating and a review below!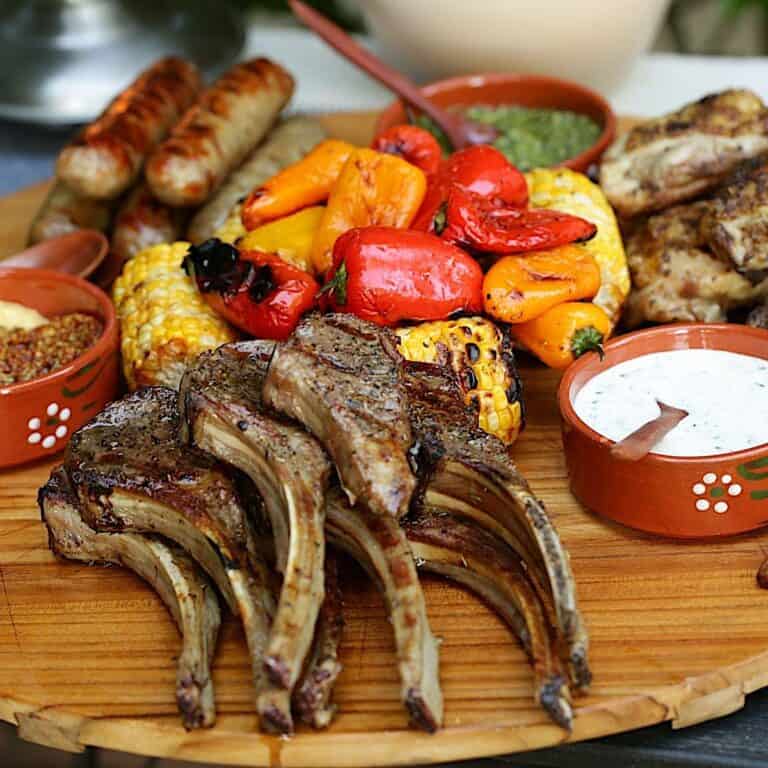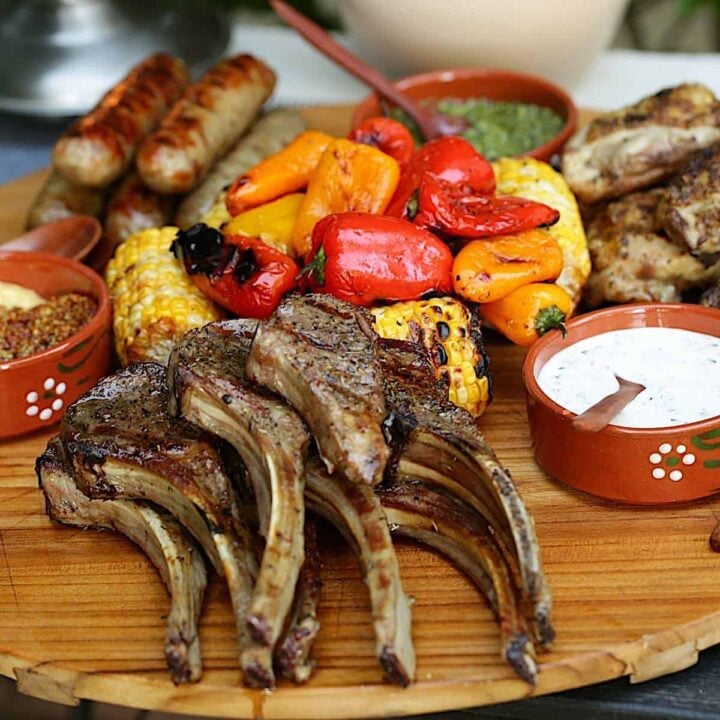 How-To Host a Mixed Grill Party
Total Time:
2 hours
30 minutes
Lamb Chops? Chicken? Sausages? Can't decide on what to grill? Then host a mixed grill party! This is a great way for everyone to have a little bit of a bunch of grilled meats along with some paired condiments and grilled veggies. It's a fun way to elevate a simple BBQ night, into something extra special and delicious! 
Ingredients
6 sausages
8 chicken thighs, bone-in, skin on
9 Lamb Chops
4 ears of corn, cut in half
18-20 mini bell peppers
2 tablespoon (30ml) garam masala
1 teaspoon (5ml) Herbs de Provence
Salt and pepper to taste
MINT PESTO:
2 cups (475ml) fresh mint leaves
⅛ teaspoon (1.25ml) salt
1 garlic clove, minced
¼ cup (40g) walnuts
2 teaspoon (10ml) red wine vinegar
¼ cup (60ml) olive oil
YOGURT CHUTNEY SAUCE:
1 cup (240ml) yogurt
1-2 tablespoon (15-30ml) mango chutney
juice of 1 lime
salt and pepper to taste
1 tablespoon (15ml) fresh cilantro, chopped
MUSTARDS:
3 tablespoon (45ml) Dijon mustard
3 tablespoon (45ml) whole grain mustard
Instructions
DAY BEFORE:
Season lamb chops with salt and pepper, and Herbs de Provence. Cover and refrigerate.
Season chicken with garam masala, salt, and pepper. Cover and refrigerate.
Make the yogurt sauce: Mix the yogurt and chutney. Then add salt and pepper, juice of 1 lime, and cilantro. Stir to combine, cover and refrigerate.

DAY BEFORE OR AT LEAST 2 HOURS BEFORE:
Make the mint pesto. Combine the mint leaves, salt, garlic walnuts, and red wine vinegar in a bowl of a food processor.
Pulse until minced.
Then slowly add olive oil until emulsified and a sauce forms. Scrape down the bowl as needed to combine. Cover and refrigerate.
TO GRILL:
Grill the sausage and chicken and one side of the grill first since they take the longest.
On the other side add the corn and peppers.
Once you flip the chicken. Add the lamb.
Keep the chicken and sausage warm on the grill, but with the flame turned off or just very low. Or transfer to a 300F oven.
Grill lamb until medium-rare.

SERVING:
To serve place the sauces in 3 small bowls in a triangle pattern on a large cutting board.
Place the corn and peppers in the center.
Place the meat around in between the bowls and serve!
Recommended Products
As an Amazon Associate and member of other affiliate programs, I earn from qualifying purchases.
Nutrition Information:
Yield:

6
Serving Size:

6
Amount Per Serving:
Calories:

992
Total Fat:

63g
Saturated Fat:

23g
Trans Fat:

1g
Unsaturated Fat:

37g
Cholesterol:

339mg
Sodium:

1144mg
Carbohydrates:

24g
Fiber:

4g
Sugar:

10g
Protein:

77g