Beth's Ultimate Burger Recipe
Summer presents the opportunity to get creative with our burgers! And for me, this one is hands-down the Ultimate Burger Recipe. It's a little bit American, a little bit French, and the perfect "mashup" of flavors for a creative twist on a classic burger.
These are the burgers I serve if I'm having a dinner party, and want the food to be casual and familiar but just spiffed up a bit to feel extra special.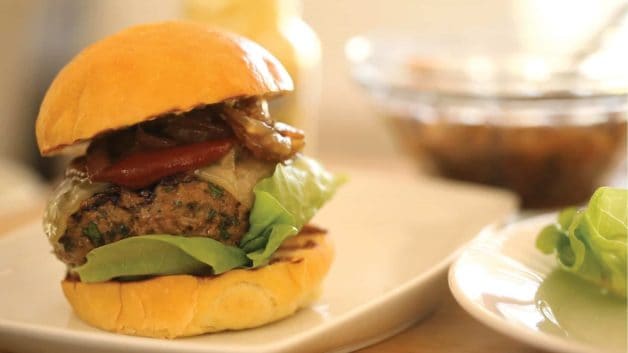 What to Serve with these Burgers?
Watch My Video Demo on This Burger Recipe Below!
Subscribe for weekly recipes
and new videos!
What's the Best Ground Beef to Use?
Personally, I think the best ground beef for burgers is organic, grass-fed beef with a high percentage of fat 80-85% lean. I wouldn't use lean beef for burgers since the fat will keep them nice and juicy! A burger made with lean meat tends to be a dry burger.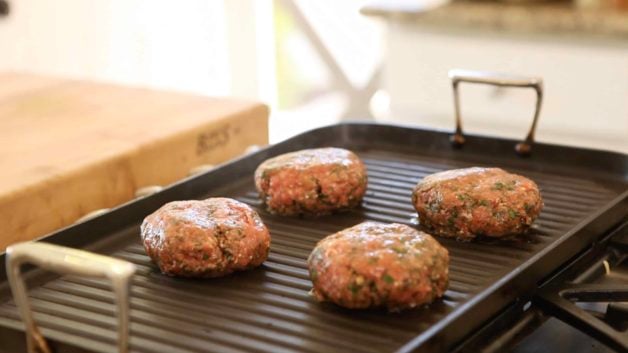 It's something you can ask your butcher for and often times it's also marked on the packaging too.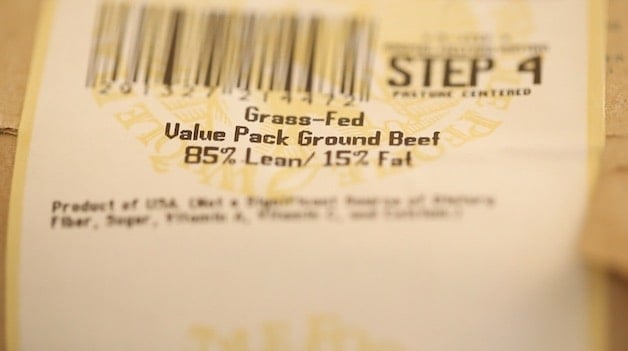 What spices to put in a burger?
This can be a matter of preference, but for a "Franglais" flavor I love to add Herbs de Provence. It's a spice blend you can find at most major supermarkets or online. It includes dried basil, oregano, parsley, and marjoram, and sometimes even dried lavender.
It gives your burgers a depth of flavor from the ground up, which is only built upon later with the toppings and spreads.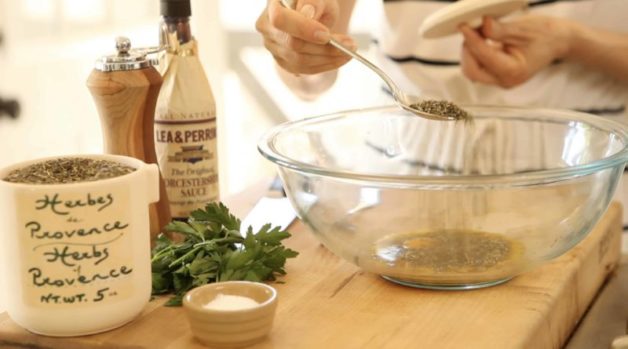 How do you make Hamburger Patties Stay together?
Some people will use a combination of bread crumbs and egg. Personally, I find the breadcrumbs weigh the burger down too much and they become too dry. So I just opt for the egg and it works great.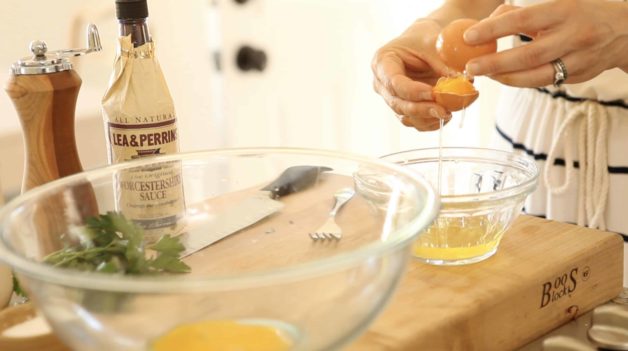 Do Not Over Work The Patties
Overworking the burger meat will create a tough, dense burger. Keep your patty-forming light and gentle will create a light and moist burger.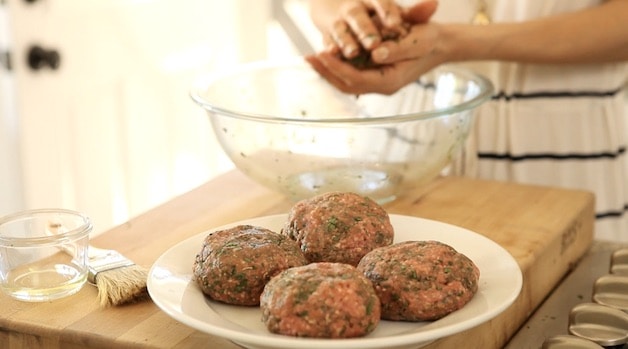 The Secret Ingredient For a Juicy Burger
Butter. It's all about the butter. Insert a cube of butter in the middle of your burger and then patch it up so it's well covered. This will prevent the butter from oozing out of the burger and instead stay inside the burger as it cooks.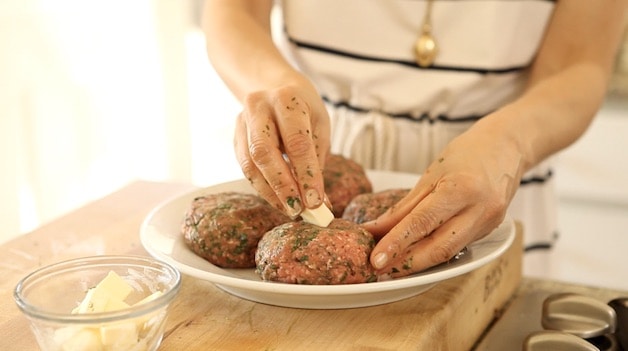 As the butter melts into the burger, it will create such a delicious juicy burger that's also full of flavor! Butter has a way of making anything taste better.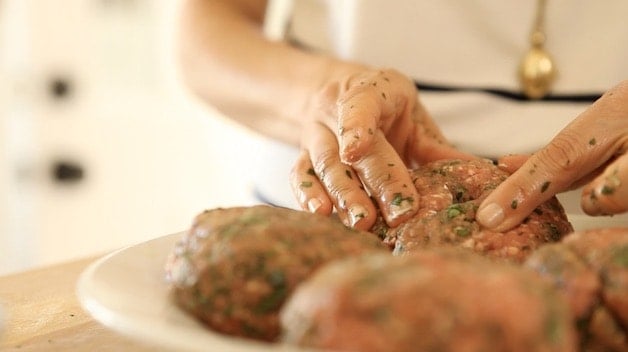 Resist the Temptation to "Flatten"!
I'm not sure why we are so tempted to flatten down our burgers with a spatula while they are cooking, but DO NOT DO THIS! See all the juice extracting from it? This should stay IN the burger not on our grills. Otherwise, we will contribute to "Dry Burger Syndrome".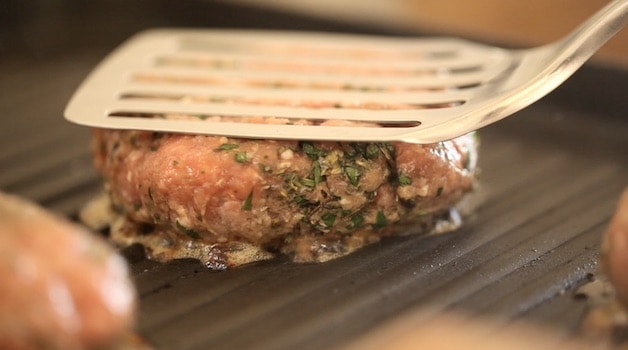 The Best Toppings!
Skip the American cheese and go for something a bit more interesting! For these burgers, I choose Swiss cheese. It gives you the right amount of sophisticated gooeyness and a nice European flavor profile.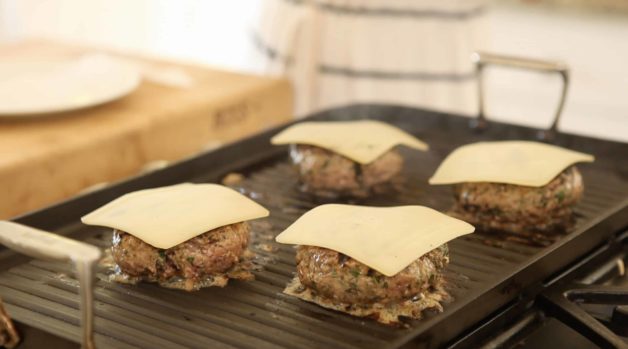 Raw vs. Caramelized Onions?
If you ask me a great burger is all about the caramelized onions! They can be made the day ahead and reheated in the microwave before serving.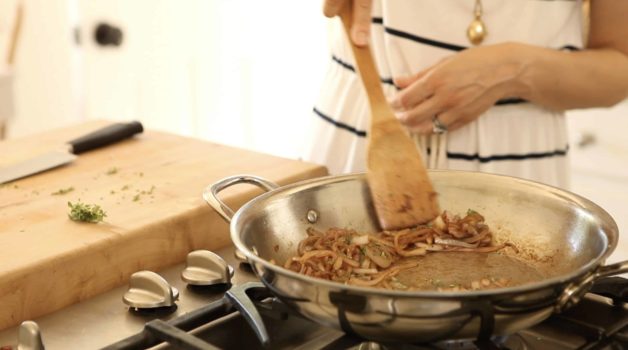 You'll sautee up some red onions in a skillet with olive oil until they are caramelized and fragrant. Adding some minced rosemary and balsamic vinegar gives them a wonderful sweet yet savory flavor.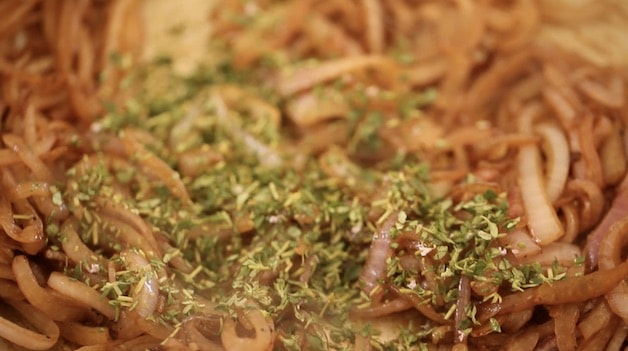 It's an easy step to do that will up your burger game ten-fold! Your friends and family will thank you when they bite into them and taste these fantastic onions.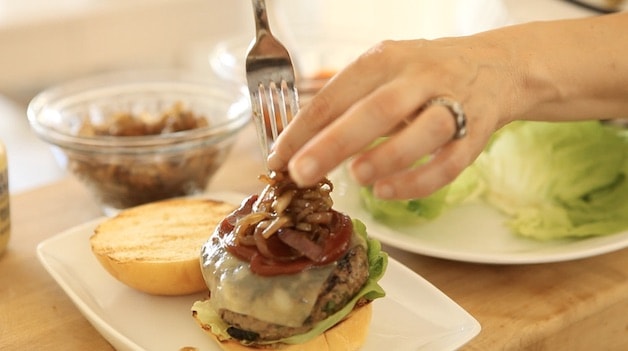 How To Make Gourmet Ketchup in 2-Steps
For the ketchup, you'll want to go smokey. The smokey flavor gives these burgers a really nice gourmet-burger flair! And it's the easiest trick in the book that guests will be hard-pressed to figure out what magical spell you put on their ketchup to make it taste so good!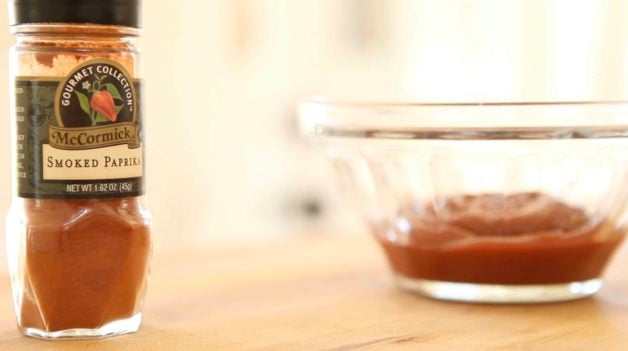 Just add some smoked paprika to regular store-bought ketchup et voila! Yes, it's as simple as that and makes all the difference! This ketchup is also really great with some potato wedges or roasted potatoes for a breakfast side too!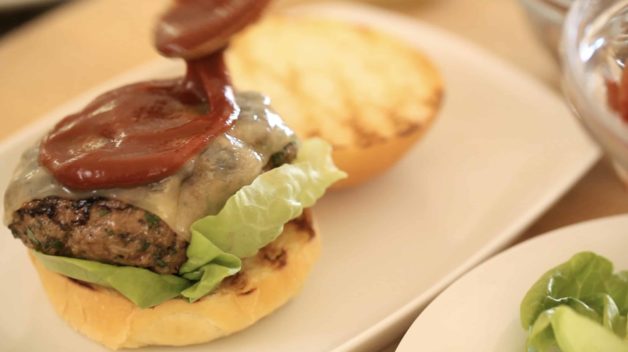 Go For The Brioche Buns
Nothing says fancy hamburger quite like a brioche bun, and for a true "Franglais" burger the bun must be a brioche and toasted. And for a subtle crunch and bit of freshness add some light and dainty Bibb lettuce.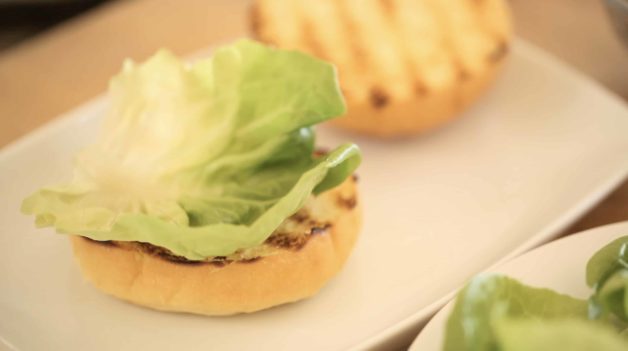 And there you have it, one Ultimate Burger Recipe that will be the talk of your summer backyard BBQ and shake up your burger game!
If You Enjoyed this Recipe Please
leave a rating and review below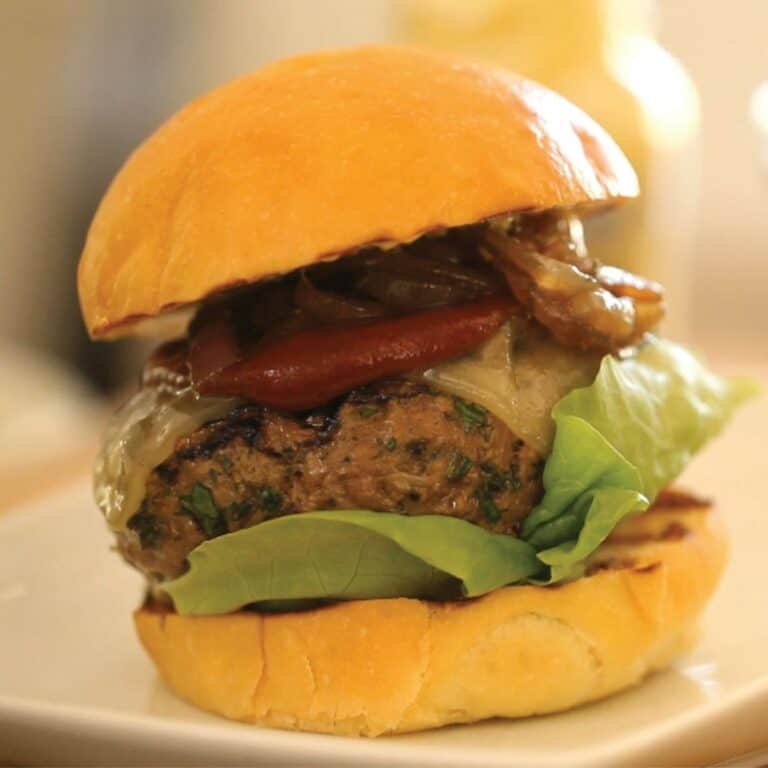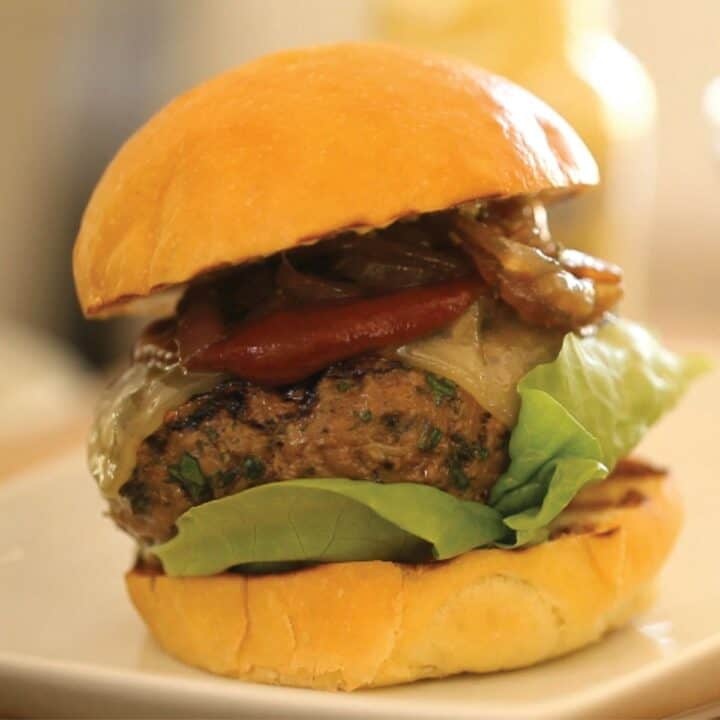 Beth's Ultimate Burger Recipe
Total Time:
1 hour
10 minutes
The fourth of July presents the opportunity to get creative with our burgers!  And for me, this one is hands-down the Ultimate Burger Recipe.It's a little bit American, a little bit French and combined you have the ultimate "mash up of flavors" for this year's backyard feast.
Ingredients
Burgers
2 lbs (900g) ground beef (80-85% lean, you need some fat to keep the burger moist)
2 egg yolks
2 tablespoon (30 ml) Worcestershire sauce
2 tablespoon (30 ml) Herbs de Provence
2 tablespoon (30 ml) fresh parsley, finely diced
1 teaspoon (5 ml) salt
½ teaspoon (2.5 ml) pepper
5 teaspoon (15 g) butter
5 Brioche Buns
5 slices Swiss Cheese
5 slices Bibb Lettuce
5 teaspoon (60ml) Dijon mustard
Smokey Ketchup
½ cup (120 ml) of Ketchup
1 teaspoon (5 ml) smoked paprika
Caramelized Onions
2 tablespoon (30 ml) olive oil
2 red onions
salt and pepper to taste
2 teaspoon (10 ml) balsamic vinegar
1 tablespoon (15 ml) fresh thyme
Instructions
To begin, start by caramelizing the onions. Place oil in a pan until shinny, add onions, salt, and pepper and saute occasionally until soft and nicely browned. Then add vinegar and cook until evaporated and onions are limp and well caramelized. Set aside.
Then combine the ketchup with the paprika and set aside.
In a large bowl mix together eggs, Worcestershire sauce, herbs de Provence, parsley, salt, and pepper. Place in your meat and gently mix with your hands. Do not overmix or you will have a tough burger.
Form into gentle patties, and tuck a pat of butter into the center, this will keep it moist. Grill on a well-oiled grill or a grill pan, 4-5 mins for medium-rare, flip, add the cheese immediately, and grill for another 4-5 mins.
Once the burgers are done allow them to rest for 5 mins (for the juices to set and redistribute), while you grill your buns to lightly toast them.
To assemble, place Bibb lettuce on the bottom bun, top with burger. Place a dollop of ketchup on the burger, and top with a little pile of onions spread Dijon mustard on the top bun, and place on top. Et Voila! Enjoy!
Notes
The secret to a juicy burger is flip once and don't press down the burger, that only will force it to release its juices and dry out! Don't touch and just let them do their thing uninterrupted
Nutrition Information:
Yield:

5
Serving Size:

1
Amount Per Serving:
Calories:

619
Total Fat:

38g
Saturated Fat:

17g
Trans Fat:

1g
Unsaturated Fat:

17g
Cholesterol:

245mg
Sodium:

756mg
Carbohydrates:

43g
Fiber:

3g
Sugar:

11g
Protein:

26g