If you are looking for a fantastic berry dessert idea for Fourth of July, my Triple Berry Campfire Cake Recipe is a must try!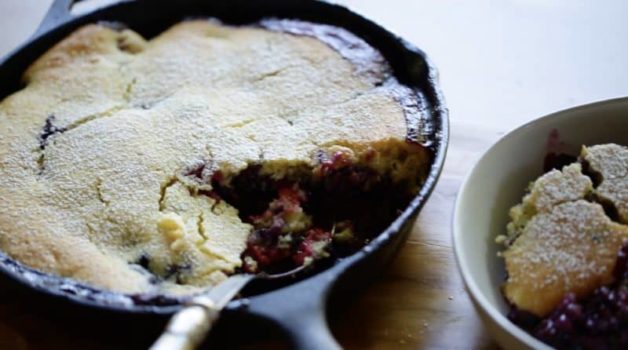 It's such an easy dessert to prepare because you are using berries, the fruit doesn't need to be peeled or cut.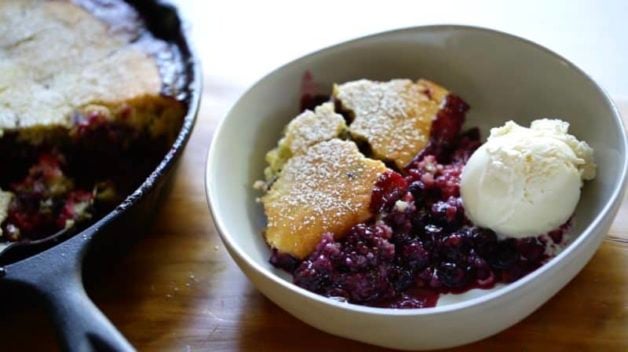 It's also really easy to serve because all you have to do is bake it in a 10″ cast-iron skillet, bring it to the table and scoop of a nice helping of it into some bowls, top with vanilla ice cream, and you're done! (the link above goes to Amazon where I am an affiliate partner)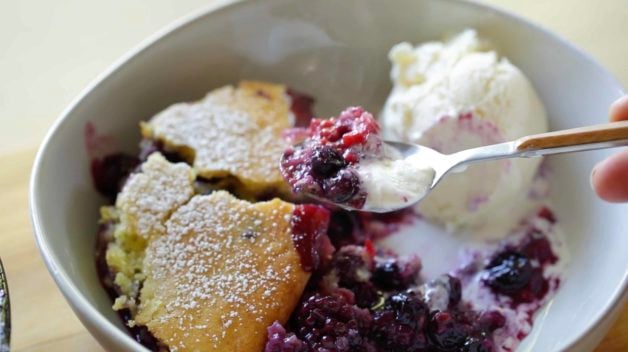 As the ice cream melts it creates the most delicious sauce that mingles with the berries and the cake and is just the perfect finish to a festive summer meal.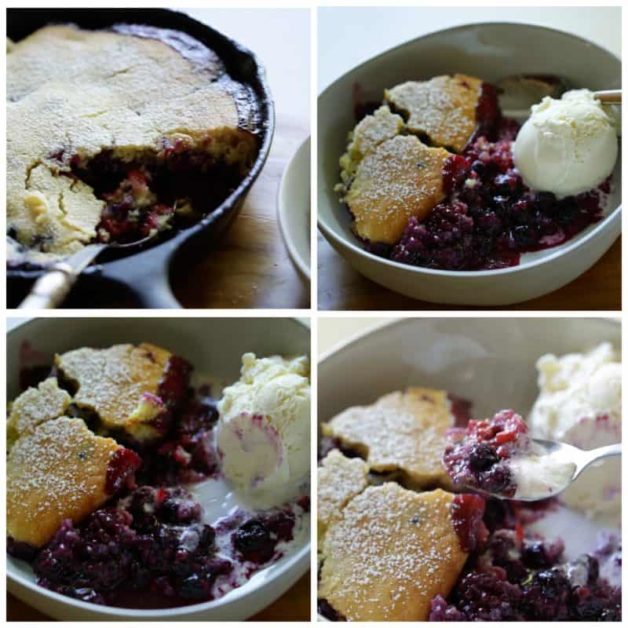 WATCH MY TRIPLE BERRY CAMPFIRE CAKE RECIPE VIDEO
Print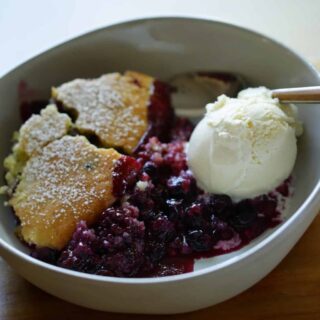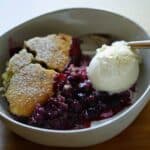 Triple Berry Campfire Cake Recipe
---
Description
A modern take on a traditional campfire cake or "dump cake" that you can make in your oven.
---
Scale
Ingredients
1 pint (300g) blueberries
12 oz (225g) raspberries
12 oz (225g) of blackberries
¼ cup (50g) sugar
2 tbsp (13g) cornstarch
2 tbsp (30 g) butter, diced into small cubes
FOR THE CAKE:
½ cup (120ml) melted butter
½ cup (100g) sugar
2 eggs
1 ½ (7.5 ml) tsp vanilla extract
1 tsp (5 ml) orange zest
1/3 cup (80 ml) fresh orange juice
1/3 cup (80 ml) water
1 ½ cup (180g) flour
2 tsp (10 ml) baking powder
½ tsp (2.5 ml) salt
Dusting of powdered sugar for top of baked cake
---
Instructions
Preheat oven to 350F(175C)
Grease a 10" (25 cm) cast-iron skillet. Set aside.
Toss berries with sugar and cornstarch, transfer to skillet. Top with butter, well distributed all over the top of berries. Set aside.
In a large bowl mix together the melted butter, sugar, eggs, vanilla extract, orange zest and juice and water. Set aside.
In a smaller bowl whisk together the flour, baking powder and salt. Gently whisk the dry ingredients into the wet ingredients until combined.
With an ice cream scoop, dollop the batter over the berries, leaving some berries peeking through if desired.
Bake for 40-45 mins until a toothpick comes out clean on the cake and berries are bubbling underneath.
Dust with powdered sugar before serving, and scoop out portions, and serve with vanilla ice cream.
---
Notes
This can be made 1-2 hours ahead of time and kept at room temperature. To reheat place in a 300F (150C) oven and warm for 30-35 mins.
Keywords: cobbler recipes, Dump Cake, Berry Desserts, Summer Desserts, Campfire Cake, Skillet Cake
MORE GREAT SUMMER DESSERT IDEAS!
Ginger Molasses Ice Cream Sandwiches, No-Bake Triple Berry Cheesecake, Homemade Mint Chip Ice Cream