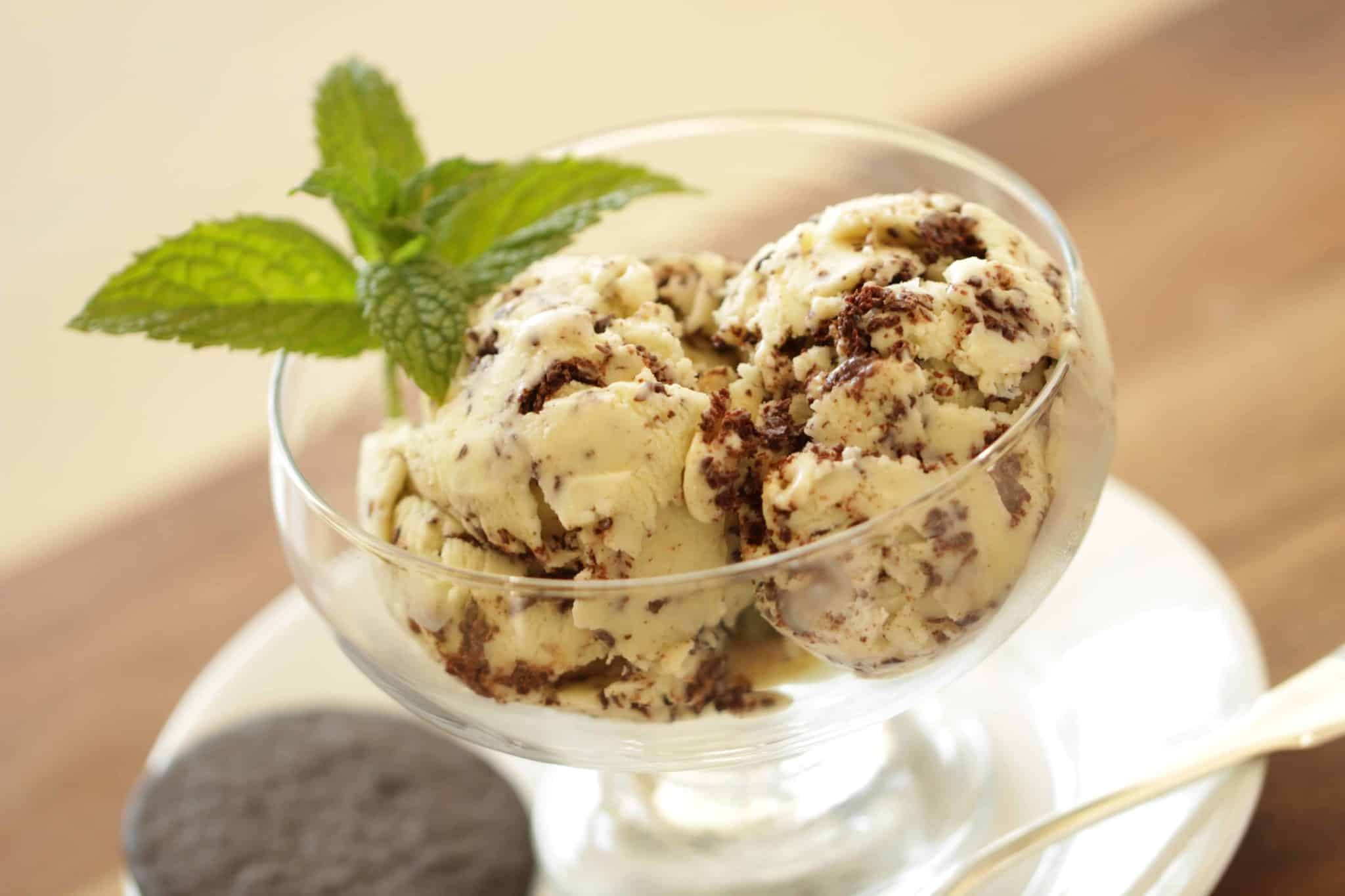 There's nothing quite like the satisfaction of homemade Mint Chocolate Chip Ice Cream. Especially, now in late summer with the mint taking over my garden! Come August when it's really out of control, a batch of this ice cream is always in order.
I love this recipe because it's not overly sweet and dotted with just the right amount of bittersweet chocolate.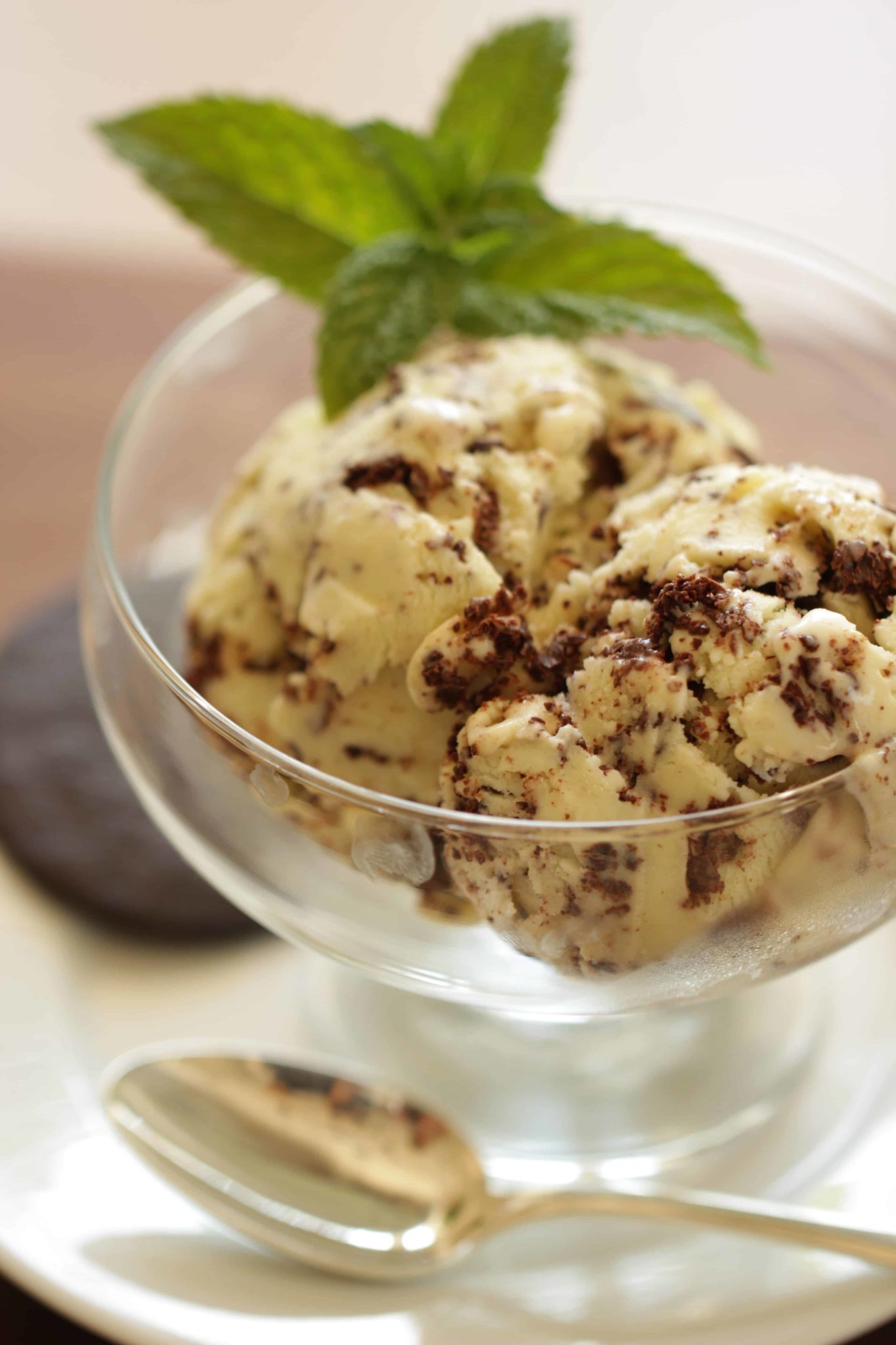 For a step-by-step tutorial of this recipe.  You can watch my video demo below.  SUBSCRIBE TO MY YOUTUBE CHANNEL (it's free!) and never miss a recipe.  New videos post each Saturday!
SHOP MY MINT CHOCOLATE CHIP RECIPE: (These links go to Amazon where I am an affiliate partner)
Ice Cream Maker (I love this machine because as far as ice cream makers go, this one is pretty quiet and really fast! You just have to remember to freezer the interior bowl first.  I just keep mine in the plastic bag it comes in, and store in the freezer. That way is always ready to go!) Ice Cream Bowls (these little bowls are just what I imagine for homemade ice cream.  If you've gone through all this trouble surely it deserves a "footed" bowl. It's also cute for cute serving dips, puddings and mousses too!) Ice Cream Tub (so handy and helpful!) Ice Cream Scoop (This one is seriously a really great scoop! It has some kind of liquid in the handle which makes it just glide through the ice cream, creating a perfect scoop)
Print
SHOP MY MINT CHOCOLATE CHIP ICE CREAM RECIPE:Mint Chocolate Chip Ice Cream
---
Author:

Prep Time:

4 hours

Cook Time:

90 mins

Total Time:

5 hours 30 mins

Yield:

serves 6

Category:

Dessert

Cuisine:

American
Ingredients
5 egg yolks
2 tbsp (30 ml) of cornstarch
2 1/2 cups (600 ml) of milk
1 cup (240 ml) of heavy cream
¾ cup (150g) of sugar
¼ tsp (1.25ml) salt
2 cups (480 ml) fresh mint
4 oz (113 g) of melted bittersweet chocolate
---
Instructions
Place the milk, cream , sugar and salt in a medium size pot and heat until simmering. Add the fresh mint and turn off the heat. Cover and allow to "steep" for 1 ½ hours.
When time is up, remove mint leaves and discard.
Then prepare an ice bath. I like to use a large sauté pan and fill it with ice. The metal of the pan, keeps the ice from melting. Set a medium size bowl on top, and top that with a fine mesh sieve. Set this aside, you'll need it in a minute.
Place 5 egg yolks in a large heat safe bowl and whisk together with the cornstarch. Add the mint cream and whisk to combine. Place this new mixture back into the sauce pan and heat on medium, stirring all the while, to cook the eggs and thicken the mixture.
As soon as the mixture coats the back of a wooden spoon, it's done.
Transfer mixture through a sieve into the medium bowl, Stirring mixture to cool it down.
Cover and refrigerate for at least 2 hours until well chilled, or overnight.
Then pour your mixture into your ice cream maker and begin to process according to your machine's instructions.
In the final moments before your ice cream is done churning (about 5 mins before), pour the melted chocolate into the machine's feed tube in a thin stream which will create an instantly hardened chocolate ribbon. ☺
When ice cream is done, transfer to a freezer safe container and freeze overnight.
Ice cream will keep in your freezer for at least 5 days. (If you can keep it around that long!)
Garnish ice cream with fresh mint and serve with chocolate cookies (like Famous Chocolate Wafers, so good!)