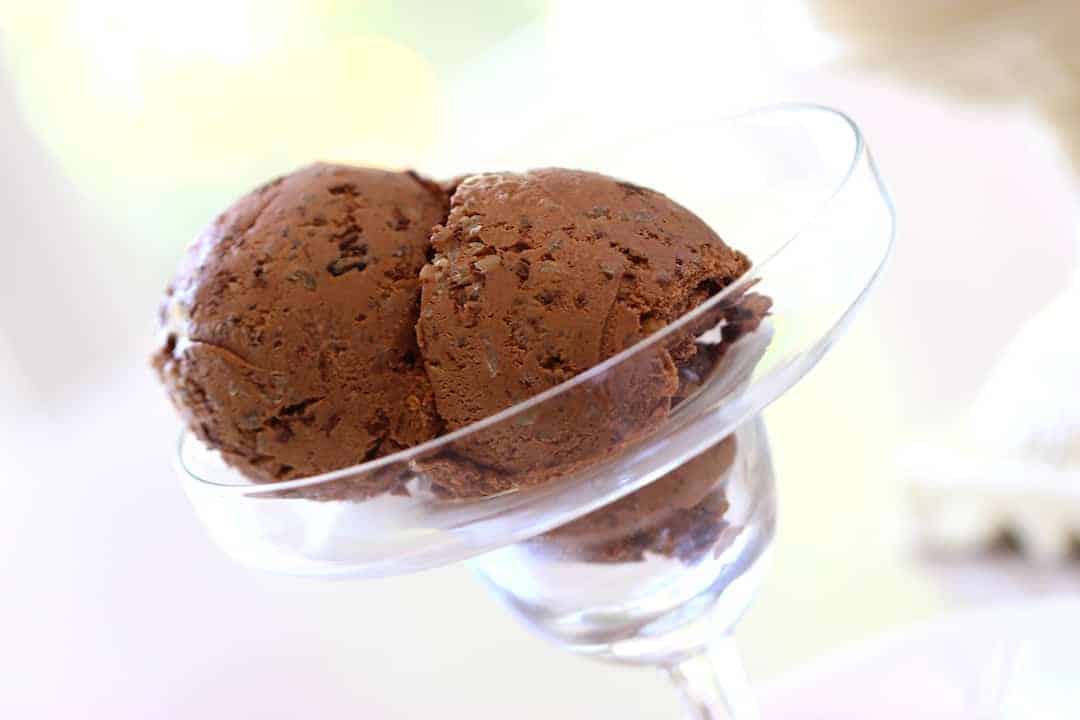 There's nothing quite list the taste of homemade ice cream.  Yes, it takes a bit of effort and time, but the satisfaction of your own homemade ice cream flavors can not be beat.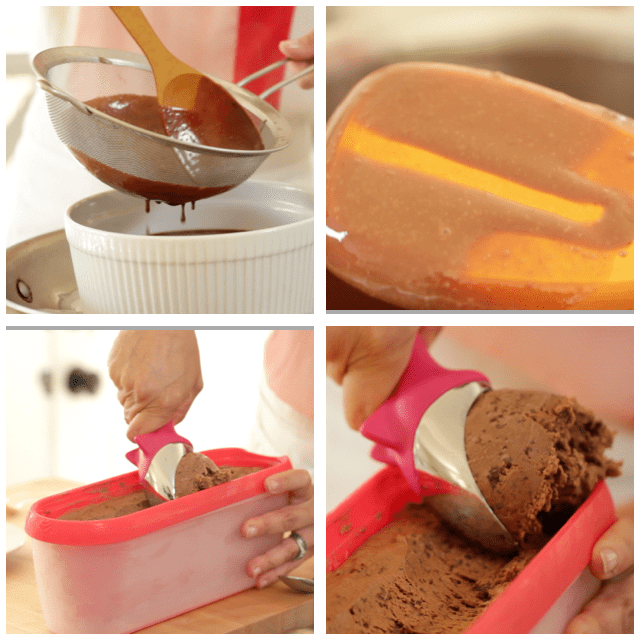 This one is one of my favor flavors, because it's rich and chocolaty but also speckled with the crunch of nuts, the chewiness of dried cherries and of course the ribbons of bittersweet chocolate. It's SO worth the effort my friends!
For a step-by-step tutorial of this recipe you can watch my video demo below.  Subscribe to my YouTube Channel and never miss a recipe!  (It's free!) and new recipe videos post each week.
PRODUCTS I RECOMMEND FOR THIS RECIPE: (These links go to Amazon where I am an affiliate Partner)
Cuisinart Ice Cream Maker this is a great entry level model that works great!, Tovolo Glide a Scoop  this is a great container to hold your ice cream once it's made, also fits on the door of most freezers too!, Tovolo Ice Cream Scoop for making round beautiful scoops with ease!
Print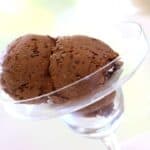 Chocolate Chunk Ice Cream Recipe
---
Author:

Prep Time:

3 hours

Cook Time:

5 mins

Total Time:

3 hours 5 mins

Yield:

1.5qt

Category:

Dessert

Cuisine:

American
Ingredients
6 egg yolks
1 cup (240 ml) of milk
2 cups (480 ml) cream
2/3 cup (130 g) sugar
½ tsp (2.5) salt
8 0z (226 g) bittersweet chocolate (minimum 60% cocao)
For Mix-Ins
4 ounces (113 g) semi-sweet chocolate, melted
1 cup (150 g) walnuts, chopped
2/3 cup (75 g) dried cherries
---
Instructions
Place 6 egg yolks in a large heat safe bowl and whisk together.
Place the bittersweet chocolate in another heat safe bowl and set aside.
Place the milk, cream , sugar and salt in a medium size pot and heat until simmering. Then pour the cream mixture over the chocolate and let stand while you wash out your pot, and then whisk until chocolate melts and is smooth.
Then, slowly pour about 1/3 cup of the warm chocolate mixture into the egg mixture and whisk to "temper the eggs" essentially bringing the temperature of the eggs up gradually so that your eggs don't scramble.
Then you can add the rest of the warm chocolate mixture slowly, whisking all the while. Set aside.
Then prepare an ice bath. I like to use a large sauté pan and fill it with ice. The metal of the pan, keeps the ice from melting. Set a medium size bowl on top, and top that with a fine mesh sieve. Set this aside, you'll need it in a minute.
Then heat your chocolate mixture slowly on a medium flame until custard thickens and coats the back of a wooden spoon. (about 4-5 mins) Don't rush this step since you want to make sure the eggs have a chance to cook as well
Then pour the warm chocolate mixture over the sieve and into the bowl resting in the ice bath. Allow this mixture to cool, stirring occasionally so that a skin does not form.
Cover and refrigerate for at least 2 hours until well chilled, or overnight.
Then pour your mixture into your ice cream maker and begin to process according to your machine's instructions.
In the final moments before your ice cream is done churning (about 5 mins before), pour the melted semi-sweet chocolate into the machine's feed tube in a thin stream which will create an instantly hardened chocolate ribbon.
Then add the walnuts and then the cherries.
When ice cream is done, transfer to a freezer safe container and freeze overnight.
Ice cream will keep in your freezer for at least 5 days. (If you can keep it around that long!)