This easy recipe for how to make a strawberry shortcake biscuit is perfect for any novice baker to master! This is no-fuss baking at its best and is perfect for summer entertaining. Includes step-by-step video tutorial below.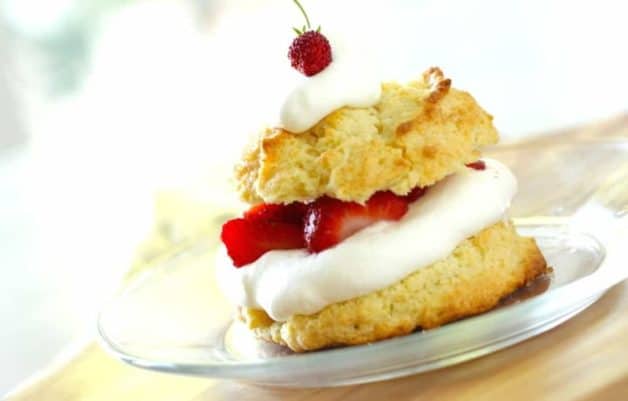 When the first few strawberries appear in the spring, I start to dream of these no-fuss strawberry shortcake biscuits. There's just something so comforting about the sweet fluffy biscuits, lightly sweetened whipped cream and juicy strawberries!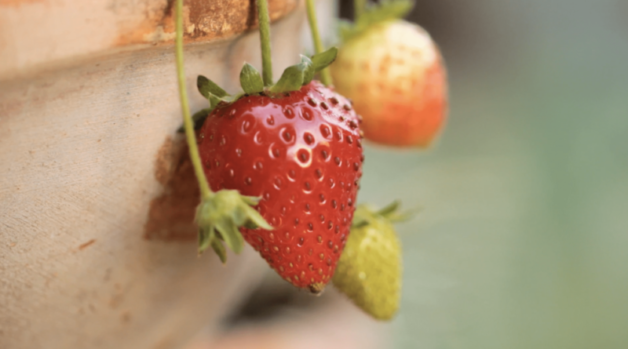 I'm always charmed by the surprise of a green berry turning red! As if to say "pick me! I'm ready!"
WATCH MY SHORTCAKE VIDEO BELOW
Subscribe to my YouTube Channel for more recipe videos! (it's free!)
What are the ingredients to make shortcake biscuits?
The ingredients for these biscuits are simple and I bet you already have many of them already on hand! You'll need all-purpose flour, sugar, salt, baking powder, butter, heavy cream and one egg (exact recipe below)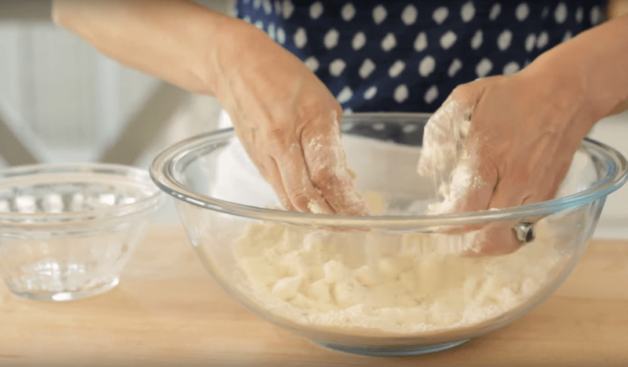 How do you make shortcake biscuits?
To make the biscuits you'll whisk together the dry ingredients, then work the butter cubes into this flour mixture with your hands, until mixture resembles coarse crumbs. Then you'll create a little well in the center and pour in the cream and egg mixture. Combine with a fork until a dough forms and that's it!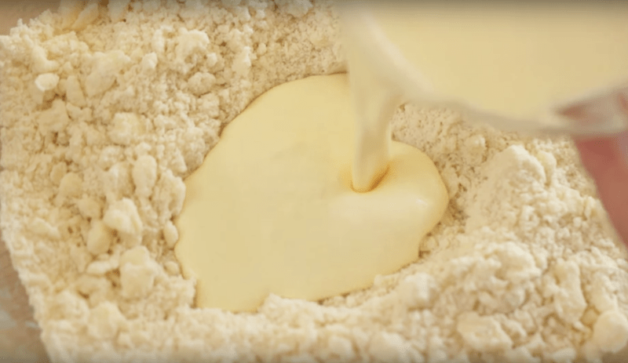 Scoop out with an ice cream scooper onto a prepared baking sheet lined with parchment paper and bake.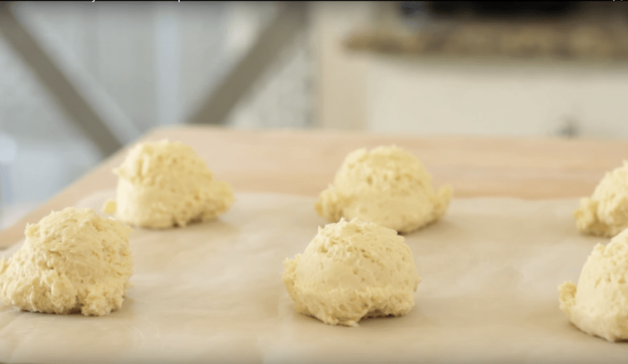 This Strawberry Shortcake Recipe is so easy it can be whipped up in a flash, which also makes it kinda dangerous! It's so good and easy you'll find yourself making these all summer long!
TIP: You can make the biscuits ahead of time, bake and then allow them to cool on your baking tray. Then moments before serving place them in a 300F oven for 10-15 minutes to warm through.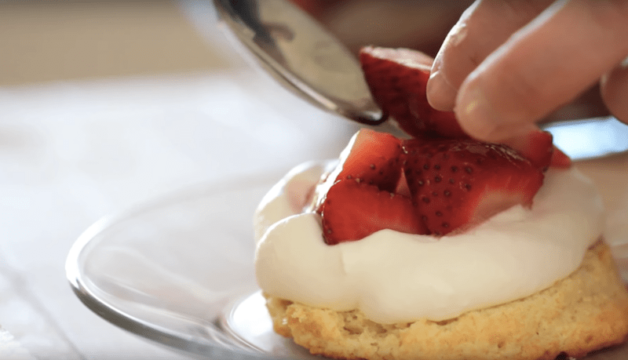 More Summer Desserts!
Please let me know if you make this no-fuss strawberry shortcake recipe by leaving a rating and review below.
Follow me on Youtube, Pinterest, Instagram, Facebook & Twitter!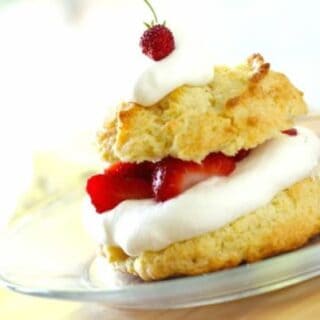 Strawberry Shortcake Biscuits
This easy recipe for how to make a strawberry shortcake is perfect for any novice baker to master! No-fuss baking perfect for summer entertaining.
Ingredients
1 1/4 cups (150 g) flour
2 tablespoon (25 g) white sugar
½ teaspoon (2.5 ml) salt
1 tbsp (15 ml) baking powder
8 tablespoons (120 g) cold butter, diced into cubes
2/3 cup (160 ml) heavy cream
1 egg
Raw, turbinado sugar for tops
2 ½ cups (375g) fresh strawberries, quartered
2 tsp sugar
2 cups heavy cream
2 tbsp (13 g) powdered sugar
1 tsp (5 ml) vanilla
Instructions
Preheat oven to 400F/200C.
In a large bowl add flour, sugar, salt, baking powder, and whisk until combined. Then add butter working it into the flour with your hands, creating a coarse meal.
In a smaller bowl whisk together the egg and the cream until combined.
Make a small well in the center of the flour mixture. Pour cream mixture into the well and work dough together with a fork until combined. Do not over mix. Allow dough to rest 5 mins to activate baking powder.
Scoop out dough with an ice cream scooper placing 6 mounds on a parchment lined cookie sheet. Top each mound with a sprinkle of Turbinado sugar (or plain white sugar)
Bake for 12-13 mins until golden brown and set.
Meanwhile toss the strawberries together with the sugar. Keep refrigerated until ready to use.
To make cream place all ingredients in a bowl fitted with an electric mixer whip until soft peaks form.
To assemble. Slice the top 1/3 of shortcake off, set aside. Lay a layer of whipped cream on the base of the short cake, top with a scoop of strawberries, then place top of shortcake on top, Garnish with another small dollop of cream, and a sprig of mint of another whole strawberry.
Notes
You can make the shortcakes ahead of time bake and leave them on the tray at room temperature. Then moments before serving, pop them in a 300F oven to warm through for 10-15 minutes. Serve warm.
Nutrition Information:
Yield:

6
Serving Size:

1
Amount Per Serving:
Calories:

450
Total Fat:

46g
Saturated Fat:

29g
Trans Fat:

2g
Unsaturated Fat:

14g
Cholesterol:

165mg
Sodium:

156mg
Carbohydrates:

8g
Fiber:

0g
Sugar:

8g
Protein:

4g