Strawberry Cobbler Recipe
This Strawberry Cobbler Recipe with easy drop biscuits is a fantastic dessert recipe now that strawberries are in season! And when served over strawberry ice cream, it's a wonderful combination of flavors and textures!
For more strawberry desserts try my Strawberry Ice Cream Sauce or my Strawberry Pistachio Tart.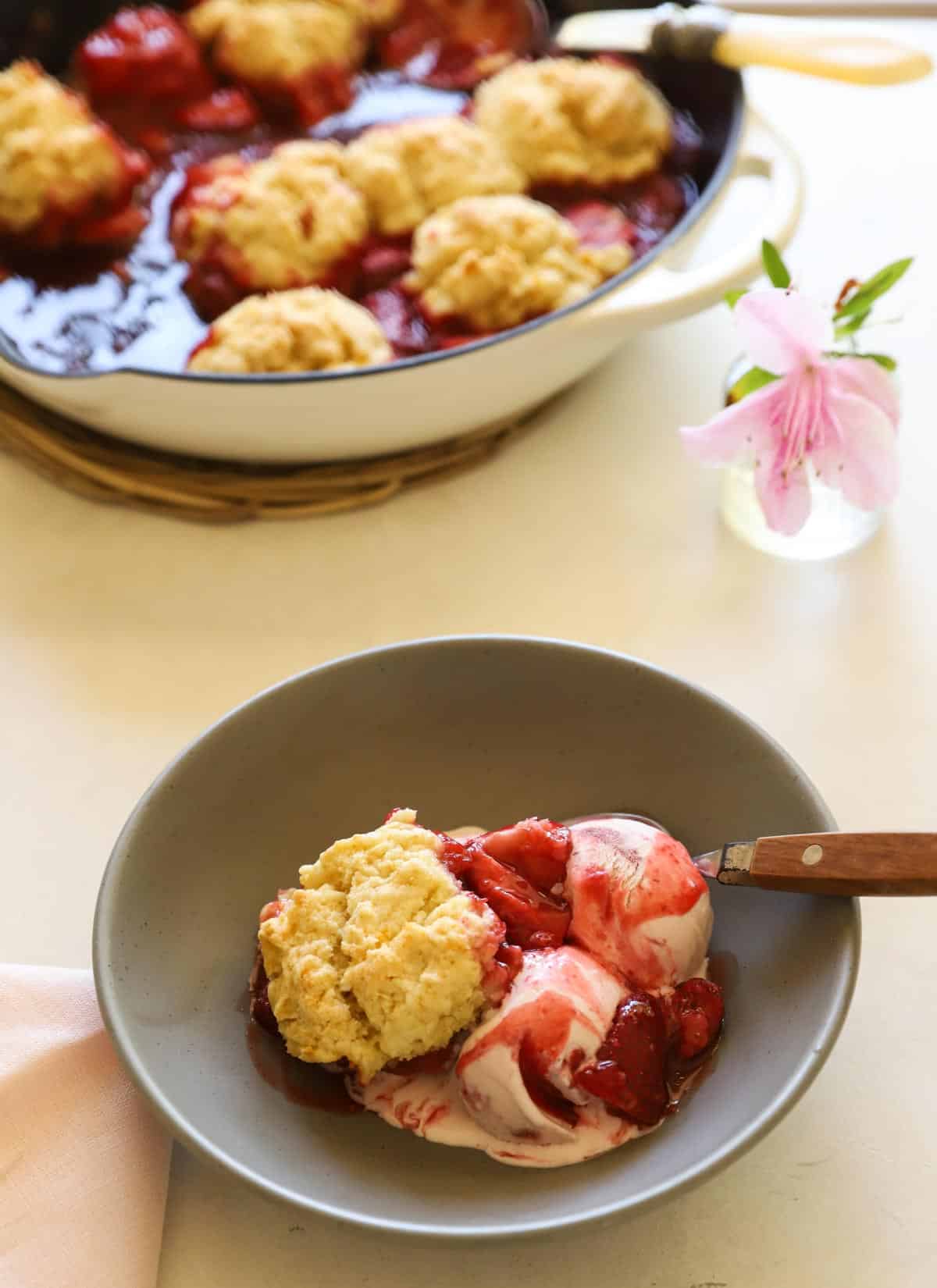 What is a cobbler dessert?
A cobbler dessert is any fruit-based dessert that is baked in a large baking dish and covered with a biscuit, cake batter, or dumpling. For a cobbler with a more cake-light texture try my Triple Berry or Peach Cobbler recipes.
They are a popular dessert to serve in the summertime when the fruit is plentiful and no one wants to spend all day in the kitchen.
The best part of this recipe is the light and flakey biscuits, similar to the texture of my Strawberry Scone Recipe

.

They add a wonderful texture to the dessert that is a great compliment to the creamy ice cream and syrupy strawberries.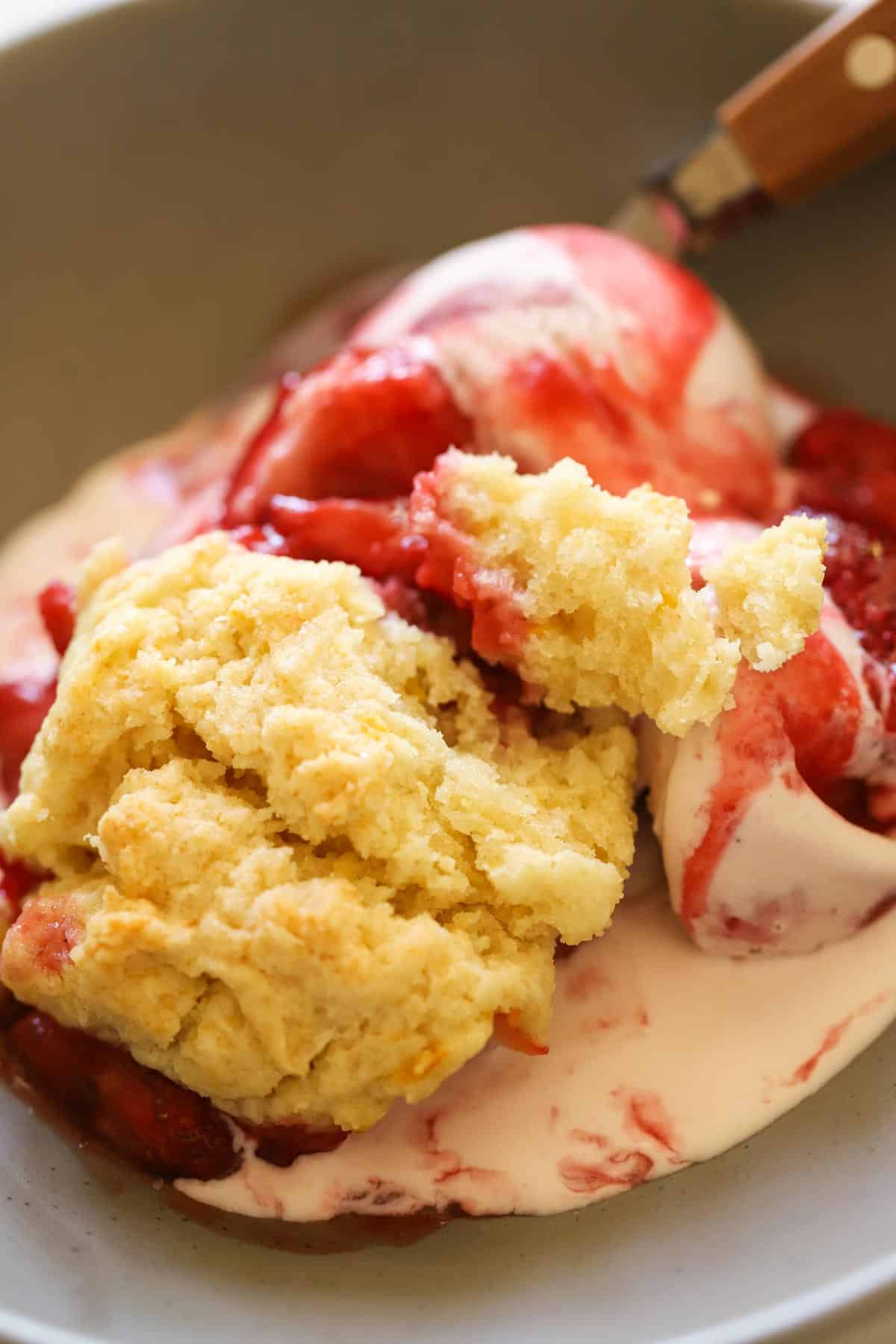 Prepping the Strawberries
Strawberries become bit delicate when baked.
For this it's best to hull the strawberries and then cut them in half.
Cutting them in half allows for bite sized pieces once the strawberries cook down, while still allowing for a chunky sauce.
Avoid slicing the strawberries too small, or they will become too mushy.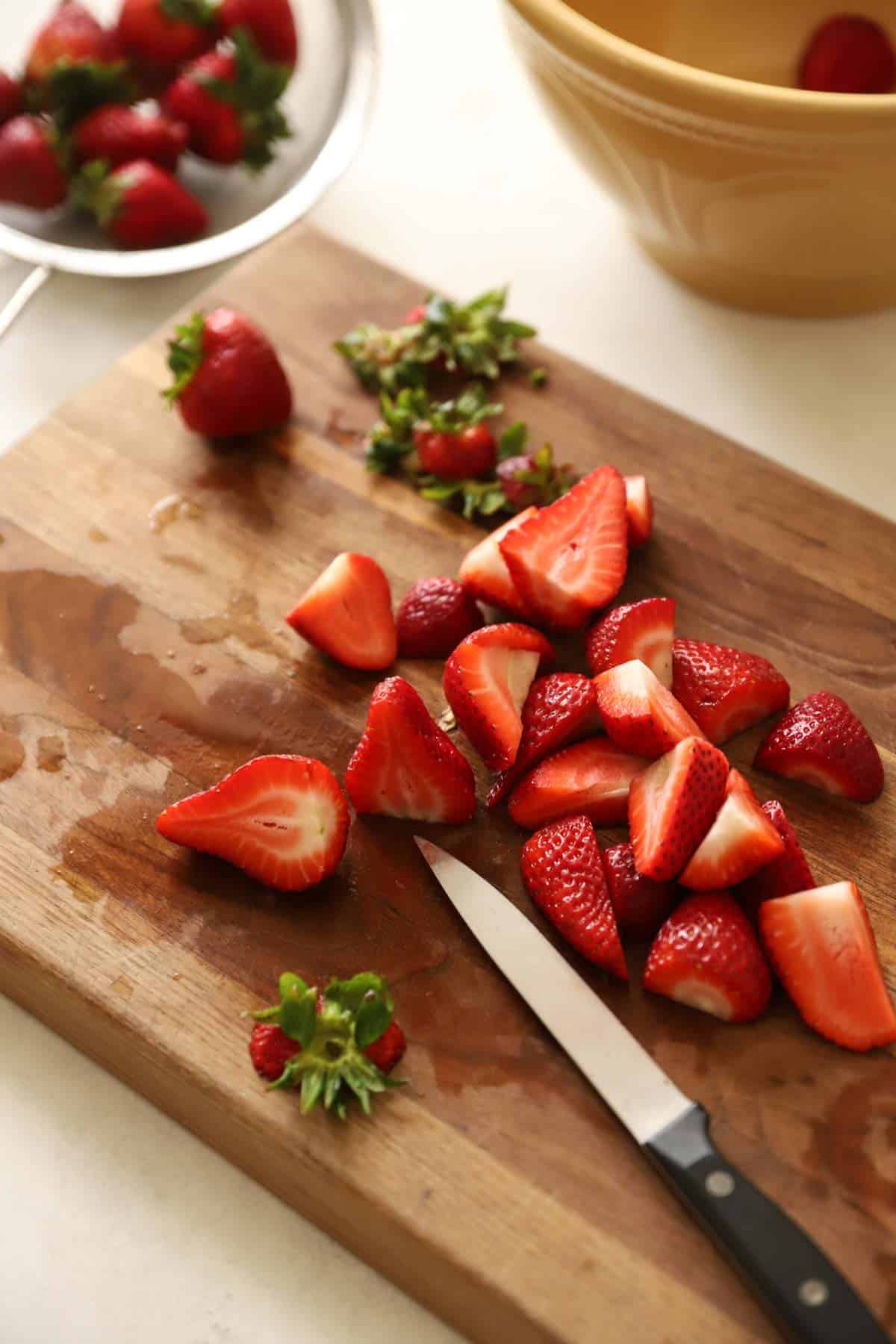 Subscribe for weekly recipes
and new videos!
Bake the Cobber in a Cast-Iron Skillet
I like to use a cast-iron skillet because it creates even heat and the fruit gets and syrupy in the process.
A skillet also makes it easy to serve oven-to-table once it's done.
If you don't have a cast-iron skillet you can also bake it in a 10x10 casserole dish or deep dish pie plate.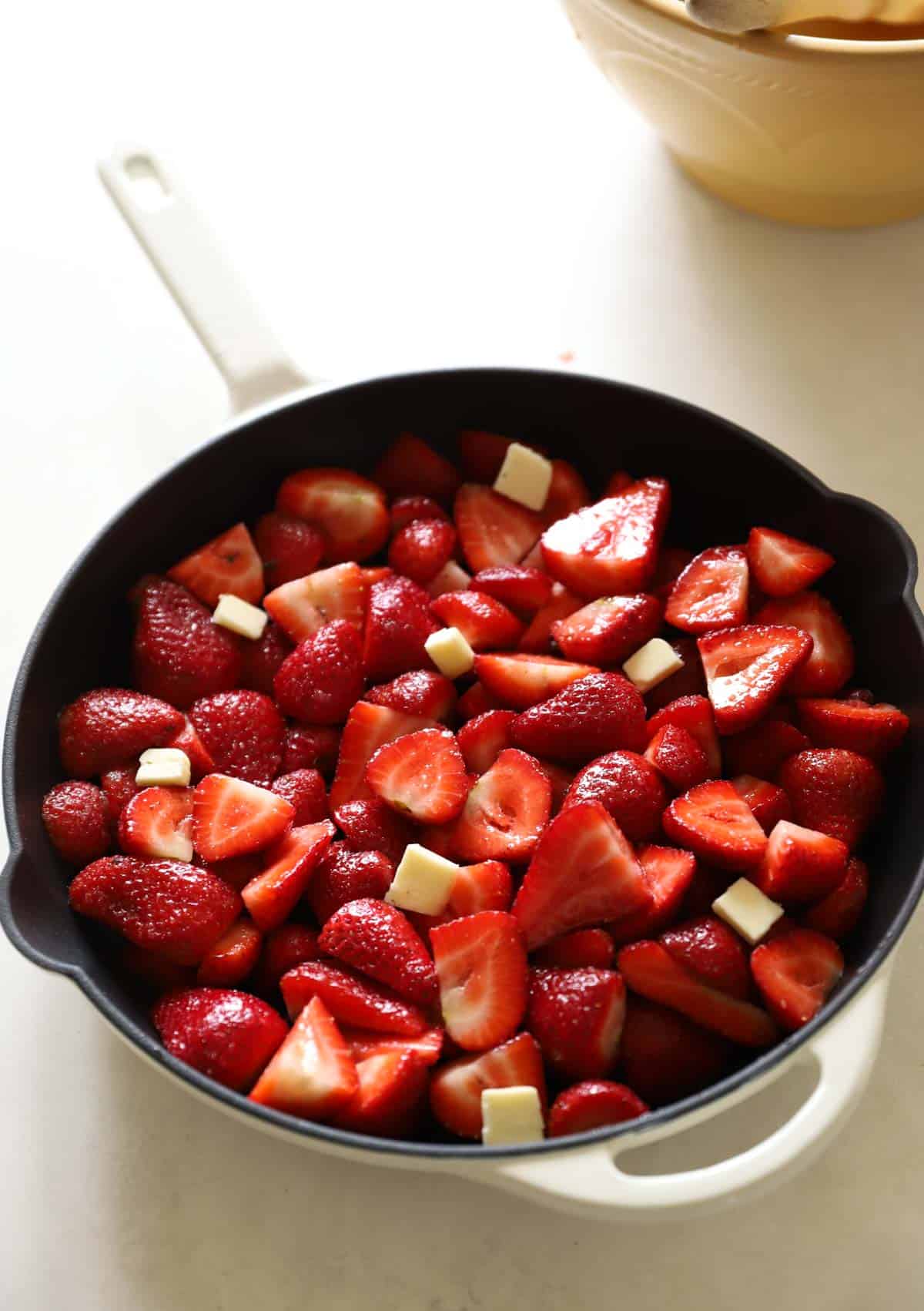 Adding the Drop Biscuits
Scoop out the drop biscuits with an ice cream scoop and place them on top of the strawberries.
Give your biscuits room to expand since they do puff up a bit in the oven.
You could also prepare the cobbler in advance and then place the skillet in the refrigerator. Then when you sit down to dinner place the skillet in the oven to bake.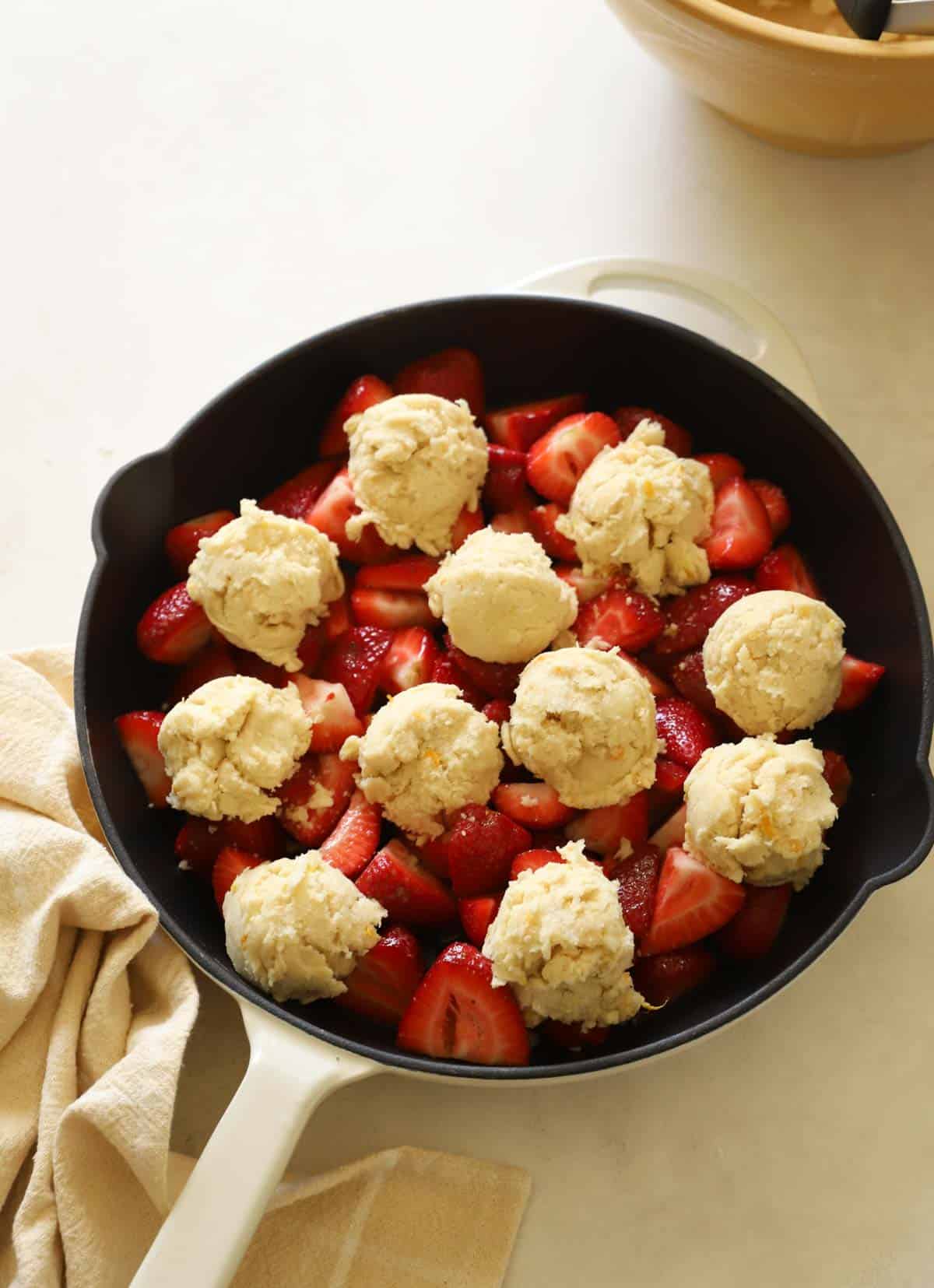 Serving and Storage
I love to serve strawberry cobbler over strawberry ice cream, because the flavors are fantastic! But you could also use vanilla ice cream as well.
Serve it oven to table with 2 scoops of ice cream, a drizzle of warm strawberries and a biscuit on the side.
Store any leftovers in a microwaveable safe dish (not the cast-iron) and place it in the refrigerator.
Then microwave on high at :30 intervals until hot, to reheat.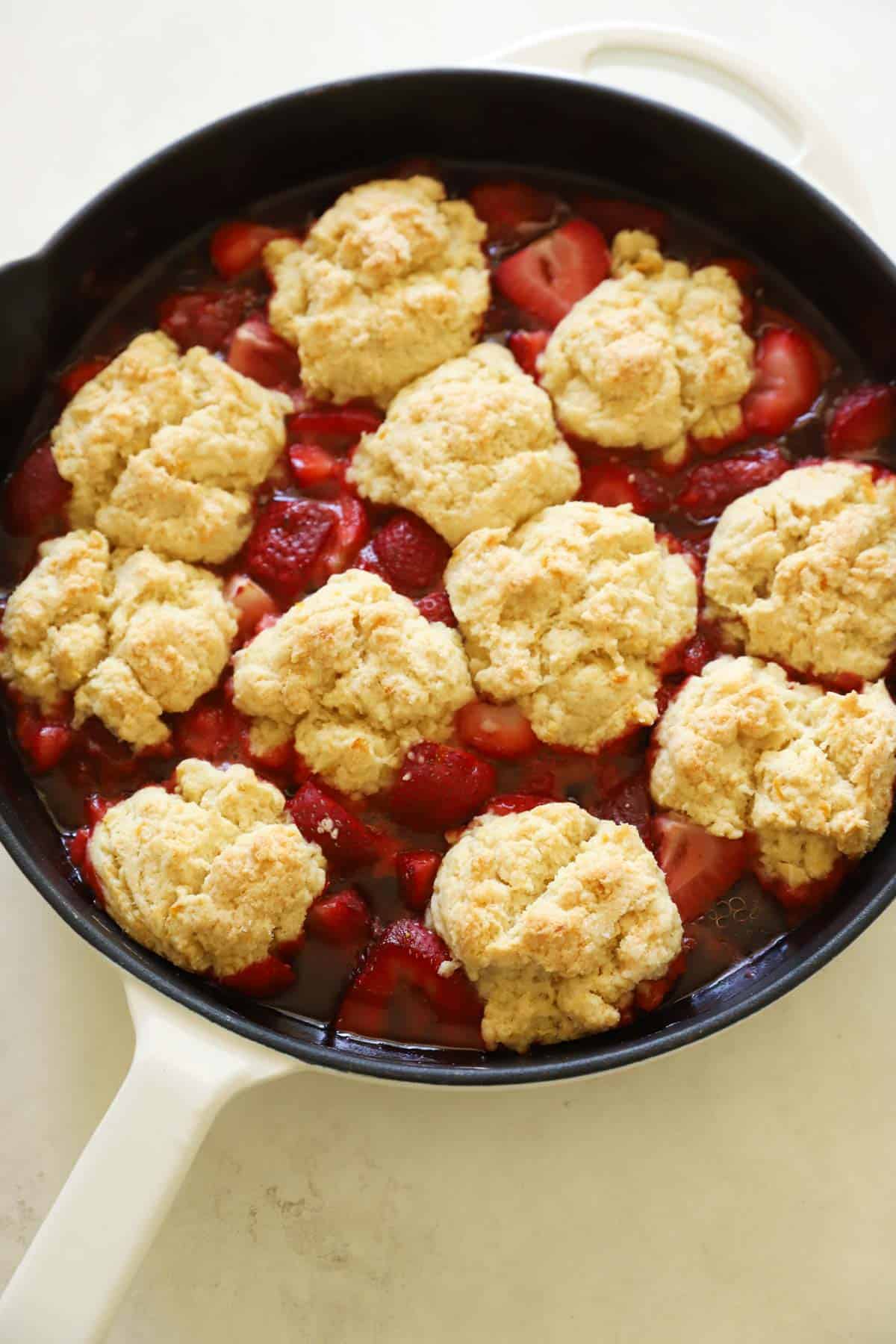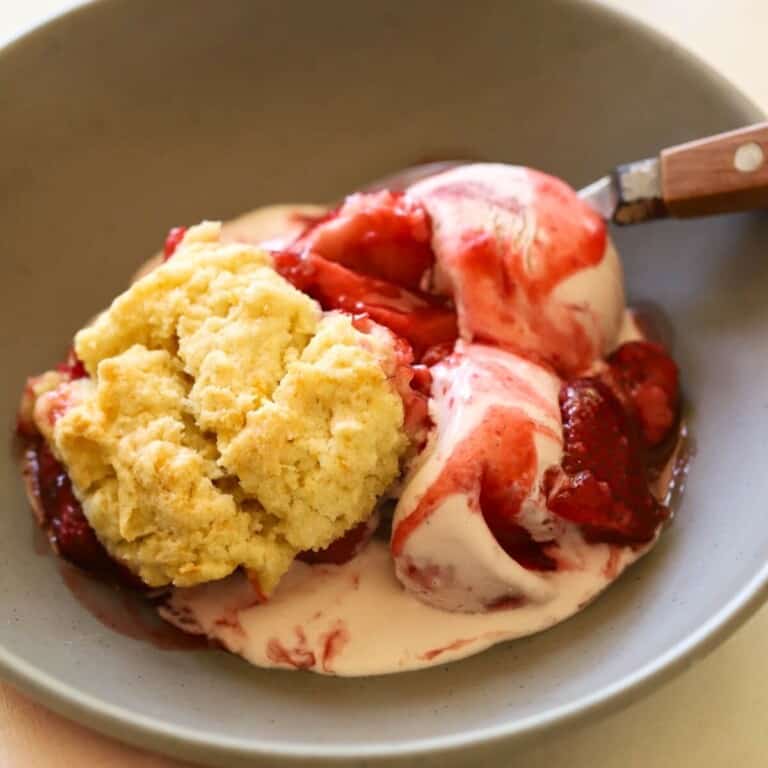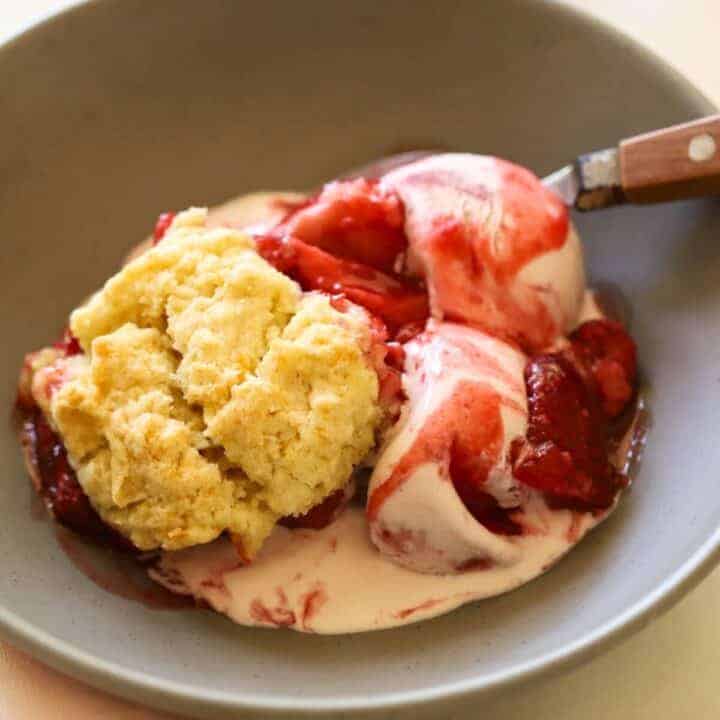 Strawberry Cobbler Recipe
Total Time:
1 hour
5 minutes
Syrupy strawberry cobbler with flakey cobbler biscuits! When served over strawberry ice cream, it's a wonderful combination of flavors and textures! 
Ingredients
8 cups (1200 g) strawberries, hulled and sliced in half
1 tablespoon (15ml) cornstarch
¼ cup (50 g) sugar
pinch of salt
1 vanilla bean, scraped of its paste
1 tablespoon (15 g) butter, diced into small cubes
For the Biscuits:
1 ½ cups (180 g) all-purpose flour
1 tablespoon (12 g) sugar
½ teaspoon (2.5 ml) salt
1 tablespoon (15 ml) lemon zest
2 teaspoon (10 ml) baking powder
8 tablespoon (120g) cold butter, diced into cubes
¾ cup (177 ml) heavy cream
1 egg
Raw Turbinado Sugar (or regular white sugar )
To Serve:
1 quart high-quality Strawberry Ice Cream (like Hagen-Daaz)
Instructions
Preheat oven to 350F (176F)
In a large bowl combine strawberries, cornstarch, sugar, salt and vanilla bean paste.
Toss to combine and transfer to a large 10 (25cm) skillet, patting down strawberries so they create a flat level surface. Top strawberries with 1 tablespoon (15 g) of butter that has been cut into small cubes and distribute under the berries. and set aside.
Then in a food processor pulse together flour, sugar, salt, lemon zest, and baking powder. Add butter pulsing all the while until a coarse meal develops. Transfer mixture to a large bowl.
Then in a Pyrex pitcher combine heavy cream and egg, whisk to combine.
Then create a well in the center of your flour mixture and pour the egg/cream mixture into it, and then stir with a wooden spoon until a dough develops.
Then scoop out drop biscuits with an ice cream scoop (you should get 7-8 biscuits) place them around the top equidistant from each other and allowing about 1" in-between each biscuit to allow for spreading out.
Top each biscuit with a sprinkle of raw sugar.
Bake for 35-40 mins until strawberries are bubbling and biscuits are golden brown.
Allow to cool slightly for 10 minutes to allow sauce to thicken a bit.
Then scoop out 2-3 small scoops of strawberry ice cream, place in a shallow bowl, spoon strawberry sauce over the ice cream and then top with a biscuit.
Nutrition Information:
Yield:

6
Serving Size:

1
Amount Per Serving:
Calories:

426
Total Fat:

25g
Saturated Fat:

15g
Trans Fat:

1g
Unsaturated Fat:

6g
Cholesterol:

101mg
Sodium:

210mg
Carbohydrates:

45g
Fiber:

1g
Sugar:

1g
Protein:

7g