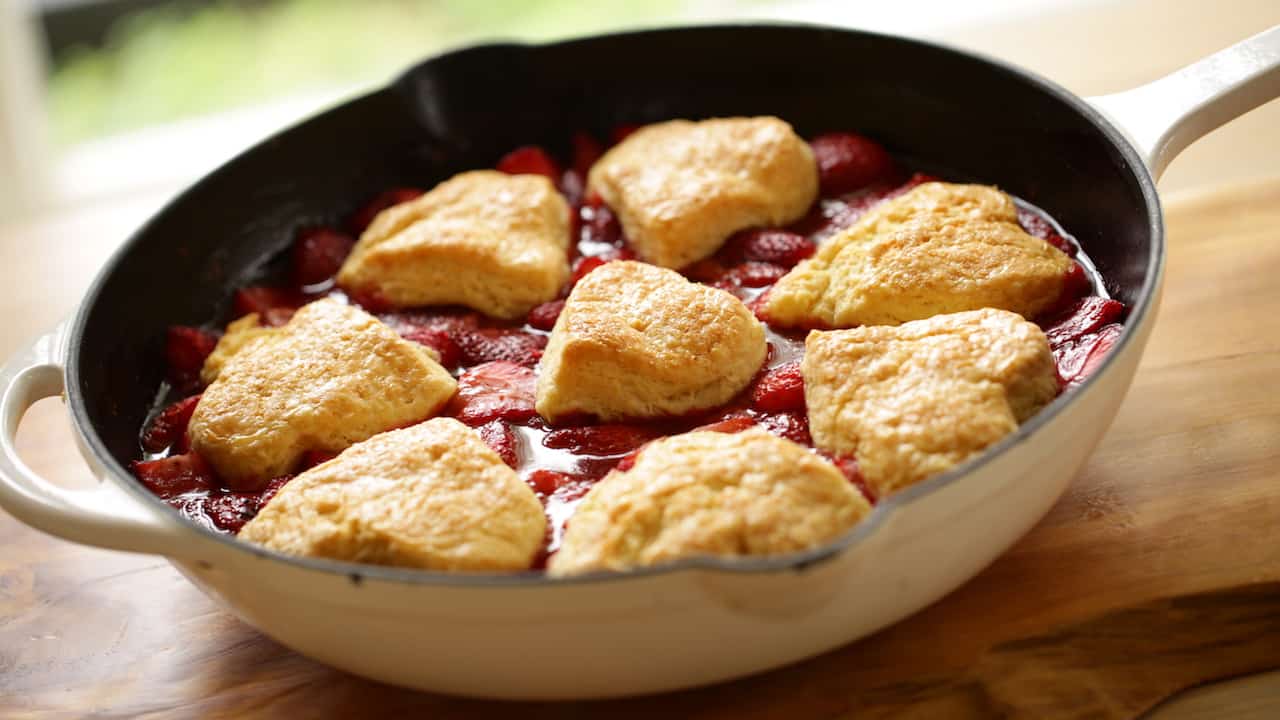 If your Valentine's Day involves entertaining for a crowd, this is a fantastic dessert that will do just that!  Strawberries may not be at the height of their season, even here in California, but if you roast them with a little vanilla paste and sugar and drizzle of over some high-quality, strawberry  ice cream (yep, splurge for the Hagen-Daz) they are sublime!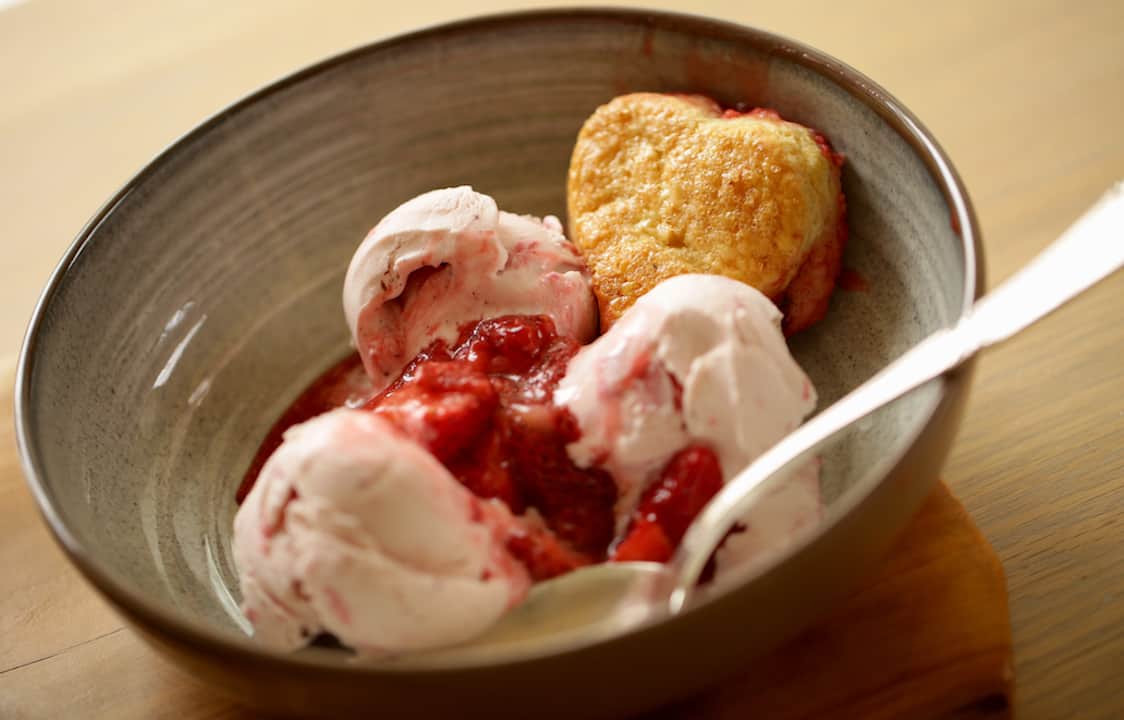 For a step-by-step tutorial of this recipe you can watch my YouTube video below.  CLICK HERE to Subscribe to my YouTube Channel and never miss a recipe!  It's free!
The best part of this recipe are the light and flakey biscuits, similar to the texture of a scone.  When serving this for Valentine's Day I like to cut them out in a heart shape, really adds to the charm.  Enjoy!
Print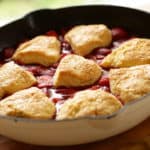 Strawberry Cobbler with Heart Shaped Biscuits
---
Prep Time:

30 mins

Cook Time:

35 mins

Total Time:

1 hour 5 mins

Yield:

8 servings
Ingredients
BETH'S STRAWBERRY COBBLER RECIPE
Serves 6-8
INGREDIENTS:
8 cups (1200 g) strawberries, hulled and sliced in half
¼ cup (50 g) sugar
pinch of salt
1 vanilla bean
1 tbsp (15 g) butter, diced into small cubes
For Heart Biscuits:
1 ¼ cups (150 g) all purpose flour
1 tbsp (12 g) sugar
½ tsp (2.5 ml) salt
½ tsp (2.5 ml) lemon zest
2 tsp (10 ml) baking powder
8 tbsp (120g) cold butter, diced into cubes
1/3 cup (80 ml) heavy cream + more for brushing tops
1 egg
Raw Sugar
To Serve:
1 quart high-quality Strawberry Ice Cream (like Hagen-Daaz)
---
Instructions
Preheat oven to 350F (176F)
In a large bowl combine strawberries, sugar, salt and vanilla bean paste. Toss to combine and transfer to a large 10 or 12-inch (25 or 30cm) skillet, patting down strawberries so they create a flat level surface. Tuck in 1 tbsp (15 g) of butter that has been cut into small cubes and distribute under the berries. and set aside.
Then in a food processor pulse together flour, sugar, salt, lemon zest, and baking powder. Add butter pulsing all the while until a coarse meal develops. Transfer mixture to a large bowl.
Then in a Pyrex pitcher combine heavy cream and egg, whisk to combine.
Then create a well in the center of your flour mixture and pour the egg/cream mixture into it, and then stir with a wooden spoon until a dough develops.
Then with floured hands, grab dough and transfer to a floured surface. Roll out to ½ (13 mm) inch thick and cut into 8 heart shapes with a heart shaped cookie cutter.
Place hearts facing out, creating a decorative circle and leave room in the center for the 8th heart.
Brush hearts with heavy cream and top with a sprinkle of raw sugar.
Bake for 35-40 mins until strawberries are bubbling and biscuits are golden brown.
Allow to cool slightly for 10 minutes to allow sauce to thicken a bit.
Then scoop out 2-3 small scoops of strawberry ice cream, place in a shallow bowl, spoon strawberry sauce over the ice cream and then top with a biscuit.