This homemade strawberry sauce for ice cream is a wonderful summer dessert idea for when strawberries or at their peak! No ripe strawberries? Not to worry you can use frozen strawberries too.
It has just the right amount of sweetness, mixed with tartness coming from the lemon zest. And the best part is, it can be used for more than just ice cream! This sauce is also fantastic over some homemade crepes, lemon ricotta pancakes, or my Burnt Basque Cheesecake or really even slathered on some buttery toast or stirred into yogurt too!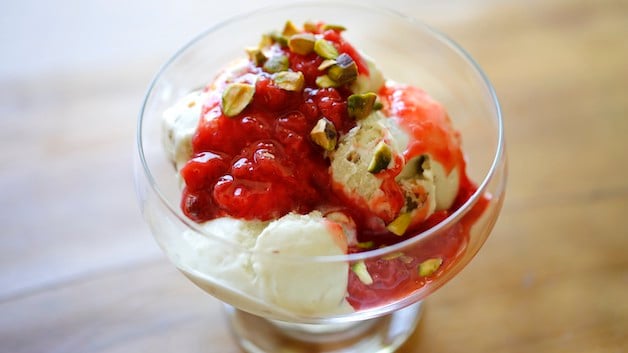 Have leftover strawberries? Try my Strawberry Cobbler, Strawberry Scones, or my delicious Strawberry and Lemon Muffins!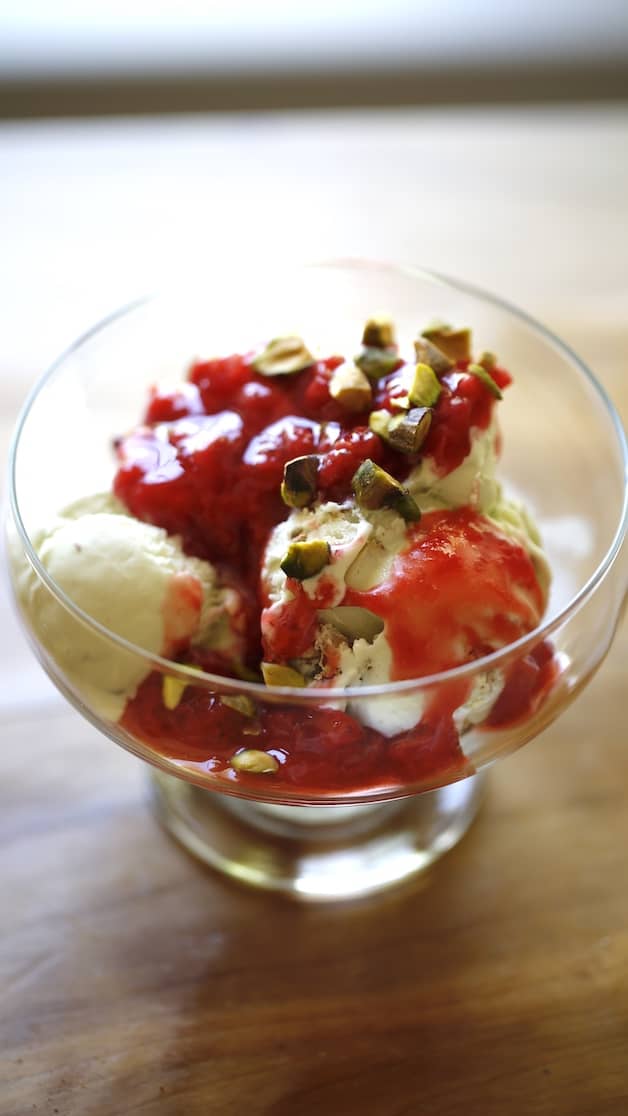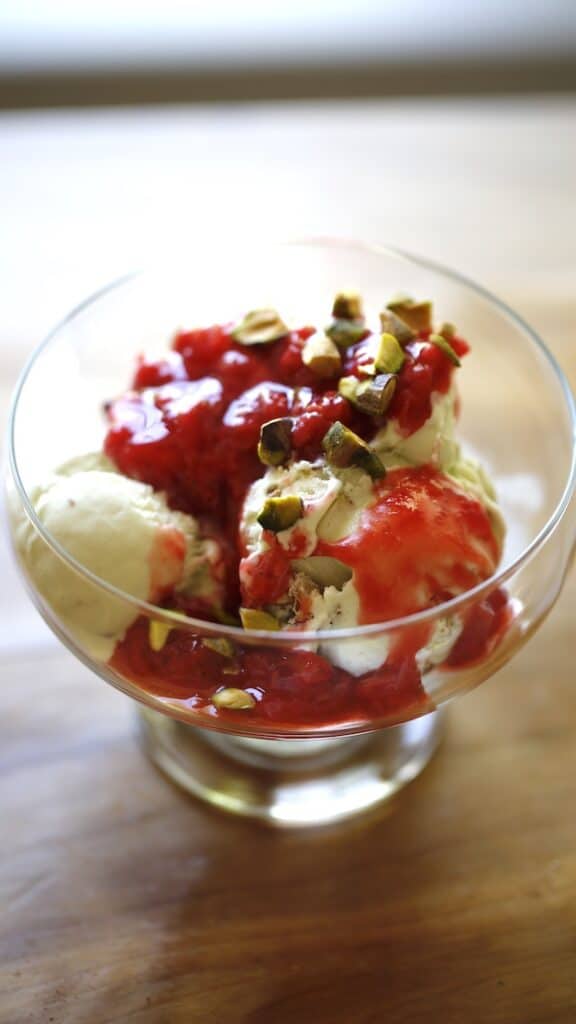 Watch My Video Demo of this Recipe Below!
Try the other recipes featured in this video such as the Hot Fudge Recipe and the Peanut Butter Sauce recipe, both of which are equally good!
Step#1: Start with Fresh Strawberries
If you don't have fresh strawberries you can use frozen strawberries, the same quantity, and there's no need to defrost them first, just pop them in the pot. You'll then simmer the berries with water and sugar until the strawberries release their juice.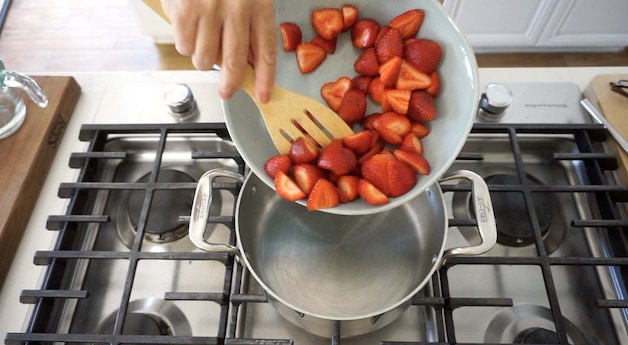 Step#2: Mash the Strawberries
A potato masher works best, but you can also use a fork. Don't over-mash the strawberries, it's best to keep the sauce chunky to preserve the best texture.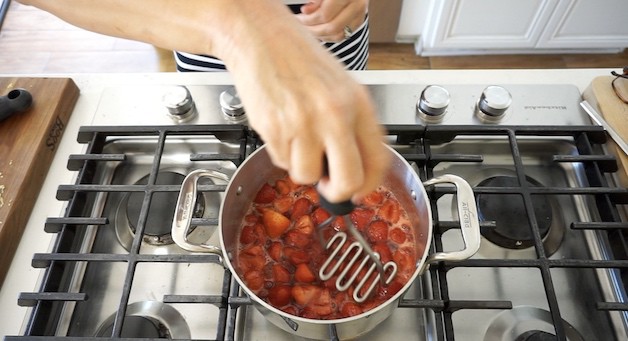 Step#3: Thicken the Sauce with a Slurry
A slurry is equal parts water to flour or cornstarch. In this recipe, I prefer cornstarch since it gives the strawberry sauce the best syrupy texture.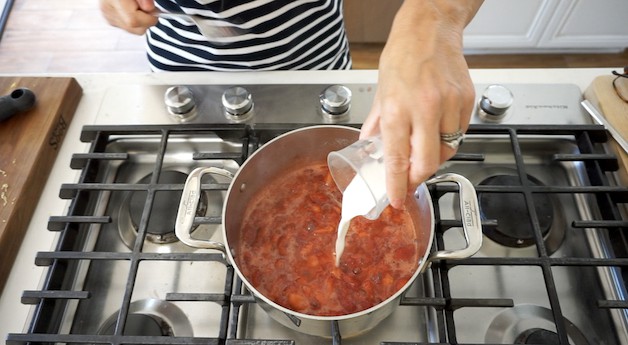 How To Make a Slurry?
You'll mix 1 tablespoon of water with 1 tablespoon of cornstarch. Use a fork to mix it to avoid clumps.
Slurry Making Tips:
The sauce you are trying to thicken with a slurry must be very hot and bubbling when you pour the slurry in, or it will not "activate" and thicken.
You'll know if your sauce was hot enough because your sauce will thicken immediately as soon as you add it in.
Whisk it up with a fork and you'll have a fantastic looking (and tasting strawberry sauce!)
Then you can add the lemon zest. I like to add the zest last to preserve the strongest flavor. I also add a pinch of salt at this stage to heighten the flavors of the strawberries and lemon.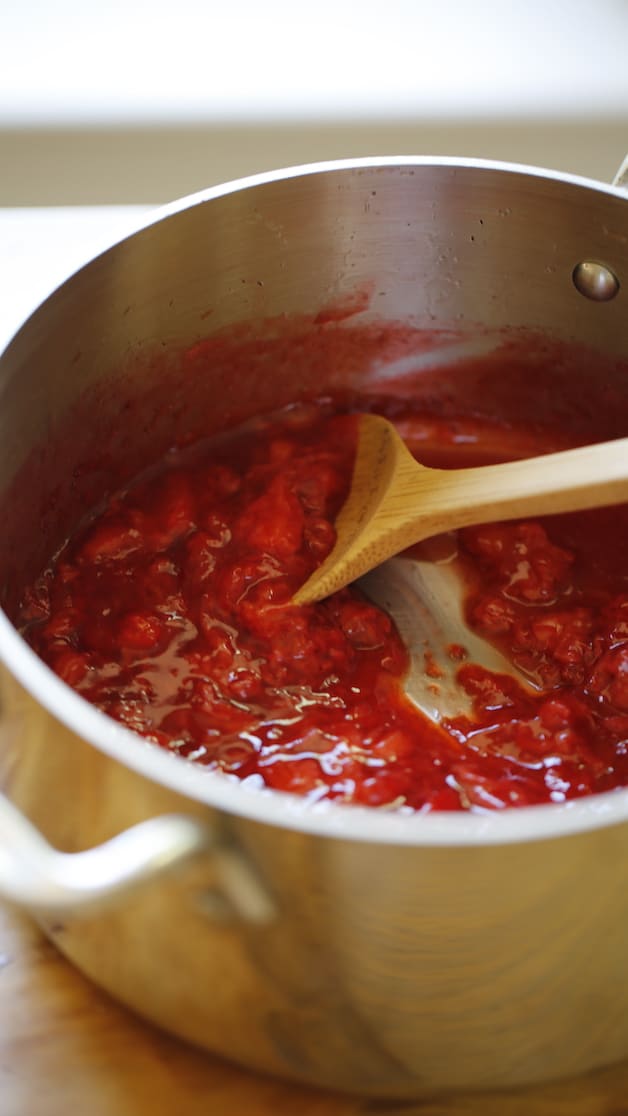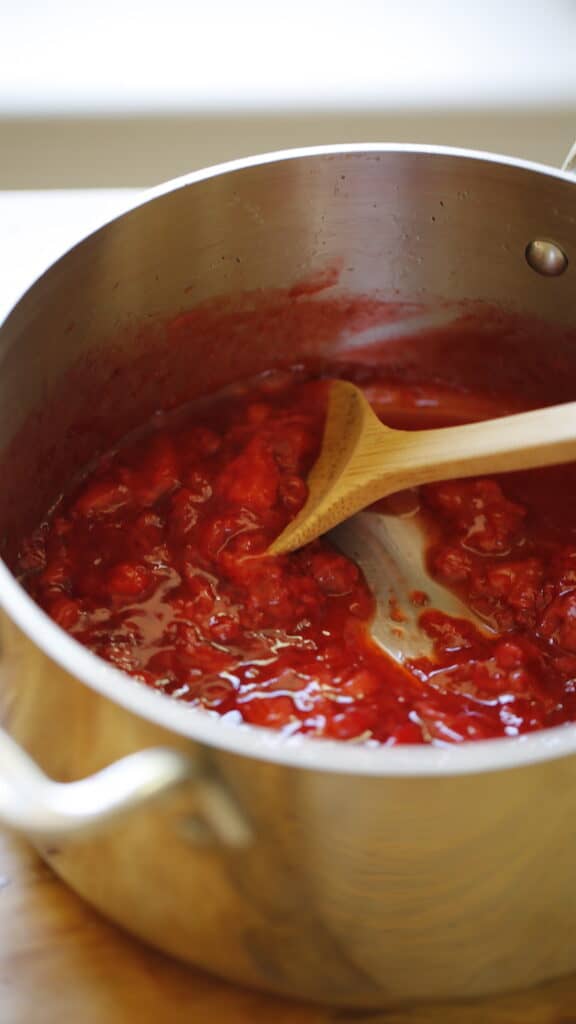 How To Store The Sauce:
If not serving your sauce right away, it will keep covered in the refrigerator for 5 days. It's actually great served warm or cold! Use it on ice cream, or serve on top of toast or stirred into some yogurt too!
If You Enjoyed this Strawberry Sauce Recipe
Please Leave a Rating and Review Below!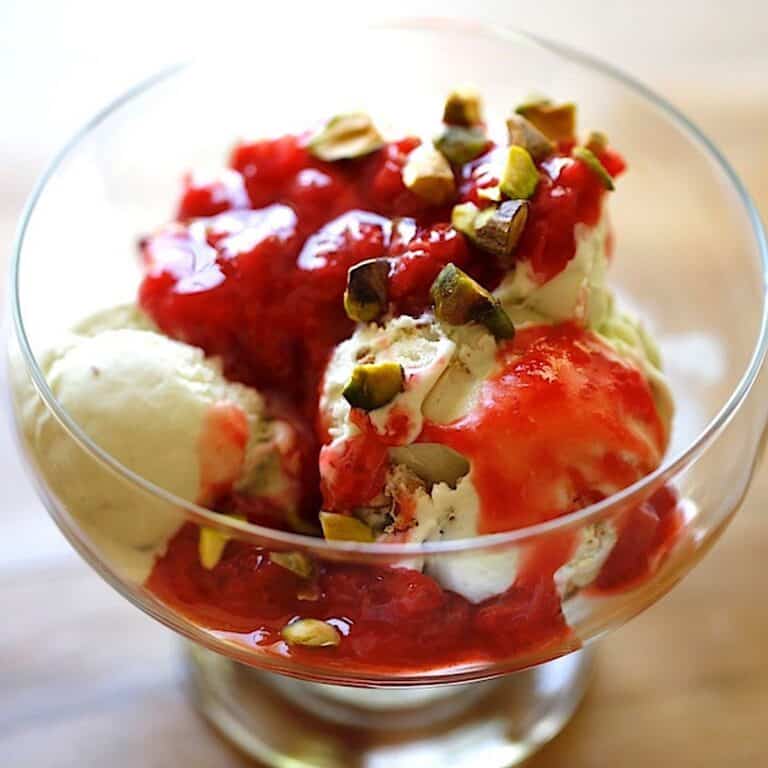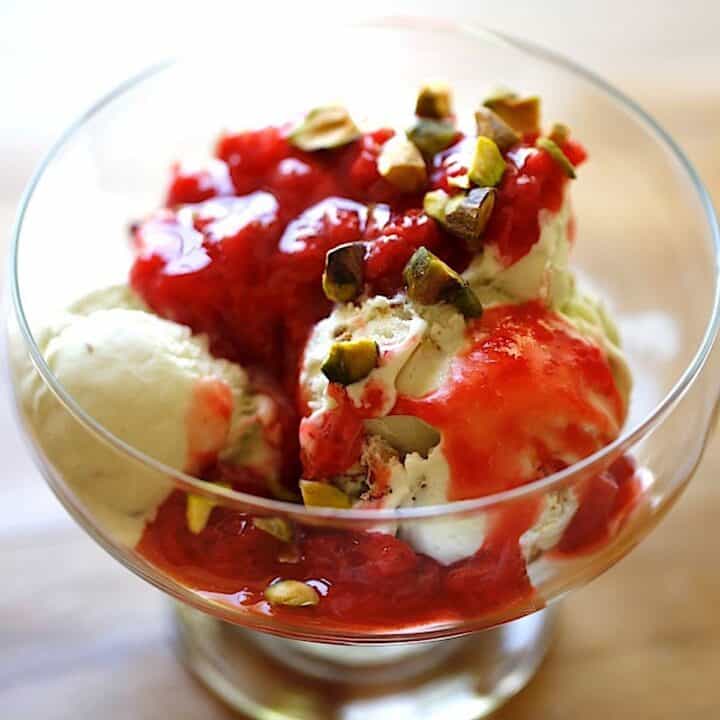 Homemade Strawberry Sauce for Ice Cream
Ingredients
12 ounces (340g) strawberries, hulled and cut in half
¼ cup (60ml) water
¼ cup (50g) sugar
1 teaspoon (5 ml) lemon zest
Slurry (1 tablespoon (15ml) water/1 tablespoon (8g) cornstarch)
Instructions
Place the strawberries in a medium-sized saucepan. Add water and sugar and stir to combine.
Allow to simmer on medium-high heat until the strawberries start to release their juice and bubble. Mash the strawberries gently into a rustic, chunky sauce with a potato masher.
Allow to come up to a boil then add the slurry, whisk to combine and thicken.
Then add the lemon zest and pinch of salt. Allow to cool slightly to a warm temperature.
Serve over pistachio ice cream!
Notes
This sauce keeps covered in the refrigerator for 5 days. It's great served warm or cold!
This sauce also makes a great topping for my crepes, ricotta pancakes or waffles recipes too!