These granola parfaits are a perfect compliment to any brunch party! They provide another filling option that is easy to throw together. And luckily homemade granola is one of the easiest things to make!
To round out your brunch party, serve these parfaits with my Puffy Egg Bake Casserole, Foolproof Roasted Potatoes, and my classic Blueberry Muffins!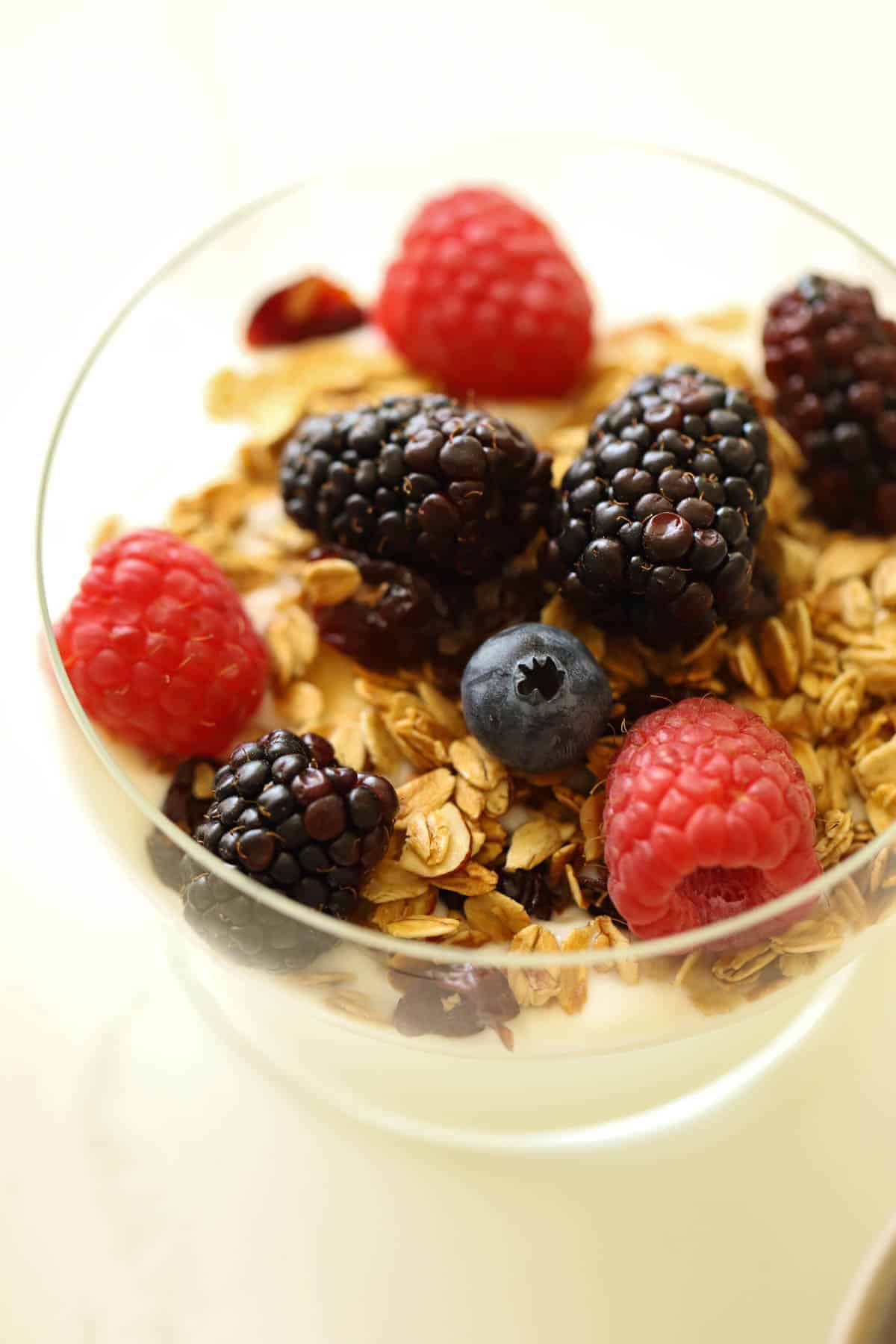 The Ingredients:
Old-Fashioned Oats Granola needs the old-fashioned oats in order to work. It will not work with quick cooking oats. So be sure to read the label carefully at the store!
Egg White The egg white helps to bind the sugar and honey to the oats, it also gives the granola a nice shine and crunch too.
Brown Sugar I like to use brown sugar instead of white sugar, for the additional flavor it provides
Honey The honey also adds additional flavor and sweetness
Dried Cherries I love the combination of the dried cherries and the almonds. Especially for a warm-weather granola recipe. But for a holiday granola you could also use cranberries or follow my Christmas Granola recipe.
Almonds Granola is always better with nuts! For a lighter summer-time granola I like to use raw almonds, but you could also use walnuts, pecans or pistachios too.
Vanilla extract Adds additional flavor and sweetness to the granola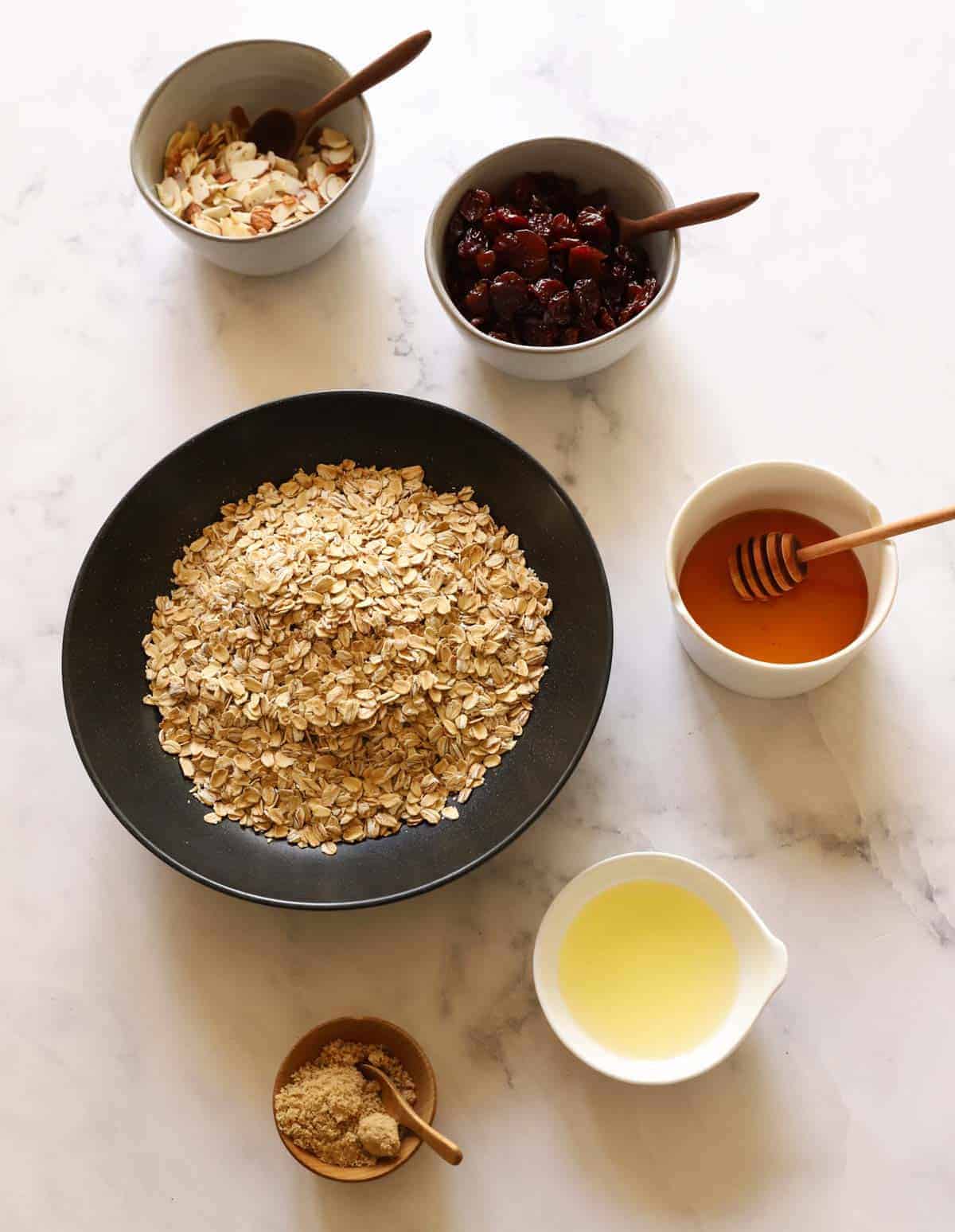 Step#1: Toss to Coat
First create the base for the granola with the egg white, sweeteners and vanilla.
Then toss the oats in the base, making sure to coat the oats well with the egg white mixture.
Once coated then add the cherries and almonds.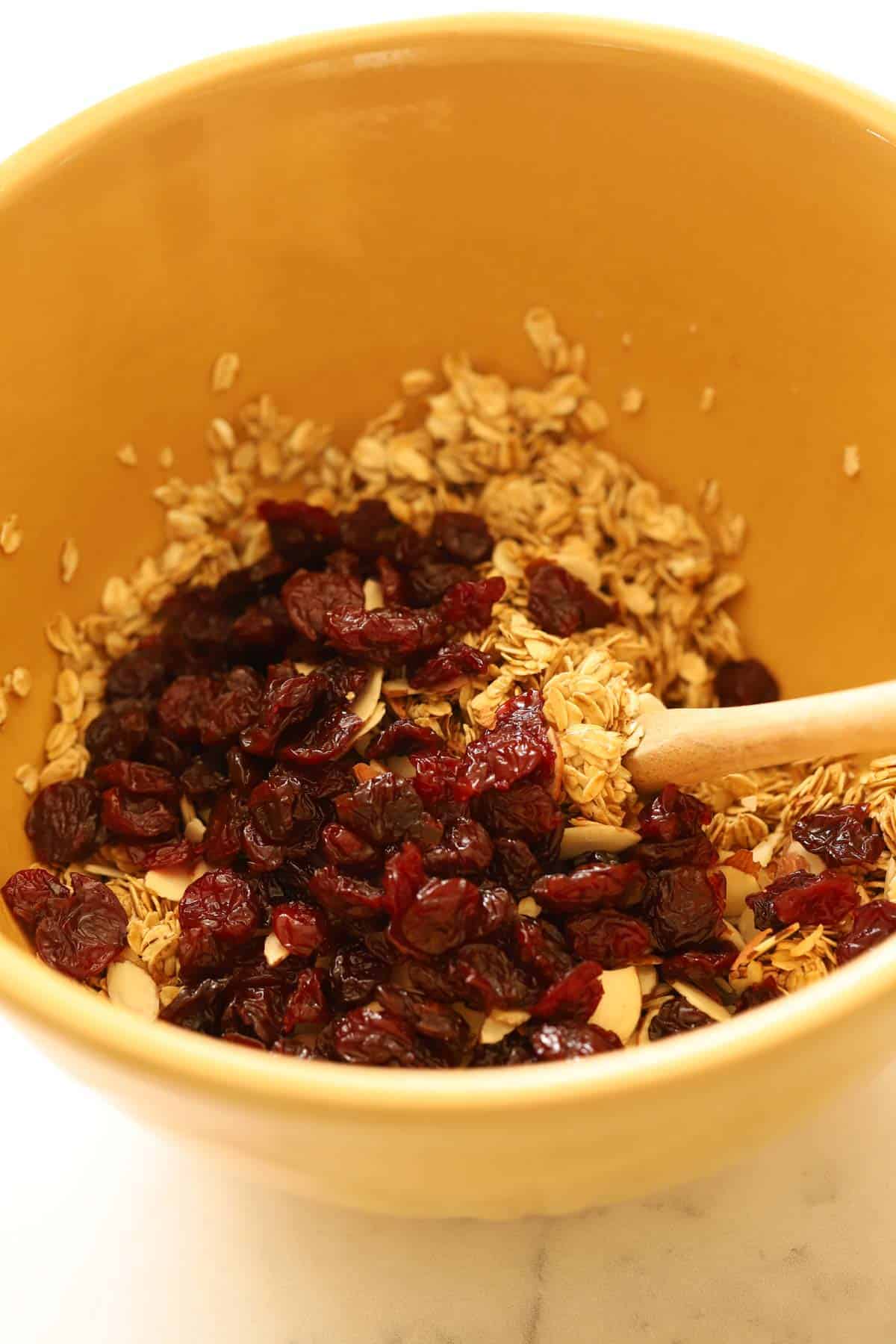 Step#2 Spread on a Baking Tray
A large heavy-bottom rimmed sheet pan works best for granola. I like the 21" x 15" size.
The large size allows for the granola to be spread out in a single layer.
This will help it crisp up on all sides as it bakes.
The granola needs to be tossed mid-way as it bakes, and having a rimmed sheet pan will prevent it from spilling out into your oven.
Step#3 Bake and Cool
Bake the granola for at least 12-15 minutes, tossing occasionally.
I usually toss it about mid-way through to make sure it's baking evenly on all sides.
It will be golden brown and will crisp up as it cools.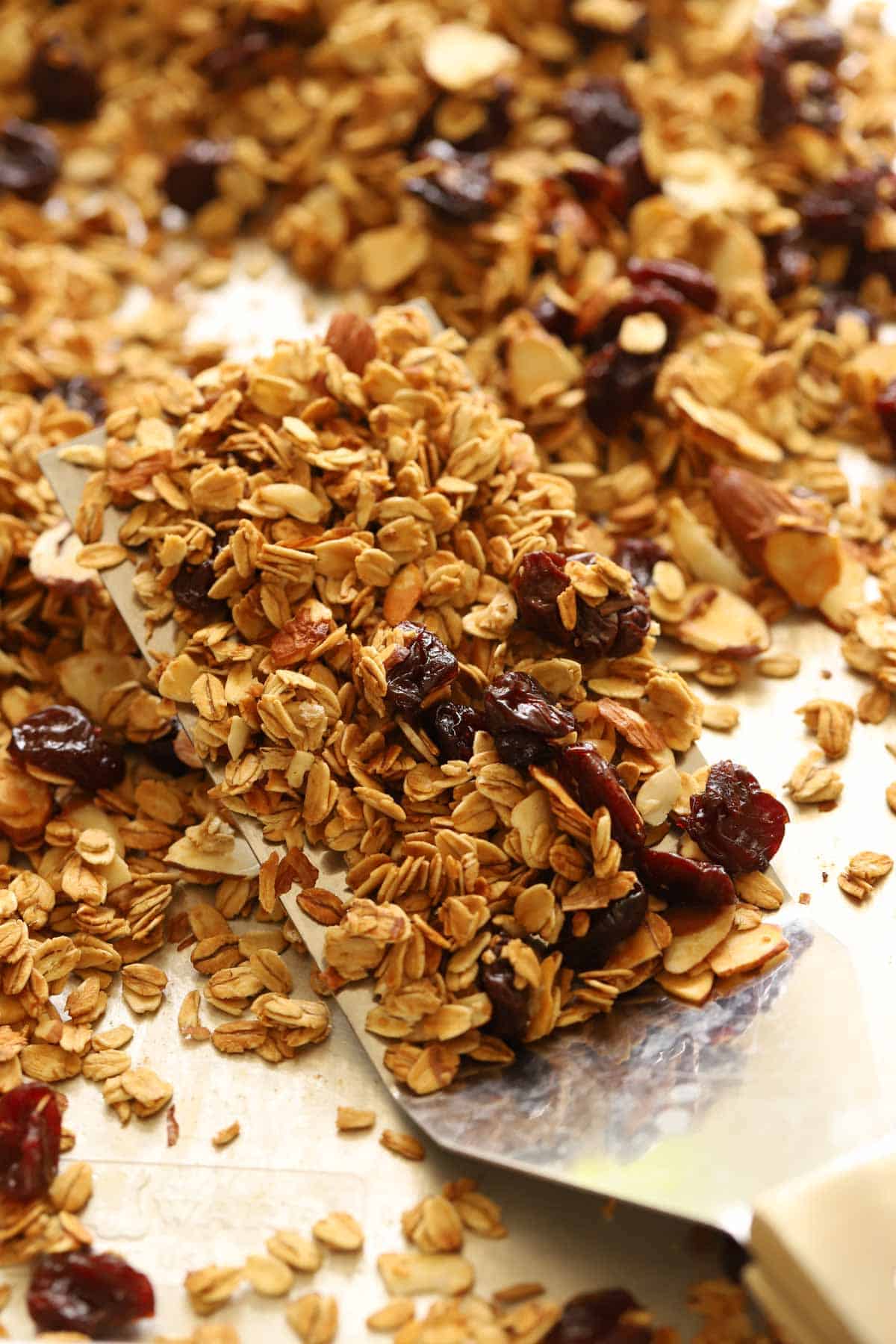 Step#4 Transfer to an Air-Tight Container
The best part about granola is it can be made ahead of time and placed in an air-tight container at room temperature.
Then all you have to do is assemble the yogurt parfaits the day of the party and serve.
This recipe makes 4 cups and will last for a week sitting on your counter in an air-tight container.

Step#5 Assemble and Serve
Topped with fresh berries. I like to use a combination of blackberries, blueberries and raspberries since you don't have to hull or slice them.
I like to use a thick Greek yogurt, either plain or vanilla works best.
You can use the leftover granola for a fantastic breakfast idea or after-school snack.
Or in the summertime, when the berries are at their sweetest, I pass it off as a dessert to my kids!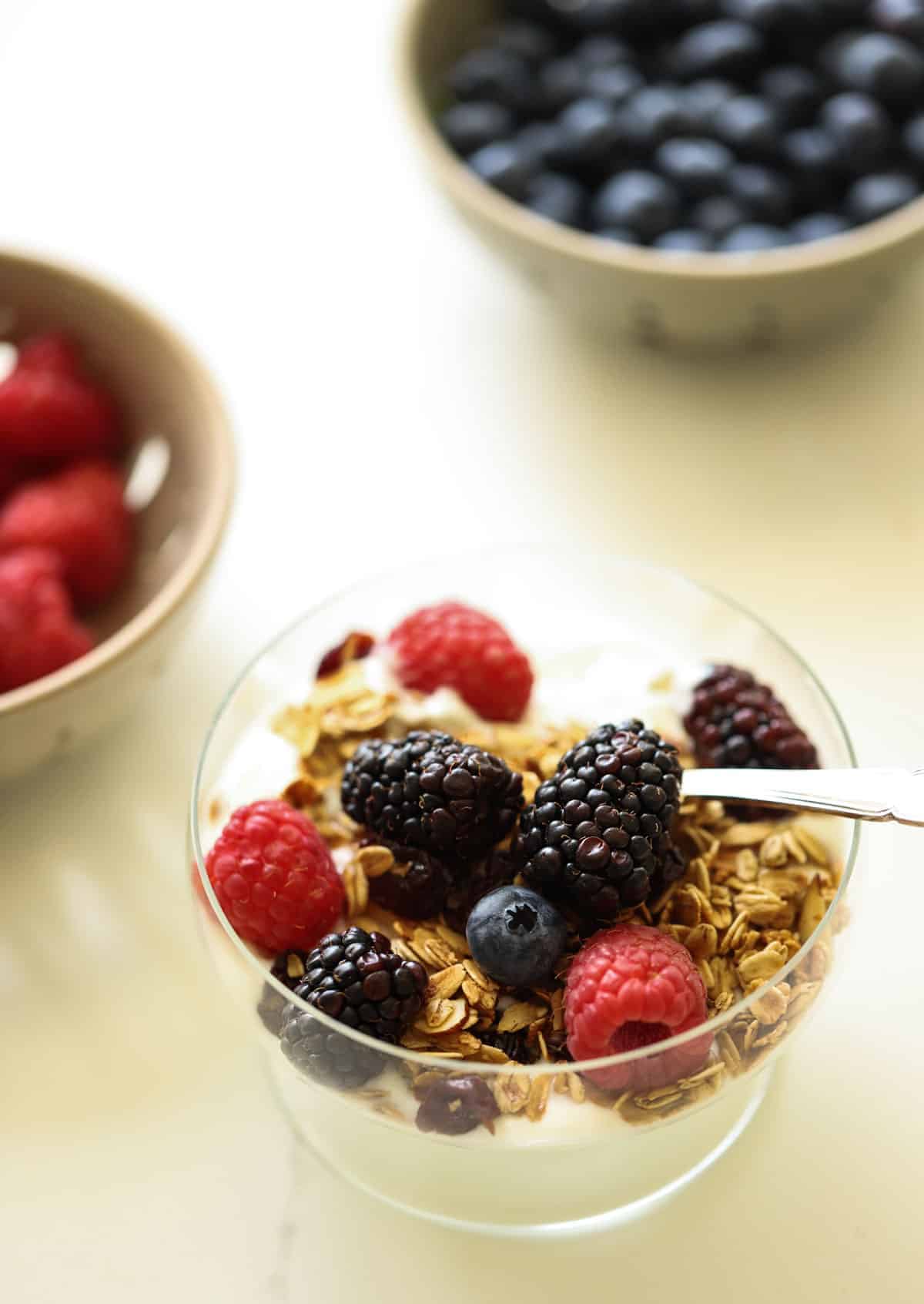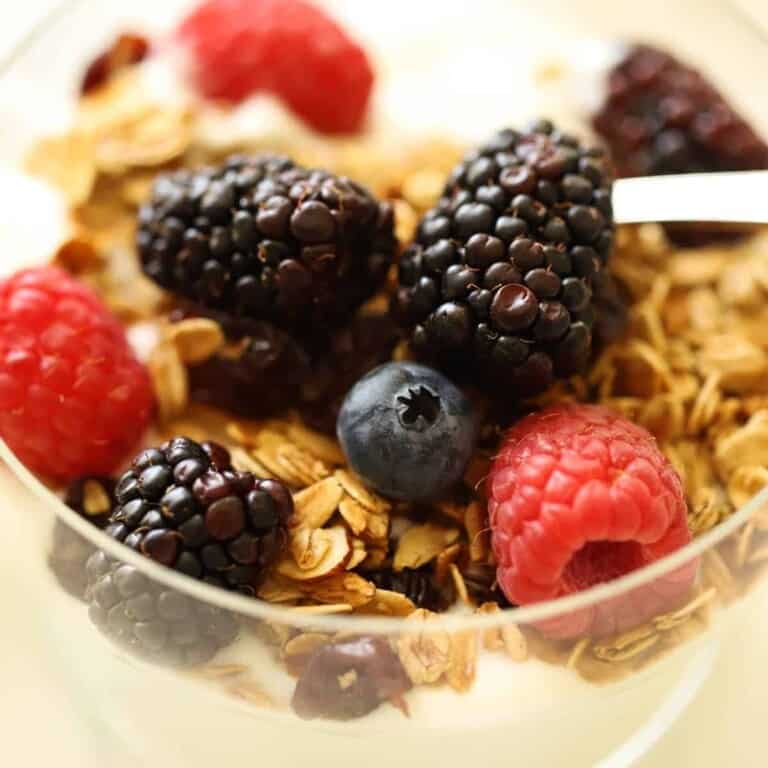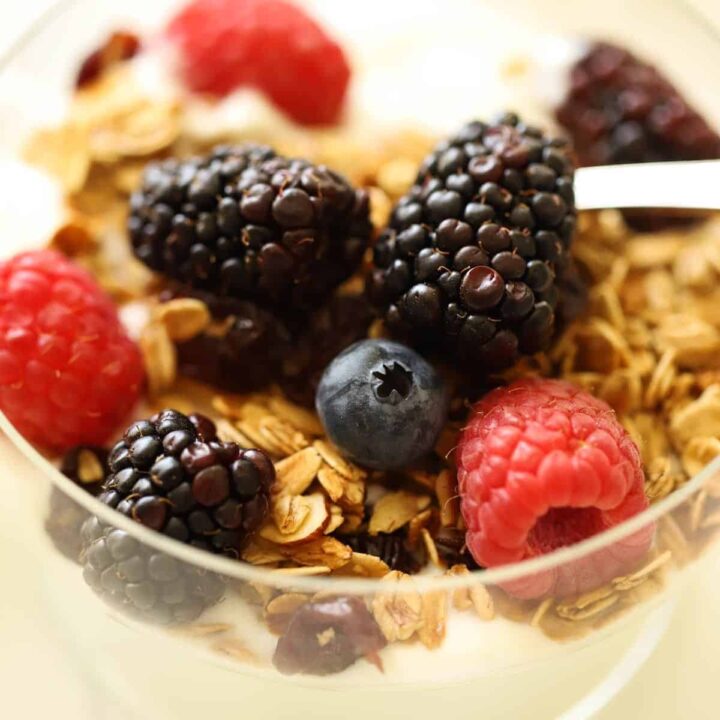 Homemade Granola
Homemade granola is one of the easiest things to make! I love to make a big batch on Sunday to have throughout the week.
Ingredients
For Granola:
2 cups (200g) of old fashioned oats
1 egg white
¼ cup (60 ml) of honey
1 tablespoon (15 ml) brown sugar
1 teaspoon (5ml) vanila extract
1 cup (150g) of Sliced Raw Almonds
1 cup (150 g) dried cherries
For 2 Parfaits
For 2 Parfaits
1 cup plain (240 ml) Greek yogurt
¼ cup (40 g) blueberries
¼ cup (40 g) blackberries
¼ cup (40 g) raspberries
¼ cup (40g) strawberries
Instructions
Preheat oven to 350F/176C.
Whisk together egg white, honey, brown sugar and vanilla extract. Add oats and nuts. Turn out onto a rimmed cookie sheet and bake for 12-15 mins or until golden, tossing occasionally.
Remove from the oven and toss in the dried cherries while the granola is still warm. The granola will dry out and crisp up while it cools. Store in an air-tight container until ready to use.
To serve, place yogurt in a bowl or "fancy glass", and top with granola and fresh berries.
Nutrition Information:
Yield:

4
Serving Size:

1
Amount Per Serving:
Calories:

190
Total Fat:

3g
Saturated Fat:

1g
Trans Fat:

0g
Unsaturated Fat:

2g
Cholesterol:

6mg
Sodium:

91mg
Carbohydrates:

32g
Fiber:

3g
Sugar:

15g
Protein:

9g