This Christmas Granola recipe is a fantastic winter granola recipe for easy holiday gifting. It's affordable, easy to make and you can package it up in a mason jar with festive wrapping to make it look extra special!
To create a trio of food gifts you can pair it with my Homemade Peanut Brittle, Pumpkin Spice Biscotti, or easy Palmiers Cookies too!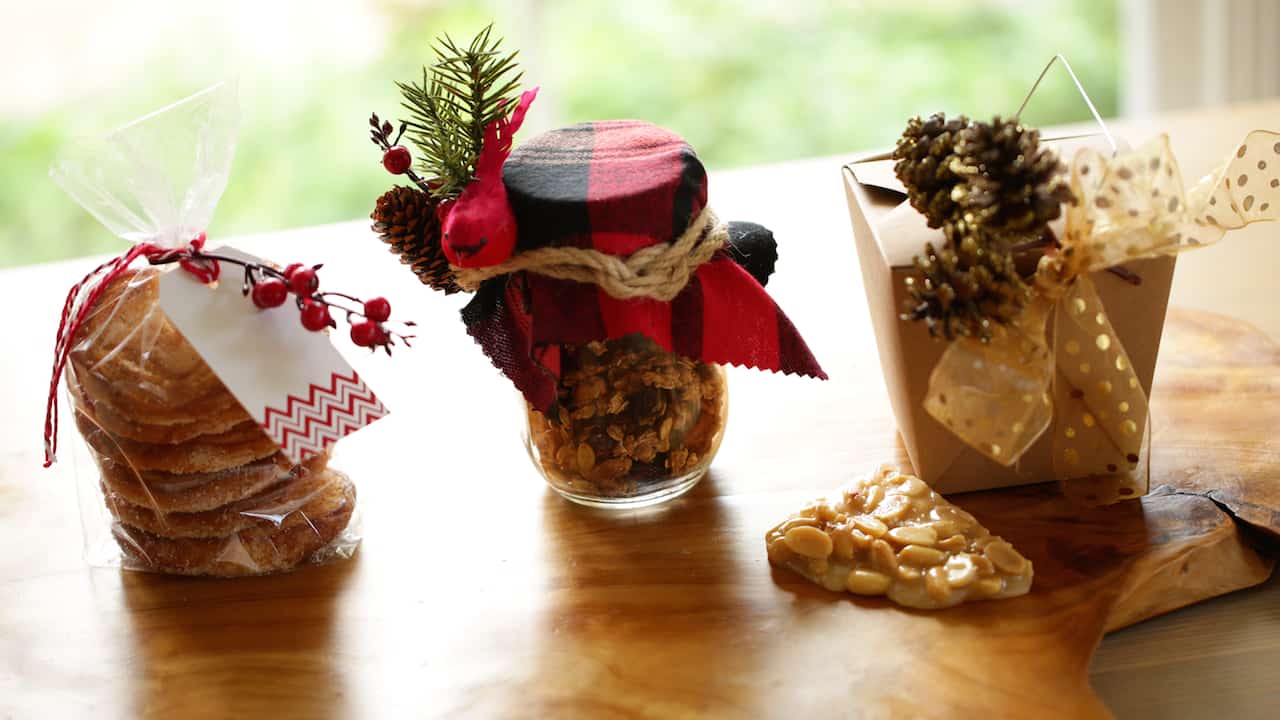 Creating the Granola Base
The granola base is easy to remember, it's just 2 eggs whites, 2 tablespoons honey, and 2 tablespoons brown sugar.
Then once you get it down you can experiment with different flavors for each season.
For a winter granola blend, I like to use spices such as cinnamon, ground cloves, and orange zest. The flavors create an instant holiday flavor profile that gets you right into the Christmas spirit!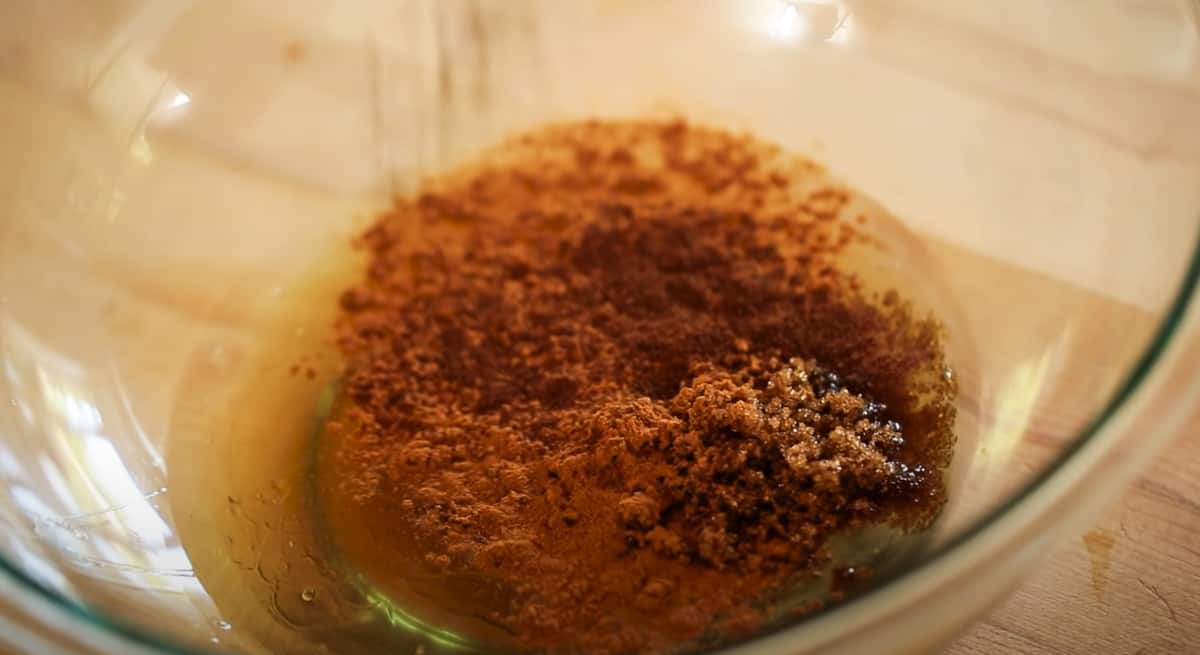 Watch My Video Demo Of This Recipe Below!
Making a Batch for Gifting
This recipe makes enough for 8 cups which can create enough gifts for 4-5 people depending upon how big your mason jars are.
It's best to wait until the granola is completely cooled before trying to package it up. It will also continue to crisp as it cools down.
Otherwise, if it's still warm it will steam up and create condensation on your jars and create soft granola instead of crispy granola.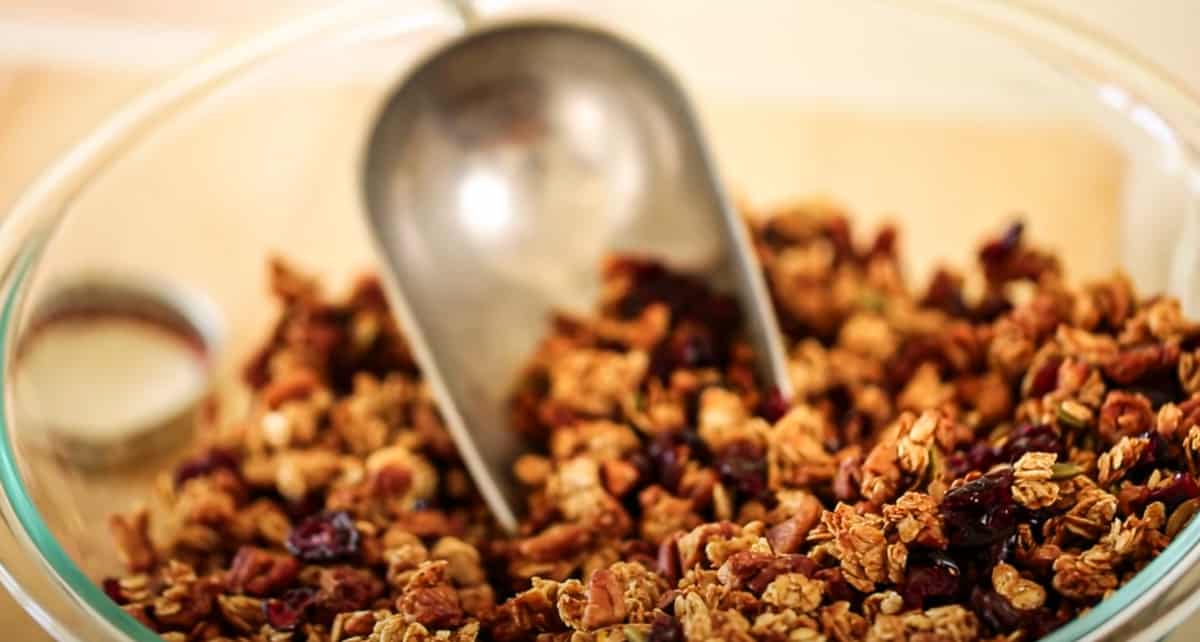 Packaging it Up:
Once the granola is cooled you can scoop it into some mason jars (you can get a 12-pack of these jars on Amazon for about $2.00 a jar!)
The mason jars are great because they are sturdy and the granola won't spill out.
You can also see through the jars to show off the pretty granola and so your recipient knows what's inside.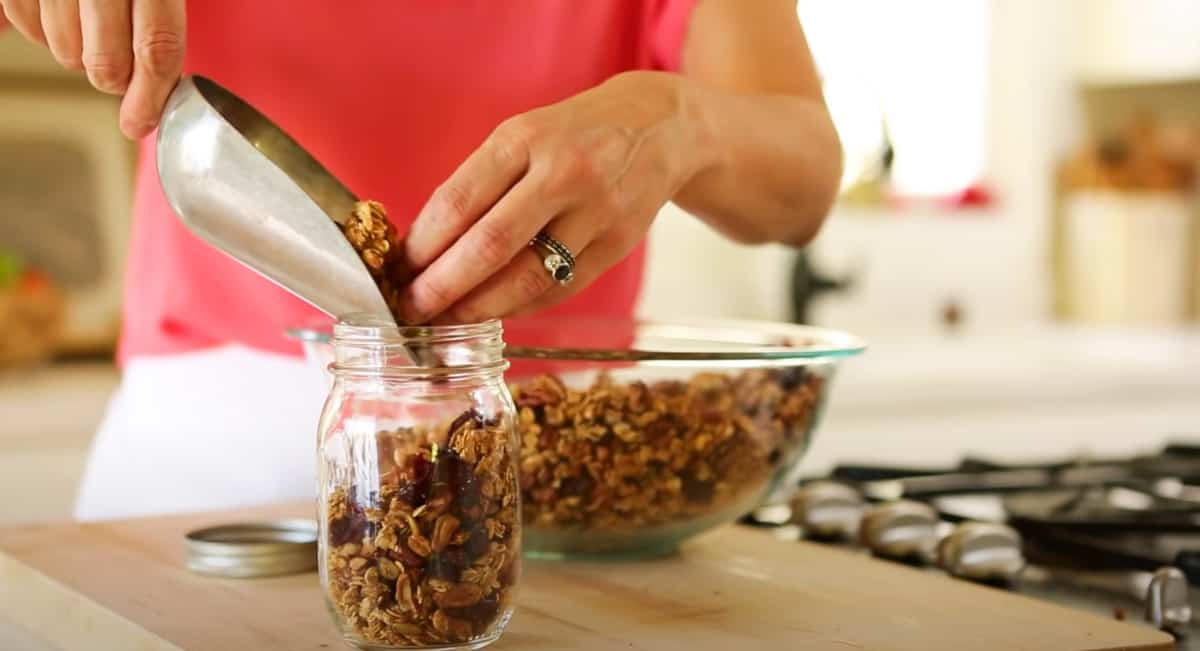 Hiding the Mason Jar Lid
You can hide the mason jar lid with some decorative fabric squares which will add a wonderful homey touch to the gift.
For a festive, outdoorsy, Christmasy vibe choose a red flannel fabric and cut the squares out with some pinking shears for a nice decorative edge.
I bought the fabric pictured at JoAnn's Fabrics in their store but you can also find similar ones online they have a lot of great patterns to choose from.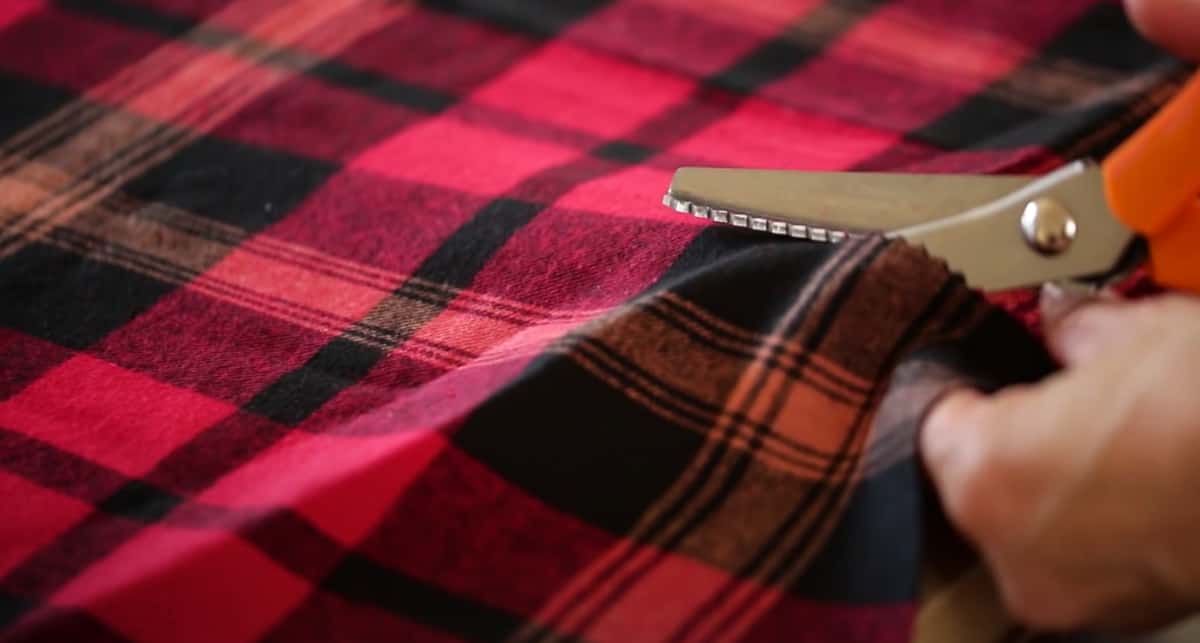 Securing the Fabric
To secure the fabric to the jar you can use a rubber band and you'll be able to hide that with some decorative twine later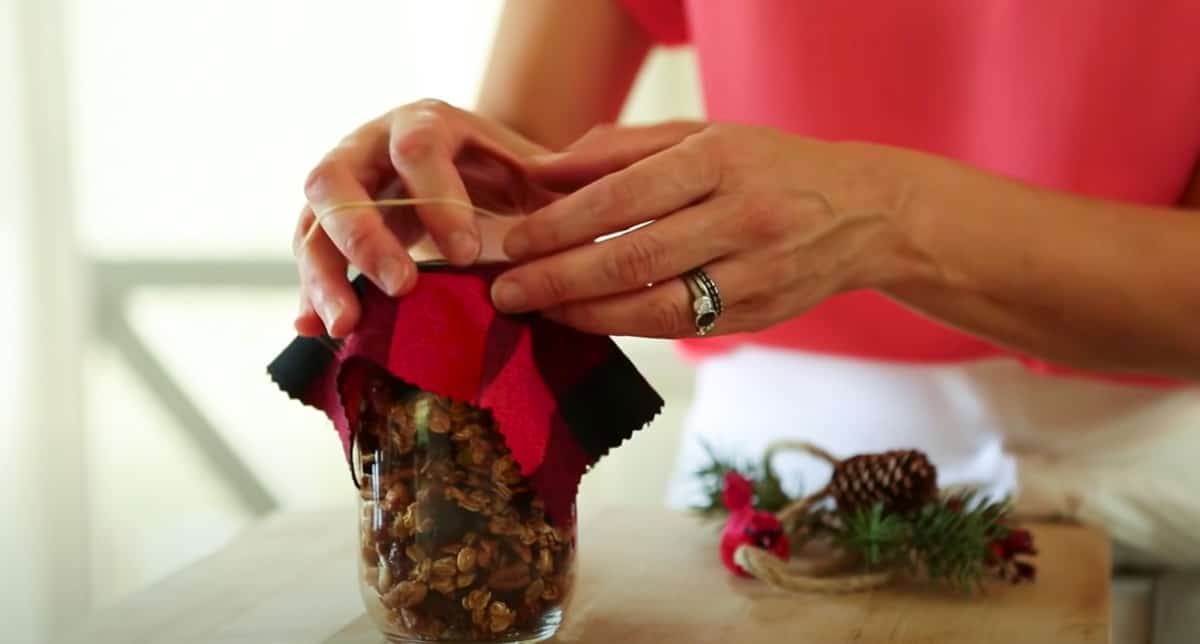 Adding Festive Decorations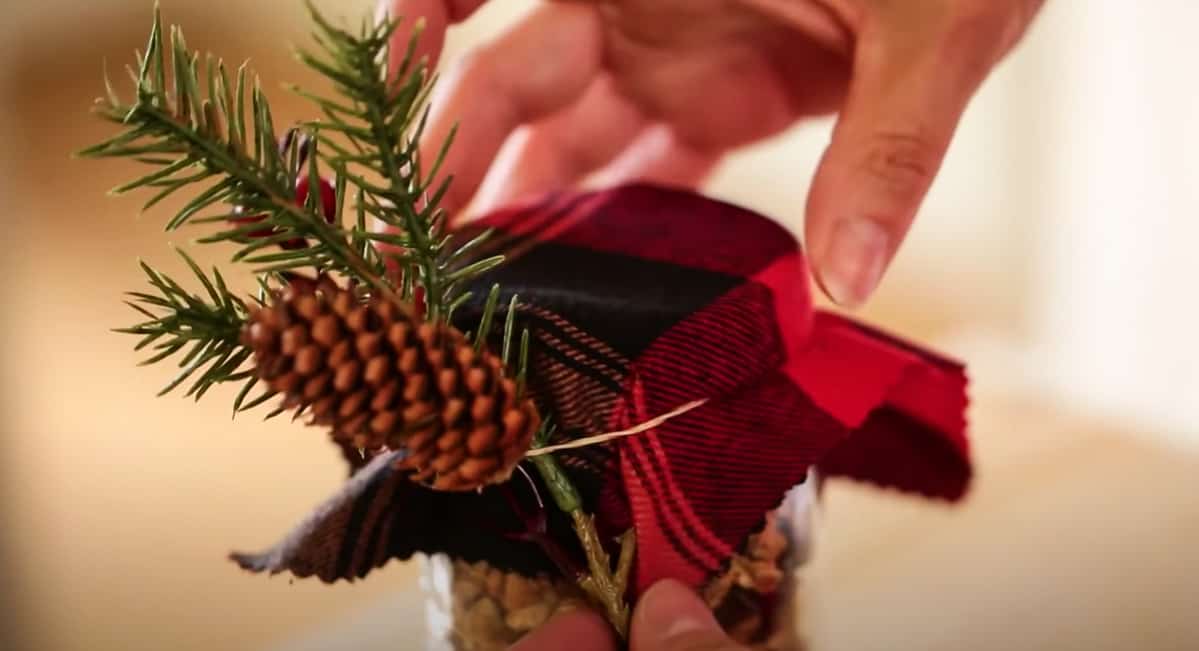 Hiding the Rubberband
Then to hide the rubber band and continue the rustic theme add some rope twine and tie it into a decorative knot.
Then for a cute finishing touch, top with a little red cardinal
This is a great gift idea for those who love the outdoors!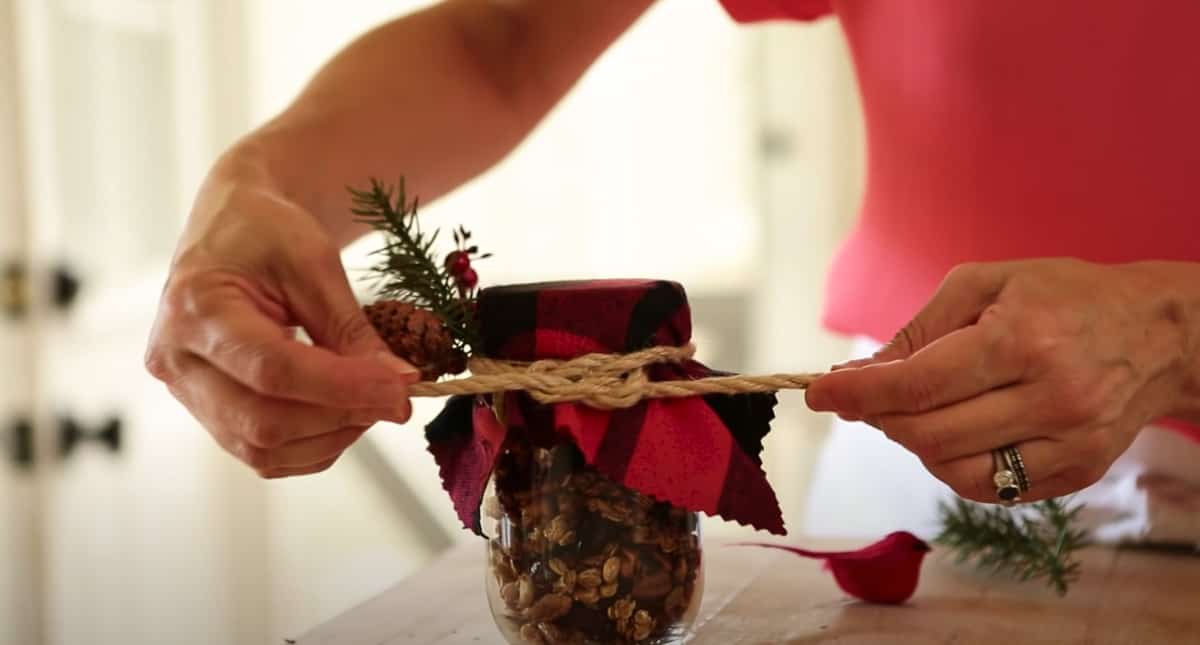 It's a wonderful easy food gift idea that will also charm whoever you give it to! Can't be with friends or family this year? Then try my "Hole in My Heart" Christmas Cookies, another fun food gift idea perfect for giving to those we are missing most this time of year.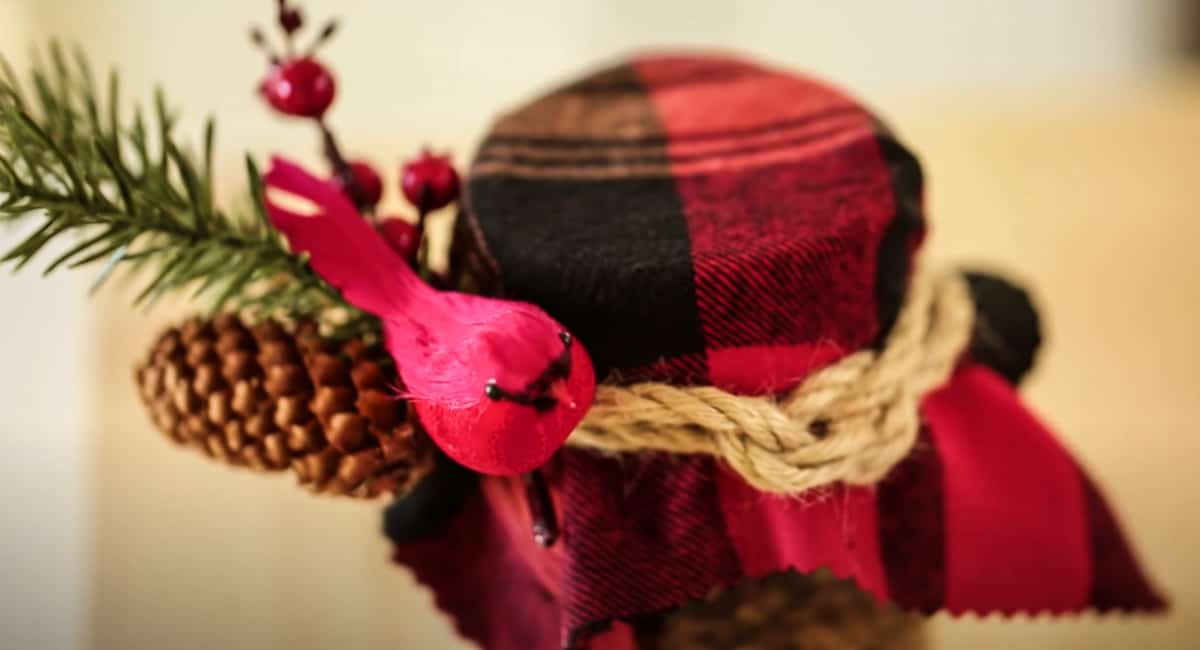 More Christmas Recipes You'll Love!
If You Enjoyed This Recipe,
Please Leave a Rating and a Review Below!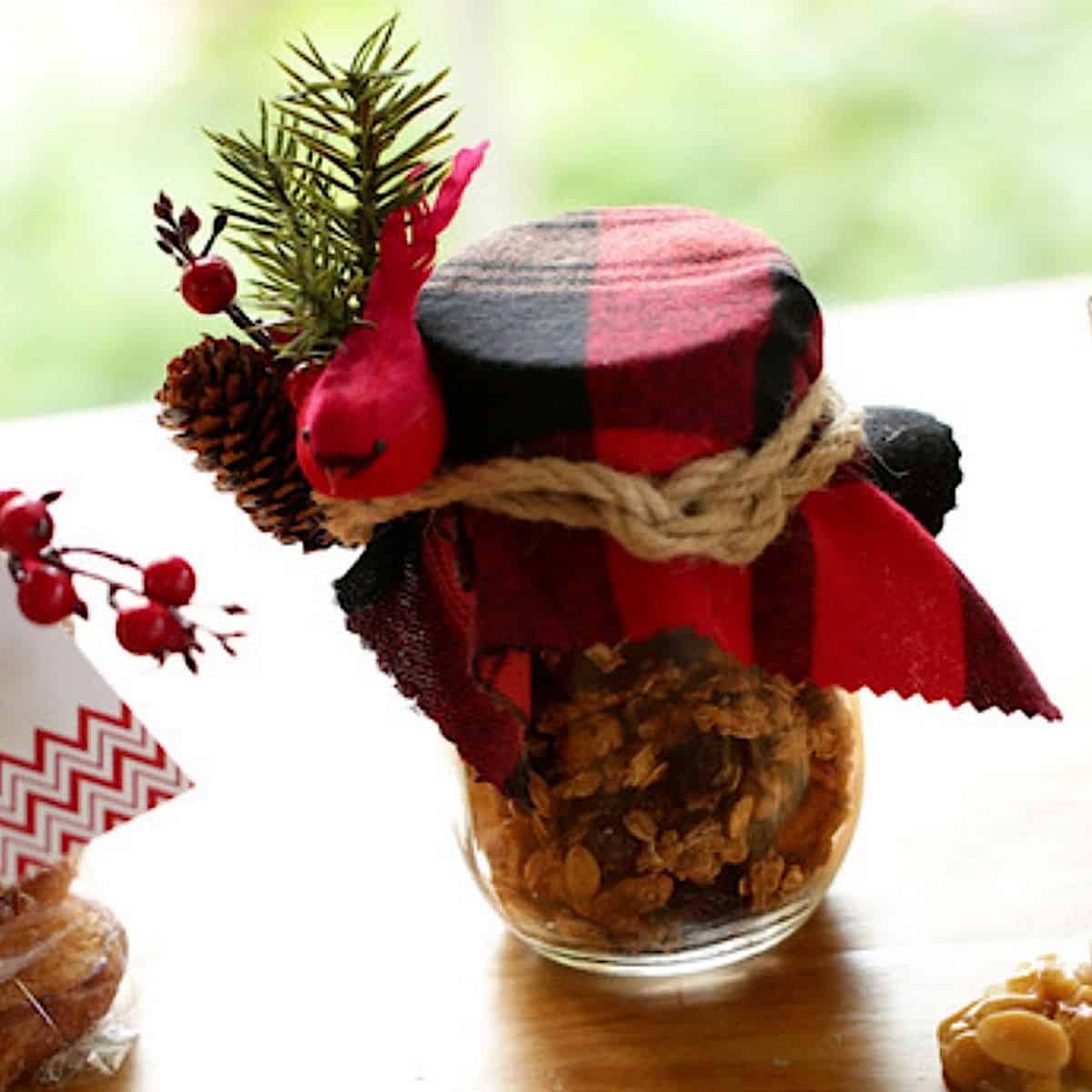 Christmas Granola Recipe
I love to give winter-themed granola during the holidays because with a few additions you can give it so many wonderful holiday flavors.  I like to add ground cloves, orange zest and dried cranberries for a delicious seasonal twist.
Ingredients
4 cups (950ml) of old fashioned oats
3 egg whites
½ cup (120 ml) of honey
3 tablespoon (37g) brown sugar
2 teaspoon (10 ml) cinnamon
1 teaspoon (5 ml) ground cloves
1 tablespoon (15 ml) Orange Zest of 1 tablespoon of the fresh juice
2 cups (300g) of Raw Pecans, chopped
1 ½ cups (350ml) dried cranberries
¼ cup (60 ml) of pumpkin seeds
Instructions
Preheat oven to 350F/(176C)
Whisk together egg whites, honey and brown sugar. Add oats and nuts. Turn out onto 2 rim-lined cookie sheets single layer and bake for 12-15 mins or until golden, tossing occasionally.
Remove from the oven and toss in the dried cherries while the granola is still warm.
Place back in the oven, flipping trays and bake for another 12 mins until granola is golden brown. Remove from the oven and allow to cool.
The granola will dry out and crisp up while it cools. Store in an air-tight container until ready to use or gift.
Notes
As long as you keep the granola base the same you can swap out the mix-ins for anything you like! A few of my other favorite combinations are:
Dried Cranberries, Pecans, Pumpkin Seeds
Dried Blueberries, Almonds, Unsweetened Coconut Flakes
Dried Apricots, Cashews, and a dash of almond extract in the base
Nutrition Information:
Yield:

8
Serving Size:

1
Amount Per Serving:
Calories:

116
Total Fat:

2g
Saturated Fat:

0g
Trans Fat:

0g
Unsaturated Fat:

1g
Cholesterol:

0mg
Sodium:

24mg
Carbohydrates:

20g
Fiber:

3g
Sugar:

4g
Protein:

5g