This Basque Burnt Cheesecake recipe is one of the easiest cheesecakes to make because there is no crust to make, you don't have to worry about it cracking or sinking (because that's what it's supposed to do!) no water baths, and oh did I mention it's utterly delicious?!
For more cheesecake recipes that don't require a water bath, try my Raspberry Cheesecake and my Raspberry Swirl Cheesecake recipes.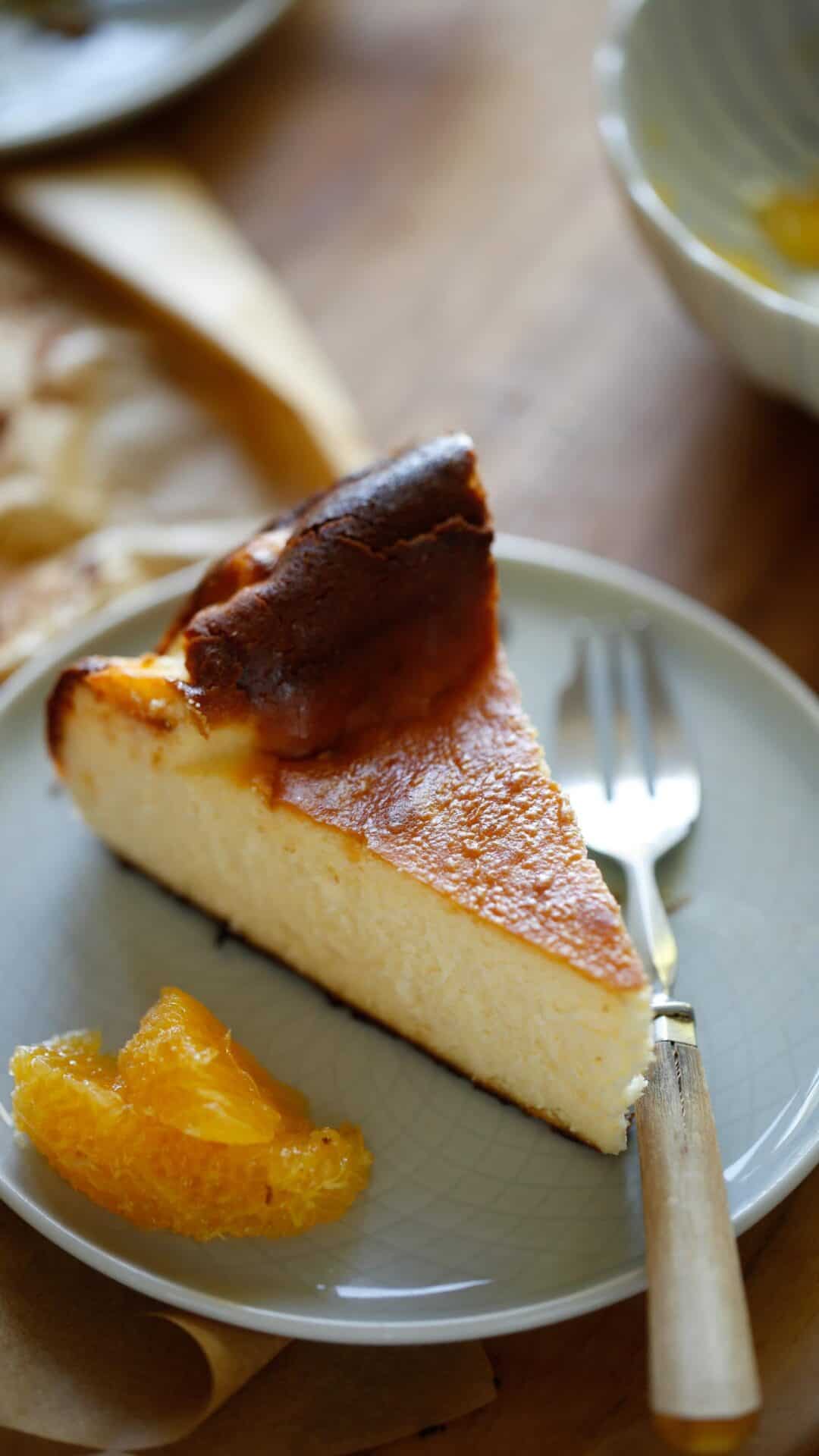 The Origins of Basque Burnt Cheesecake
Basque Burnt Cheesecake is a relatively new phenomenon. It was created in 1990 by Chef Santiago Rivera for his restaurant La Viña
in San Sebastian, Spain.
He was looking for a decadent cheesecake to serve at his restaurant and came up with this simple dessert made with just 5 ingredients. (Although I like to add grated orange zest to my version, so call it 6 ingredients for me)
It didn't take long for this dessert to take off and show up in some of the fancier restaurants in New York and San Francisco
And soon enough the New York Times predicted would declare it the "Flavor of the Year!"
There's even a soft-serve ice cream flavor dedicated to it in Singapore!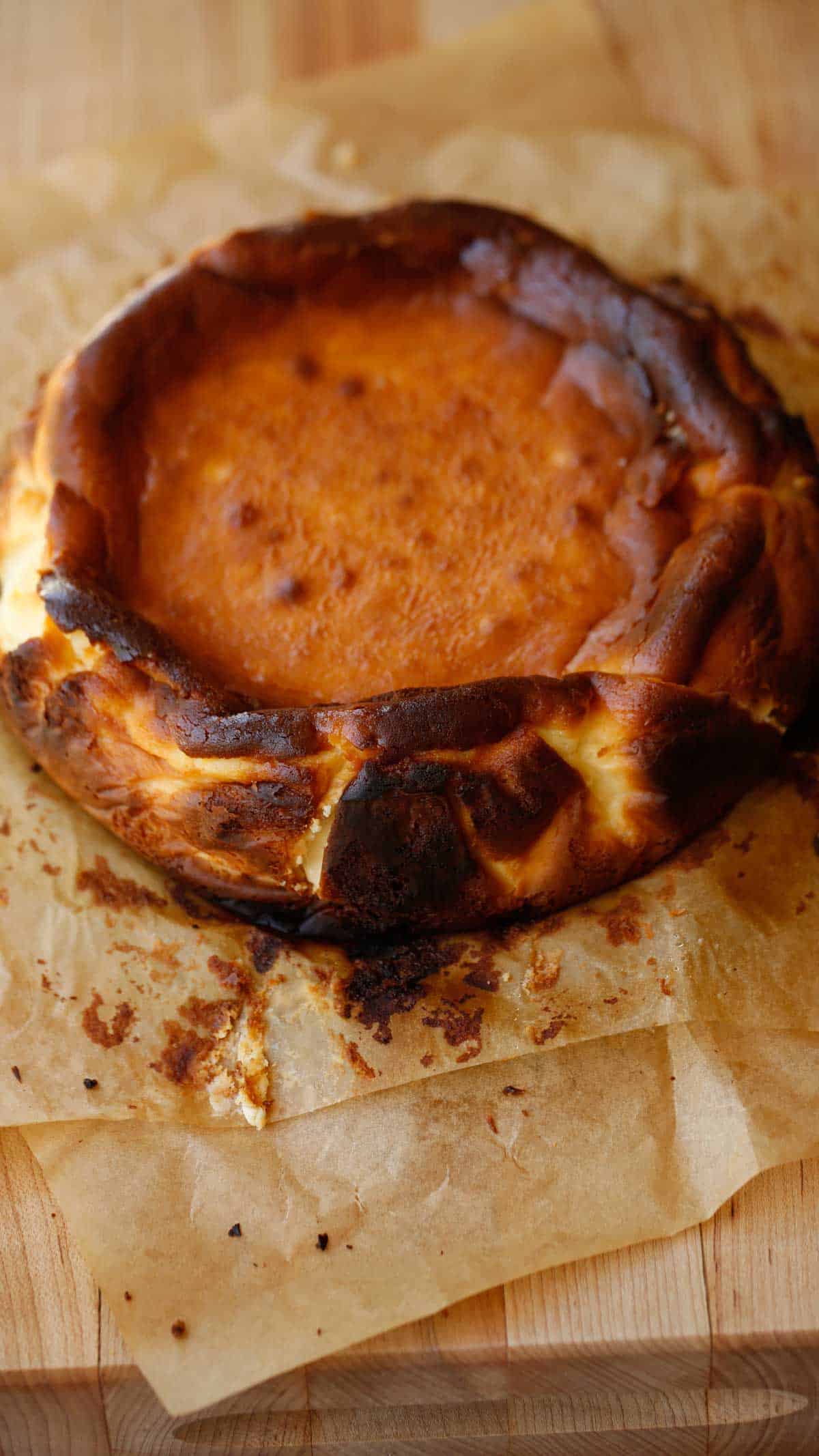 The Ingredients:
Cream Cheese I recommend using the brick cream cheese over the whipped cream cheese for this recipe. It will give you the best texture.
This recipe does take a lot of cream cheese to fill out the tin! It calls for four 8 ounce bricks, or 2 pounds of cream cheese. But this is what will give you that wonderful height on the cheesecake, so I wouldn't skimp!
Also be sure your cream cheese is at room temperature, this will make it easier to combine with the eggs and prevent any lumps.
Sugar I use a full cup and half of sugar because the cream cheese doesn't have much flavor, and because I don't add too much vanilla to this recipe, preferring the dominant flavor to be the orange zest.
Eggs This recipe calls for 4 eggs at room temperature. If you forget to take them out of the fridge, just submerge them in warm water for 5-10 minutes and this will bring them up to room temperature.
Orange Zest, Vanilla Extract and Salt These are the 3 ingredients that will give your cheesecake flavor. Personally, I really love the orange zest in this cake, but if you are not a fan, you could add a full tablespoon of vanilla extract or better yet, add 2 vanilla beans, scraped of their seeds, for a deep vanilla flavor.
All-Purpose Flour Just a small amount will provide a the needed structure to the cheesecake and make it easier to slice and serve.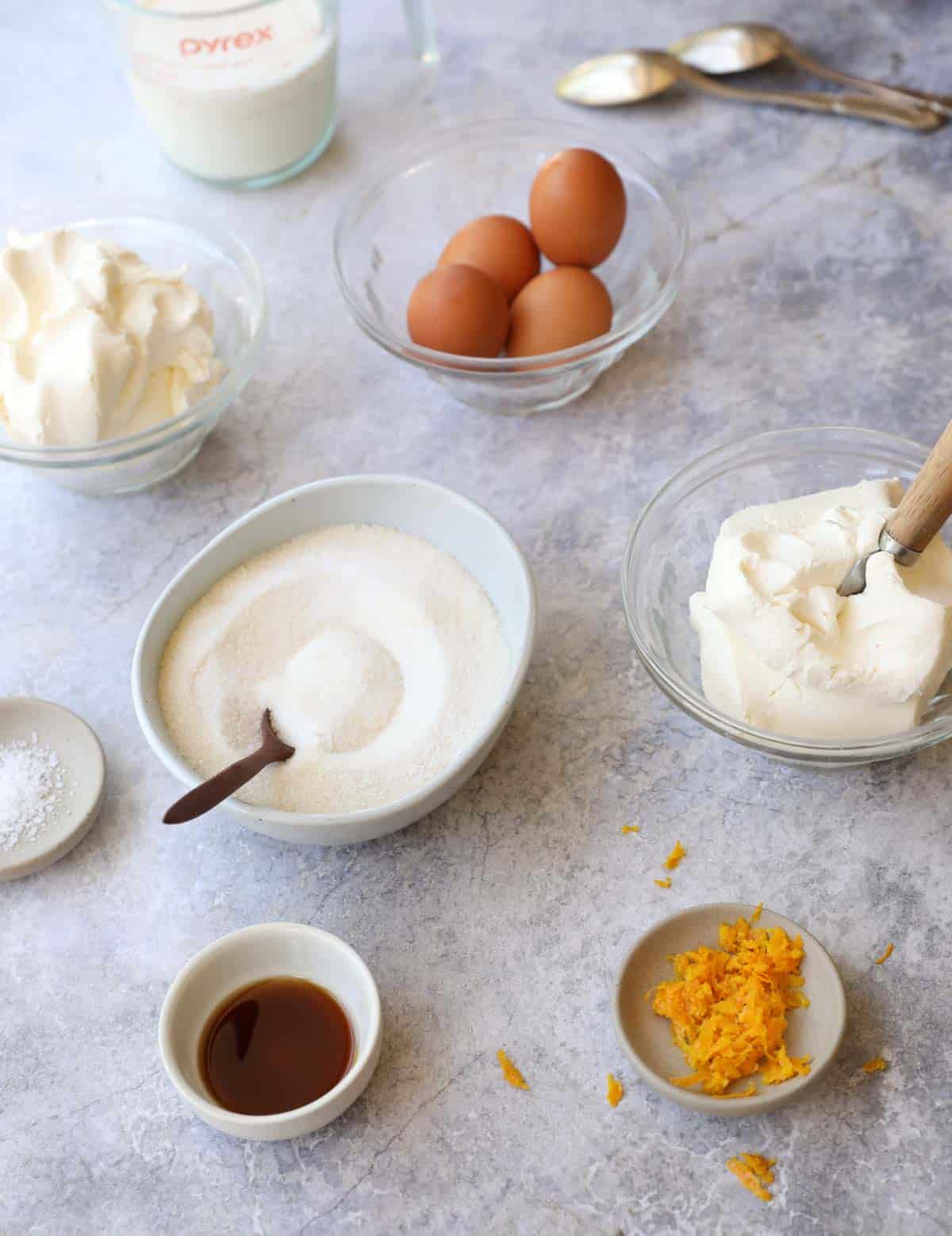 Watch My Video Demo Below!
Subscribe to My YouTube Channel and Never Miss a Recipe!
Lining The Pan With Parchment Paper
There is no crust needed for this cheesecake because the outside caramelizes to such a degree that it creates its own crust-like outer coating while remaining incredibly soft and creamy inside.
But in order to protect this outer layer, you'll need to line the tin with 2 sheets of parchment paper going in opposing directions.
This will provide a surface for the cheesecake to cling to as it rises up while it bakes in the oven. Otherwise, it could rise up so high that it spills out over the pan.
Keep the parchment paper folded over the pan's edge to fill the pan easily, but then raise it back up before baking.
This is a small detail, but I prefer the brown pre-cut sheets of parchment paper (over the white, tear-it-off-yourself parchment paper) because it makes for a pretty presentation on a cutting board when serving it.

Fill it Right Up to the Top
This recipe makes a lot of batter, but you'll need that to fill the tin, it should go right up to the top.
After it rises and cools, it will sink back down and collapse, creating those beautiful wrinkles and folds and one yummy dense cheesecake in the process!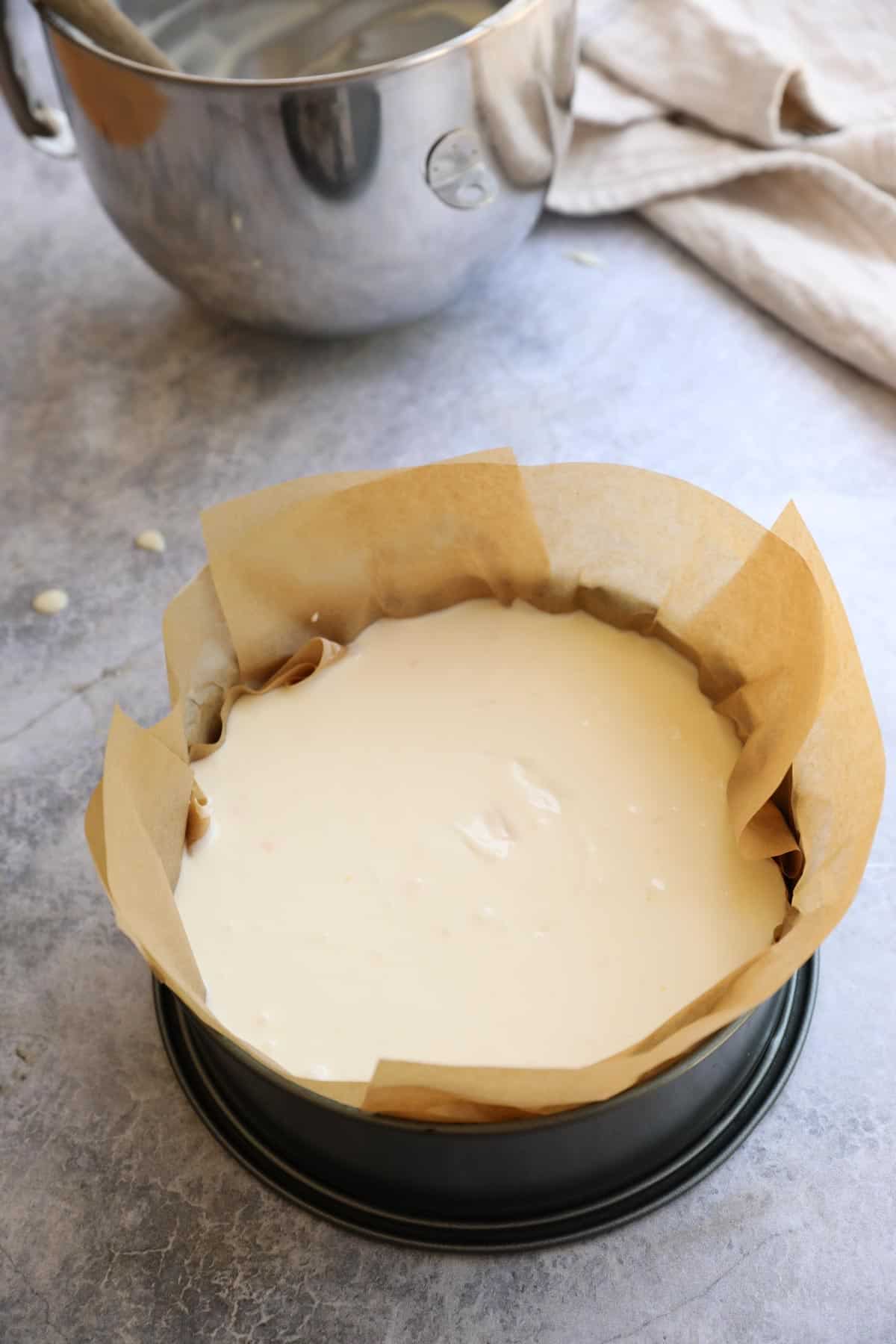 How To Tell When It's Done?
The secret with this cheesecake is not to over-bake it!
It won't start to turn brown until the 1-hour mark. At that point it will start to brown and turn a beautiful golden brown.
At this point bake it for another 5 minutes to get some good color on it, then pull it out.
It will still be giggly but will set up once cooled and refrigerated.
It's best to refrigerate overnight for the best, creamiest texture.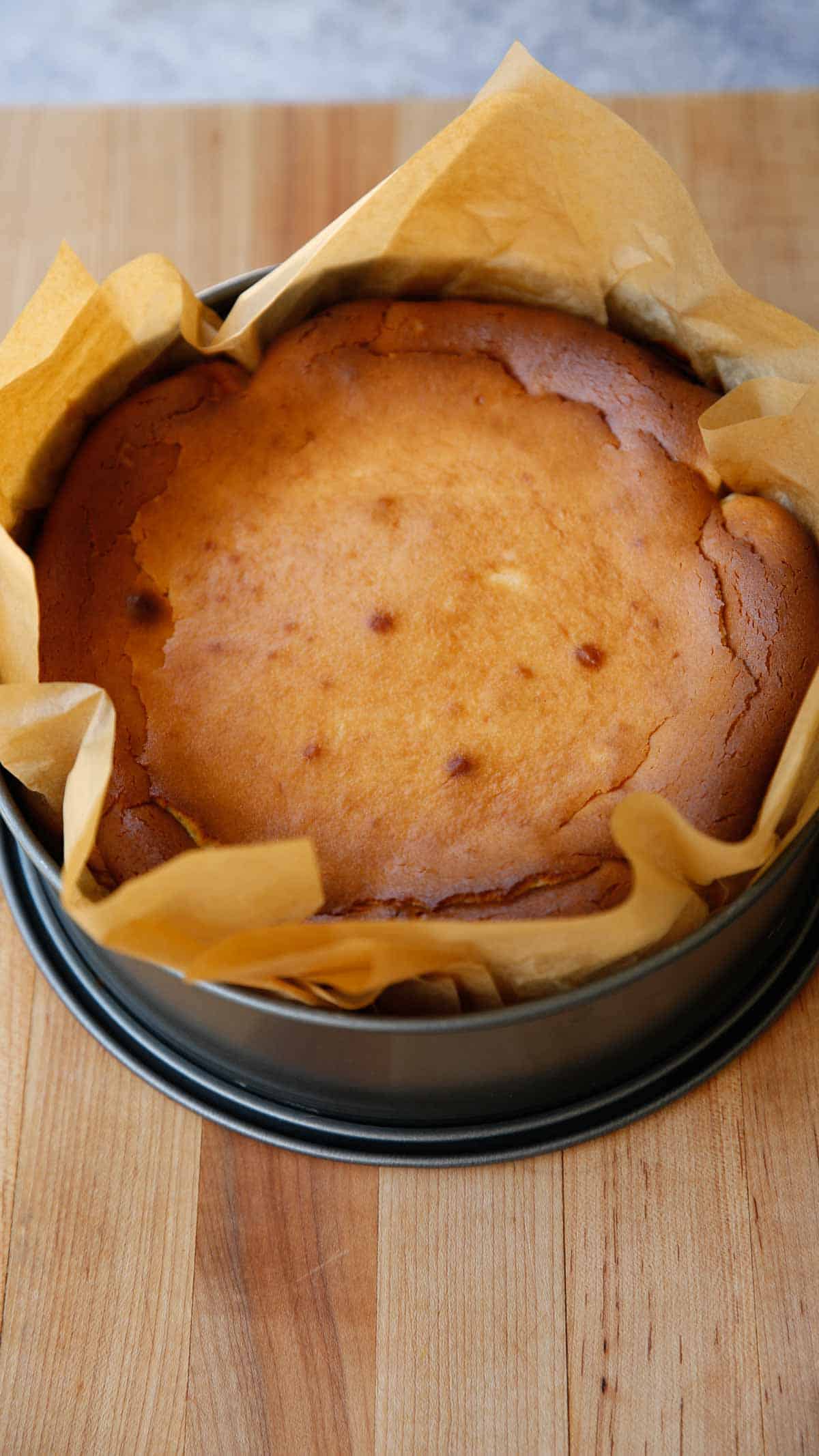 Serving Tips
This is a rustic dessert best served in its parchment paper on a cutting board.
It's not really the kind of cake you'll feel the need to put on an elegant cake stand!
I think there's a homey charm to piling everything on a large round board and brining that to the table!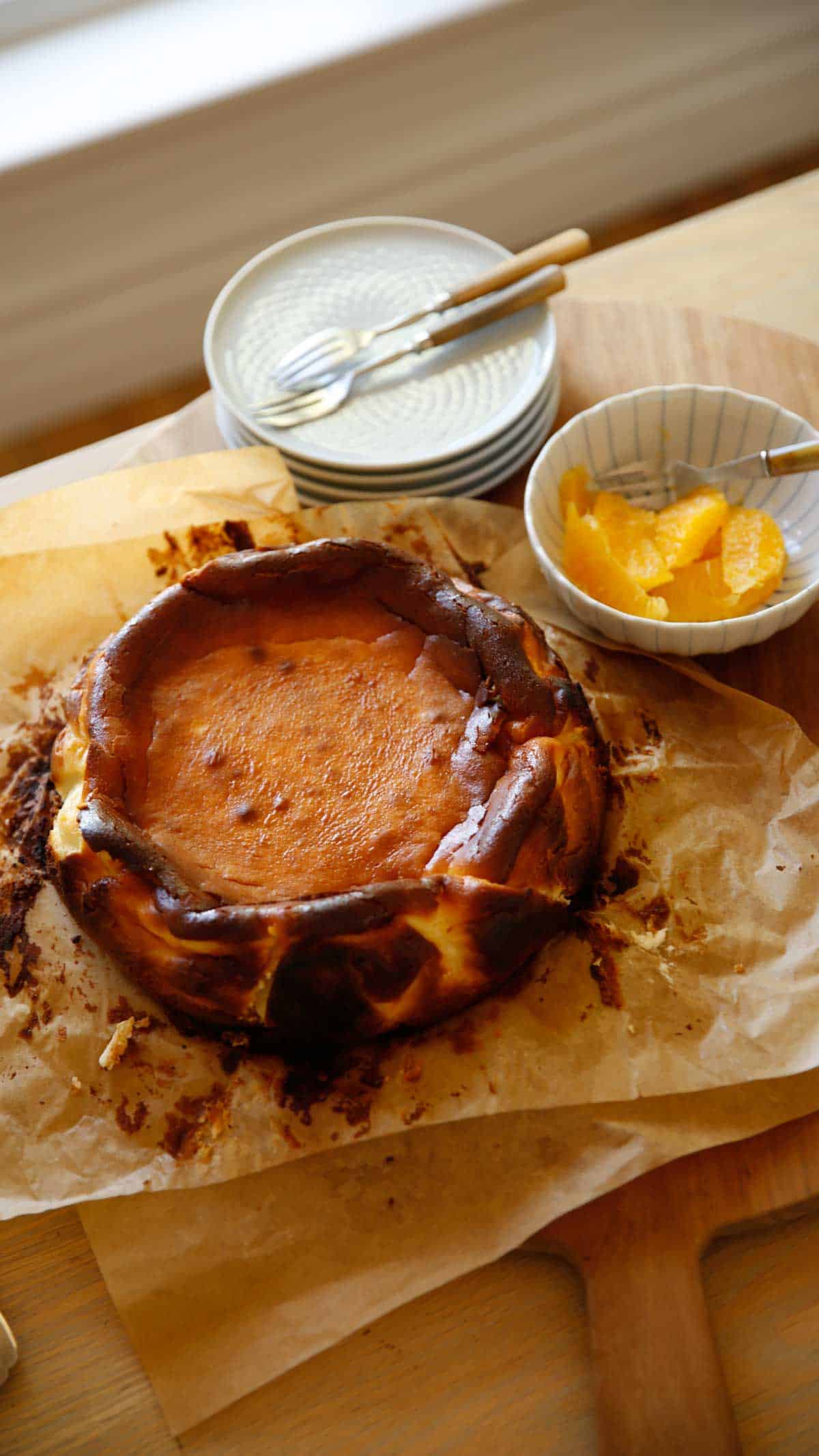 What to Serve with Your Cheesecake
Personally, I love to serve orange segments with this cheesecake because it adds a wonderful freshness against the richness.
And you already have a zested orange so it's best to use that up within a day or two or the orange will become hard without its protective peel.
But another good idea would be to serve my Homemade Strawberry Sauce on the side, or my Syrupy Mango Sauce or if you really are feeling decadent, try a drizzle of my Homemade Hot Fudge Sauce !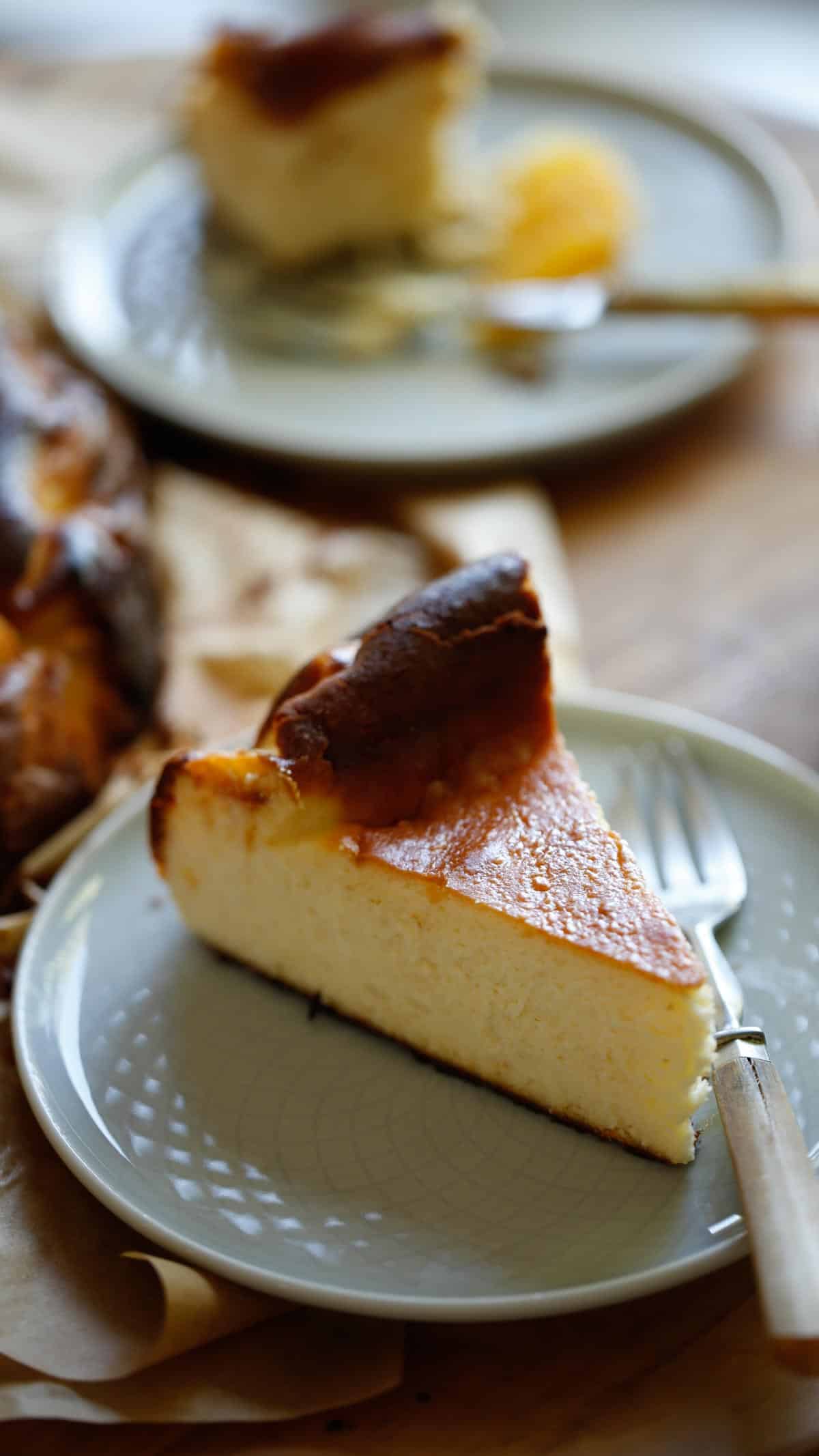 More Great Dessert Recipes!
If you Enjoyed this Recipe
Please Leave a Rating and a Review Below!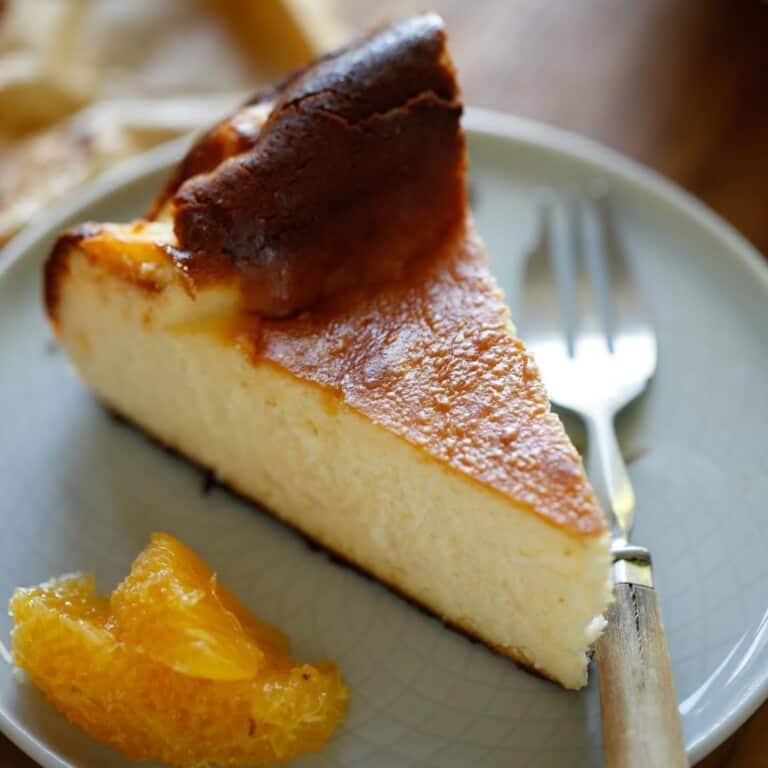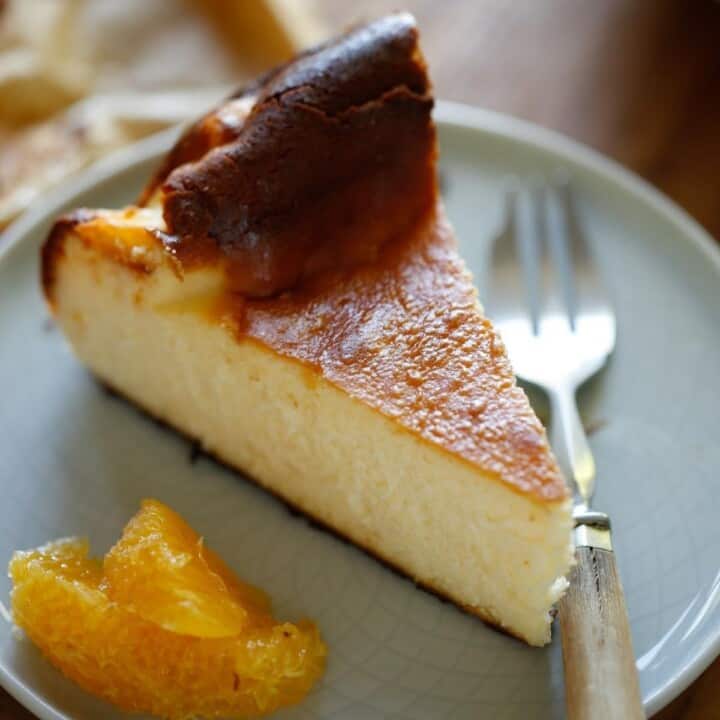 Basque Burnt Cheesecake
Cook Time:
1 hour
5 minutes
Total Time:
1 day
1 hour
35 minutes
One of the easiest cheesecakes to master! No crust, no water baths, and you don't have to worry about cracks, sinking, or browning because that's what it's supposed to do!
Ingredients
2 lbs (907g) of softened, brick-style cream cheese
1 ½ cups (301g) of sugar
4 eggs, room temperature
1 ½ cups (355 ml) heavy cream
2 teaspoons (10ml) of vanilla extract
1 Tablespoon (15 ml) orange zest, grated
¼ teaspoon (large pinch) Kosher salt
¼ cup (34g) all-purpose flour, sifted
Instructions
Preheat the oven to 400F (200C).
Line a 9" springform pan with 2 sheets of parchment paper going in opposite directions. Press in the paper to fit snugly and to allow for it to rise up the sides.
Beat together the cream cheese and the sugar until smooth and creamy.
Add the eggs one at a time, beating in between each addition and scraping down the bowl as needed.
Add the heavy cream and beat until combined.
Add the vanilla, salt, and orange zest. Beat to combine.
Sift in the flour and beat until incorporated.
Pour the batter into the prepared pan.
Raise the parchment paper up, along the sides, before baking so the cake has something to cling to as it rises. This will also prevent it from spilling out over the pan.
Bake at 400F for 1 hour and 5 minutes.
Cake will be golden brown on top and still a bit giggly in the center.
Not to worry it will set up as it cools and as it is refrigerated.
Refrigerate it overnight or a minimum of 6 hours before serving.
Notes
If you forget to take out the eggs in advance to come to room temperature, you can submerge them in a small bowl of warm water for 5-10 minutes to come up to room temperature.
This cake is best enjoyed after it has been refrigerated overnight.