This easy tomato jam recipe is a terrific summer condiment that whips up in less than 30-minutes! It's great when chilled and spooned over creamy burrata cheese, or you can also serve it with crackers and goat cheese, or top over burgers too!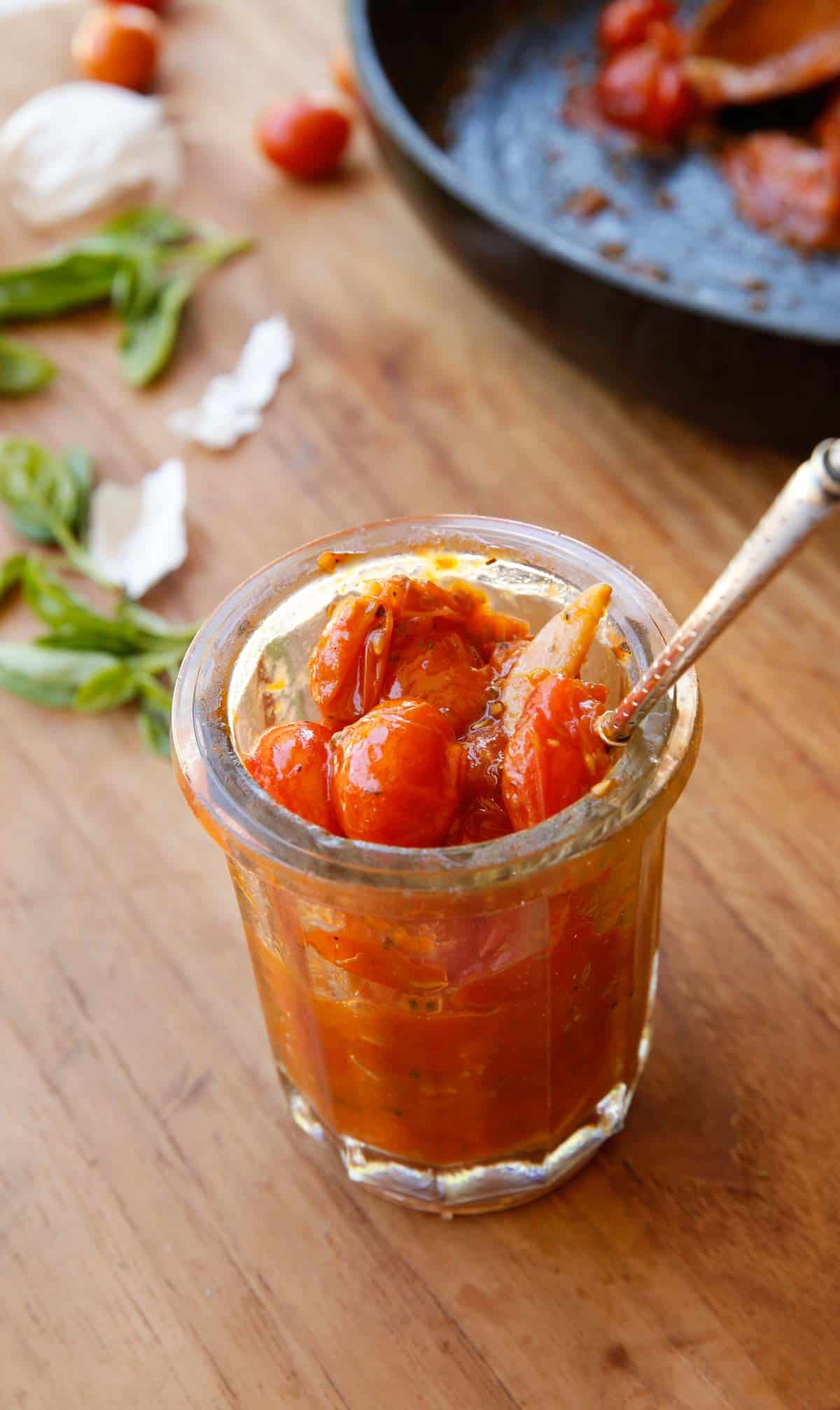 The Ingredients:
Cherry Tomatoes Are at their peak in the summer time! They are so sweet and delicious, and when cooked down into jam, their flavor is even more pronounced. You can also use a mix of red, yellow and orange cherry tomatoes for a pretty presentation!
Garlic One clove will do the trick, but if you like your jam even more garlicky feel free to up the quantity.
Honey I like to add a little honey to this recipe to create a syrupy consistency right out of the gate. It prevents the need from having to cook the tomatoes down for a longer period of time to get the same effect.
Herbs de Provence Is one of my favorite spice blends to pair with tomatoes. You can find Herbs de Provence online in case your grocery store doesn't sell it. I usually buy the large crocks and keep it on my counter since I use it in so many recipes!
Salt and Pepper to Taste This will heighten all the flavors of the jam and balance out the sweetness.
Balsamic Vinegar Be sure to buy a good quality balsamic vinegar for this. The flavors will be better! It should be thick and fragrant. Lesser-quality balsamic vinegars can be mixed with white wine vinegar and have other flavorings added to it to make it appear like the real thing, but when it comes to a simple recipe like this with minimal ingredients, accept no imitations! Go for the real thing. I absolutely LOVE the vinegars (and oils!) from a local Californian producer called Pasolivo. They make a Basil Plum Balsamic Vinegar which is fantastic!
Burrata Cheese In the summertime a ball of Burrata cheese with a drizzle of balsamic glaze and this tomato jam is a fantastic first course idea! Especially when it is too hot to cook!
Fresh Basil The basil is a wonderful way to garnish the jam, either sliced into dainty julienned ribbons or torn for a more rustic look.
Grilled Ciabatta Bread This appetizer idea pairs beautifully with my Mixed Grill Recipe, and while you are heating up the BBQ you can grill off a few slices of ciabatta bread to go with your appetizer. Just brush it will olive oil first, and grilled and serve!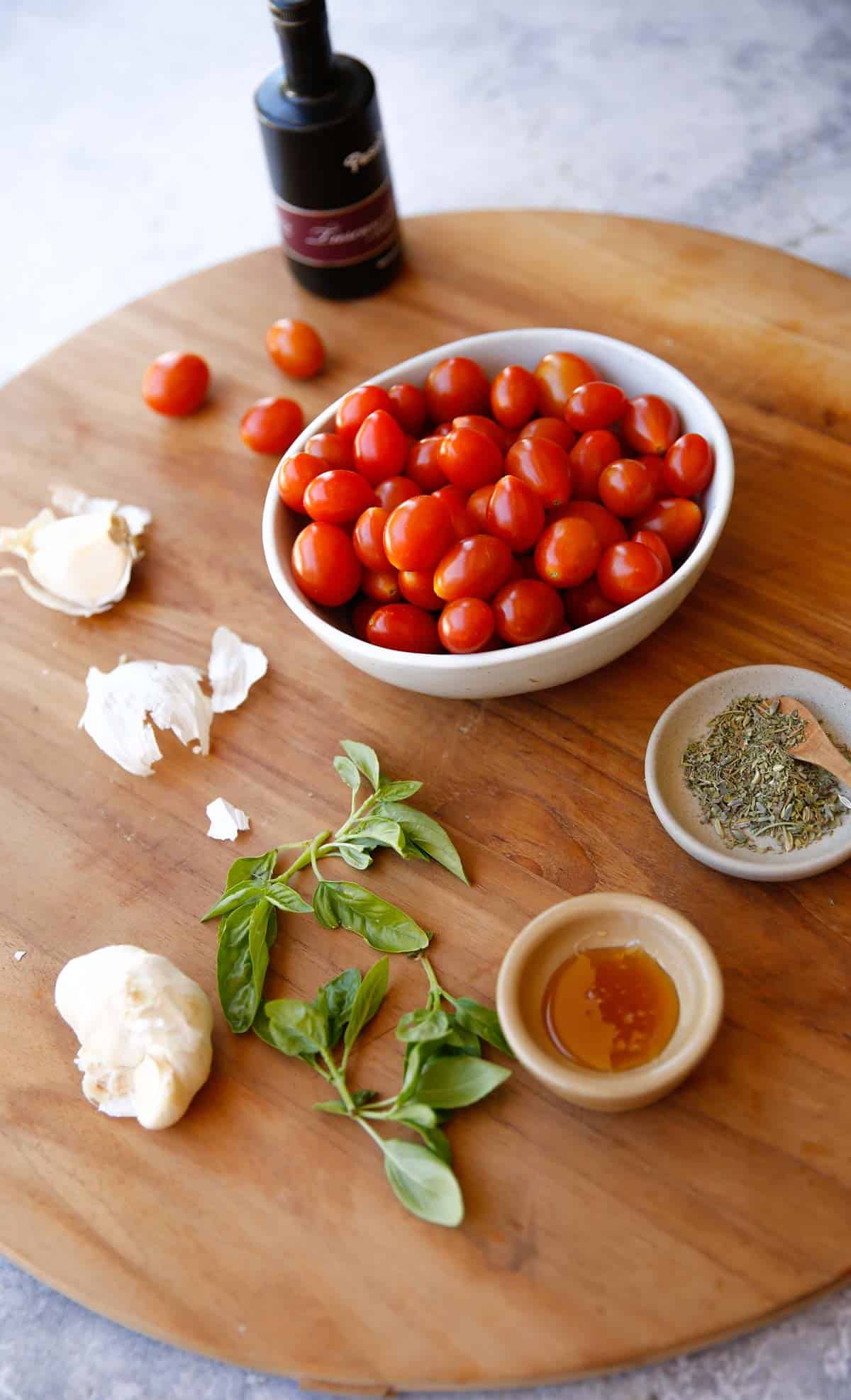 Cooking the Tomatoes Down
How far you cook the tomatoes down is up to you.
The longer they reduce, the sweeter and more pronounced the flavors will be.
I like to cook them long enough so that they get a jam-like consistency, thanks to the honey, but not too long that they all fall apart.
I think it's nice to retain a few whole tomatoes for texture.
Be sure to use a large non-stick skillet as well. A large skillet will help the tomatoes spread out and breakdown quicker, and the non-stick properties will make your pan a lot easier to clean too!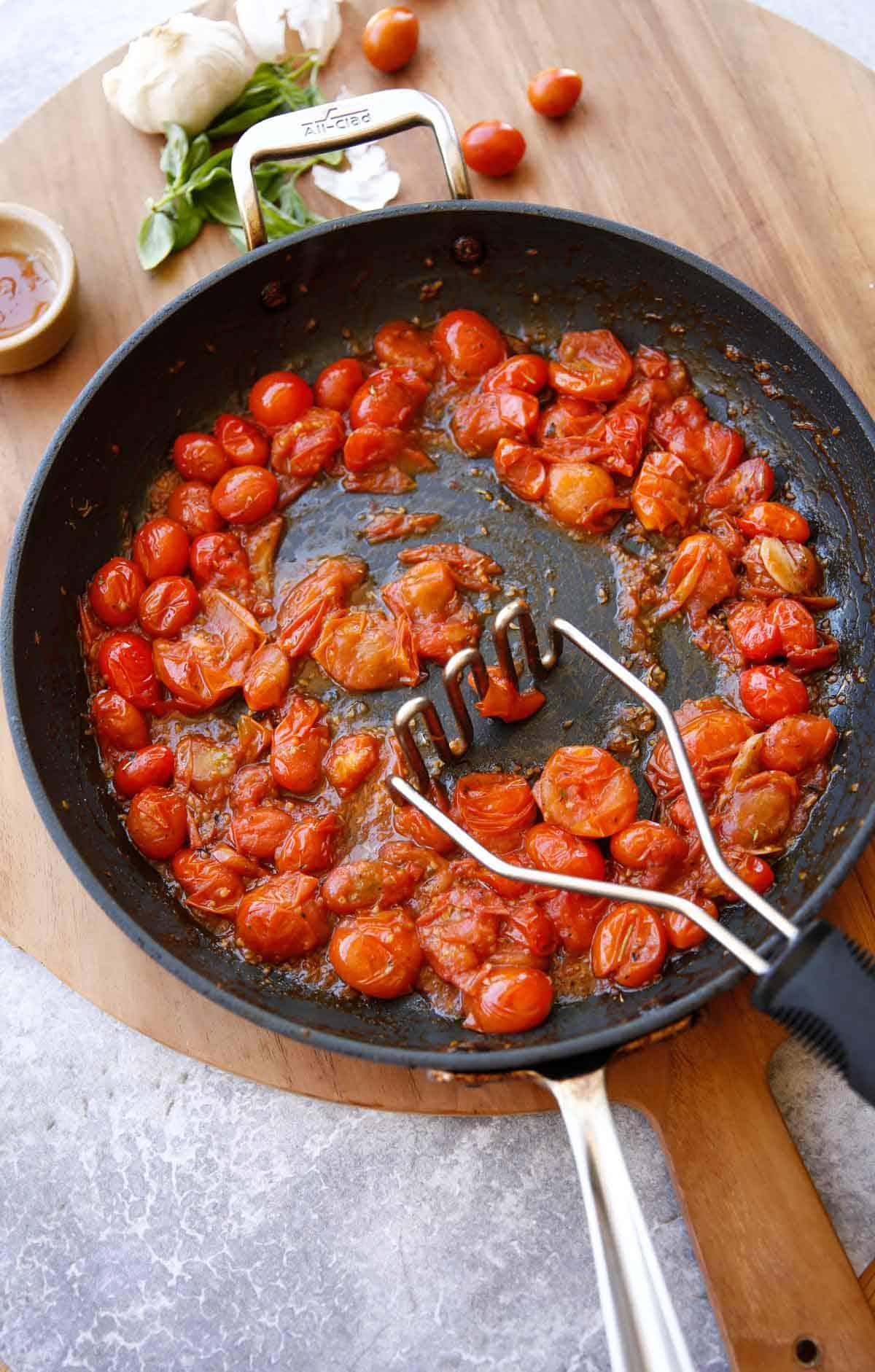 Serving Ideas For Your Tomato Jam:
My favorite way to serve this jam is chilled, spooned over a ball of fresh Burrata cheese, a drizzle of balsamic glaze, and freshly torn basil.
But you can also serve it along side some fresh goat cheese and crackers too!
Or grill a wheel of brie for a few minutes on each side, and serve it with the jam and some grilled baguette slices.
It's also great alongside of grilled chicken or topped on burgers too!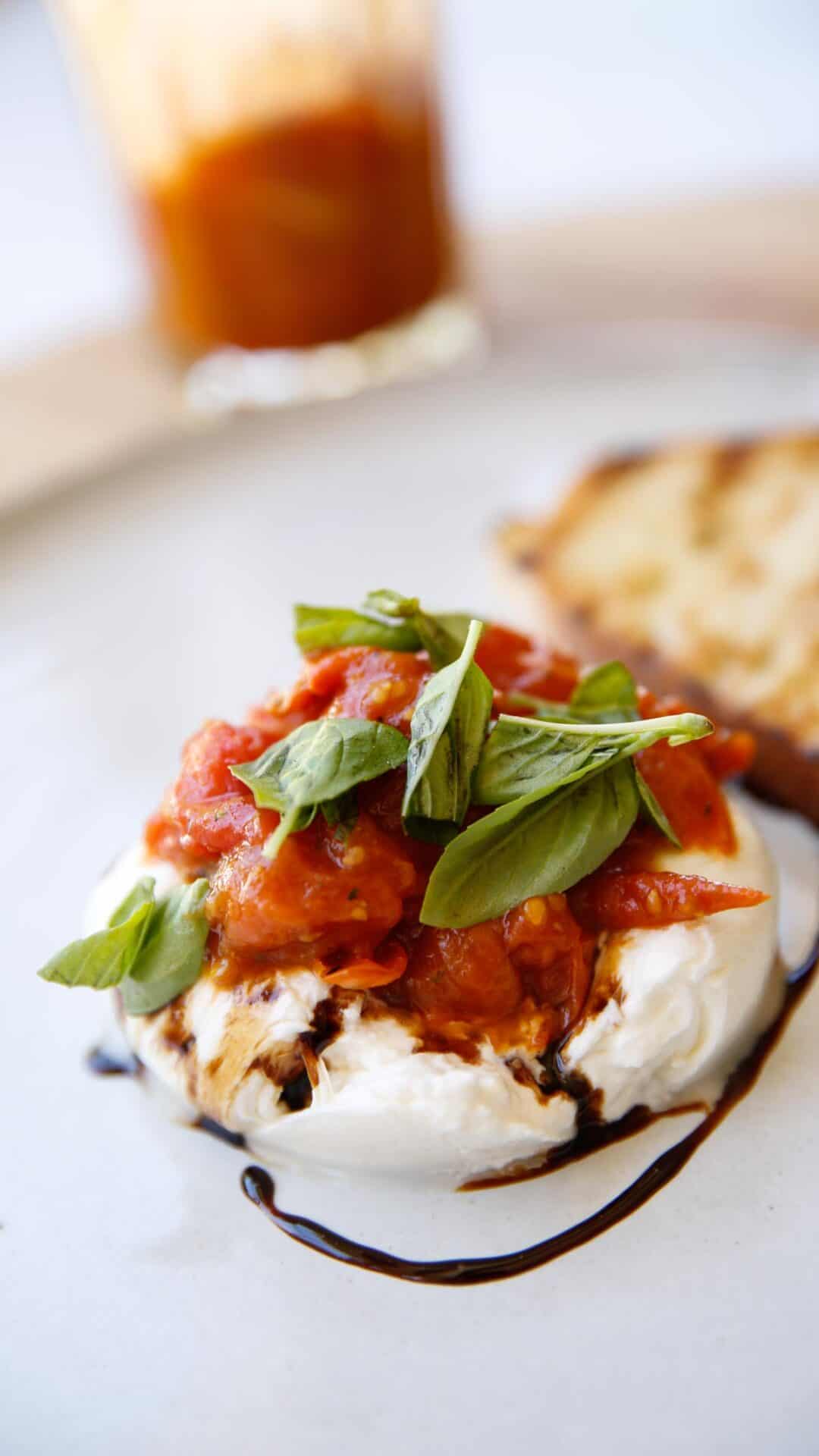 More Great Summer Recipes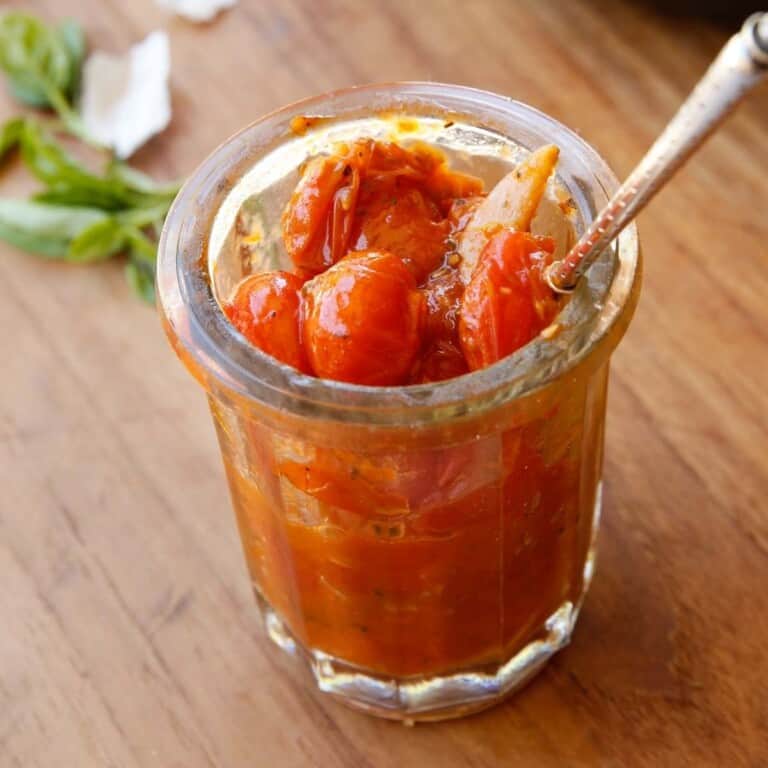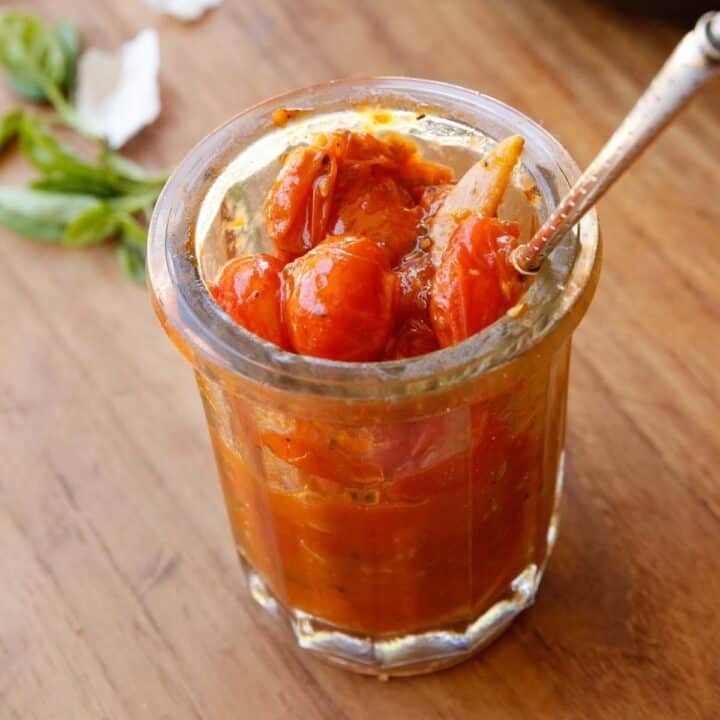 Easy Tomato Jam
A delicious Easy Tomato Jam recipe that comes together in less than 30 mins! A wonderful condiment when spooned over fresh mozzarella or on top of a burger!
Ingredients
1 lb (453g) Cherry Tomatoes
1 (15 ml) tablespoon Olive oil
1 garlic clove, sliced
Salt and Pepper to Taste
1 ½ teaspoon (7.5ml) honey
½ teaspoon (2.5ml) Herbs de Provence
1 teaspoon (5 ml) balsamic vinegar
Optional
1 ball of Burrata Cheese Per Person
A drizzle of Balsamic Glaze per person
Fresh Basil for garnishing
Instructions
Heat olive oil in a non-stick skillet. Once hot add the cherry tomatoes and the garlic.
Season with salt and pepper to taste.
Cook the tomatoes and garlic for a few minutes, shaking the pan periodically to flip.
Once the tomatoes begin to soften, press them down gently with a potato masher.
Once they start to break apart and release their juices add the honey, Herbs de Provence and balsamic vinegar.
Continue to cook down until syrupy and thickened.
OPTIONAL: For a spicy kick add a little red pepper flakes to taste.
Allow to cool slightly.
Then transfer to a jam jar and refrigerate until chilled.
Place a ball of burrata cheese on a plate, pull it open with two forks and drizzle a littler balsamic glaze on top.
Spoon the tomato jam on top, and garnish with torn basil leaves.
Serve with grilled ciabatta bread.
Notes
This tomato jam is also great served on top of burgers or grilled chicken too!
Or serve it with crackers and goat cheese as well.
Nutrition Information:
Yield:

6
Serving Size:

1
Amount Per Serving:
Calories:

62
Total Fat:

3g
Saturated Fat:

1g
Trans Fat:

0g
Unsaturated Fat:

2g
Cholesterol:

4mg
Sodium:

84mg
Carbohydrates:

7g
Fiber:

1g
Sugar:

5g
Protein:

2g