This silky smooth Raspberry Cheesecake recipe will become your new go-to, special occasion, dessert recipe! It's rich, creamy and decadent, and practically foolproof thanks to my secret ingredient...a little bit of flour in the batter!
It has a crunchy base thanks to its graham cracker crust and a silky, sour cream and cream cheese filling, which makes it extra smooth. It then gets topped with sweet raspberry jam and fresh raspberries on top. It's the perfect special occasion dessert for Christmas, Valentine's Day, Easter or Mother's Day. For another fantastic cheesecake recipe try my Raspberry Swirl Cheesecake Recipe.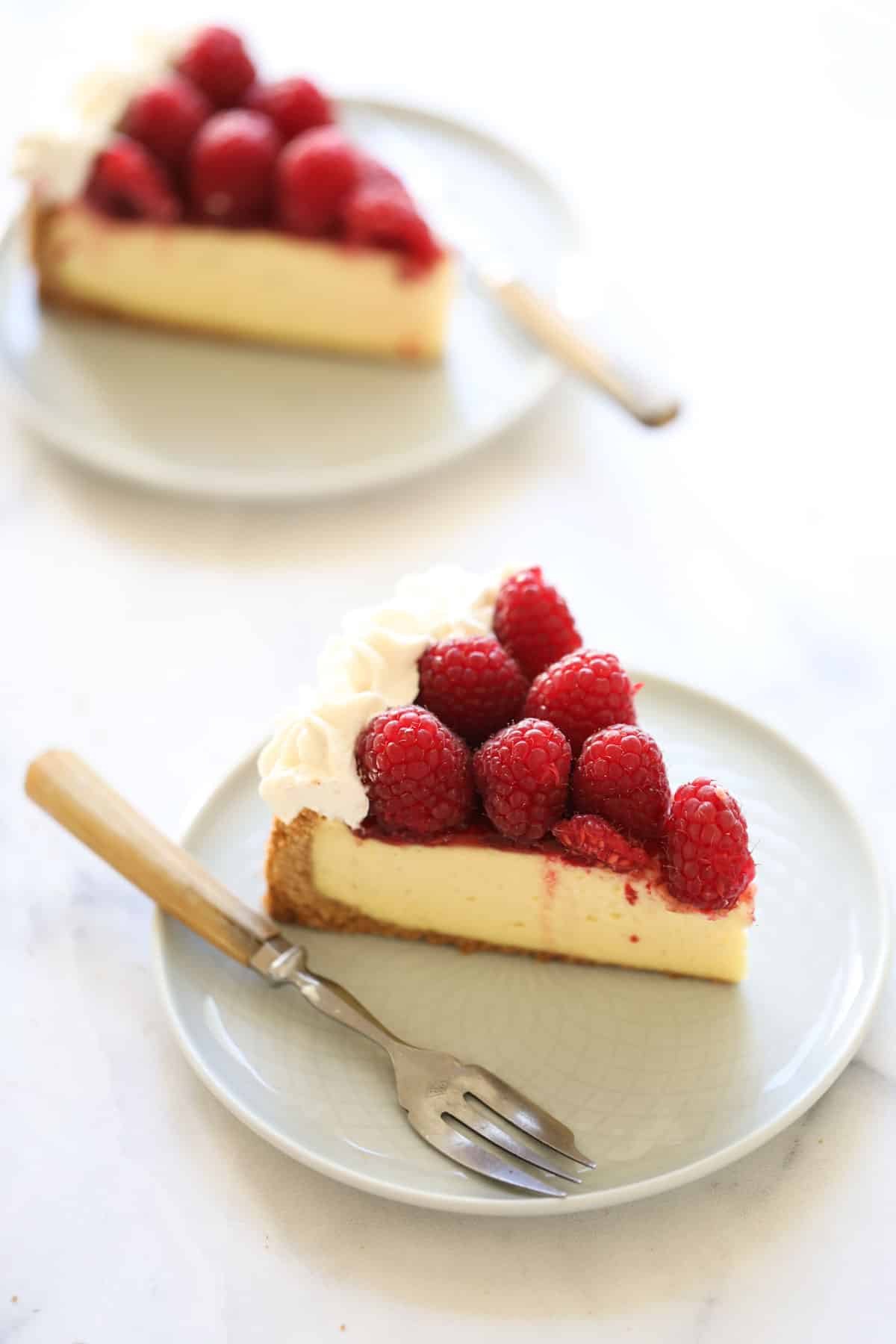 Trouble Shooting Cheesecake
Cheesecake is one of those desserts that can go really right, or really wrong!

We've all seen the cracks, the sunken middles, or wobbly centers.

Trouble usually arises in the fluctuating of temperatures. Either the cake bakes too long, and starts to crack, and then deflates when it begins to cool, cracking further.

But not with this recipe! It's pretty much foolproof. Thanks to the flour, additional egg yolks, and sour cream you'll end up with the silkiest smooth, decadent raspberry cheesecake you've ever tasted!

Oh and did I mention that you can skip the "bain marie" too? The extra eggs and flour give this cheesecake its perfect structure which means, no water bath needed and less fuss too!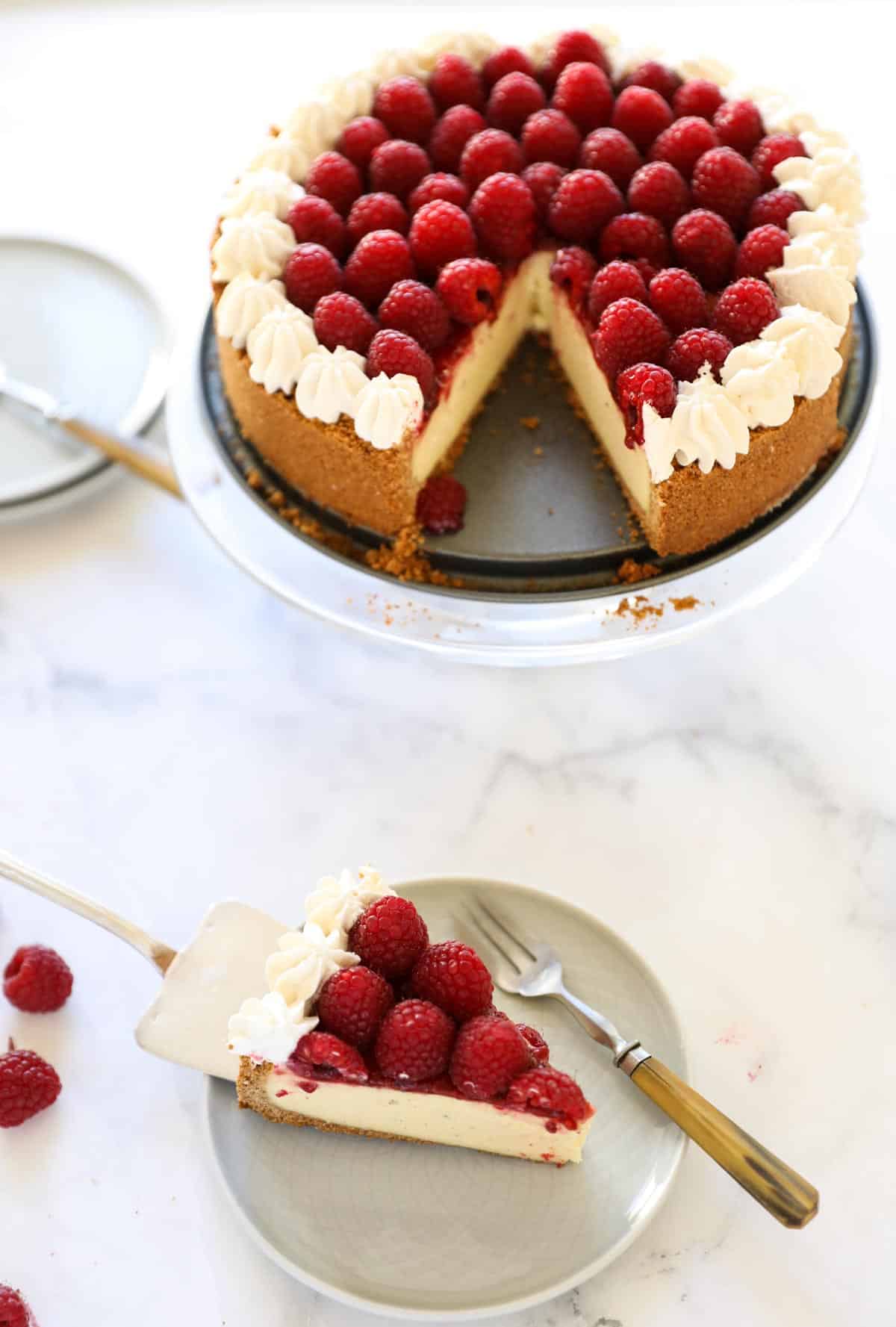 The Ingredients:
Graham crackers: You can grind them up in a food processor or place them in a resealable plastic bag and whack them with a rolling pin to crush them into a crumb. Alternatively, you can also use store-bought graham cracker crumbs too.
Sugar: This will add a little additional sweetness to the crust. Otherwise, they can be a bit bland. Have extra graham crackers? Use them up in my

S'more Pugging Pot Recipe

.
Salt: Balances out the sweet flavors in the crust.
Butter: Melted butter is used to help bind all of the crust ingredients together.
Whipped Cream cheese: Make sure your cream cheese is at room temperature. It will incorporate better with the eggs and the sour cream. You can use the brick cream cheese too, but I find the texture is better with the whipped.
Crème Fraiche or sour cream: The same goes for the crème fraiche or sour cream. Make sure they are at room temperature before mixing for the best results. If you have extra sour cream you can use it up in my Sour Cream Mashed Potatoes recipe
White Sugar: For sweetness
Salt: This will balance out the sweet flavors in the filling, and enhance the flavor of the vanilla.
Eggs: Will bind the cheesecake together and give it structure. Eggs should also be at room temperature.
Egg yolks: Will give the cheesecake a richer, custard-like texture, and allows it to firm up without the use of a water bath.
Vanilla beans, scrapped and seeded: Select good quality vanilla beans to enhance the flavor of the filling. Personally, I've found Amazon to be the best source of affordable vanilla beans that aren't dried out.
Flour: Adding flour prevents the cheesecake filling from cracking without the use of a water bath or "bain marie".
Raspberry jam: Use good quality jam to top the cheesecake. Personally, I like the Bonne Maman brand.
Raspberries: Select fresh ripe raspberries for this recipe.
Heavy cream: Make sure the heavy cream is cold before whipping. This will help stiff peaks form.
Powdered sugar: Always use powdered sugar in homemade whipped cream, since it contains cornstarch which will help it retain its structure.
Vanilla extract: For adding flavor and sweetness to the whipped cream.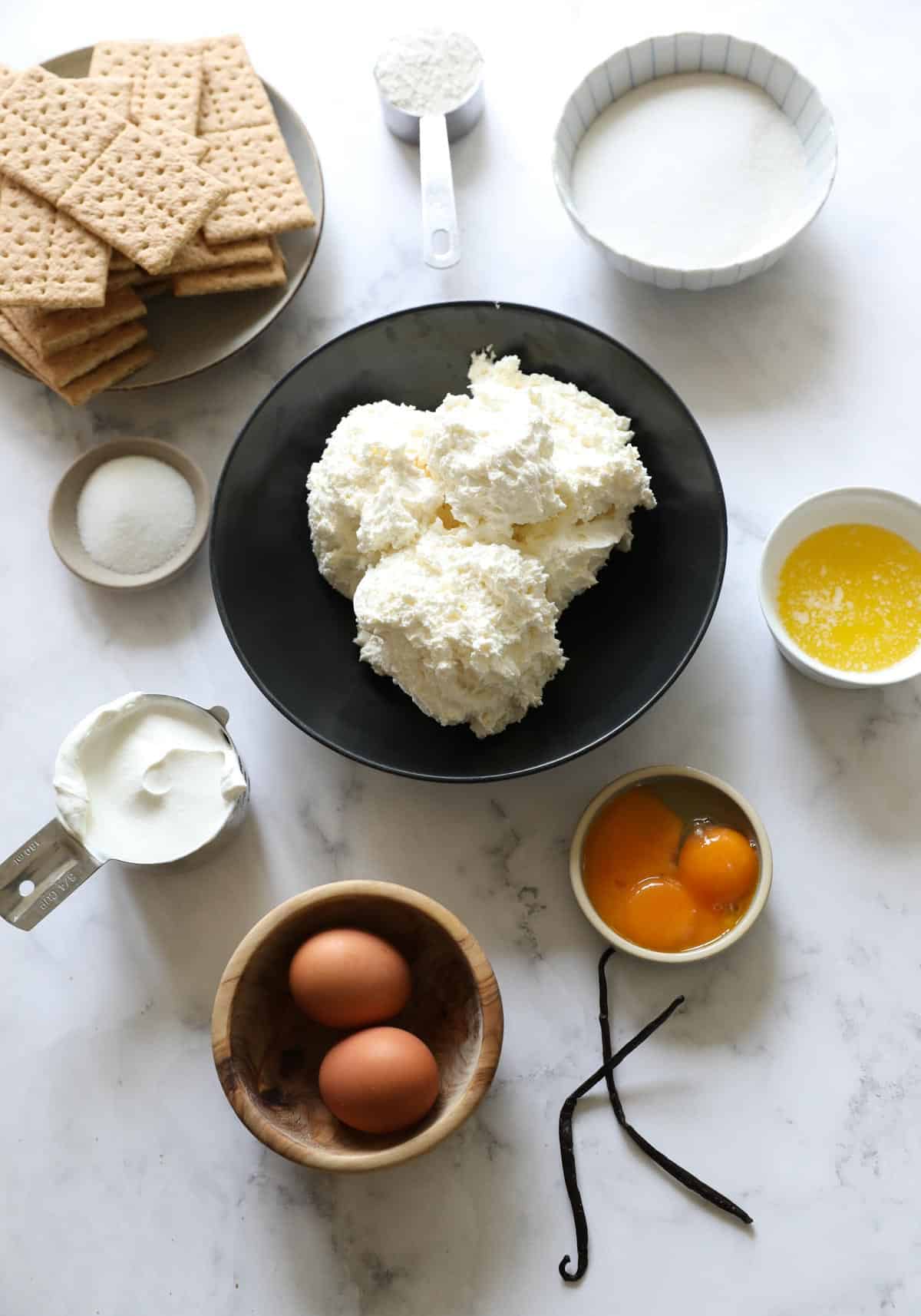 Tips for Making a Graham Cracker Crust:
Make sure to grind the graham crackers up to a fine crumb that are equal in size. If using a food processor it helps to grind the crumbs first, then add the melted butter and pulse again.
Don't skimp on the melted butter. The butter will bind the crumbs together and help them remain in place.
Use a measuring cup to help tamp down the crumbs to an even layer. This will help them bake evenly.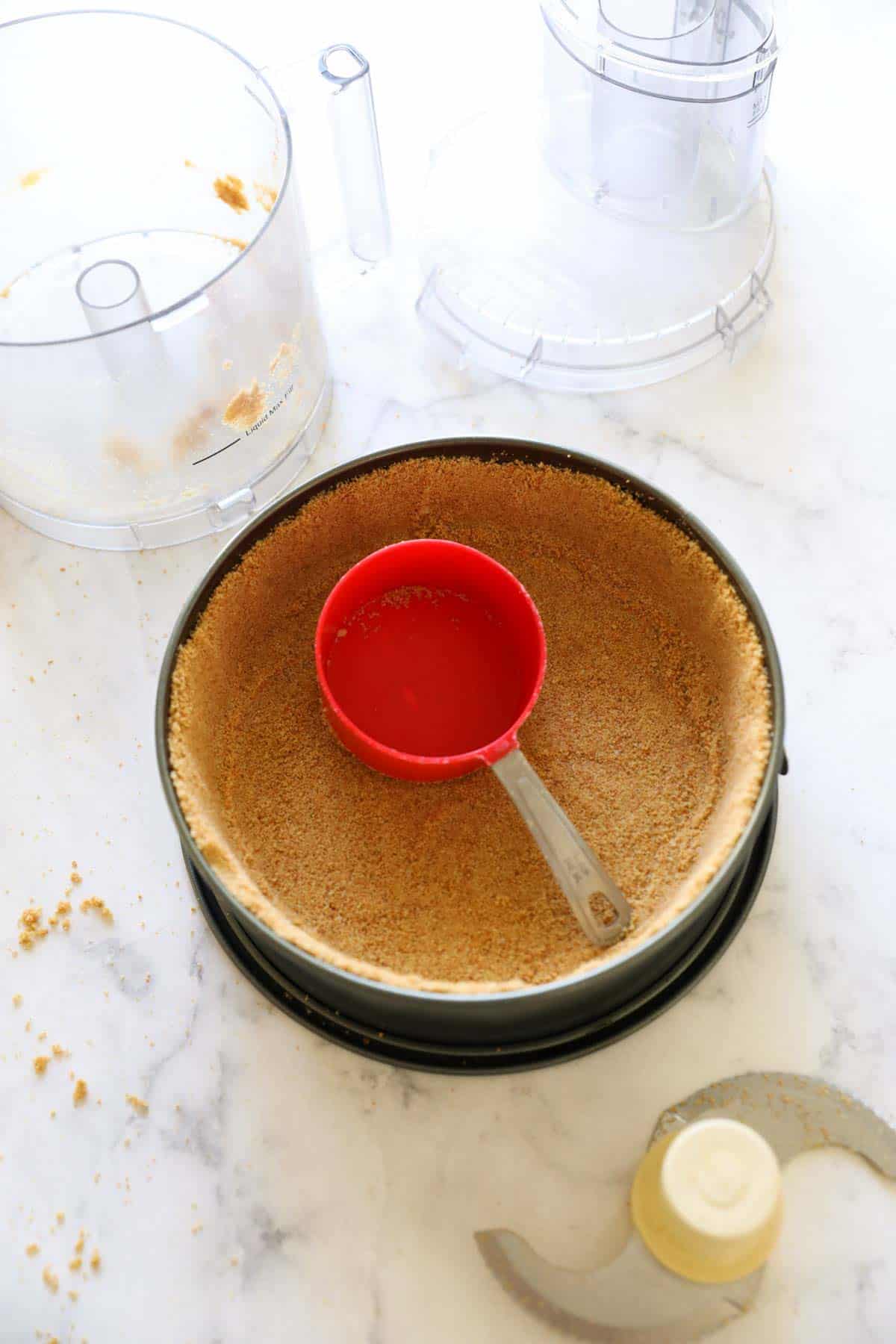 What Does Sour Cream Do To Cheesecakes?
The biggest difference between a New York style cheesecake and a regular cheesecake is the addition of sour cream.
The sour cream loosens up the stiffness of the cream cheese, making the cheesecake, silkier and lighter.
Whereas, a New York style cheesecake has a much richer, thicker texture and often times taller in height too, since it's less custardy, and less fragile.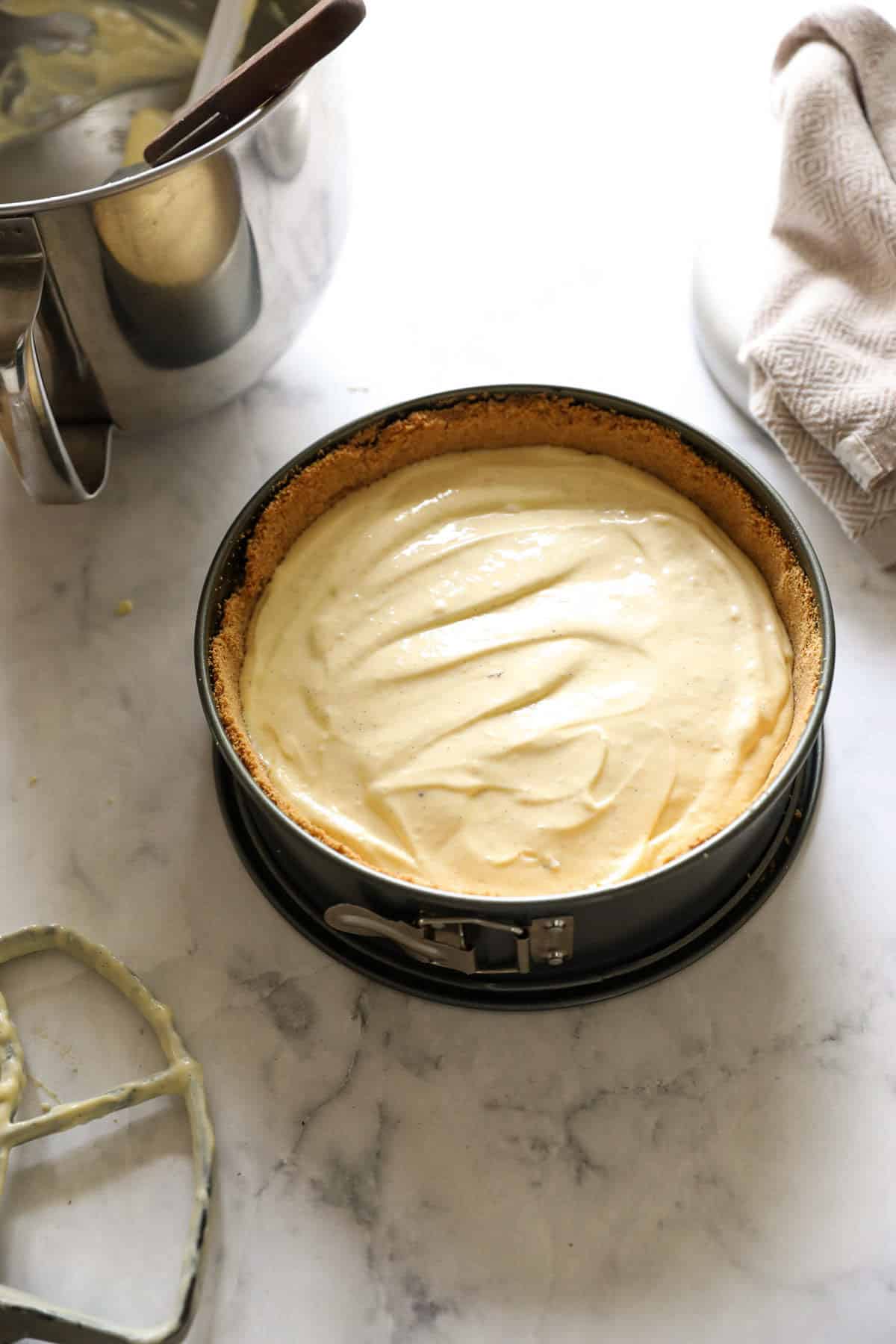 Baked vs. No-Bake Cheesecakes. Which is Better?
Baked cheesecakes are definitely more time-consuming, but I do think you'll be happier with the richer texture.
But if you are looking for the flavor of a cheesecake without the heaviness of a cheesecake, then No-Baked Cheesecakes are the way to go! Try my Easy No-Bake Berry Cheesecake or my No-Bake Chocolate Cheesecake Mousse to see the difference.
Adding the Raspberry Flavors to the Cheesecake
I like to use two types of raspberry flavoring in this cheesecake to provide both flavor and texture.
The first layer is a thin layer of raspberry jam. Place it in a microwave safe bowl and microwave for :30 until spreadable. Make sure it's cooled off a bit, but you'll notice it will be easier to spread on the cheesecake this way.
Then add another layer of fresh raspberries. After giving them a light rinse, separate them into a bowl, inspecting each one for any imperfections. Set the damaged ones aside and save them for breakfast smoothie recipes!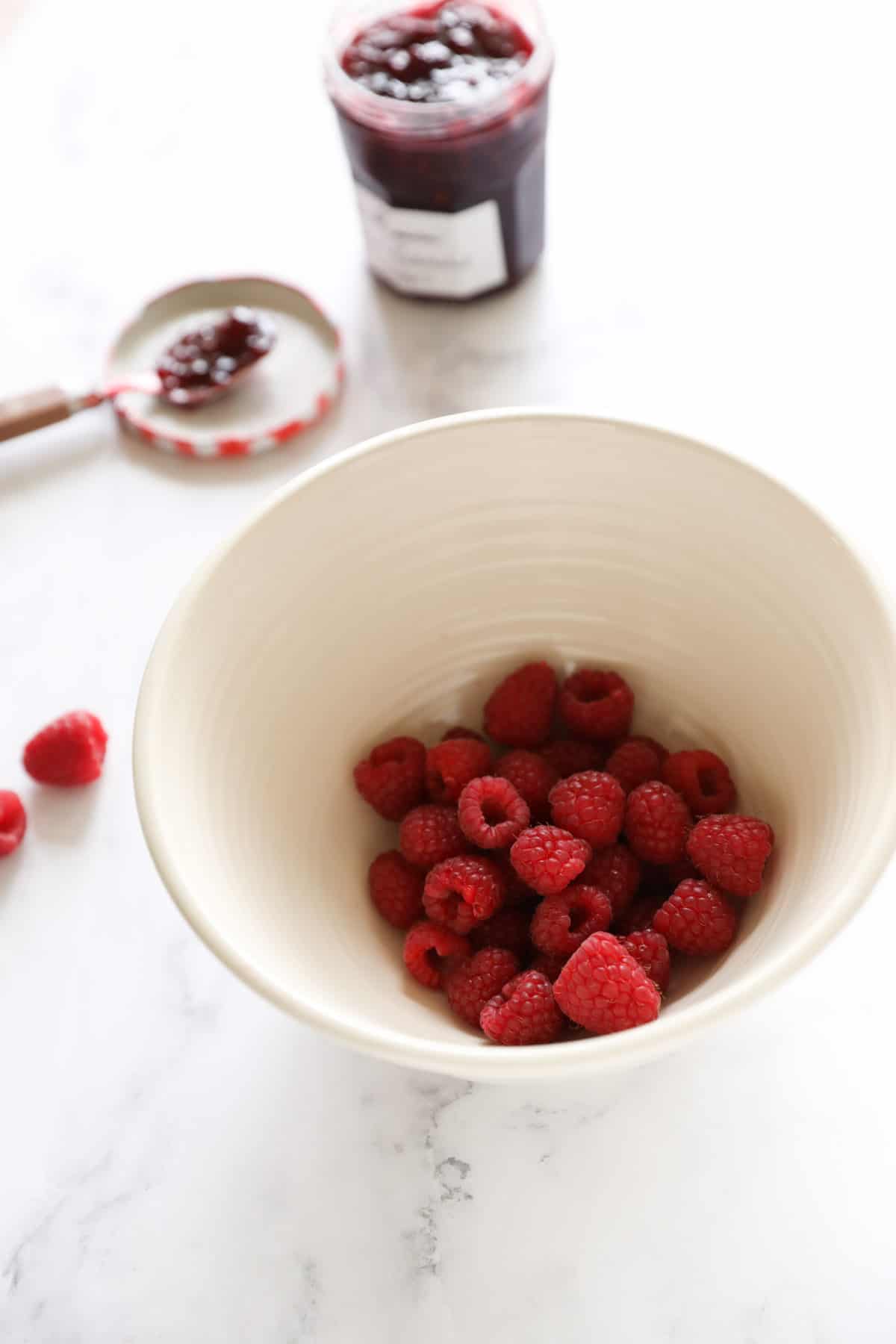 Variations
Once the cheesecake has been decorated you could drizzle a bit of melted white chocolate or chocolate ganache on top of the berries. I'll show you how in my

Raspberry Almond Thumbprint Cookie

recipe.
Alternatively, you can make an Oreo cookie crust instead of a graham cracker crust for a lovely chocolatey flavor. Simply scrape out the filling and just use the wafers.
I use chocolate crusts in both my

Chocolate Pumpkin Cheesecake

and

Key Lime Pie Cheesecake

recipes.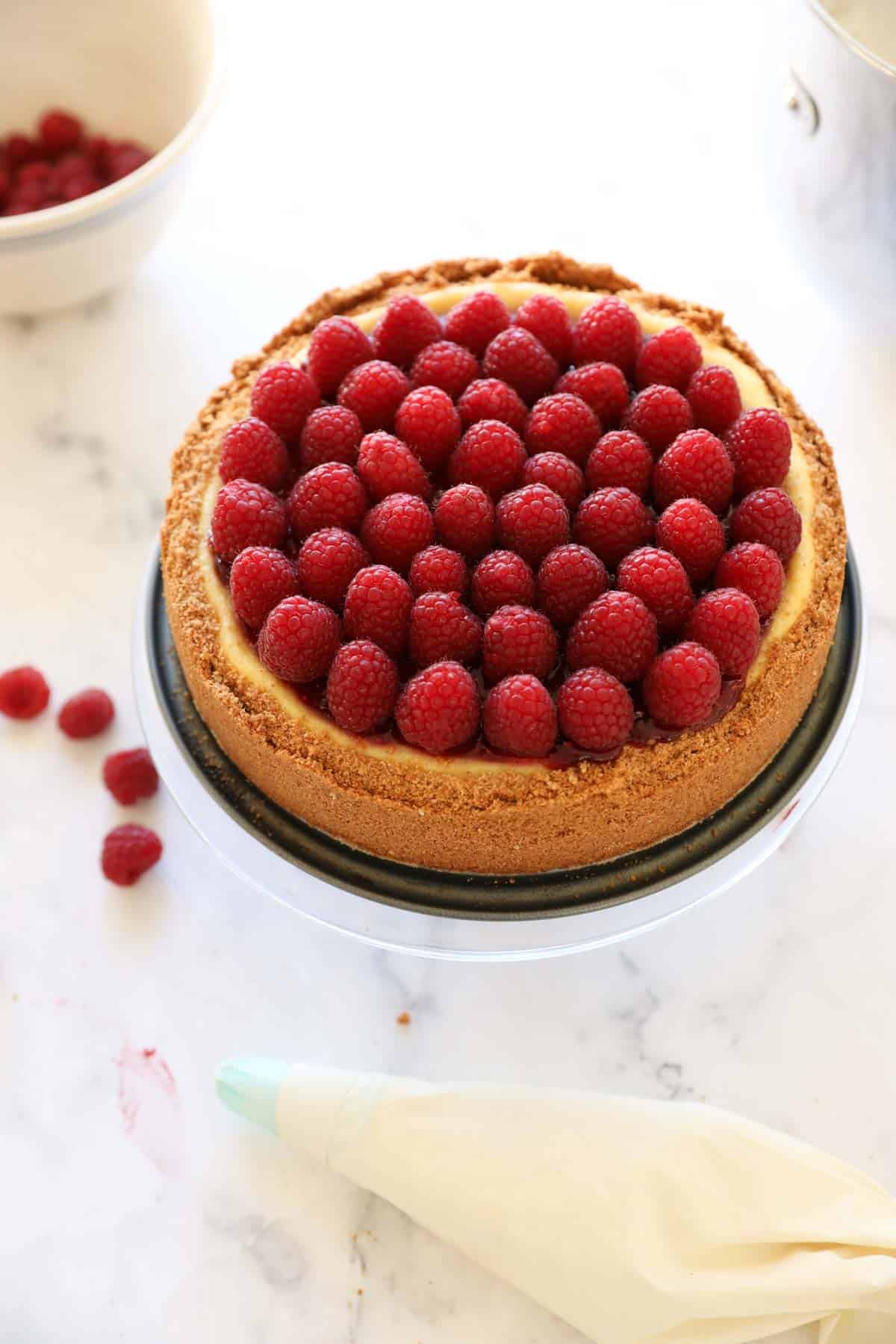 Storing and Serving Tips
Once the cheesecake is done allow it to cool on your cooktop for at least 45 minutes to an hour.
Then place it in the refrigerator (uncovered) overnight. This will prevent any condensation from forming.
Then remove the cake from the cheesecake tin and decorate the cake up to 1 day ahead. Refrigerate it uncovered so as not to disturb the decoration.
Remove the cheesecake from the refrigerator, 30-minutes before serving to come to room temperature. It will have a better texture this way.
Why Did My Cheesecake Crack?
Cheesecakes crack for several reasons.
It could be because the oven door was opened during the first 30 minutes of baking time.
Orthe batter was over-mixed. Over-mixing can put too much air into the batter which can force the cake to rise too high, and then deflate and crack once cooled.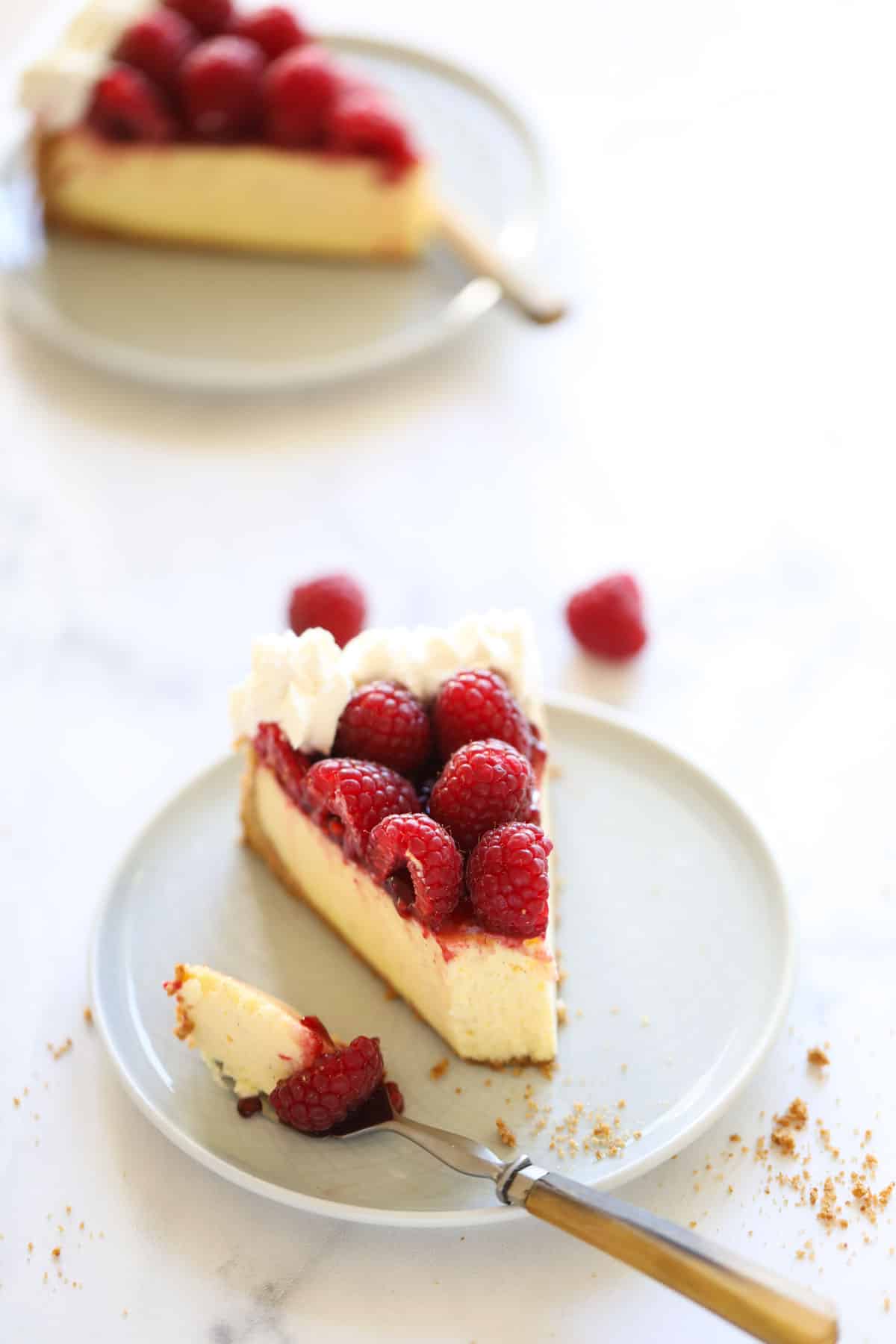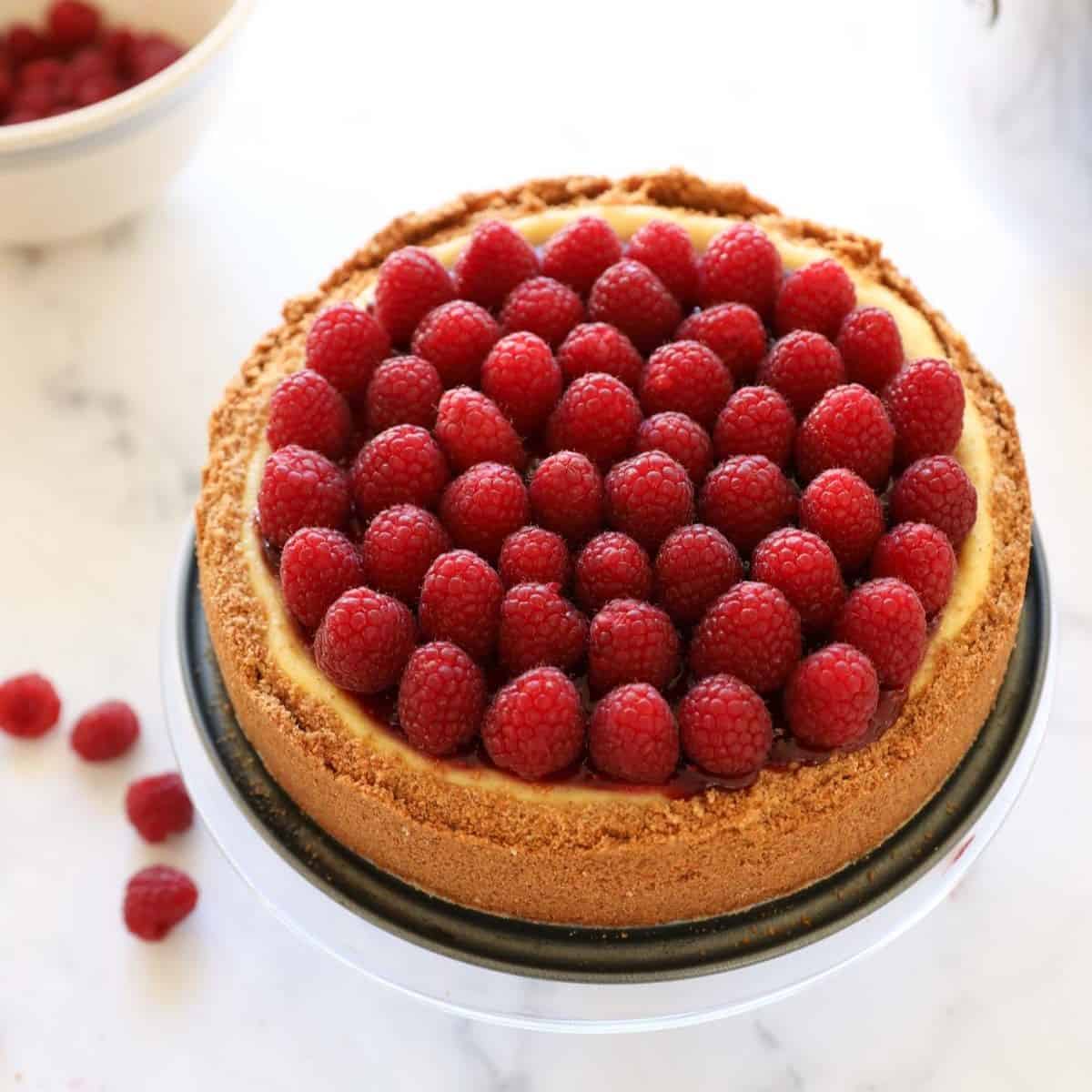 Raspberry Cheesecake (NO WATER BATH)
Cook Time:
1 hour
10 minutes
Total Time:
2 hours
10 minutes
A silky smooth Raspberry Cheesecake recipe that will become your new go-to favorite! It's creamy and decadent and practically foolproof thanks to my secret ingredient...a little bit of flour in the batter!  This also alleviates the need for a water bath!
Ingredients
For Crust:
18 full size graham crackers
1 tablespoon (25 g) sugar
pinch of salt
6 tablespoons (90 g) butter
For Filling
2 (12 oz containers) (680 g) whipped Cream cheese
¾ cup (180 ml) of crème fraiche or sour cream
¾ cup (150 g) of sugar
¼ teaspoon (2.5 ml) salt
2 whole eggs
3 egg yolks
2 vanilla beans, scrapped and seeded
¼ cup (30 g) of flour
For Topping
½ cup (120 ml) of raspberry jam
1 pint of fresh raspberries
For Homemade Whipped Cream
1 cup (240 ml) of heavy cream
1 teaspoon (5 ml) vanilla
1 tablespoon (13 g) powdered sugar
Instructions
Preheat oven to 325F/162 C.
Process graham crackers in a food processor until fine or better yet place in a zip lock plastic bag, seal and crush with a rolling pin until finely ground (then you won't have to clean the food processor!). Combine with the sugar, salt and melted butter, until a lose meal develops.
Grease a 9" spring form pan. Place the crumbs into the center of the pan, working your way up the sides at least 2 inches. Use the side of a measuring cup to help adhere crust to the sides.
Bake at 325 F/ 162 C for 10-12 mins and then set aside and allow to cool.
In the bowl of an electric mixer, cream together the whipped cream, crème fraiche, sugar and salt. Then add the eggs one at a time, incorporating each well between additions. Then add the seeds of the vanilla beans, beat well, and then add the flour.
Pour the filling out into a cooled crust, and bake at 325 F/ 162 C for at least 1 hour. At this point insert a tooth pink and it should come up looking like cheesecake filling, if it's still runny, bake for 5-10 mins more.
Allow to cool for 30 mins. And then place in the fridge, uncovered, for at least 4 hours, or overnight is even better.
To decorate, release the spring ring, keeping the cake on its base.
Heat the jam in the microwave for :30 (or in a sauce pan on a stove top until liquefied).
Allow to cool slightly and then spoon the jam over the top, leaving at least ½ inch of cheesecake between the crust and the jam. This is where the whipped cream rosettes will go.
Then place raspberries on top of jam, in a circular pattern, covering all the jam. Set aside.
To make them whipped cream; combine heavy cream, vanilla and sugar and whip with an electric mixer until stiff peaks form.
Transfer the homemade whipped cream to a pastry bag fitted with a star tip and create star rosettes all along the perimeter of the cake, filling in the gap between the crust and the jam.
Keep refrigerated until ready to serve. Enjoy!
Notes
Best if made the day before and refrigerated. Or at least 4 hours ahead to allow for the cheesecake to chill before serving.
Nutrition Information:
Yield:

8
Serving Size:

1
Amount Per Serving:
Calories:

264
Total Fat:

11g
Saturated Fat:

4g
Trans Fat:

0g
Unsaturated Fat:

6g
Cholesterol:

128mg
Sodium:

210mg
Carbohydrates:

36g
Fiber:

4g
Sugar:

12g
Protein:

6g