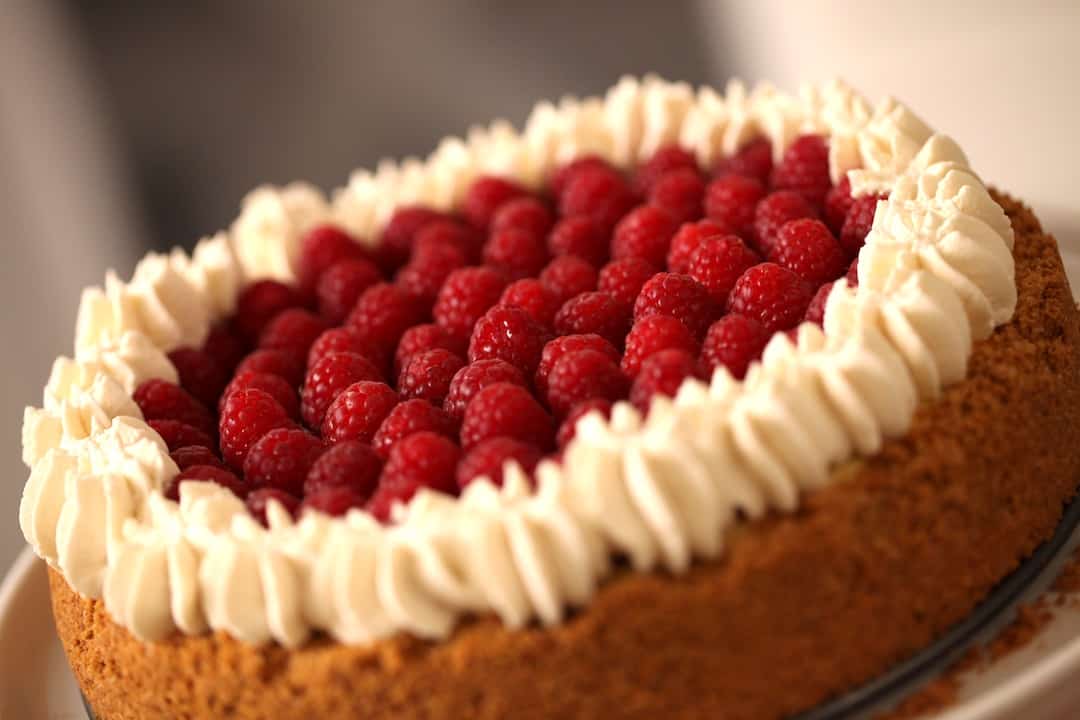 Cheesecake is one of those desserts that can go really right, or really wrong!  We've all seen the cracks, the crumble and had a dried out piece of cheesecake here and there.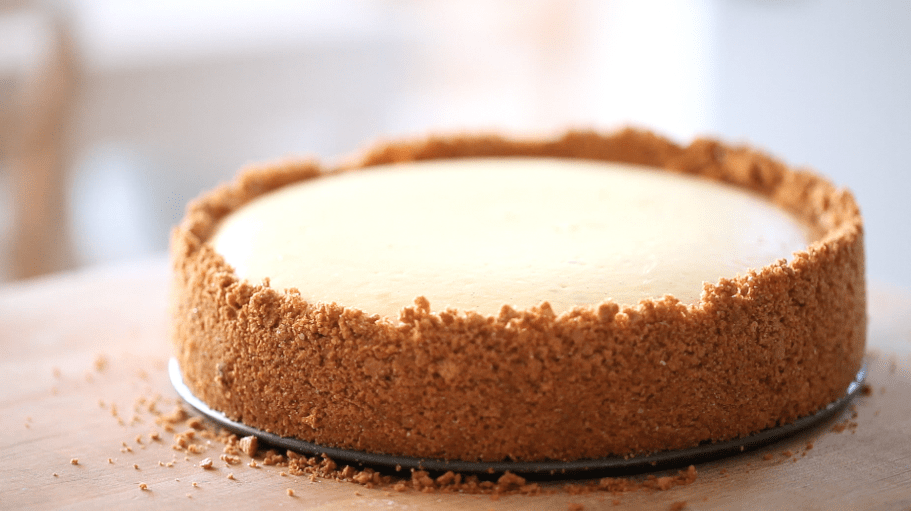 Well you are in luck because you won't experience any of that with this recipe!  It's pretty much foolproof.  Thanks to the flour and additional eggs, a dollop of creme fraiche (or sour cream) you'll end up with the most silky smooth, decadent cheesecake you've ever tasted!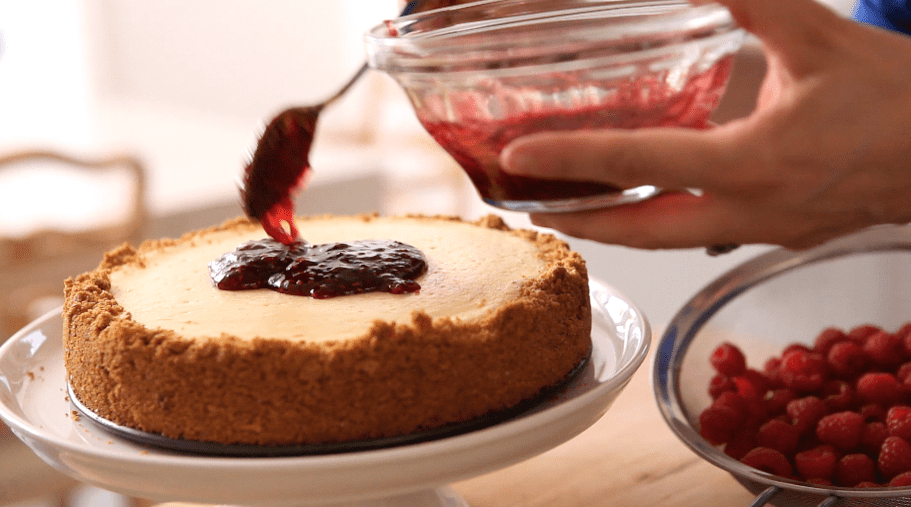 And you also can skip the "bain marie" too.  No need for it with this recipe (that alone is reason to try this out)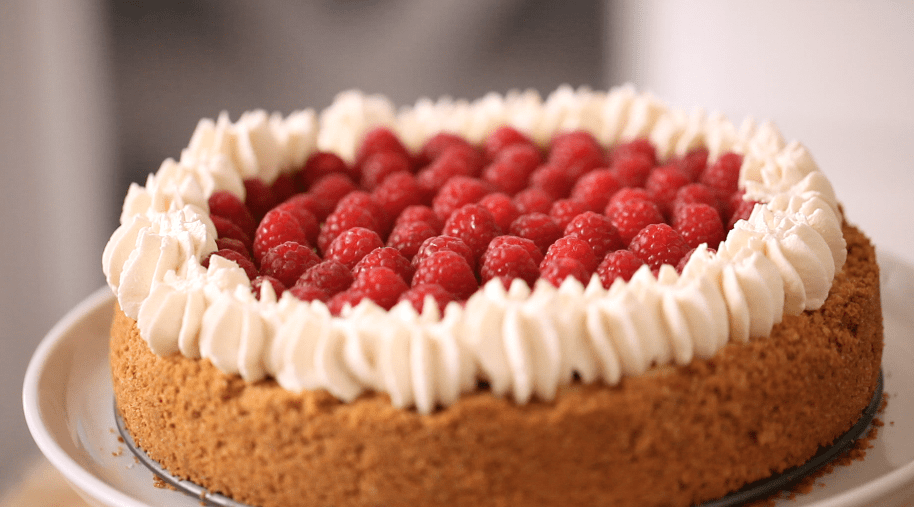 For a step-by-step tutorial on this recipe  you can watch my video demo below.
Subscribe to my YouTube Channel and never miss a recipe! (it's free!) and new videos post each Saturday.

SHOP THIS EPISODE:
Need a cheesecake pan?  This model is my favorite. (This link goes to Amazon where I am an affiliate) 
Print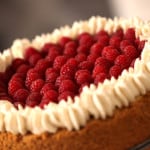 Raspberry Cheesecake Recipe
---
Author:

Prep Time:

1 hour

Cook Time:

1 hour 10 mins

Total Time:

2 hours 10 mins

Category:

Dessert
Ingredients
For Crust:
18 full size graham crackers
1 tbsp (25 g) sugar
pinch of salt
6 tablespoons (90 g) butter
For Filling
2 (11.05 oz containers) (680 g) whipped Cream cheese
¾ cup (180 ml) of crème fraiche or sour cream
¾ cup (150 g) of sugar
¼ tsp (2.5 ml) salt
2 whole eggs
3 egg yolks
2 vanilla beans, scrapped and seeded
¼ cup (30 g) of flour
For Topping
½ cup (120 ml) of raspberry jam
1 pint of raspberries
For Homemade Whipped Cream
1 cup (240 ml) of heavy cream
1 tsp (5 ml) vanilla
1 tbsp (13 g) powdered sugar
---
Instructions
Preheat oven to 325F/162 C.
Process graham crackers in a food processor until fine or better yet place in a zip lock plastic bag, seal and crush with a rolling pin until finely ground (then you won't have to clean the food processor!). Combine with the sugar, salt and melted butter, until a lose meal develops.
Grease a 9″ spring form pan. Place the crumbs into the center of the pan, working your way up the sides at least 2 inches. Use the side of a measuring cup to help adhere crust to the sides.
Bake at 325 F/ 162 C for 10-12 mins and then set aside and allow to cool.
In the bowl of an electric mixer, cream together the whipped cream, crème fraiche, sugar and salt. Then add the eggs one at a time, incorporating each well between additions. Then add the seeds of the vanilla beans, beat well, and then add the flour.
Pour the filling out into a cooled crust, and bake at 325 F/ 162 C for at least 1 hour. At this point insert a tooth pink and it should come up looking like cheesecake filling, if it's still runny, bake for 15 mins more.
Allow to cool for 10 mins. And then release it from the spring ring, and place in the fridge for at least 4 hours, or overnight is even better.
To decorate, heat the jam in the microwave for :30 (or in a sauce pan on a stove top until liquefied. Allow to cool slightly and then spoon over the top, leaving at least ½ inch of cheesecake between the crust and the jam.
Then place raspberries on top of jam, upright, covering all the jam.
Combine heavy cream, vanilla and sugar and whip with an electric mixer (or by hand with a wire whisk) until stiff peaks form.
Transfer the homemade whipped cream to a pastry bag fitted with a star tip and create star rosettes all along the perimeter of the cake, filling in the gap between the crust and the jam.
Keep refrigerated until ready to serve. Enjoy!
Notes
Best if made the day before and refrigerated. Or at least 4 hours ahead to allow for the cheesecake to chill before serving.