Healthy Chicken Salad Recipe
If you're looking for a few healthy recipes to get you through the week, you'll love this healthy chicken salad recipe with no mayonnaise! 
The Greek yogurt dressing gives it a lighter feel, and you'll love the addition of mango chutney, garam masala spice, nuts, and dried fruits for both flavor and crunch.
For more healthy salad ideas try my Shaved Brussels Sprouts Salad with Mustard Vinaigrette Broccoli Salad with Raisins, Roasted Butter Nut Squash with Kale and Quinoa Salad, or my  Roasted Harvest Salad with Honey Balsamic Vinaigrette.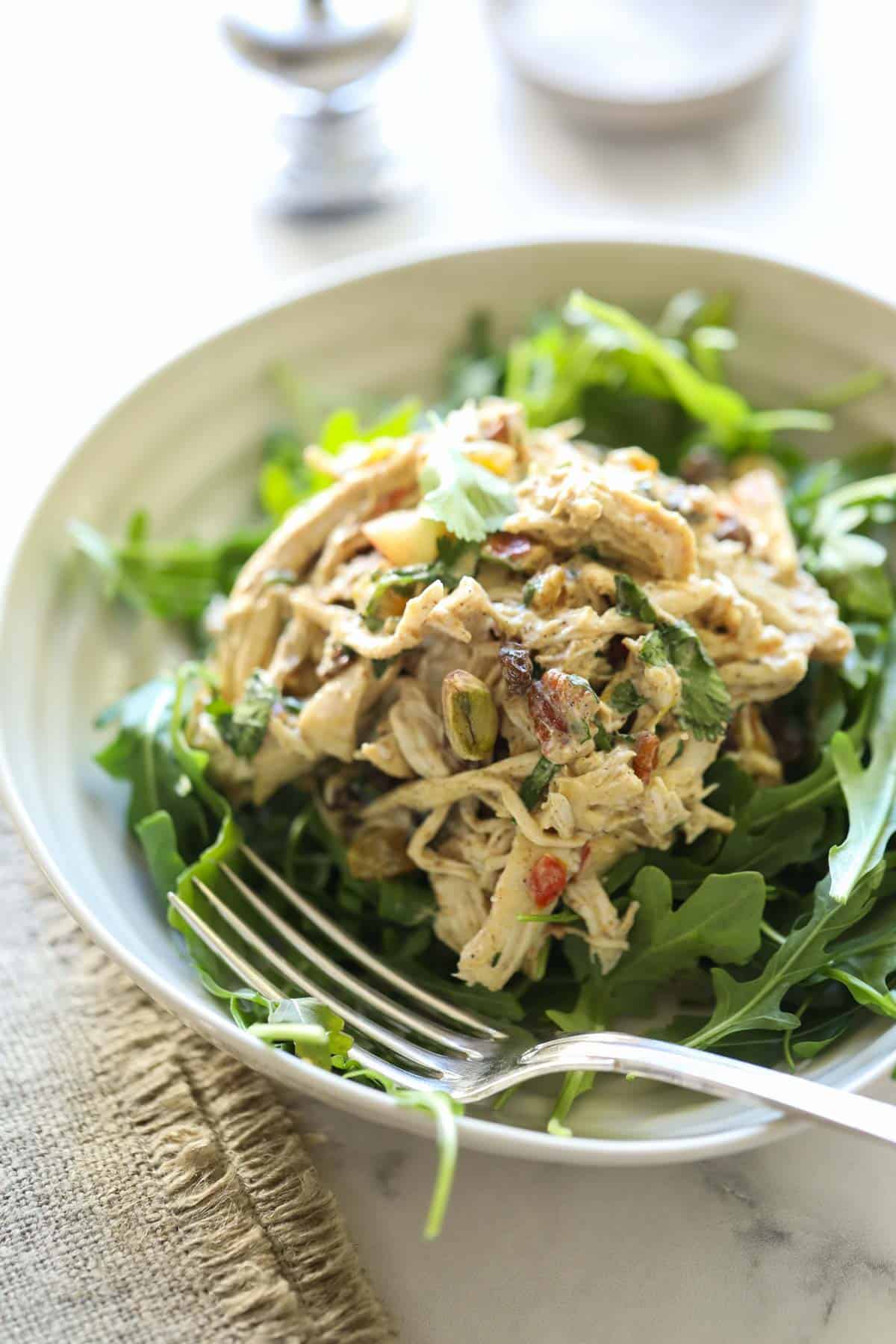 Why You'll Love This:
It makes a good-sized batch to last throughout the week to take to school or work as well. It will last throughout in the refrigerator for at least 5 days.
It's also one of those "hot weather" dinners when it's just too hot to cook. Make this in the morning and come home to a delicious chilled dinner!
It's the perfect thing to make in advance and serve to guests for lunch. Serve it on top of greens or as a sandwich in a pita pocket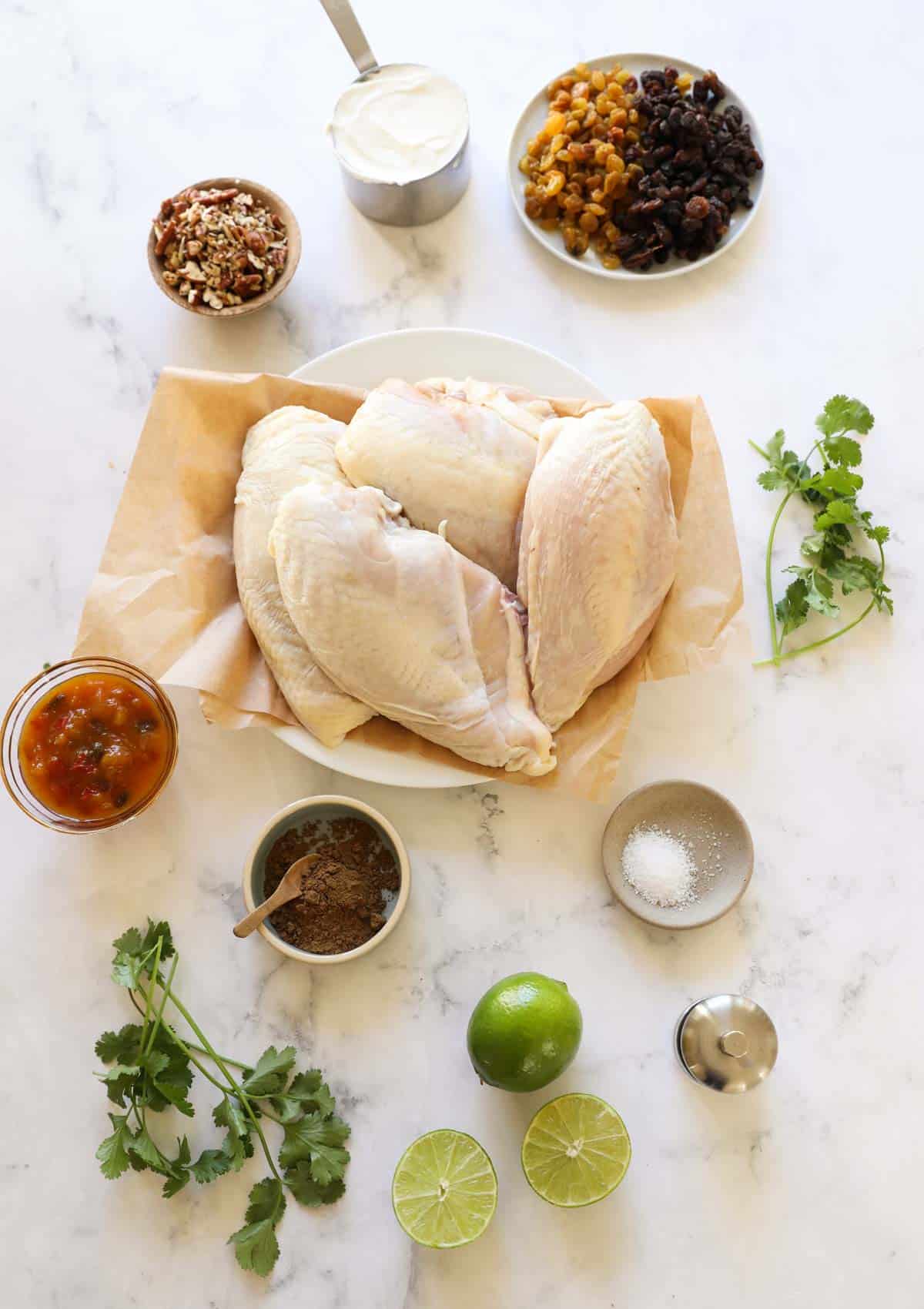 The Ingredients:
Bone-In, Skin-on Chicken I like to use skin-on, bone-in chicken for chicken salad recipes because it keeps the chicken moist and juicy. Roast an extra chicken breast or two and you can meal prep for my Healthy Chicken Tortilla Soup at the same time. A great healthy dinner idea to last throughout the week. 
Non-Fat Greek Yogurt Using the Greek yogurt over mayonnaise makes this recipe much lighter than a traditional chicken salad, and you won't miss the mayo! Thanks to all the unique flavors that you'll add into it. My theory is if you don't add fat, then add flavor! Save some yogurt to pair with my delicious Homemade Granola Recipe. 
Mango Chutney This may seem like a strange addition for chicken salad, but trust me on this one! Mango chutney has so many delicious flavors in it and it pairs so well with the yogurt, lime and cilantro. You'll see both Mango Chutney and Major Grey's Mango Chutney. Either will work. Major Grey's, named for a British officer, has the addition of lime juice and raisins.
Garam Masala Is a delicious blend of ground spices used in a lot of Indian cooking. It has a warming flavor profile that is really delicious with the Greek yogurt and lime juice. You can also try it in my Vegetarian Pot Pie with Roasted Root Vegetables recipe. 
Salt and Freshly Cracked Pepper to spike all the flavors
Zest and Juice of a Lime The lime brightens up this salad and balances out the sweetness of the mango chutney
Fresh Cilantro Add a wonderful freshness to the salad and pairs beautifully with the mango chutney and yogurt. It's a similar combination I use in one of my dipping sauces for my Mixed Grilled Dinner. 
Raisins and golden raisins I really love to use the combination of both since they each impart a slightly different texture and flavor. 
Pistachios or Pecans My preference is always raw or unsalted roasted pistachios but sometimes it can be hard to find pistachios already shelled. So in that case, chopped pecans are a nice alternative. 
Apple Select an apple on the sweet side that is not too tart. I like to use a Gala apple or a pink lady apple. 
Arugula You really can use any green you like as a bed for this salad. I like to use arugula because its slightly bitter flavor is a nice match against the sweetness and spices in the chicken salad. 
Whole wheat Pita You can also serve this chicken salad as a healthy sandwich and place it in a whole wheat pita pocket with greens. Add a bowl of my Vegan Cream of Broccoli Soup and you'd have a delicious lunch. 
Step#1: Roast The Chicken
Buy your chicken skin-on, bone-in for a chicken salad that will be moist and tender. It's a technique I use any time I need chicken in a recipe, such as for my Chicken Tortellini Soup or my Chicken and Mushroom Pie.
You'll then shred the chicken off the bone with two forks. You could shred your chicken the day before you plan to serve the salad, just keep it intact, in the refrigerator. This will prevent it from drying out.
Then shred the chicken right before assembling the salad. 
You could also use store-bought rotisserie chicken, and skip the step of roasting the chicken.
Step#2: Mix the Dressing
What makes this chicken salad healthier than traditional chicken salad is the fact that it contains no mayonnaise. Instead, it gets its creaminess from plain Greek Yogurt.
Just be sure when you buy the yogurt that it's marked "plain" and not "vanilla" they are usually sold next to each other and can be easy to mix up!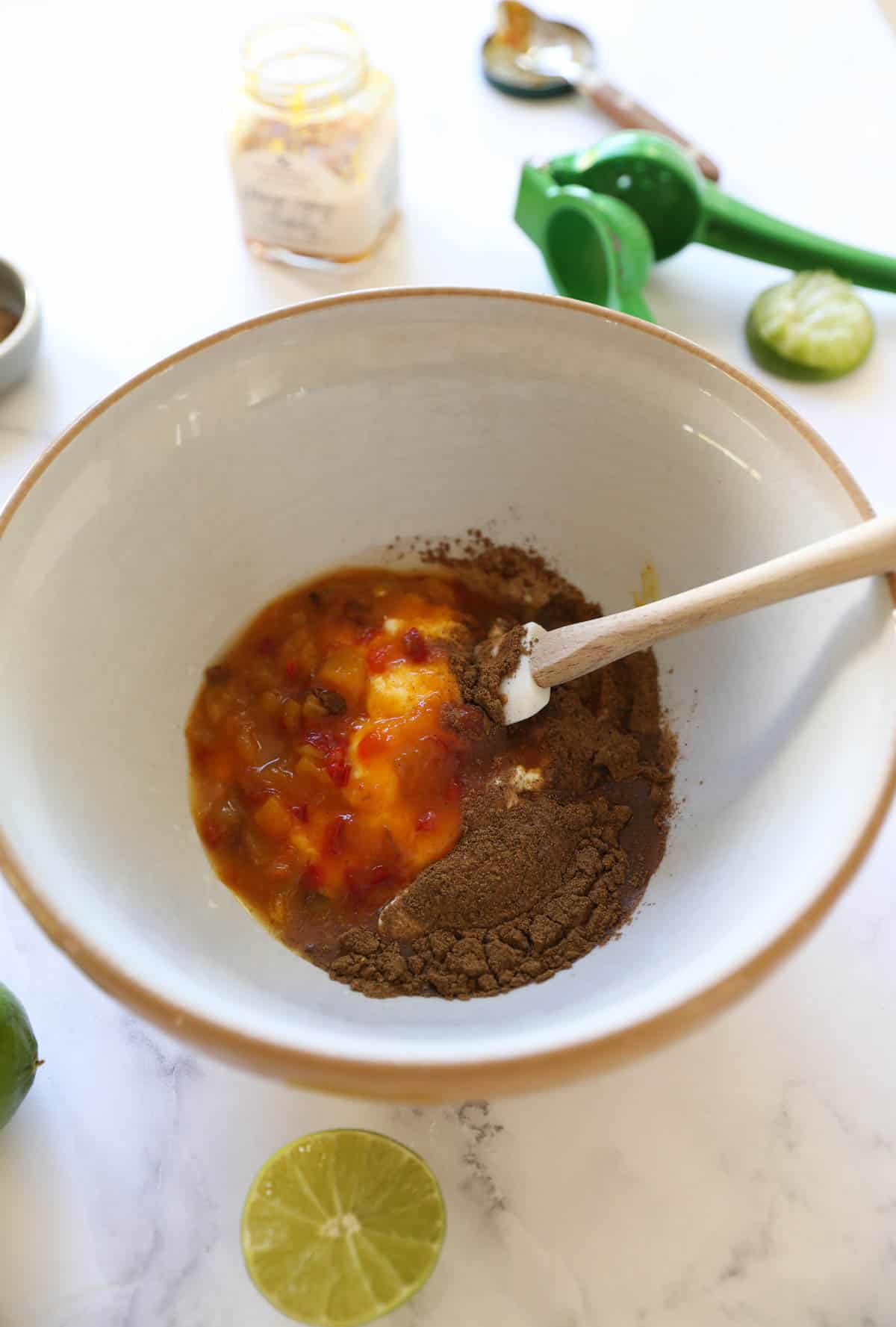 Add Flavor with Mango Chutney
Another thing you'll love about this chicken salad recipe is the unexpected flavors. I like to add some mango chutney for a bit of tart sweetness that gets balanced out with the lime juice. It makes what could be a bland chicken salad, a flavor sensation!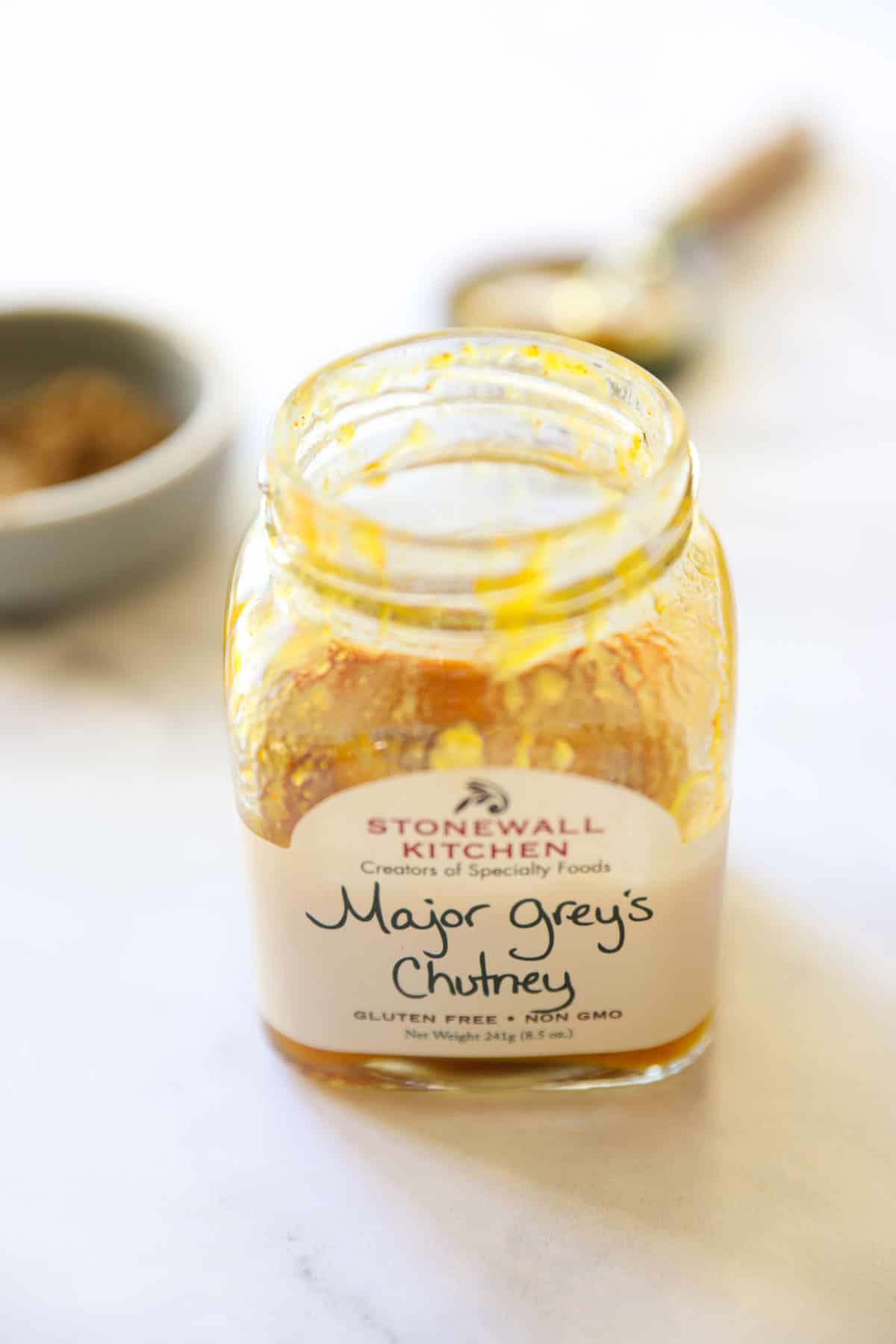 Add Spices to Wake Up The Taste Buds
Another thing that gives this salad a great flavor profile is Garam Masala.
Garam Masala is a wonderful spice blend that originates from South Asia and includes warming spices such as cinnamon, cloves, cardamom, black pepper, cumin, and coriander to name a few. 
In combination with the mango chutney, it gives this chicken salad a slight Indian flavor profile which is just delicious!
Spices are a wonderful way to add additional flavor to the chicken salad without adding additional calories.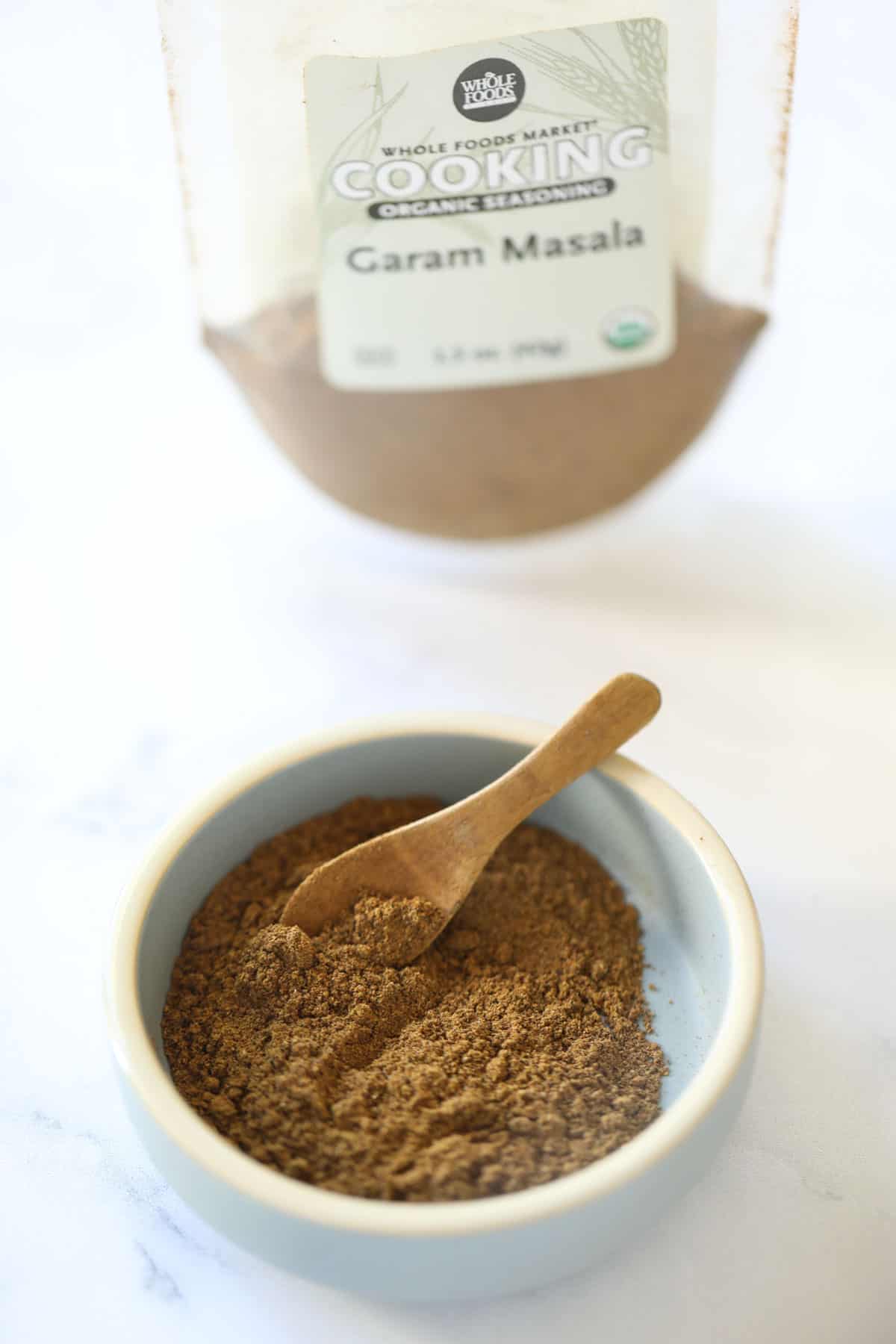 Step#3: Add the Fruits and Nuts
The hallmark of a great chicken salad is the mix-ins. In my opinion, chicken salad needs some crunchiness and chewiness to become more interesting. 
I like to add green apples and nuts for crunch. If you don't like the tartness of the apple you could add more sweetness by using red seedless grapes instead.
For dried fruits, I add both golden and traditional raisins for a wonderful sweet chewiness. But you could also add cranberries or dried apricots too.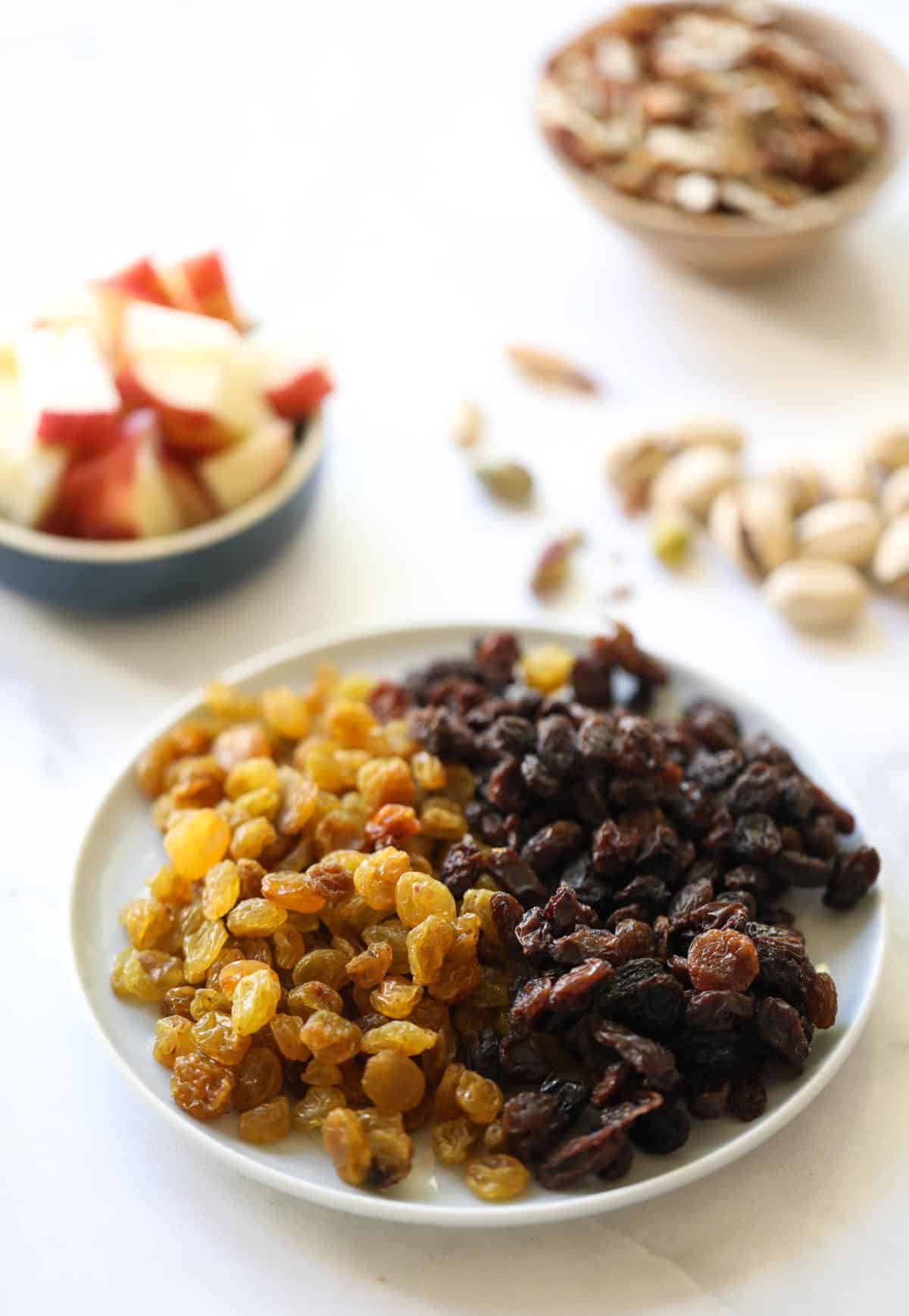 Pistachios Add Crunch and Interest
Pistachios are a great option for a nut that pairs well with the flavors of the mango chutney and the Garam Masala
Use the raw unsalted pistachios for the healthiest choice
If your regular supermarket doesn't sell shelled pistachios you can usually buy them in bulk in the Middle Eastern grocery stores.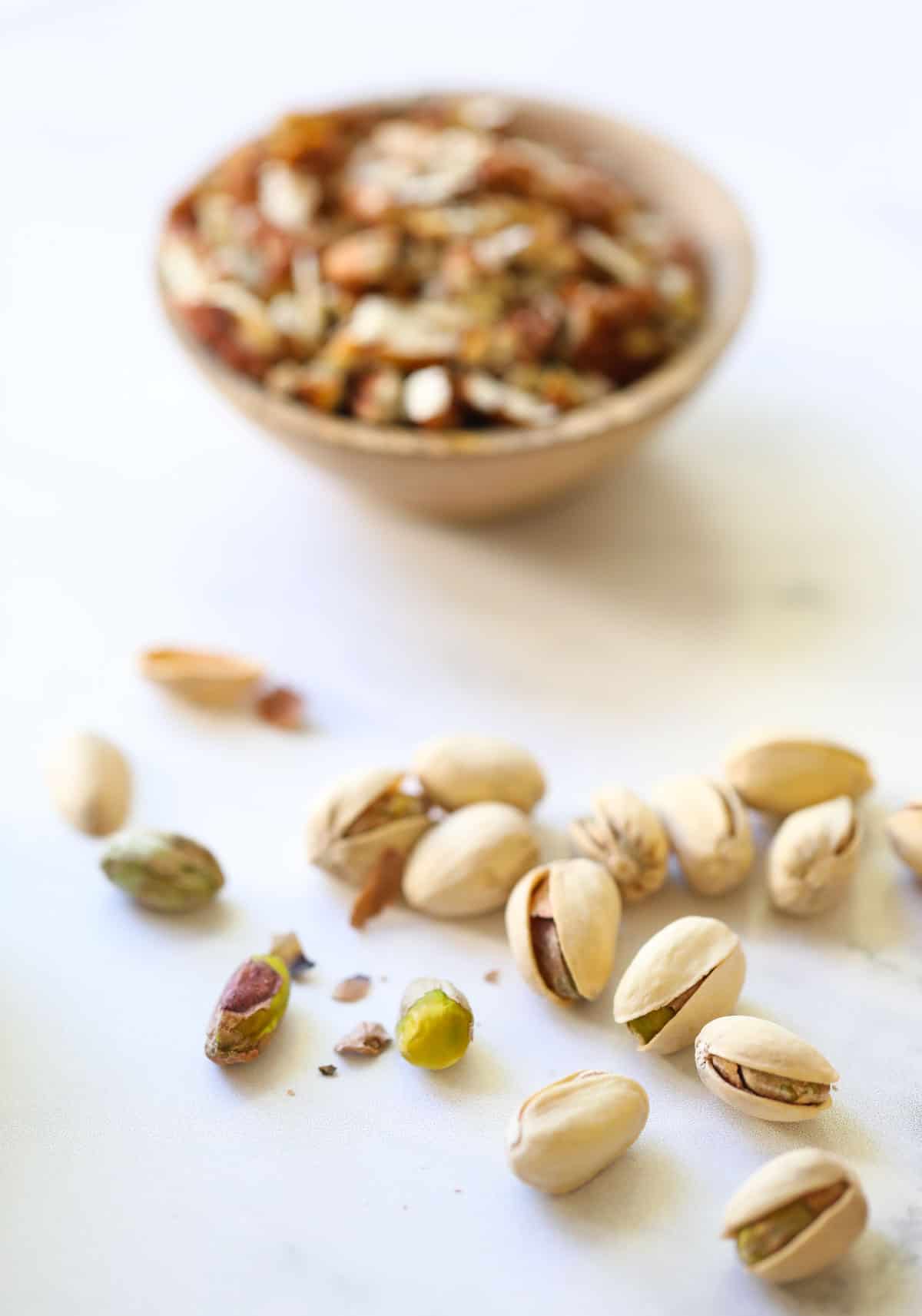 Serving Suggestions
You can serve this salad spooned into a whole wheat pita and eat it as a sandwich.
Or spoon the salad over some healthy, nutrient-dense greens like arugula, baby spinach, or baby swiss chard.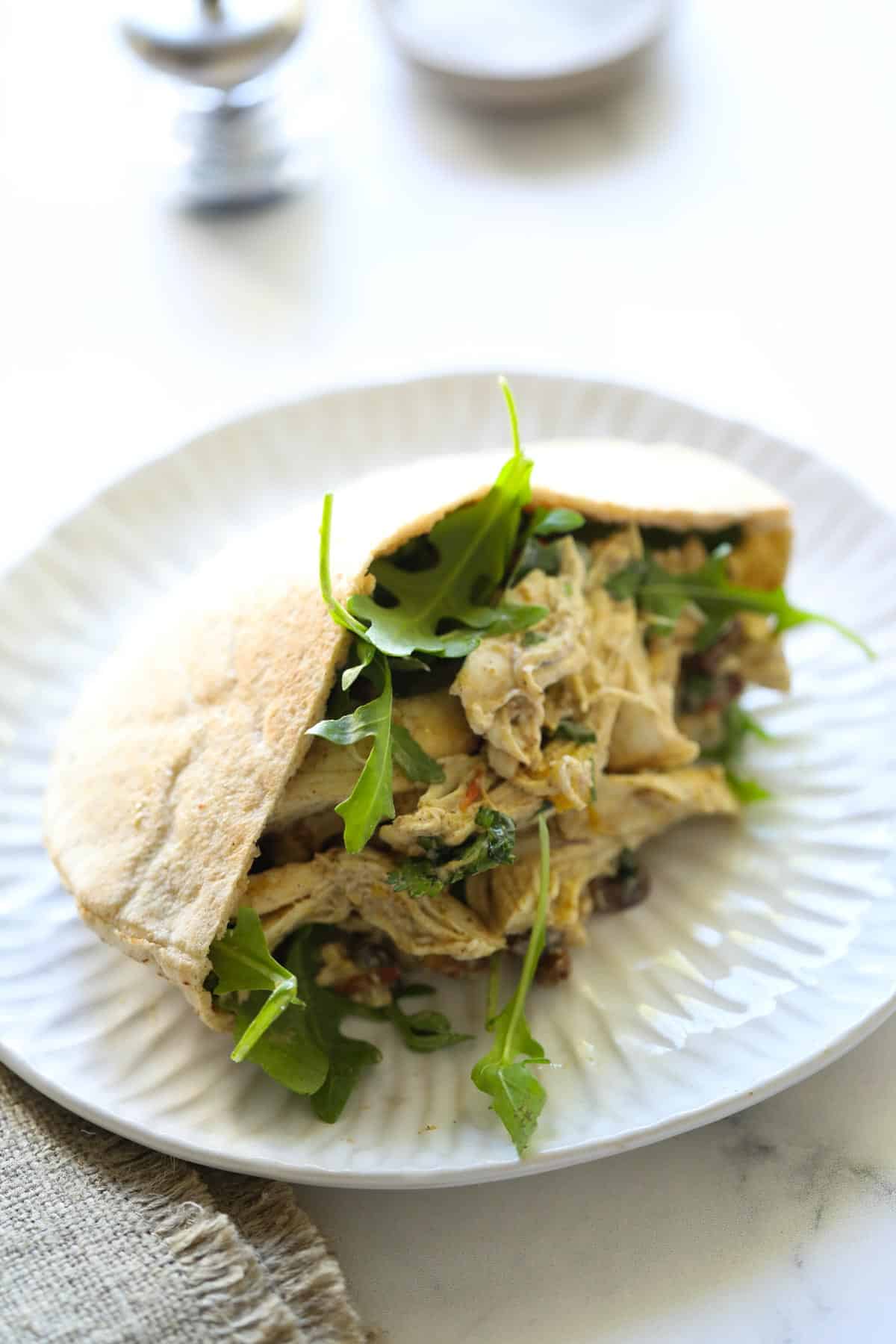 A Great Lunch Salad For Hot Weather Entertaining
This is a wonderful salad to take on a picnic or serve as a main course for a summer lunch party.
It looks really pretty when spooned over the greens and to make it more of a meal you could begin the lunch with some chilled Yellow Tomato Gazpacho Soup Shooters with Spicy Shrimp.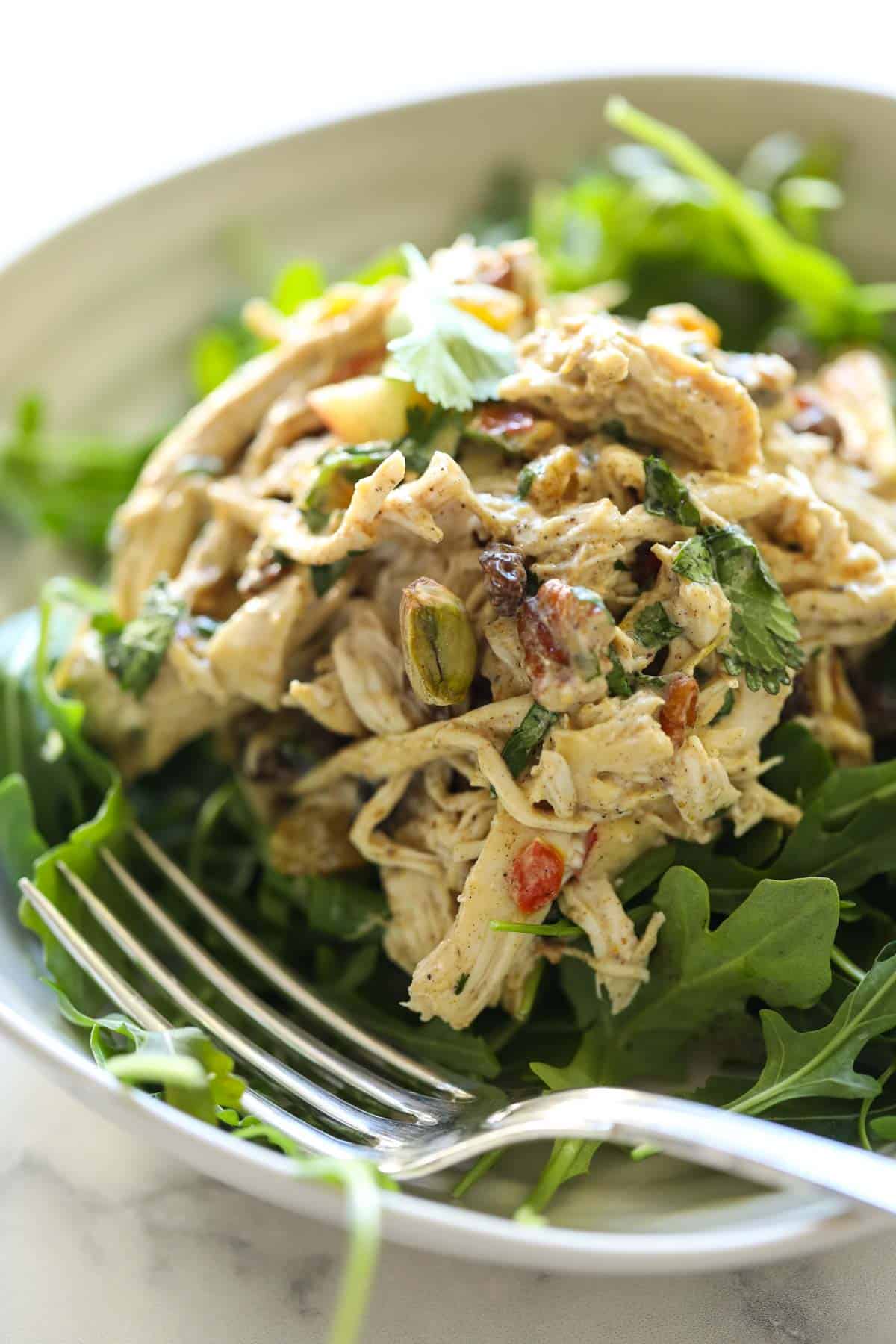 If You Enjoyed This Recipe,
Please Leave a Rating and a Review Below!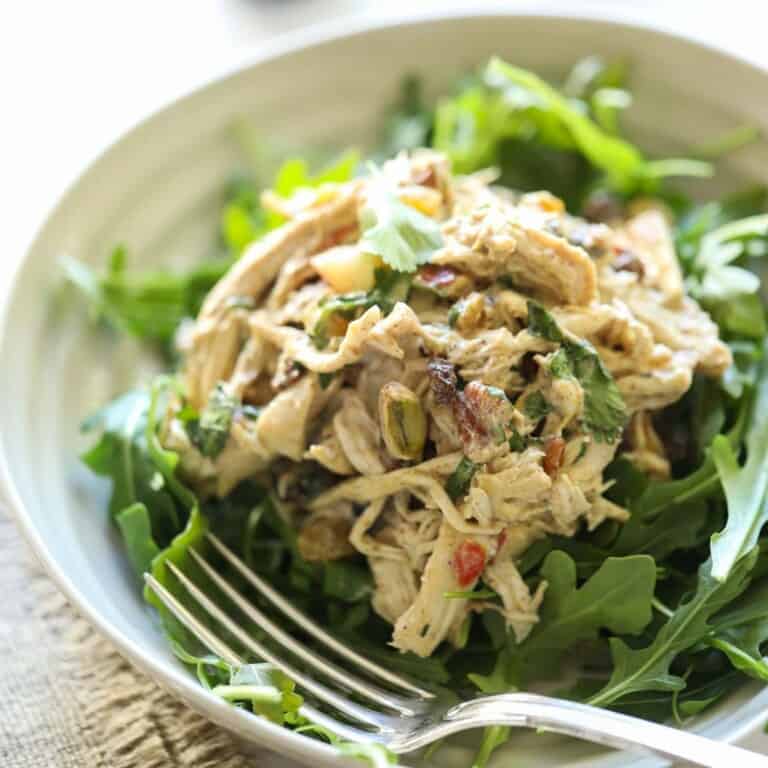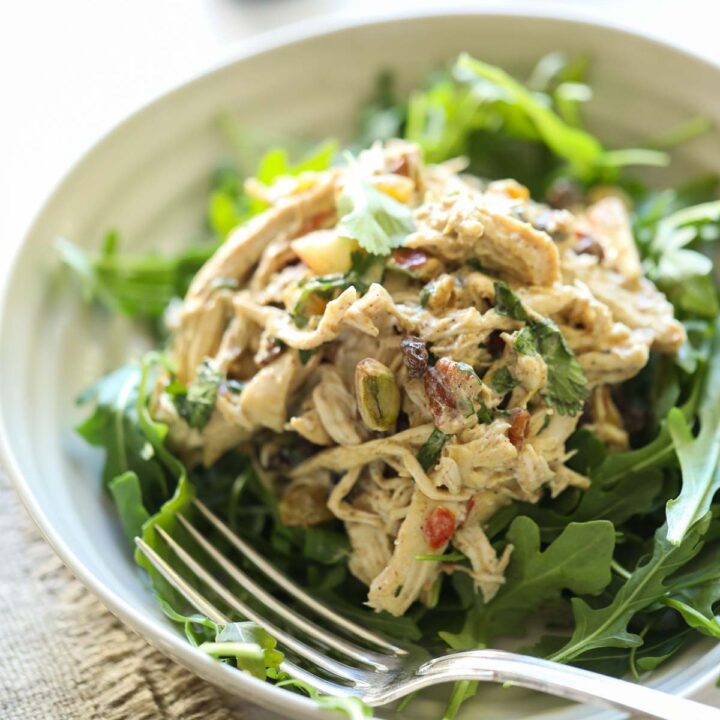 Healthy Chicken Salad Recipe
Total Time:
1 hour
15 minutes
I love a good healthy chicken salad recipe with no mayonnaise! The dressing has a Greek yogurt base and is loaded with spices, fruits and nuts. It also makes a good sized batch to last throughout the week to take to school or work as well.
Ingredients
4 Chicken Breasts (Bone-In, Skin On)
1 cup (240 ml) non-fat, plain Greek yogurt
½ cup (120 ml) of mango chutney
1 tablespoon (30 ml) garam masala
½ teaspoon (2.5 ml) salt
½ teaspoon (2.5 ml) freshly cracked pepper
zest and juice of 1 lime
¼ cup (40 g) cilantro, chopped
½ cup of raisins
½ cup (75 g) of golden raisins
½ cup (75 g) of raw, unsalted pistachios OR raw, unsalted pecans, chopped
½ cup (75 g) of apple, diced
6-8 Whole wheat pitas
2 cups (180 g) arugula
Instructions
Preheat oven to 400 degrees F (200 C)
Place Chicken breasts on a sheet pan lined with a rack. Roast for 25-30 mins until chicken is cooked through. About 30-35mins
Meanwhile, combine yogurt, chutney, garam masala, salt, pepper, lime zest and juice. Whisk until combined.
Stir in raisins, pecans and apple.
Once chicken is cooled. Remove skin and shred with a fork. Place in a large mixing bowl. Slowly add yogurt mixture ¼ cup at a time until it reaches the desired "creaminess" for your taste.
Cut pitas in half and spoon in salad, and top with arugula.
Notes
You can make this recipe even easier by using store-bought rotisserie chicken
If you can't find shelled pistachios at your supermarket, shop the Middle Eastern supermarkets you can usually buy them there in bulk!
Nutrition Information:
Yield:

8
Serving Size:

1
Amount Per Serving:
Calories:

348
Total Fat:

4g
Saturated Fat:

1g
Trans Fat:

0g
Unsaturated Fat:

2g
Cholesterol:

52mg
Sodium:

400mg
Carbohydrates:

55g
Fiber:

5g
Sugar:

16g
Protein:

27g