Easy Broccoli Salad with Raisins
This easy broccoli salad with raisins is a fantastic vegan side dish recipe for any special occasion. The combination of the raw broccoli, chewy raisins, sweet apples and crunchy toasted almonds is so delicious when tossed with my creamy balsamic vinaigrette.
And the best part? You can make most of the components ahead of time, and then toss and serve! It's just the apple you should leave to the last-minute.
For more make-ahead salad ideas try my Roasted Butternut Squash Kale and Quinoa Salad Healthy Chicken Salad or my Roasted Harvest Salad with Honey, Balsamic Vinaigrette.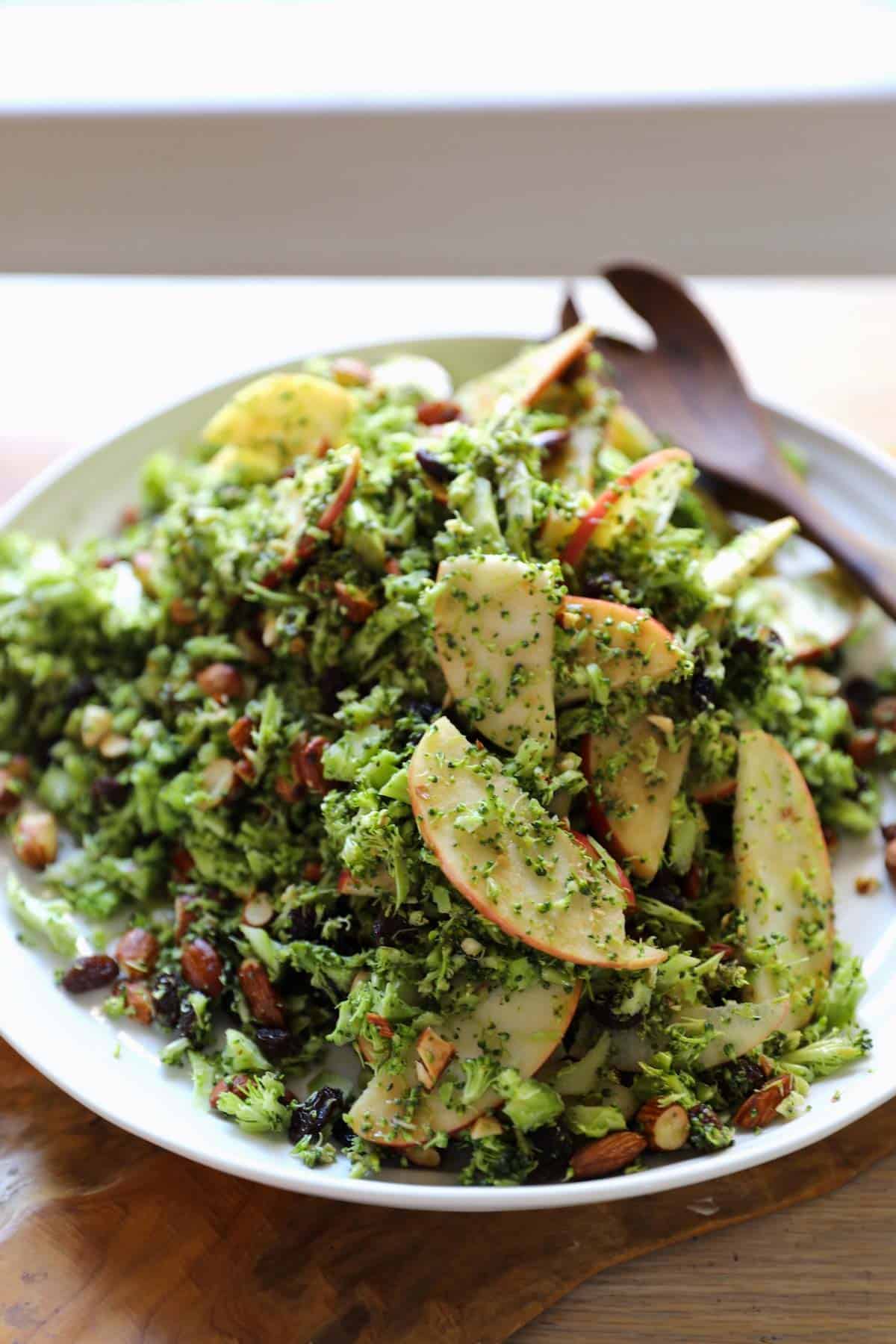 Subscribe for weekly recipes
and new videos!
Preparing the Broccoli
You may not think of serving raw broccoli as a base for a salad, but it's really a delicious idea! It ends up resembling a type of slaw. You'll need about 2 heads of broccoli and leave most of the stalk off when cutting it into florets. The stalk adds another texture to the salad which is nice.
You'll pulse the broccoli in a food processor until you achieve a chunky mixture. But don't pulse it too much, you still want some texture in it.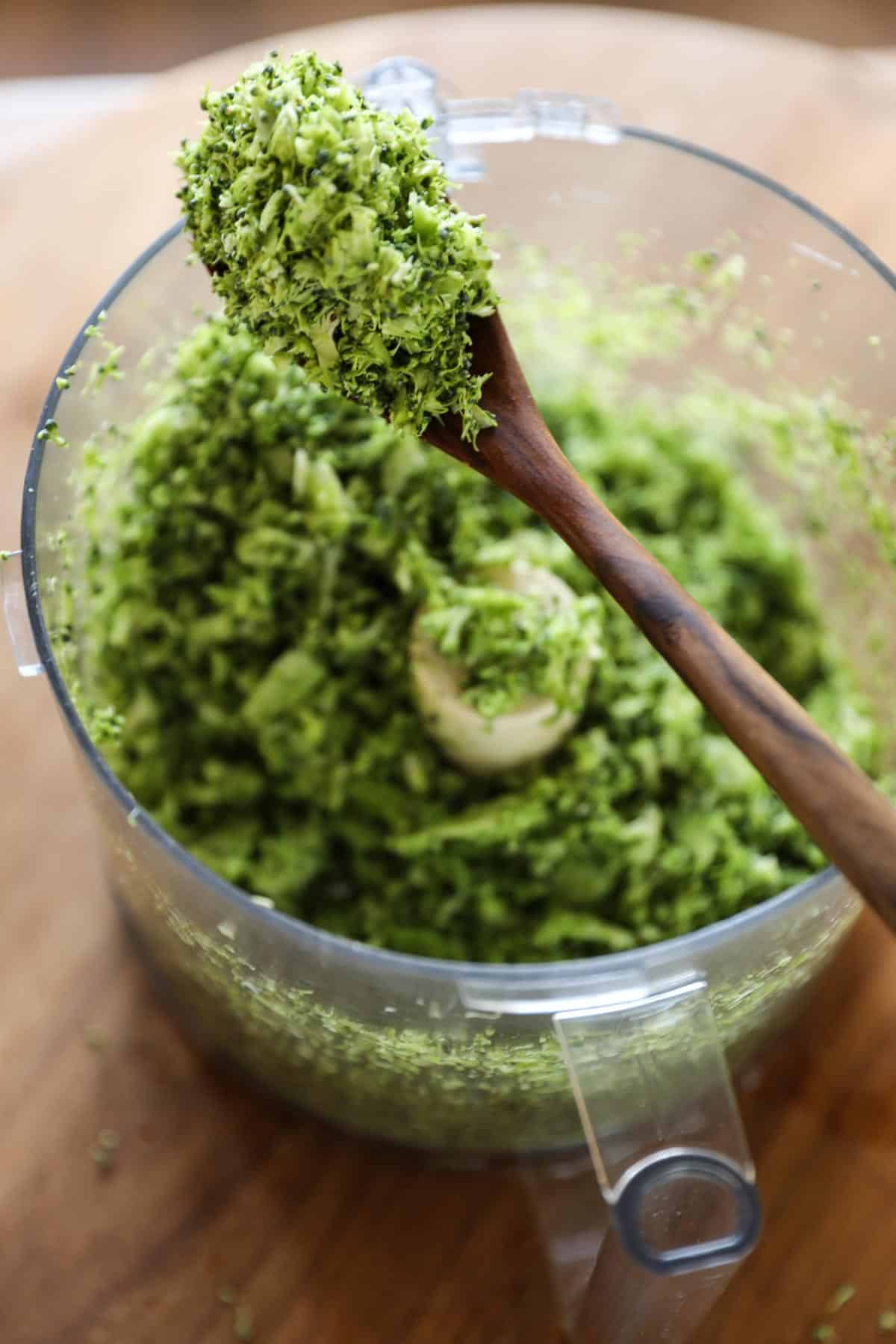 The Honey Balsamic Vinaigrette
The dressing brings all the flavors together in this salad. I love using a high-quality balsamic vinegar for this dressing. The Due Vittorie brand is my absolute favorite. It's thick and syrupy and has a wonderful sweet mellow flavor to it. A non-flavored oil like grape seed oil or vegetable oil, works best in this recipe, to allow for the honey and the balsamic vinegar to shine through. However, if you are feeling a little fancy, a delicious subtle, compliment would be Walnut Oil, it adds a fantastic nutty, fall flavor to this salad.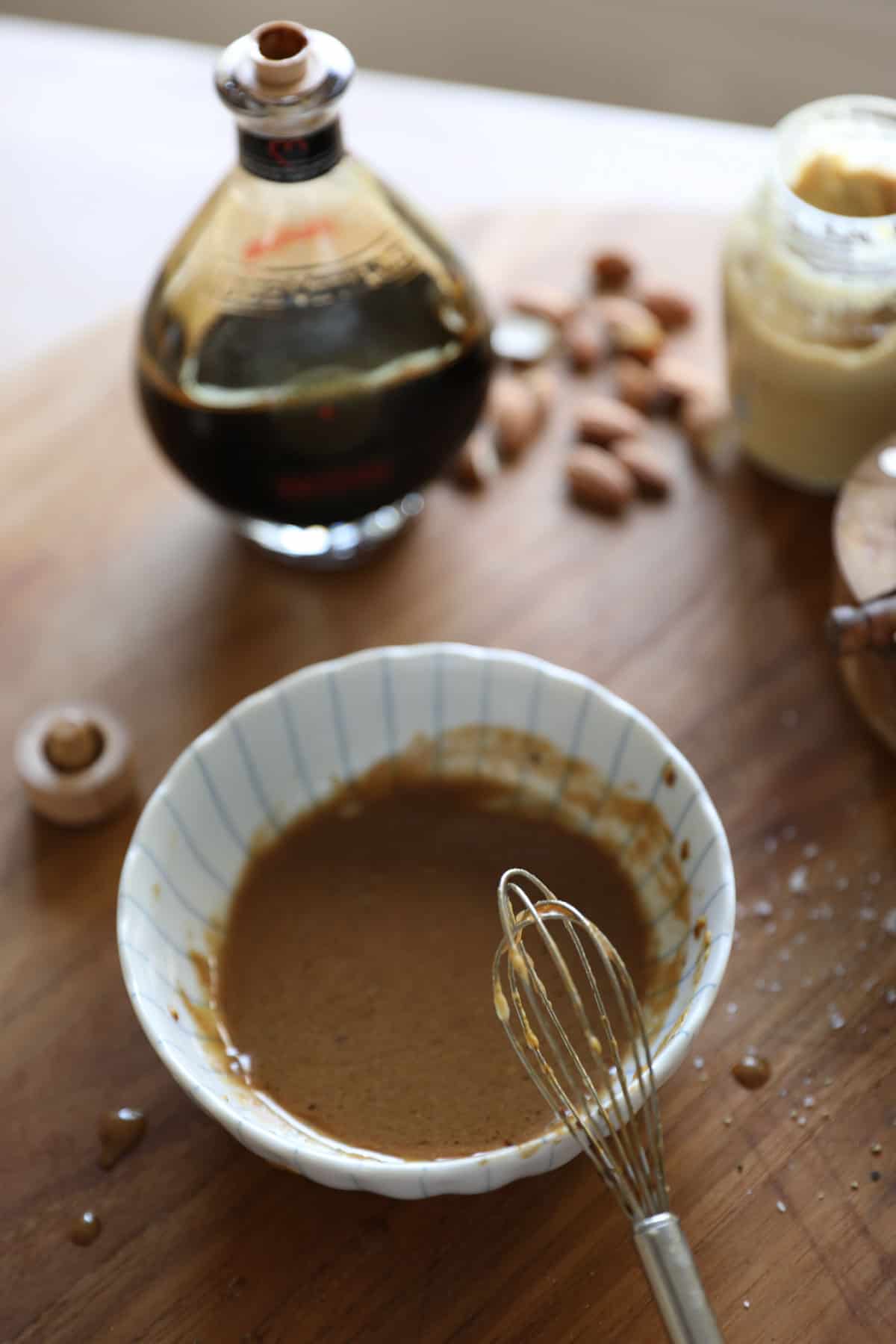 Make-Ahead Tips
2-3 days ahead you can toast the almonds and keep them covered at room temperature
2-3 days ahead you can make the dressing and keep it covered and refrigerated
1 day ahead you can pulse the broccoli and keep it covered and refrigerated
Moments before serving, slice the apples

Serving Suggestions:
I think a salad like this, looks really beautiful piled high as a mound and served on a textured white platter. It will show off all the components really nicely and make it easy to serve. My new favorite platter is from the Sophie Conran Collection for Portmeirion. Her whole collection is fabulous! And I've just treated myself to a few pieces!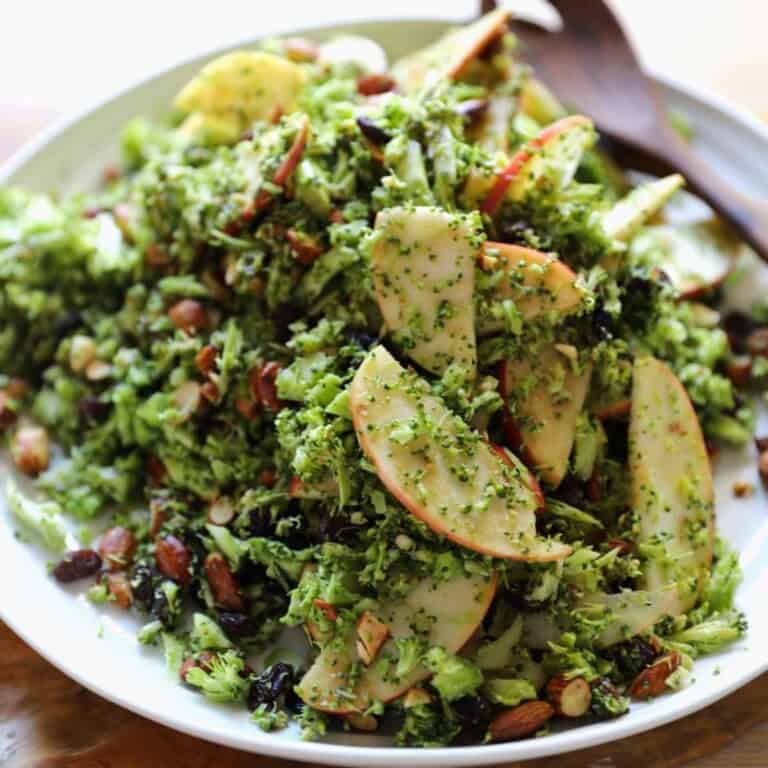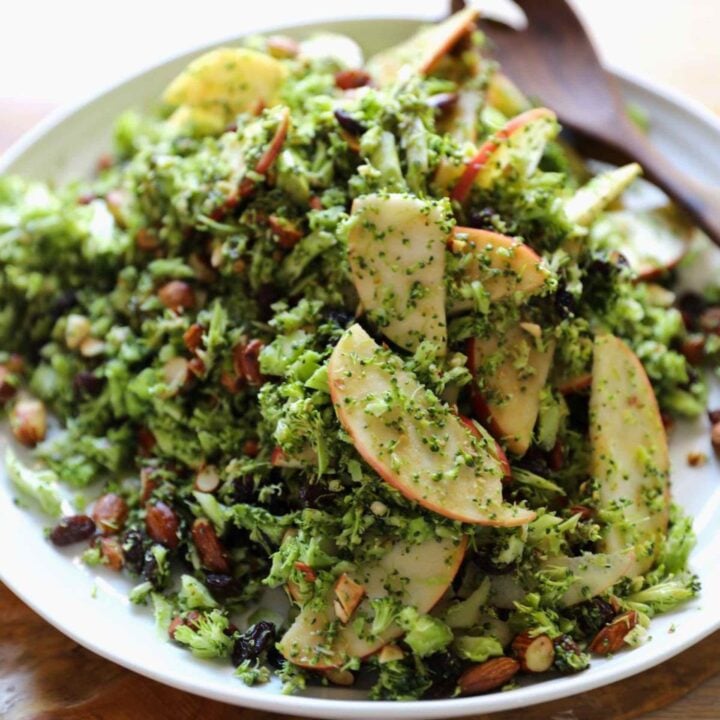 Easy Broccoli Salad with Raisins
This easy broccoli salad with raisins is a refreshing vegan salad perfect for any special occasion!
Ingredients
2 Heads Raw Broccoli (4-5 cups florets)
1 Pink Lady or Gala Apple, Sliced just before serving
1 cup Raisins
1 ½ Whole Raw Almonds
Dressing:
*(If you like a well-dressed salad, double the dressing)*
2 tablespoon Honey
2 tablespoon Dijon Mustard
2 tablespoon Balsamic Vinegar
1-2 teaspoon honey (depending upon how tart the vinegar is)
3-6 tablespoon unflavored oil (grape seed, vegetable or corn, or Walnut Oil Really is good!)
salt and pepper to taste
Instructions
Cut broccoli into florets. Pulse in a food processor into chunky. Transfer to a large bowl.
Toast the almonds on a sheet pan at 375F for 8-10 mins. Allow to cool. Then give them a rough chop.
Whisk up dressing by combining mustard and vinegar, then add the honey, the slowly add the oil.
To the broccoli add the raisins, almonds, and apples, drizzle the dressing and toss to coat. Serve immediately.

Notes
Make Ahead Tips
2-3 days ahead you can toast the almonds and keep them covered at room temperature
2-3 days ahead you can make the dressing and keep it covered and refrigerated
1 day ahead you can pulse the broccoli and keep it covered and refrigerated
Moments before serving, slice the apples