This chicken and mushroom pie is a fantastic chicken recipe to add to your Sunday night dinner repertoire! The creamy chicken filling is packed with browned mushrooms, caramelized onions, and crispy bits of bacon. Topped with flakey, buttery puffed pastry, it's cold-weather comfort food at its best!
For more great cold-weather comfort food, try my Chicken and Biscuit Casserole or my Endive Bechamel Recipe.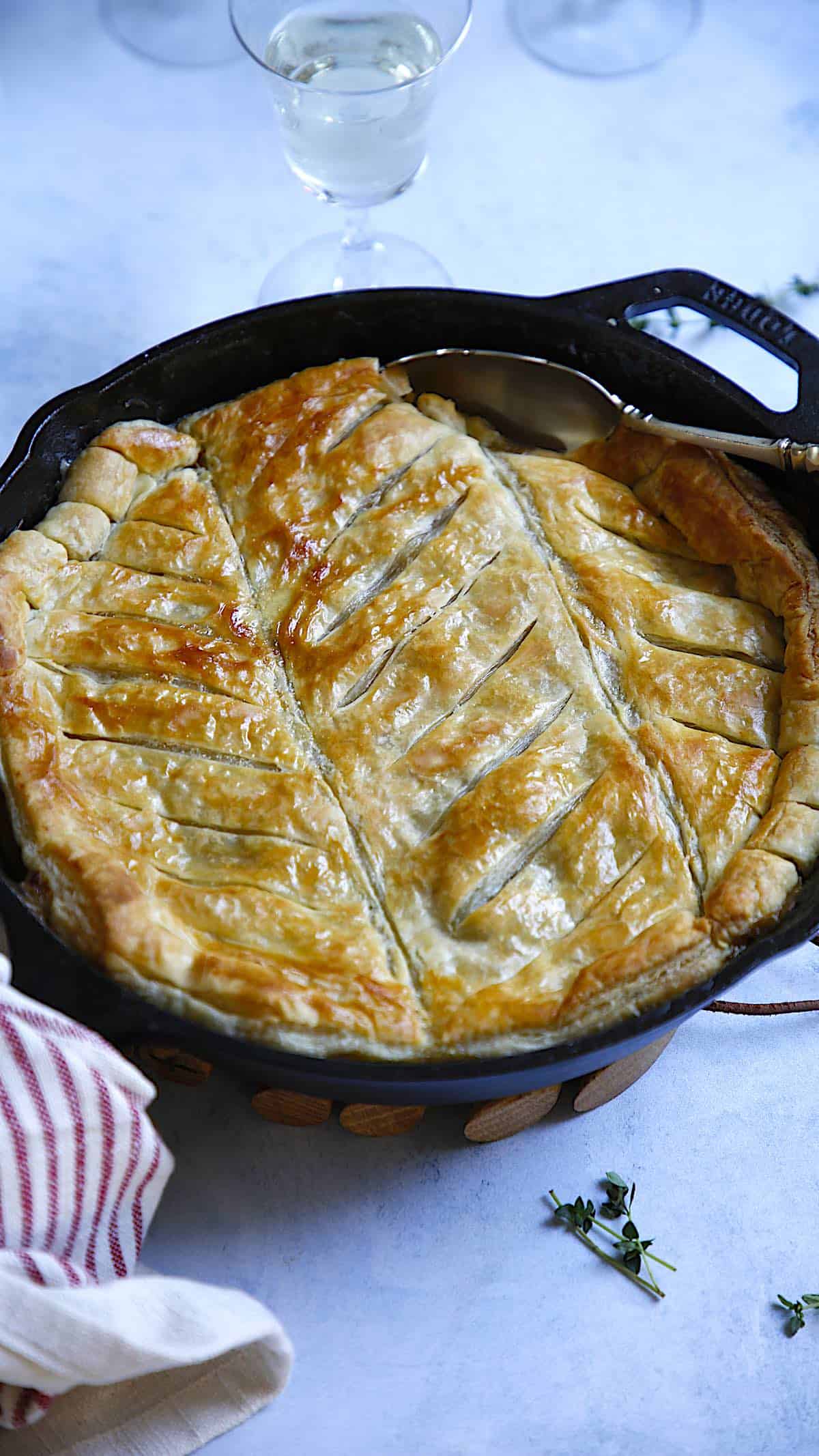 Why You'll Love This:
The puff pastry looks so beautiful and homey when decorated with a simple scoring and egg wash
The cast-iron pan makes it easy to caramelize the onions and brown the mushrooms quickly
You'll love the large chunks of chicken, and hearty sauce flavored with thyme and Dijon mustard
You can make the filling ahead of time, transfer it to a glass or ceramic dish, then transfer it back into the cast-iron pan to bake. More on why you don't want to store food in a cast-iron pan below in Make-Ahead Tips!
This recipe is elegant enough for entertaining, but also easy enough for a weeknight meal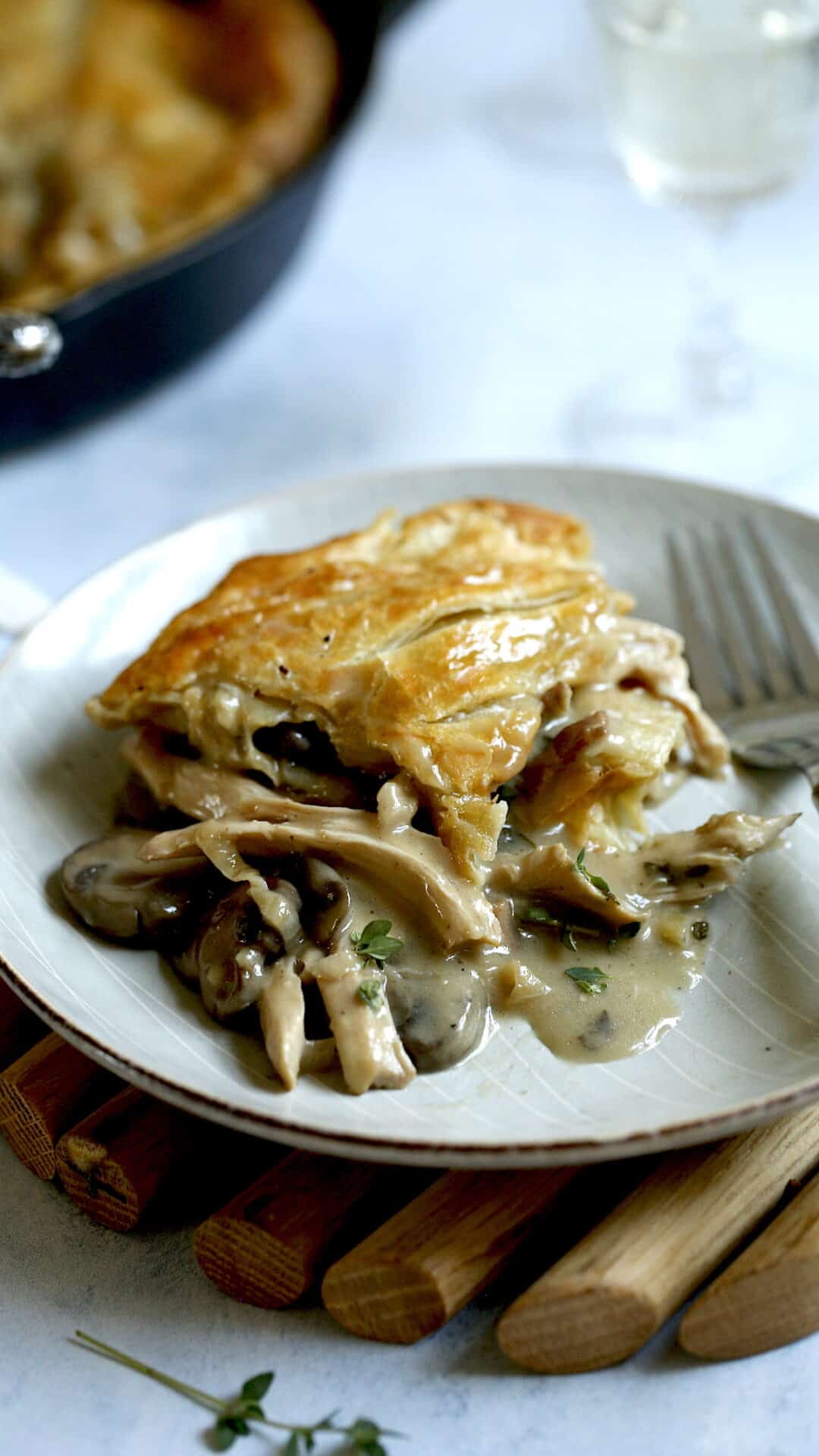 Watch my Video Demo of This Recipe Below!
Ingredients:
Bone-in, Skin-on Chicken Breast Bone-in, skin-on chicken breast will give you the most succulent chicken for your pie. It's also easier to prepare because it allows you to work on the rest of the filling, while the chicken bakes. You can use store-bought rotisserie chicken to save time, but you'll only need 2 cups (300 grams) that will allow for enough sauce.
Bacon The bacon will add wonderful flavor to the filling and the sauce, especially as the sauce simmers in the oven. You'll only need 4 slices of bacon for this recipe, but you can use the rest to make my decadent Tartiflette recipe, another fantastic, cold-weather comfort food recipe.
Yellow Onion You'll get more flavor from the yellow onions, but if white onions are all you have that's OK too!
Fresh Thyme Adds a wonderful fall flavor to this dish. Just be sure you pat it dry after rinsing, otherwise, it will pop and crackle as it hits the bacon fat.
White Button Mushrooms I buy them already sliced to save time!
Butter and Flour The butter and flour will create a roux which will thicken the sauce as it simmers
Chicken Broth Will become the base of your sauce. If dietary concerns are not an issue, don't buy the low-sodium broth, you'll get more flavor from the regular broths
Worcestershire Sauce Adds a wonderful savory flavor to the sauce and compliments the mushrooms
Store-Bought Puff Pastry For this recipe I used Pepperidge Farm Puff Pastry Sheets it puffs up well, and the folded nature of how it's packaged helps with the design! (see below) If you can only find small squares of puff pastry, popular at Middle Eastern Markets, those work great in my individual Easy Chicken Pot Pie recipe.
Egg A beaten egg, brushed on the pastry before baking will create a beautiful golden shine on your pie after it's baked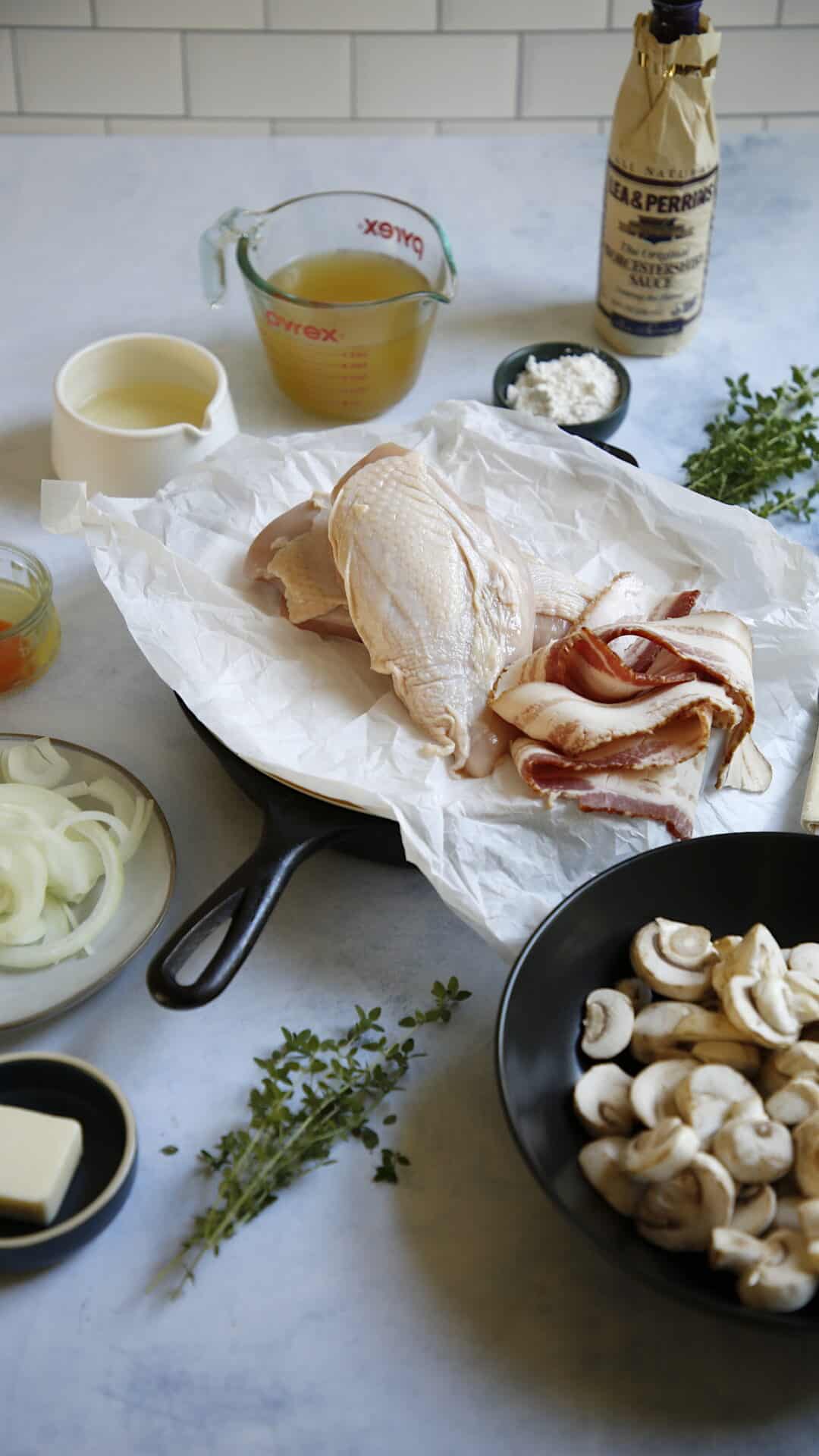 The Benefits of a Cast-Iron Skillet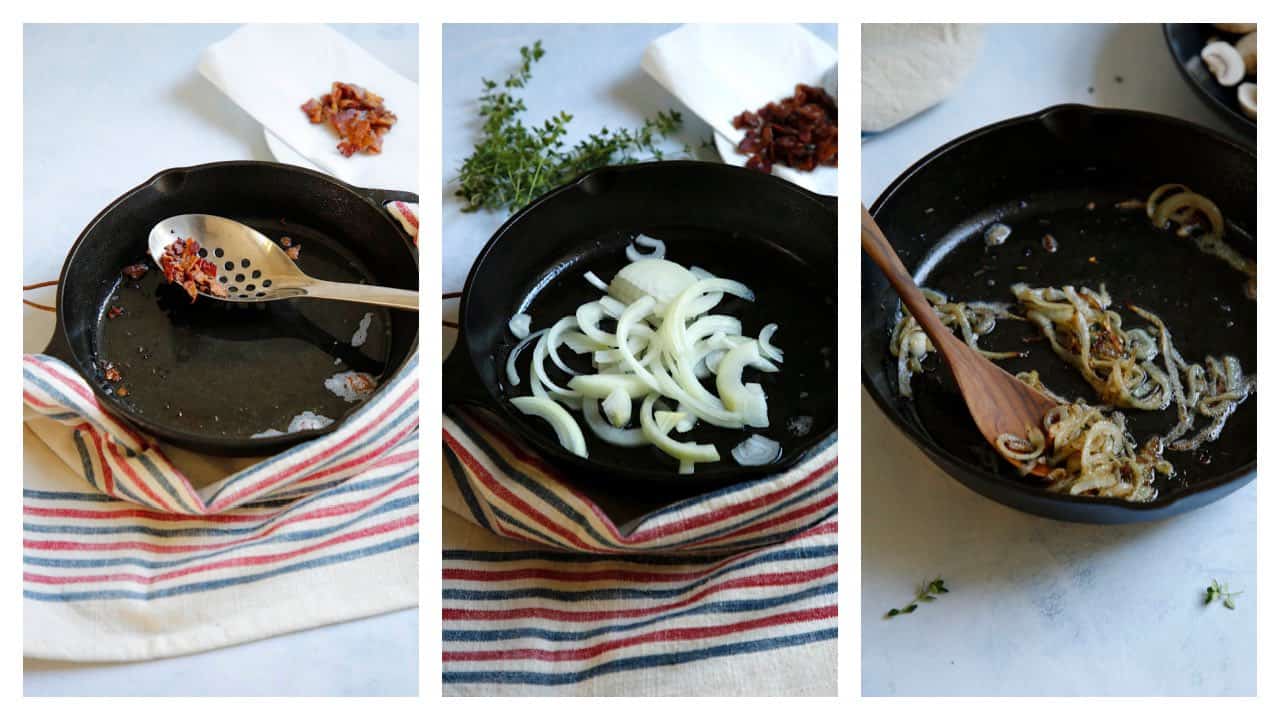 Cooking in Bacon Fat
The first step to this recipe is cooking the bacon. As the bacon crips up, it will release the fat. Do not discard the fat!
You will use the bacon fat to cook both the onions and the mushrooms.
It will add a beautiful flavor to the vegetables which will ultimately create a more flavorful sauce to your pie filling.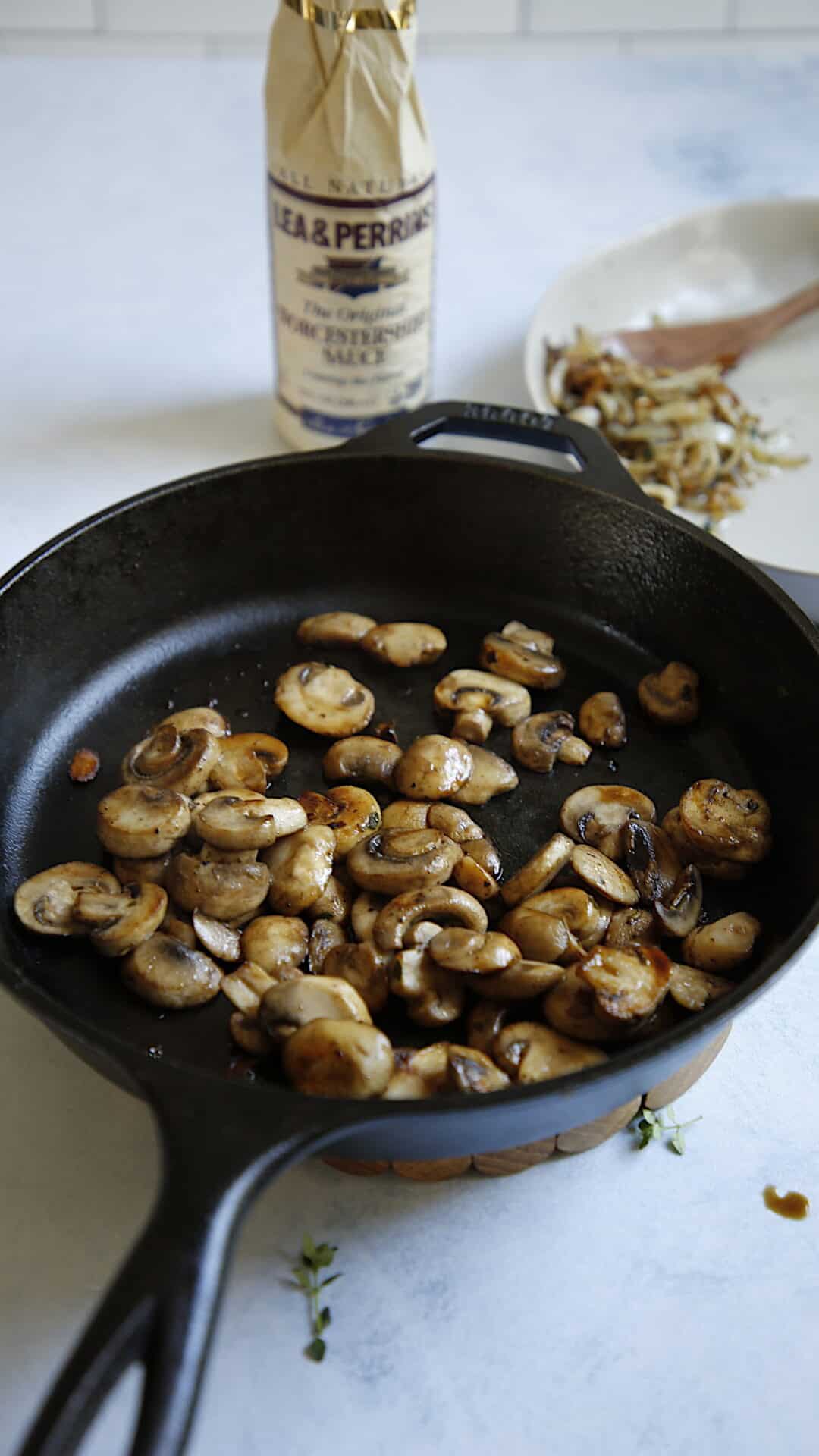 Thickening the Sauce with a Roux
A roux is used as the basis of many sauces, that need thickening. Traditionally a roux is equal parts butter to flour.
But in this recipe, I prefer to use 3 tablespoons of butter to 2 tablespoons of flour, because I don't like the sauce to be too thick, but rather more like a gravy.
If you prefer a thicker sauce add 3 tablespoons of flour to the 3 tablespoons of butter.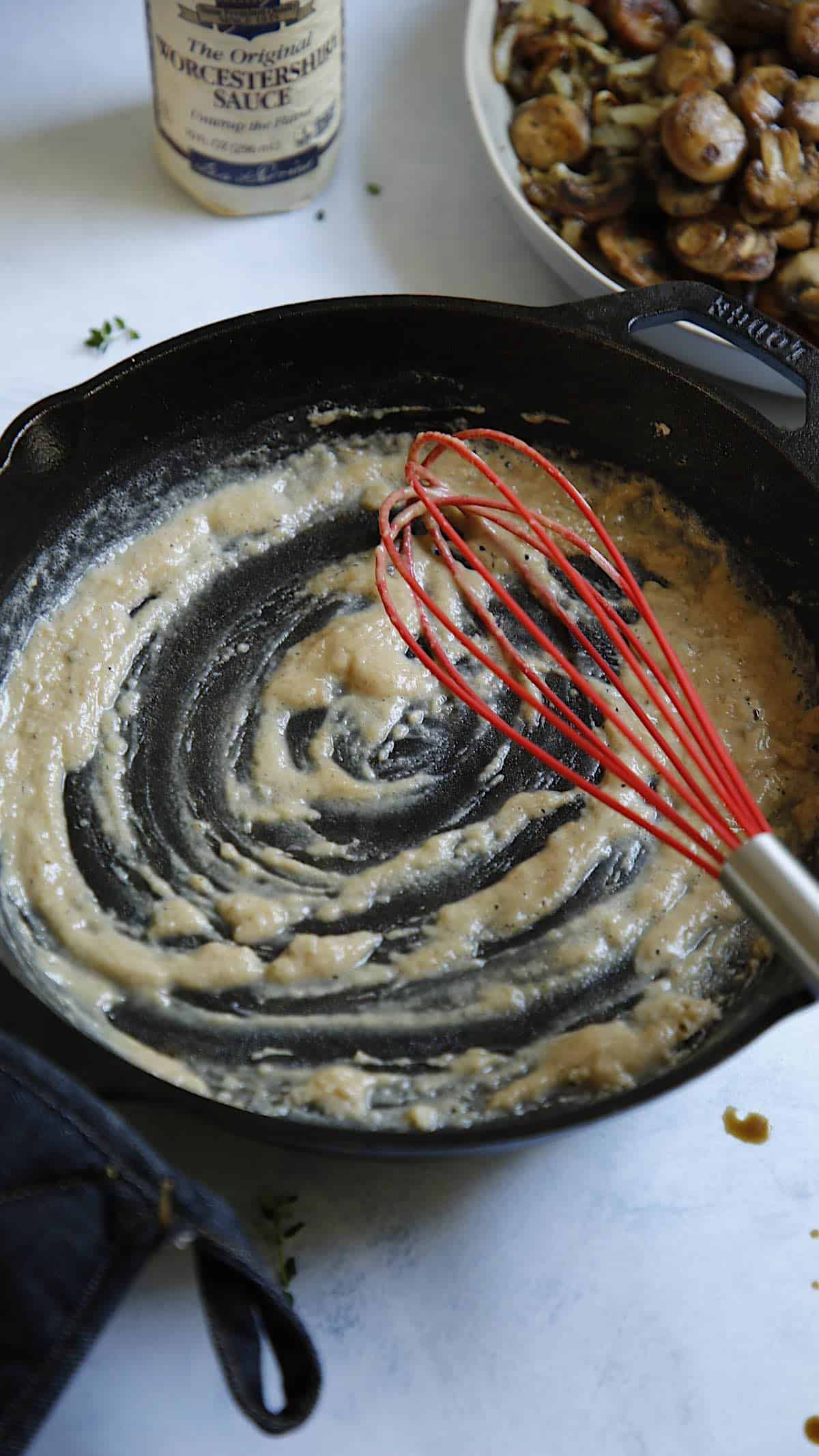 Allow the Filling to Cool
Once all the components for the filling are in, be sure to allow it to cool for at least 15 minutes. You can even pop it in the freezer to cool quickly
The cast iron is so sensitive to heat and cold, it chills down extremely fast if put in the freezer for about 5-10 minutes!
It's important that the filling is cooled before adding the pastry, otherwise, the pastry will melt, before it hits the oven.
A soft, melted pastry, before it's put in the oven, will prevent the pastry from reaching its full "puff up" potential.
So it's best if the filling is cooled and the pastry is chilled before baking. This will assure the best results!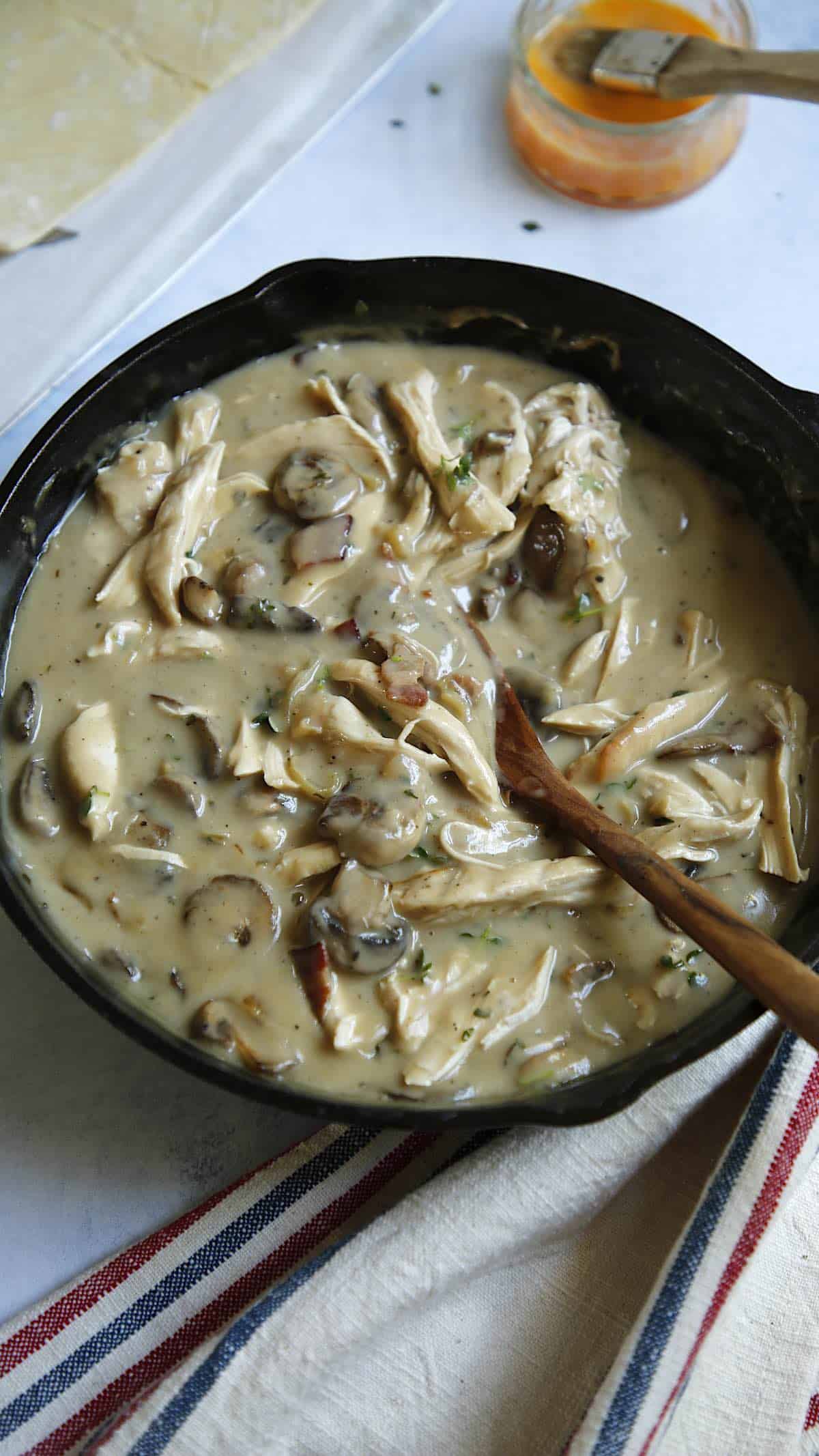 Preparing the Puff Pastry
Roll of the pastry to allow it to fit across a 10.25 skillet.
Then score the panels, you'll have 3 sections. This is what I like about using the Pepperidge Farm brand, it already has the panels, you just need to score them.
Then score diagonal lines in opposite directions, in each panel, being careful not to cut all the way through. Otherwise, the sauce will bubble up and spill out over the pastry.
You just want to score the lines about ½ way through
Then tuck all the pastry under, into the pan, to assure there are no gaps where the sauce could bubble up.
At this stage you can pop the pan into the freezer for 10 minutes to assure the pastry is nicely chilled, and then brush with the egg wash.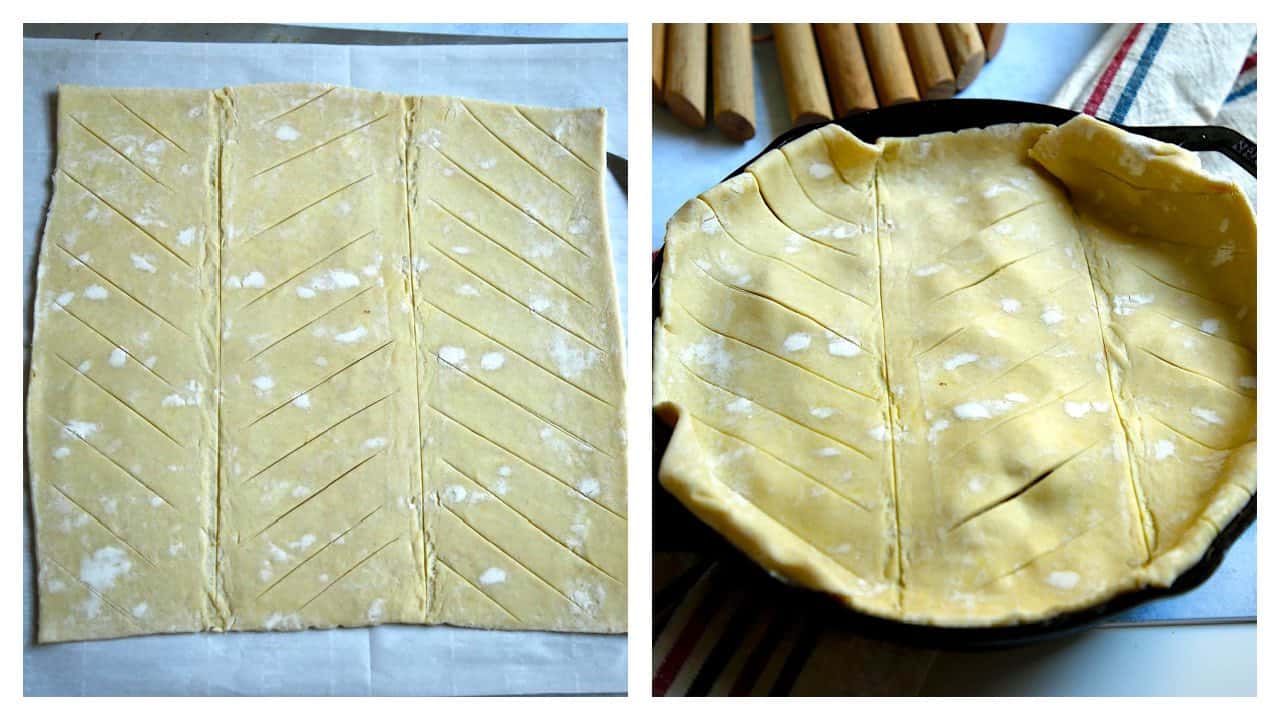 Make-Ahead Tips:
You can prepare the filling up to 2 days ahead
Transfer out of the cast-iron pan, and into a glass, plastic, or ceramic container.
You do not want to store food in a cast-iron pan, otherwise, it could develop a metallic taste, and also damage the seasoned coating on your pan.
You can also prepare the puff pastry 1 day ahead, place it on a baking sheet, and cover it with plastic wrap or foil to prevent drying out.
Right before serving, transfer the filling back into the cast-iron pan, cover with the pastry, and egg wash and bake.
Serve immediately.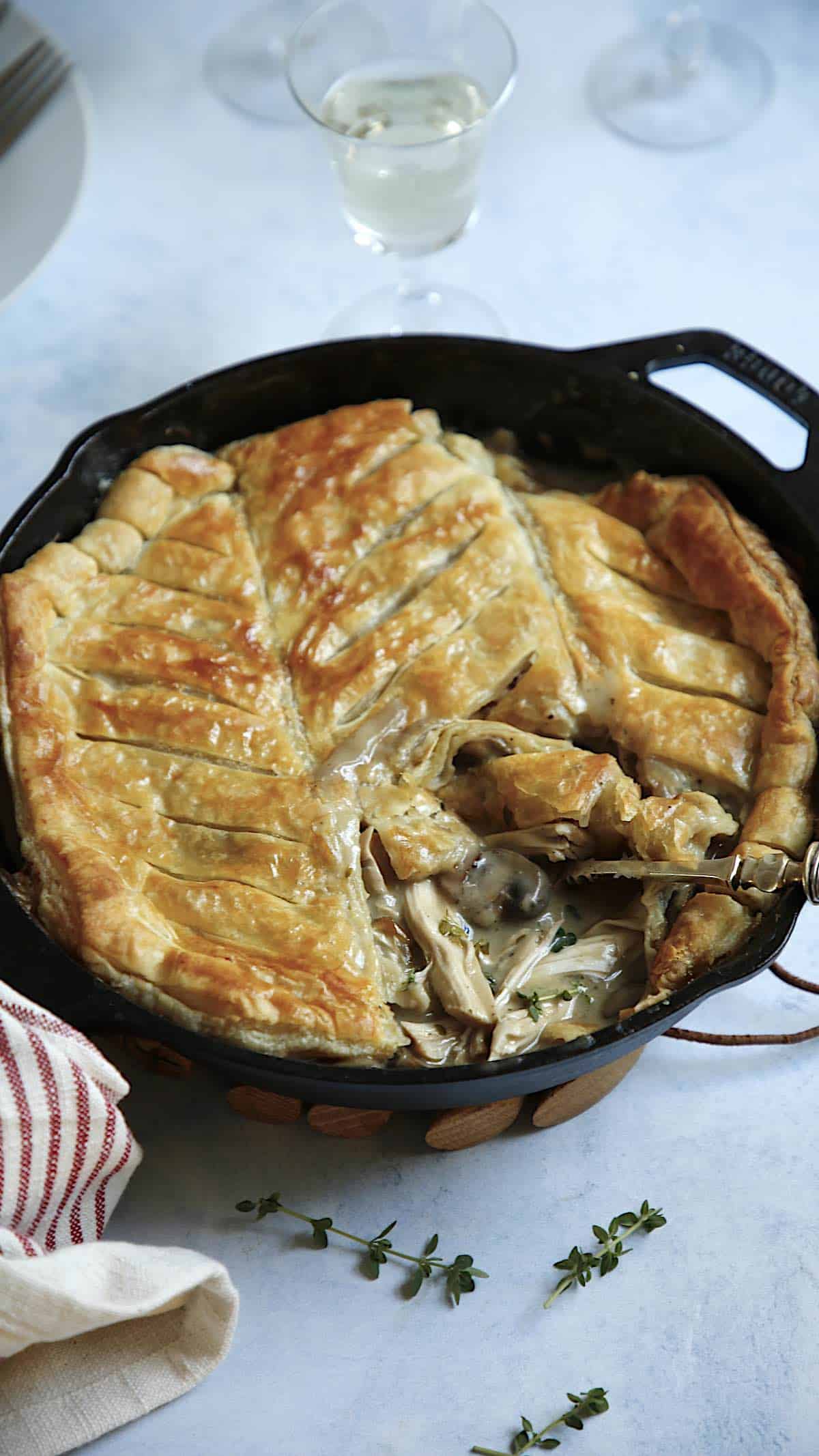 More Chicken Recipes You'll Love!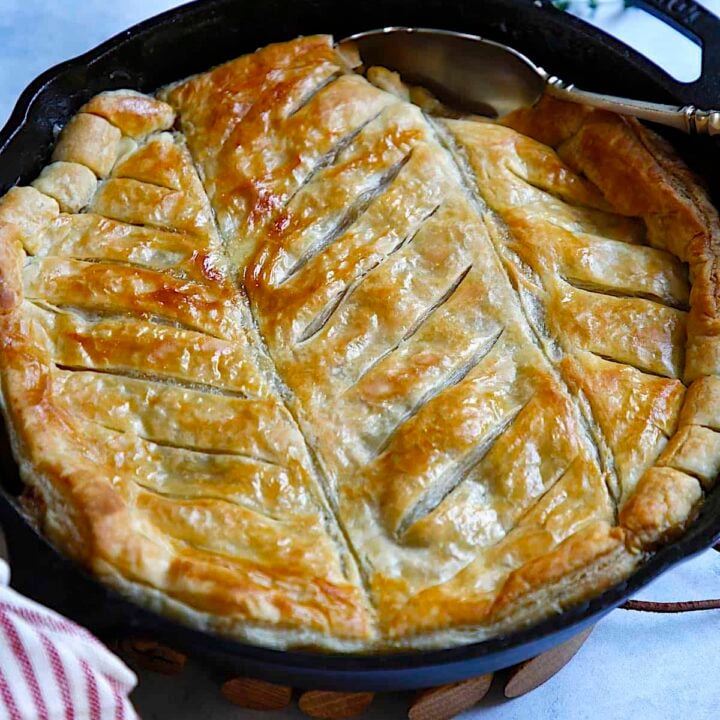 Chicken and Mushroom Pie
Prep Time:
1 hour
30 minutes
Cook Time:
1 hour
5 minutes
Total Time:
2 hours
35 minutes
A delicious Chicken and Mushroom Pie fancy enough for entertaining, but easy enough for a weeknight meal.
Ingredients
1.5lb (680g) Chicken, bone-in, skin-on breast (or You can use store-bought rotisserie chicken to save time, but you'll only need 2 cups (300 grams) that will allow for enough sauce)
4 slices bacon, diced
1 ¼ cup (190g) yellow onion, sliced into half-moons
2 tablespoon (30 ml) fresh thyme, minced and patted dry of any moisture
8 oz (230g) sliced mushrooms
3 tablespoon (38g) butter
2 tablespoon (15g) flour
2 cups (480ml) chicken broth
2-5 dashes Worcestershire sauce
1 teaspoon (5ml) mustard
1 tablespoon (15ml) heavy cream (if desired)
1 sheet store-bought puff pastry
1 egg, beaten
Instructions
Preheat oven to 400F (200g). Roast chicken on a sheet pan with a rack until cooked through 45 minutes. Set aside to cool.
Roll the pastry out to remove any seams. Score decorative diagonal lines, in opposing directions, vertically along the pastry, being careful not to cut through the pastry, otherwise the sauce will rise up and spill out over your browning pastry and prevent it from puffing up fully.
Place pastry on a baking sheet lined with parchment paper and keep refrigerated until ready to use.
In a 10" (25cm) cast-iron skillet, cook bacon until crispy. Remove bacon with a slotted spoon, onto a plated lined with a paper towel. Keep the fat in the pan!
Cook the onions in the bacon fat until tender and fragrant. Then add the thyme and continue to cook for 1-2 minutes. Then remove onions with a slotted spoon and transfer them to a large bowl and set them aside. Keep the fat!
Cook mushrooms in the bacon fat, or add 1 tablespoon (15g) of butter if needed. Saute until golden brown and they release their juices. Add mushrooms to a large bowl. Do not wash out the pan.
Melt the butter in the pan, once foamy add the flour, whisk until a paste forms, then add the chicken broth, Worcestershire sauce, mustard, and heavy cream (if using) and stir until combined. Allow to simmer.
Shred the cooked chicken off the bone into large shredded chunks. Set aside.
Add back in the mushrooms, onions, cooked bacon and the chicken. Stir to combine.
Taste for seasoning. Add salt and pepper if needed. Allow to cool for 15 mins. Meanwhile prep the puff pastry.
Remove the pastry from the refrigerator. Transfer it to the cooled filling, tuck pastry under on all sides, into the pan, brush with beaten egg. If pastry has warmed up too much, pop the whole pan in the freezer for 10 minutes to firm back up before baking. Bake at 400F for 20-25 mins. Serve immediately oven to table.

Notes
If the pastry becomes too warm and soft after placing it on top of the skillet, pop the skillet in the freezer for 5-8 minutes to firm back up. This will help the pastry keep its shape and puff up when it hits the hot oven.
Make-Ahead Tips:
To make ahead, prepare the filling, then transfer to a glass, plastic, or ceramic container to refrigerate. You do not want to store food in cast-iron, or it could develop an off metallic flavor and damage your pan's seasoned surface as well.
Before baking, all the filling to come to room temperature for about 15 minutes, then transfer the filling into the cast-iron pan, cover with the prepared puff pastry, and bake.
You can also prepare the puff pastry a day ahead, place on a baking sheet, and cover it with plastic wrap or foil to prevent it from drying out.
Nutrition Information:
Yield:

4
Serving Size:

1
Amount Per Serving:
Calories:

413
Total Fat:

24g
Saturated Fat:

6g
Trans Fat:

0g
Unsaturated Fat:

18g
Cholesterol:

112mg
Sodium:

637mg
Carbohydrates:

27g
Fiber:

2g
Sugar:

5g
Protein:

22g