Easy Chicken Pot Pie Recipe
This chicken pot pie recipe is a great main course recipe for any festive occasion. You'll love the pot pie filling which is flavored with lemon and fresh herbs and the flakey puff pastry topping is the cherry on top.
You can also make this recipe ahead of time by preparing the filling up to 2 days ahead of time. Then all you have to do is reheat it, place the puff pastry on top and bake! It's that easy and so delicious too!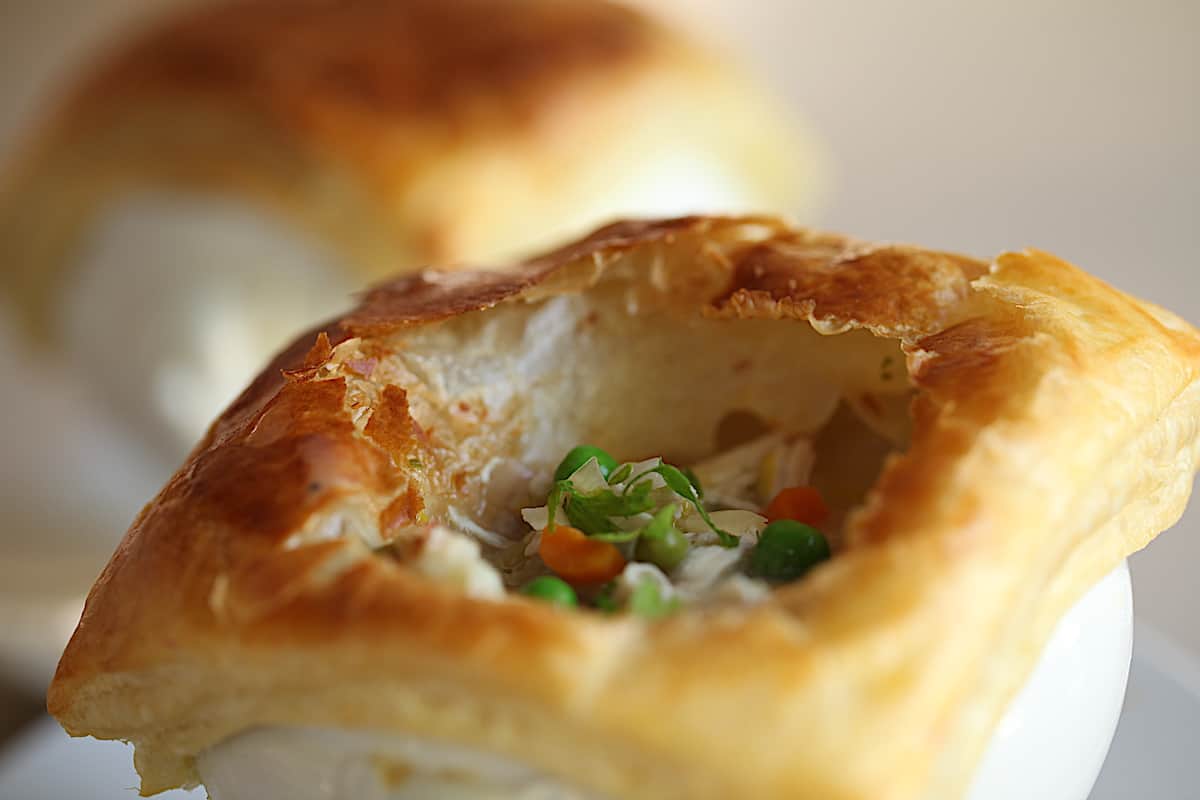 Subscribe for weekly recipes
and new videos!
Watch a Video Demo of This Recipe Below!
Roast Skin-On Bone-in Chicken Breasts
What makes this chicken pot pie so delicious is the large chunks of rotisserie chicken that's in it. Since the chicken simmers in the soup and in the oven as the puff pastry bakes, I find using skin-on, bone-in chicken breast keeps the chicken moist and prevents it from drying out.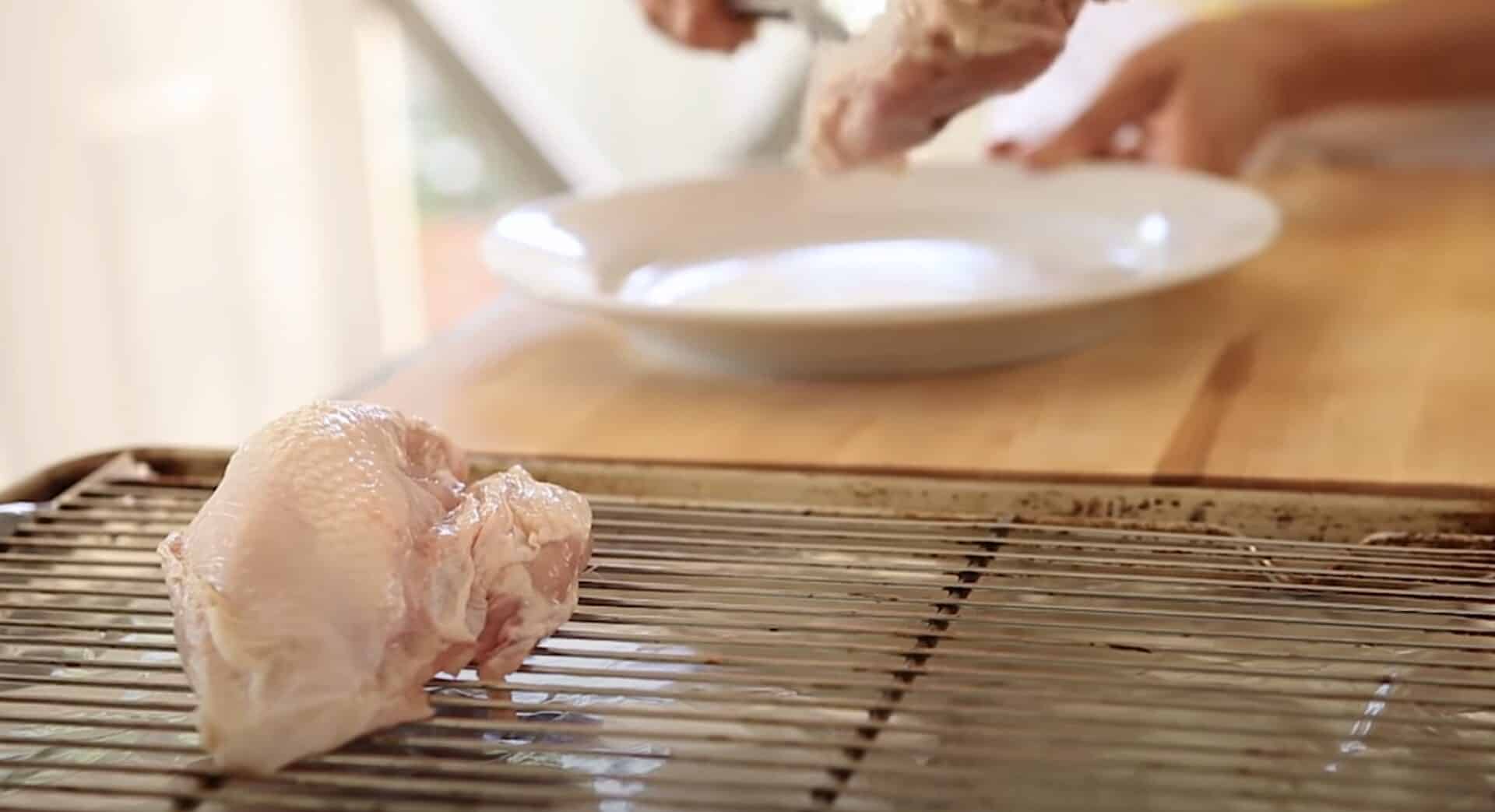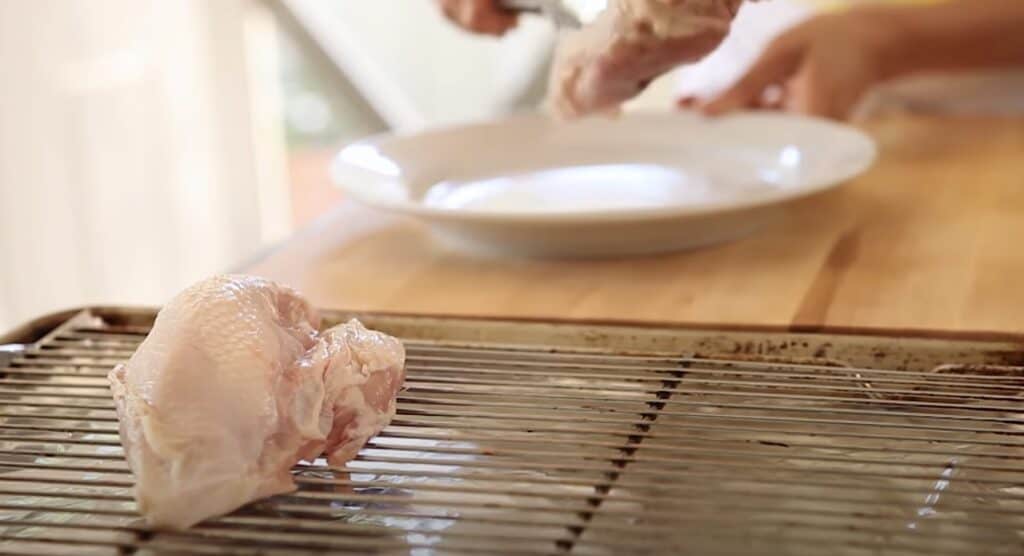 Once the chicken is cooked through, remove the skin and shred the chicken with forks into bite-sized pieces. This could be done the day before and refrigerated in order to lessen the prep on the day you plan to serve this meal.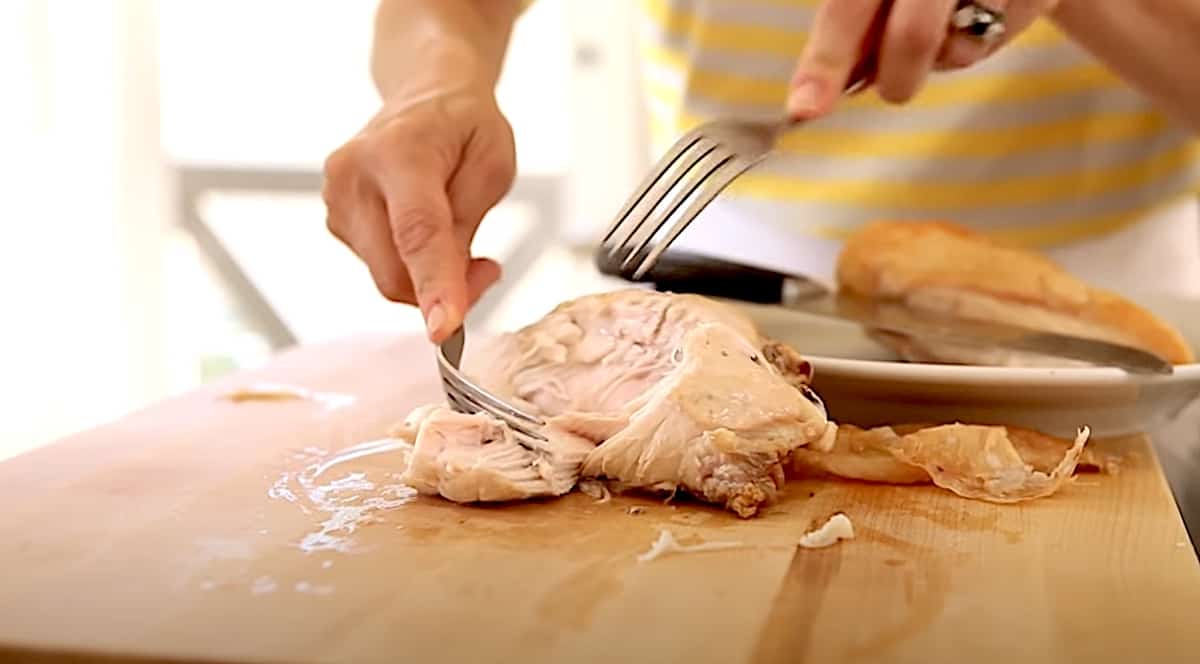 How-To Make the Filling:
You'll love the flavorful soup base of this chicken pot pie, it's fresh and a bit tangy thanks to the lemon, white wine, herbs, and frozen peas. This flavor profile makes what could be a heavy meal, even lighter, and less filling.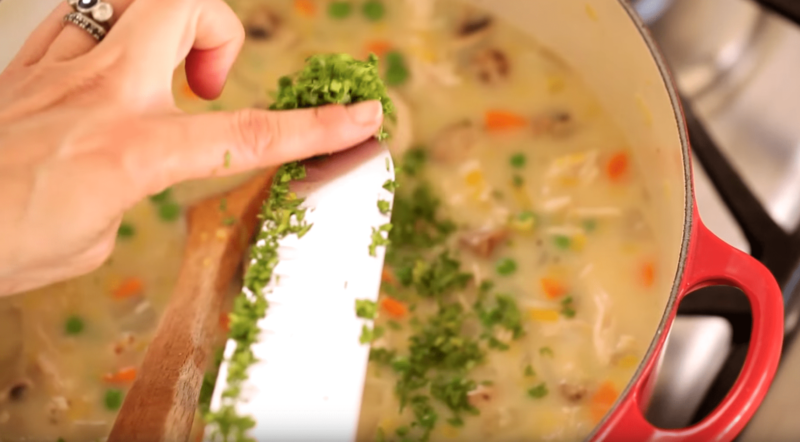 But if hearty and filling are what you are after then you must try my Chicken and Biscuit Recipe! That's a similar dish that incorporates homemade drop biscuits that are seriously to-die-for! It's pure cold-weather comfort food!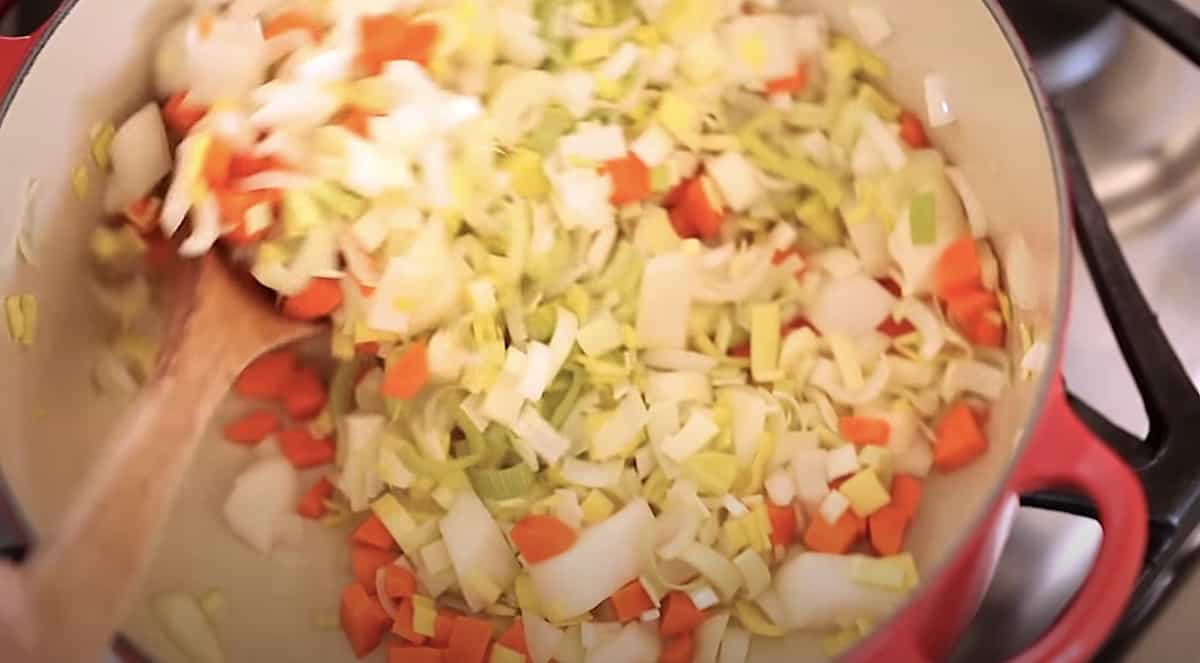 Use Cornstarch to Thicken the Filling
To thicken the pot pie filling, you'll create a "slurry" which is equal parts cornstarch and cold water and used to thicken sauces and soups. I find the cornstarch will thicken the soup faster and better than flour.
The key to getting a slurry to work
You must add the slurry when your soup is boiling and make sure your slurry is made with cold water. Otherwise, the cornstarch will not activate and your soup base will not thicken properly.
Add the Mushrooms Last
Mushrooms cook pretty quickly, so it's best to add them last, along with the bay leaf once your soup is thickened. They only need to simmer slightly. To preserve their shape and avoid a soggy mushroom, cut them into quarters.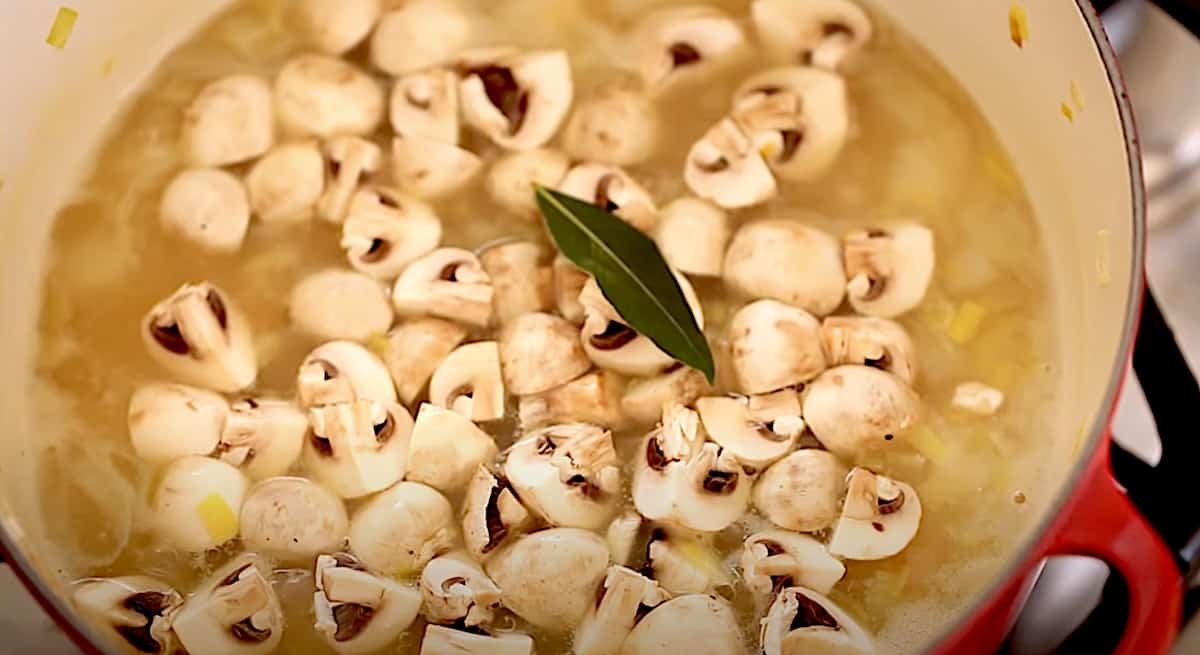 Making the Puff Pastry Topping
Store-bought puff pastry makes pot pies lighter and so much less filling. I also find it makes them way easier too! Before adding the pastry, ladle the soup base into bowls and place them on a sheet pan. This will make it easier to take four bowls in and out of the oven at the same time without disrupting the pastry tops.
It's best if the soup base is not too hot before you place the puff pastry on top otherwise it will melt the pastry and prevent it from puffing up. The temperature should be just warm. It will become piping hot in the oven during the time it takes for the pastry to bake.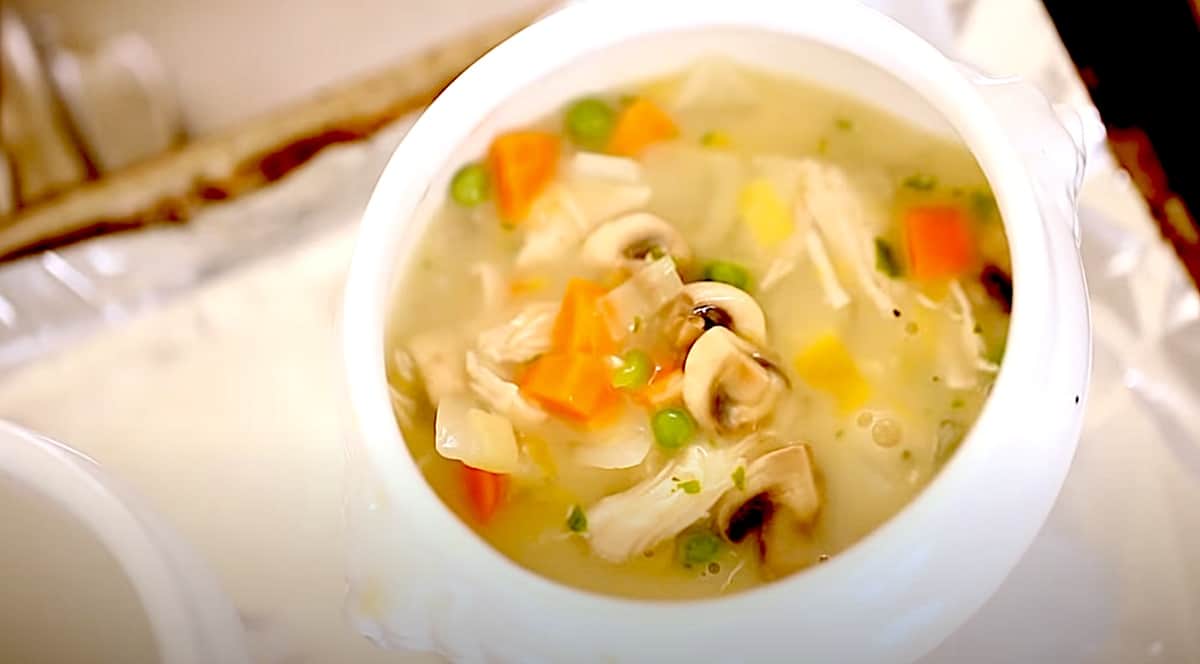 Puff Pastry Buying Tip:
Look for pre-cut puff pastry squares in the Middle Eastern markets, which are the perfect size for covering a bowl. I also love to serve these pot pies in French lion's head bowls. Their footed base makes this dish even more elegant to serve for a special occasion.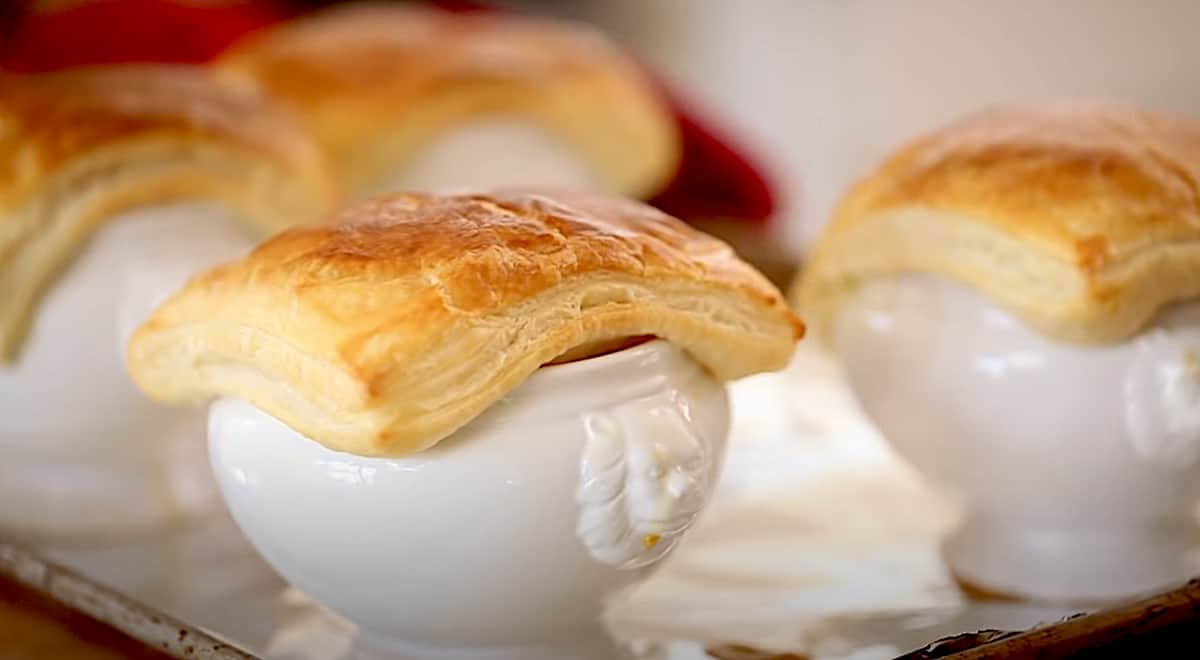 When you brush the egg wash on the pastry, be sure to brush a bit on the sides of the bowl too, that will help the pastry affix to the bowl and prevent it from sliding into your soup base as it bakes!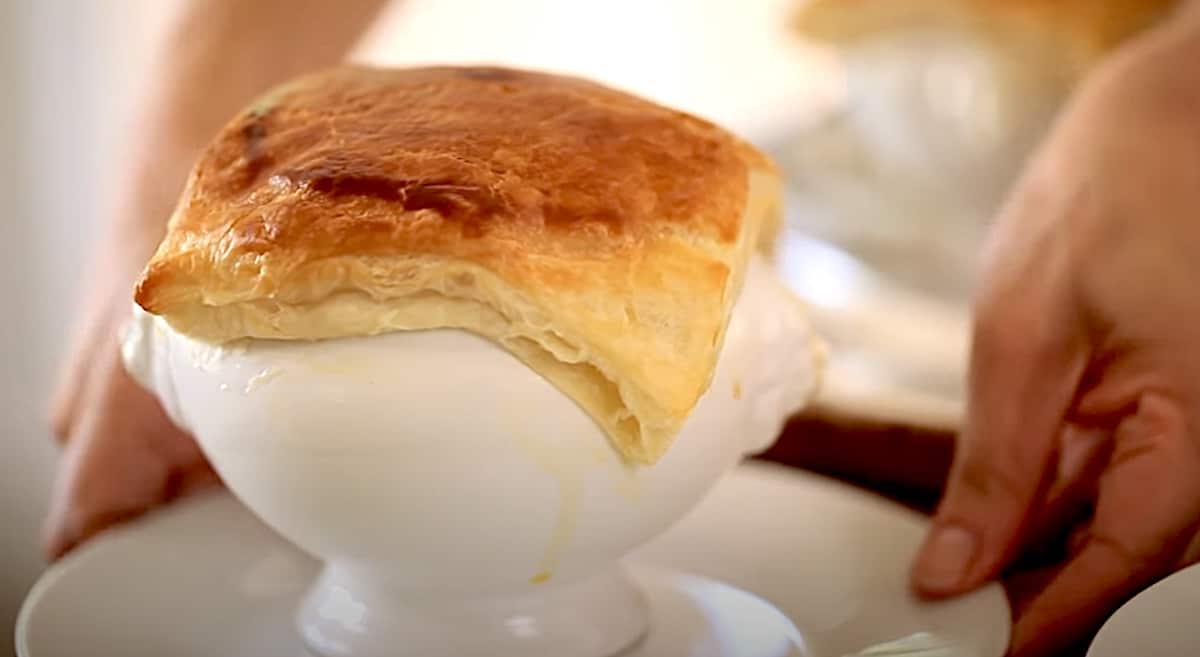 I love to serve this kind of comfort food for special occasions because it immediately puts everyone at ease and feels festive at the same time. To continue with the "comfort-themed" dinner, serve my Chocolate Cream Pie for dessert!
More Great Comfort Food Recipes
If you Enjoyed This Recipe Please
Leave a Rating and Comment Below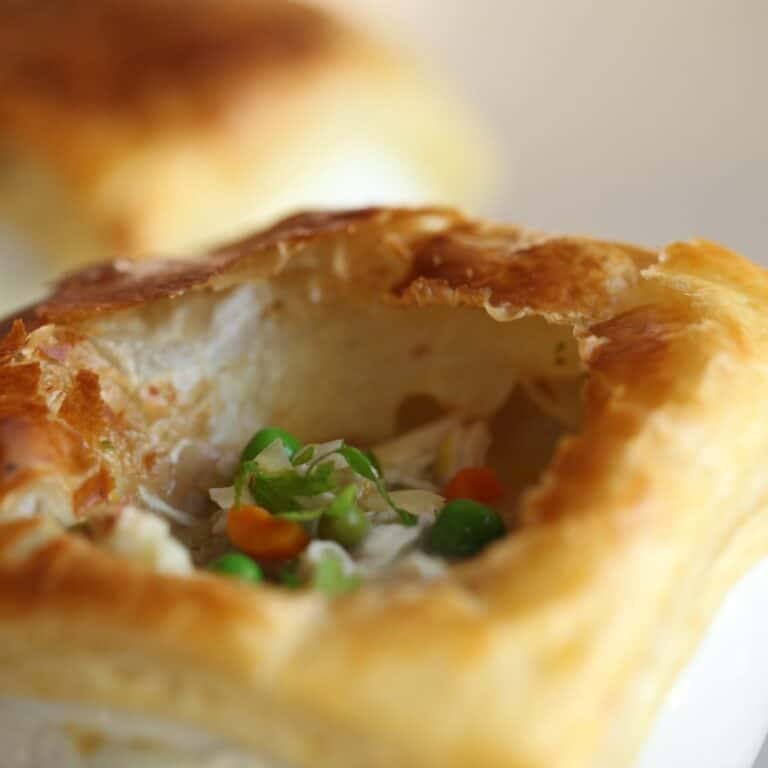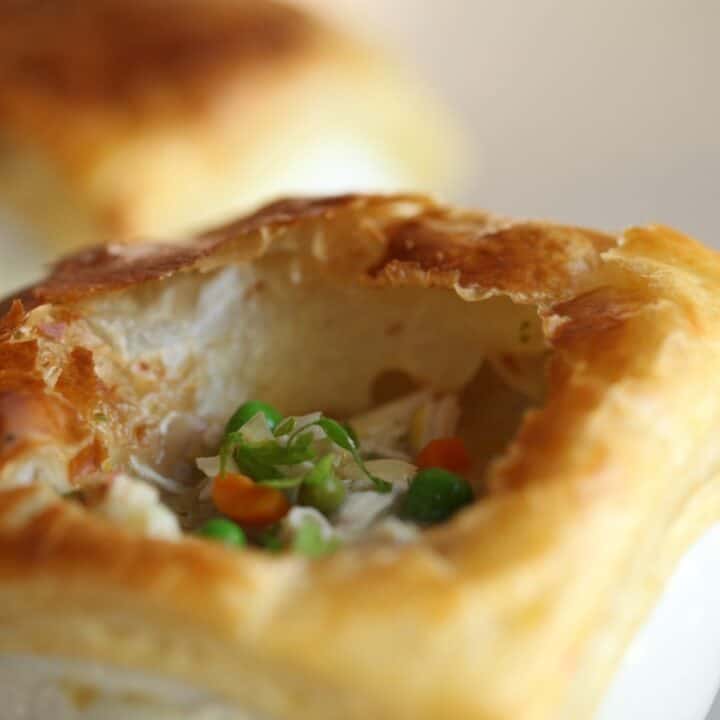 Easy Chicken Pot Pie Recipe
Total Time:
1 hour
30 minutes
A delicious and easy chicken pot pie recipe that is made simpler by using roasted chicken and store-bought puff pastry. A real crowd pleaser!
Ingredients
2 large chicken breasts, bone in, skin on.
2 tablespoon (30 g) butter
1 small white onion, diced
2 carrots, quartered
2 leeks, white parts only, sliced into quarters
½ cup (120 ml) dry white wine
4 cups (960 ml) of chicken broth
2 tablespoon (15 g) cornstarch or flour thinned with 2 tablespoon (15 g) cold water
16 white button mushrooms, trimmed and quartered
1 bay leaf
1 tablespoon (8 g) lemon zest
¾ cup (110 g) of frozen peas
1 tablespoon (15 ml) heavy cream
1 teaspoon (5 ml) salt
¼ teaspoon (1.25 ml) freshly cracked pepper
¼ cup (40 g) fresh flat leaf parsley chopped
4 squares of puffed pastry (to fit over your bowls. Allow a generous border to seal over sides)
1 egg + 1 teaspoon (5 ml) water.
Instructions
Preheat oven to 400 F/ 200C. Roast chicken for 25-30 mins until cooked through. Set aside to cool slightly.
In a large Dutch oven or soup pot melt butter, add onion, carrots, and leeks and cook until soft. Add white wine and cook for 1 min.
Add chicken broth, and bring to a boil.
Once the mixture s boiling mix together the cornstarch and very cold water. This will create a slurry that will thicken the sauce. If the broil is not boiling or your water is not cold, the cornstarch will not activate.
Add the cornstarch slurry and cook for 1 minute.
Add mushrooms and bay leaf and allow to simmer.
Meanwhile prep chicken. Remove the skin, and shred the chicken off the bone with two forks, into bite-sized pieces. Add to the soup mixture, along with the lemon zest, peas, heavy cream, salt, pepper, and parsley.
Prepare egg wash. 1 egg whisked together with 1 teaspoon of water.
Ladle mixture into heat-safe bowls and top with puff pastry, securing sides to the bowl to adhere. Brush with the egg wash with a pastry brush.
Bake according to directions on your package of puffed pastry until pastry is golden brown and puffed up. (15-20 mins)
Notes
MAKE AHEAD NOTE:
After making the soup base, allow it to cool completely and then transfer it to a container, and pop in the fridge until ready to serve.
Then reheat it on the stove-top until warm, not too hot, as it will continue to heat in the oven during the time the puff pastry bakes.
When you brush the egg wash on the pastry, be sure to brush a bit on the sides of the bowl too, that will help the pastry affix to the bowl and prevent it from sliding into your soup base as it bakes! 
Nutrition Information:
Yield:

4
Serving Size:

1
Amount Per Serving:
Calories:

534
Total Fat:

12g
Saturated Fat:

5g
Trans Fat:

0g
Unsaturated Fat:

5g
Cholesterol:

122mg
Sodium:

1094mg
Carbohydrates:

71g
Fiber:

6g
Sugar:

9g
Protein:

33g