Banana Cake with Cream Cheese Frosting
This Banana Cake with Cream Cheese Frosting is the ultimate comfort food dessert. You'll love the light and super moist cake texture combined with the incredible flavor the ripe bananas and warming spices provide. For more spiced cakes try my Ultimate Carrot Cake or my Spiced Zucchini Bread recipes.
The silky-smooth cream cheese frosting is made even lighter by using whipped cream cheese and lightly sweetened so it doesn't upstage the flavorful cake below. Topped with the buttery walnuts it's a flavor combination that is oh so good!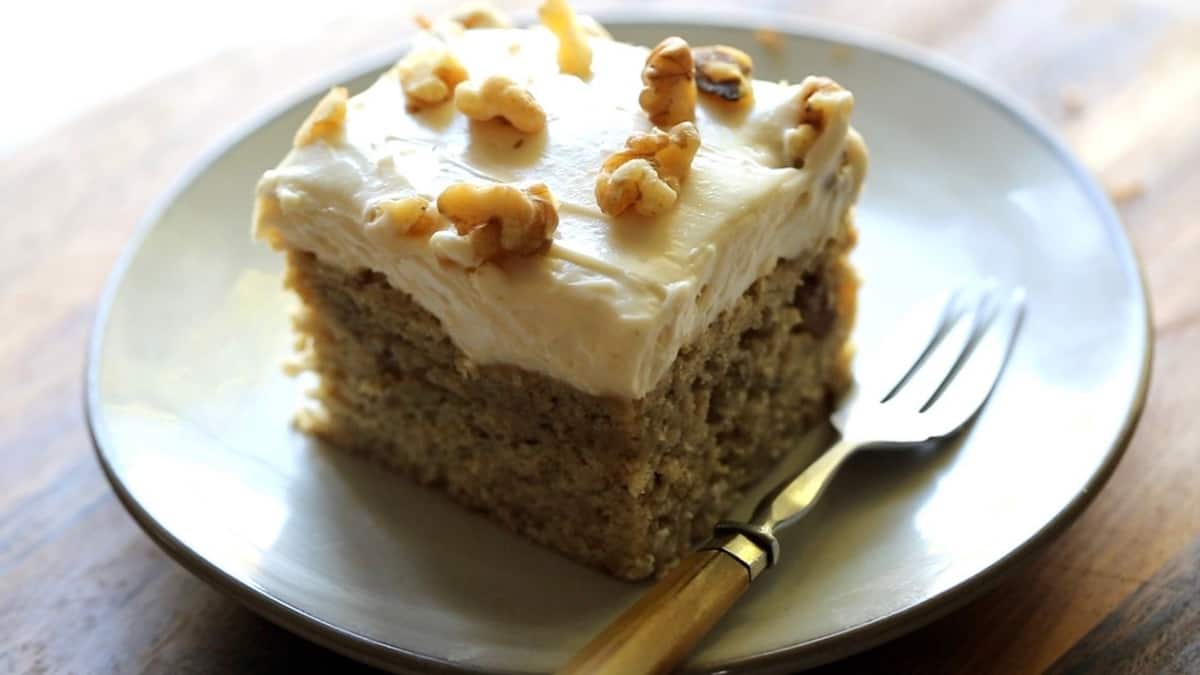 Why You'll Love This:
Uses basic ingredients you probably already have on-hand
Comes together in less than an hour
No fancy cake-decorating skills needed! This cake is all about the flavor!
No need to have ripe bananas on-hand I'll share my tip for ripening bananas in the oven below!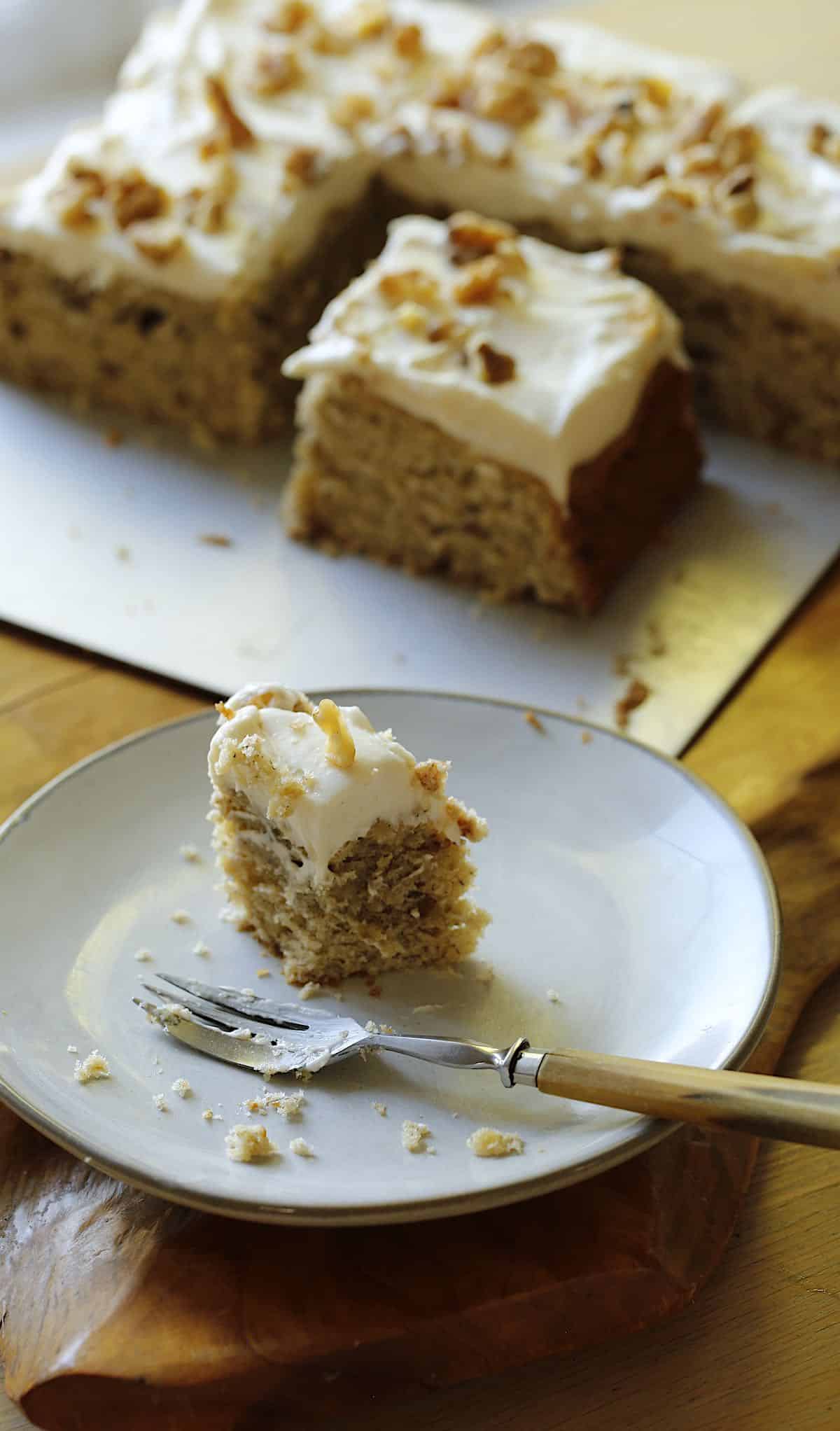 Watch My Video Demo of This Recipe Below!
How-To Ripen Bananas in the Oven
One of the challenges of making banana bread or cakes is having the ripe bananas when you want to make them. But with this method, you can whip up this fantastic banana cake, or my Ultimate Banana Bread recipe anytime you are craving it!
Pre-heat the oven to 300F
Line a baking sheet with foil
Place your unripe bananas on the tray and bake for 10 minutes. They will start to turn black.
Flip the bananas and bake them for another 10 minutes
Allow them to cool and then remove the peel.
Transfer to a bowl and mash. And presto! Sticky sweet "ripe bananas"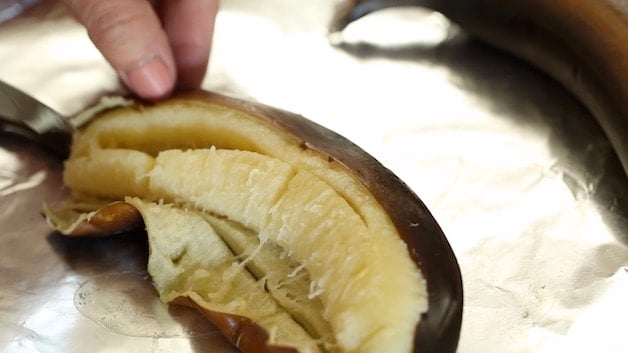 More Recipes For Your Ripe Bananas
Using Frozen Bananas
Now if you had ripe bananas and froze them, which is another great thing to do to save a ripe banana for banana bread and cakes.
You can pop them in the microwave to thaw
Or place them in the fridge overnight. Then proceed with the recipe as directed.
Using a Removable Bottom Pan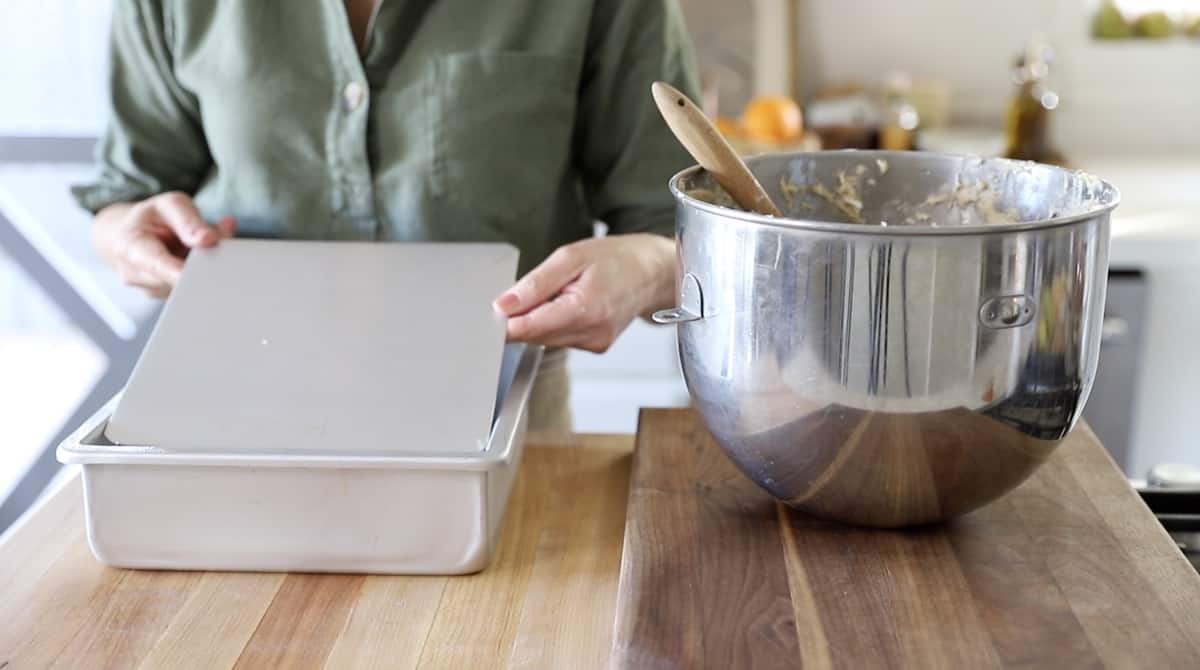 Benefits of a Removable Bottom Pan
A removable bottom pan allows for easy slicing since you can quickly cut your dessert into 9 squares and serve.
There's no wrestling it out of the pan and hoping you don't damage the corners.
The pan is also 3" high which allows for a generous slice of cake.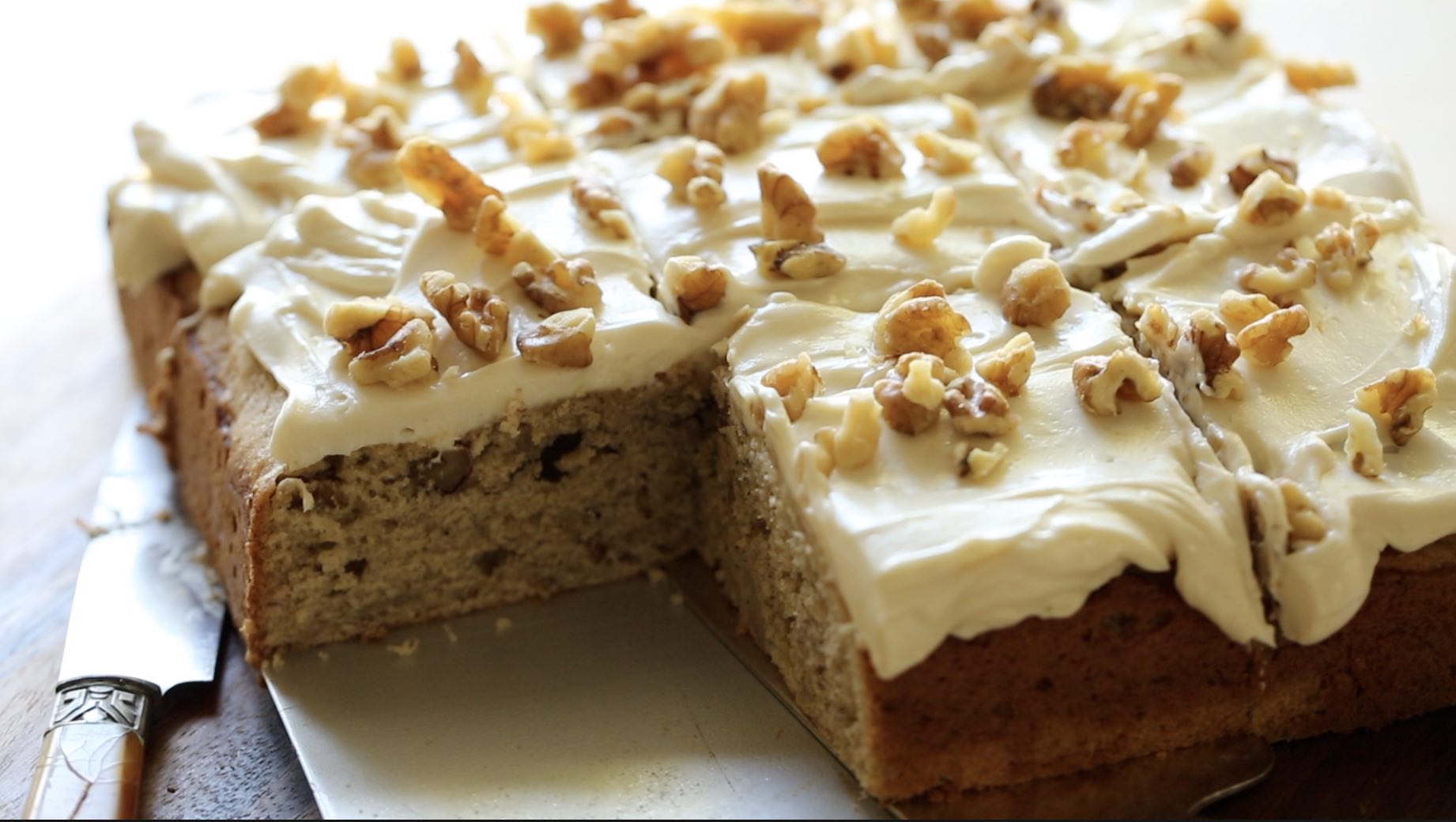 Making the Cream Cheese Frosting
One of the things you'll love about this recipe is the silky smooth, cream cheese frosting. Over the years, I've perfected this recipe with a few tips below!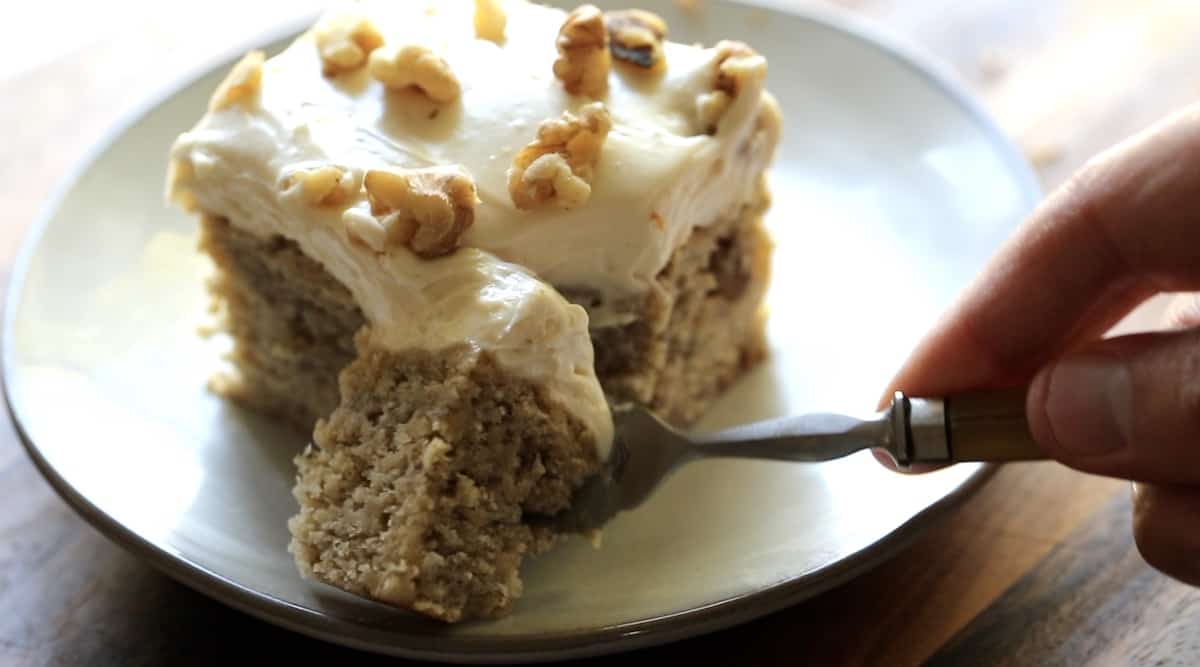 Perfecting Cream Cheese Frosting
Use whipped cream cheese. This will provide a head-start to lightness and volume since there is already air whipped into it. You don't need to do much to it. If you can't find the whipped and only have the brick cream cheese. That's Okay. Just make sure it's at room temperature and beat it longer (3-4 minutes) to achieve a lighter volume.
Use powdered sugar. The powdered will dissolve better than granulated sugar. The cornstarch that's in powdered sugar also helps to stabilize the frosting and help keep its volume.
Don't use too much sugar. Cream cheese frosting is best when you can actually taste the cream cheese! There's also so much flavor in the cake, thanks to the ripe bananas and spices, that the frosting should really play a "supporting role".
Add enough vanilla extract. This recipe calls for 2 teaspoons (10ml) which I think is the perfect amount to add sweetness and flavor.
Skip the butter. It will just dilute the flavor of the frosting and really who needs the extra calories anyway?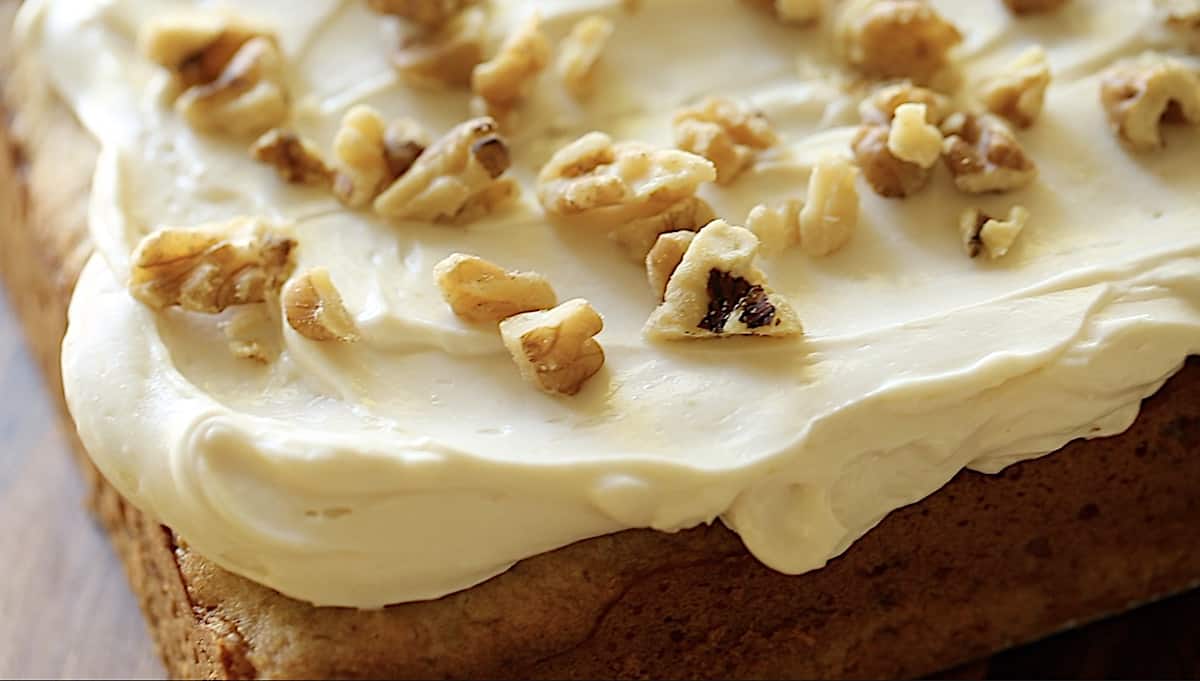 Make-Ahead Tips:
If you want to make this cake a day ahead of serving, follow these tips. This will assure you'll enjoy this cake at its best, preserving the flavors and textures.
Make the frosting a day ahead and cover and refrigerate
Make the cake a day ahead. Allow it to cool completely. Then cover and leave at room temperature
Just before serving. Remove the frosting from the refrigerator and allow it to come up to room temperature for 30 mins.
Then beat the frosting again, just to re-create that "just whipped" silky smooth texture (this step is SO worth the effort for the texture it provides!)
Then frost the cake, top with walnuts, and serve!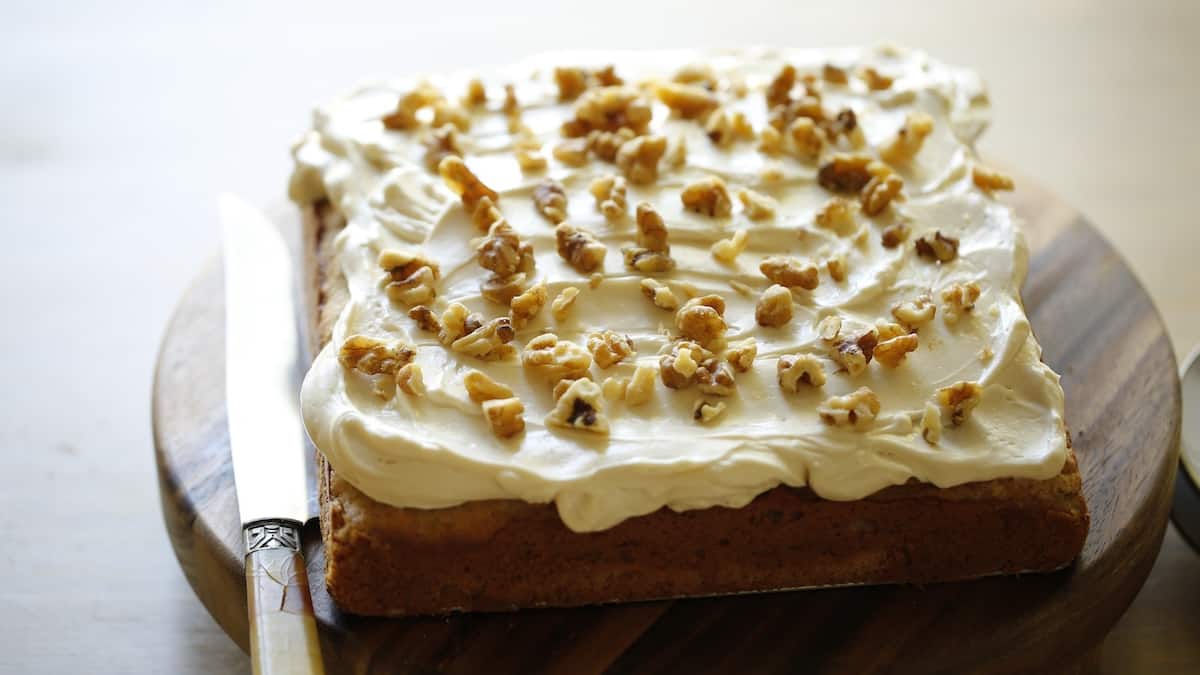 More Great Dessert Recipes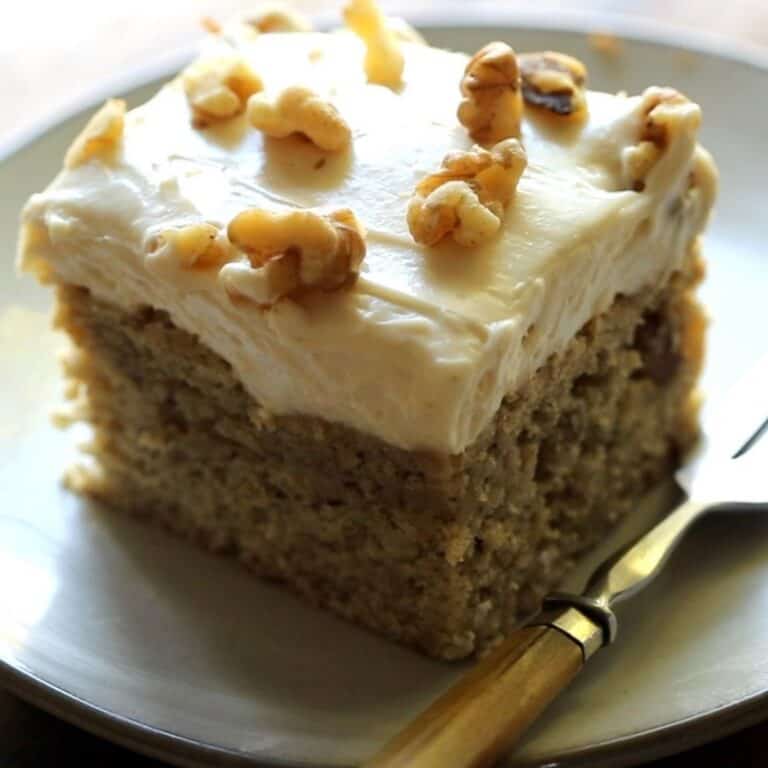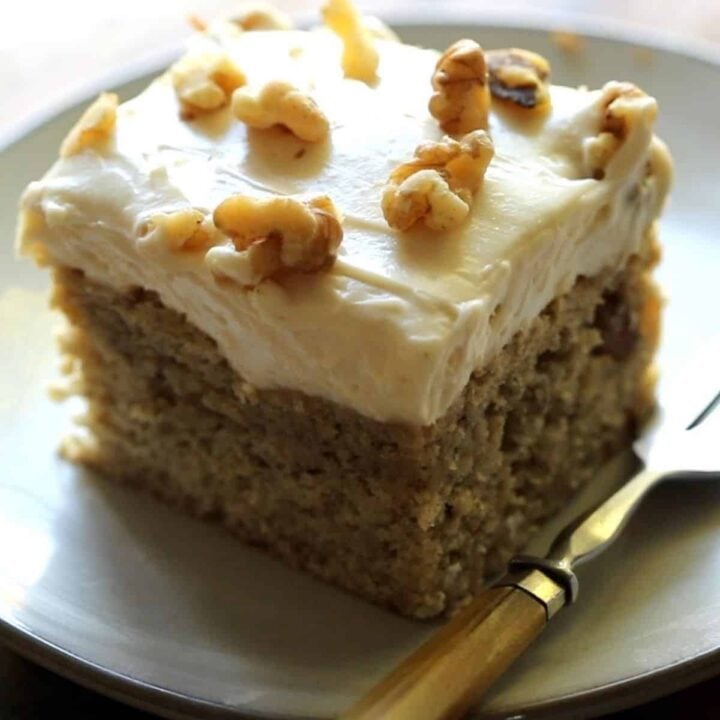 Banana Cake with Cream Cheese Frosting Recipe
A super moist, light, and fluffy banana cake recipe. Full of flavor thanks to the ripe bananas and warming spices. Topped with silky smooth cream cheese frosting. The ultimate comfort food cake.
Ingredients
For the Cake:
¾ cup (180g) of softened butter
1 cup (200g) of sugar
2 eggs, room temperature
1 tablespoon (15ml) Vanilla Extract
2 ½ cups (300g) all-purpose flour
2 teaspoon (10ml) baking powder
1 teaspoon (5ml) baking soda
1 teaspoon (5ml) ground cinnamon
1 teaspoon (5ml) allspice
½ teaspoon (2.5ml) salt
1 cup (240ml) sour cream, room temperature
2 ripe bananas, mashed
½ cup (75g) of walnuts, chopped
For The Frosting:
16 oz (450g) of Whipped Cream Cheese
⅔ cup (70g) of powdered sugar
2 teaspoon (10ml) of vanilla extract
For Garnish:
2 tablespoon (30ml) Walnuts, chopped
Instructions
Preheat the oven to 350F (175C).
Spray a 9" x 9" (23cm x 23cm) with baking spray and set aside.
Beat the butter and sugar until nice and fluffy. At least 5 minutes. It should be pale yellow and resemble the texture of whipped cream. This will get you the best texture on your cake. So don't skimp on the beating!
Add the eggs, one at a time, beating in between each addition and scraping down the bowl as needed.
Add the vanilla and beat to combine. Set aside
Whisk together the dry ingredients
Add the dry ingredients to the wet ingredients, in thirds, alternating with the sour cream, beating in between each addition and scraping down the bowl as needed.
Add the bananas and the walnuts. Beat to combine
Transfer the batter to the prepared pan. Smooth out the batter with a spatula into an even layer.
Bake at 350F (175C) for 30-35 minutes or until a toothpick comes out clean.
Allow the cake to cool completely before frosting.
For the frosting: Beat the cream cheese and sugar together until smooth, add the vanilla beat to combine. Frost cake immediately.
Top with walnuts. Cut into squares and serve immediately.
Notes
If you are inside the U.S.A use salted butter. Land O Lakes is my preferred brand. Salted butter will not make a salty cake, it will just provide my flavor
Outside the U.S.A use unsalted butter, as salted butter outside the USA can be really salty!
If you forget to take out the eggs to come to room temperature. Submerge cold eggs in a bowl of warm water for 5 minutes and they will quickly come up to room temperature.
Nutrition Information:
Yield:

9
Serving Size:

1
Amount Per Serving:
Calories:

321
Total Fat:

16g
Saturated Fat:

9g
Trans Fat:

0g
Unsaturated Fat:

5g
Cholesterol:

84mg
Sodium:

138mg
Carbohydrates:

37g
Fiber:

1g
Sugar:

15g
Protein:

7g