This Cream of Celery Soup has so many fresh flavors coming from a variety of vegetables that always takes guests by surprise, especially since they may have their own preconceived notions of cream of celery soup.
But trust me this soup recipe is nothing like the canned variety and it's so easy to make from scratch and tastes 10 times better!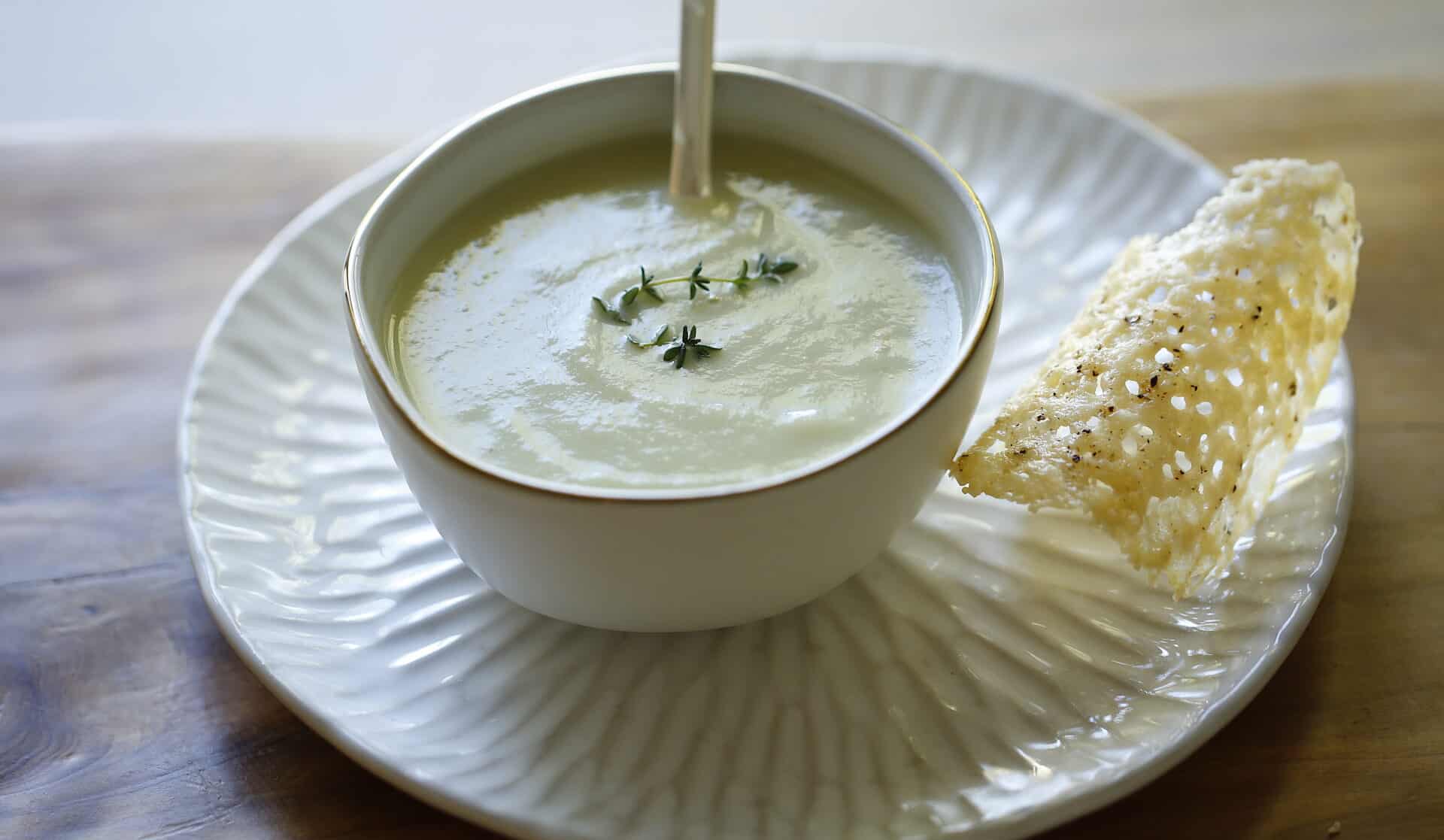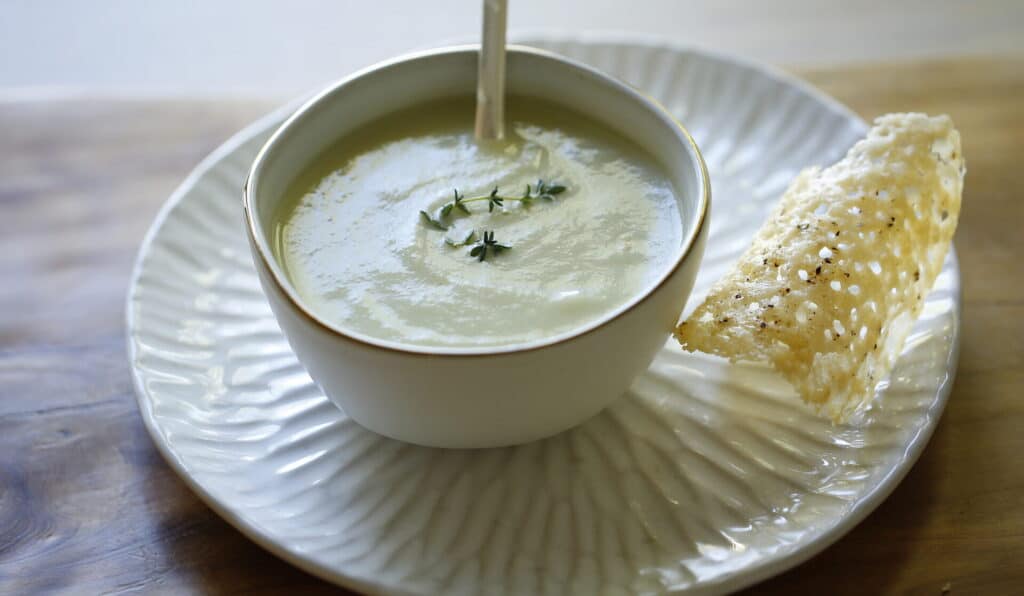 It's a blended soup that gets its richness and creaminess from my secret ingredient, cauliflower! That's right, there's actually no "real" cream in this soup. You'll be amazed at how creamy it is, thanks to the cauliflower. This is the same trick I use in my Potato and Leek Soup that also works like a charm!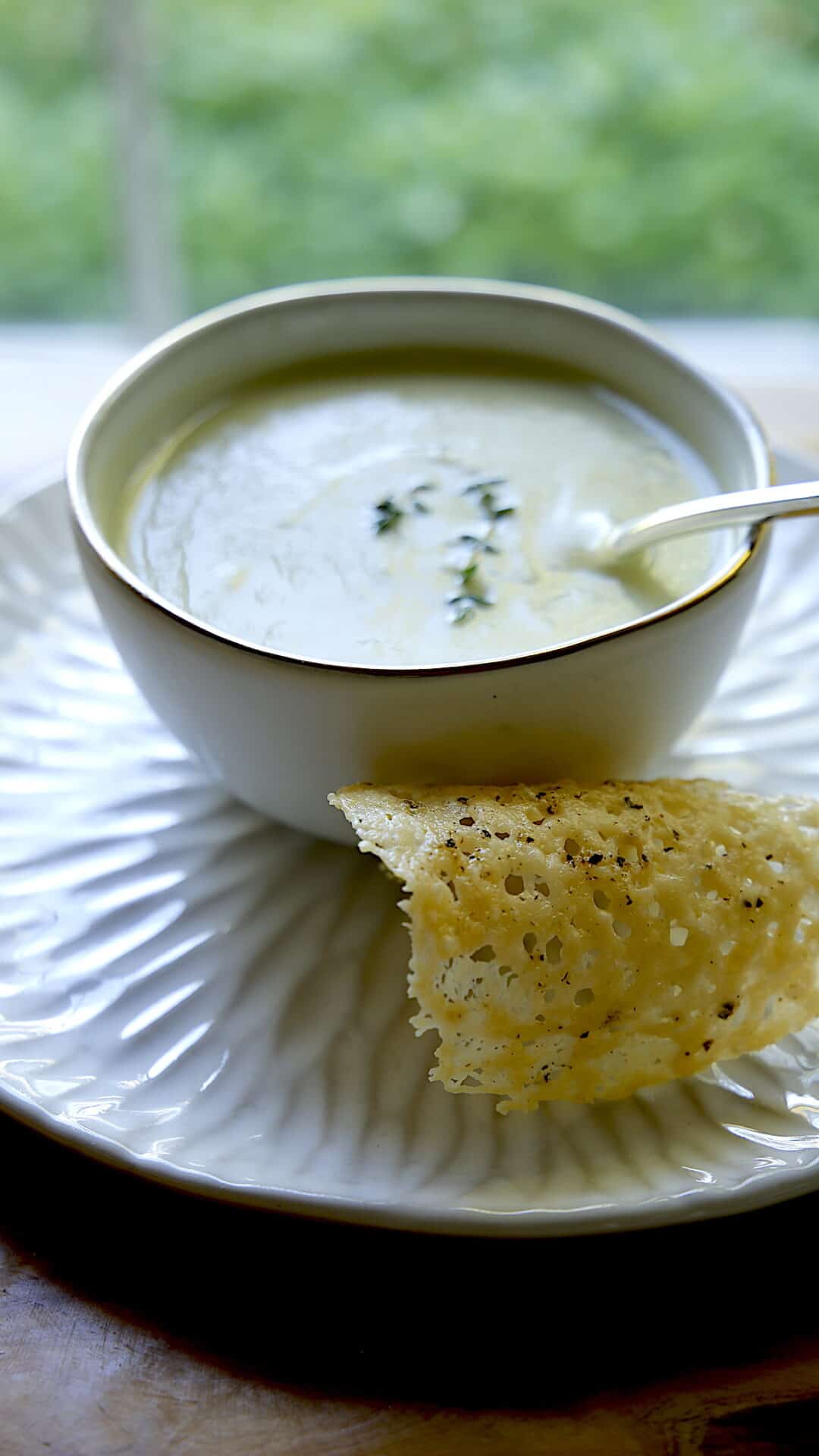 The parmesan tuiles add a fun "wow" factor to serve alongside your soup. It will be your rock-star moment and no one needs to know how easy they are to make.
How To Make Cream of Celery Soup
STEP#1: Chop the Vegetables
Since this is a blended soup, all the vegetables should be chopped into small, roughly equal-sized pieces. This will help them all cook at the same rate and blend up easier and smoother.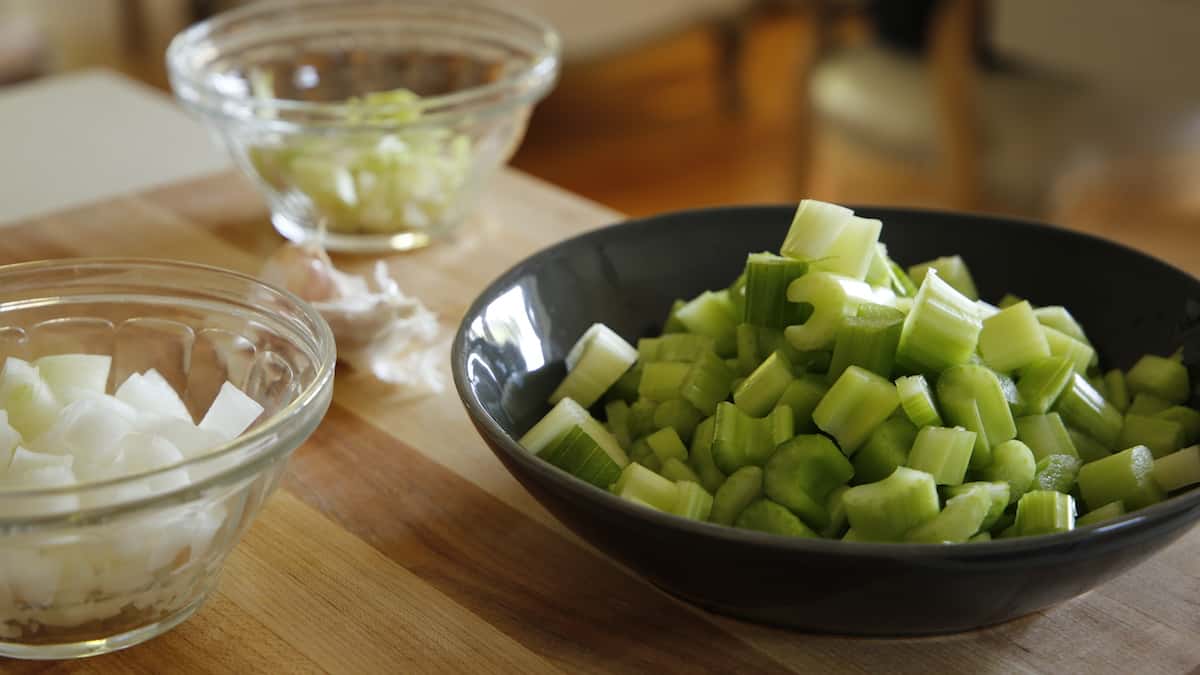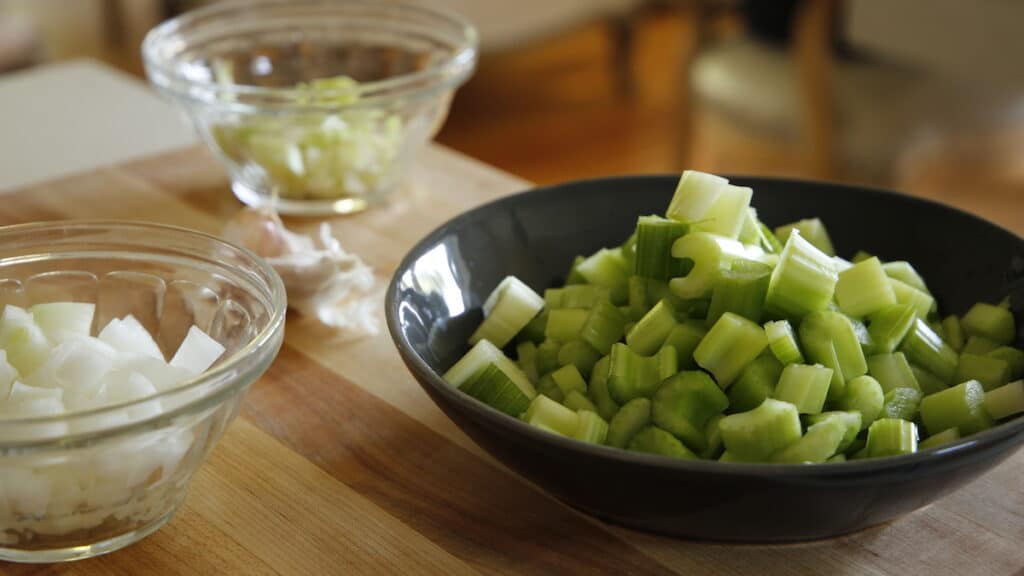 This is especially true for the celery which can get stringy and hard to blend if it's not chopped up well before you begin.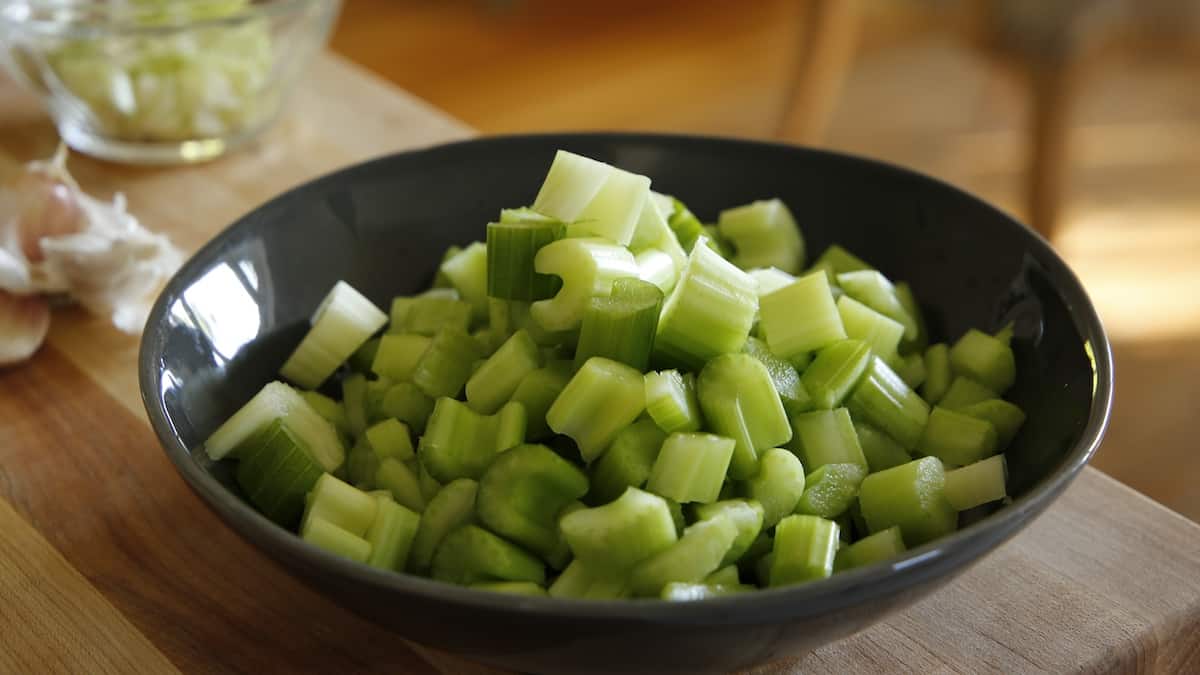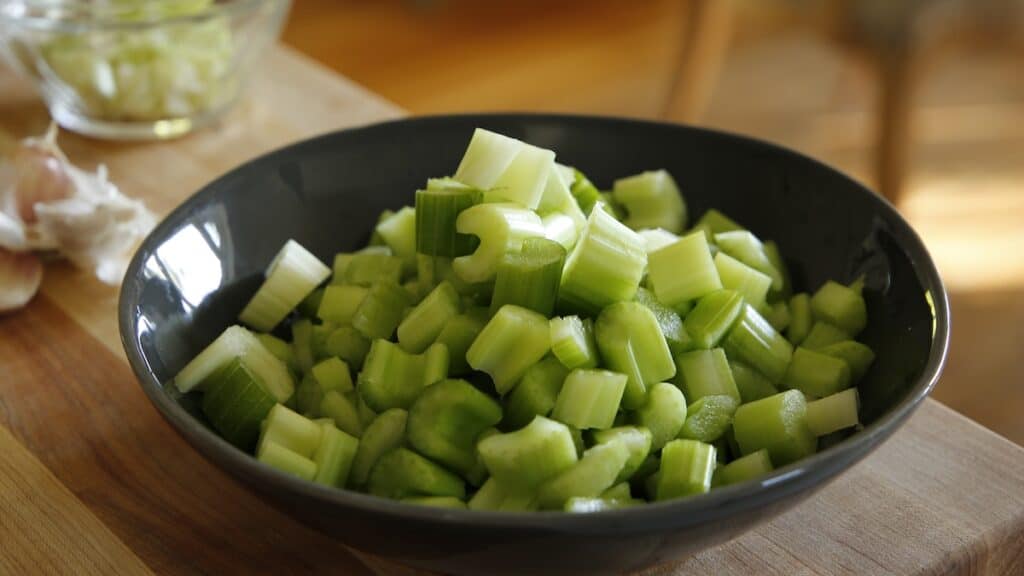 STEP#2: Cook the Vegetables
In order for this soup to reach its best flavor, it's important to saute the vegetables first. This will allow the flavors of the onions and leeks to mellow and sweeten and heighten the flavor of the celery.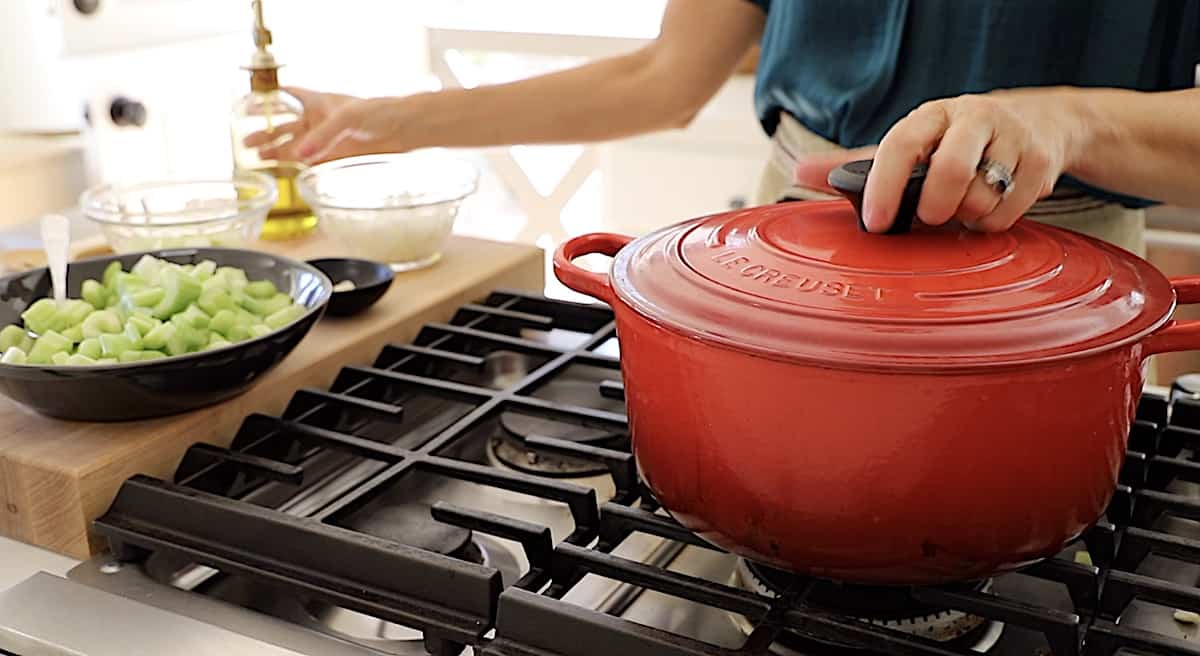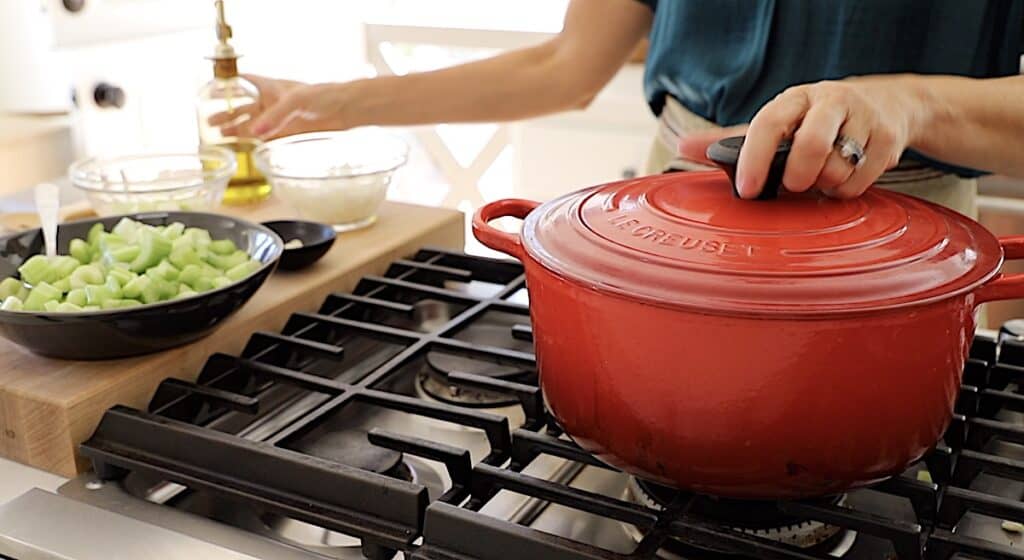 It will only take about 10 minutes or so and you'll know when they're ready when they are fragrant and tender, then you can add the chicken broth.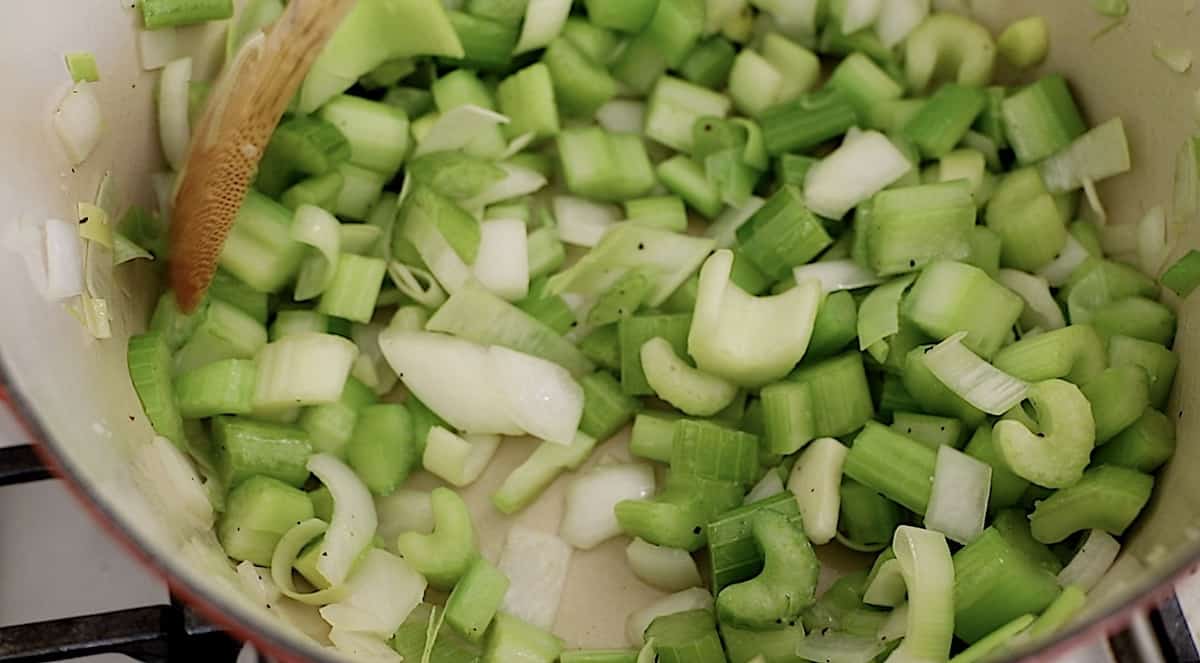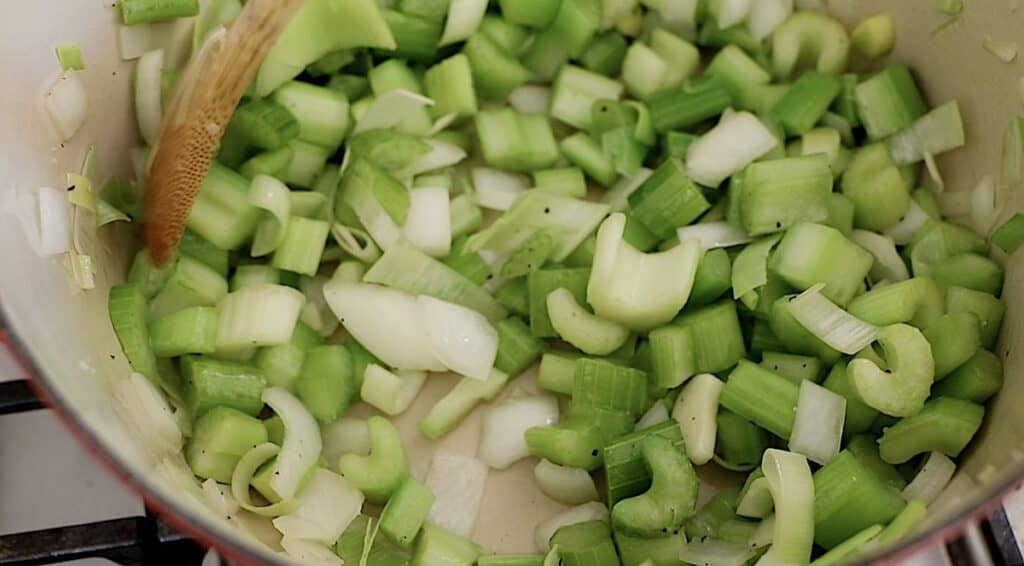 STEP#3: Add the Cauliflower
This soup achieves its creamy texture from the cauliflower. I'm convinced cauliflower is the miracle vegetable because its wonders never cease.
When added to soups and pureed it contributes the silkiest, creamy texture you'd swear there was cream in it! This is also the secret to the creaminess in my Cream of Broccoli Soup recipe too! This soup can also be made with vegetable stock for a vegan alternative.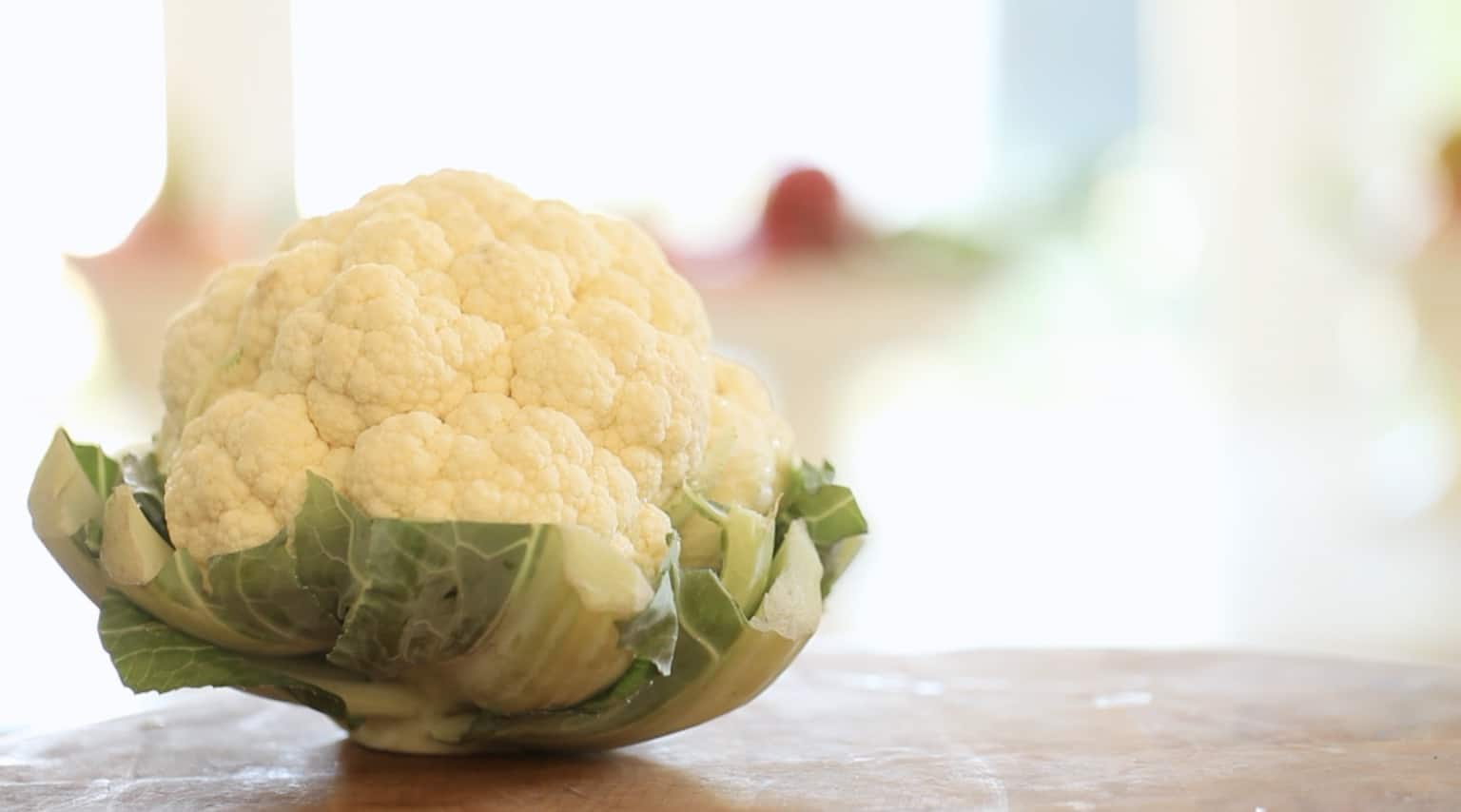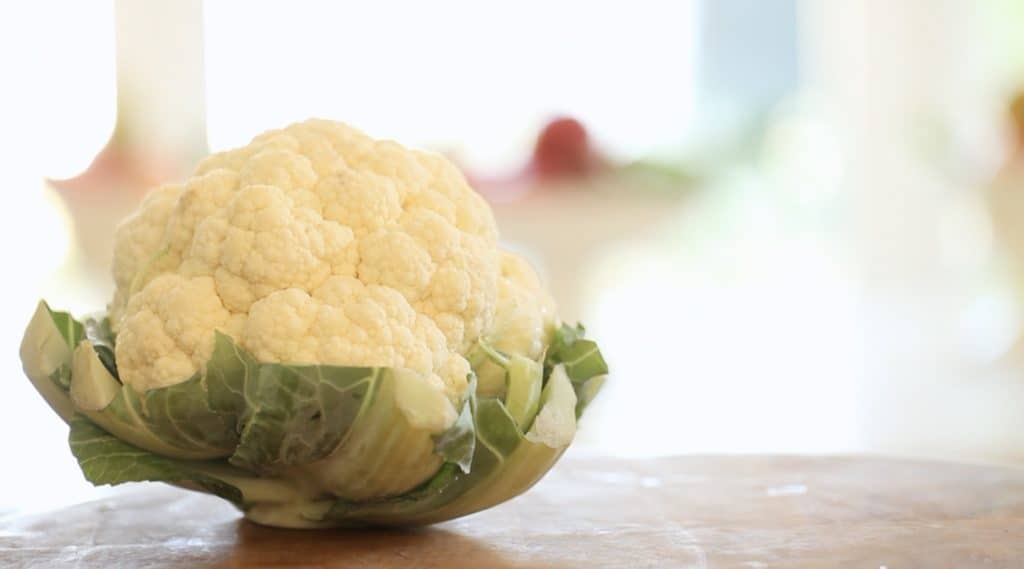 Allow the soup to simmer for at least 6-10 minutes until the cauliflower is tender. Then transfer the mixture to a blender and blend until it's finely pureed and smooth.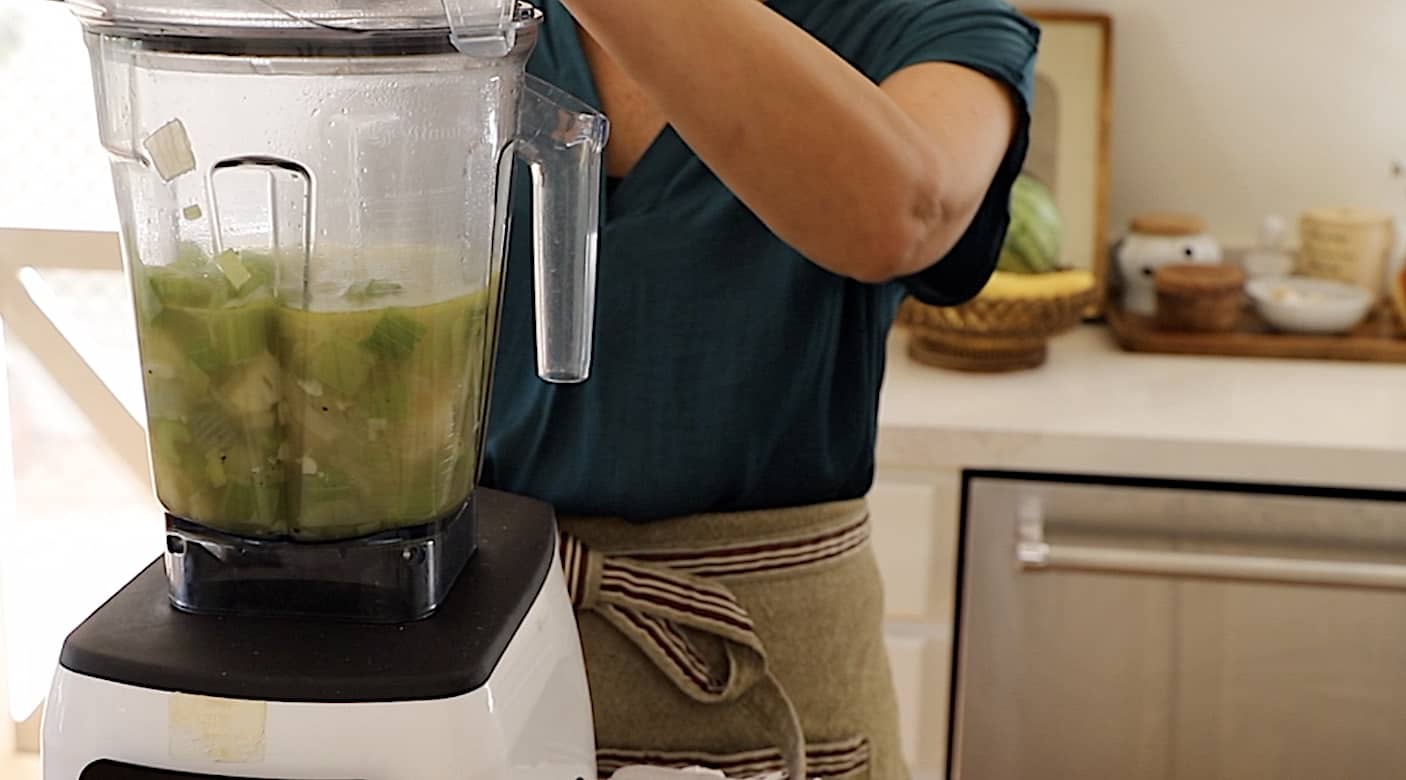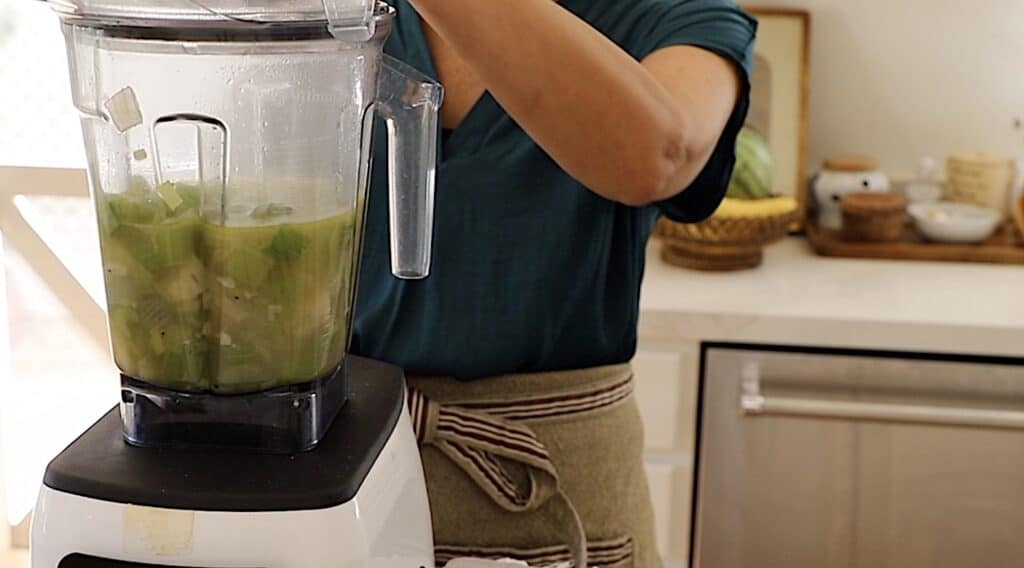 I love to serve soup as a first course because it can be made the day before and simply reheated. The flavor of blended soups also gets better if made the day before so there's the added benefit of advance planning!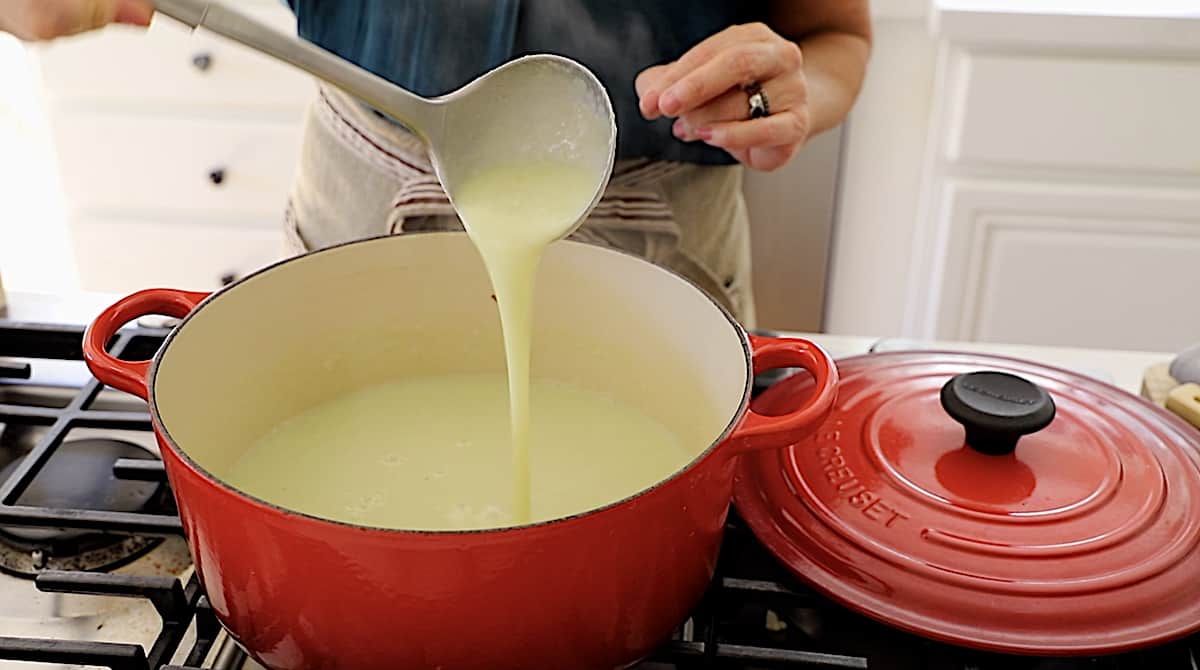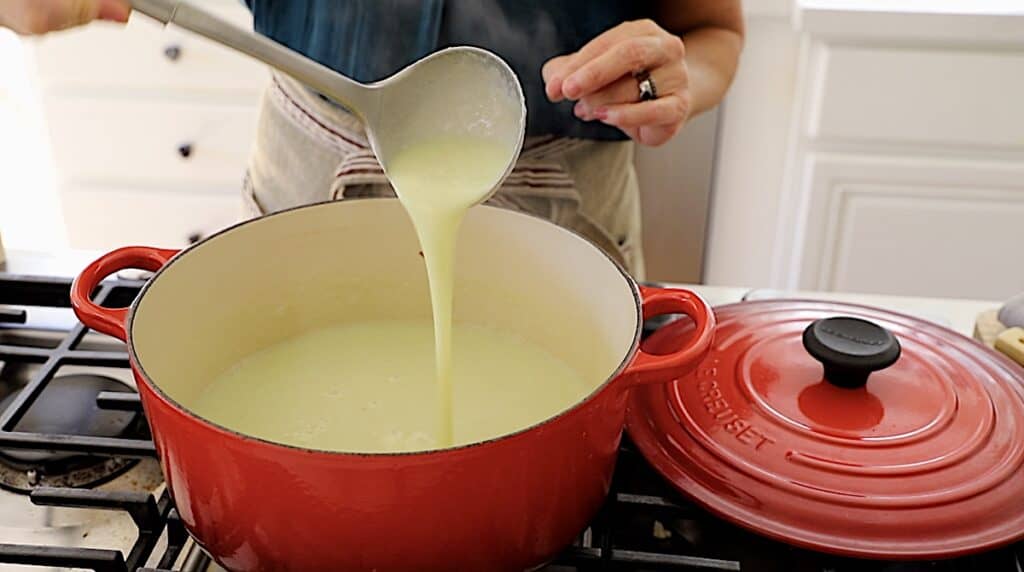 STEP#4: Taste for seasoning
At this stage, check the flavor, personally, I find the seasoning added to the vegetables while they saute is enough, but if you feel it needs a little salt and pepper, go ahead and add it. I also like to garnish this soup with fresh thyme but you could also add some freshly minced chives as well.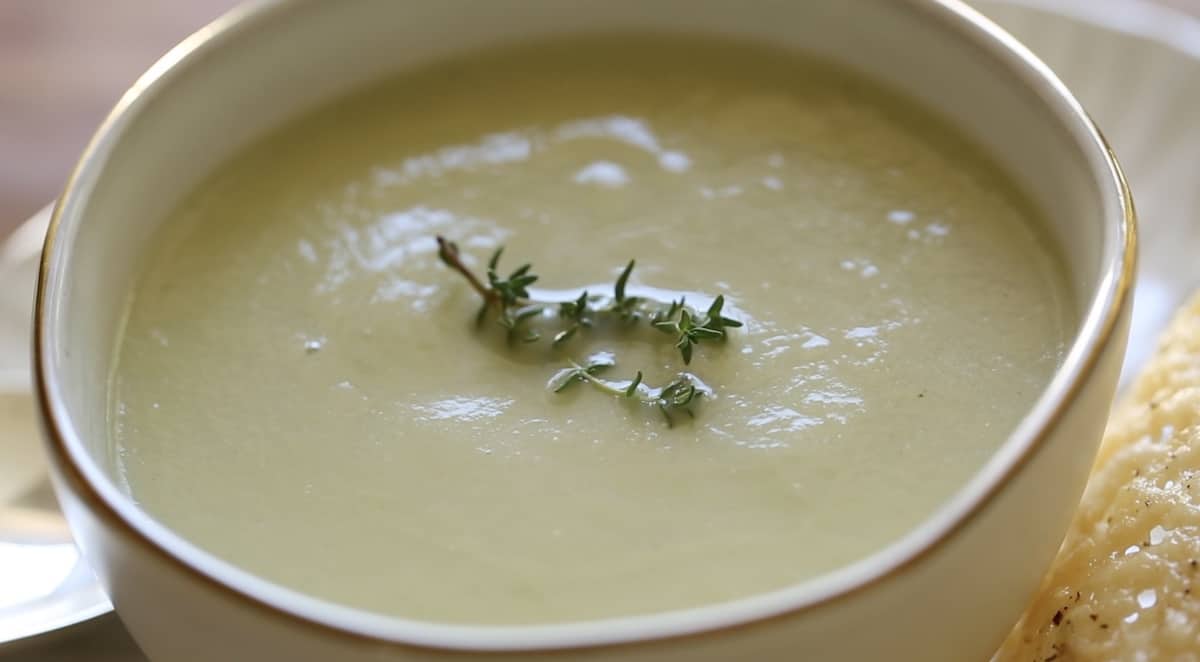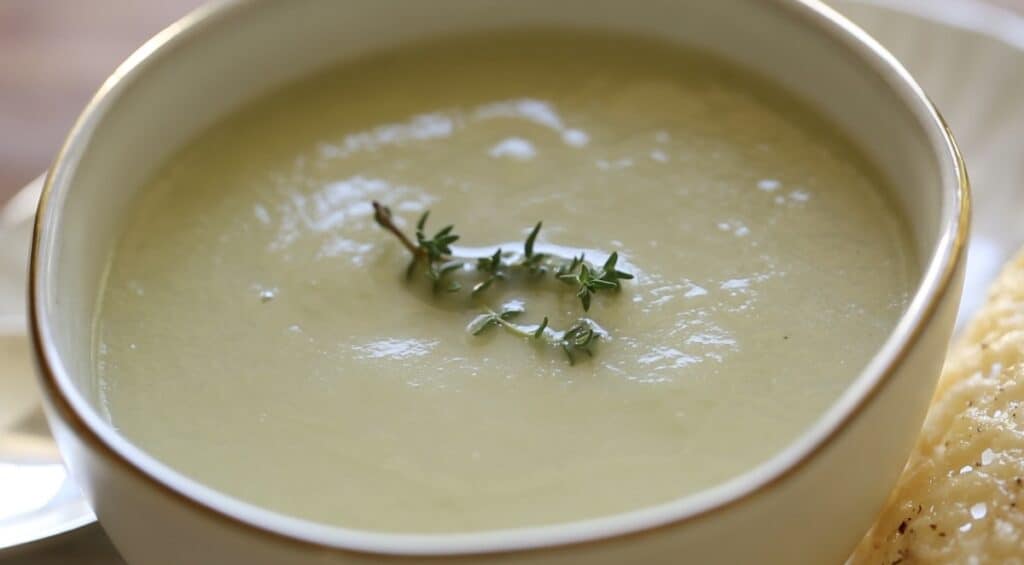 What to Serve with Cream of Celery Soup?
The freshness of this cream of celery soup is really complimented with the tanginess of parmesan cheese. Parmesan Tuiles with cracked pepper are really easy to make and provide such an easy "Wow-Factor" to whoever you serve them to! In addition to serving them with soup, they also pair beautifully with Ceasar Salad too.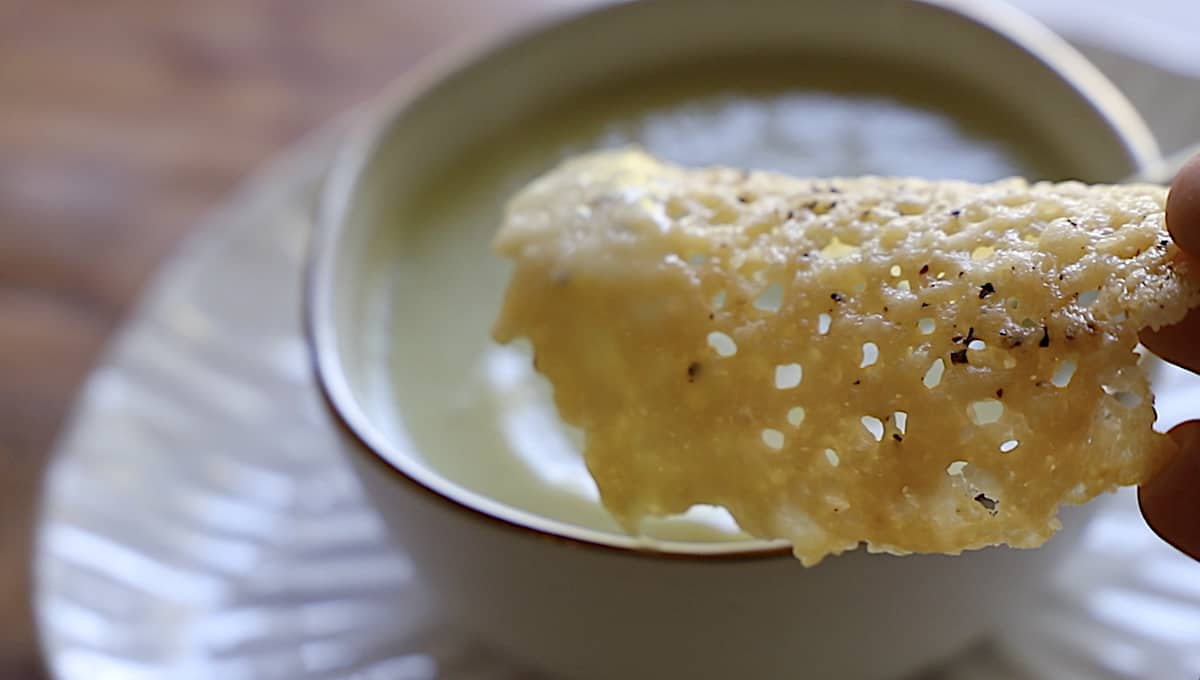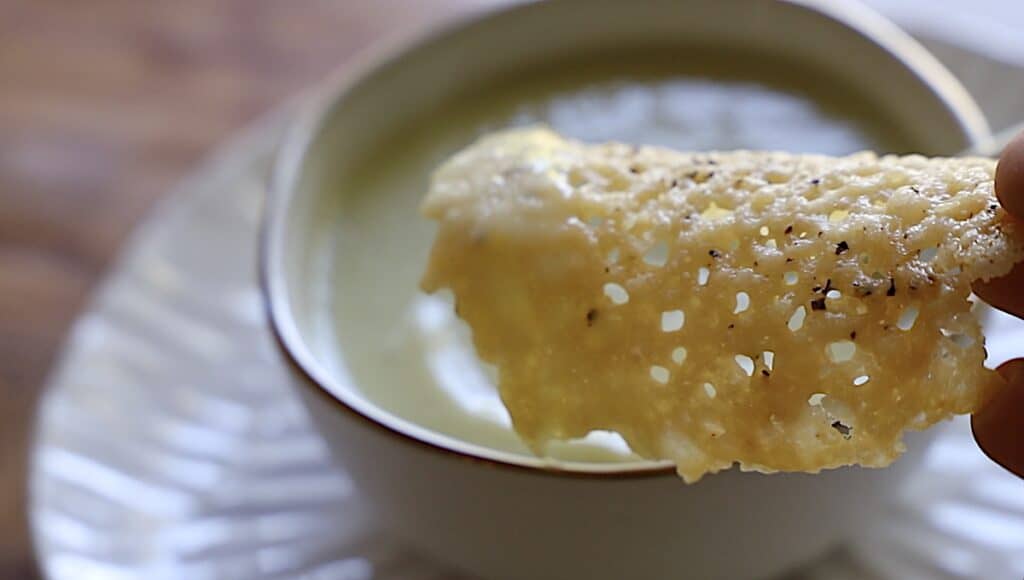 More Great Soup Recipes!
If You Enjoyed this Soup Recipe
Please Leave a Rating and a Review Below!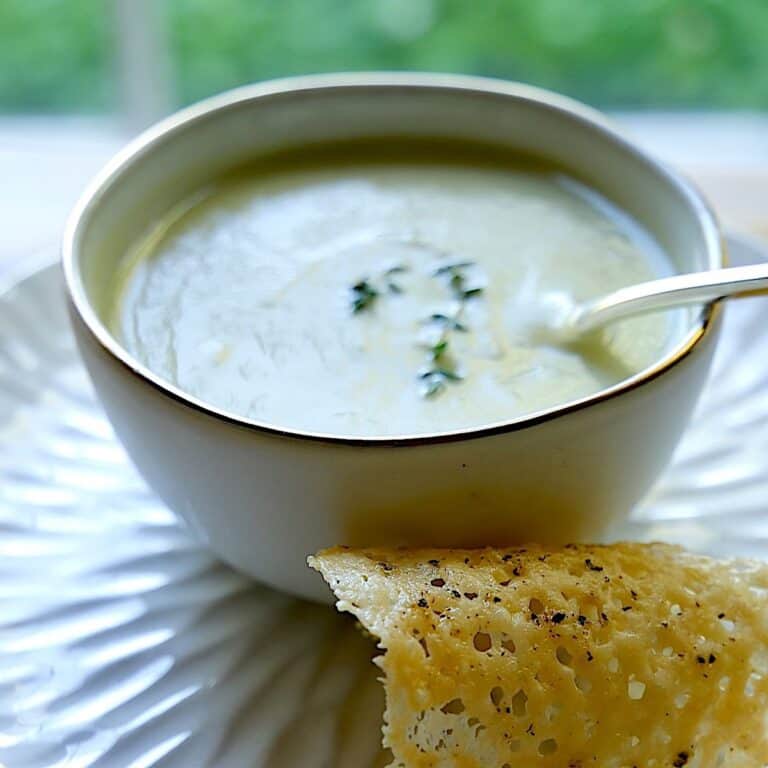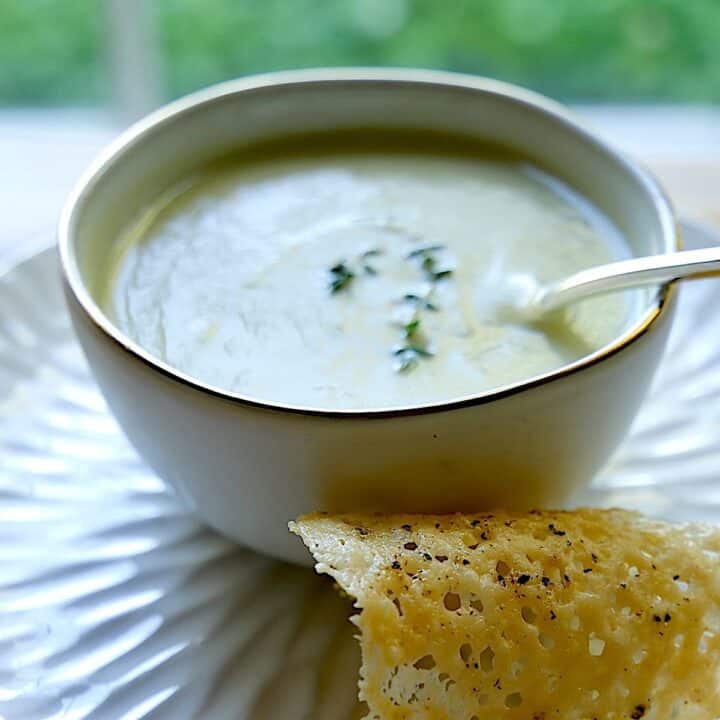 Cream of Celery Soup
A delicious Cream of Celery Soup recipe that is cream free! It gets its creaminess from a secret ingredient, cauliflower!
Ingredients
2 tablespoon (30ml) olive oil
1 cup (150g) white onion
½ cup (75g) leeks, white parts, and light green parts
2 cloves garlic
Salt and pepper to taste
3 cups(450g) celery
4 cups (950ml) chicken broth
1 cup (150g) cauliflower florets
Instructions
Heat the olive oil in a large stockpot. Add the onions, leeks, celery, and garlic, season to taste with salt and pepper, and cook the vegetables until fragrant.
Add the chicken broth and cauliflower, cover, and simmer for 6-10 minutes until vegetables are tender.
Transfer the soup to a blender and puree until smooth. Transfer back into a cleaned-out stockpot, heat to serving temperature, and check for seasoning. Personally, I find the salt and pepper in the first stage will do the trick, but if you feel it needs more go ahead and season again with salt and pepper.
Ladle into bowls and serve with the parmesan tuiles.
Notes
This soup also freezes beautifully. Allow it to cool completely, then portion it out into individual servings and freeze. Reheat in the microwave.
Recommended Products
As an Amazon Associate and member of other affiliate programs, I earn from qualifying purchases.
Nutrition Information:
Yield:

4
Serving Size:

1
Amount Per Serving:
Calories:

161
Total Fat:

10g
Saturated Fat:

1g
Trans Fat:

0g
Unsaturated Fat:

8g
Cholesterol:

7mg
Sodium:

418mg
Carbohydrates:

11g
Fiber:

0g
Sugar:

5g
Protein:

6g