Vegetarian Pot Pie With Roasted Root Vegetables
This Vegetarian Pot Pie is an easy vegetable pot pie that just hits the spot on a cold winter's day. It's a great vegetarian main course idea for any special occasion. It's filled with roasted root vegetables, flavored with Garam Masala spice, creamy coconut milk, and fresh sage.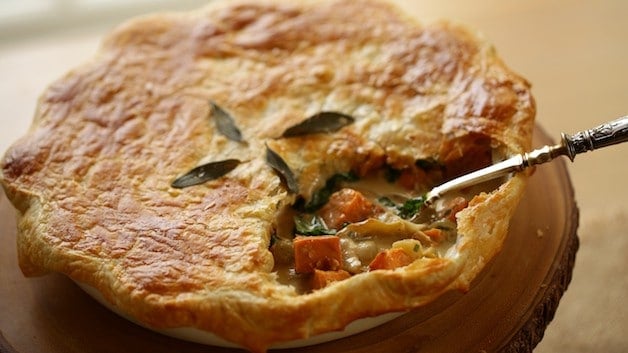 It's a wonderful combination of flavors that's pure comfort food and provides an unexpected twist on a cold-weather classic!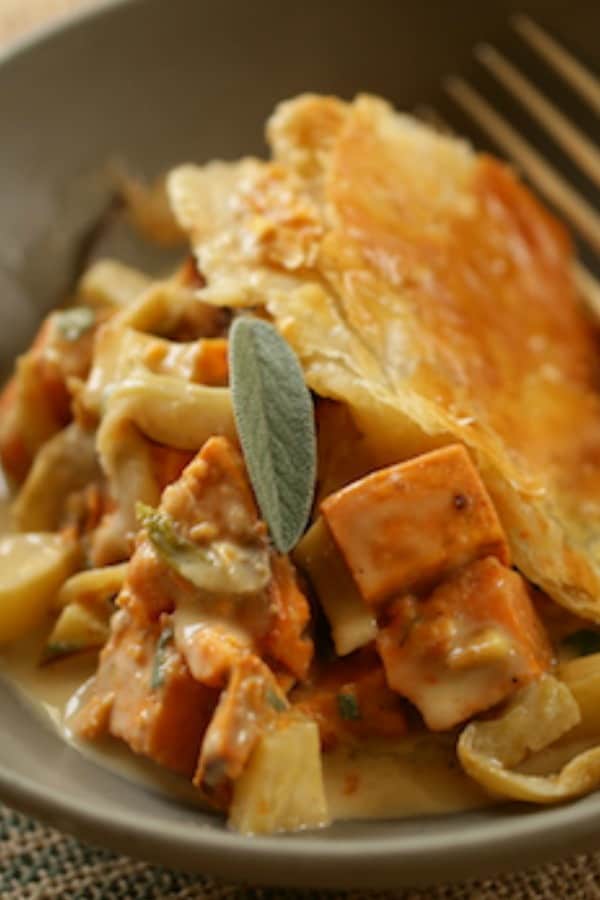 This Vegetarian Pot Pie would also make a fantastic main dish for Thanksgiving dinner because it utilizes so many of the season's best vegetables and flavors. The coconut milk and exotic spices make it feel extra fancy and worthy of an event like Thanksgiving.
Watch My Vegetarian Pot Pie Video Below!
Subscribe to My YouTube Channel and Never Miss a Recipe!
STEP#1: Prep the Root Vegetables
For this recipe, you'll use a combination of sweet potatoes, fennel, and parsnips. All these vegetables have a wonderful sweetness to them that is even more pronounced when roasted to bring out their sweetness.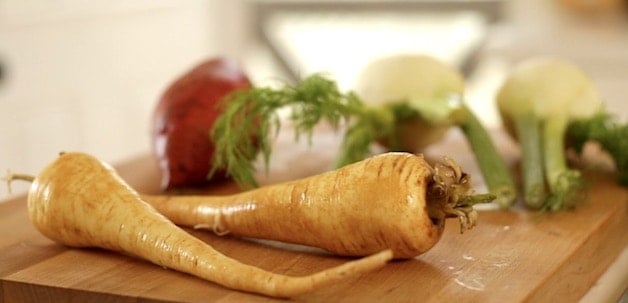 Cut the parsnips and sweet potatoes into bite-sized pieces. Cut the fennel into thin half-moons. If you can't find parsnips you could replace them with carrots.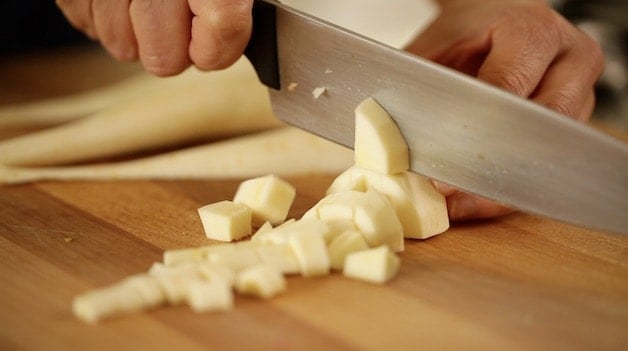 STEP#2: Toss with Olive Oil and Spice
Place your vegetables in a large bowl and toss with olive oil, salt, and garam masala spice blend. If you have never tried garam masala you are in for a treat! It's a wonderfully, warming spice that pairs so well with roasted root vegetables.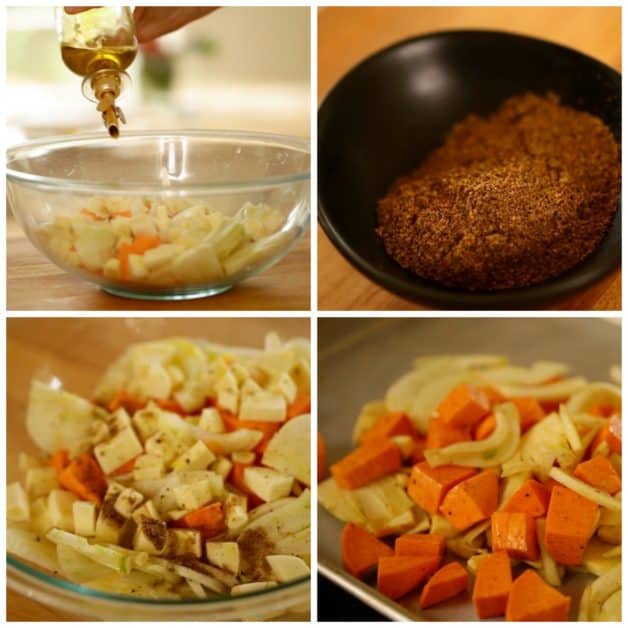 What's a Good Substitute for Garam Masala?
If you can't find garam masala you can mix together a spice blend that's pretty similar in effect. You'll mix 1 part cumin and ¼ part allspice.
For this recipe, I would recommend ½ teaspoon of cumin and ⅛ of a teaspoon of allspice.
STEP#3: Roast Vegetables
After roasting at 450F(225C) for 20 minutes, your vegetables should be soft and tender and slightly golden brown.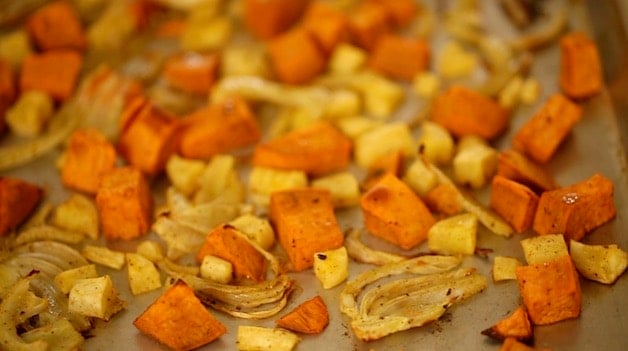 STEP#4: Combine Veggies and Coconut Milk
Caramelize the frozen pearl onions in olive oil in a dutch oven. I like to use pearl onions because you don't have to peel or chop them. They also feel extra fancy especially for a special occasion like Thanksgiving. But if you can't find them in your frozen foods section you can also opt for a regular white onion, chopped into bite-sized pieces.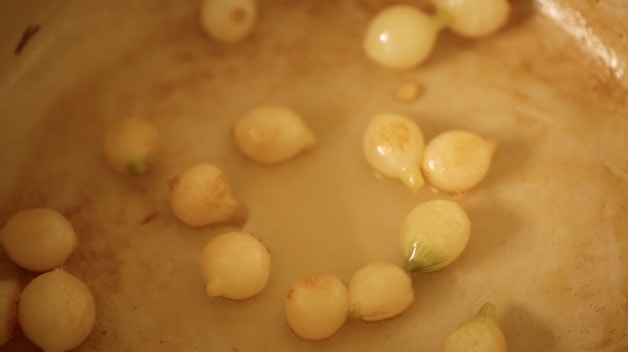 Then you'll add the full-fat coconut milk, as opposed to the lite coconut milk. I find it creates a better, creamier texture that won't create a pot pie that is too runny. And toss back in the roasted root vegetables.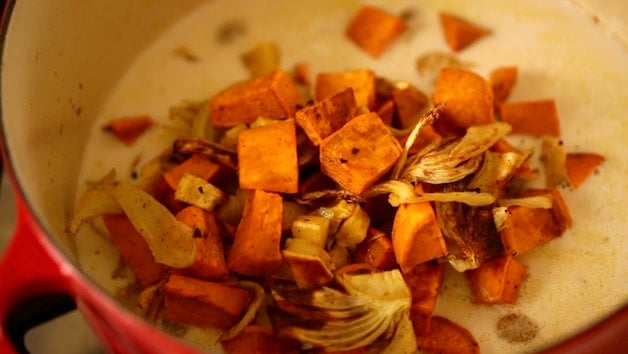 At this stage, I add some fresh kale for extra protein, texture, and color. Just be sure to remove the kale leaves from the stem, since it's pretty tough and hard to eat.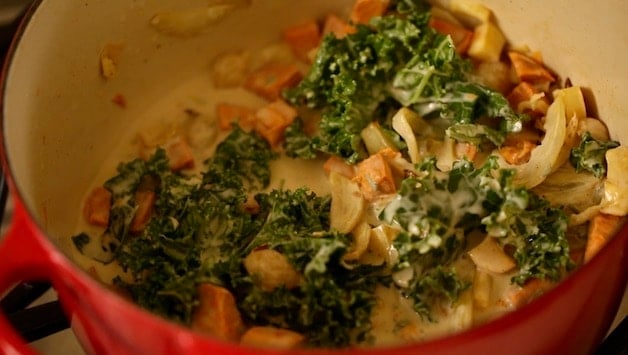 Tip: Do not overcook the kale or it will get too wilted once the pie is baked. Just combine it with the other ingredients, mixing well to make sure it's covered in the coconut milk and that's all you have to do.
STEP#5: Cover with Pastry and Bake
Transfer your mixture into your pie plate or baking dish and cover and seal the puff pastry.
But First, Allow the Mixture to Cool
Be sure your mixture has cooled down before adding the pastry. Otherwise, the pastry will melt and won't puff up. Don't worry the mixture will quickly reheat in the oven while the pastry heats. Especially since it's in a shallow pie dish, it will reheat quickly.
Make-Ahead Tip:
In fact, you could make the pot pie up until this point. Cover your pie dish and place in the fridge. Then all you would have to do is pop on the puff pastry and bake!
Can Vegans Eat Puff Pastry?
Yes as long as the puff pastry is made without butter. There are many Vegan brands of puff pastry that are worth seeking out. Just be sure the packaging is marked "vegan approved". I was surprised and delighted to see that The Pepperidge Farm brand of puff pastry is Vegan approved!
Or you can skip the puff pastry altogether and follow my recipe for Thai Red Curry which is a very similar dish with a lot of the same vegetables represented.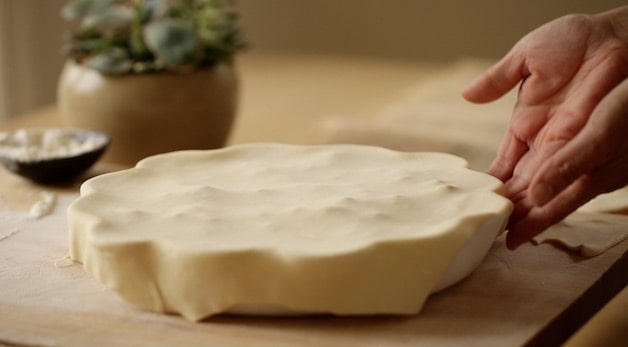 Once the dough is sealed, place your pie in the freezer for 10 minutes to harden the puff pastry. This will allow the pastry to puff up better!
Pre-heat your oven to 400F (200C). Your pie can stay in the freezer while your oven heats up.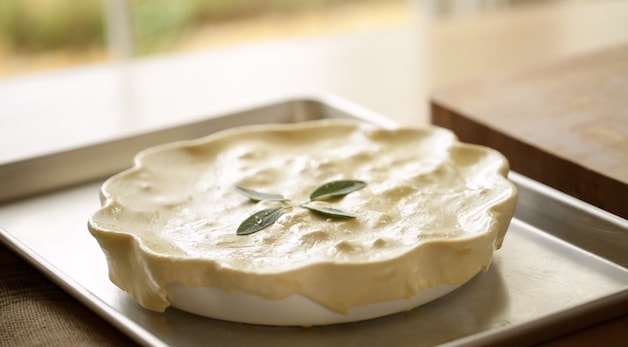 Remove the pie from the freezer and brush it with a beaten egg (if not making it Vegan, otherwise don't brush with anything), and then top with fresh sage leaves and a sprinkle of sea salt.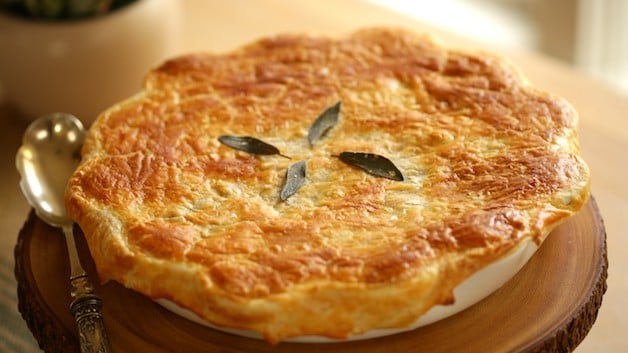 What to Serve with Vegetarian Pot Pie?
Since pot pie can be heavy due to the filling and puff pastry topping, I would serve both vegetable pot pie or chicken pot pie with a tossed salad with a simple vinaigrette. It's a nice refreshing compliment to the richness of the pot pie.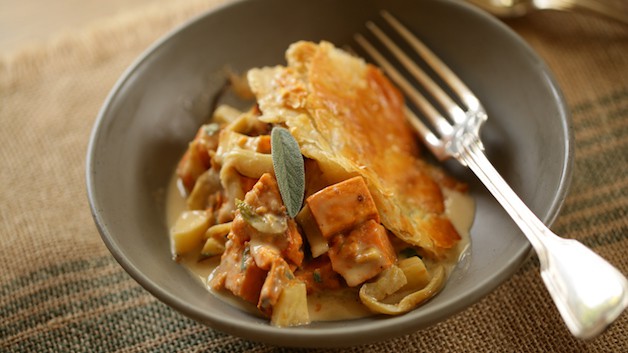 More Vegetarian/Vegan Recipes!
If You Enjoyed this Recipe
Please Leave a Rating and a Review Below!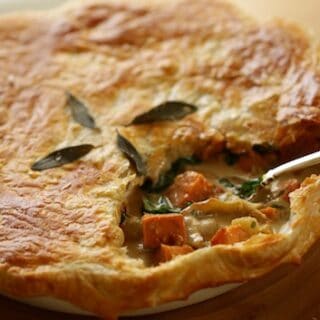 Vegetarian Pot Pie
Total Time:
1 hour
5 minutes
A wonderful Sunday Night Dinner when you are craving comfort food on a cold winter's night. Flavorful roasted root vegetables combine with warming garam masala spice, creamy coconut milk and flakey puff pastry.
Ingredients
2 ¾ cup (410g) sweet potatoes, peeled and cut into chunks
1 ½ cups (225g) fennel bulb, sliced into thin half moons
¾ cup (110) parsnips, cut into small chunks
2 tablespoon (30 ml) olive oil, separated
Salt and Pepper to Taste
½ teaspoon (2.5ml) Garam Masala spice blend
1 cup (150g) frozen pearl onions
1 15-ounce can (396ml) of "Full Fat" coconut milk (not light coconut milk)
1 ¼ cup (300ml) fresh kale, torn into bite-sized pieces
1 sheet puff pastry (Pepperidge Farm Puff Pastry is approved as a Vegan Product)
1 egg, beaten (OK to omit for vegan option)
1 teaspoon (5ml) fresh sage, chopped and 3-8 Fresh Sage leaves for garnish
Sea salt
Instructions
Preheat oven to 450F (225C).
Place the sweet potatoes, fennel, parsnips, 1 tbsp. of olive oil, salt and pepper, and garam masala in a large bowl. Toss to combine.
Transfer vegetables to a large rimmed-lined baking sheet. Roast for 20 minutes. At this stage, they will not be fully cooked, they will continue to soften in the oven when baked in the pot pie.
Heat remaining tablespoon of olive oil in a large Dutch oven. Add frozen pearl onions, cook until onions are golden brown and cooked through. Add coconut milk and simmer until warmed through and all coconut oil is melted.
Add in the roasted vegetables, kale and 1 teaspoon of chopped sage.
Preheat oven to 400F (200C).
Transfer vegetable mixture to a 9-inch (23cm) pie plate or baking dish. Top with a sheet of cold puff pastry. Seal the sides of pastry to the pie plate. Trim edges to avoid too much overhang. Pop in freezer for 15 minutes in order for pastry to become very cold.
Brush pastry with beaten egg, place safe leaves decoratively on pastry. Sprinkle sea salt in the center.
Bake at 400F (200c) for 20 minutes or until pastry is golden brown and puffed up. Serve immediately.
Notes
You can substitute Garam Masala spice for ½ teaspoon of cumin and ⅛ teaspoon of allspice
If you can't find parsnips carrots can be used instead
Be sure to look for "Full Fat" coconut milk (not light coconut milk) since you'll need the thickness in order for the pie interiors to not be too runny.
Make-Ahead Tip:
You could make the pot pie filling ahead of time and place it in the pie dish. Then, cover your pie dish and place it in the fridge. Then all you would have to do is pop on the puff pastry and bake! 
Recommended Products
As an Amazon Associate and member of other affiliate programs, I earn from qualifying purchases.
Nutrition Information:
Yield:

8
Serving Size:

1
Amount Per Serving:
Calories:

221
Total Fat:

17g
Saturated Fat:

11g
Trans Fat:

0g
Unsaturated Fat:

5g
Cholesterol:

23mg
Sodium:

141mg
Carbohydrates:

16g
Fiber:

1g
Sugar:

1g
Protein:

4g