Vegan Thai Red Curry Recipe
This Vegan Thai Red Curry is one of my favorite Vegetarian Recipes because you can make the whole thing ahead of time. All you have to do is reheat it. In fact, I think it's even better when made the day before because the flavors become even more pronounced.
It also makes for a wonderful vegan holiday meal too, and I often serve it as an option for Thanksgiving or Christmas dinner if I have vegan friends or family attending.
For a lighter, low-carb curry try my Shrimp Curry Recipe with Cauliflower Rice which is equally delicious and comes together in 15-minutes or less!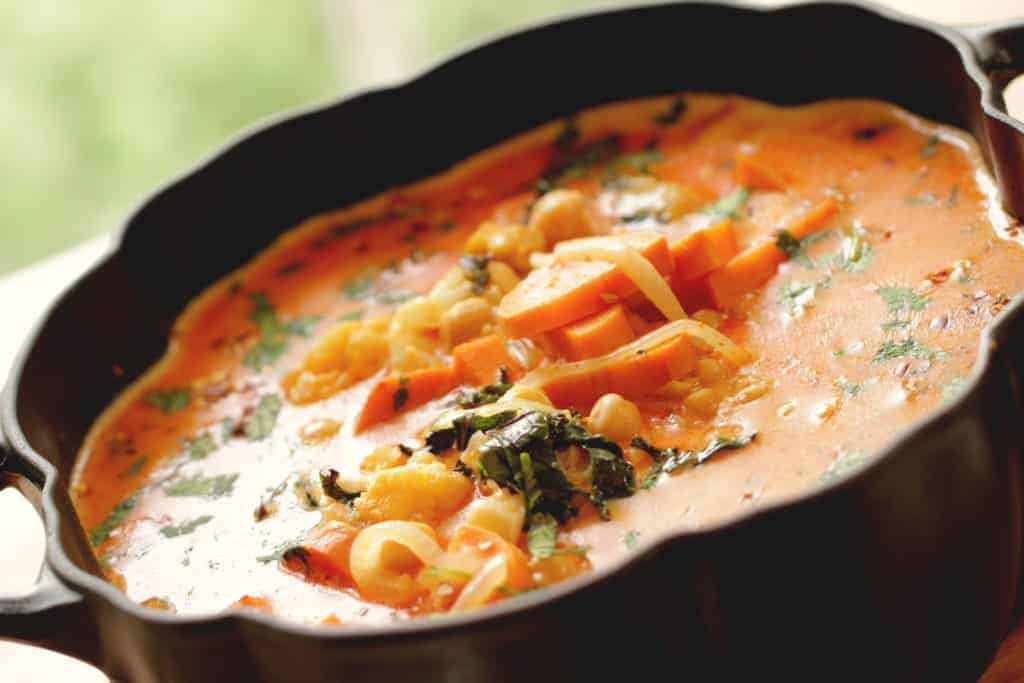 Why You'll Love This:
When it's cold outside and you want something comforting and warming, you can't beat a curry dish. The sweet potatoes, kale, and cauliflower also pack a nutritional punch!
It's also a quick dinner recipe for a weeknight, thanks to the store-bought, jarred curry paste. Of course, you could make your own Thai Red Curry paste, but I find you can't beat the convenience of the jarred paste. Just look for a quality brand, and refrigerate it after opening.
This recipe is very similar to my Vegetarian Pot Pie with Root Vegetables Recipe, but I think it's even easier since there's no pastry to fuss over!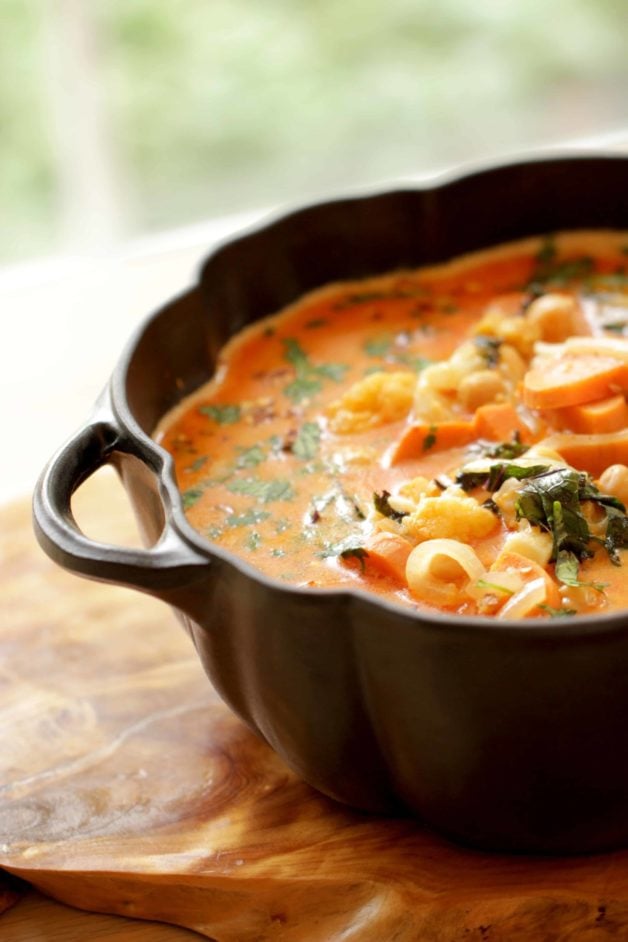 Watch a Video Demo of this Recipe Below!
Subscribe to My YouTube Channel and Never Miss a Recipe!
Saute the Onions, Garlic, and Ginger
You'll first begin by sauteing the aromatics this will help deepen the flavor of this dish, by giving the onions, ginger, and garlic a head start. It also sweetens up the onions.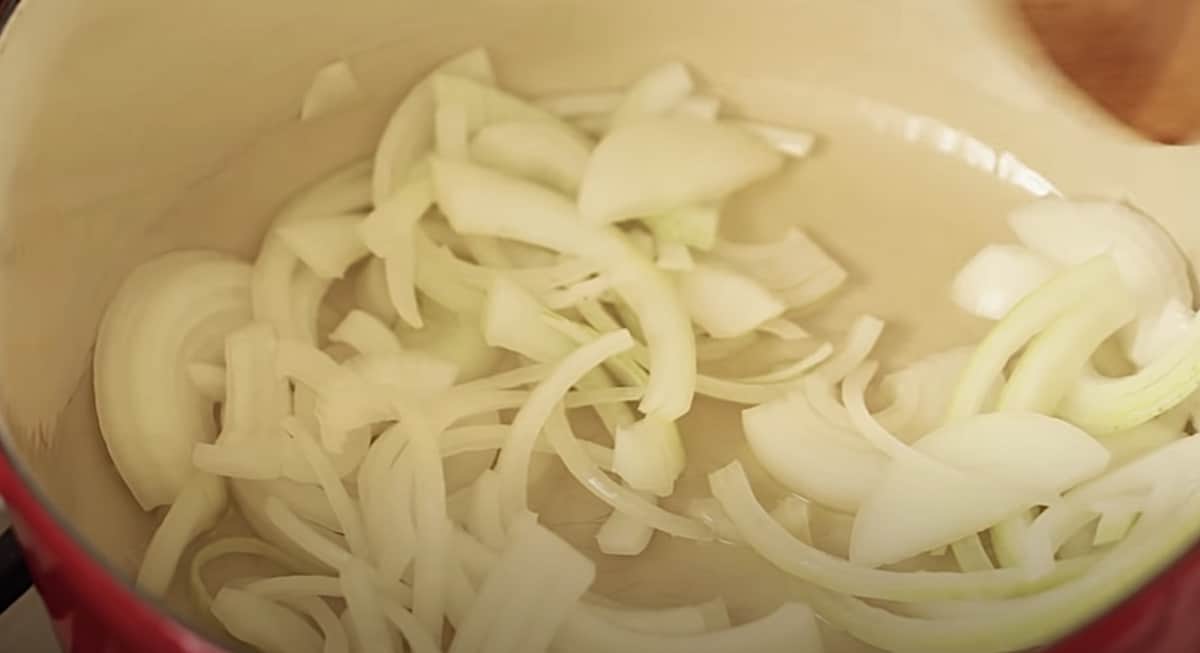 Add the Red Curry Paste And Coconut Milk
I begin with 4 tablespoons of the red curry paste, but keep the jar standing by in case you want to add more heat or prefer a bolder flavor.
You will be able to add more after you add the coconut milk and adjust the seasonings.
Stir the curry paste in with the onions until combined and then you'll add the coconut milk.

What's The Difference Between All The Coconut Milk Choices?
When you get to the market you'll likely see 3 types of coconut milk. This can be completely confusing and leave you wondering what's the difference?! Here's the cheat sheet.
Classic or "full-fat" coconut milk. Thick consistency. Great for curries or my Coconut Cream Pie!
Coconut Cream. Very thick coconut milk. Great for making whipped coconut cream or to thicken light coconut milk
Light Coconut Milk. Great for lighter soups, chia puddings, or smoothies.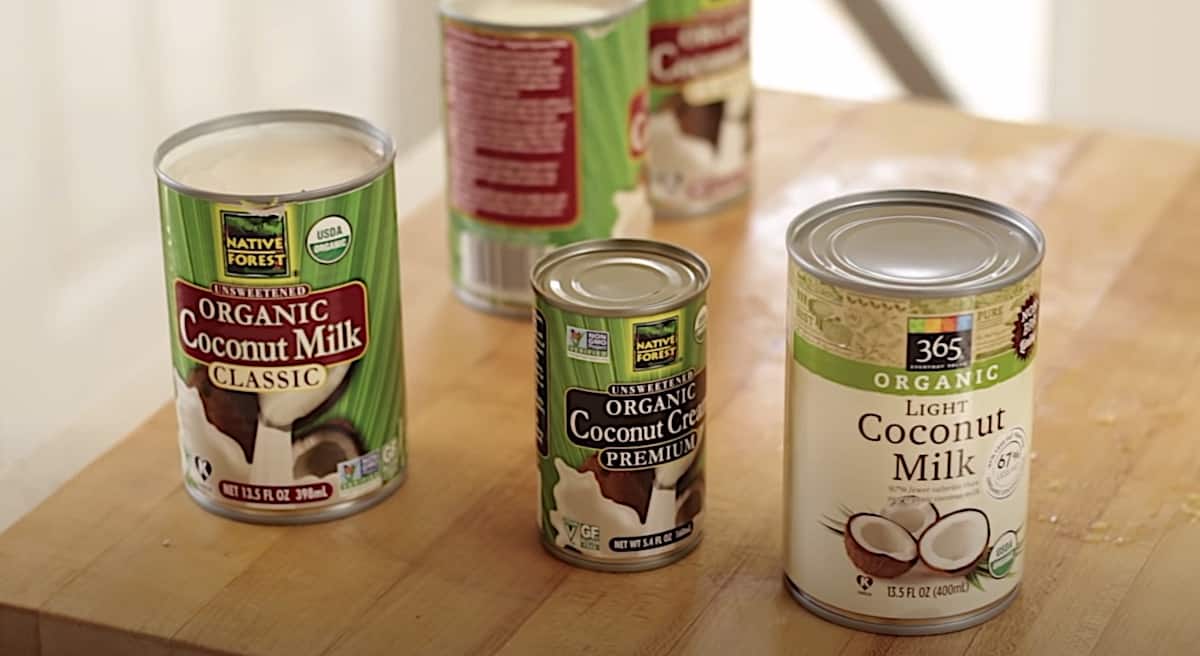 The Best Coconut Milk For Curries
For this recipe, I prefer the "Classic, Full-Fat" Coconut Milk.
The thickness is best for a hearty dish like this curry.
If you can't find it you can always use Light Coconut Milk and add a can of coconut cream to get the same consistency.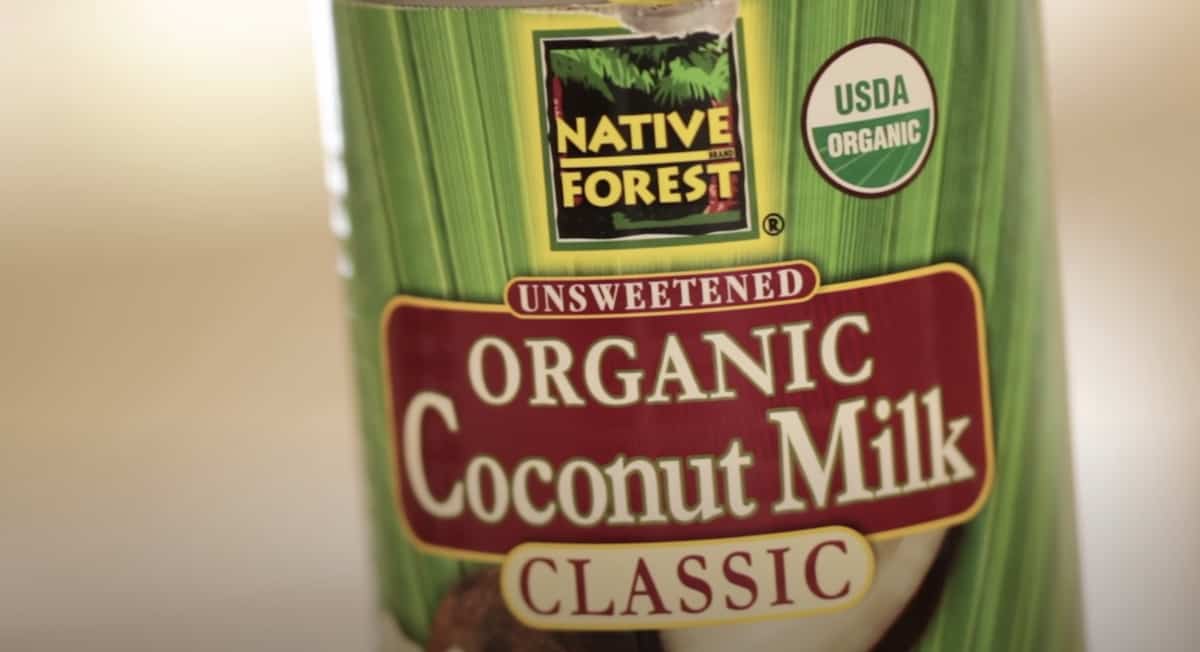 Add the Vegetables
I think vegetables that have a combination of starchiness and texture go best with Thai red curry.
For this curry, I add a combination of sweet potatoes and kale, for a fall twist.
Then add a few garbanzo beans and cauliflower for some additional protein and texture.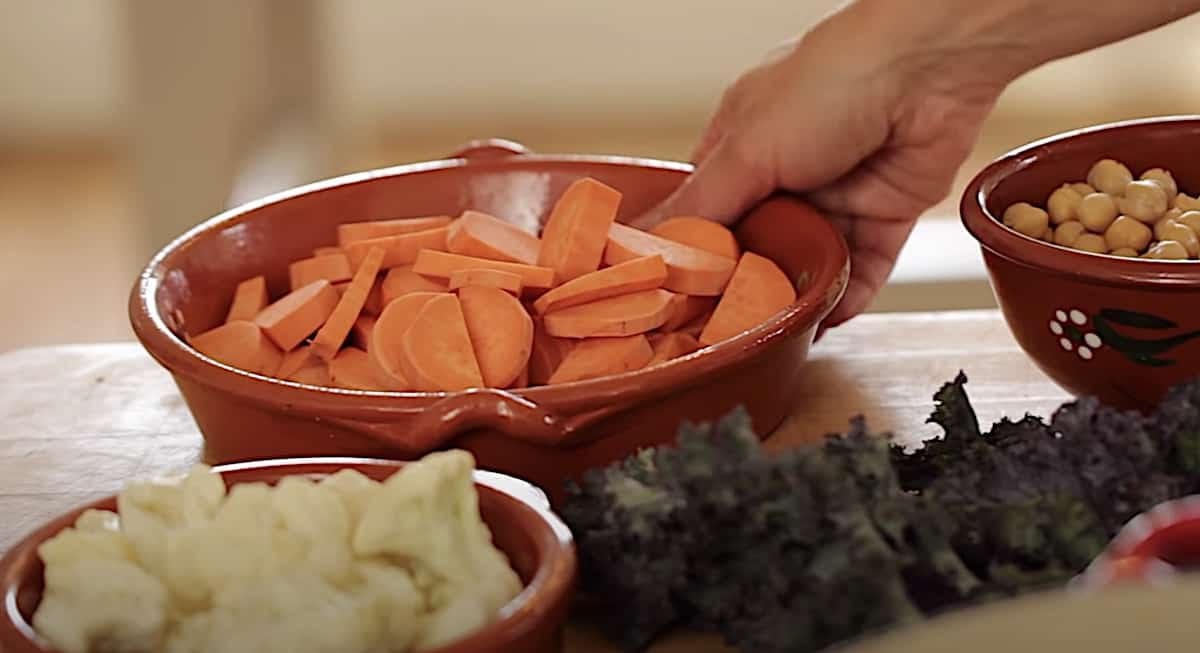 Cook According to Density
The vegetables in this recipe cook at different rates. It's best to not add them all at once, but add them in stages.
Add the sweet potatoes first since they'll take the most time to become tender, then the cauliflower, garbanzo beans, and then the kale.
Use Red Kale for a Pretty Color
If you can find the Red Kale it will add wonderful color to your curry, but really any type of kale will be tasty.
Just be sure to remove the stem and only use the leaves, since the stems can be tough to eat.
You could also use fresh spinach instead of kale if you prefer.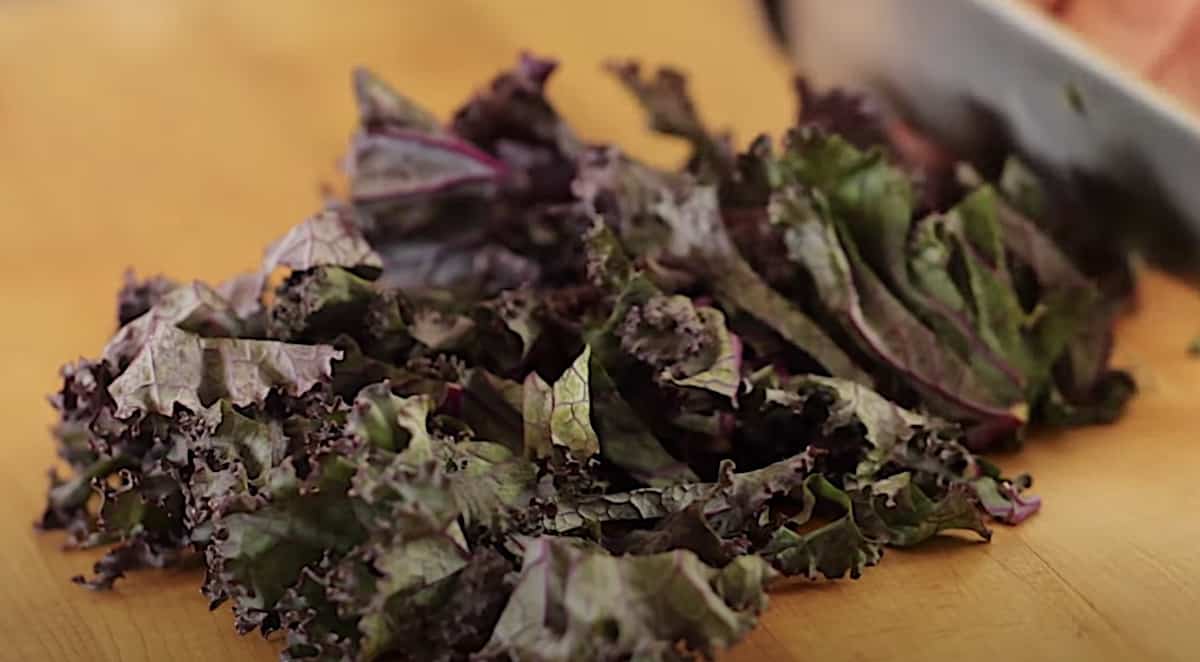 Garnish and Serve!
Once the vegetables are cooked through, the final step is to garnish with red pepper flakes and fresh cilantro. If you need to reduce the heat, you can add a squeeze of lime!

What to Serve with Red Thai Curry?
This dish pairs beautifully with brown rice or quinoa or cauliflower rice is a wonderful option too!
If you go the route of cauliflower rice, you could omit the whole cauliflower in the curry itself and add some broccoli florets instead.

Make-Ahead Tips:
The whole thing could be made the day before and just reheated the day you plan to serve it. How's that for easy!
Just add the kale on the day of serving to prevent it from getting too wilted.
More Warming Recipes!
Please let me know if you make this recipe
by leaving a rating and review below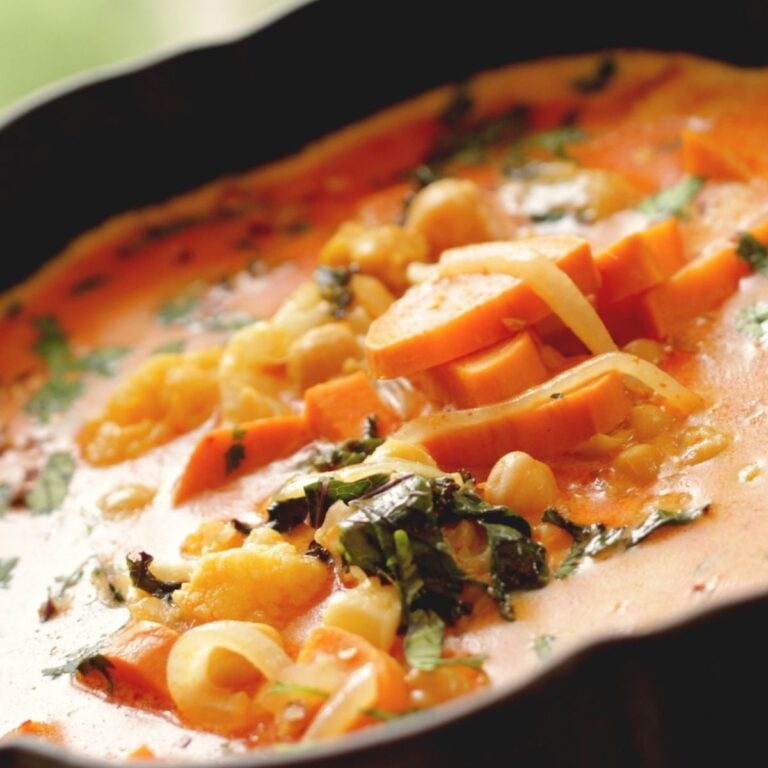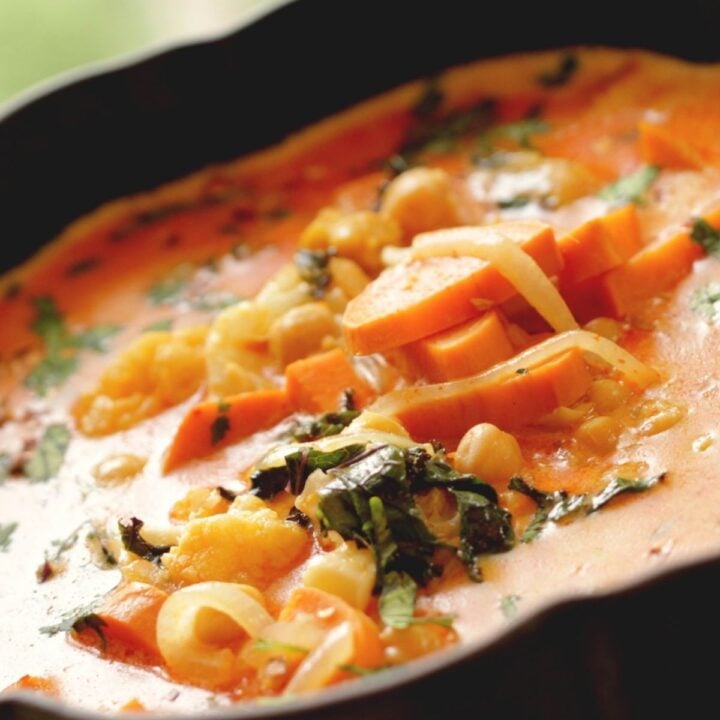 Vegan Thai Red Curry
Vegan Thai Red Curry Recipe is a great vegetarian and vegan Thanksgiving Dinner Idea. You can also make the whole thing ahead of time. Includes recipe video too.
Ingredients
1 tablespoon (15 ml) unflavored cooking oil
2 cups (475 ml) white onion, sliced into half moons
1 garlic clove, minced
2 teaspoon (10 ml) grated ginger
4 tablespoon (60 ml) red curry paste
3 (15-oz) cans full fat coconut milk (3 (398ml) cans)
2 teaspoon (10 ml) brown sugar
1 teaspoon salt (5 ml)
2 cups (475 ml) sweet potatoes cut into bite-sized half moons or chunks
1 cup (240 ml) cauliflower florets
1 (15-0z) can garbanzo beans, drained and rinsed (1- 425g can)
1 cup kale (240 ml)
Garnish:
Red pepper flakes
Fresh cilantro, chopped
Instructions
Heat oil in a large stock pot. Cook onions until fragrant, then add garlic and ginger. Cook for 1 minute until fragrant then add curry paste, cook stirring paste with the vegetables for 1 minute.
Whisk in coconut milk. The full fat variety will have the cream risen to the top, no worries it will melt and combined once heated and stirred.
Add the brown sugar and salt. Then add the sweet potatoes. Allow to cook in the curry for 5-8 mins until tender. Then add the cauliflower, garbanzo beans and kale. Cook until heated through and tender about 5 mins more.
Transfer to a large serving tureen. Garnish with red pepper flakes and fresh cilantro.
Serve along side of brown rice. Enjoy!
Nutrition Information:
Yield:

6
Serving Size:

1
Amount Per Serving:
Calories:

206
Total Fat:

8g
Saturated Fat:

4g
Trans Fat:

0g
Unsaturated Fat:

3g
Cholesterol:

0mg
Sodium:

869mg
Carbohydrates:

30g
Fiber:

6g
Sugar:

11g
Protein:

6g