If you need some more quick and easy weeknight dinners then you'll love this 15-minute Shrimp Curry with Cauliflower Rice. Not only does it come together in 15-minutes, but it provides serious comfort food appeal without all the carbs!
For a heavier curry with richer flavors try my Vegan Thai Red Curry, another delicious weeknight meal!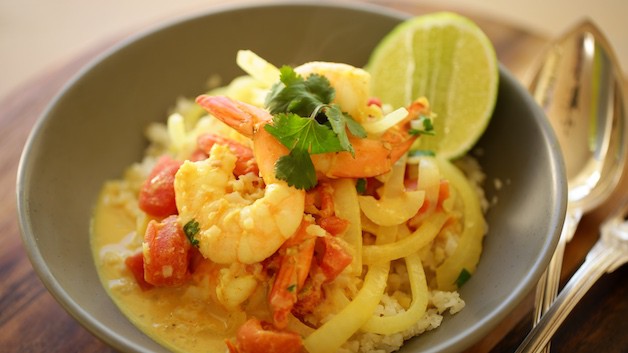 During the week I rely on 15-minute meals to feed my family and if you are a fan of my 15-minute Chicken Dijon Recipe this will become another family favorite in the weekly rotation!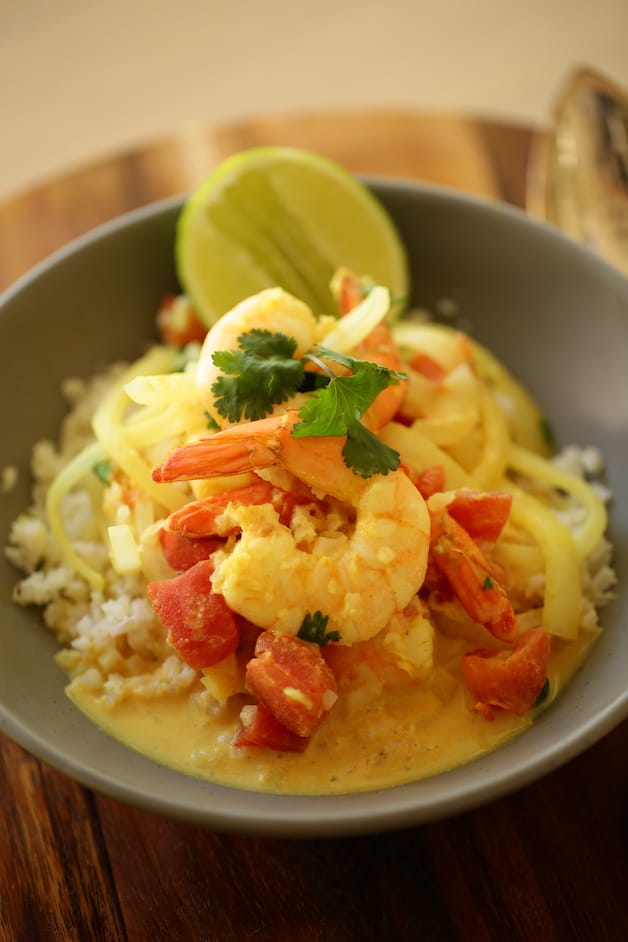 Watch My Video Demo On This Recipe Below!
The secret to making this dish low-carb is cauliflower rice. It seems like cauliflower rice is everywhere! But what exactly IS cauliflower rice?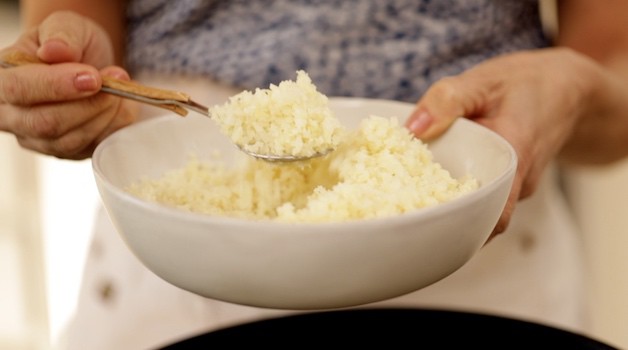 What Is Cauliflower Rice Anyway?
Cauliflower rice is simply raw cauliflower that has been grated to resemble grains of rice. No seriously, it really does look like rice! But with way fewer carbs!
Cauliflower Rice vs. Traditional Rice: How the Carbs Stack Up?
1 cup of traditional rice: 45 grams of carbohydrates and 205 calories
1 cup of cauliflower rice: ONLY 5 grams of carbohydrates and ONLY 25 calories!
See what I'm saying! So where does one buy Cauliflower rice? Well, I'm a fan of Trader Joe's frozen cauliflower rice. It cooks up so easily and quickly (in just 3-4 minutes!) and I think it's one of the fluffiest. It's the fluffy texture that really sells the "rice" part.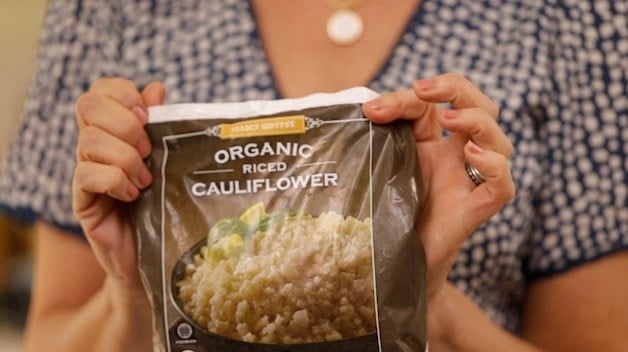 How to Make Cauliflower Rice?
You can also "make your own" cauliflower rice. Remember it's just grated cauliflower.
You can grate it against a box grater or throw it in the food processor and pulse it until the "rice grains" form.
But truth be told, I found it a bit of a messy process, cauliflower is pretty crumbly and who needs one more gadget to clean? So I just leave the grating to TJs.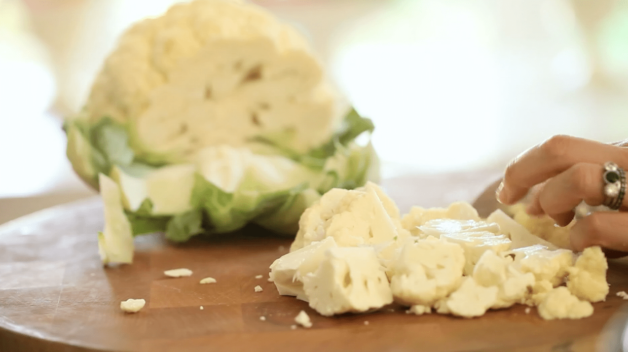 How To Cook Cauliflower Rice?
Cooking cauliflower rice is really more like steaming it. This is also why I love the frozen variety because of the ice crystals around the cauliflower which help in the steaming process!
I've found the raw, freshly grated cauliflower rice can burn quickly so that's another benefit to using frozen cauliflower rice.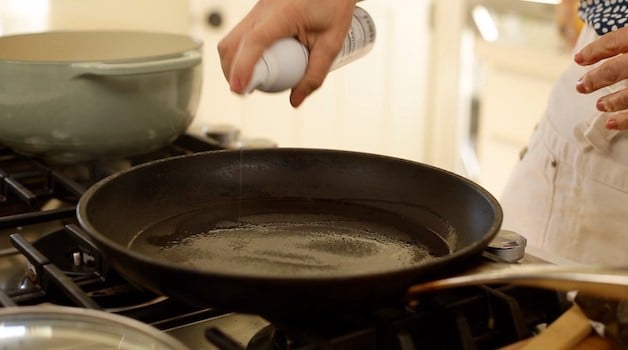 Use The Right Pan
When steaming the rice, it's best if you use a non-stick skillet with a lid.
Just spray a little coconut oil in the bottom, pour in the cauliflower rice, then place the lid on top and steam for 3-4 minutes, stirring occasionally.
Then you can turn off the flame but leave the lid on. This will keep it warm while you prep the shrimp curry.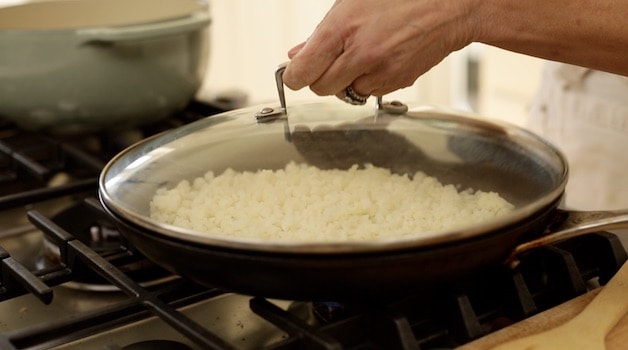 How To Make the Shrimp Curry
The most time-consuming part of this shrimp curry recipe is slicing the onion. I find onions are easiest to peel when they are cut in half. Then you'll be all set to slice them into half-moons.
The half-moons cook quicker when they are thinner so that's another reason why I prep them this way, especially for a 15-minute meal!
What gives this meal its fantastic flavor is the yellow curry powder. I like to add 2 teaspoon because I think it's more flavorful, but if you're not really a "spice person" maybe start with 1 teaspoon and taste it after the coconut milk is added.
What is Curry Powder?
Curry powder is essentially a spice blend that has a bunch of different spices in it such as turmeric, coriander, cumin, and a bit of cayenne pepper and black pepper, so it can be spicy to some folks.
Personally, I don't think it's that spicy and buying a spice blend saves you money since you won't have to buy each individual spice.
It's also really great when used in my Curried Veggies with Quinoa recipe too. So if you have to go out and buy it you can use it again for that recipe. It's another quick and easy weeknight meal!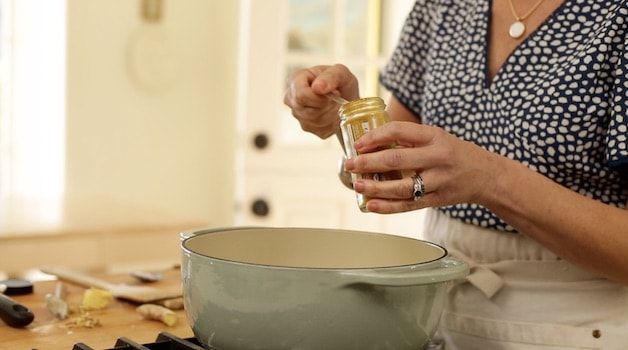 Coconut Milk vs Lite Coconut Milk
I use lite coconut milk for this recipe to keep it on the lighter side, but you could also use the full-fat coconut milk for a richer and thicker shrimp curry recipe.
However, I was shocked to see how many more calories are in the full-fat coconut milk vs. the lite coconut milk (150 calories vs. 70 calories)
I reserve the full-fat coconut milk for comfort foods like my Vegetarian Pot Pie with Root Vegetables.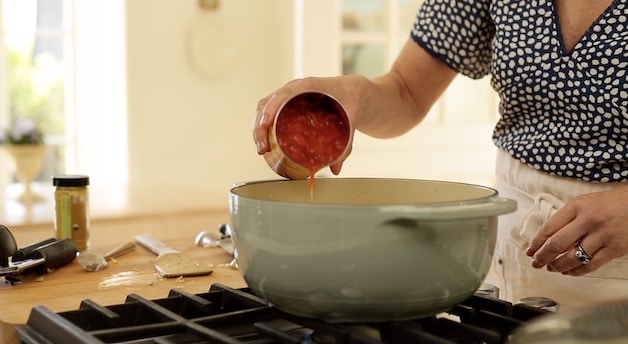 Why It Helps To Keep The Tails on The Shrimp
Next, you'll add a can of diced tomatoes and the raw shrimp.
I keep the tails on the shrimp because it keeps the shrimp moist and succulent and prevents them from drying out.
I also think they look prettier that way in the bowl.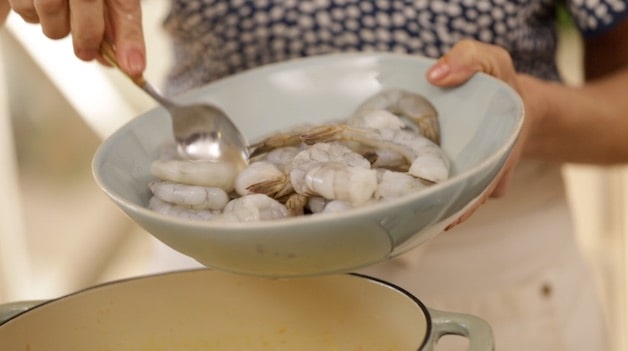 Getting the Most Juice From Your Lime
Once the shrimp are cooked through and pink, add the juice of 1 lime.
To get the most juice from your lime rub it on your board first or you can also pop it in the microwave for 5-10 seconds too!
The lime juice is really a matter of personal preference. I would start with half a lime, taste it and if you want to add more then squeeze in the other half.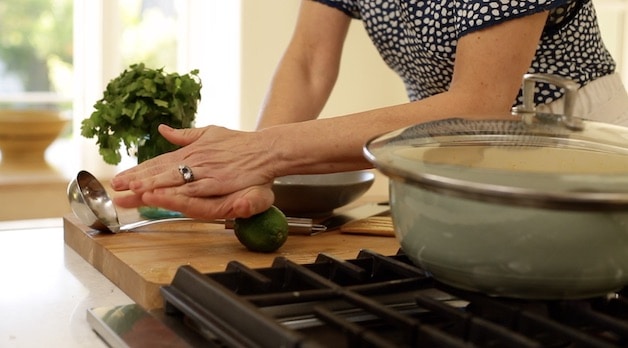 If you do go with just half a lime, you can serve lime wedges on the side of the curry in case your guests want to add a bit more to their bowls. Garnish with some fresh cilantro and serve with cauliflower rice!
More Quick and Easy Dinners!
If You Enjoyed This Recipe
Please Leave a Rating and a Review Below!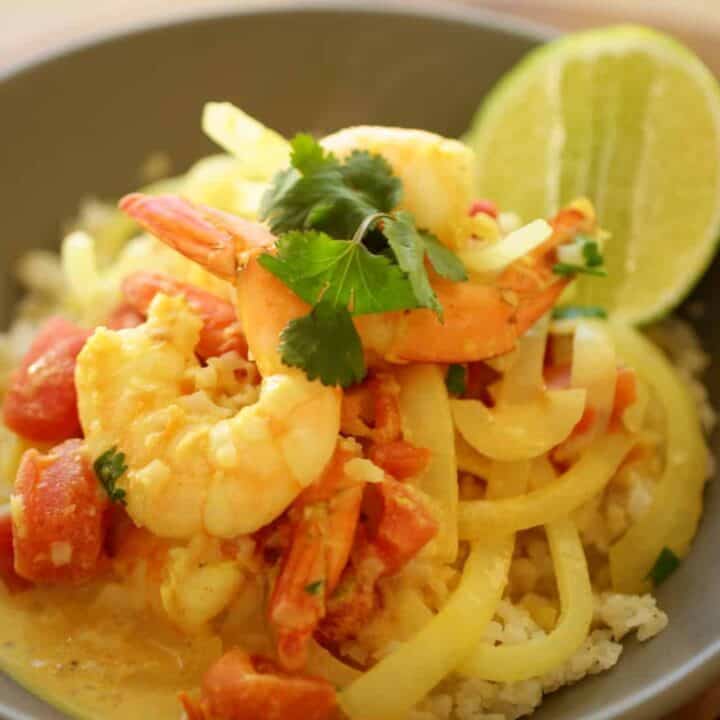 15-Minute Shrimp Curry with Cauliflower Rice
I love this Shrimp Curry Recipe with Cauliflower Rice anytime I'm looking for a quick and easy weeknight meal that's low in carbs!
Ingredients
FOR SHRIMP CURRY:
1 tablespoon (15 ml) coconut oil
1 yellow onion, sliced into half-moons
1 clove of garlic, minced
2 teaspoon (10ml) fresh ginger, grated
2 teaspoon (10ml) curry powder
2 (15-oz) cans lite coconut milk (806 ml total)
1 (15-oz) can diced tomatoes with juice (425g)
¼ teaspoon (1.25ml) salt
1lb (450g) frozen shrimp, tail on
2 tablespoon (30ml) cilantro
juice of a lime
FOR CAULIFLOWER RICE:
1 teaspoon (5ml) Coconut Oil
1 (12-oz) bag frozen cauliflower rice
lime zest
salt/pepper to taste
GARNISH:
Wedge of lime
Freshly chopped cilantro
Instructions
In a large non-stick skillet, add 1 teaspoon of coconut oil, spread to coat. Add frozen cauliflower rice. Shake pan to form a single layer. Place lid on the skillet and "steam for 3-4 minutes".

Meanwhile, In a large pot melt 1 tablespoon coconut oil. Then add onions, garlic, and ginger. Saute for a few minutes, once fragrant add the curry powder. Continue to cook for 2-3 minutes more.

Then add the coconut milk, diced tomatoes, and salt. Then add shrimp. Simmer until shrimp are cooked through and pink.

Add the juice of 1 lime, and cilantro.

Then season cauliflower rice with lime zest, salt, and pepper. Place "rice" in a shallow bowl, spoon curry on top and garnish with more cilantro.

Enjoy!!

Nutrition Information:
Yield:

4
Serving Size:

1
Amount Per Serving:
Calories:

205
Total Fat:

12g
Saturated Fat:

4g
Trans Fat:

0g
Unsaturated Fat:

7g
Cholesterol:

5mg
Sodium:

296mg
Carbohydrates:

23g
Fiber:

6g
Sugar:

13g
Protein:

5g