Curried Roasted Vegetables with Quinoa
Curried Roasted Vegetables with Quinoa is one of my favorite Vegetarian recipes! The curried vegetables are roasted at a high temperature to bring out their best flavor.
And you'll find they are the perfect complement to the bed of quinoa below which is made even more flavorful by the addition of raisins, almonds, and fresh mint.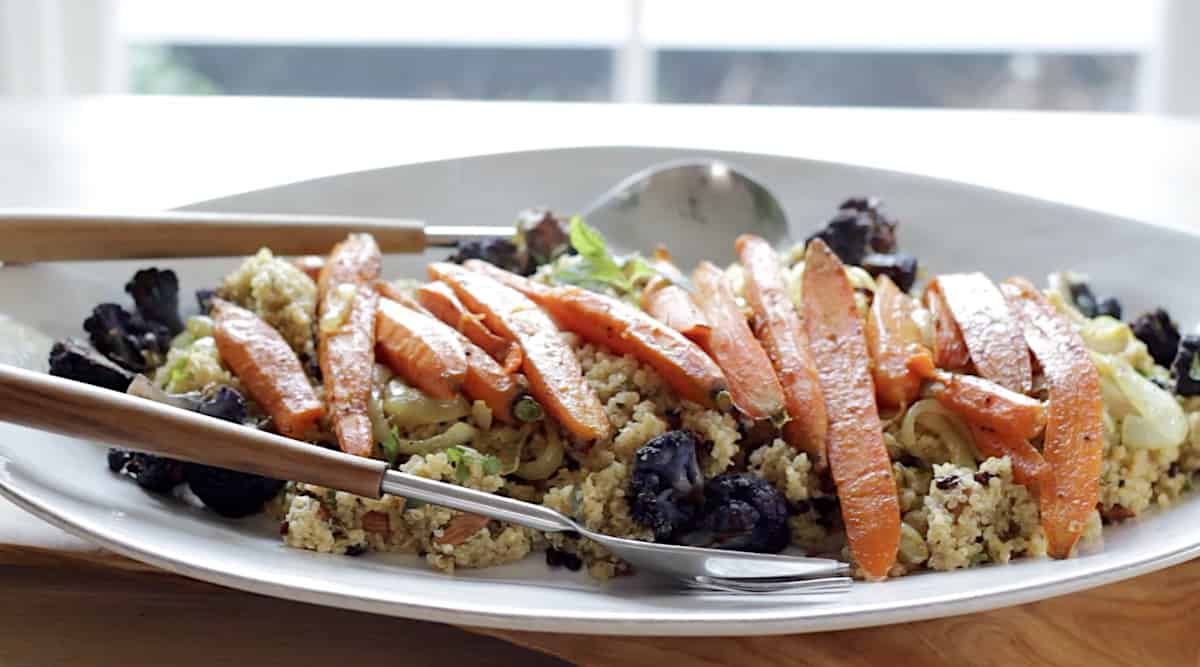 Why You'll Love This Recipe
This recipe can be served hot, at room temperature, or chilled!
It makes for a wonderful lunch to take to work or school or an easy dinner idea!
It's also a great easy dish to serve at holidays for any Vegan and Vegetarian guests you may have joining.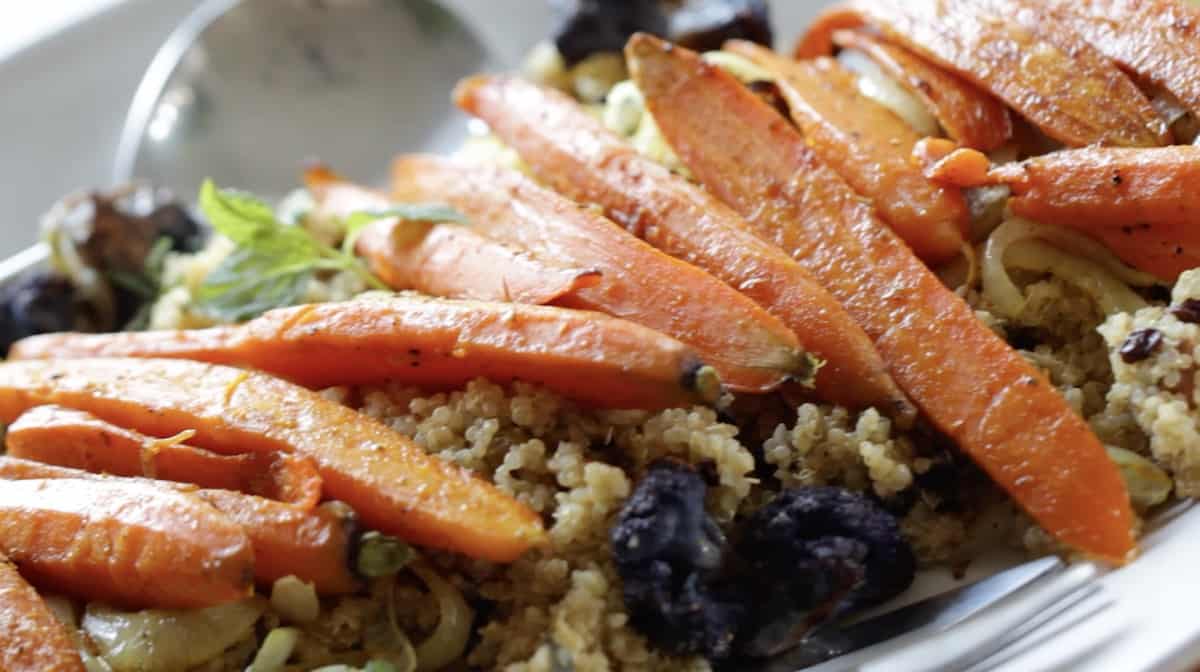 Subscribe for weekly recipes
and new videos!
Related Recipes:
Watch My Video Demo of This Recipe Below
Step#1: Prepare the Curried Vegetables
When serving this quinoa salad as the main entree, I like to keep the carrots whole to create a heartier-looking portion.
I slice them in half so that they caramelize better and roast at the same rate as the other vegetables.
If you can find them, buy the smaller carrots that are sold as a bunch with their tops intact as opposed to the larger carrots in a bag. The smaller carrots tend to work a bit better for this.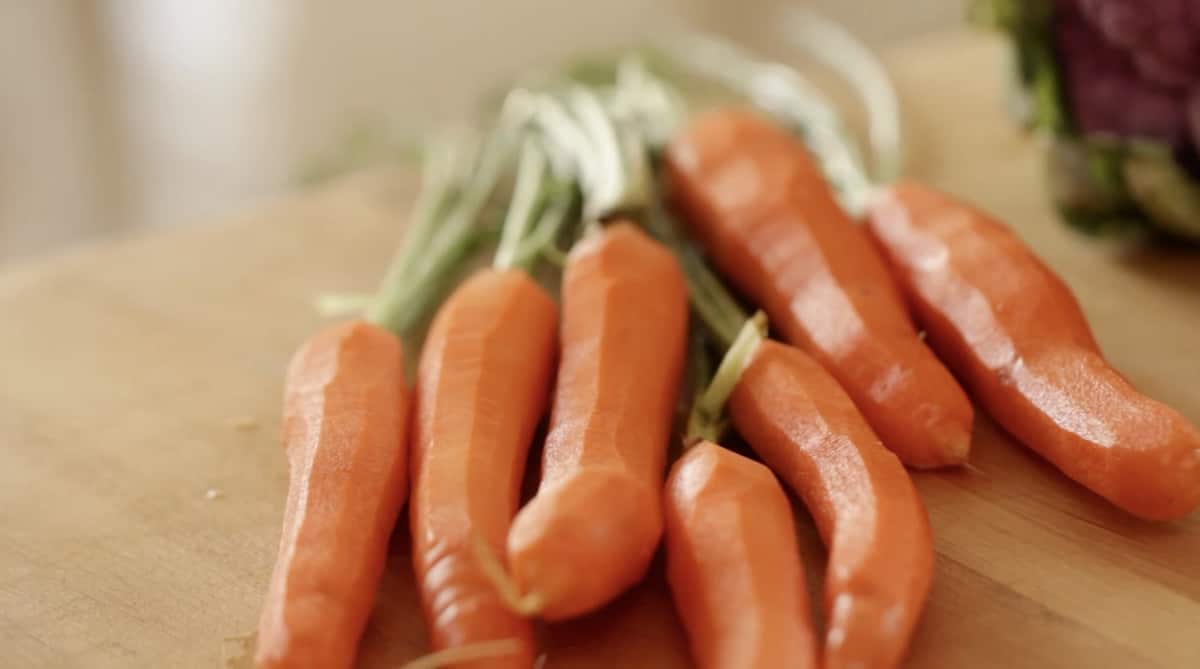 Separating the Veggies for Easier Plating
Then you place the vegetables on a sheet pan, keeping each vegetable to themselves.
This will make it easier to plate on the platter of couscous when it comes time to assemble the platter.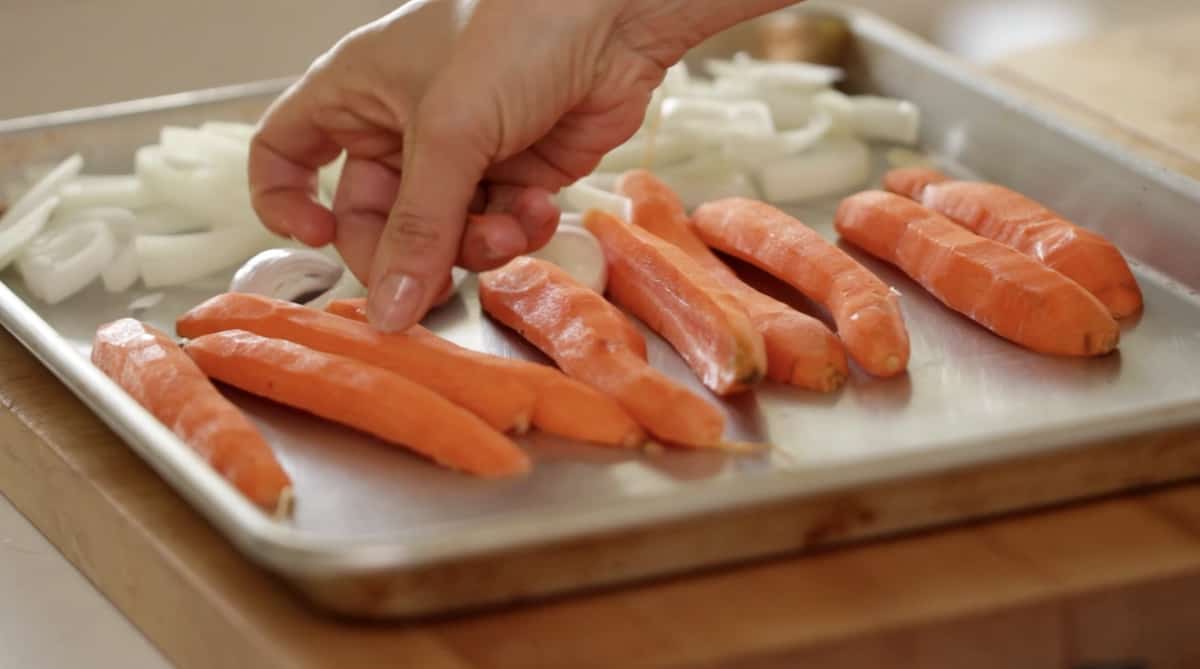 Have You Ever Tried Purple Cauliflower?
If you can find it, try using purple cauliflower, it will add another color to this recipe and create a pretty presentation.
Purple cauliflower tastes just like regular cauliflower. So if you can't find it, you can use traditional cauliflower.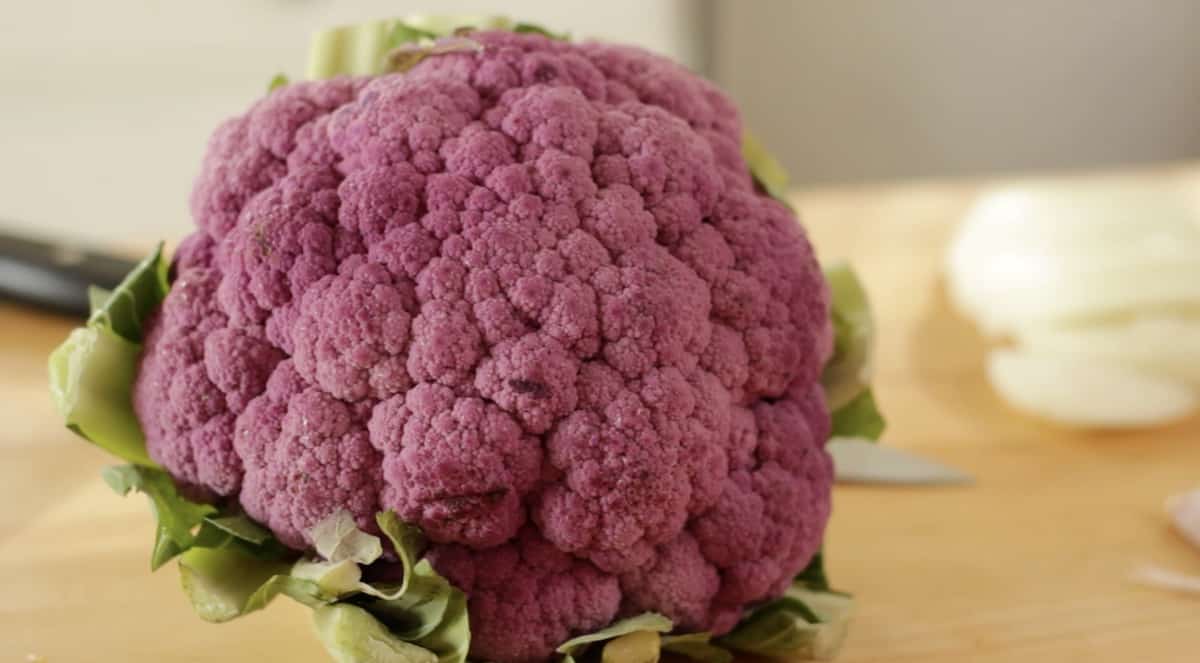 Seasoning the Vegetables
Once all your vegetables are on the sheet pan, you'll drizzle with olive oil and add the curry powder.
If you don't have curry powder, you can also use Garam Masala.
Garam Masala is a bit sweeter than curry powder but just as flavorful for waking up roasted vegetables.

Step#2: Prepare the Quinoa
Quinoa can be served warm, at room temperature, or chilled.
So really the choice is yours! It really depends on the time of year for me.
In the colder months, I serve this as a warm entree, and in the warmer months, I serve it as a chilled salad.
What is Quinoa?
Quinoa is actually a seed that is part of the Amaranth family.
It's a great alternative to pasta or couscous because it's Gluten-Free.
Many people on Vegan and Vegetarian diets like it because it's full of protein and can be easily substituted in place of animal proteins.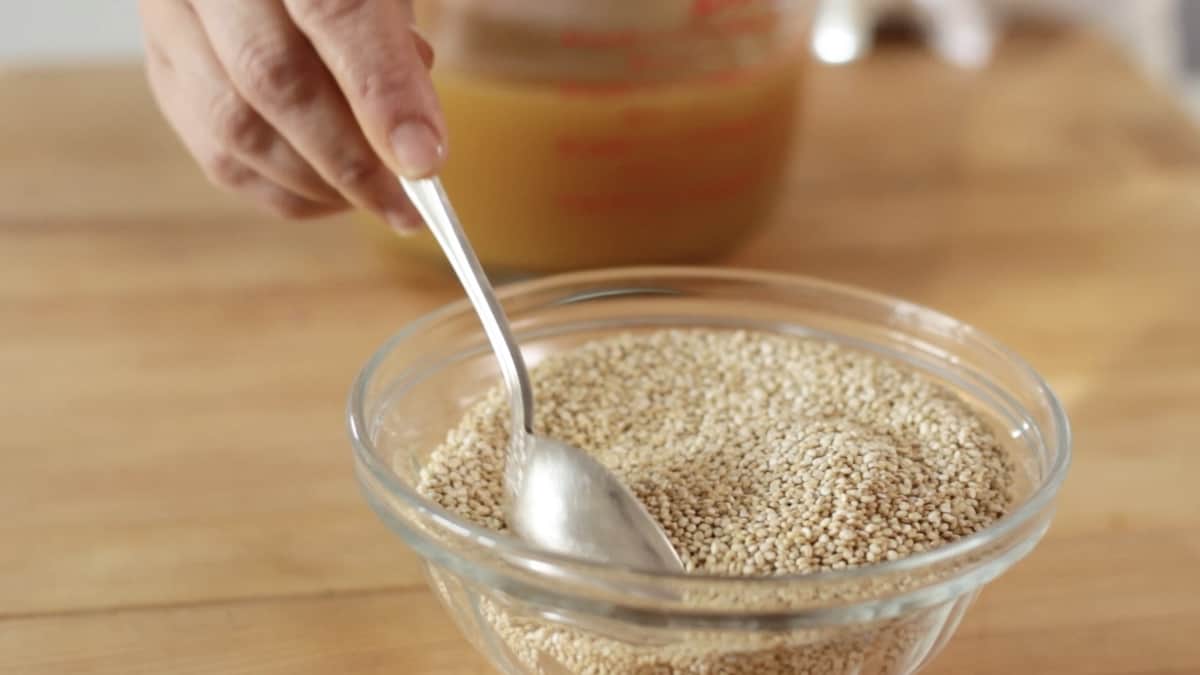 How To Cook Quinoa
Quinoa is prepared like a grain, simmered in water.
Typically, the ratio is 1 part liquid to 2 parts quinoa.
Normally, quinoa is cooked in water, but I like to add a bit more flavor and cook it in vegetable broth.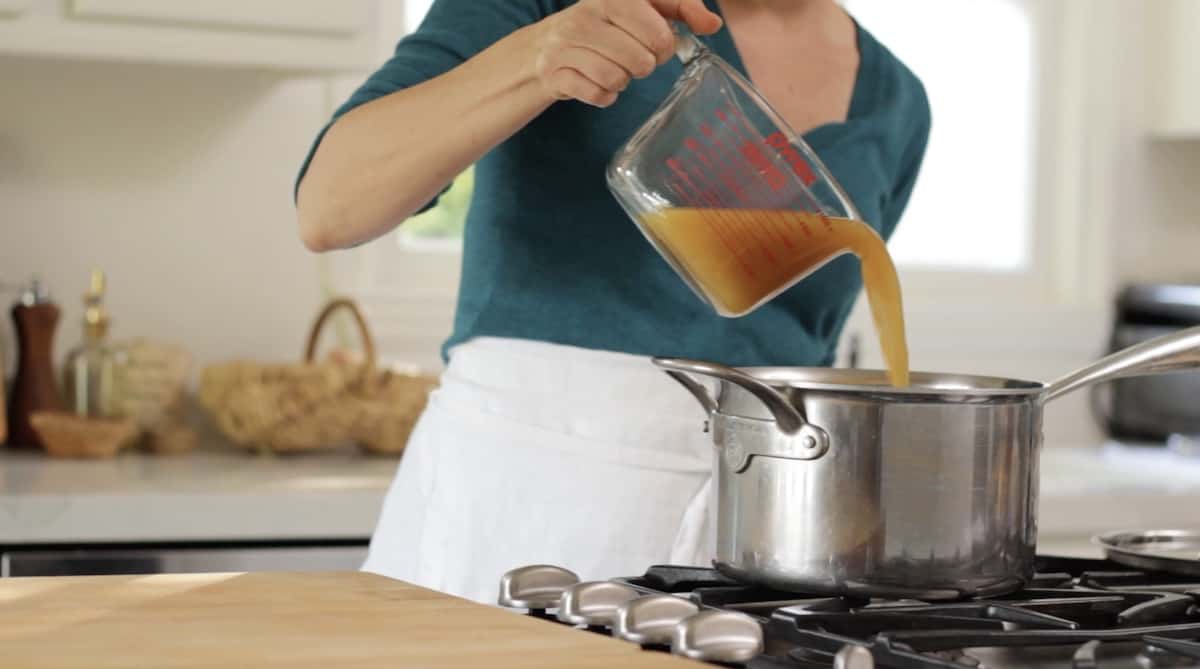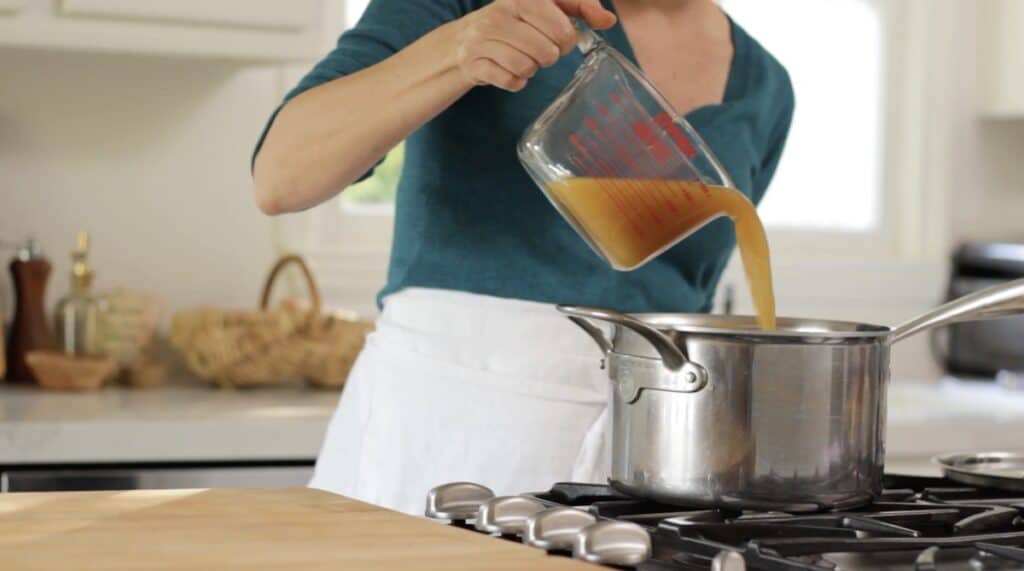 What's The Texture of Quinoa Like?
Once it's done it puffs up like rice or couscous, which makes it a filling side dish, or the base of a vegetable dish like this.
It doesn't have much taste, but like rice, it can assume many flavors depending upon what you pair with it.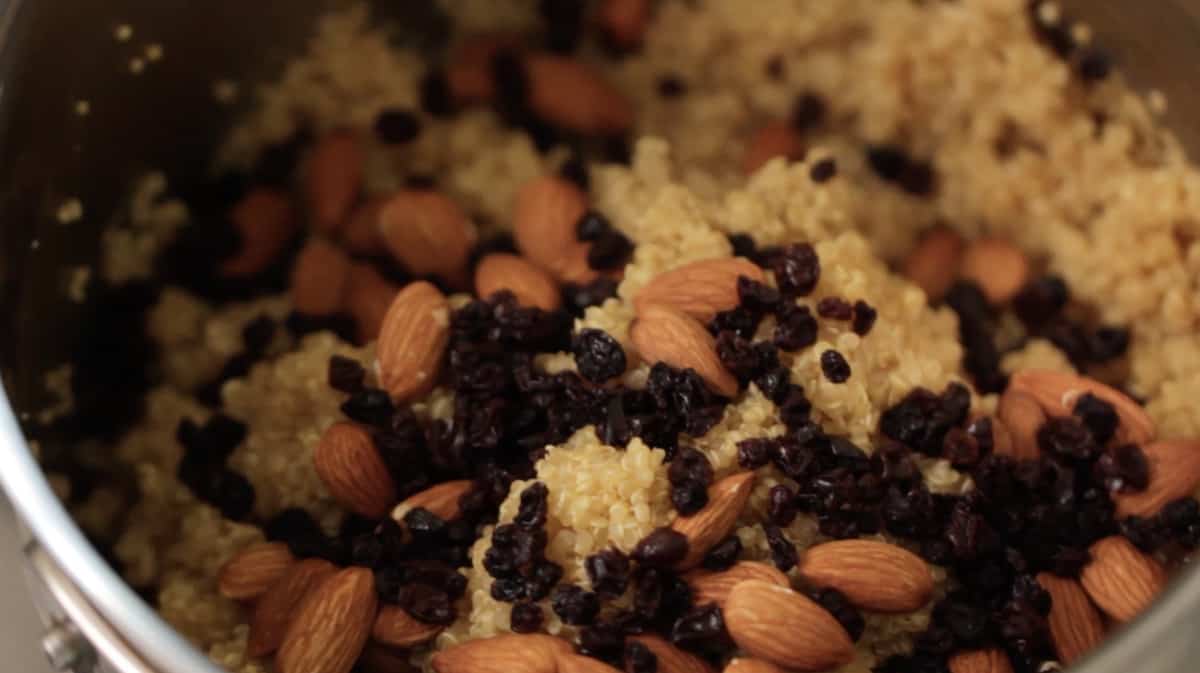 Add More Interest with Mix-Ins
I like to add almonds for crunch, currants for chewiness, and fresh mint for flavor!
You can switch up the add-ins and herbs according to the seasons.
In the fall try cranberries and pecans with a bit of fresh sage!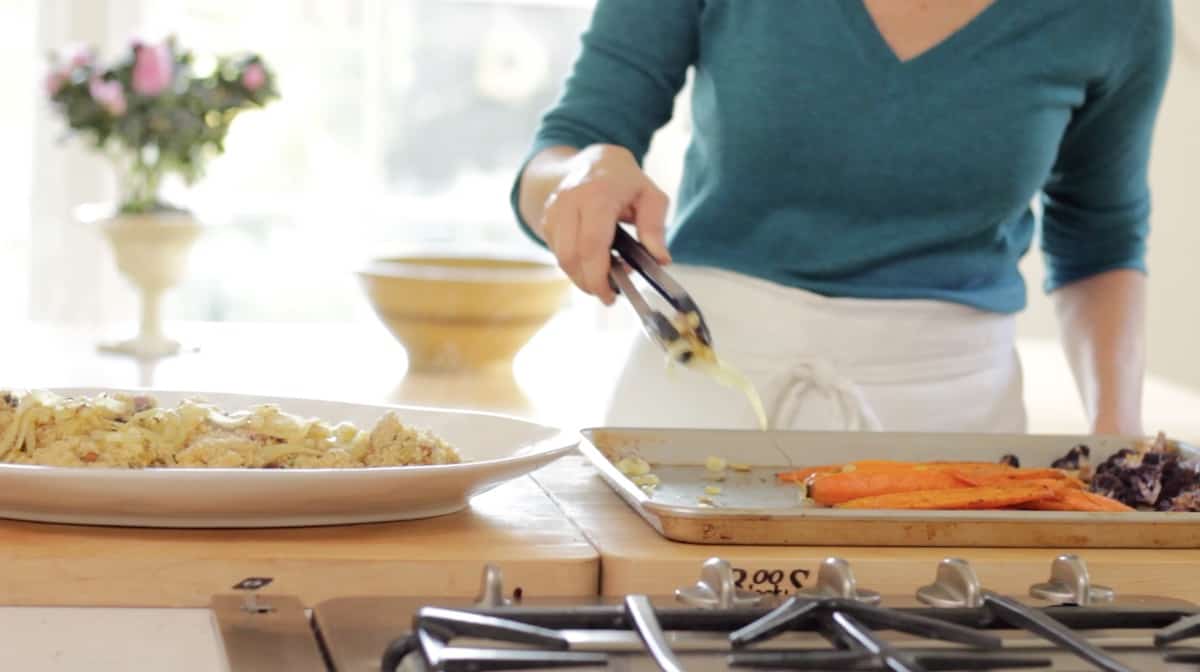 How-To Plate This Recipe:
Personally, I love to serve this dish family-style. There's something very homey and welcoming about passing around a big platter.
Use a white oval platter so that the colors in the vegetables pop!
Place the quinoa down as a bed, then place the onions on top.
Then arrange the carrots going across the top
Fill in on the sides with the cauliflower.
Then you can also garnish with a few fresh mint sprigs as well.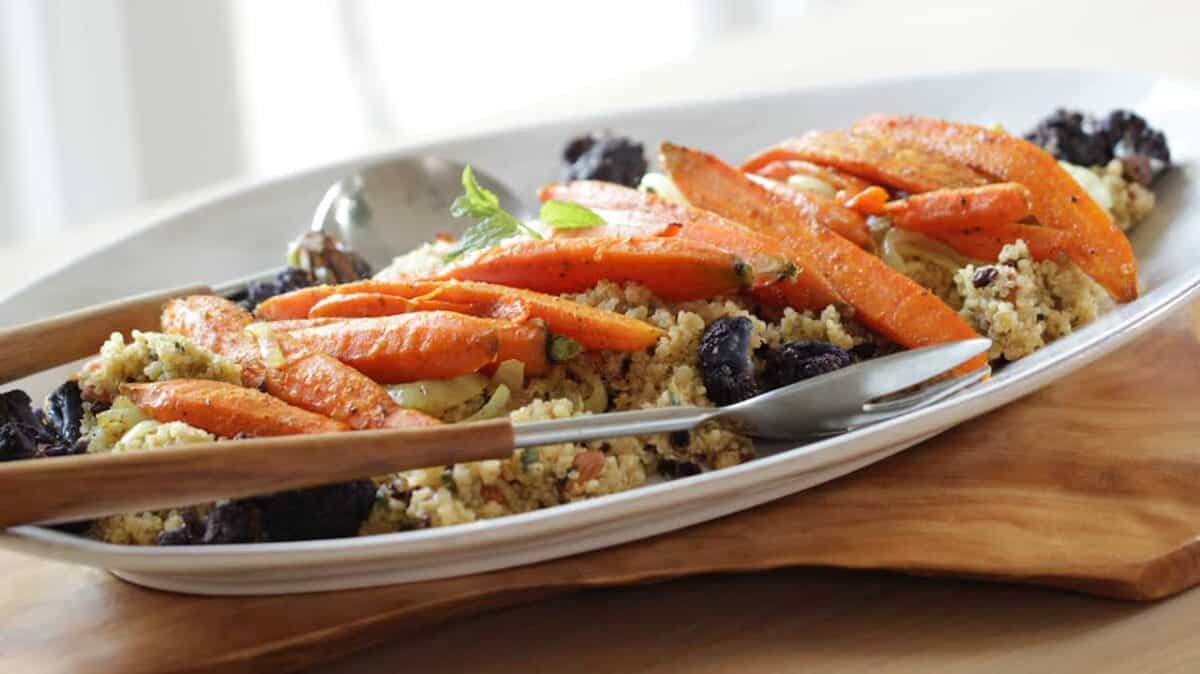 More Vegetarian Recipe You'll Love:
If You Enjoyed this Quinoa Recipe
Please Leave a Rating and Review Below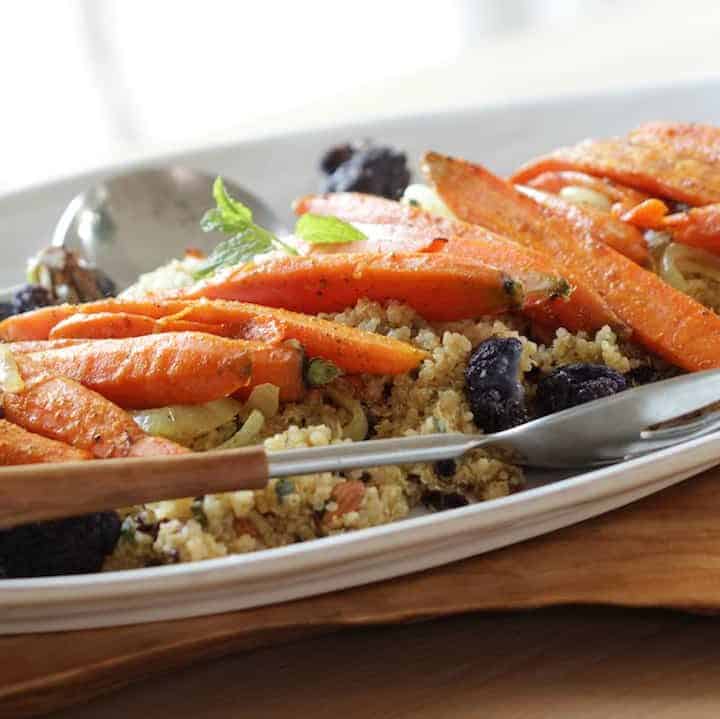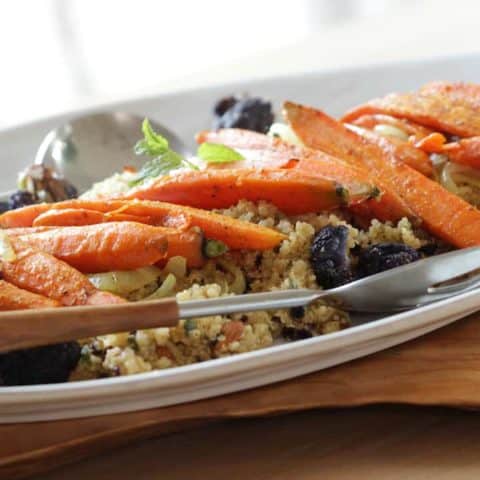 Curry Roasted Vegetables with Quinoa
Sunday night is a great opportunity to get outside of your comfort zone and try something new! Quinoa with purple cauliflower anyone?
Ingredients
1 ½ cups (270 g) rinsed Quinoa
3 cups (700 ml) vegetable broth
½ white onion, sliced thinly into half moons
1 whole shallot, cut into quarters
7 medium size carrots, tops removed, sliced in half
1 ½ cups (350 ml) of cauliflower florets
3 tablespoon (45 ml) olive oil
salt and pepper to taste
1 teaspoon (5 ml) curry powder
¼ cup (40g) whole raw almonds
¼ cup (40 g) currants
¼ cup (40 g) golden raisin
2 tablespoon (30 ml) fresh mint, roughly chopped
Instructions
Combine quinoa and broth in a large saucepan, bring to a bowl. Cover and cook on low until all the broth is evaporated 10-15 mins.
Then remove from flame, keep lid on to keep warm.
Place veggies on a large rimmed baking sheet, sectioned off by kind. Drizzle with olive oil, sprinkle with salt, pepper, and curry powder.
Roast at 450F (230C) for 10-15 mins until veggies are sweet and caramelized.
Add dried fruit and almonds to the quinoa, fluff with a fork. Spoon out into a single layer on a large platter. Top with fresh mint.
Place a layer of onions on top, follow by carrots and cauliflower. Enjoy!
Makes for great left overs too for the lunch box the next day!
Nutrition Information:
Yield:

4
Serving Size:

1
Amount Per Serving:
Calories:

302
Total Fat:

15g
Saturated Fat:

2g
Trans Fat:

0g
Unsaturated Fat:

12g
Cholesterol:

5mg
Sodium:

415mg
Carbohydrates:

35g
Fiber:

9g
Sugar:

14g
Protein:

11g