If you have Vegan or Vegetarian friends coming to your Thanksgiving this year and you're scrambling for something elegant to serve them, well then add my Gardener's Pie Recipe to your buffet table!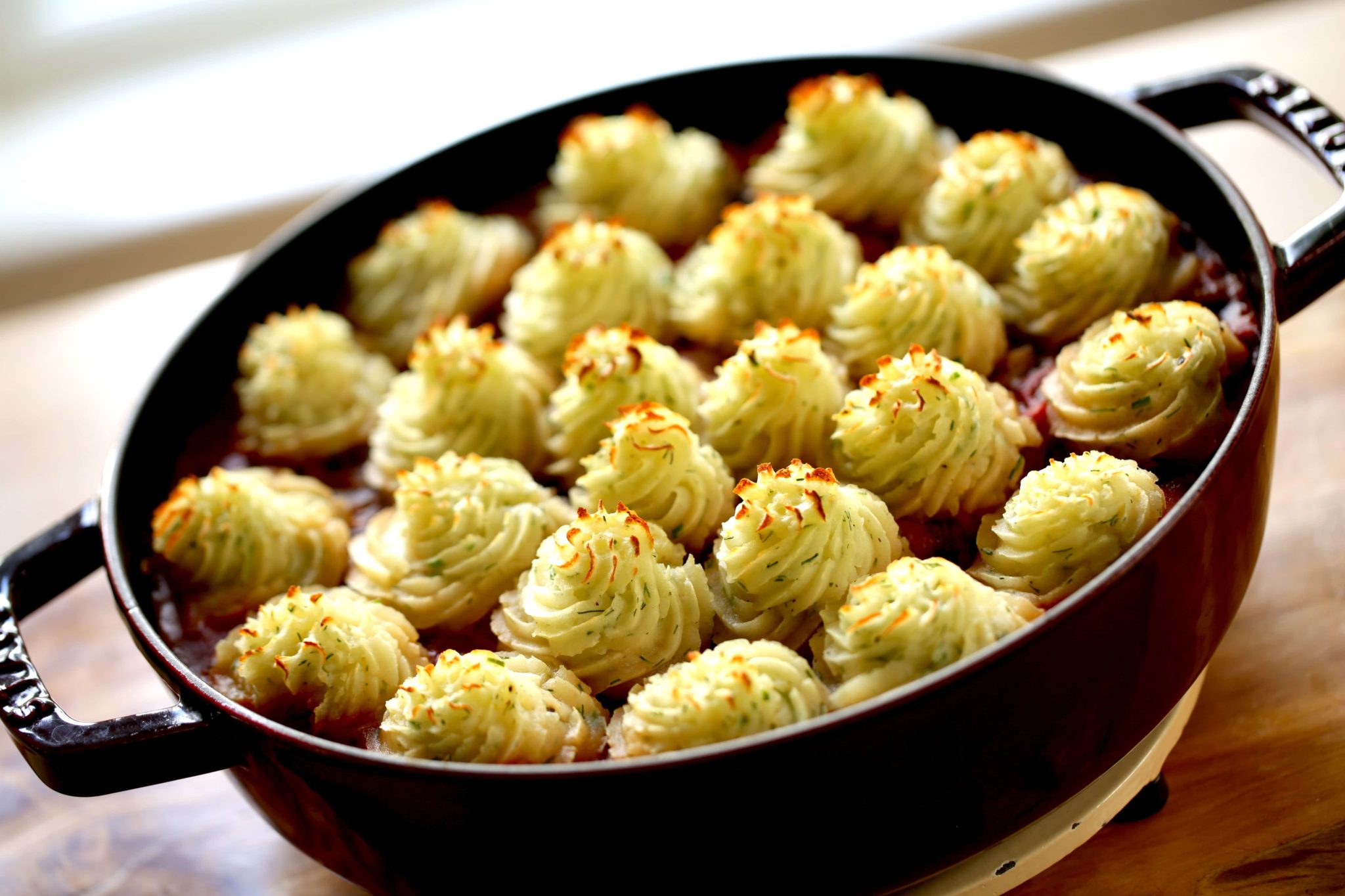 It's easy, delicious and the whole thing can be made the day before the big feast (my kind of Thanksgiving recipe).
For a complete step-by-step tutorial you you watch my video demo below.  SUBSCRIBE TO MY YOUTUBE CHANNEL and never miss a recipe (it's free) and new videos post every Saturday!
It's a meatless twist on a classic Shepherd's Pie Recipe, but frankly I think the meatless version is even better.  For an elegant twist for holiday entertaining I like to take the extra time to pipe the mashed potato toping on top of the vegetable base.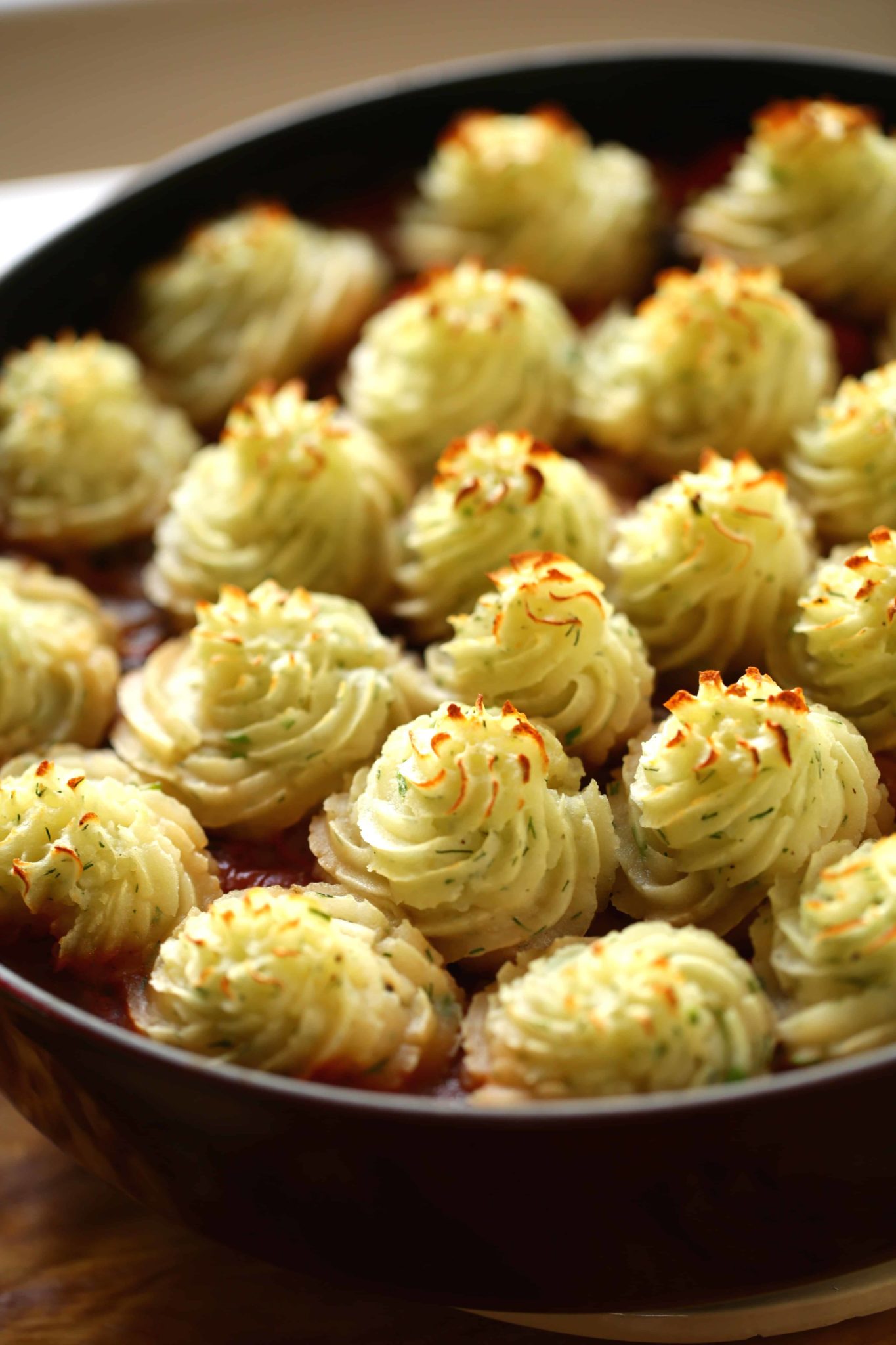 It's a simple thing to do that will give you an instant elegance. Just no "no" to Tofurky, our meatless friends deserve something equally elegant on this national day of thanks.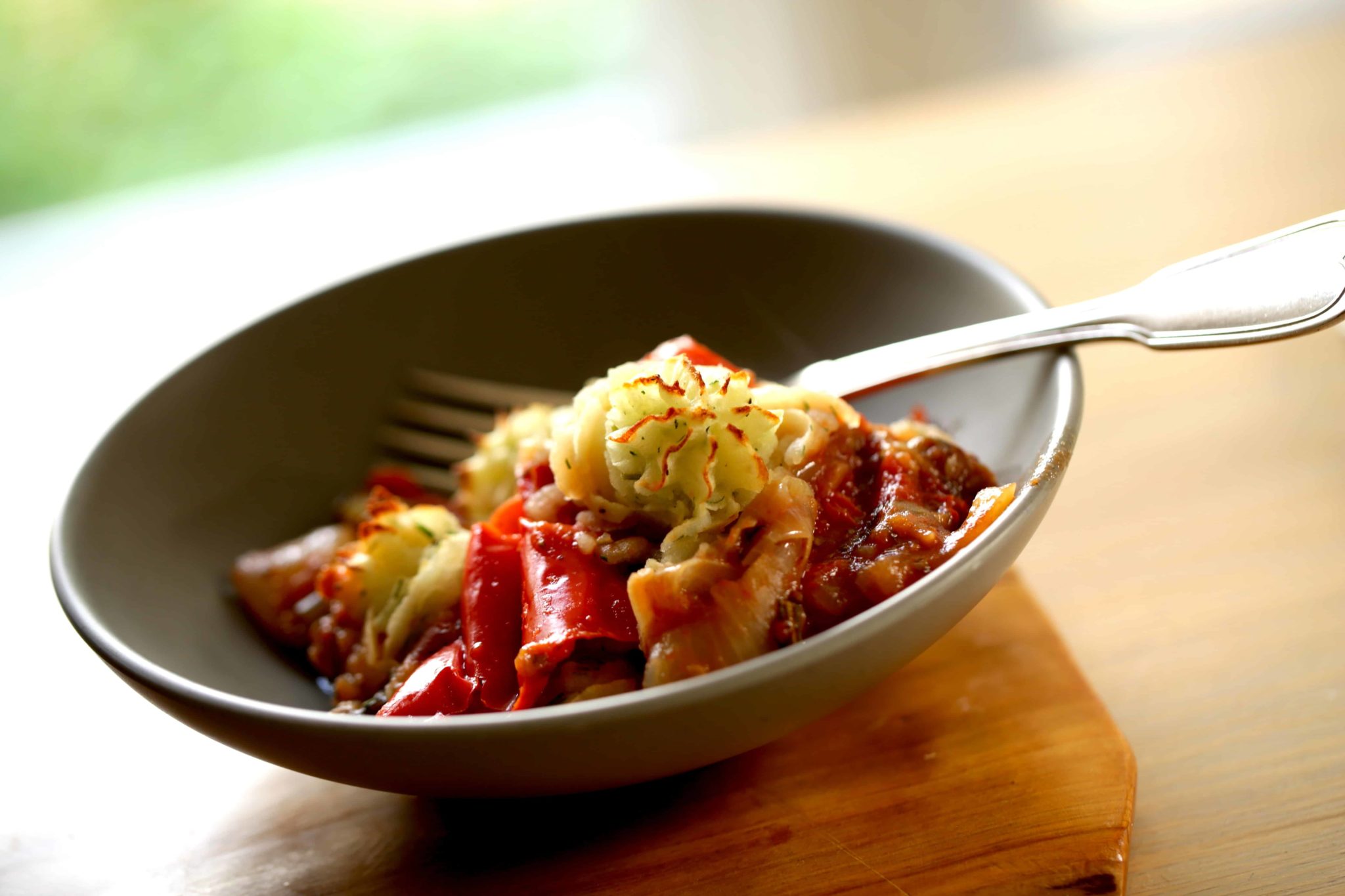 It's a great flavor combination between the rich, ratatouille-like vegetable base and the fluffy mashed potato topping.  It also makes a fantastic potluck dish too since it's can be made ahead and is extremely portable! It's a beautiful dish that's a crowd-pleaser to present as well as grace a buffet. It also makes for great leftovers too!
SHOP THIS EPISODE (This link goes to Amazon where I am an affiliate partner)
Ricer for the ultimate mashed potato experience.  Removes all the lumps and gives you a silky smooth texture. Worth the investment! Herbs de Provence in case you can't find this magical little spice blend in your market. Staub 4 quart braiser/casserole in case you want your dish to "look just like the picture" this little gem is pricey but it will last forever, and is a true heirloom piece, Pastry Bag and Star tip for decorative potato swirls.  Enjoy! xx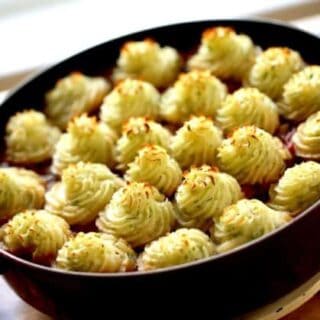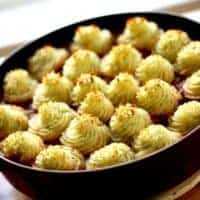 Beth's Gardener's Pie Recipe
Prep Time:
1 hour
30 minutes
Cook Time:
1 hour
45 minutes
Total Time:
3 hours
15 minutes
Ingredients
2 yellow onions, thinly sliced into disks
2 eggplants, thinly sliced into disks
4 red bell peppers, quartered
10 Roma tomatoes, quartered
1 zucchini, sliced into half moons
8 cremini mushrooms, quartered
4 garlic cloves, sliced thinly lengthwise
4 tbsp (60 ml) olive oil, separated
1 tsp (5 ml) salt, separated
1 tsp (5 ml) herbs de provence, separated
1 15 oz (400 ml) can tomato sauce
1 tsp fresh rosemary, minced
FOR POTATO TOPPING:
6 russet potatoes, peeled and quartered
3 tbsp olive oil
2 tbsp fresh dill
1 tbsp fresh chives
1 ½ tsp salt
Instructions
Preheat oven to 450F (232C)
Split vegetables equally across 2 rim-lined baking sheets.
Layer vegetables in this order. Onions, then eggplant, peppers, tomatoes, zucchini, and mushrooms. Nestle in sliced garlic between trays.
Drizzle each tray with 2 tbsp (30 ml) olive oil each, a sprinkle of ½ tsp (2.5ml) of salt each and ½ tsp (2.5 ml) herbs de Provence to each tray.
Place both trays in oven (1 on mid rack, 1 on lower rack) and roast for 1 hour, flipping trays every 15 mins and gently stirring after 30 mins has pasted.
Meanwhile, set potatoes to boil in cold water. Once fork tender work potatoes through a ricer to create a smooth, lump free mash. Add oil, salt and herbs and mix to combine.
Once vegetables are soft and caramelized remove from oven. Combine trays into 1 tray. Add tomato sauce and rosemary and stir. Transfer to a large 4 quart oven safe casserole to cool.
Transfer potatoes to a pastry bag fitted with a star tip. Pipe little mounds of mash potato on top of the casserole.
NOTE: Up until this point this can be made a day ahead. Cover and refrigerate.
To serve. Heat covered in a 400F(200C) oven for 30 mins. Then raise heat to 450F(232C) and once at temperature bake for 10-15 mins until potatoes are slightly toasted on top.
Enjoy!