Christmas Morning Punch Recipe
This Christmas Morning Punch Recipe is a great drink idea to serve on Christmas day. It alleviates the need of running around the house pouring juice for everyone, with a punch they can serve themselves!
When it comes to Holiday recipes, everyone needs a great Christmas punch in their repertoire and this could be as easy as it gets!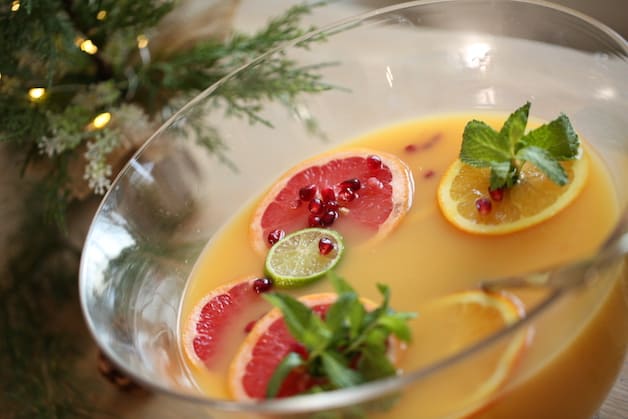 It also creates such a beautiful display, you can use it as a centerpiece for your brunch buffet! It's a lot easier than fresh flowers and more functional too!
Watch My Christmas Morning Punch Video Below!
This video also includes my recipe for my Spiced Pineapple Punch, a wonderful non-alcoholic Christmas Punch Recipe great for Christmas Day.
Serving Tips:
The recipe for Christmas Morning Punch couldn't be simpler! It can also be made on Christmas morning and not take hours in the kitchen!
You can serve this punch recipe as the first course as family and friends make their way to the kitchen.
I like to pair it with some Easy Sticky Buns or Apple Pastries or my delicious Raspberry Almond Brunch Cake would also be a great choice!
Step#1: Add Orange Juice
This punch recipe works really well when served in a large punch bowl. Begin by adding the orange juice. I like to use the no-pulp variety because I think it looks prettier in the punch bowl once served.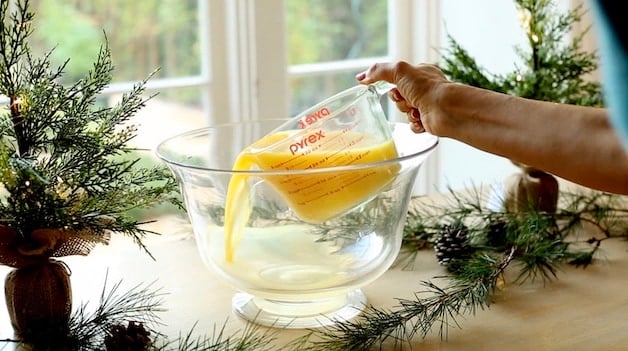 Step#2: Add Grapefruit Juice
Then add some Ruby Red Grapefruit juice. The Ruby variety is the pinkest of the grapefruit juice varieties and sweeter too!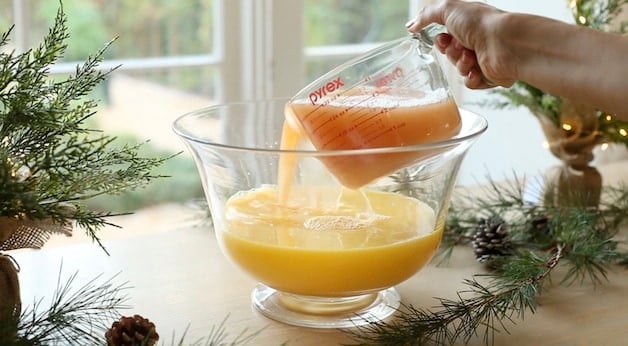 Step#3: Add the Fizz
Even though this is a breakfast punch, I do like to add a little fizz to it to make it feel extra special and festive. I like to top it off with lime or lemon-flavored sparkling water.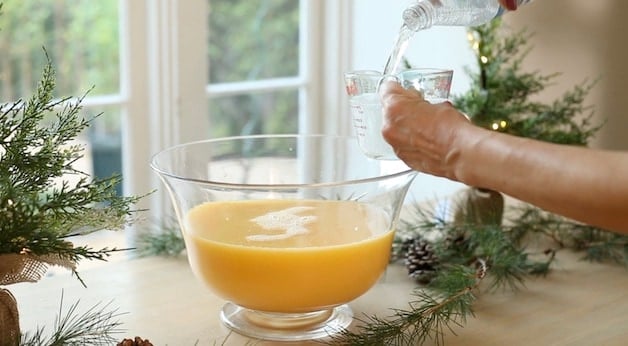 Step#4: Garnish with Citrus Wheels
To make this punch feel extra fancy and festive, add some fresh citrus wheels to the top. They'll float in the punch which makes them look so beautiful.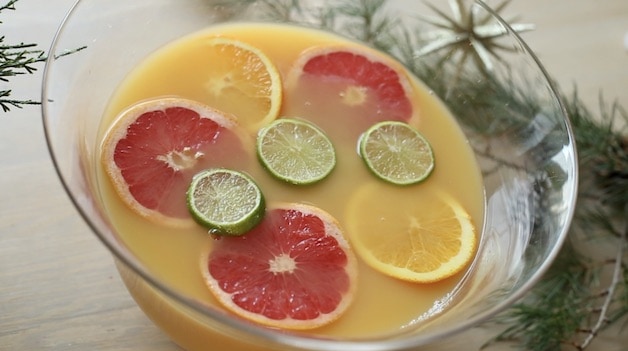 Seek Out Blood Oranges
This time of year blood oranges are also coming into season so if you see those at the market they will add a vibrant touch! Be sure to buy enough to make my Blood Orange Pound Cake, a deliciously moist and easy pound cake recipe.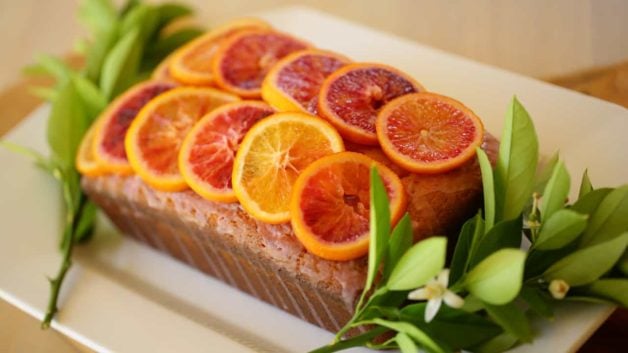 Step# 5: Add Fresh Mint
I love the look of fresh mint in punch recipes especially around Christmas time because it looks so festive. But mint will also wilt after 30 minutes or so floating around the punch bowl.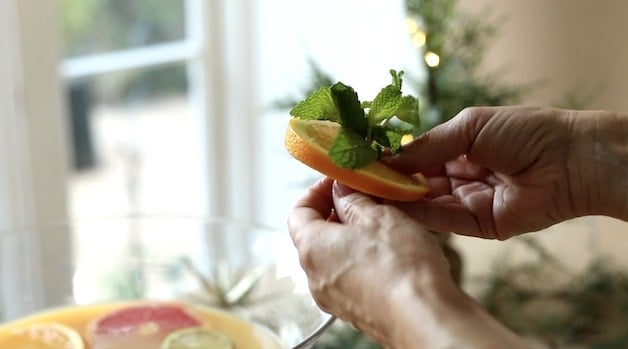 How To Prevent the Mint from Wilting in the Punch
You can make mint last longer in punch by threading it through the citrus wheels!
It looks so pretty this way and the larger orange and grapefruit wheels have the weight to hold it up while preventing it from wilting in the punch.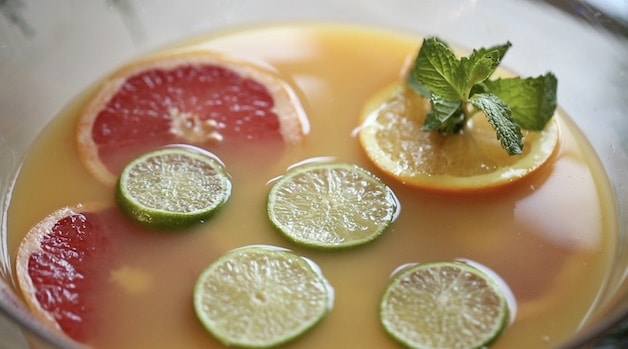 Add Cranberry Juice Ice Cubes!
Cranberry juice ice cubes will really add some wow factor to your Christmas punch! The ice cubes will keep your punch chilled and as it melts while preventing the flavor from being diluted like regular ice cubes would do. They are also so easy to make.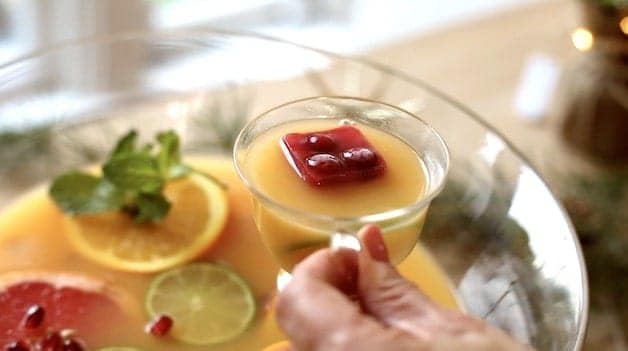 To Make the Cubes:
Add 2-3 fresh cranberries in an ice cube tray
Top with cranberry juice cocktail
Freeze overnight
Use silicone ice cube molds for easy release!
Step#6: Add Pomegranate Seeds
The final step is to toss in a few pomegranate seeds on top of the citrus wheels for some texture and additional color.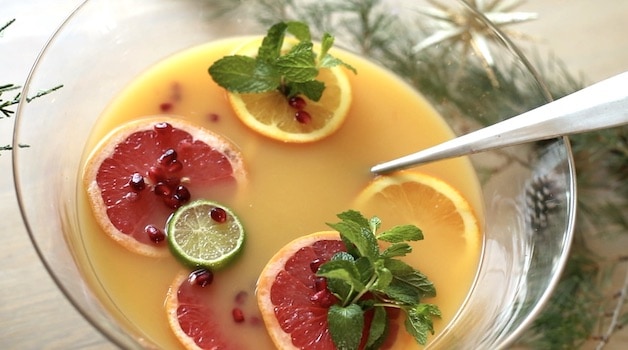 You can find pomegranate seeds in the refrigerated aisle of your grocery store. Typically where they sell the cut fruit. But if you can't find it, below is a video that will show you the easy way to seed a pomegranate.
Make it a Meal
To round out your Christmas Morning Breakfast you might also enjoy my make-ahead Egg Souffle Bake or perhaps some overnight Gingerbread French Toast, and don't forget the Easy Almond Croissants!
If You Enjoyed This Recipe
Please Leave a Rating and a Review Below!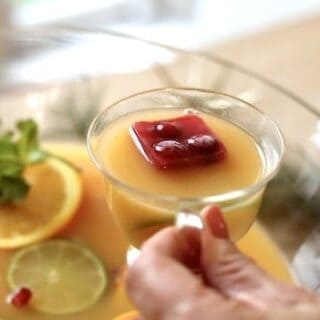 Christmas Morning Punch Recipe
An easy Christmas Morning Punch recipe that looks as beautiful as it tastes! Super easy to put together and the cranberry juice ice cubes as a special touch! Makes for a great centerpiece buffet on Christmas morning.
Ingredients
9 cups (2,160 ml) of Orange Juice
4 cups (960ml) of pink grapefruit juice
2 cups (480ml) lime or lemon-flavored sparkling water
Garnish:
3 slices of navel orange (wheel-shaped)
3 slices of ruby grapefruit (Wheel Shaped)
3 slices lime (wheel-shaped)
9 sprigs fresh mint
2 tablespoons (30ml) pomegranate seeds
For 15 ice cubes:
1 ¼ cups (300ml) cranberry juice cocktail and
45 fresh cranberries
Instructions
To create ice cubes, place 2-3 fresh cranberries in an ice cube tray I prefer the silicone ice cubes because I find they create the best clean shapes and are easier to remove once frozen.

Pour cranberry juice into a small pitcher and fill ice cube trays to the top. Freeze overnight.

Combine juice in a punch bowl. Add sparkling water. Garnish with citrus wheels.
Thread Mint through 1 navel orange wheel and 1 grapefruit wheel. Add pomegranate seeds

Serve in punch glasses with cranberry cubes.

Notes
The punch can be mixed the night before, then add the fresh citrus, mint and sparkling water the morning you plan to serve it.
For an alcoholic twist add champagne or sparkling wine instead of the sparkling water
Recommended Products
As an Amazon Associate and member of other affiliate programs, I earn from qualifying purchases.
Nutrition Information:
Yield:

15
Serving Size:

1
Amount Per Serving:
Calories:

282
Total Fat:

1g
Saturated Fat:

0g
Trans Fat:

0g
Unsaturated Fat:

0g
Cholesterol:

0mg
Sodium:

24mg
Carbohydrates:

69g
Fiber:

14g
Sugar:

31g
Protein:

3g