French Apple Pastries with Puff Pastry
These French apple pastries are a fantastic treat for Christmas morning breakfast because you can make them ahead of time and then pop them in the oven and bake on Christmas day. They are one of my favorite puff pastry recipes because they look super impressive, but are actually a cinch to make!
This post is sponsored by Wewalka Puff Pastry, all opinions are my own. Update: Wewalka has rebranded and is now known as Jus-Rol is the U.S.A.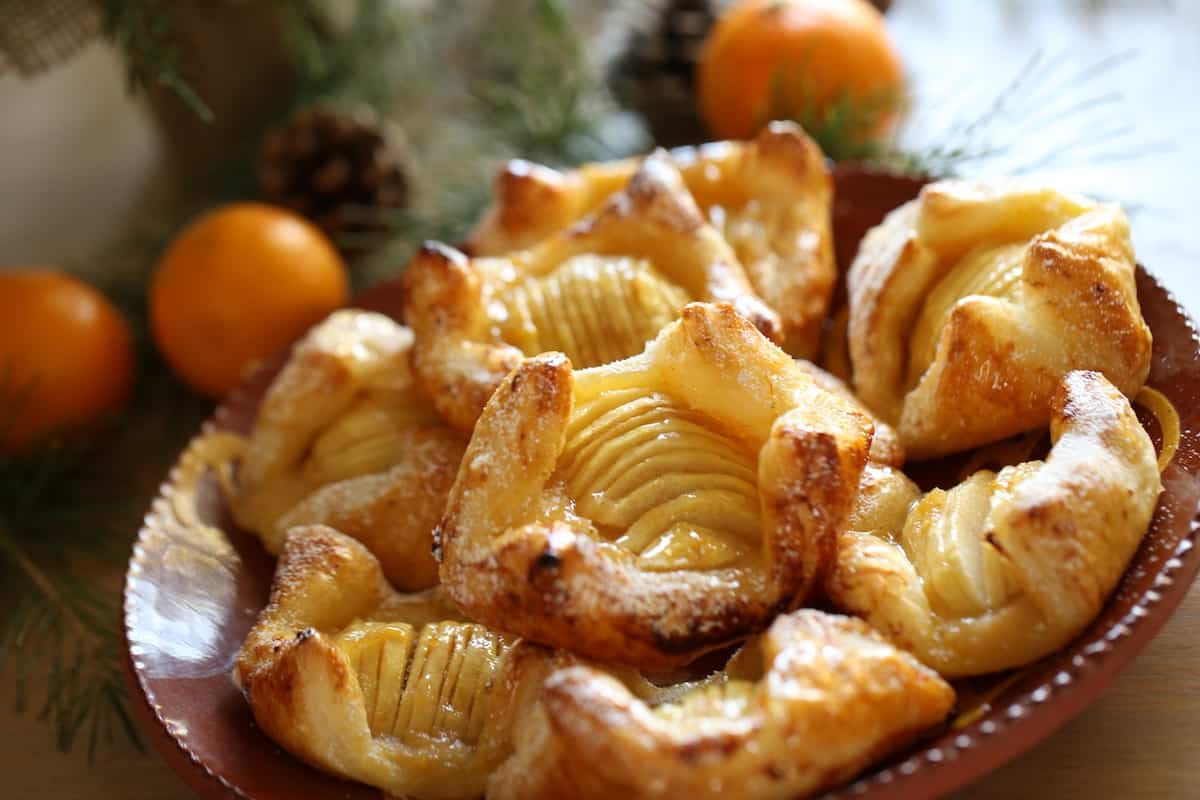 An Assortment of Brunch Pastries
You can make an assortment of brunch pastries for a large crowd, which would be perfect for a brunch buffet.

These pastries would pair beautifully with my

Mini Ham and Cheese Croissants

and my easy

Sticky Buns

for a trio of breakfast pastries on Christmas day!

Watch the video demo below and I'll show you how to make all three!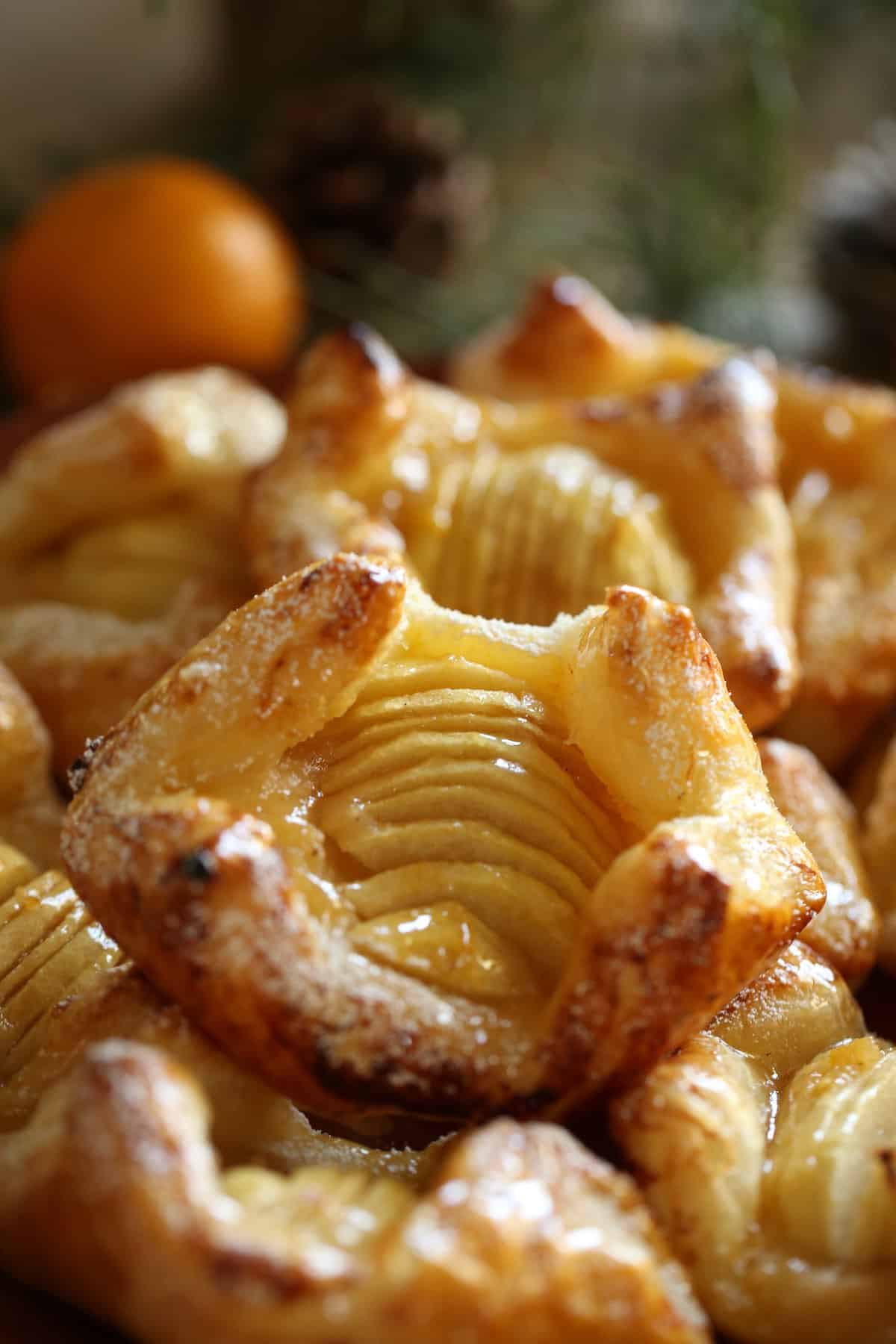 Brunch Pastry Video Demo
Step#1: Peel and Slice Apples
I like to use Gala apples for this recipe because they are sweet and light.
Try to find the smaller Gala apples since they work a bit better for the size of the pastry square.
Once you get all the apples peeled, you'll slice off the "cheeks" of the apples.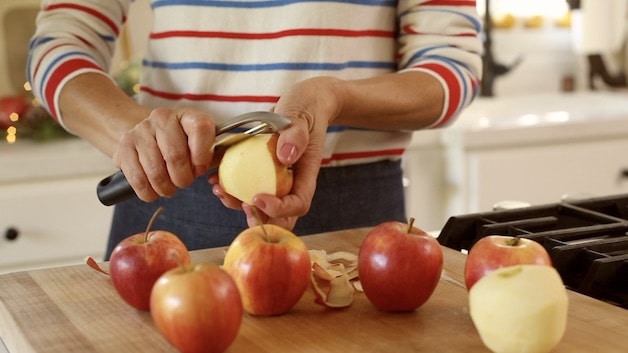 Then you'll slice each apple round into thin slices making sure you keep the apple intact.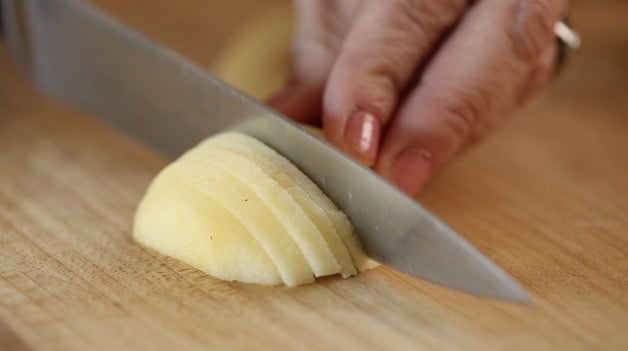 Keeping the apple intact will add to the French-inspired design, once the apples are baked.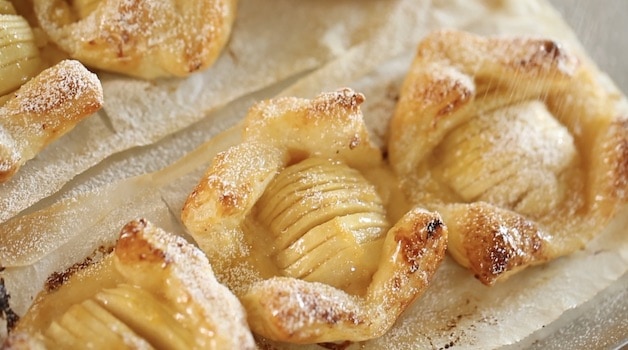 Step#2: Roll Out and Cut Puff Pastry Sheets
Roll out the puff pastry and keep it on the parchment paper on a cutting board. This is the nice thing about this brand of puff pastry, it comes on parchment paper you can bake on!
Slice the pastry on a "landscape" orientation, into 3 equal strips.
Then re-orient the pastry to face you vertically and slice it in thirds to create 6 squares/rectangles.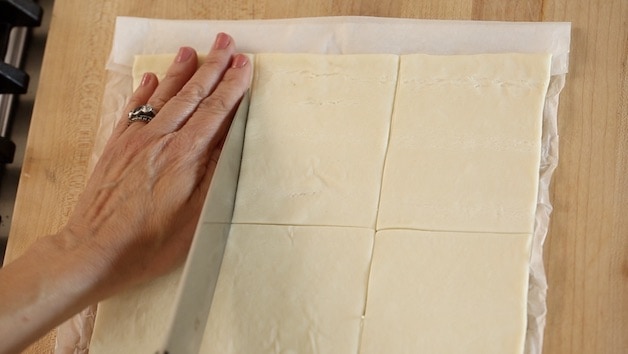 Step#3: Add Egg Wash and Apple Sauce
Brush each piece of puff pastry with the egg wash, just around the perimeter. This will help the pastry adhere once you fold up the corners.

Then place a small amount of unsweetened apple sauce in the center. You could also stir in ¼ teaspoon of cinnamon to the apple sauce if you wish.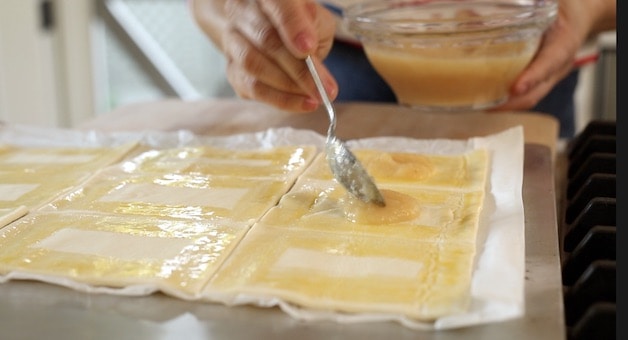 Step#4: Add Apples and Fold Up Corners
Then gently transfer your apples to the center of each pastry, the apple sauce will spread a bit so just be sure it stays on the pastry.
Fold up each corner of the pastry to meet in the middle. This design will not stay this way as it bakes, it's only to create a flat pastry that will have turned up corners once it's baked.
Once all the corners are folded up, you can cover your tray loosely with foil and place in the fridge overnight.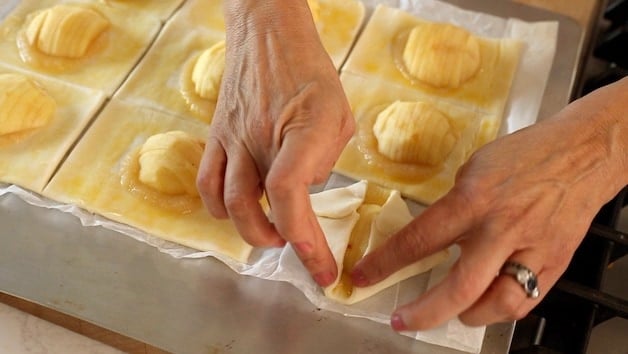 Step#5: Brush with Egg Wash and Bake
Moments before baking brush each pastry with egg wash and then bake!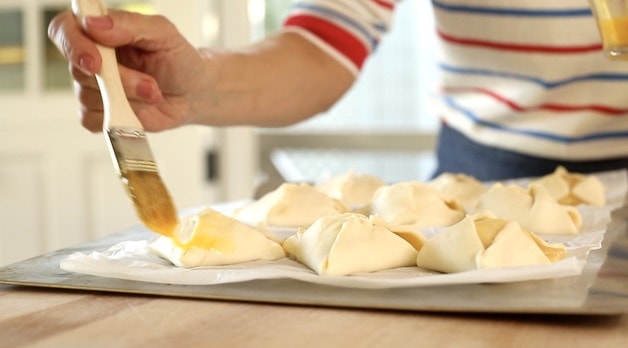 STEP#6: Brush with Melted Apple Jelly
When your pastries are baked, the final step is to brush each one with a little melted apple jelly to give them additional sweetness and shine.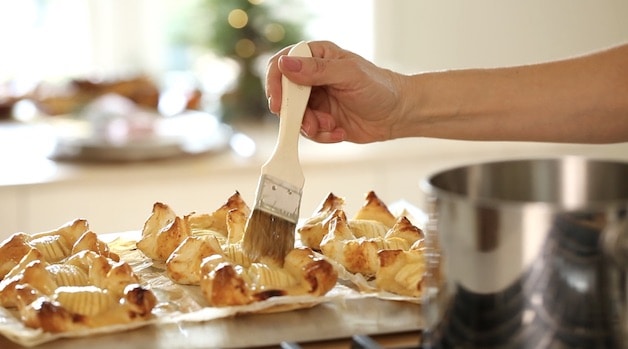 If you cannot find apple jelly, you can also use Apricot jelly. The apricot jelly will add even more color to your pastries and the tartness it provides is a nice addition too.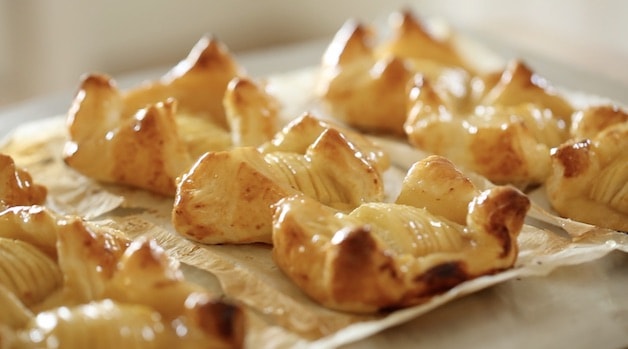 Allow your pastries to rest for 5 minutes which will "set" the jelly a bit. Then you can dust each one with a little powdered sugar for a fun "white Christmasy" look.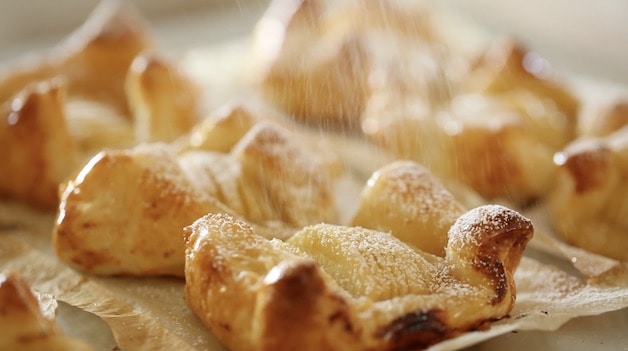 If You Enjoyed this Recipe
Please Leave a Review Below.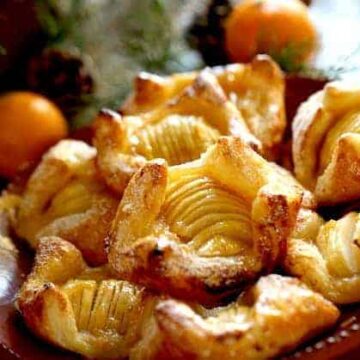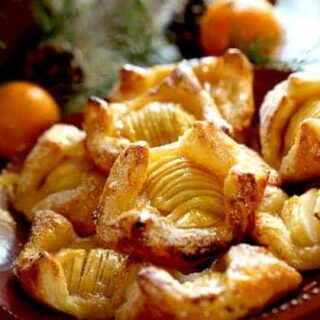 French Apple Pastries
Total Time:
1 hour
10 minutes
These French-style apple pastries are a fantastic treat for Christmas morning breakfast because you can make them ahead of time and then pop them in the oven and bake on Christmas day.
Ingredients
1 package of Wewalka Puff Pastry
½ (120ml) cup of unsweetened apple sauce
5 small Gala apples
1 egg, beaten
¼ cup (60ml) of apple jelly
powdered sugar for dusting
Instructions
Preheat oven to 425F (218C).
Peel apples and slice off the 4 sides with a sharp knife, leaving a square core and 4 "apple cheeks".
Place each apple "cheek" cut side down and slice it very thinly keeping it intact on your board. Then set aside.
Unroll the puff pastry, leaving it resting on the parchment paper, and place it on a cutting board. Be sure to orient the pastry in the landscape position with the short sides at the ends. Cut the pastry in 3 vertical strips.
Cut each vertical strip into thirds, creating 9 equal-sized squares. Transfer the parchment paper with the squares to a baking sheet.
Brush egg wash around the perimeter of each square of pastry. Place 1 ½ tablespoons of apple sauce in the center of each pastry square.

Place an apple cheek on top of the apple sauce. Fold the corners of the pastry up to meet the apple. Then brush with more egg wash to adhere.
Bake at 425F for 25 minutes. Corners will come loose from the apple during baking and create a pretty flat pastry with turned-up edges.
Meanwhile, warm apple jelly in a small saucepan until liquefied.
Once pastries are done, brush each one with the apple jelly. Then allow to cool for 10 minutes and dust with powdered sugar.
Notes
You can prep the pastries the day before, loosely cover with foil and place in the refrigerator. Then right before baking, brush with the egg wash and bake.
If you can't find apple jelly, you can substitute it for Apricot jelly. This will add a nice golden color to your pastries and a nice tartness too.
Nutrition Information:
Yield:

9
Serving Size:

1
Amount Per Serving:
Calories:

134
Total Fat:

2g
Saturated Fat:

0g
Trans Fat:

0g
Unsaturated Fat:

1g
Cholesterol:

21mg
Sodium:

17mg
Carbohydrates:

29g
Fiber:

2g
Sugar:

24g
Protein:

1g