Non-Alcoholic Christmas Punch
Non-Alcoholic Christmas Punch is a go-to idea in my repertoire of holiday recipes. It works perfectly for guests who may not be drinking during the holidays (pregnant women, older relatives, kids, etc) but offers something festive and fun so they don't feel left out!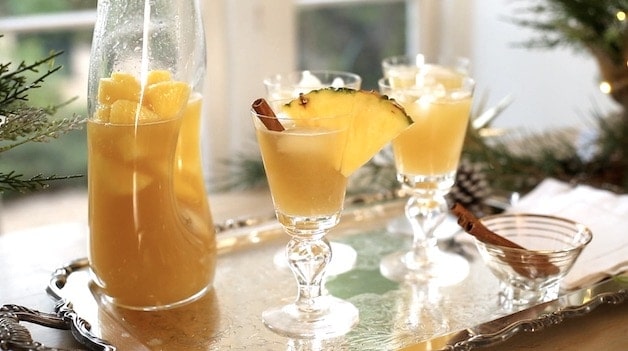 It's really easy to make and can be made ahead of time too! It also looks extra festive when garnished with fresh pineapple wedges and cinnamon stick stirrers.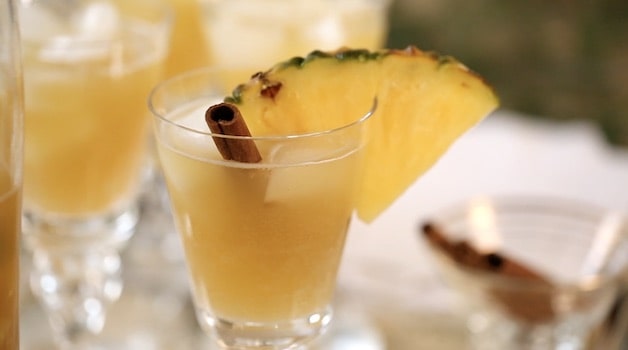 Christmas Punch Video Demo
Step#1: Infuse Juice with Spices
To begin you'll place fresh pineapple juice in a saucepan with cloves and cinnamon sticks.
Allow the juice and spices to simmer for at least 10 minutes to infuse the juice with the flavor of the spices.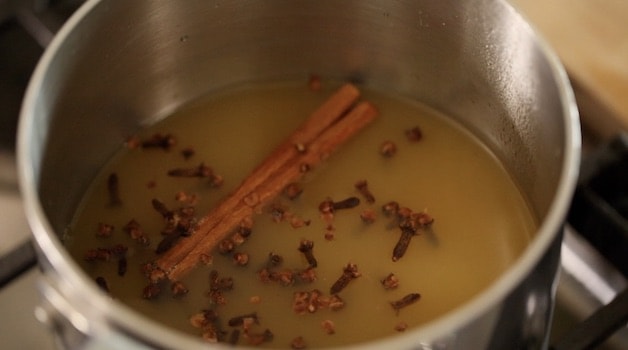 Step#2: Chill Spiced Juice
Then you'll strain the juice through a fine-mesh sieve into a Pyrex pitcher.
I like using the pitcher because you can pop it in the fridge this way to chill overnight and then it's really easy to pour directly into your serving carafe the next day.
The sieve works well for catching the cloves and cinnamon sticks which you can discard after using.

Step#3: Add Frozen Pineapple
When serving punch recipes there's always the issue of how to keep it chilled.
If you add ice cubes to the punch it will water down the flavor of the punch.
I prefer to reserve the ice for the glasses. I like to use frozen pineapple which adds as a sort of ice cube, keeping the punch cold, but also infusing additional flavor too!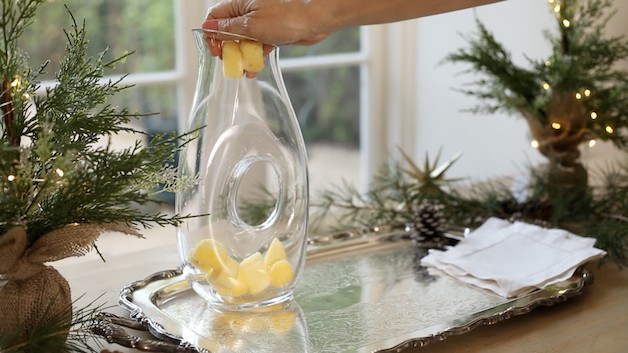 Step#4: Add Juice and Ginger Ale
Once you add your chilled spiced pineapple juice leave some room at the top of your carafe for topping off with ginger ale.
I think a punch is all the more festive with a little fizz, and the flavor of the ginger pairs beautifully with the flavor of the spiced pineapple juice.
For something less sweet, you could also use club soda or sparkling water. If you wanted to add some alcohol to this punch recipe I think a splash of rum would be great too!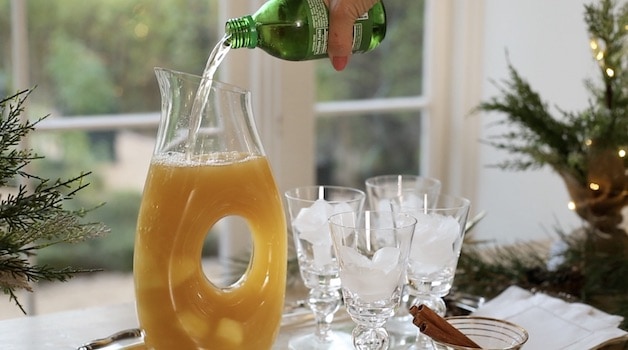 Step#5: Garnish and Serve!
Pour your punch into some glasses. I think a stemmed glass makes a punch look extra fancy.
Add a fresh pineapple wedge and cinnamon stick et voila! Festive, easy Christmas punch is ready to go!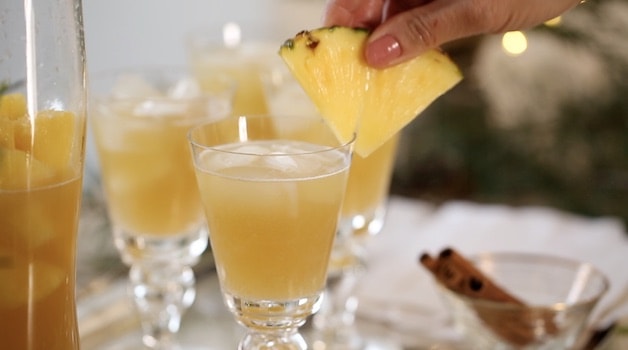 What To Serve with Christmas Punch?
If You Enjoyed This Recipe
Please Leave a Rating or a Review Below!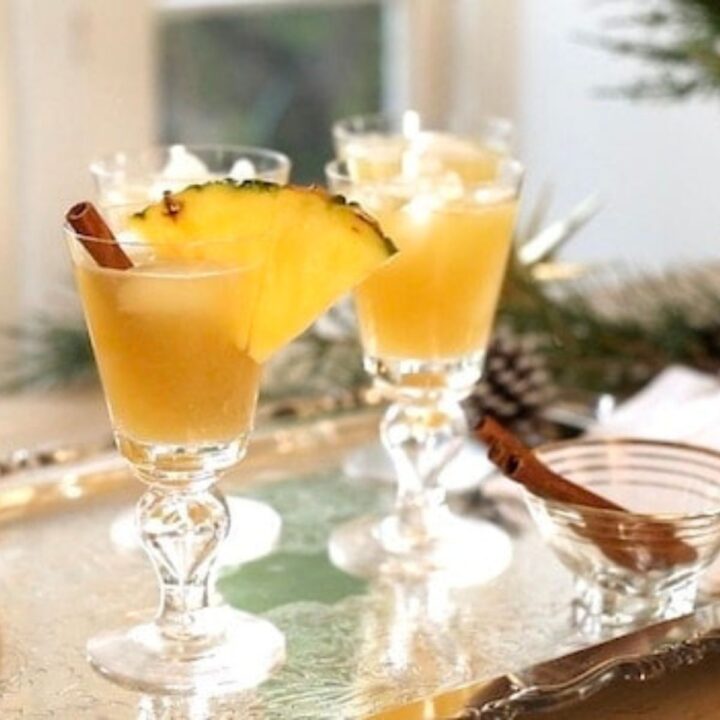 Non-Alcoholic Christmas Punch
A great non-alcoholic Christmas Punch that is quick and easy and festive too!
Ingredients
3 cups (720ml) pure pineapple juice
2 cinnamon sticks
1 teaspoon (5ml) cloves
1 ¾ cup (420ml) ginger ale
1-2 cups (150g-300g) frozen pineapple
Garnishes:
fresh pineapple wedges
cinnamon sticks
Instructions
In a saucepan add pineapple juice, 2 cinnamon sticks, and 1 teaspoon cloves.
Simmer for 10 minutes to infuse the juice with the spices.
Drain through a fine-mesh sieve into a Pyrex pitcher. Place pitcher in the fridge, covered and chill until time to serve.
To serve, pour spiced pineapple juice into a carafe. Add frozen pineapple to keep cold. Add ginger ale on top.
Serve over ice, garnish with a pineapple slice and cinnamon stick
Notes
If you wanted to add alcohol to this punch a splash of rum would be a great choice!
Nutrition Information:
Yield:

6
Serving Size:

1
Amount Per Serving:
Calories:

147
Total Fat:

0g
Saturated Fat:

0g
Trans Fat:

0g
Unsaturated Fat:

0g
Cholesterol:

0mg
Sodium:

7mg
Carbohydrates:

29g
Fiber:

2g
Sugar:

19g
Protein:

1g