Veggie Lasagna Roll-Ups are a quick and easy alternative to traditional lasagna. They have all the same ingredients, but somehow just come together a lot quicker! Must be the rolling instead of the layering?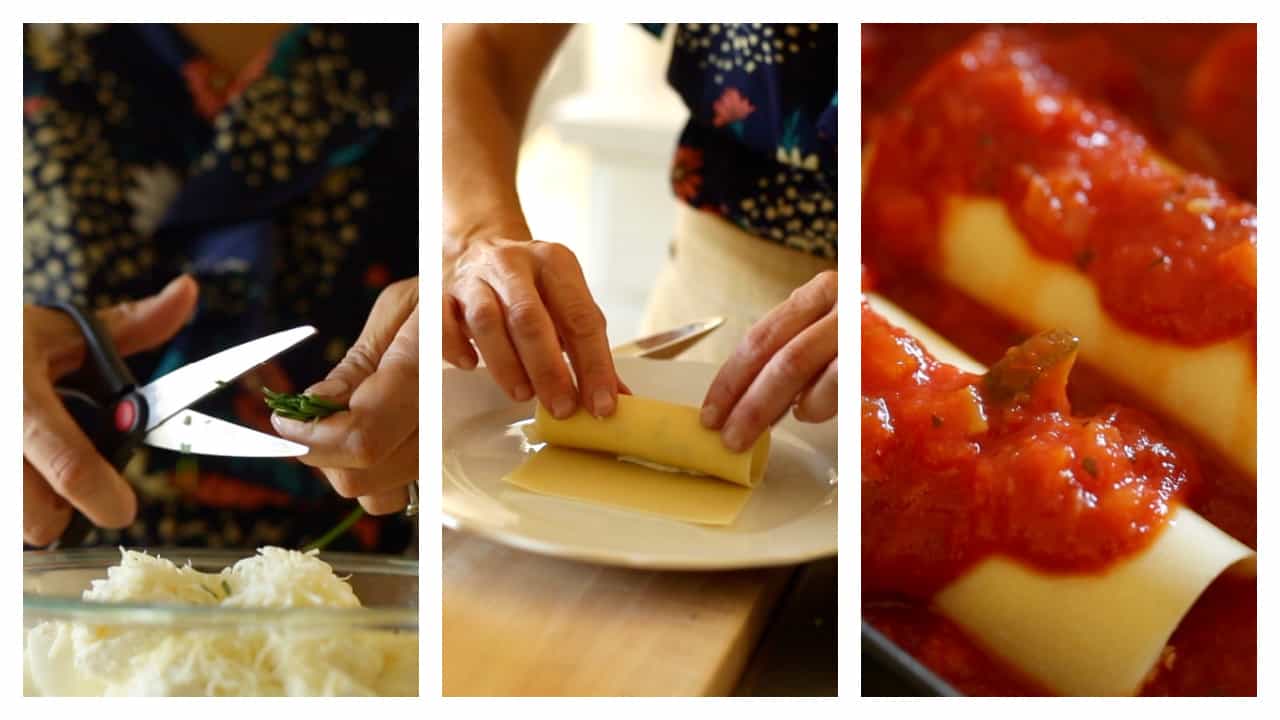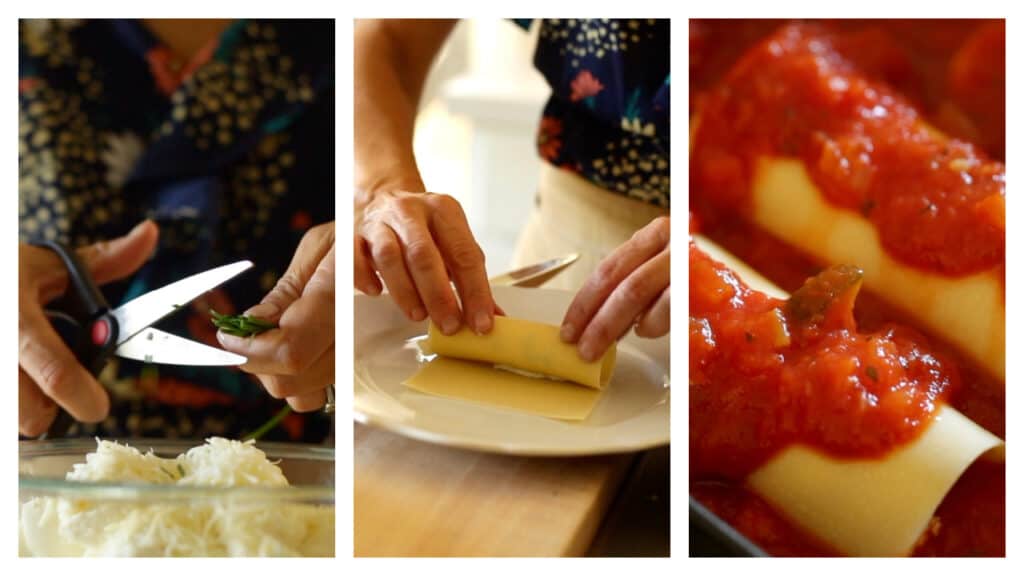 For a lasagna recipe without noodles, try my Eggplant Lasagna Recipe. A great Gluten-Free alternative.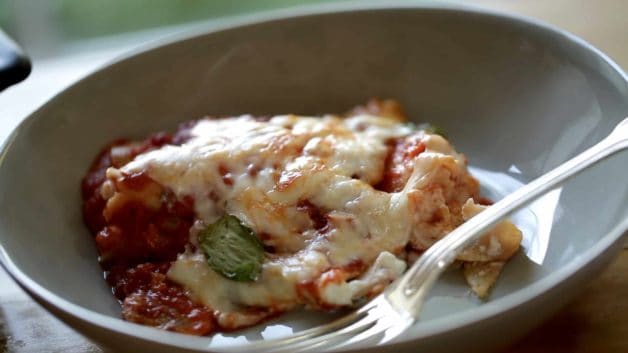 Watch My Video Demo of This Recipe Below!
Subscribe to My YouTube Channel and Never Miss a Recipe!
What Veggies go into the Roll-Ups?
I find the best vegetables to use for this roll-up recipe are vegetables that provide a wonderful Italian flavor profile which also works well with the sauce and best of all, they cook up quickly!
onions
zucchini
mushrooms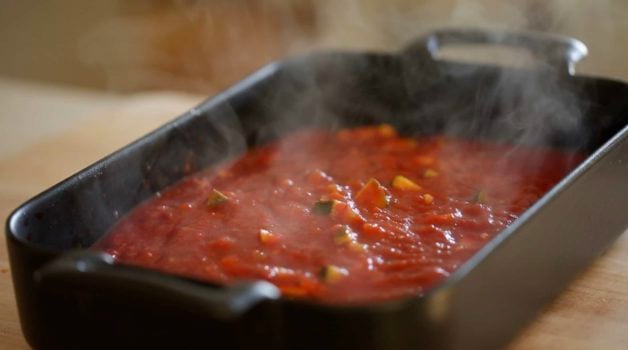 How To Cook Lasagna Noodles for Lasagna Rolls
Let's face it, boiling lasagna noodles for any lasagna recipe is the worst part of the process! So I avoid this step altogether by using fresh lasagna noodles that are pliable and can be easily rolled up.
Then they bake in the sauce while the casserole bakes in the oven. Genius! (painful boiling step completely averted!)
If you have a hard time finding fresh lasagna noodles at your grocery store, check in the gluten-free aisle. Funny enough the Gluten-Free Fresh Lasagna Noddles tastes exactly the same and works great!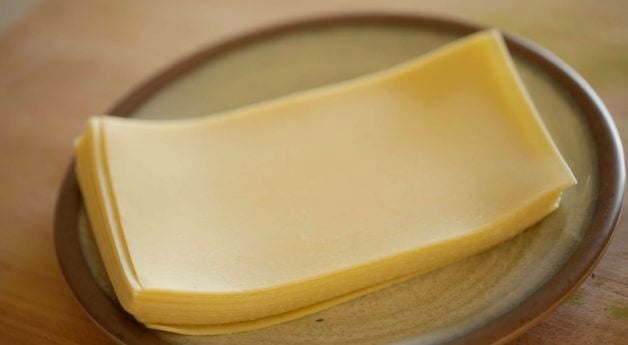 Can Lasagna Roll-Ups Be Made Ahead?
OK, so a few thoughts on this. Ricotta cheese is notoriously filled with water. It may look innocent enough in the tub, dry as a bone.
But if you let it sit for any amount of time (i.e. in a lasagna noodle in your fridge) the water will seep out, break apart your lasagna roll-ups, and turn your rich tomato sauce into a soup mess. So you have 2 options.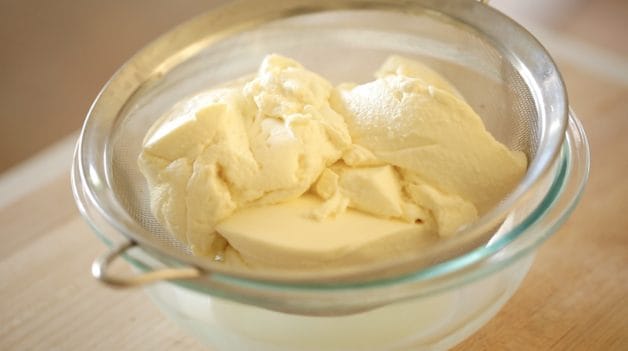 Option #1
Make and Bake your Lasagna Roll-Up Casserole ahead of time. Cool and refrigerate and then reheat at 300F for 30 minutes.
Option #2 (my preference)
Make your sauce. Place in your 9 x 13 pan. Cover and refrigerate. Place your plain ricotta cheese in a strainer over a bowl to drain in the fridge.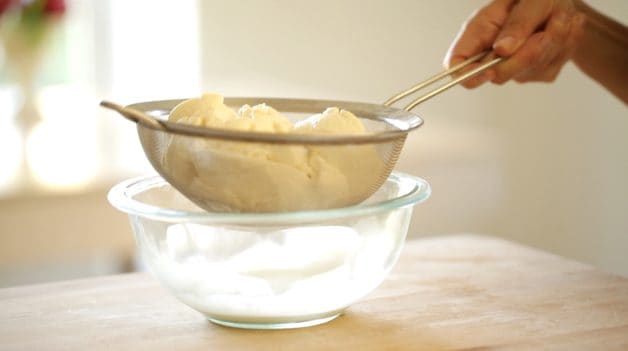 To Serve:
Then when it's time to serve it, cut your fresh herbs and mix up the ricotta cheese mixture. Then roll up your Lasagna sheets with the ricotta mixture, and then and place in the tomato sauce, top with mozzarella cheese, and bake!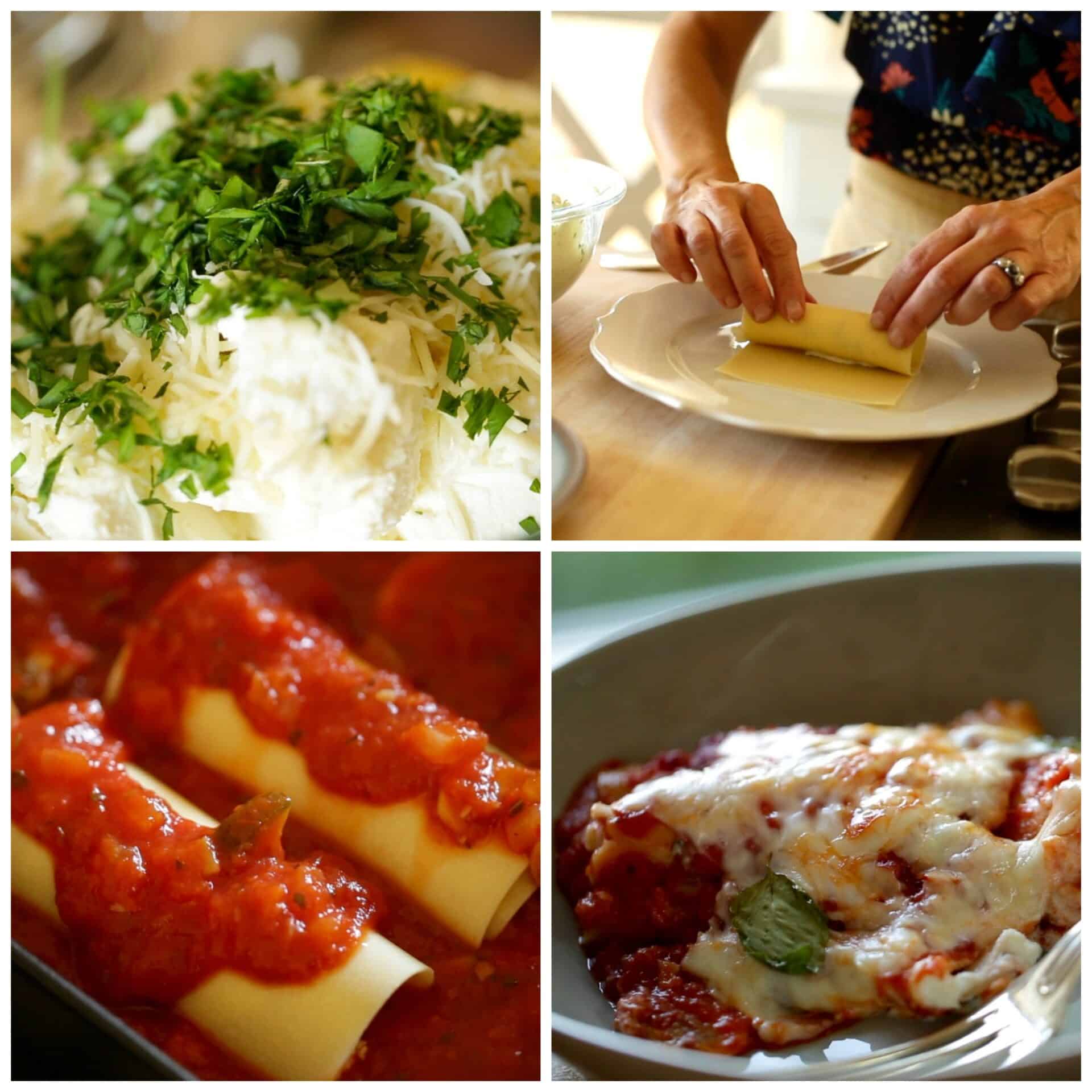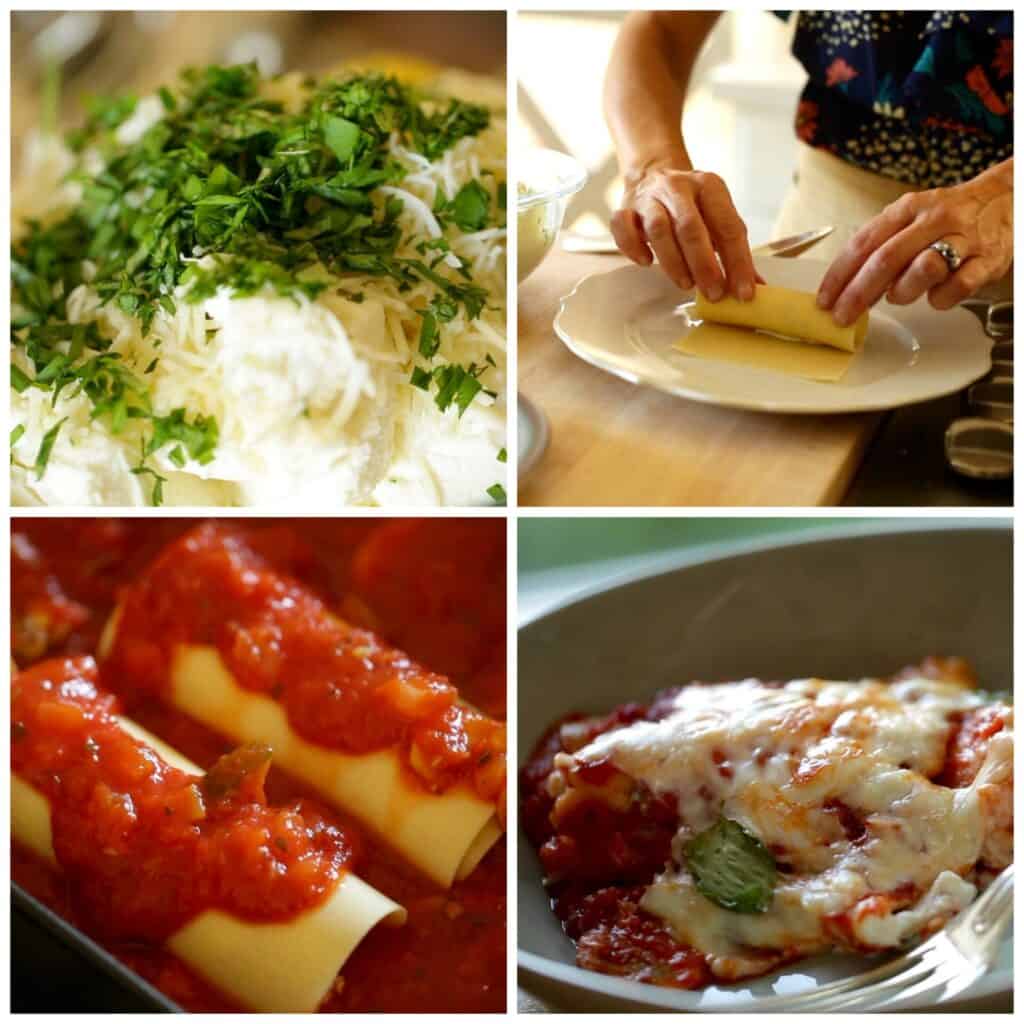 Serve your casserole oven-to-table and let everyone dig in!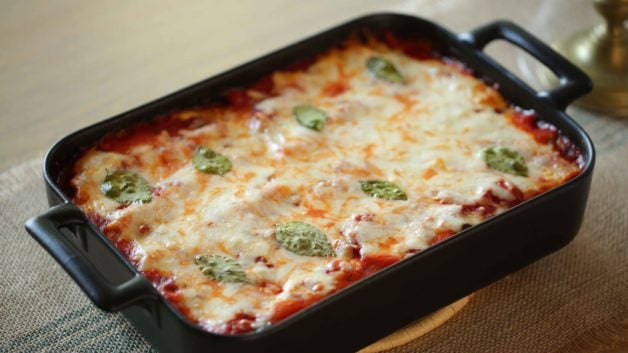 More Vegetarian Sunday Night Dinners!
If You Enjoyed this Recipe
Please Leave a Rating and a Review Below!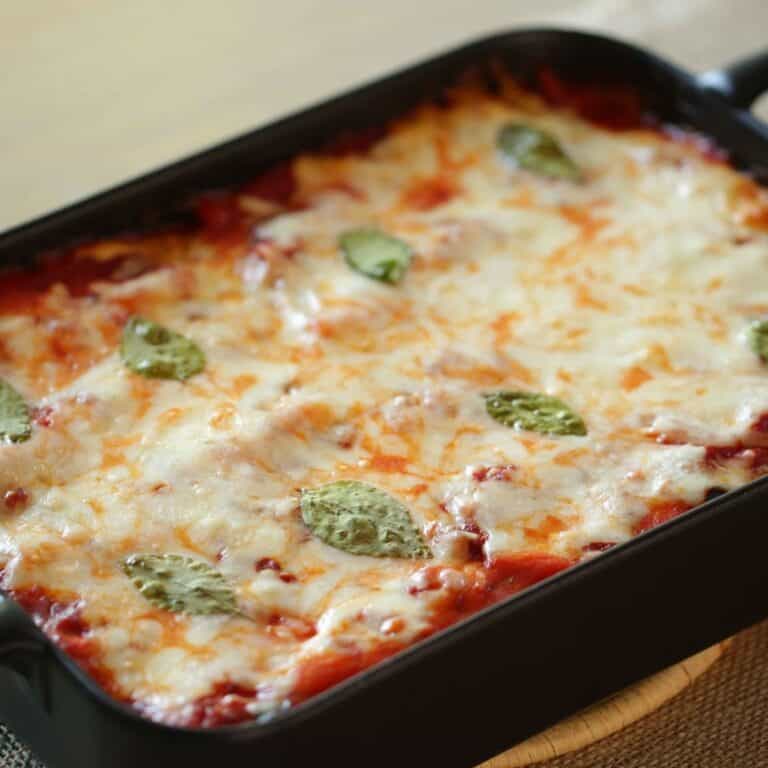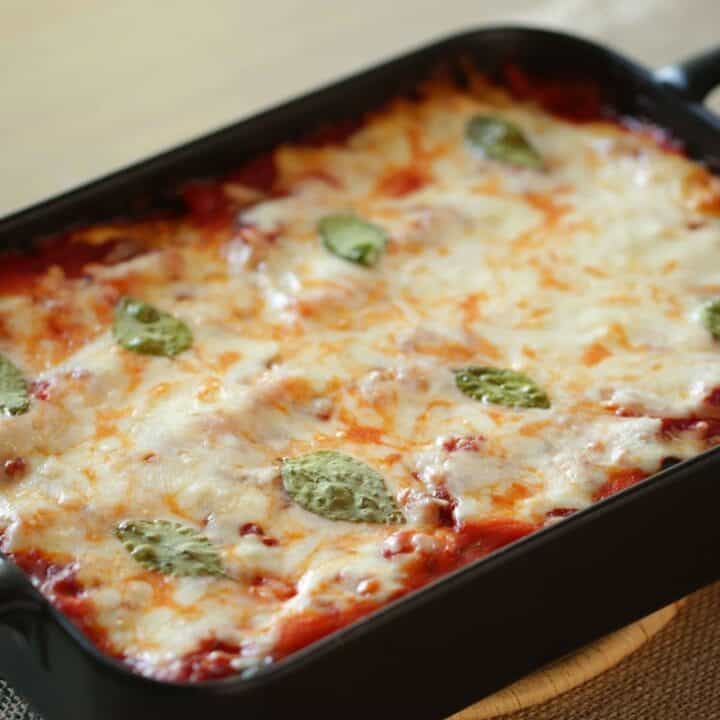 Veggie Lasagna Roll-Ups
Total Time:
1 hour
45 minutes
Veggie Lasagna Roll Ups are a quicker and easy alternative to traditional lasagna. They have all the same ingredients, but somehow just come together a lot quicker! Must be the rolling instead of the layering that feels like it just zips on by! They make a wonderful Sunday Night Dinner or vegetarian Thanksgiving main dish.
Ingredients
For sauce:
2 tablespoon (30ml) olive oil
1 cup (150g) yellow onion, diced
1 cup (150g) zucchini, diced
1 cup (150g) white mushrooms, sliced
salt and pepper to taste
⅓ cup (80 ml) dry white wine, or chicken broth
26 oz (736 g) of chopped tomatoes
2 cups (475ml) tomato sauce
¼ teaspoon (1.25ml) salt
2 cloves garlic, minced
2 teaspoon (10ml) Italian seasoning spice blend
For filling:
3 cups (700ml) whole milk ricotta cheese, drained for at least an hour
1 egg
½ cup (120ml) Italian blend cheese
1 tablespoon (15 ml) fresh chives, finely chopped
1 tablespoon (15 ml) Italian flat leaf parsley, finely chopped
1 tablespoon (15 ml) basil, finely chopped
salt and pepper to taste
For assembly:
1 package (12-sheets) fresh lasagna noodles
1 ½ cups (350 g) grated mozzarella cheese
8 fresh basil leaves for garnish
Instructions
Place ricotta cheese in a fine mesh strainer over a large bowl, and drain in the refrigerator for at least 1 hour. This will help the ricotta lose some of the water which can make your sauce too runny.
Heat olive oil in a large pot. Sauté onions until fragrant and translucent, then add zucchini and mushrooms until cooked and tender. Season with salt and pepper. Add wine and cook until most of the liquid is evaporated.
Add chopped tomatoes, tomato sauce, salt, garlic and Italian seasoning. Simmer for 20 minutes.
Meanwhile, combine the ricotta cheese, egg, Italian cheese, herbs and salt and pepper.
Transfer tomato sauce to a 9 x 13 (23 x 32cm) casserole.
Spoon out ¼ cup (60 ml) of the ricotta mixture and place on one end of the lasagna noodle, roll it up, and nestle into the sauce. Spooning the sauce on top. Continue the process until all lasagna noodles are filled and nestled in the sauce.
Top with the mozzarella cheese on top of the entire casserole. Garnish with the fresh basil leaves.
Bake at 325F (162C) for 40-45 mins until cheese is nicely browned and sauce is bubbling underneath.
Notes
Use Gluten-Free Fresh Lasagna Noodles. Sometimes these are easier to find in the refrigerated section of your supermarket!
Do not try to assemble this and place in the fridge before baking! The ricotta cheese will emit too much moisture and split open your lasagna noodle and make a big watery mess.
To prep in advance, keep everything separate (the ricotta cheese mixture, the sauce can both be made ahead of time.
Then just before baking, assemble and serve!
Nutrition Information:
Yield:

6
Serving Size:

1
Amount Per Serving:
Calories:

327
Total Fat:

14g
Saturated Fat:

5g
Trans Fat:

0g
Unsaturated Fat:

8g
Cholesterol:

57mg
Sodium:

755mg
Carbohydrates:

37g
Fiber:

8g
Sugar:

17g
Protein:

16g