It's easy to get stuck in a past rut, making the same pasta recipes week after week! Sometimes you just need to switch things up! This Creamy Pesto Ravioli is loaded with vegetables and comes together in a flash! Making it perfect for a weeknight meal.
You'll also love the flavor combination between the creamy pesto, the lemon zest, and the ricotta cheese-filled ravioli. It's so delicious, easy, and comforting!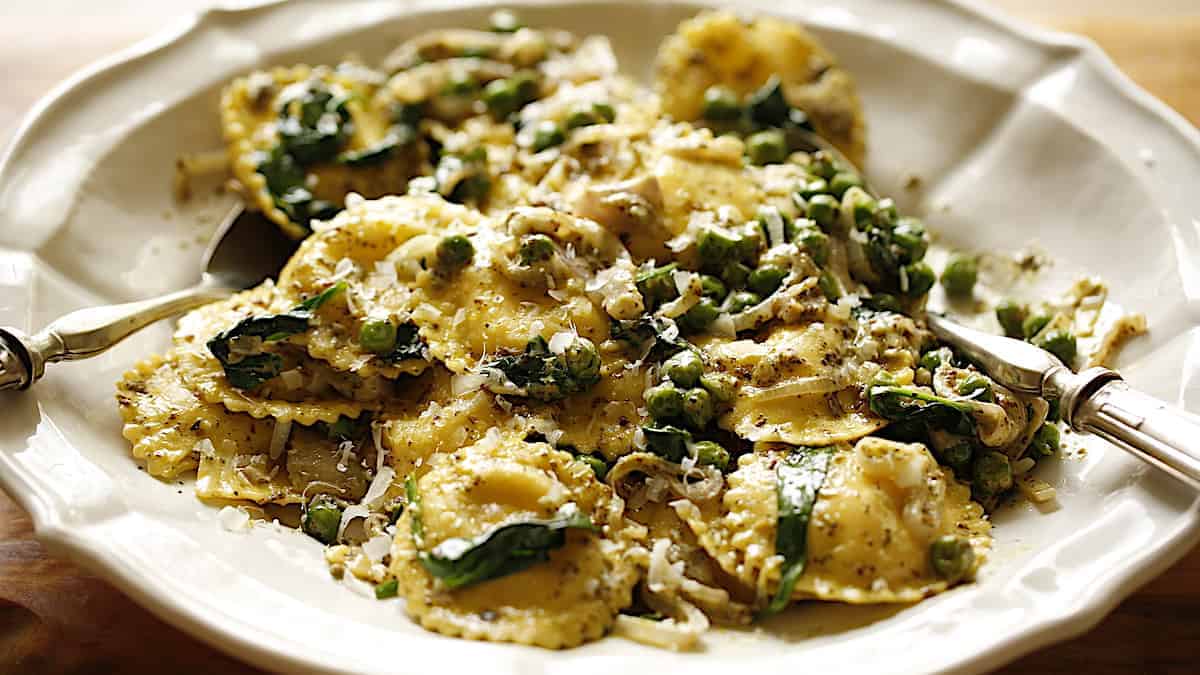 Why You'll Love This:
Ravioli is one of the quickest cooking pasta, next to any kind of Angel Hair Pasta Recipe, and using a store-bought pesto sauce also helps speed up the process of this dish even more.
But the real time-saver is the fact that two of the vegetables, the frozen peas, and the baby spinach, don't need to be prepped!
There's no peeling, chopping, or dicing! You just throw them in, straight from their respective bags and toss them together with the pesto.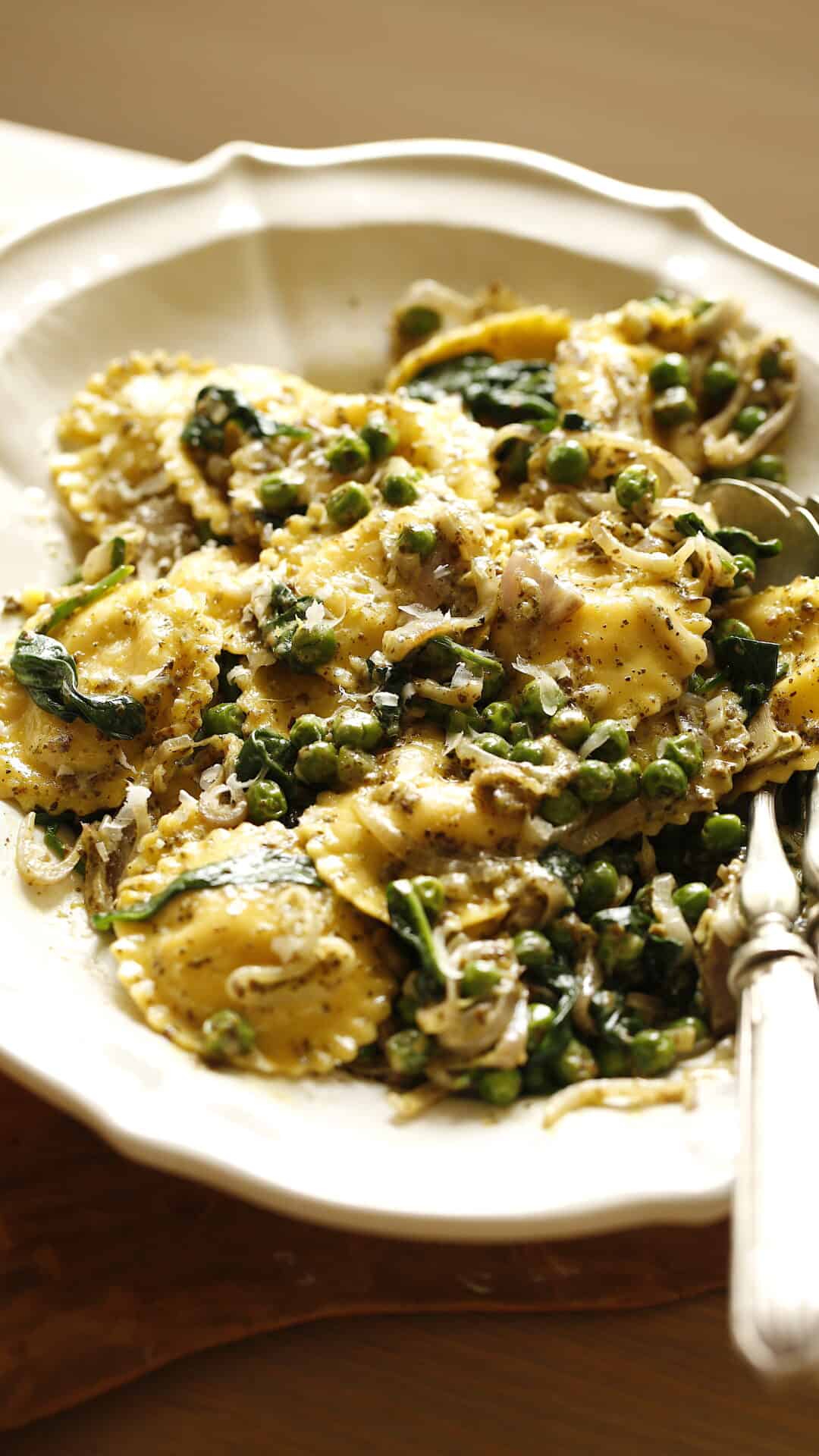 Watch My Video Demo of This Recipe Below!
Related Recipe:
Also featured in this video is my recipe for Creamy Tomato Sauce with Linguine. Another easy weeknight pasta dinner!
What to Look For in Store-Bought Pesto?
Pesto is an Italian sauce made with fresh basil, garlic, olive oil, and sometimes anchovies too! (although I leave those out).
I like to ad a dash of heavy cream to my pesto to make it a pesto cream sauce. It mellows the flavor a bit and makes it a bit more decadent too!
Not all store-bought pesto sauce is created equal! I find if you want a sauce that tastes as close to my homemade pesto recipe as possible, head to the refrigerated section.
That's where you'll find the good stuff!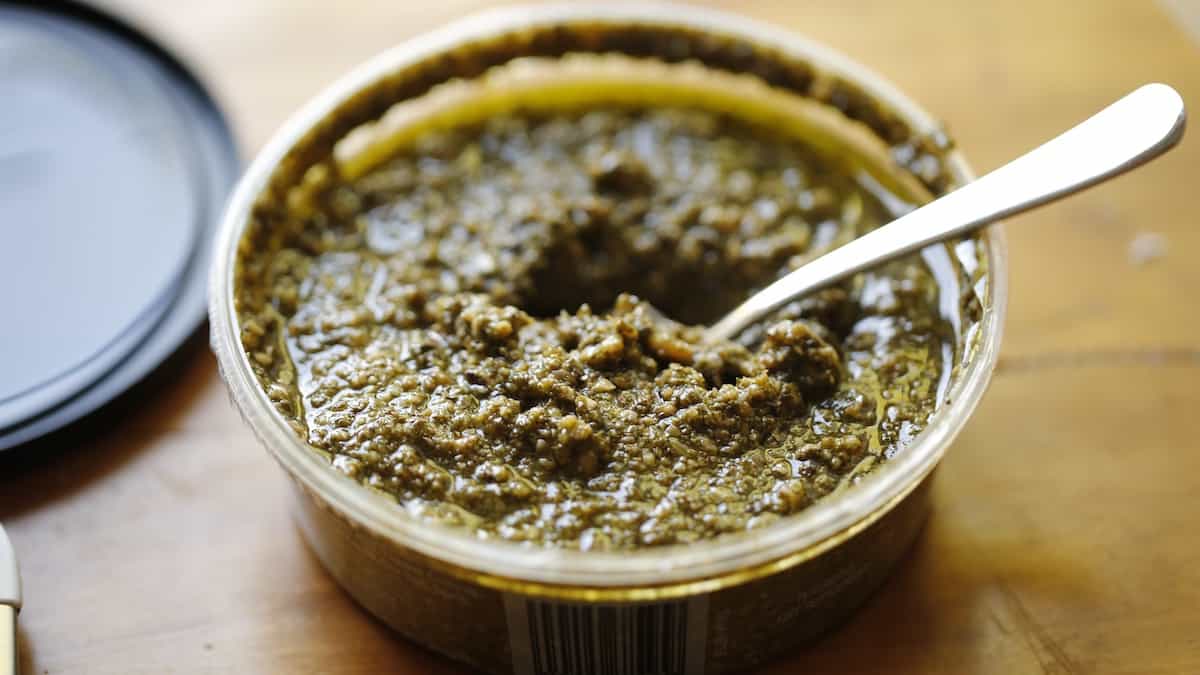 Store-Bought Pesto Should Have these Qualities:
Be stored in the refrigerated section, with a short expiration date
Be dark green in color. If it's too light green, I find it doesn't have as much flavor
Have visible chunks of pine nuts, garlic, and cheese
Just a bit of oil on top. If it looks too oily or too dry, head for another brand
What Else To Make with Pesto Sauce?
This recipe only calls for ¼ cup (80ml) of pesto sauce, but you can make so many other yummy recipes with it like my Tarte au Soleil Appetizer, or my Cheesy Pesto Chicken Bake or my 15-Minute Pesto Gnocchi and Vegetables.
The Best Ravioli for Pesto Sauce
I find the best flavor combination with this recipe, is a ricotta cheese-filled ravioli.
Trader Joe's has a great one that also includes lemon zest. I used it for this recipe and it's fantastic!
Just boil them in salted water, according to the package directions, and they are ready in minutes!
But other good choices would be spinach and cheese ravioli, roasted cauliflower ravioli (Trader Joe's has a great one!), or just plain cheese ravioli.
Great Flavor Combinations with Pesto
Pesto is such a bright, flavorful sauce that it pairs well with anything just as fresh and flavorful
In this recipe I like to pair it with fresh spinach, peas and shallots.
But you could also swap the peas for chopped asparagus or zucchini
Or use cherry or grape tomatoes, onions and small mozzarella pearls.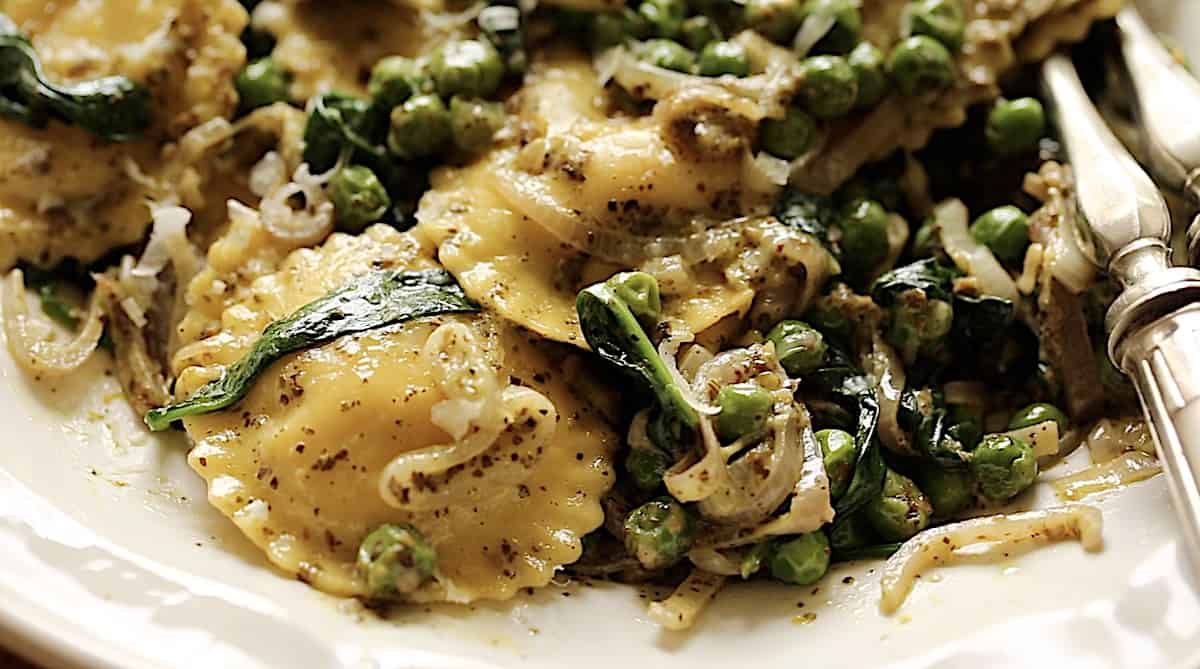 Pasta Water is the Secret Ingredient!
Once the ravioli are done, do not drain the pasta water. Transfer the cooked ravioli to a colander, and keep warm with the colander resting on top of the pot.
To make this creamy pesto sauce, bit lighter, I stir in a full ladle's worth of pasta water to the pesto sauce.
I reheat the pesto on medium-low heat. Be careful to to reheat pesto sauce on too high of heat otherwise the cheese in it will scorch and the sauce will begin to separate.
The pasta water thins out the pesto sauce and prevents it from becoming too heavy.
It also makes the sauce a bit saucier, and the starchiness of the pasta water keeps it from getting too thin.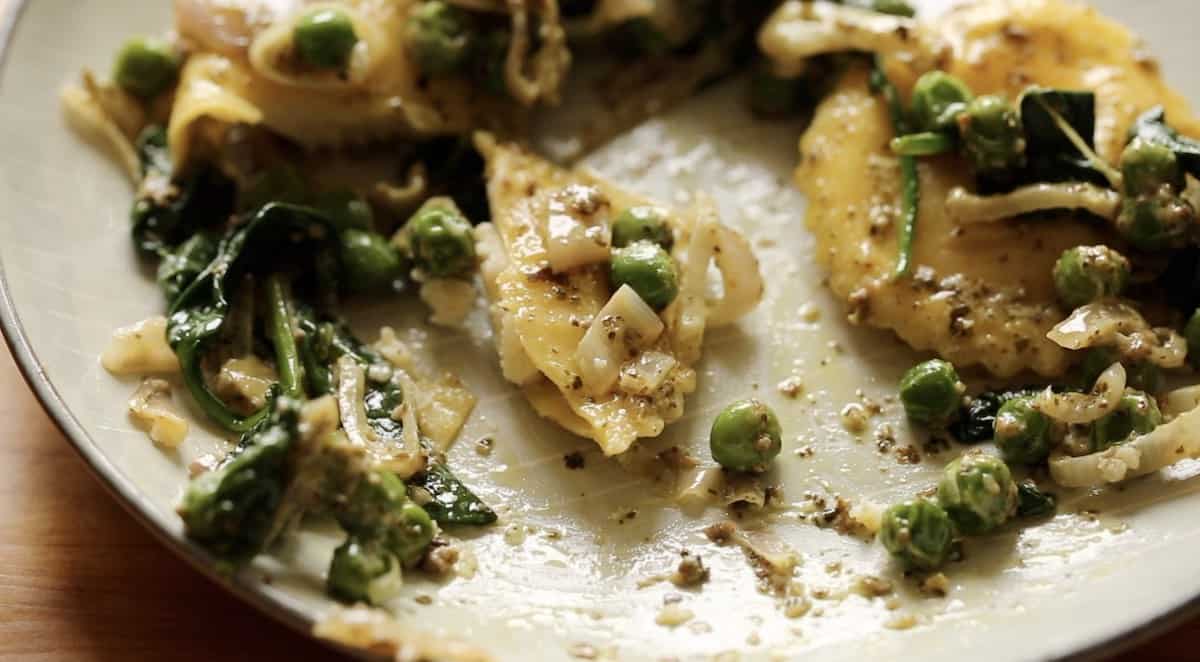 Serving Ideas:
Sprinkle with freshly grated parmesan cheese and julienned fresh basil.
Serve with homemade garlic bread or home easy garlic knots made with store-bought pizza dough.
Or serve as a side dish to my grilled chicken recipe!
More Great Pasta Recipes!
If You Enjoyed This Recipe Please
Leave a Rating and a Review Below!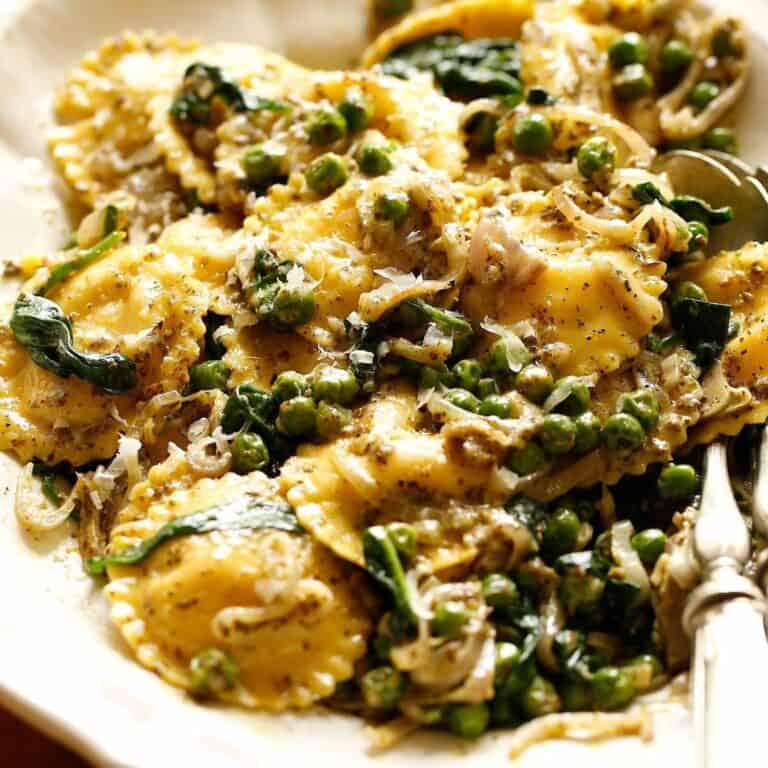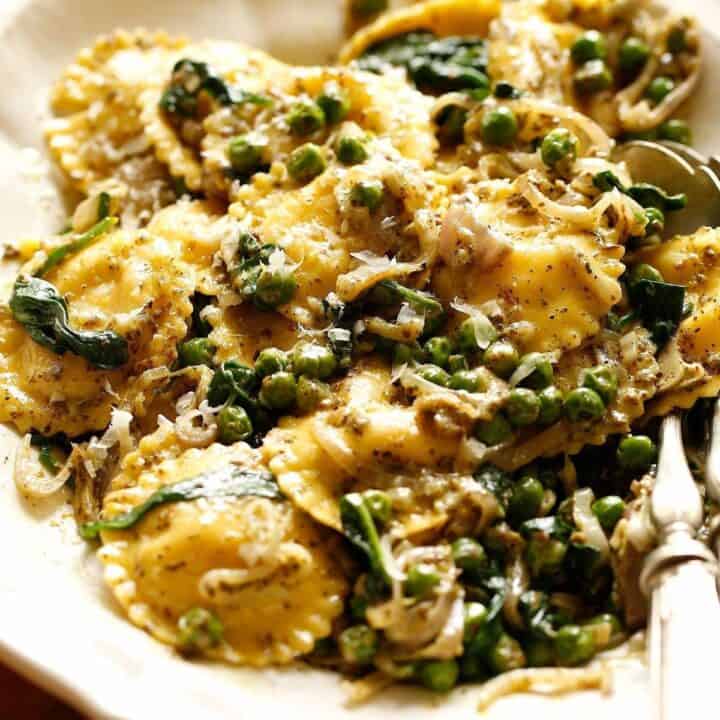 Creamy Pesto Ravioli
A delicious ravioli recipe that is quick and easy for a weeknight meal! Store-bought pesto and a few no-peel, no chop vegetables makes this a snap!
Ingredients
1 package Ricotta Cheese Ravioli (U.S. Residents I used the lemon ricotta cheese ravioli from Trader Joe's which are fantastic with this!)
1 tablespoon (15 ml) olive oil
1 shallot, sliced thinly into half-moons
salt and pepper to taste
¼ cup (60ml) store-bought pesto sauce
½ cup (75g) frozen peas
1 ladle of hot pasta water
2 tablespoon (30ml) heavy cream
½ teaspoon (2.5ml) lemon zest
1 ½ cups (3 fistfuls) baby spinach
freshly grated parmesan cheese to taste
Instructions
Measure and prep all the ingredients so the sauce can be made quickly. This will assure your sauce will be done when the ravioli is done.
Boil water and add ravioli. Cook ravioli until tender.
Meanwhile, heat the olive oil in a deep skillet. Add the shallots, season with salt and pepper, and saute until the shallots are fragrant and wilted. Add the pesto sauce and stir to combine. Add the peas and stir to combine. Add 1 full ladle of pasta water and stir to combine.
Add the heavy cream, and the lemon zest. Then add the spinach. Cook until wilted. Drain the ravioli. Add them to the sauce and toss gently to coat. Transfer to a serving platter and top with freshly grated parmesan cheese.
Notes
When Buying Store-Bought Pesto Look for These Qualities:
Be stored in the refrigerated section, with a short expiration date
Be dark green in color. If it's too light green, I find it doesn't have as much flavor
Have visible chunks of pinenuts, garlic, and cheese
Just a bit of oil on top. If it looks too oily or too dry, head for another brand
Nutrition Information:
Yield:

4
Serving Size:

1
Amount Per Serving:
Calories:

249
Total Fat:

15g
Saturated Fat:

6g
Trans Fat:

0g
Unsaturated Fat:

7g
Cholesterol:

30mg
Sodium:

218mg
Carbohydrates:

21g
Fiber:

4g
Sugar:

3g
Protein:

10g