This White Bean Soup with Sausage and Kale is one of my favorite soup recipes for a hearty dinner or easy entertaining. Pair it with my parmesan-encrusted grilled cheese sandwiches and you'll have one winner of a comfort-food combination!
You can also make the soup base ahead of time then reheat it when ready to serve. At the last-minute add the sausage and kale. and whip up the sandwiches.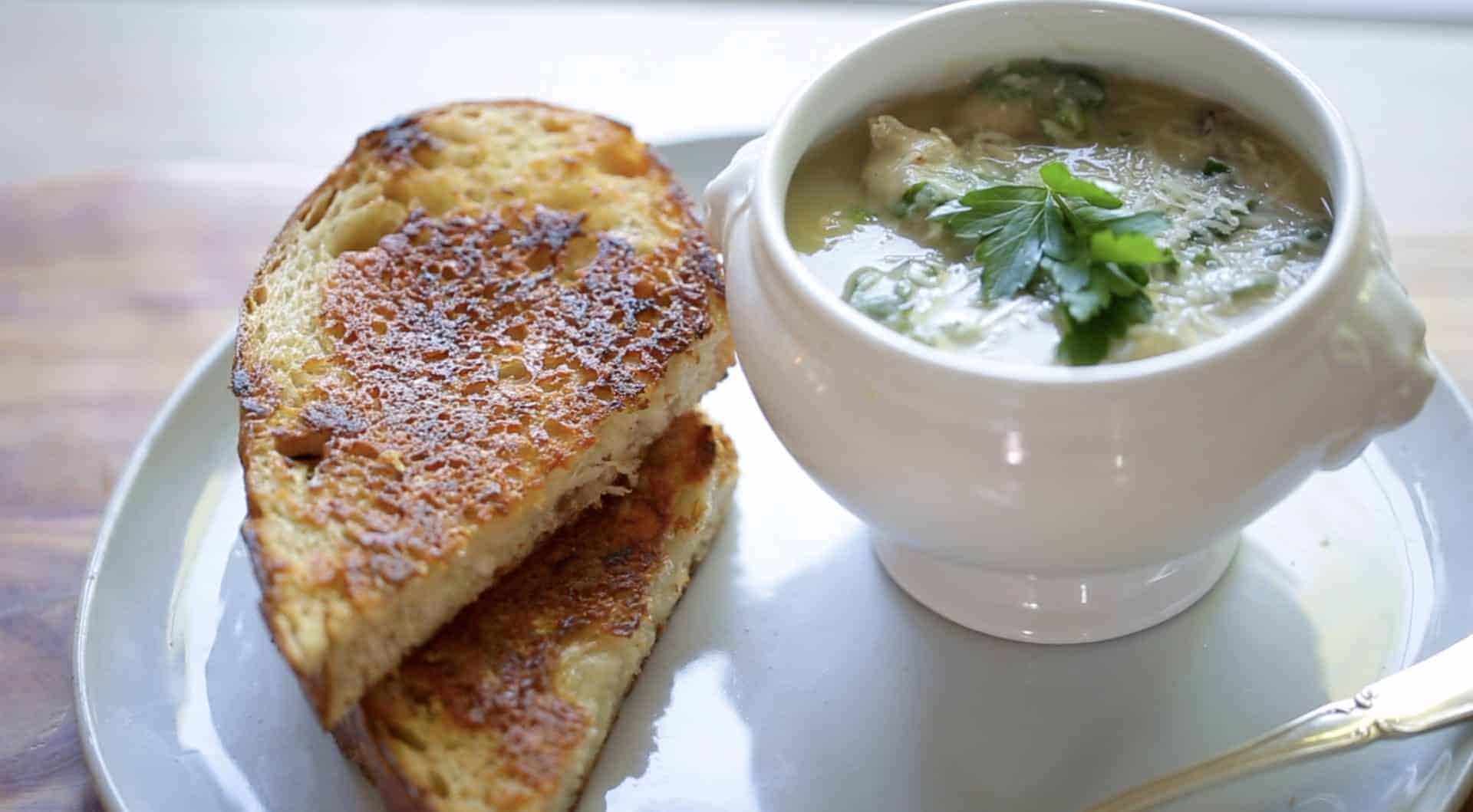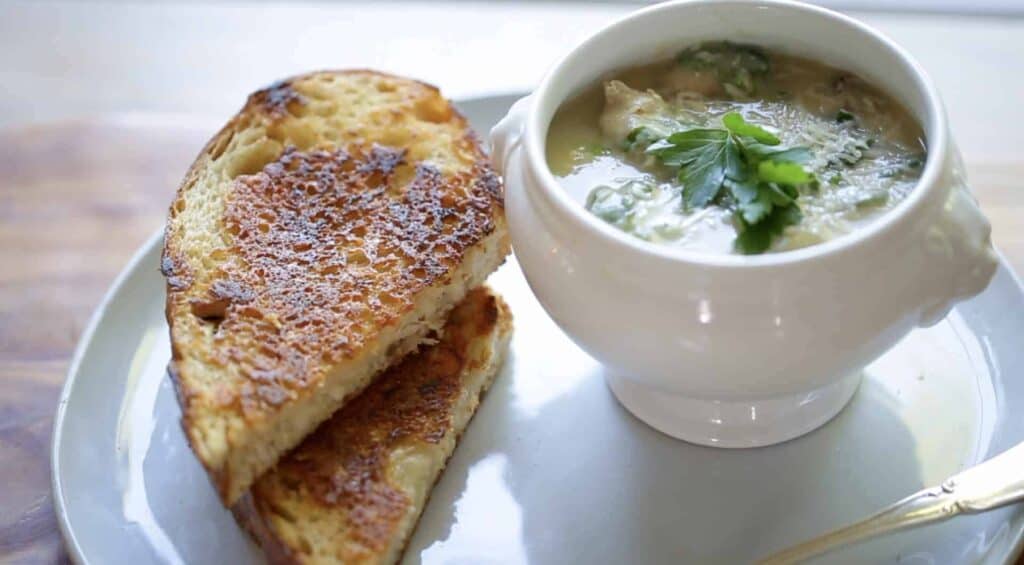 Italian Sausage is such a flavorful and inexpensive protein. But we often default to serving it as Sausage and Peppers. You'll find this white bean soup recipe is another great way to use up sausage you may have sitting in the fridge!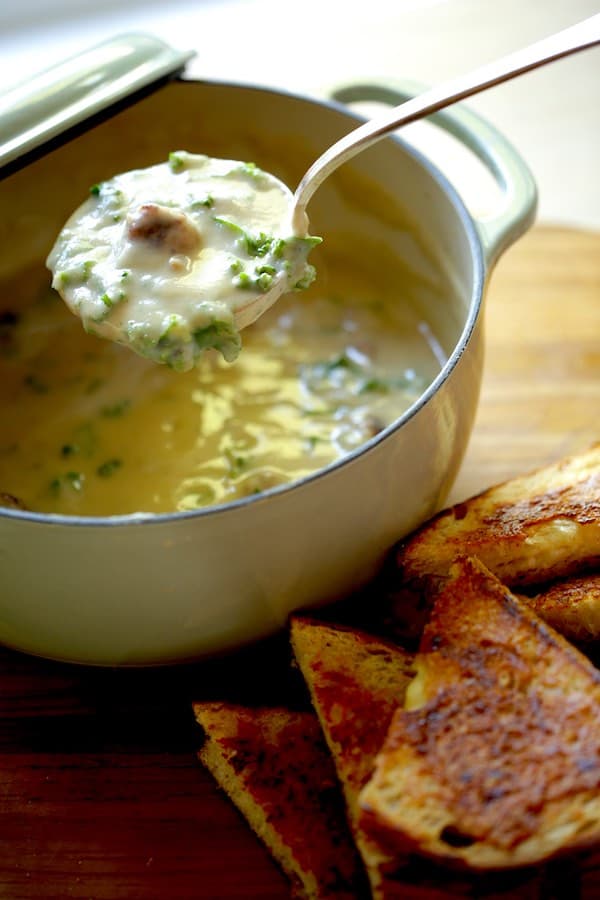 In fact, I like to serve this meal as a self-serve soup and sandwich buffet. Place your Dutch oven on a large cutting board, pile the sandwiches all around, put out some bowls and spoons, and let everyone dive in!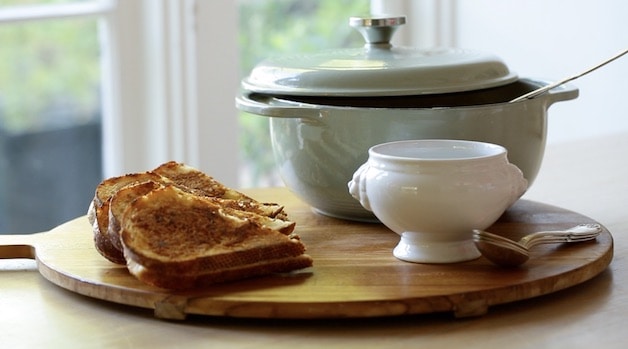 Watch My Video Demo of this Recipe Below!
Subscribe to My YouTube Channel and Never Miss a Recipe!
Personally, I prefer a white bean soup that's pureed. I think there's something really comforting about a creamy soup when the weather turns cold. But if you prefer a chunkier soup you could also serve it unblended too.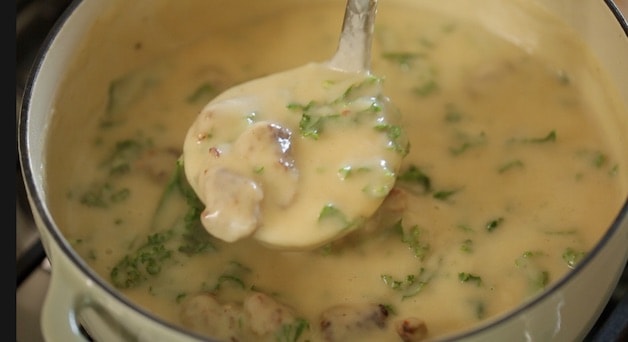 Can I Make this in a Slow Cooker?
Yes! Just pop the ingredients in the unit in the morning and simmer away on low. Then moments before serving sauté up the sausage and add the kale.
Step#1: Make the White Bean Soup Base
To begin, you'll add olive oil to a Dutch oven and sauté the white onion and celery until fragrant and translucent. Sauteeing the vegetables first will give you soup so much more flavor while sweetening up the onions.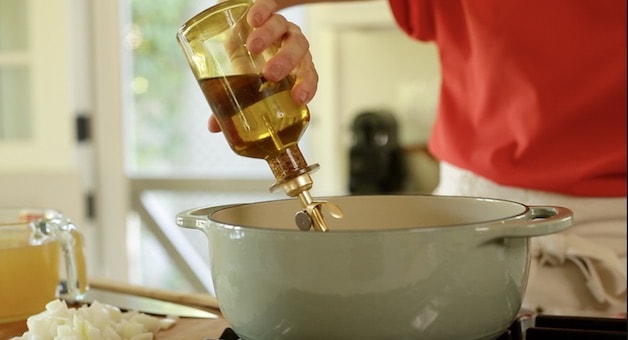 Be Sure to Rinse The Beans
You don't want to pop them into your soup with all that liquid. It's really a storage solution that should be discarded and rinsed. This will remove the excess sodium and starchiness left in the liquid. It will also help remove any metallic taste canned beans can have.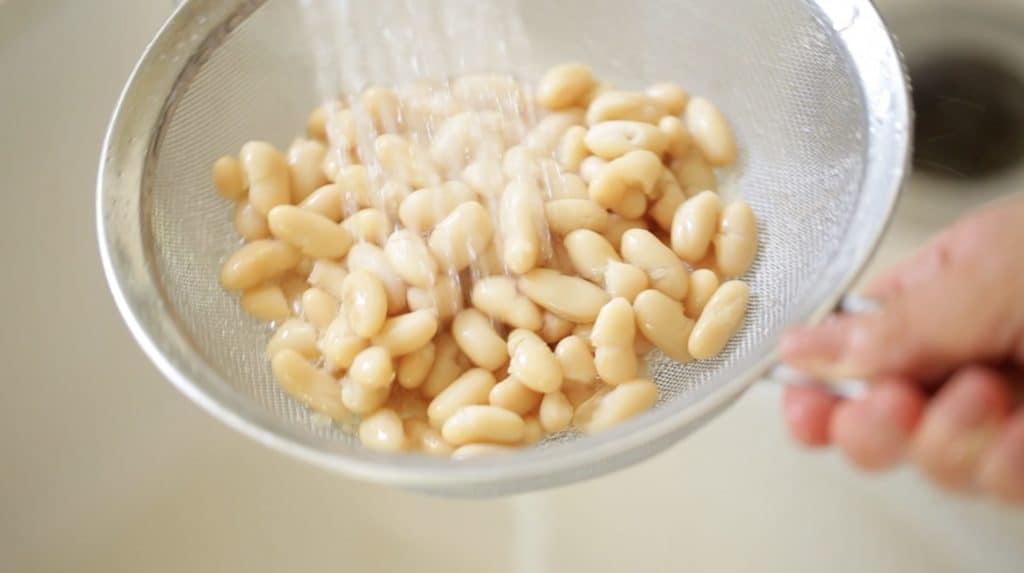 Which Beans are White Beans?
White beans are a category of beans that includes varieties like Boston beans, navy beans, Great Northern beans, or cannellini beans. Any of these white beans will work with this soup recipe.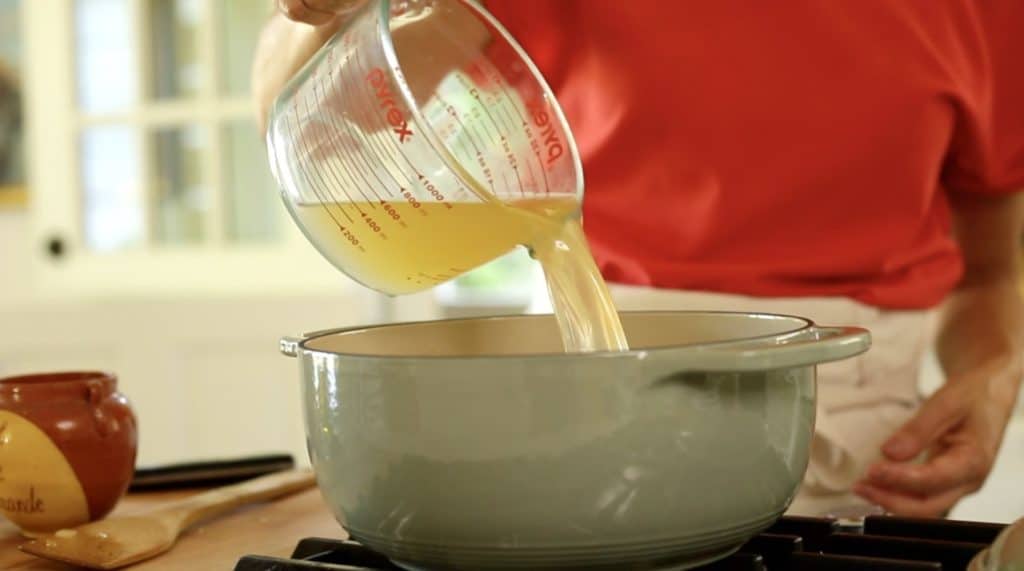 Then you'll add the chicken broth and rosemary sprigs, this will infuse the broth with a wonderful rosemary flavor while it simmers. Just remember to remove the sprigs before blending.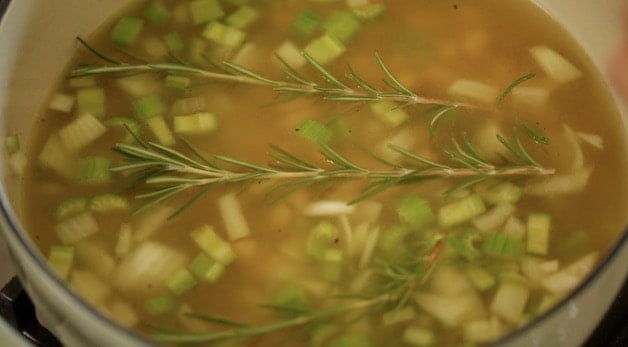 Step#2: Blend the Soup
Blending the soup will create the most beautiful and creamy texture. This is the benefit of bean-based soups, they ad so much creaminess without the addition of dairy.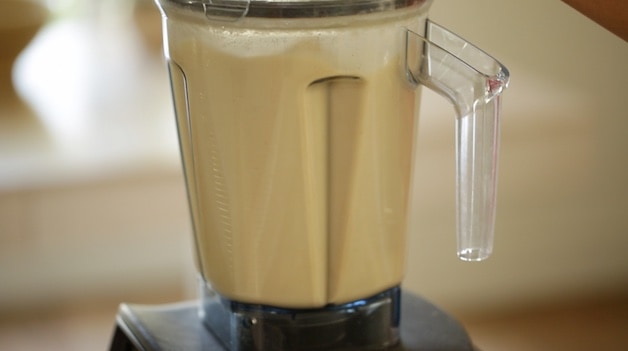 Make-Ahead Tip:
At this stage, you can allow the soup to cool, place the lid on the Dutch oven and store it in your refrigerator until ready to serve. Then reheat the soup just before serving and then add the sausage and kale.
I think it's best to add the sausage and kale just before serving. That way the sausage remains crispy on the outside and the kale will not be too wilted.
Thinning the Soup
Sometimes the soup can thicken while in the refrigerator. You can thin it to the desired consistency with either chicken broth or water.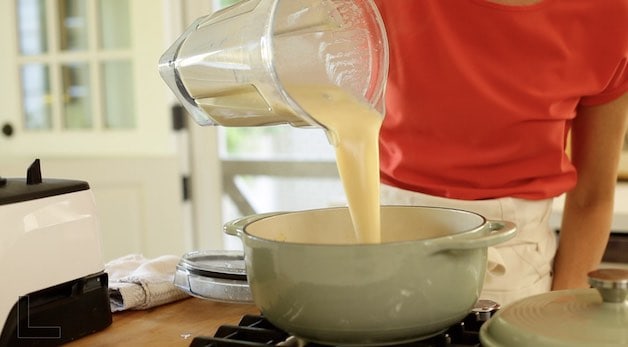 Step#3: Cook the Sausage
I like to use sweet Italian sausage for this recipe but you could also use the hot Italian sausage for a white bean soup with a kick.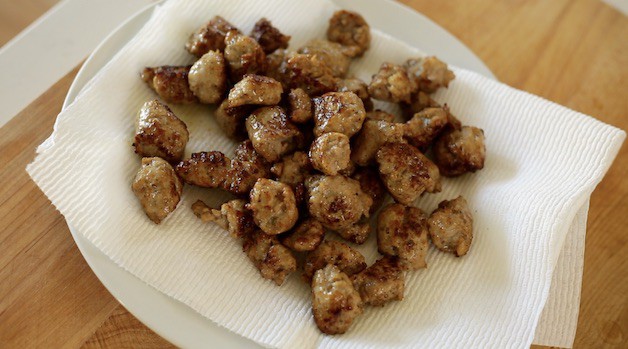 Getting Nice Browning on The Sausage
I find sautéing the sausage in a non-stick pan creates better color and browning than a stainless steel pan. It will also make it easier to clean the pan too!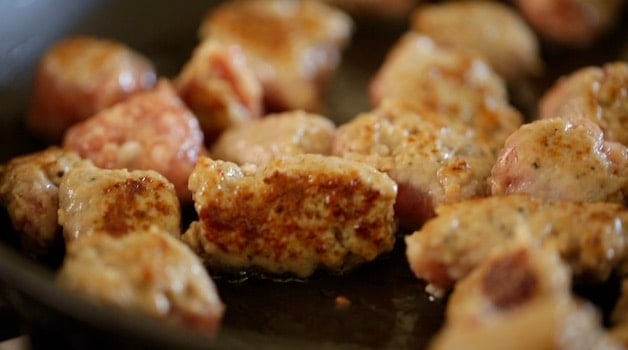 Using Up the Leftover Sausage
Often times sausage comes 5-6 links in a package, which is a bit too much for this soup. But not to worry, if you have any leftovers, you can freeze them and defrost them later in the week to make my Orecchiette Pasta and Sausage and Baby Broccoli. This is another fantastic weeknight meal that comes together in a flash!
Step#4: Add the Kale
Strip the leaves of the stalk and give it a rough chop. The stalk or "spine" of the kale leaf is really fibrous and tough to eat so you'll want to strip that away.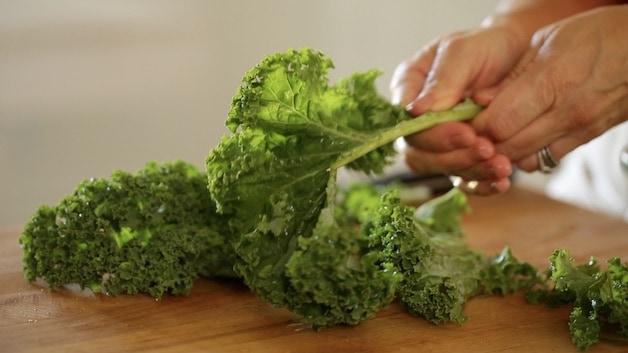 It typically takes about 2 large leaves to get about 2 cups worth of kale.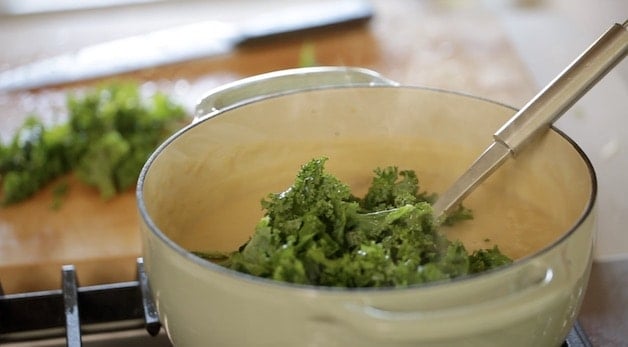 Step#5: Prepare the Grilled Cheese Sandwiches
I really like using sourdough bread for grilled sandwiches because it has a great weight to it which holds up well if you are inclined to dip the sandwich in your white bean soup.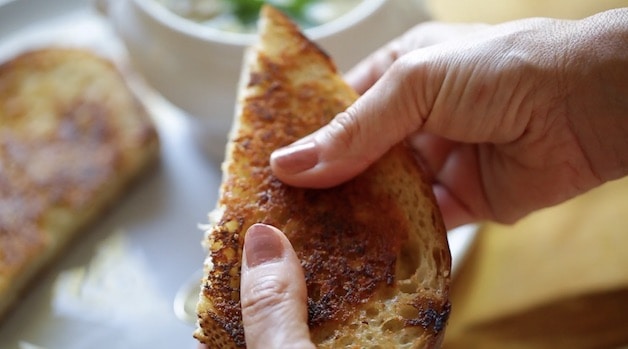 Which Cheese is Best for a Grilled Cheese Sandwich?
If you want to make an amazing grilled cheese sandwich, then make sure you have a few different cheese varieties represented. I think the perfect combination is to add parmesan cheese to the outside of the sandwich and mild, gooey cheese on the inside. Mozzarella, fontina, or provolone cheese would all be good choices.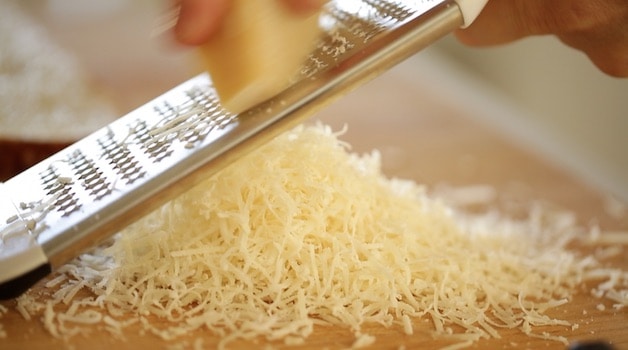 Sandwich Tips:
Add a little more cheese than you think you need. Some of the cheese will slide off in the grilling process but that's OK the results are well worth the effort!
Grill sandwiches in a non-stick pan this prevents the parmesan from sticking.
Keep the sandwiches warm in a 250F oven until ready to serve.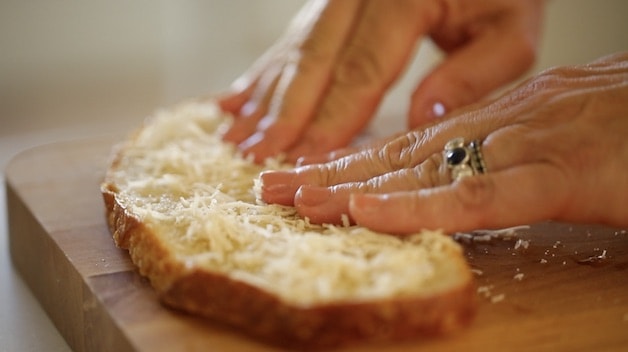 The parmesan cheese creates a really flavorful and crispy exterior with an amazing crunch!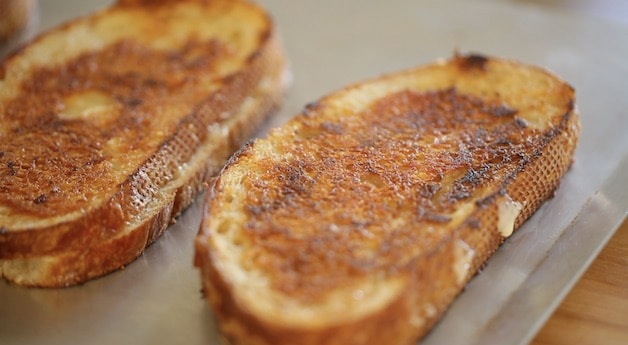 This white bean soup is such a fantastic fall soup recipe for when you just want to stay in and be cozy! It would make a great meal for a game night with friends or if you just want to binge-watch your favorite series on Netflix!
If You Enjoyed This Recipe
Please Leave a Rating and a Review Below!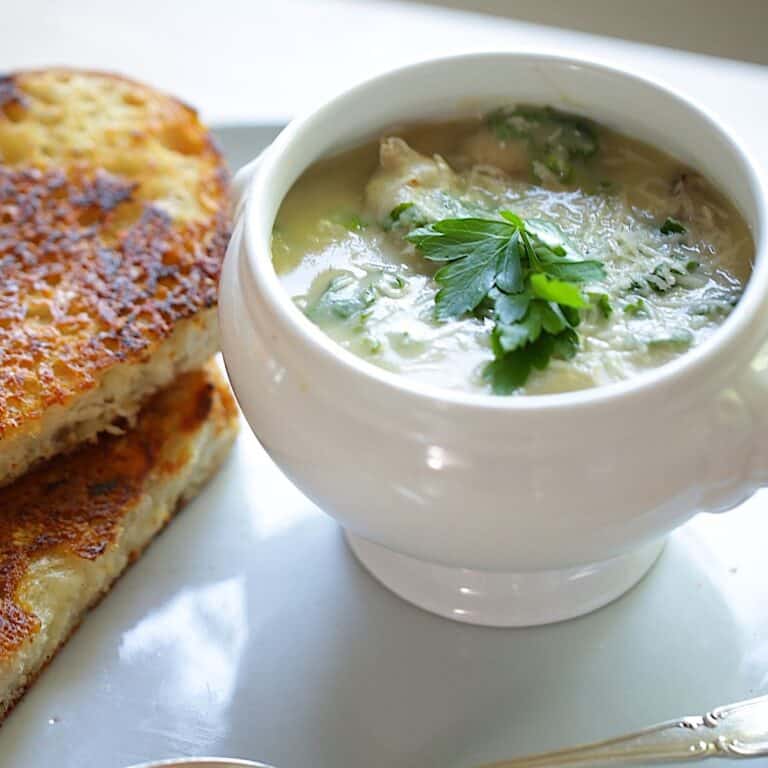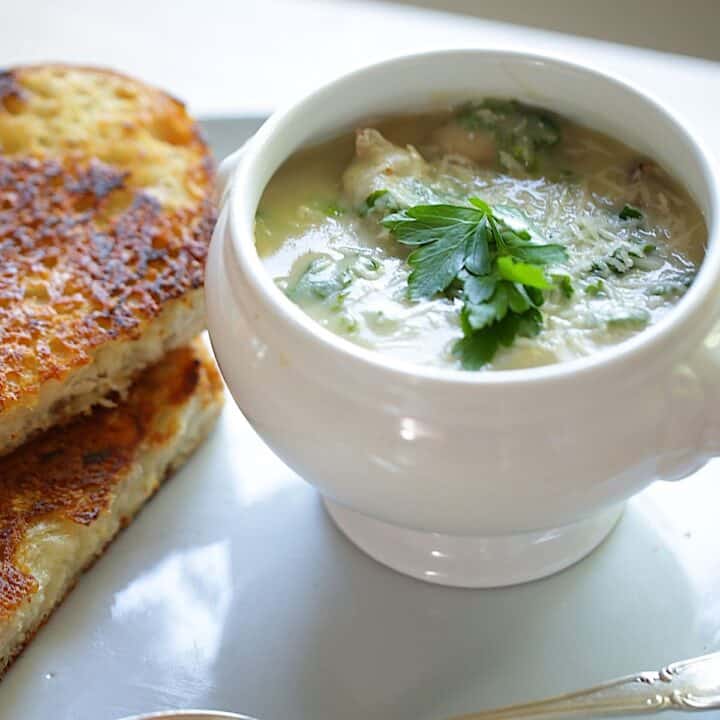 White Bean Soup with Sausage and Kale Recipe
Total Time:
1 hour
30 minutes
A delicious and filling dinner soup. Pair it with my parmesan-encrusted grilled cheese sandwiches and you'll have one winner of a dinner! You can also make the soup base ahead of time then reheat it when ready to serve. At the last-minute add the sausage and kale. 
Ingredients
FOR SOUP:
2 tablespoon (30ml) olive oil, separated
1 ½ cup (225g) onion, chopped
½ cup (75g) celery, diced
salt and pepper to taste
2 (15-oz) cans of cannellini beans (844g) drained and rinsed
4 cups (950ml) chicken broth, NOT low sodium
5 sprigs of fresh rosemary
4 Sweet Italian Sausage Links, casings removed
2 large leaves of kale, stems removed, leaves roughly chopped
¼ cup (22g) freshly grated parmesan
FOR GRILLED CHEESE:
4 slices sourdough bread
4 slices provolone cheese
2 tablespoon (30ml) butter, melted
Instructions
In a large Dutch oven heat 1 tablespoon (15ml) of the olive oil. Then add the onion and the celery and cook on medium heat until they are fragrant and tender.
Add the beans and the broth and the 5 rosemary sprigs. Simmer covered for 10 minutes.
Meanwhile, heat a large non-stick skillet add 1 tablespoon of olive oil. Cook the sausage and break it into bite-sized chunks. Allowing it to brown on all sides and cook through. Remove sausage with a slotted spoon and transfer to a plate lined with a paper towel.
Transfer the soup to a blender and puree until smooth. Transfer back to a cleaned-out Dutch oven and keep warm on a low flame.
Season soup to taste with salt and pepper. Add sausage and kale. Stir until sausage is warmed through and kale is wilted. Keep warm on a low flame while you grill the sandwiches.
Heat a large non-stick skillet or grill pan. Spray lightly with cooking spray.
Brush one side of each slice of bread, with butter. The top with freshly grated parmesan cheese, pat the cheese down and press into bread so it sticks a bit.
Place cheesy side of bread on a non-stick pan or a griddle, add 2 slices of provolone cheese, top with the second slice of cheesy bread. Parmesan cheese side up.
Grill on each side until parmesan is set and toasted and cheese inside the sandwich has milted. Remove from grill and slice sandwich in half on the diagonal.
Serve with the soup!
Notes
You can make the soup base ahead of time. Blend it and put it back in the Dutch oven. Cool completely and then cover with the lid and refrigerate until ready to serve. Moments before serving, cook the sausage and add the kale.
If the soup has thickened while in the fridge, thin it with chicken broth or water to the desired consistency.
Unless you have health considerations, I would avoid the low-sodium chicken broth. You'll get more flavor from the regular chicken broth.
Nutrition Information:
Yield:

6
Serving Size:

1
Amount Per Serving:
Calories:

413
Total Fat:

18g
Saturated Fat:

6g
Trans Fat:

0g
Unsaturated Fat:

10g
Cholesterol:

35mg
Sodium:

1028mg
Carbohydrates:

38g
Fiber:

3g
Sugar:

5g
Protein:

26g