A delicious Sweet Potato Gnocchi with brown butter sage. This is a great fall dinner idea for a cozy Sunday night dinner!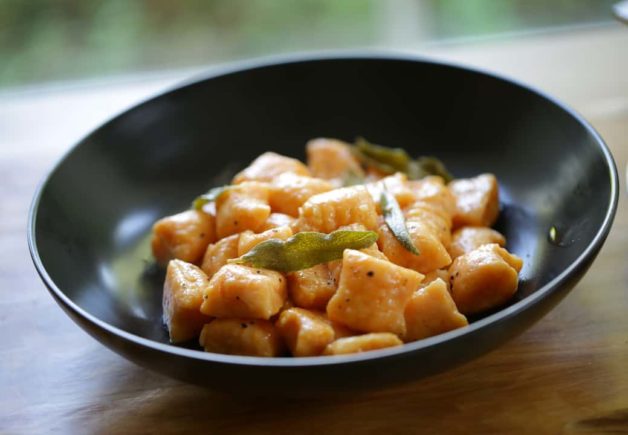 I used to hear the words "Homemade Gnocchi" and kinda roll my eyes a bit, in a who-has-time-for-that kind of way! Until I actually tried it and let me tell you it's really not that bad folks and SO worth the effort! Especially when you can flavor them with seasonal twists like sweet potato and nutmeg.
WATCH MY VIDEO DEMO OF THIS RECIPE BELOW!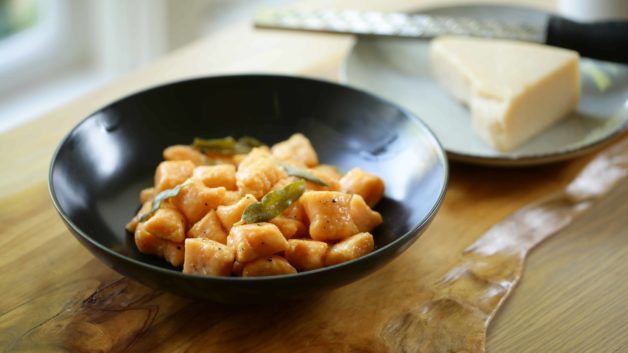 It's an especially fun "weekend project" as the weather turns cool. It actually can go pretty quickly if you have some friends or relatives around to help!
In fact, my Dad was telling me stories about how he remembers growing up in his Italian-American family and witnessing his mother and grandmother at the kitchen table chatting and rolling and cutting, all these homemade gnocchi.
Sounds like such a lovely image, no? I try to remember that when I'm knee deep in gnocchi dough with just a few cut ha!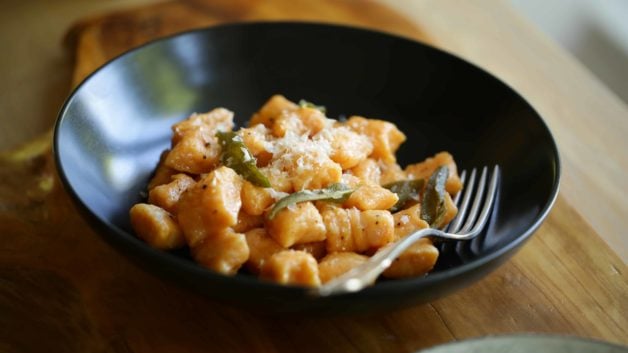 The best part is these take hardly any time to boil, just 2-3 mins and you can make them all ahead of time and freeze.
They get tossed with a simple brown butter sauce with crispy sage. Let me tell you, these are pretty over-the-top in a "you only live once" kind of way!
They'd make a great holiday starter or side dish for Thanksgiving.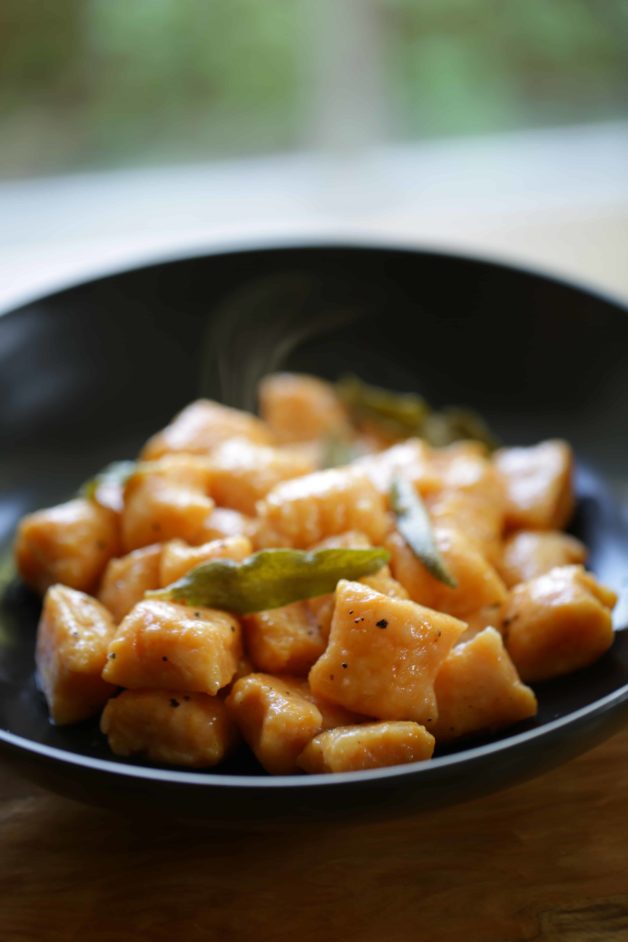 Once you sit down and tuck into these little pillowy morsels of heaven, all the effort will simply just melt away!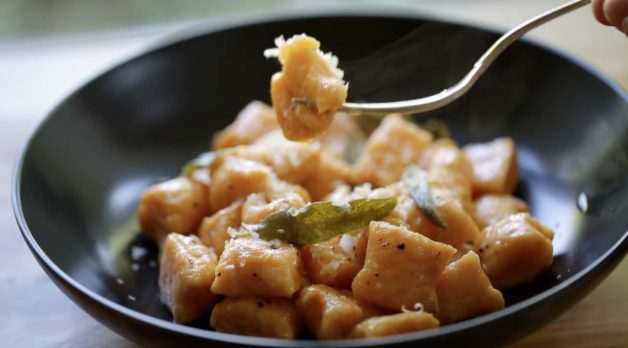 No time for homemade gnocchi?  This is a great recipe that uses store-bought gnocchi and only takes 15-minutes to make and is just as delicious!
MORE GREAT FALL RECIPES BELOW!
Please let me know if you make this recipe by leaving a rating and review below!
Follow me on Youtube, Pinterest, Instagram, Facebook & Twitter!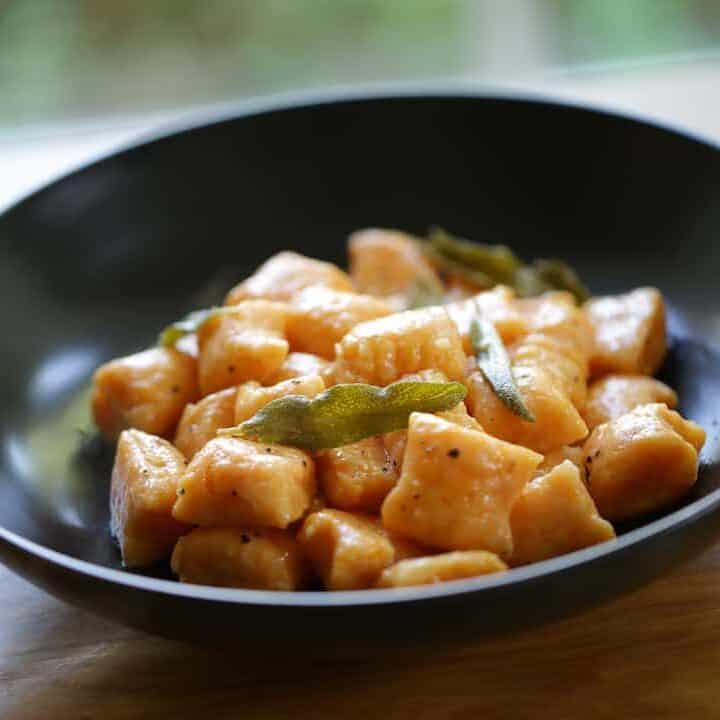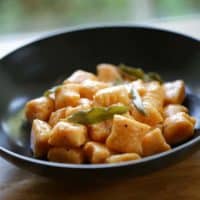 Sweet Potato Gnocchi with Brown Butter and Sage
Total Time:
2 hours
10 minutes
A delicious sweet potato gnocchi recipe with brown butter and sage. So flavorful and festive for fall entertaining!
Ingredients
2 large russet potatoes
2 large sweet potatoes
1 tbsp (15 ml) olive oil
1 egg
1 tsp (5 ml) salt
1/8 tsp (large pinch) nutmeg
1 ½ -2 cups (180g-240g) all-purpose flour
For Sauce (for 2 portions)
For Sauce (for 2 portions)
3 tbsp (45 g) butter
10 fresh sage leaves
salt and pepper to taste
freshly grated parmesan cheese
Instructions
Preheat oven to 400F (200C).
Rub potatoes with olive oil and pierce on all sides with a fork. Place on a large baking sheet and bake for 45 mins to 1 hour until soft. Turning every 20 mins to allow for even baking.
Allow to cool slightly then remove peels and cut into quarters. Press potatoes through a ricer into a large bowl.
Create a small well in the center of the potato mound. Add egg, salt, nutmeg and 1 ½ cups of flour. Stir with a fork and then hands until a dough forms. Sprinkle some of the remaining ½ cup of flour on a work surface and work in the remaining flour just as needed, to create a non-sticky workable dough.
Cut off medium sized balls and roll into a large rope. Cut off 1 in pieces and transfer them to a baking sheet lined with parchment paper and lightly dusted with flour.
Continue rolling and cutting until all the gnocchi are cut. Create several layers if needed by adding more parchment paper layers onto your baking sheet.
Place baking sheet in freezer until ready to serve.
Then boil a large pot of water. Meanwhile melt butter in a large skillet once foamy add the fresh sage and sizzle the sage until crispy. Add salt and pepper. Remove butter from heat and allow to rest at room temperature.
Boil gnocchi in batches (2-3 servings at a time) they only take 2-3 minutes and will float to the top when done.
Strain with a hand strainer and transfer to skillet to gently coat with butter sage mixture. Once coated, portion out into bowls and serve with freshly grated parmesan. YUM!
Notes
These gnocchi can be made ahead of time. Just place on a baking sheet lined with parchment paper, in a single layer and freeze.
Once frozen place in a zip lock bag and keep frozen until ready to use.
Drop frozen gnocchi into boiling water and cook until they float to the top. Takes only a few minutes!