Lemon Poppy Seed Pound Cake
This Lemon Poppy Seed Pound Cake recipe makes a fantastic dessert idea for any springtime occasion.
A twist on my Blood Orange Pound Cake and Coconut Pound Cake recipes, this pound cake is light and fluffy and full of lemon flavor coming from the lemon zest in the cake and the scrumptious lemon glaze on top. For a pound cake in a Bundt Pan, perfect for serving 8-12 guests, try my classic Lemon Pound Cake Recipe.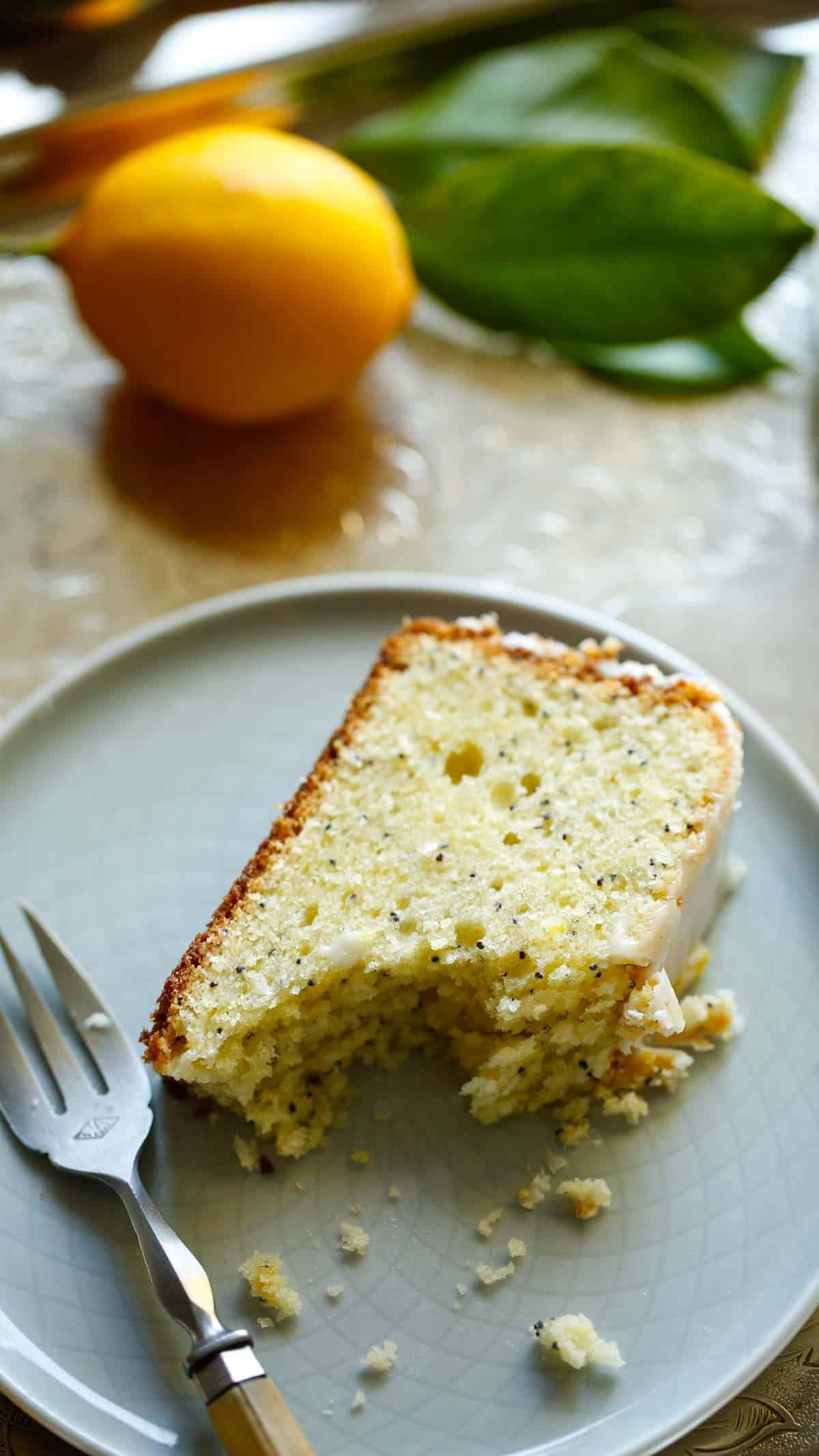 The Secret to a Great Pound Cake
Pound cake is one of the simplest cakes to master. It has few ingredients, can be made in advance, it also freezes well too! So it's easy to see why they are so popular for entertaining. But don't let their simplicity fool you into thinking they're aren't a few key steps to get right!
The butter, eggs and sour cream, all must be at room temperature! Baking is science and if these ingredients are not at room temperature they will not "play nice" with each other and combine easily. You'll get a pound cake that won't rise as high, will be streaky in some places, and dense in others.
The Butter and Sugar Must Be Fluffy. Don't stop at "just combined" you must take the beating of the butter and sugar to fluffy new heights! Be prepared to beat for at least 5-7 minutes, scrapping down the bowl often, until it reaches an airy consistency much like the texture of whipped cream. This is easier with a Kitchen Aid stand mixer over a hand mixer if you have the option. So yes, it's worth dragging out the stand mixer.
Beat The Eggs Well. This is where all the lightness comes in, the eggs. Beat the eggs very well one at a time to get as much air into your batter as you can, and creating as much volume as you can.
Don't Over Beat The Batter Once the Flour Is In. This will lead to a tough pound cake. Do all your beating and "volumizing" BEFORE the flour is in. The flour mixing should be slow and gentle.
Don't Over Bake. Nothing will lead to a dry, lackluster pound cake more, than over-baking. Take this recipe just to the 55-57 minute mark, and if the toothpick comes out clean, pull it out immediately. For extra insurance in baking it's always a good idea to have an oven thermometer in your oven just to be certain your oven is running at temperature. Otherwise baked goods burn if the oven runs hot, or will take longer if the oven runs cool. This video I did on Knowing Your Oven Temperature will explain more of how to fix an oven like this in more detail.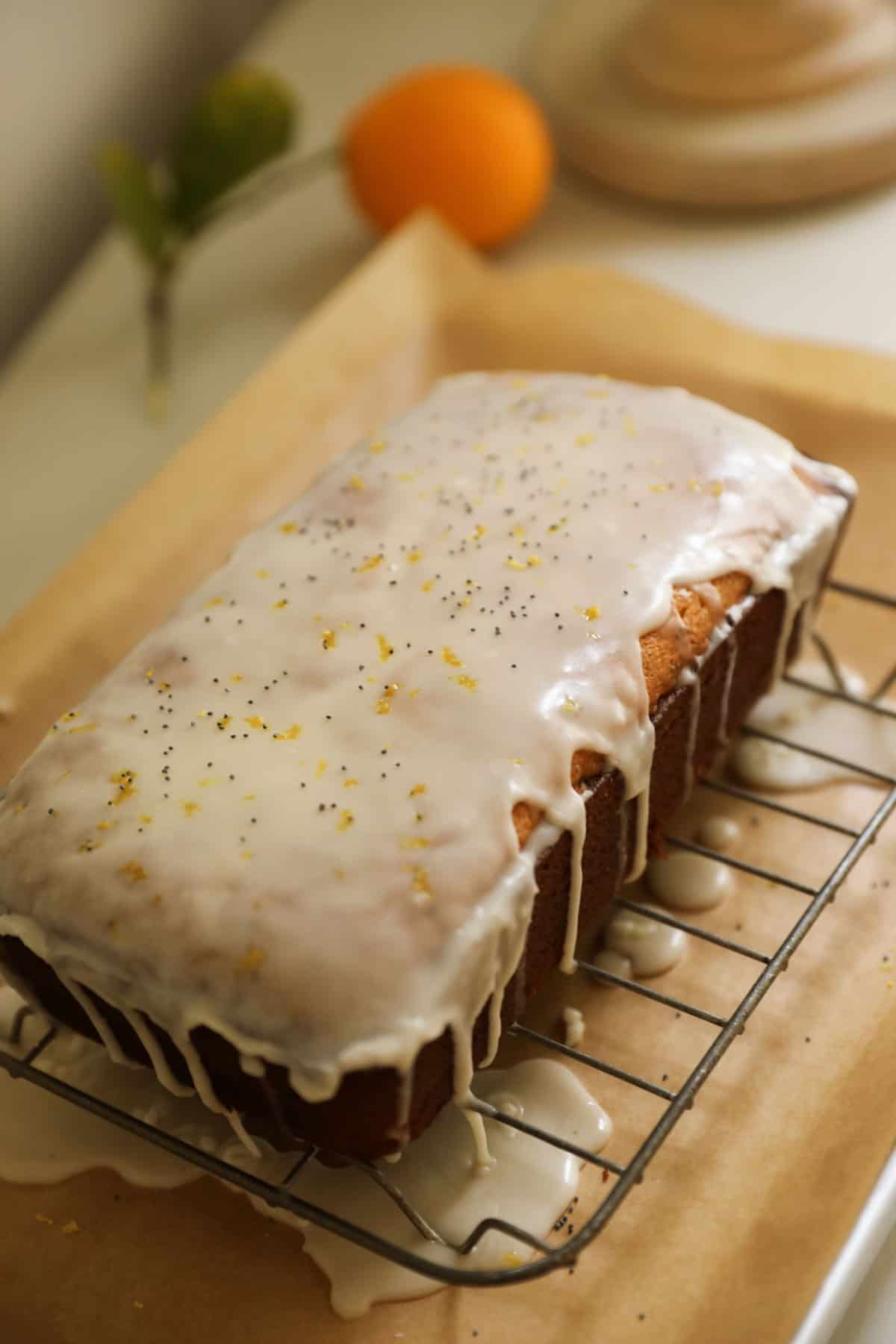 The Ingredients:
Butter I can't under estimate the importance of the quality of butter in pound cake. Let's face it, it takes the staring role. I've tried all the butters (I'm a butter fanatic!) and hands down the best butter for baking, in my humble opinion, is Land O' Lakes Salted Butter. I know, I know, it goes against the conventional wisdom of baking to use "unsalted butter" but I find this butter to just be more "flavorful" over being salty. But if outside the U.S.A use unsalted butter, since international butters can be pretty salty!
Sugar I'm sorry, but in the pursuit of a fantastic pound cake, this isn't the time for the healthy options. For a dessert that uses Coconut Sugar you can turn to my Vegan Brownie Recipe. The white, granulated sugar is what you want for the best pound cake. It will lead to a light and fluffy texture.
Eggs Any eggs will work for this recipe. I just had these blue eggs on hand that I saw at the store last week. Apparently Heritage Chicken lay blue eggs! Have you seen them at your market? They are from Happy Egg Co. And I thought they'd be pretty for the picture!
Lemon Zest This cake gets all its flavor from the lemon zest. 3 whole tablespoons. That's where all the flavor is from a lemon. Resist the temptation to add lemon juice to this recipe in the cake thinking that may boost the lemon flavor! It does not. And worse, it will react with the baking powder and create a sunken, almost curdled cake! So save the lemon juice for the glaze. Trust me.
Poppy Seeds Did you know poppy seeds can go rancid? They are like nuts in this case. So they are best used within 6-months of purchase. If you have to buy a new bottle, not to worry you can also use them up in my Lemon Poppy Seed Scone recipe or my Strawberry Spinach Salad with Poppy Seed Dressing
All-Purpose Flour Unless its a Gluten-Free cake like my Gluten-Free Chocolate Cake Recipe, all my recipes use All-Purpose Flour.
Baking Powder I use baking powder over soda because I think it provides the best rise for this cake.
Sour Cream for a rich and lovely texture. If you have extra sour cream to use up from this recipe, put it to great use in my Raspberry Swirl Cheesecake Recipe, which only needs ¾ of a cup.
Salt To boost all the flavors of the lemon zest and butter
Powdered Sugar If it's really lumpy you can sift it first for a smoother, lump-free glaze.
Lemon Juice Use the juice from the already zested lemons.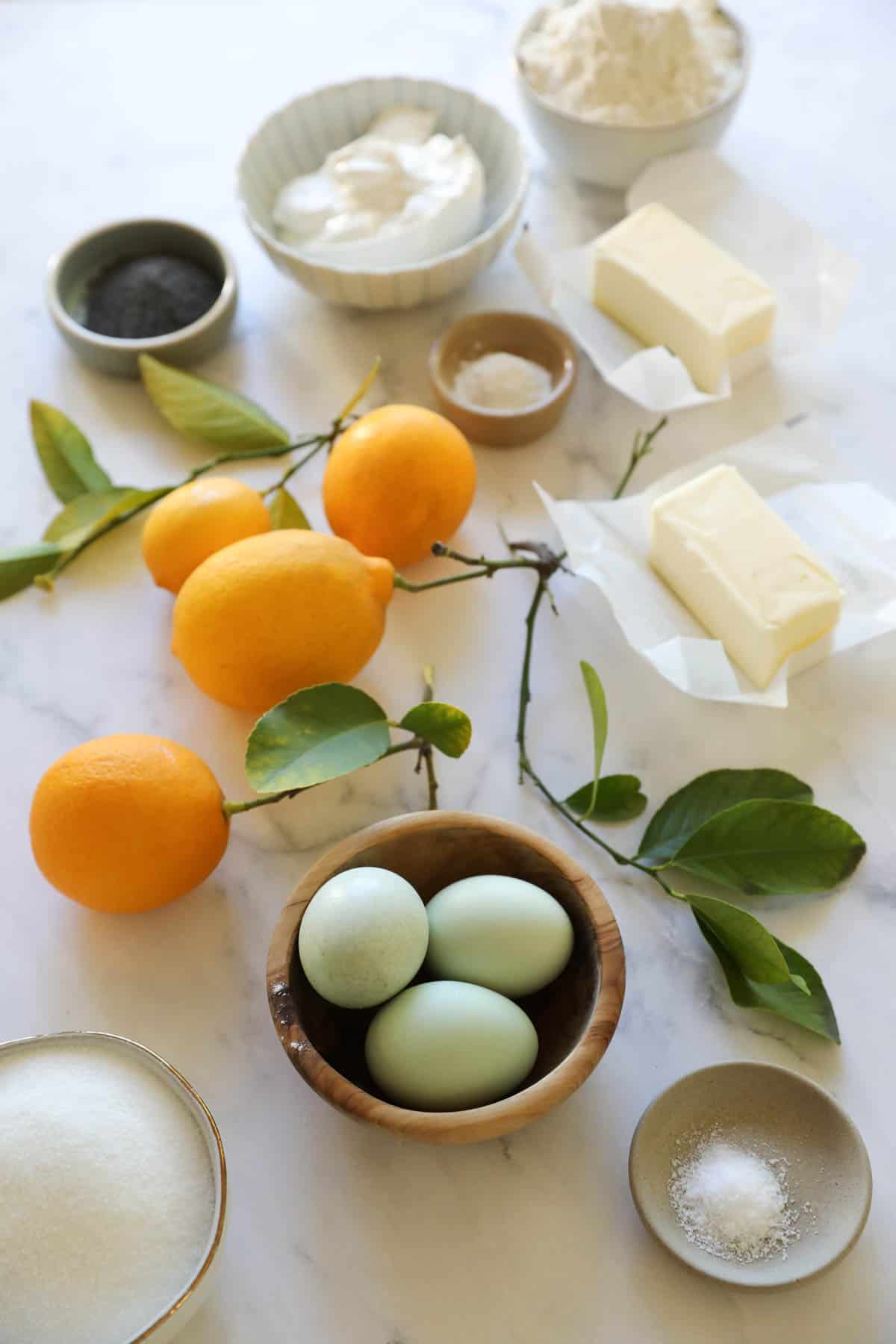 Storing The Pound Cake
Be sure to cool the pound cake completely before adding the glaze.
Otherwise, the glaze will melt into the pound cake, or slide off the top of the cake!
If freezing the pound cake, freeze once it is completely cooled, and unfrosted. Wrap it in wax paper and then aluminum foil to prevent it from drying out.
Then defrost it in the refrigerator overnight to thaw. Then glaze before serving.
The cake can be left at room temperature, fully glazed for 2 hours before serving, unless using milk or any dairy for the glaze, in that case you should refrigerate it immediately.
If refrigerating, slice the cake and then pop each slice in the microwave for :11 seconds. It will provide that warm, just baked texture!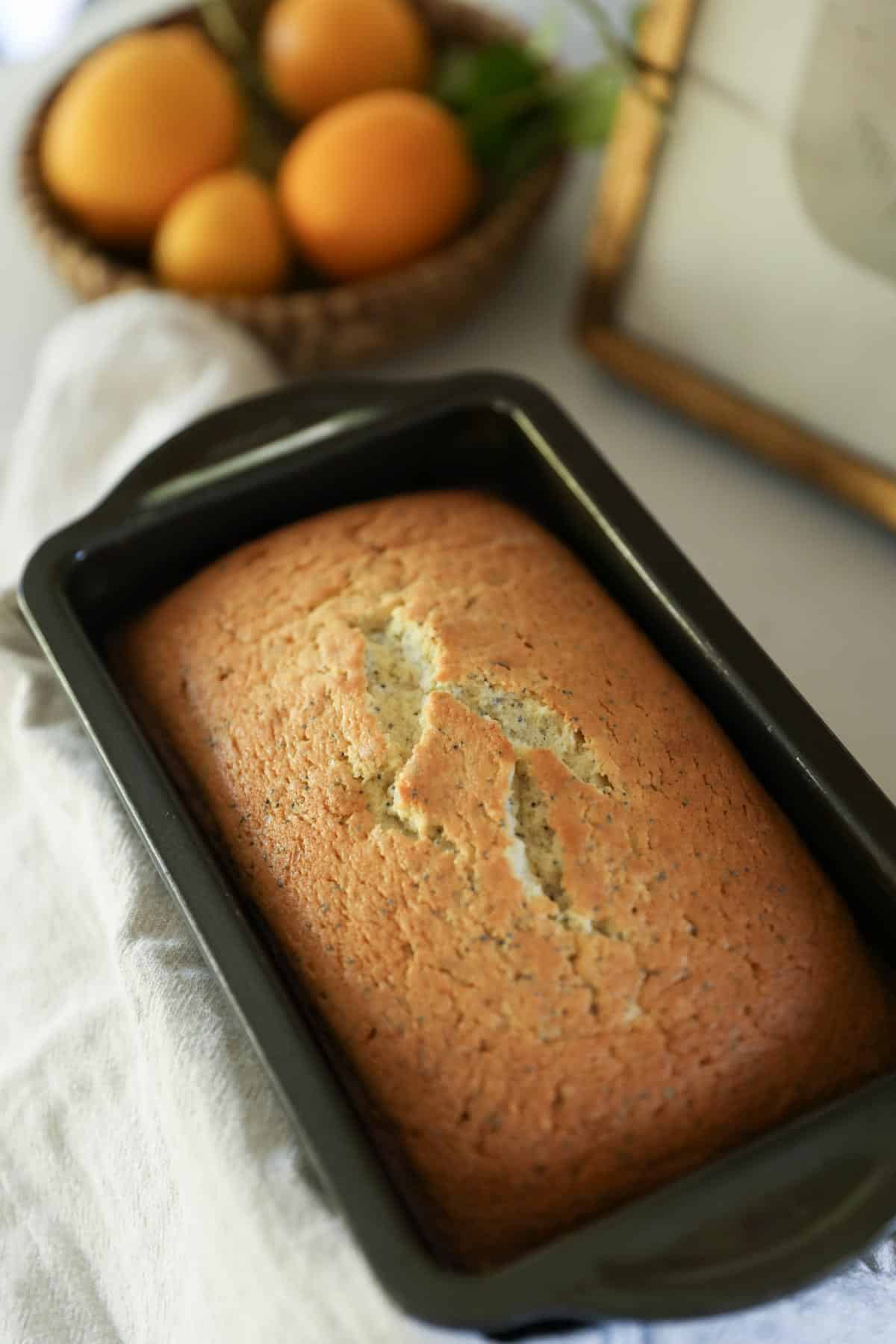 Preparing The Lemon Glaze
This cake can be served without the glaze. It would be more like a snack cake like my Banana Bread, Pumpkin Bread or Zucchini Bread recipes.
But for a special occasion or dessert, a little glaze is quite nice!
Alternatively, instead of the glaze you could add a cream cheese frosting. Use the recipe for cream cheese frosting in my Banana Cake Recipe. It would be perfect.
If you prefer a plain glaze you can omit the lemon juice and add the same amount of liquid but use water. Adding ¼ teaspoon of vanilla extract would be a nice touch too, or a scarped vanilla bean pod for a speckled vanilla glaze, if you wanted to be extra fancy.
Or you could also use milk. But if using milk or any dairy for the glaze, be sure to keep the cake refrigerated before serving.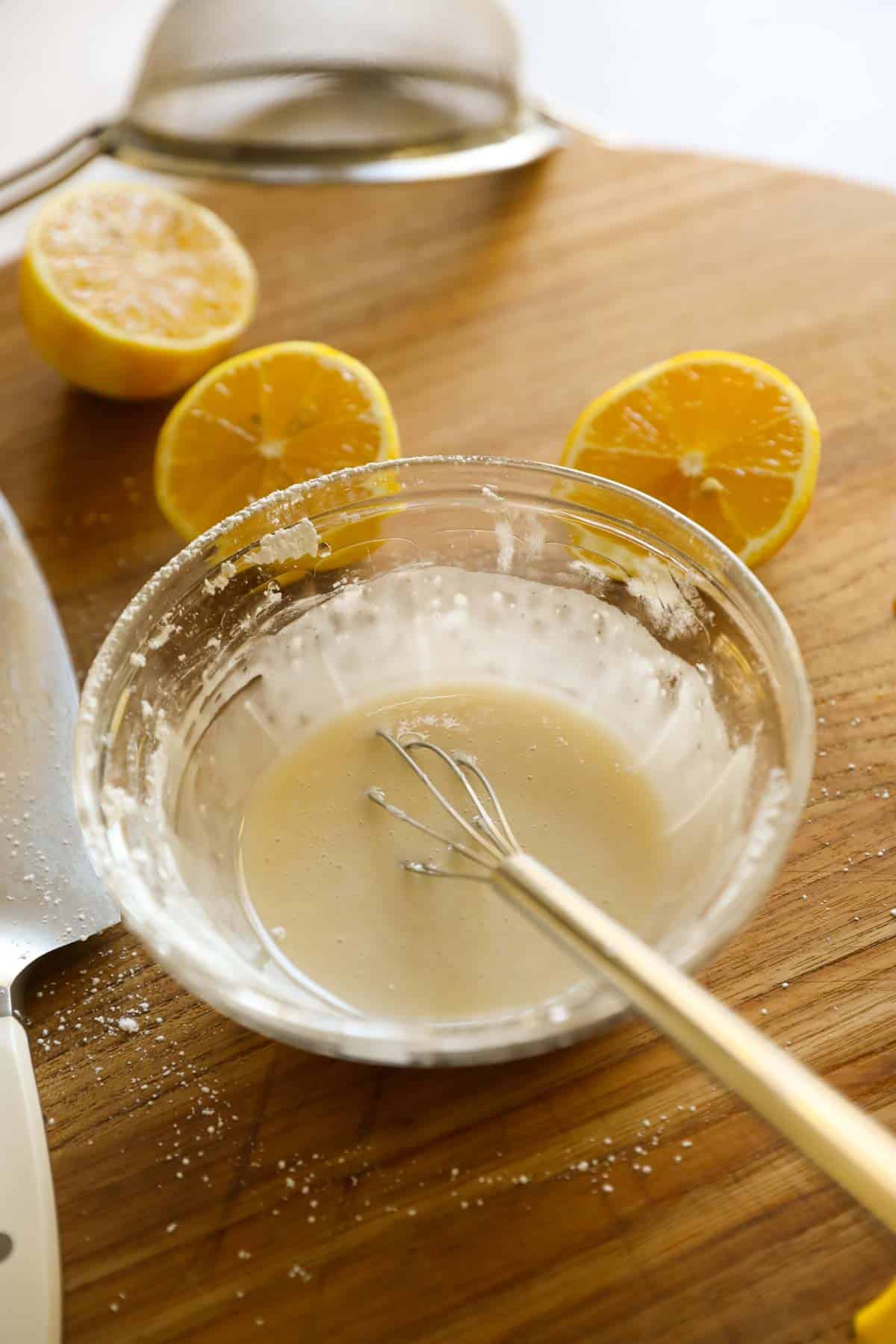 What To Do With The Zested Lemons?
The zest of a lemon is the protective skin of the fruit and prevents it from drying out. Once removed through zesting, you'll quickly see it will turn hard practically overnight.
You can refrigerate them to prolong their lifespan. Or use them up in my Sheet Pan Chicken Recipe which calls for lemon juice, or whip up a batch of my fantastic Homemade Lemonade, Strawberry Lemonade or Watermelon Lemonade Recipes.
Or you can slice the lemons into wedges and place them in the fridge. They make a nice addition to water bottles!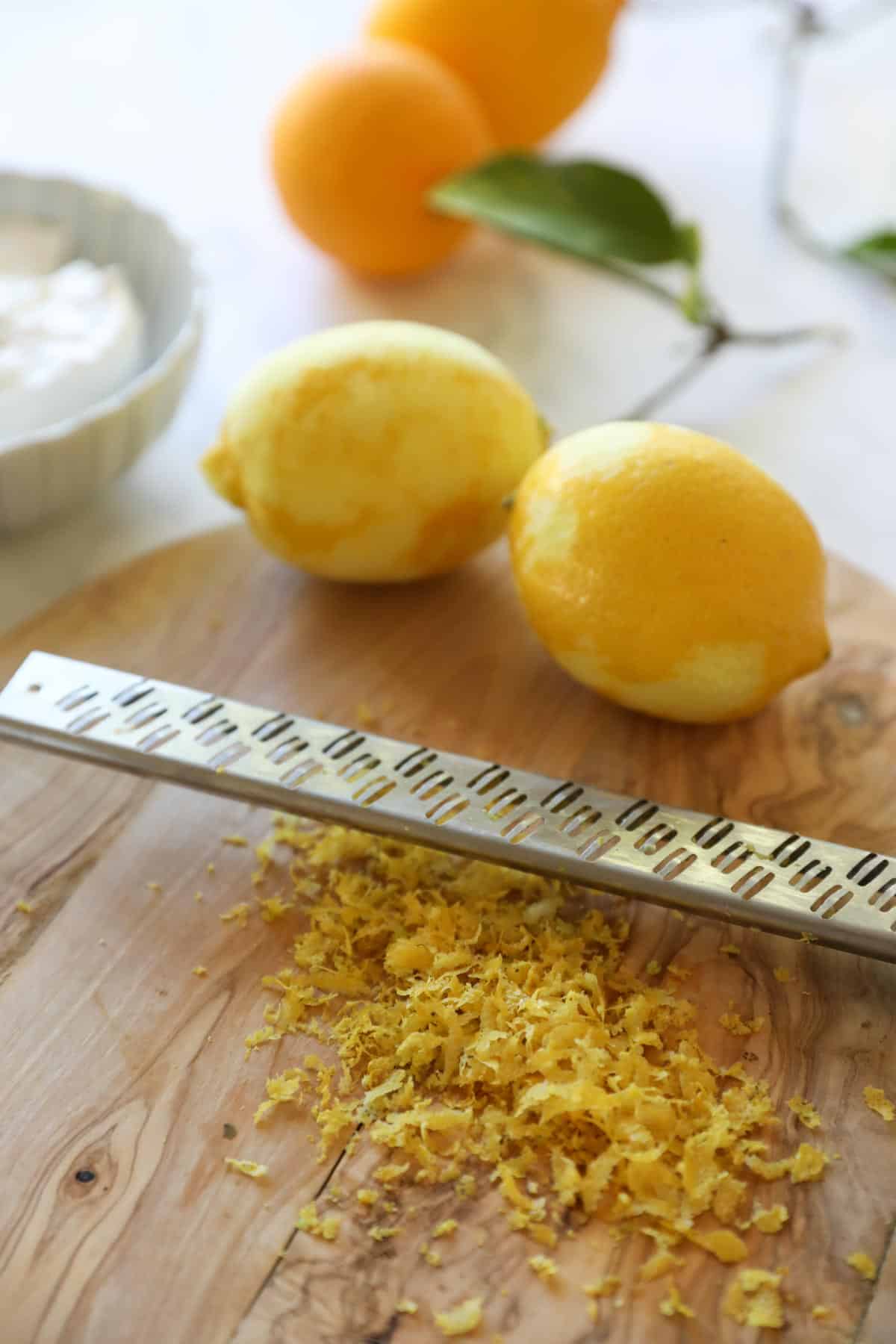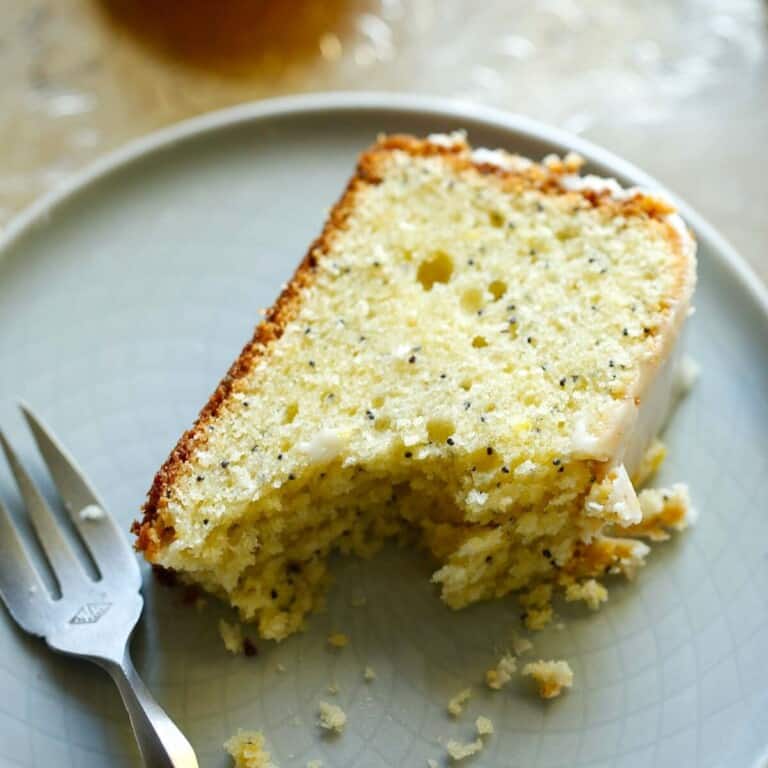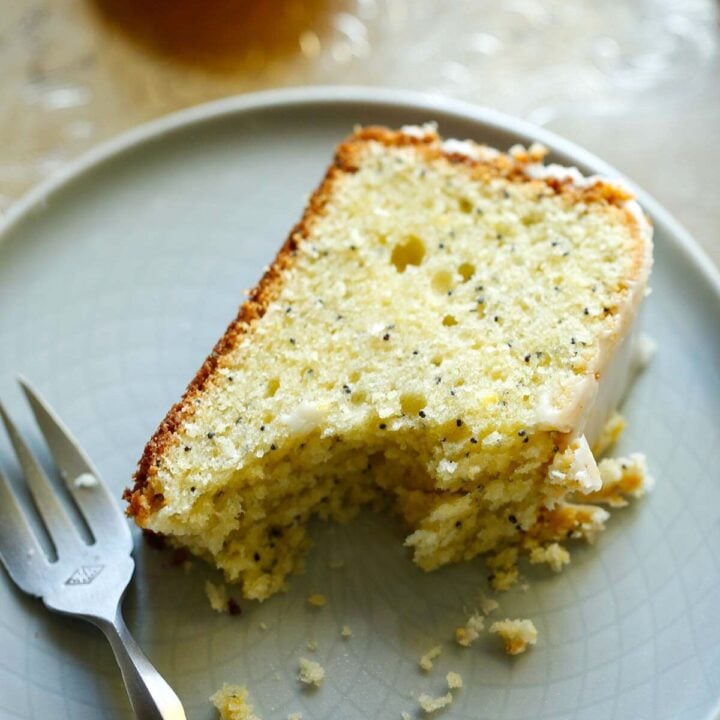 Lemon Poppy Seed Pound Cake
This Lemon Poppy Seed Pound Cake Recipe is so moist, light, and fluffy! Topped with a 2-Ingredient Lemon Glaze it makes for a fantastic easy dessert idea!
Ingredients
For the Cake:
1 cup (227 grams) butter, room temperature
1 ¼ cups (250g) sugar
3 eggs, room temperature
3 tablespoon (45ml) Lemon Zest
2 tablespoon (30ml) Poppy Seeds
1 ⅔ cups (242 grams) all-purpose flour
2 teaspoon (10ml) baking powder
¾ teaspoon (3.49 grams) salt
1 cup (227 grams) full-fat sour cream
For The Lemon Glaze:
1 cup (118 grams) powdered sugar
2 Tablespoons (30ml) fresh lemon juice, or water
Instructions
Before you begin, make sure your butter, eggs and sour cream are at room temperature.
Preheat oven to 350F (175C). Prepare a 9" x 5" (23x13 cm) loaf pan by spraying it with baking spray and distributing it well with a pastry brush or paper towel.
In a medium bowl combine the flour, baking powder, and salt. Whisk together and set aside.
Beat together the softened butter and the sugar until pale and fluffy, about 5-7 minutes. It should have the texture of whipped cream! Scrape down the bowl as needed.
Add the eggs, one at a time, beating down the bowl in between each addition.
Add the lemon zest and poppy seeds. Beat to combine.
Add the flour in thirds, alternating with the sour cream. Beat gently, just until combined, in between each addition, scraping down the bowl as needed.
Transfer the batter into your loaf pan, smoothing it out with a spatula, and shaking the pan so it's level.
Bake for 55 minutes or until the cake is golden brown and a toothpick comes out clean.
Allow to cool completely before glazing it.
For the glaze, mix together the powdered sugar and lemon juice. Whisk to combine. Use the glaze right away to frost the cake otherwise it will harden. If this happens just thin it out with ½ teaspoon of lemon juice.
Release the pound cake from its tin and place it on a baking sheet, lined with parchment paper. Set it on a cooling rack to allow the glaze to drip into the pan. The parchment paper will make for easier clean up!
Starting at the top of the cake, spoon the glaze all over the top of the cake, working your way down, spooning it just to the outer edges and corners, gravity will then take it from there and drizzle it naturally over the sides for a pretty presentation.
While the glaze is still wet, zest a little bit more grated lemon zest over the glaze, as it hardens it will set into the glaze.
Leave uncovered at room temperature before serving up to 2 hours. Otherwise refrigerate (refrigerate immediately if using milk in the glaze)
Remove cake from the refrigerator and allow it to get to room temperature before serving, or cut slices and pop them in the microwave (each slice for :11) it will soften bake up to a just warm, freshly baked texture!
Notes
You can freeze the pound cake (unfrosted) for up to 1 month. Wrap in wax paper and then foil.
Nutrition Information:
Yield:

8
Serving Size:

1
Amount Per Serving:
Calories:

450
Total Fat:

32g
Saturated Fat:

18g
Trans Fat:

1g
Unsaturated Fat:

10g
Cholesterol:

148mg
Sodium:

561mg
Carbohydrates:

37g
Fiber:

1g
Sugar:

15g
Protein:

6g