Peanut Butter Sauce for Ice Cream
Would you like something totally delicious?! Then try this Peanut Butter Sauce for Ice Cream. It has to be the easiest ice cream topping out there because it uses pantry basics I bet you already have sitting in your pantry as we speak. Just 4 ingredients are all you need for something totally decadent and divine!
It's a cross between a peanut butter sauce and a caramel sauce, and when drizzled over some rich, chocolate ice cream the results are out-of-this-world! For more easy Ice Cream Sauce recipes featured in my video below, try my rich Hot Fudge Recipe or my Homemade Strawberry Sauce Recipe. Both are equally easy and SO good!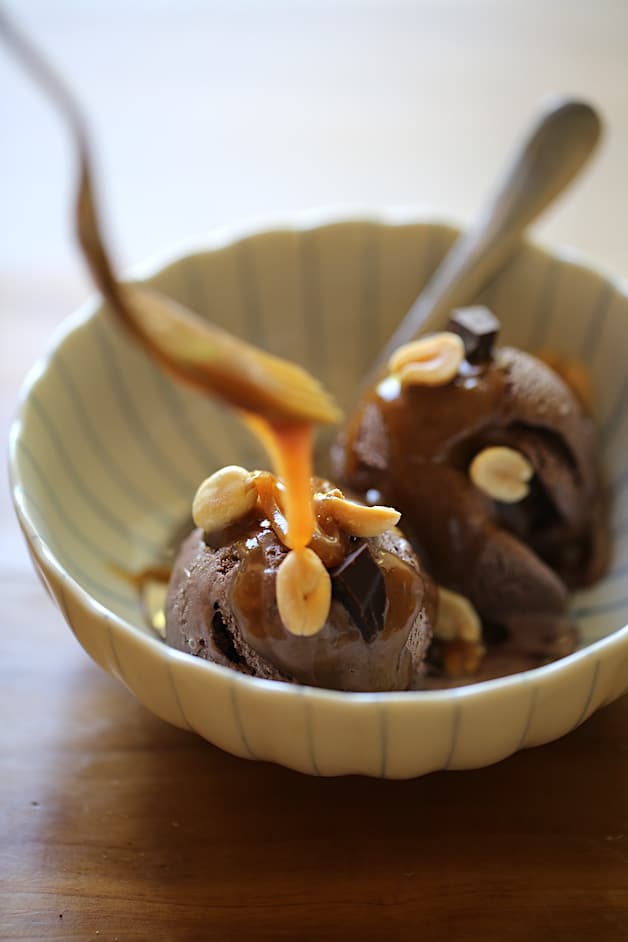 The Ingredients:
Peanut Butter The best peanut butter to use is one whose ingredients just lists peanuts! (no palm oil, sugars or salt added) you'll get the best texture and flavor that way.
Water You'll combine the water with the sugar to create a simple syrup that you will mix the peanut butter into.
Sugar It's best to use white granulated sugar for the best syrupy texture on your peanut butter sauce
Vanilla Extract Be sure you use pure vanilla extract (not imitation vanilla extract) you'll get the best flavor that way. The vanilla adds a wonderful depth of flavor to the sauce.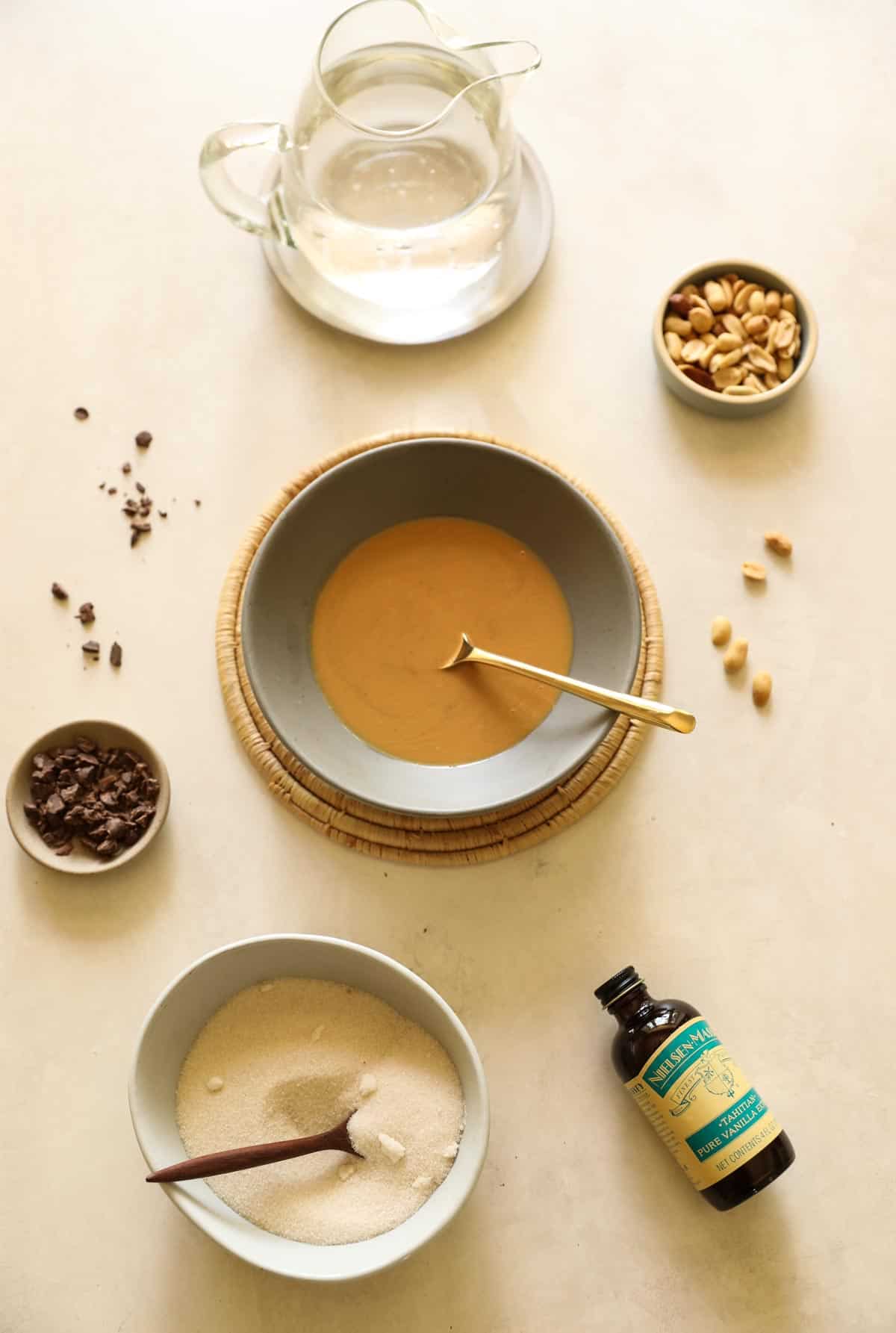 Step#1: Add Water and Sugar
Simmer the water and sugar in a sauce pot with a high profile until the sugar dissolves and the mixture is clear.
You'll need a high-profile pot because the sauce will bubble up as it boils and you don't want it to spill over! (That would be quite a sticking mess to clean up!)
I like to use the sugar-water technique because it eliminates the need for corn-syrup. If you let it boil long enough (5-8 minutes) it will get just as sticky and gooey!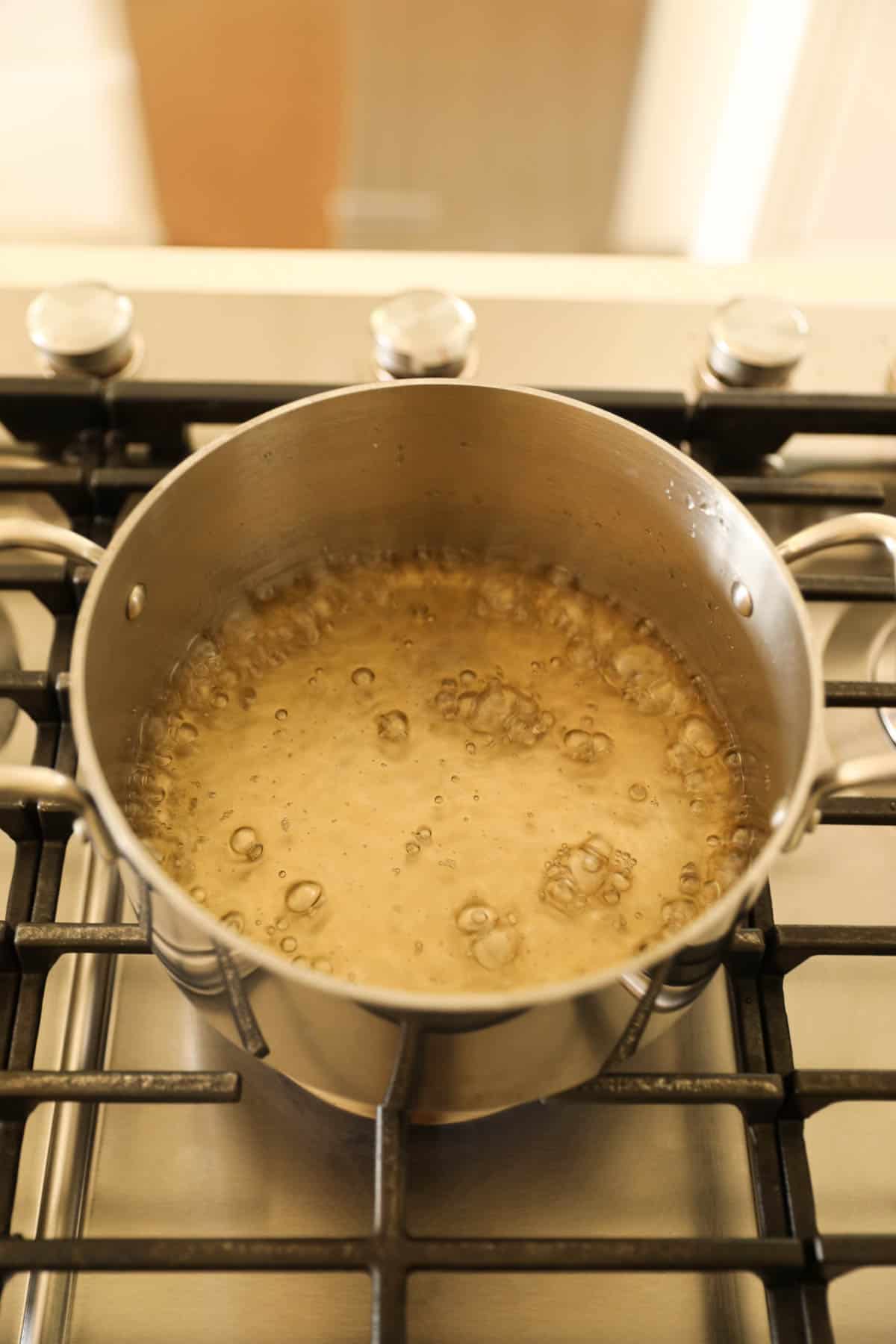 Step#2: Dissolve the Peanut Butter
Make sure your peanut butter is natural peanut butter without a ton of other ingredients in it! It should only have Peanuts listed as ingredients.
Otherwise, it might affect its ability to work correctly in this recipe, as the peanut butter could separate.
The heat from the sugar-water will easily dissolve the peanut butter when you whisk it in. But make sure the sugar-water is hot and boiling, or it won't melt.
This is the best way to make peanut butter liquify. Combining it with a hot liquid melts it and thins out in consistency.
For a chunkier sauce use chunky peanut butter, that would be great too!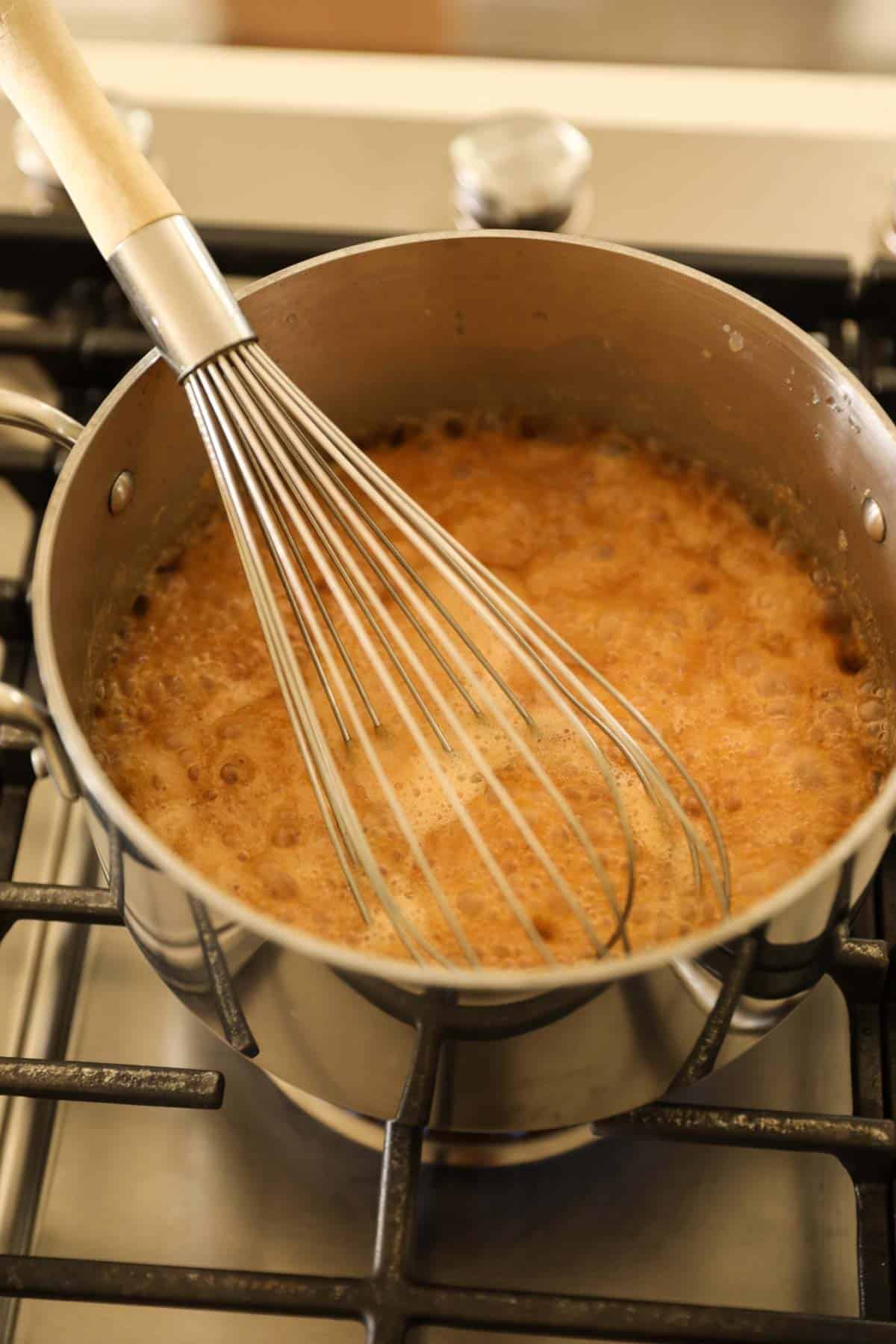 Step#3: Heat Until Syrupy!
Continue to whisk the sauce on medium-high.
It will bubble and rise up like a witch's brew! (This is why you want a high-profile pot so it doesn't boil over).
This is the sugar water caramelizing and you want to make sure you give it enough time to work its magic. It could take 5-10 minutes.
Continue to whisk constantly and don't walk away from it! Otherwise, it will scorch and burn.
How-To Thin The Sauce (If needed)
Personally, I think the consistency of the sauce is great as is, but if you wanted it runnier, you could add some hot water in 1 tablespoon increments
Adjusting Richness and Sweetness
Peanut Butters are not created equal and depending upon the brand you buy you may want to adjust the richness and sweetness of your sauce.
For a richer sauce you could also add 1 Tablespoon of butter, or a splash of heavy cream.
And I also like to add a good pinch of fleur de sel sea salt (or Kosher salt) to balance out the sweetness.
This is especially important if using unsalted peanut butter, you'll want a little added salt at the end to boost all the flavors.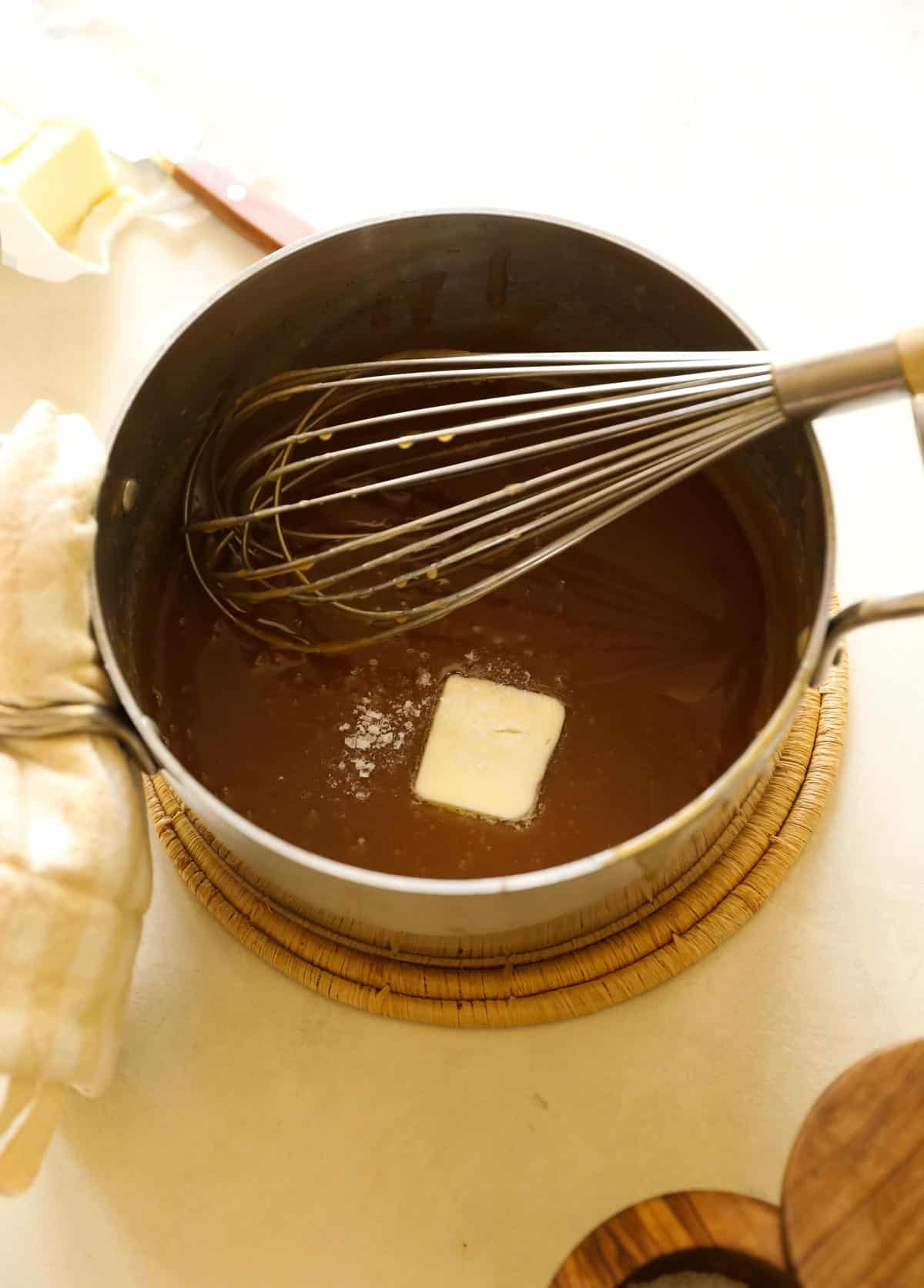 Step#4: Check for Consistency
Once your sauce reaches a thick consistency where it will coat the back of a spoon and drizzle, it's ready!
Serve at warm to room temperature.
Otherwise, the hot caramel aspect of this sauce will melt the ice cream too quickly!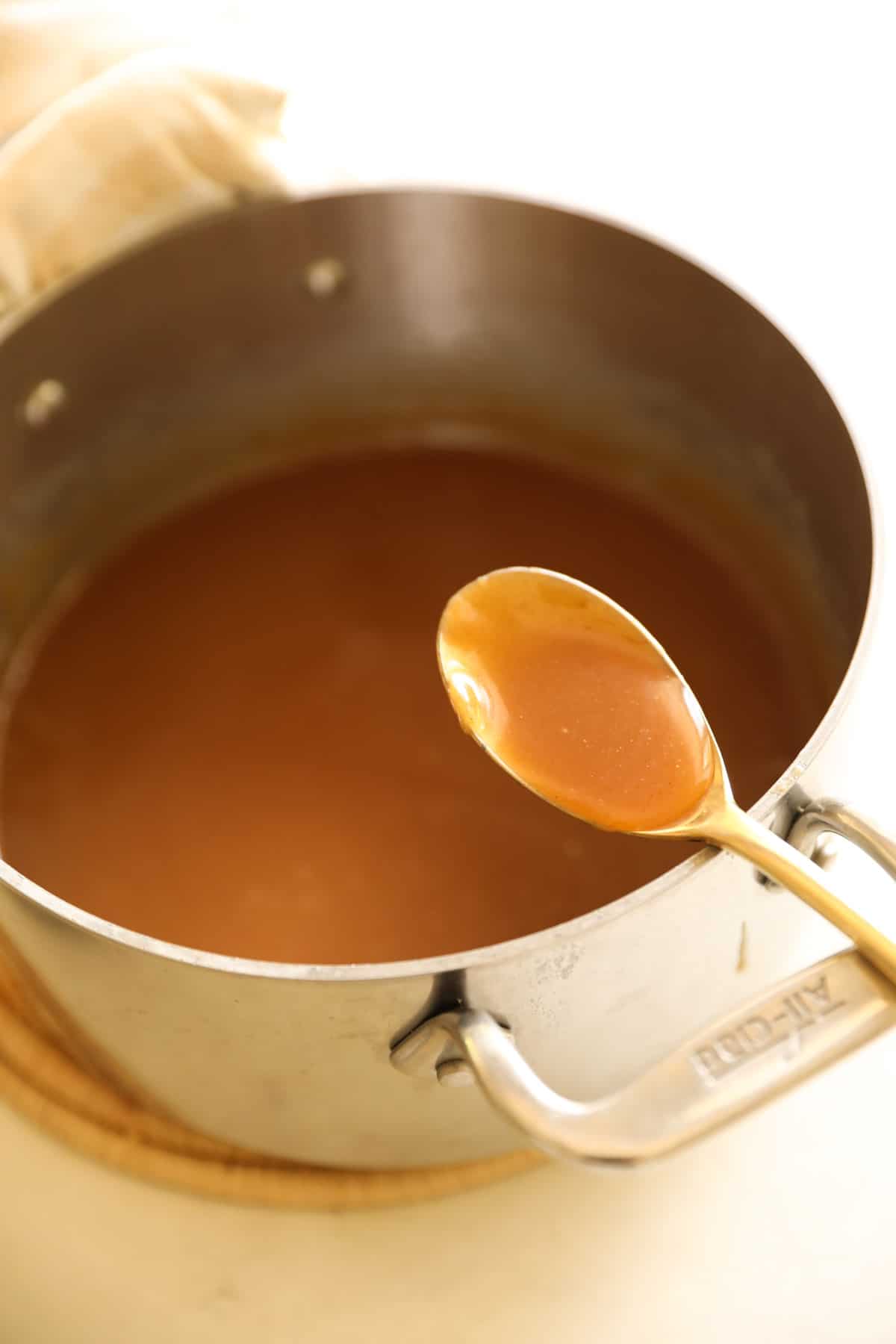 Serving Ideas:
Personally, I think this peanut butter sauce goes great with chocolate ice cream. You'll have that "Reese Peanut Butter" effect! But you could also serve it with vanilla ice cream too.
Top your mini sundae with raw peanuts and dark chocolate chunks for the ultimate experience!
Peanut Butter sauce is also great drizzled over some homemade crepes filled with Nutella or just plain with a scoop of vanilla or Salted Caramel Ice Cream.
Or make a Mini Brownie Sundae with either my Butterscotch Blondie or my Fudgy Chocolate Brownies.
Any leftover sauce is quite good drizzled over a banana with a few chocolate chips on top for a late night craving!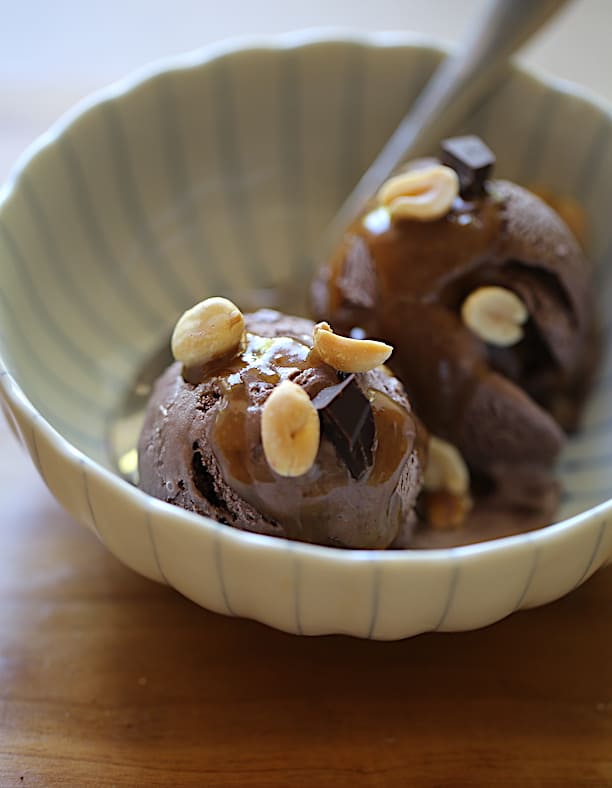 Storing and Reheating the Sauce:
This sauce is best stored in a microwave-safe container to make it easy to reheat.
It will last for 5-7 days, covered and refrigerated until ready to reheat.
I like to store this sauce in a Pyrex pitcher so that it's easy to pop in the microwave and pour over the ice cream.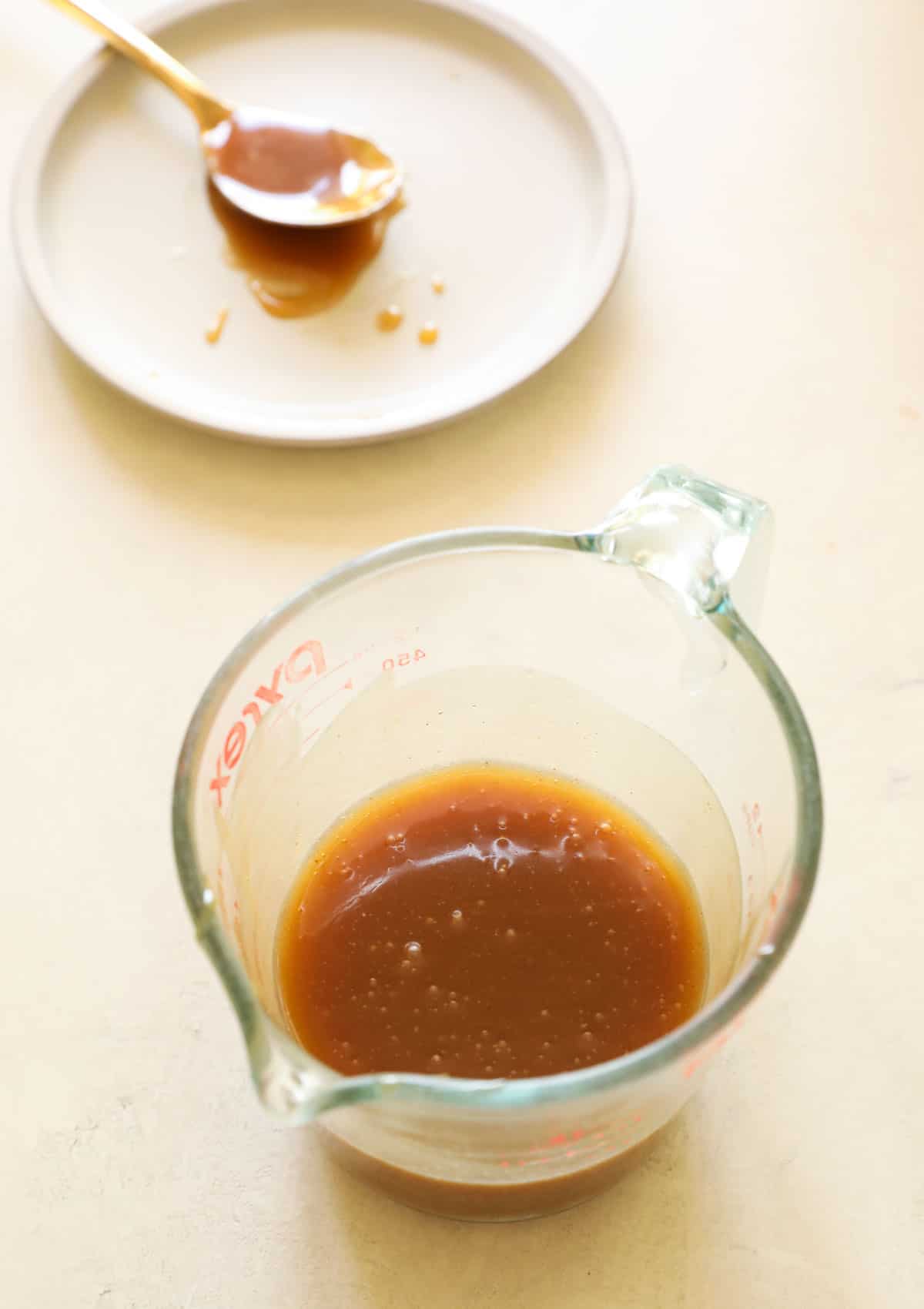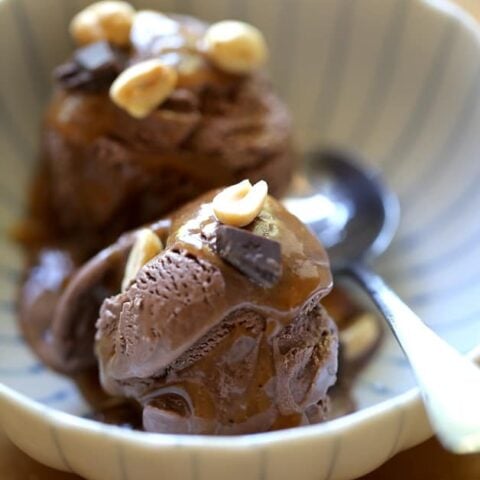 Peanut Butter Sauce for Ice Cream Recipe
This Peanut Butter Sauce for Ice Cream. It has to be the easiest ice cream topping out there because it uses pantry basics I bet you already have sitting in your pantry!
Ingredients
¾ cup (180ml) water
¾ cup (150g) sugar
½ cup (120ml) peanut butter
¼ teaspoon (1.25ml) vanilla extract
1 Tablespoon Butter
Pinch of Fleur de Sel Sea Salt
Optional Garnish:
Roasted, unsalted peanuts
Chopped Bittersweet Chocolate
Instructions
In a medium-sized saucepan add the water and sugar. Simmer until the sugar has dissolved and the mixture is clear and bubbling. Then add the peanut butter.
Whisk on medium-high until the mixture bubbles like a witches' brew! Keep whisking and simmering for 5-10 minutes or until the sauce has thickened into a rich ice cream sauce. Then add the vanilla.
Then add the butter, taste for sweetness, and if desired add a pinch or two of salt.
Allow to cool slightly until it is warm but not hot.
Drizzle over chocolate ice cream and top with roasted unsalted peanuts and chocolate chunks!
Nutrition Information:
Yield:

6
Serving Size:

1
Amount Per Serving:
Calories:

182
Total Fat:

16g
Saturated Fat:

4g
Trans Fat:

0g
Unsaturated Fat:

10g
Cholesterol:

3mg
Sodium:

10mg
Carbohydrates:

7g
Fiber:

3g
Sugar:

1g
Protein:

7g