Rosé Pamplemousse Cocktail
These Rosé Pamplemousse Cocktails are a wonderful drink recipe to serve at any springtime event. They are refreshing, with a flavor that's a little bit sweet and tart at the same time.
They don't take much time or effort to throw together, and you can serve them with Rosé Wine, or Champagne, or club soda for a non-alcoholic drink recipe. They are wonderfully beautiful too when garnished with fresh grapefruit and fresh herbs.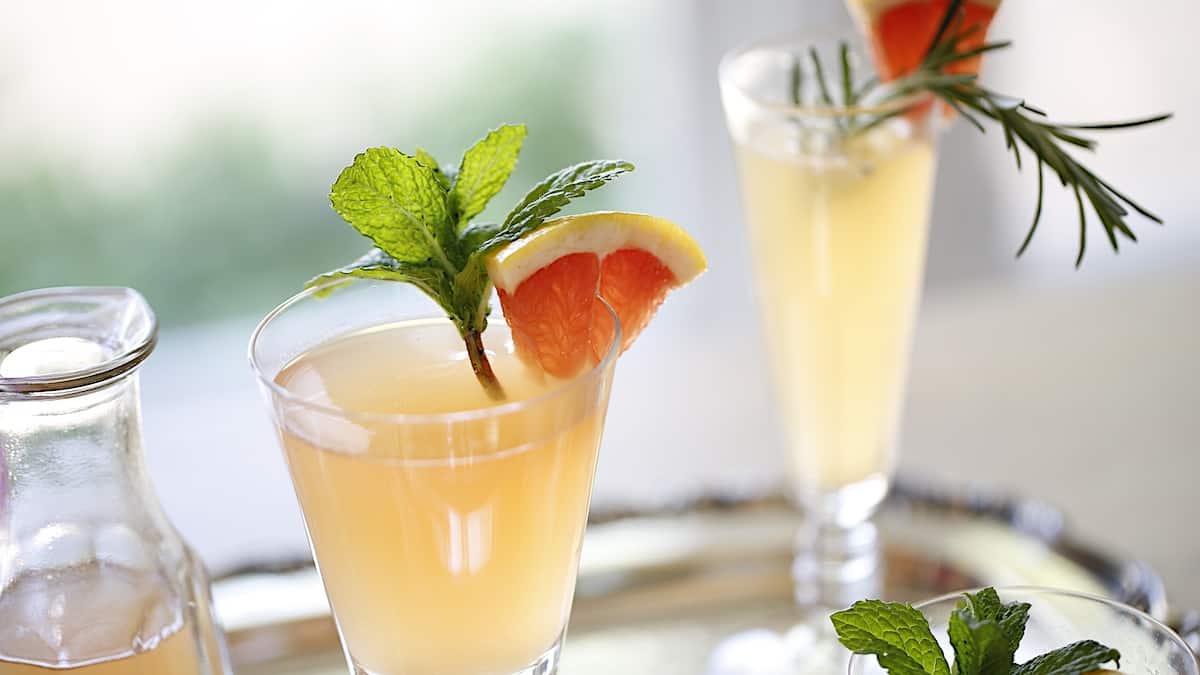 What is Pamplemousse?
Pamplemousse means grapefruit and French and since these are typically served in France with Rosé wine, it's how they get their name. It may at first seem like a strange combination, grapefruit, and Rosé wine, but when you try it you'll see how they are the perfect "flavor mates".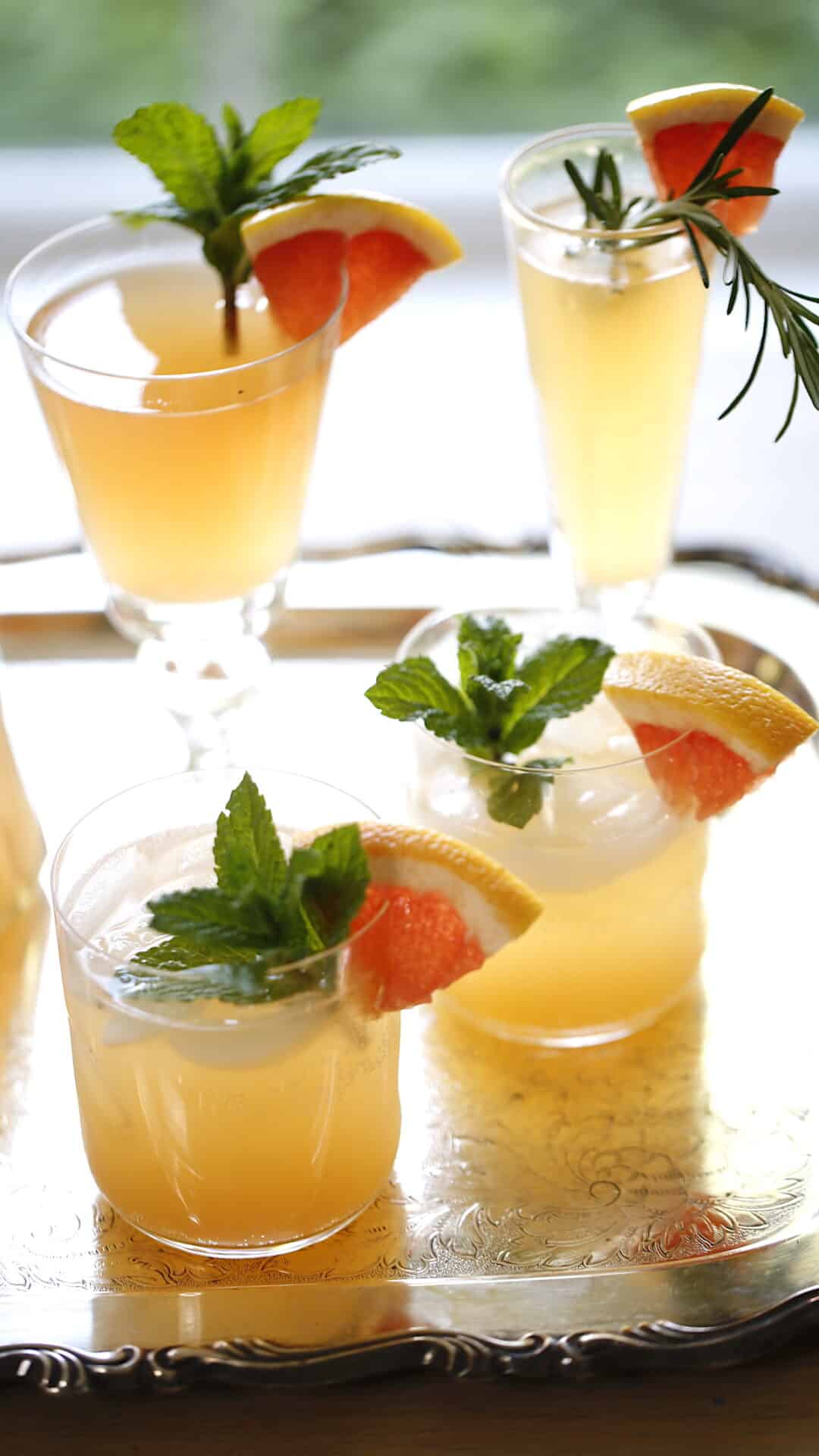 Fruit Syrups in France
I was first introduced to these cocktails by my French brother-in-law. He buys the grapefruit syrup at his local market and mixes them up in a flash. In France, you can buy fruit syrup for just about every fruit under the sun! A waltz down the syrup aisle in the local French supermarket is always an education!
We don't have access to many varieties of fruit syrups here in the States, but that's OK it's easy to make your own!
Watch My Video Demo of This Recipe Below!
Subscribe to My YouTube Channel and Never Miss a Recipe!
Also featured in this video are recipes for my Roasted Beet Hummus, my Artichoke and Spinach Chicken Bake, and my Lemon Bar, Brownie Pie with Raspberry Swirl.
How-To Make Grapefruit Syrup?
Fruit syrups are really easy to make because all it takes is fruit juice and sugar. For grapefruit syrup, I like to use Ruby Red Grapefruit, since it's already sweet, and doesn't require adding too much more sugar. You'll squeeze the juice from the grapefruit, into a pitcher with a strainer to catch the seeds.
Then transfer the juice to a pot, add the sugar and simmer for 5-7 minutes. It's really that easy!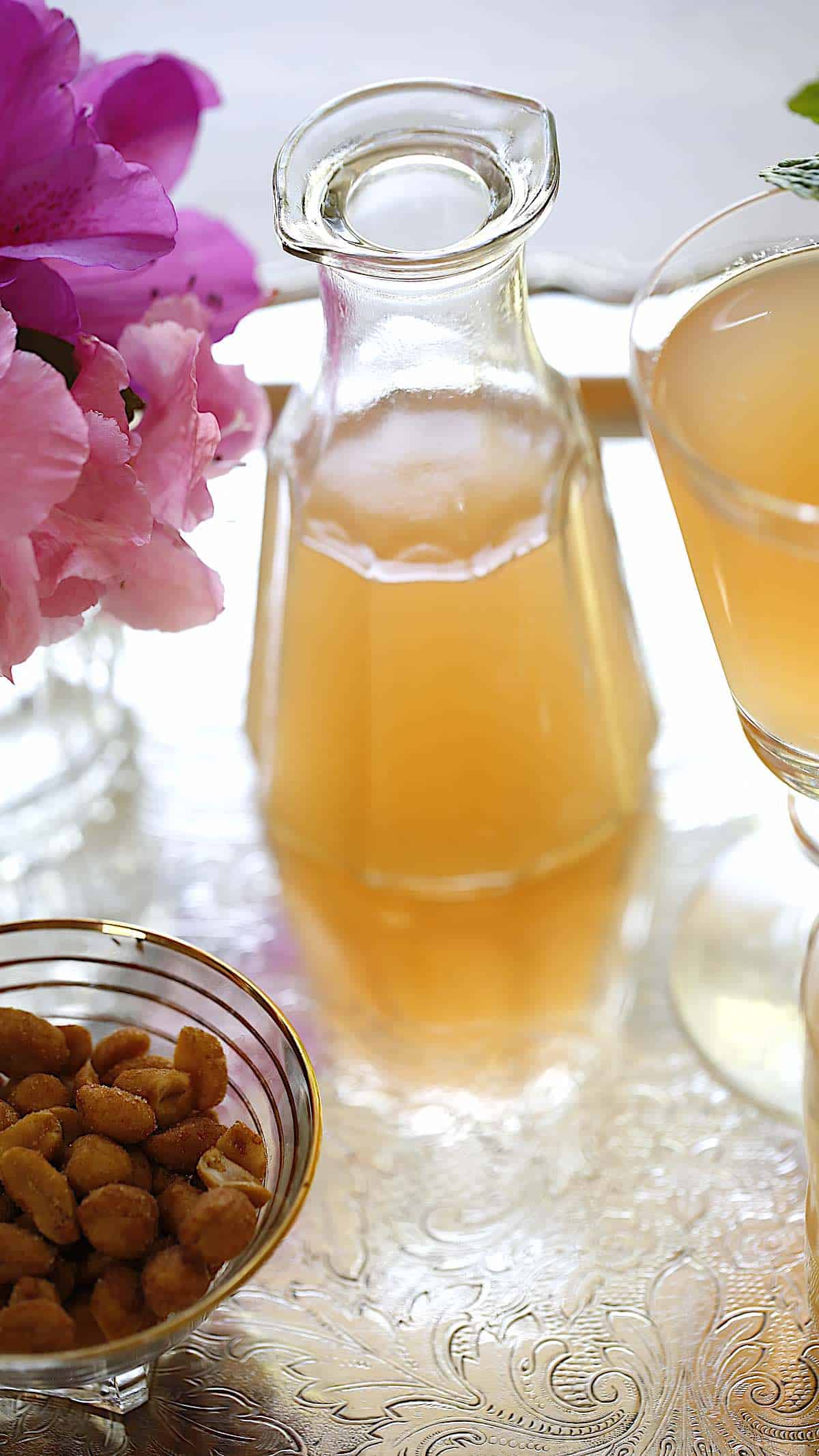 Selecting the Grapefruit
Just be sure to ask someone in the produce department if you are unsure if the grapefruit you are buying is Ruby red because it can be hard to know until you get home and slice it open. The other varieties of grapefruit will be more yellow inside and are also a lot more bitter.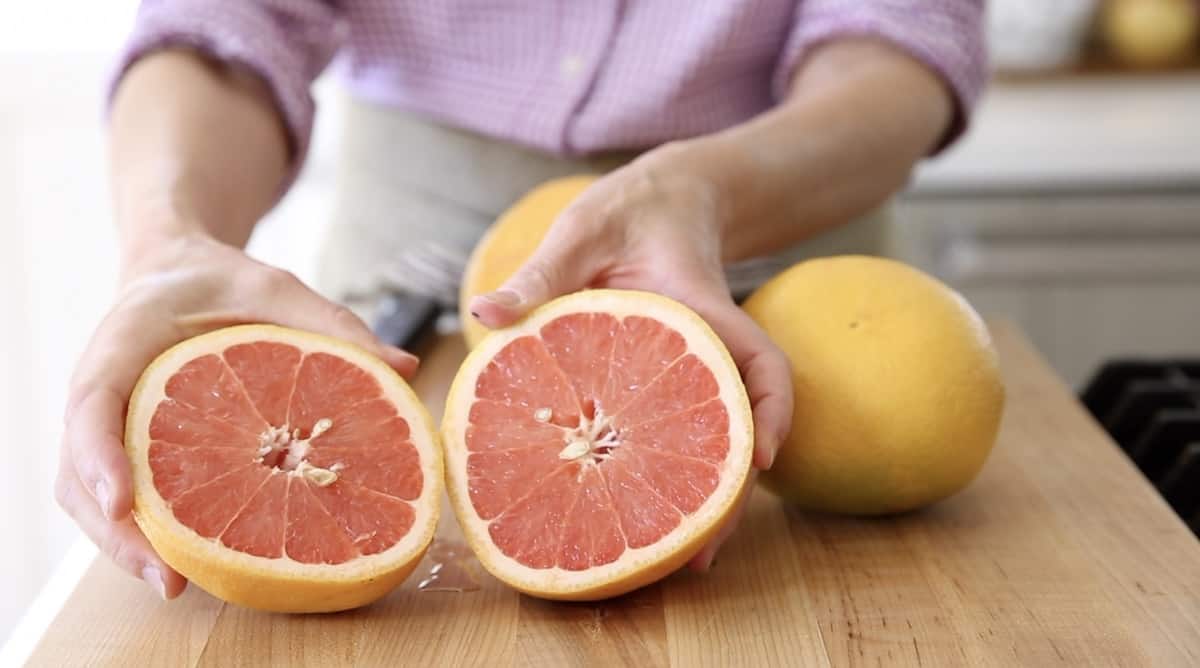 Make-Ahead Tip:
The nice thing about fruit syrups is that they can be made in advance. Once they have cooled transfer to a pitcher and refrigerate for at least 4 hours, or until well-chilled.
You can then make the cocktails yourself or set out a little pitcher with the syrup and Rosé, Champagne, or Club soda and have your guests mix up their own.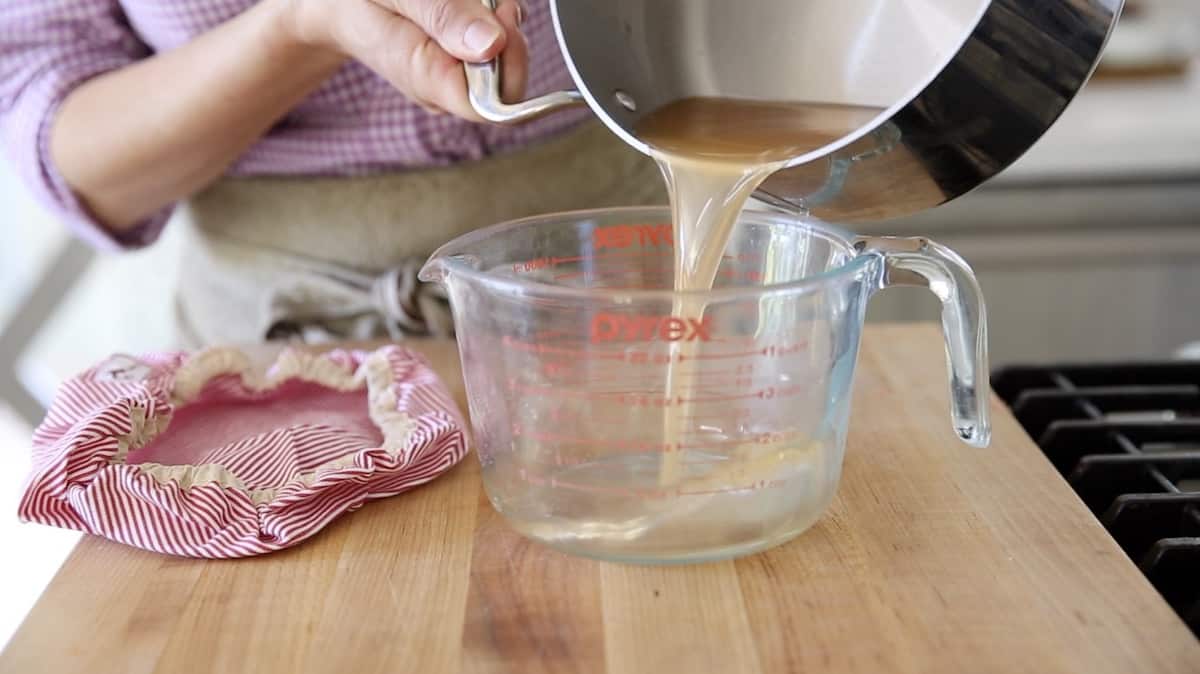 Serving Suggestions:
Since the grapefruit syrup is pretty sweet, this cocktail is best paired with dry Rosé wine. I like the Louis Jadot Rose or the Chateau Ste. Michelle is a great choice for an affordable dry rosé found at most major supermarkets.
You can also serve these with Champagne for more of a "Kir Royal" effect, or club soda or sparkling water for a non-alcoholic drink option, or to serve to kids.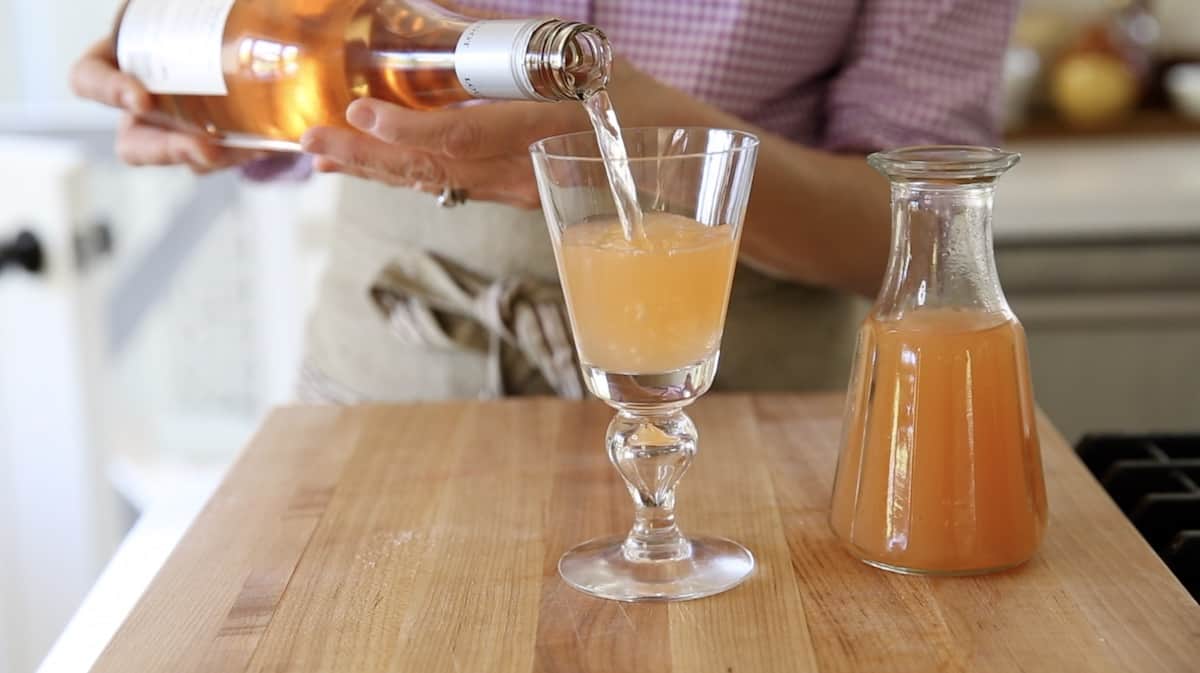 Garnishing:
I like to garnish these cocktails with a slice of fresh grapefruit and either rosemary or fresh mint. It adds another fresh fragrance to the mix, and the combination of both herbs is great with grapefruit.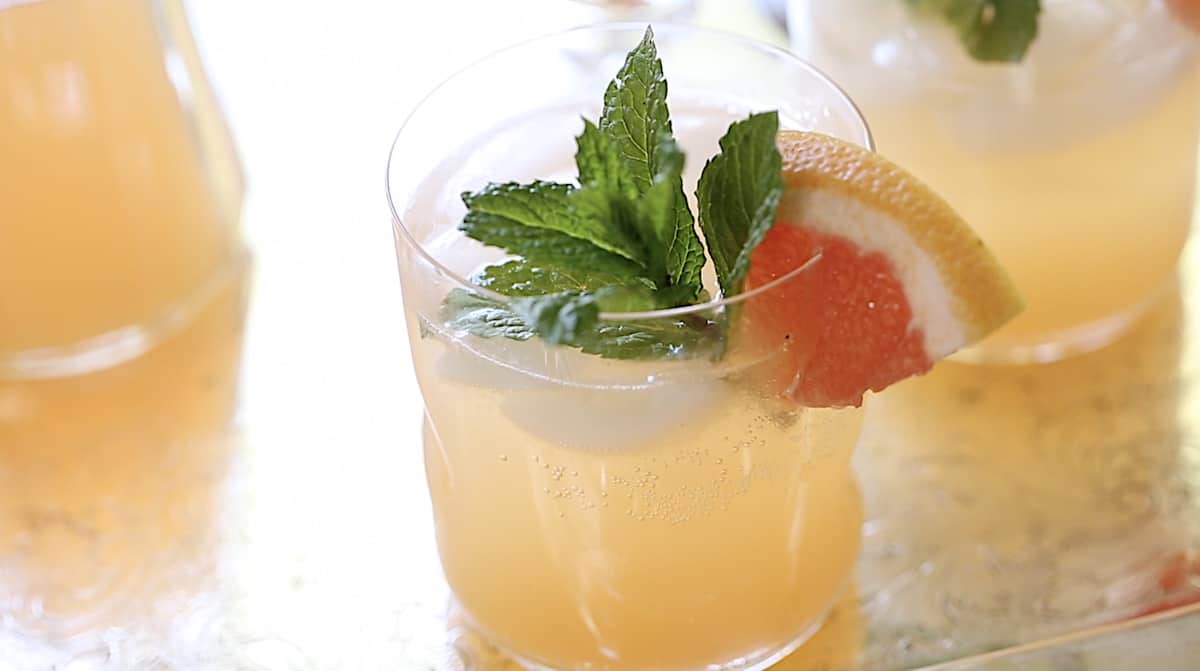 More Wonderful Spring Recipes!
If You Enjoyed This Recipe
Please Leave a Rating and a Review Below!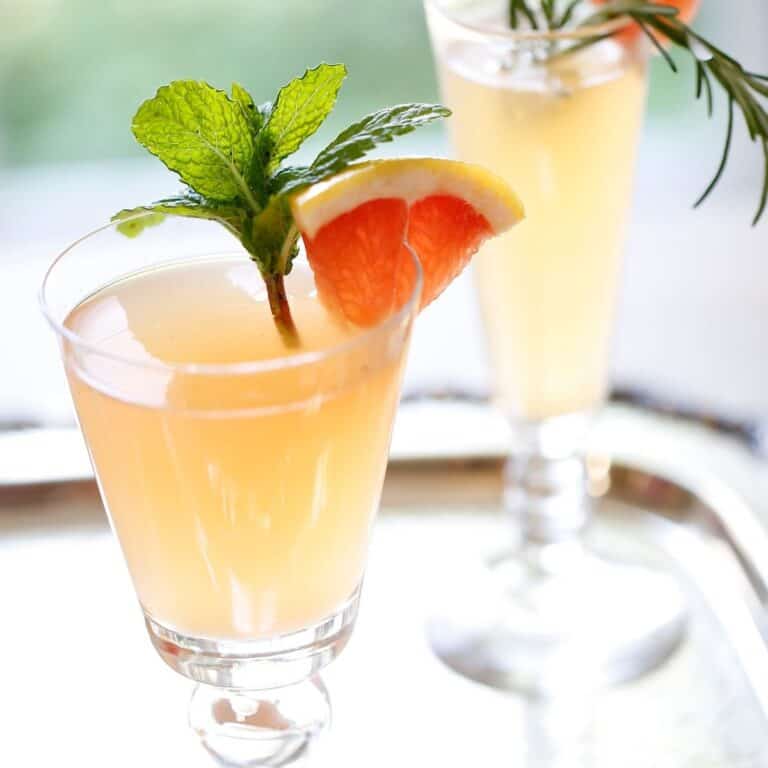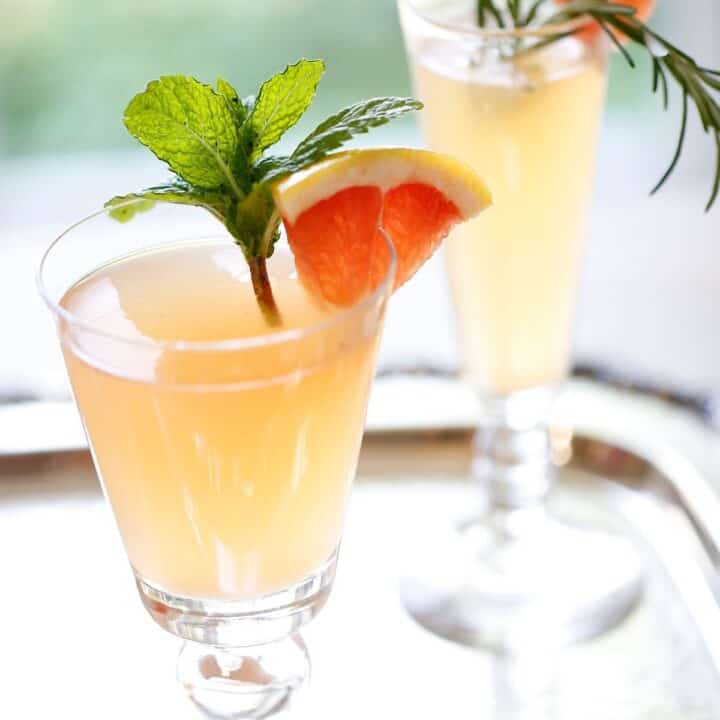 Rosé Pamplemousse Cocktail Recipe
Total Time:
4 hours
22 minutes
A refreshing springtime cocktail recipe that is as easy as it is delicious! A wonderful recipe for Easter Sunday or Mother's Day.
Ingredients
1 ½ cups (360g) of freshly squeezed grapefruit juice, from about 3-4 Ruby Red Grapefruits
⅓ cup (65g) sugar
2 Bottles of dry rosé wine
Garnish:
3 slices ruby red grapefruit
Fresh rosemary or mint sprigs
Instructions
Place a fine mesh strainer over a medium-size sauce pot. Squeeze grapefruit juice over the strainer to catch any seeds or pulp.
Add sugar and stir. Heat mixture on medium high until sugar dissolves then increase heat to high until mixture begins to boil. Allow the mixture to simmer for 5-7 minutes it will thicken slightly. Allow to cool and then transfer to a heat safe pitcher and refrigerate until well-chilled.
To prepare the cocktail, fill a champagne flute with 2 tablespoon of the grapefruit syrup fill ¾ of the way full with the rosé then add a triangle of sliced grapefruit and a sprig of rosemary.
Notes
Chateau Ste. Michelle is a great choice for an affordable dry rosé found at most major supermarkets. 
Nutrition Information:
Yield:

6
Serving Size:

1
Amount Per Serving:
Calories:

351
Total Fat:

0g
Saturated Fat:

0g
Trans Fat:

0g
Unsaturated Fat:

0g
Cholesterol:

0mg
Sodium:

13mg
Carbohydrates:

44g
Fiber:

5g
Sugar:

30g
Protein:

3g