Lemon Bar Brownie Pie with Raspberry Swirl
This Lemon Bar Pie with Brownie Swirl is a fantastic springtime dessert recipe! Especially for Easter, it checks all the boxes! Lemon (check!) Chocolate (check!) and Raspberry (check!).
Oh, and the best part is you can make them ahead of time, and refrigerate and all you have to do is garnish and serve! (Double Check!)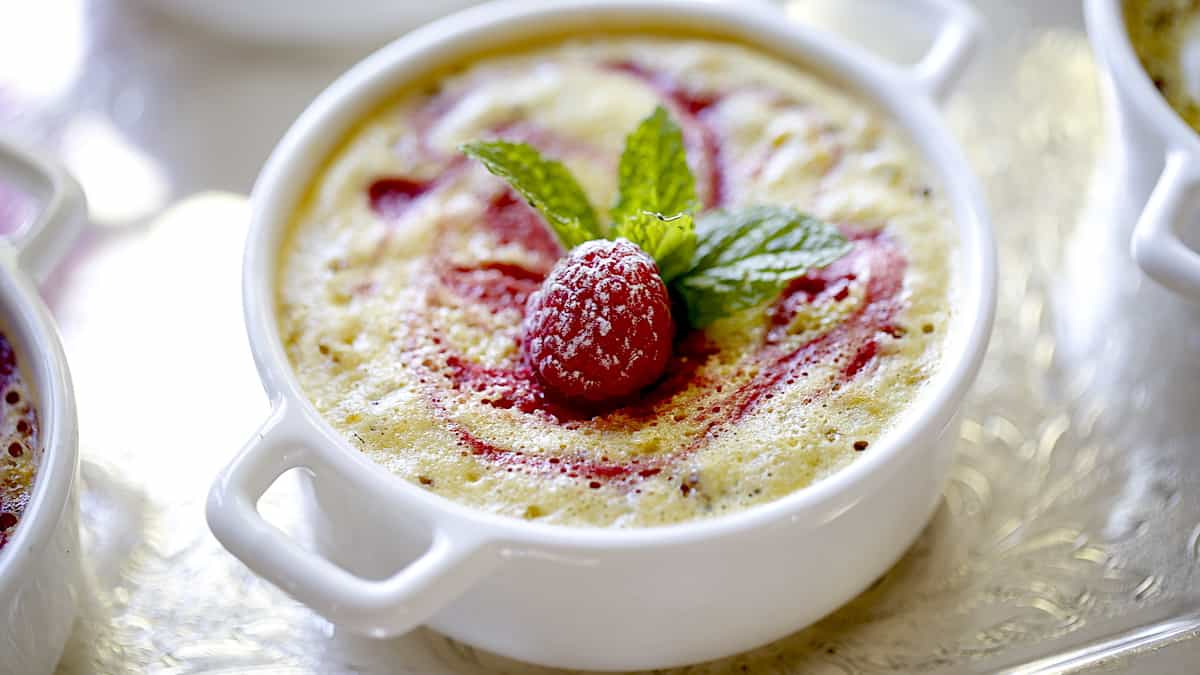 Recipe Pairing Ideas: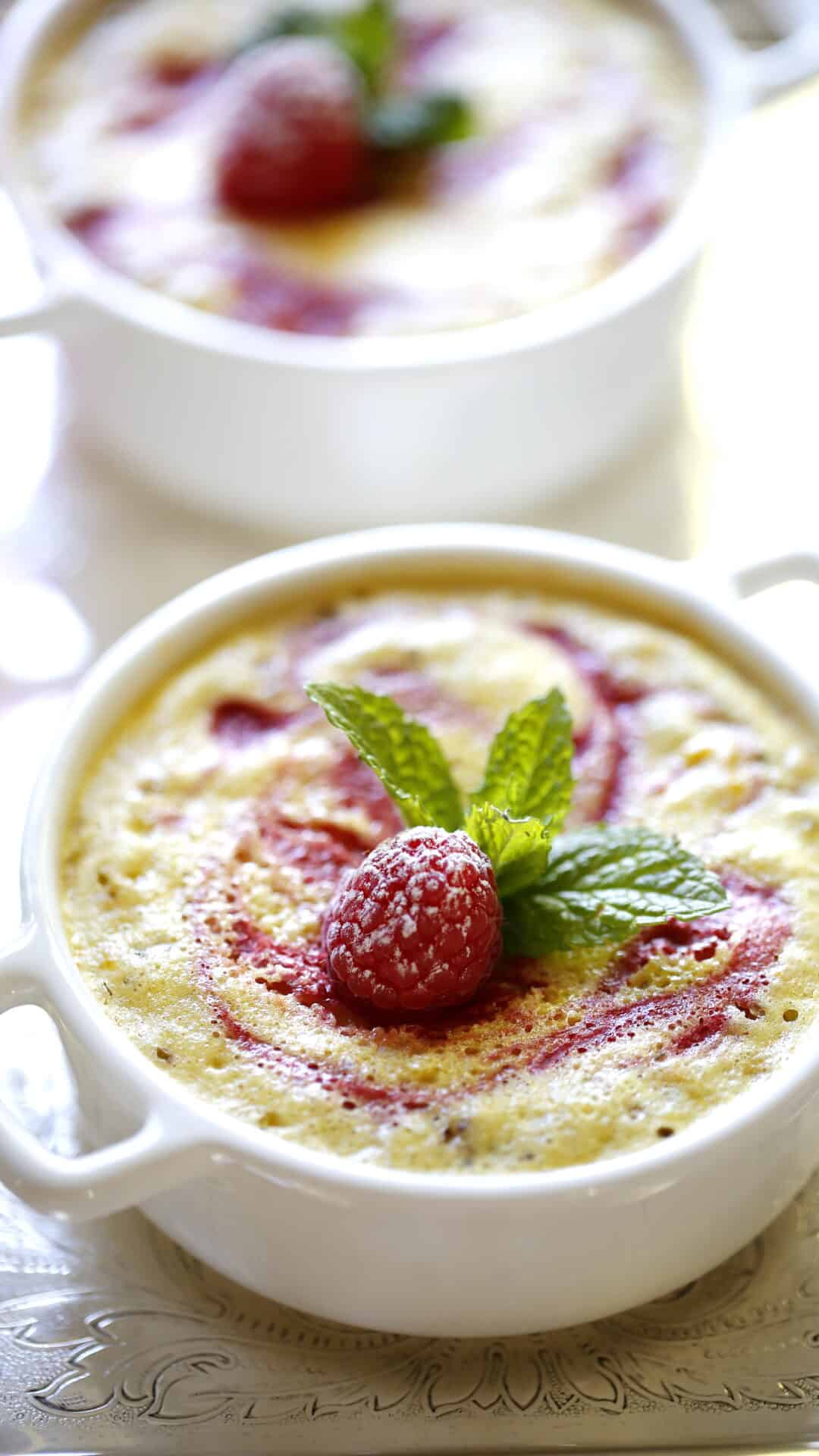 Subscribe for weekly recipes
and new videos!
Watch My Video Demo of This Recipe Below!
Subscribe to My YouTube Channel and Never Miss a Recipe
This video also includes recipes for my Rose Pamplemousse Cocktails, my Roasted Beet Hummus, and my Artichoke and Spinach Chicken Bake.
The Best Flavor Mates
What makes these pies so delicious is the combination of flavors. Between the delicate, custardy lemon bar filling and the rich and fudgy brownie below, and the tart raspberry swirl just gives you a touch of welcomed tartness! It's really a fantastic flavor sensation.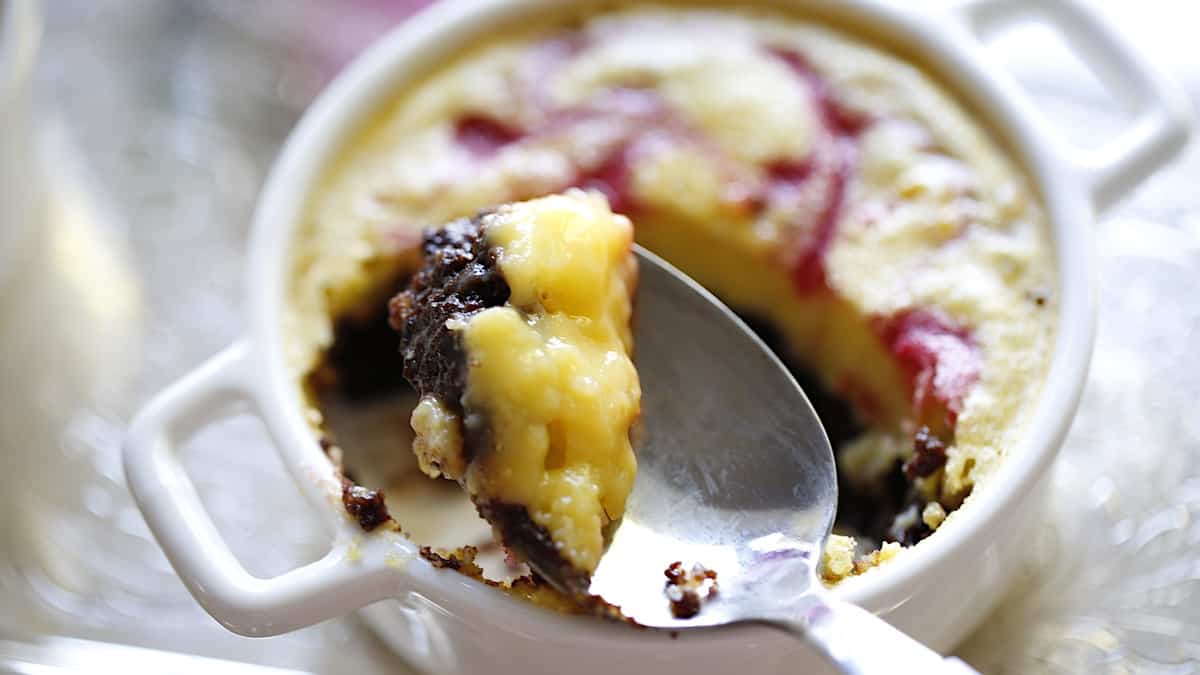 Baking in Two Stages
This dessert bakes in two stages. First, the brownie bottom bakes at 350F, and then you'll lower the temperature to 325F for the lemon bars. The lemon bars need a gentler heat to allow them to set without cracking.
To get a beautifully set lemon bar filling and pretty raspberry swirl, be sure to allow the brownies to cool before adding the lemon topping and baking it. Otherwise, the lemon bar filling starts to cook the eggs before it's in the even, and the texture would be as nice and smooth.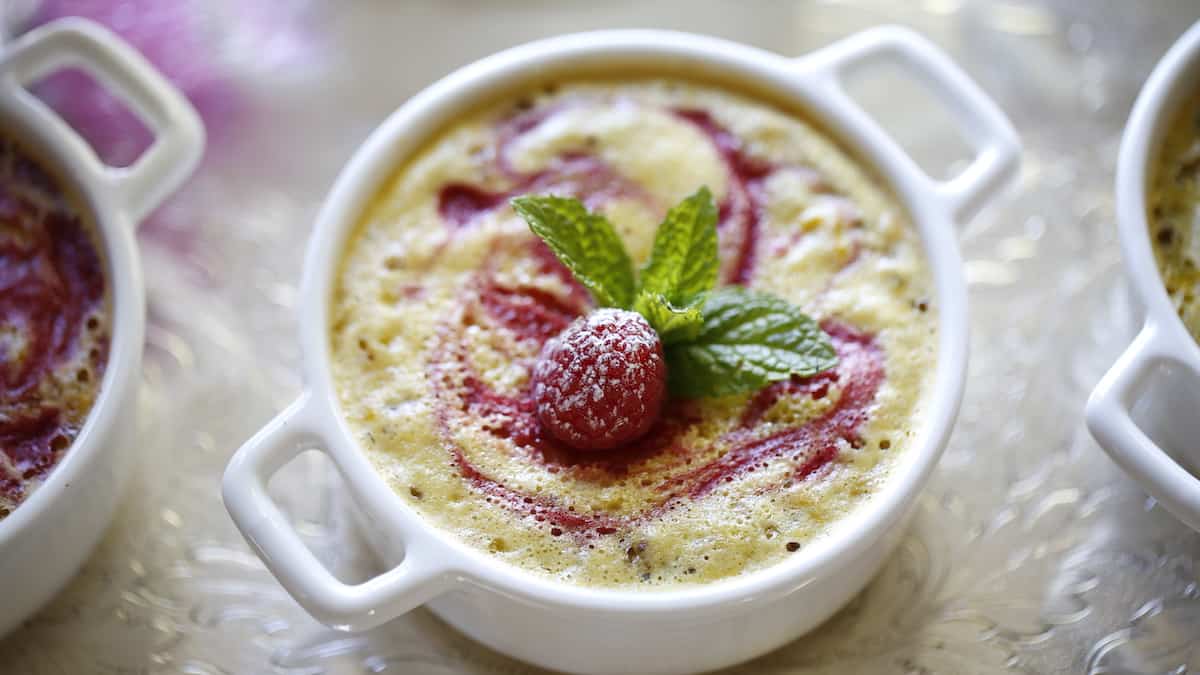 Serving is Easy!
This dessert is "paid" up front. Meaning there's more work at the front end, but it will be worth it after you've cooked up a big Easter lunch to have dessert all ready to serve just waiting for you in the fridge.
I typically wait until serving to dust the powdered sugar on the raspberries and add the mint sprig so that the powdered sugar doesn't melt and the mint doesn't wilt. Hope you enjoy!
More Great Spring Desserts!
If You Enjoyed This Recipe
Please Leave a Rating and a Review Below!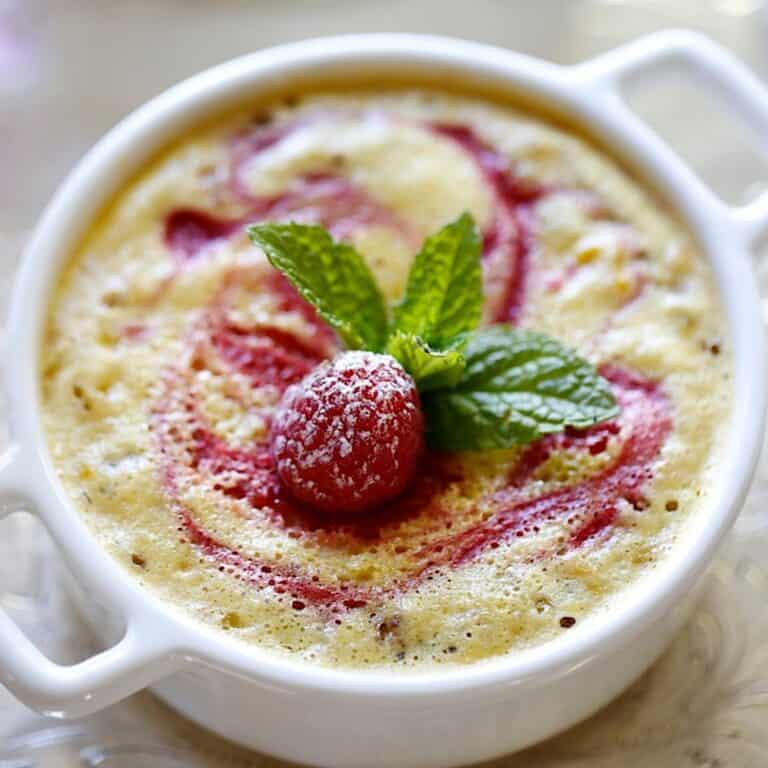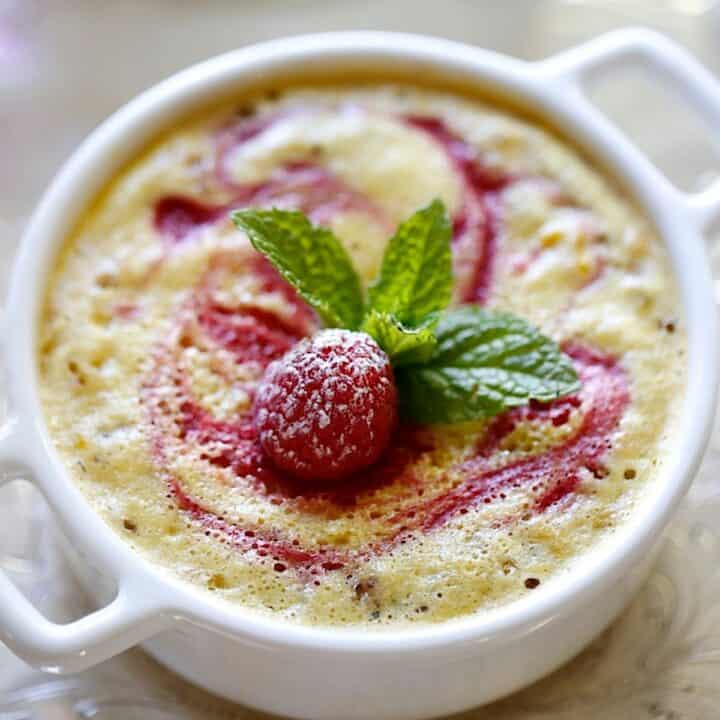 Lemon Bar Brownie Pie Recipe with Raspberry Swirl
Total Time:
5 hours
45 minutes
The most delicious combination of delicate lemon bar filling and rich decadent brownie topped with a tart raspberry swirl! A wonderful dessert for Easter or Mother's Day!
Ingredients
Brownie Batter:
7 tablespoon (105g) Butter
½ cup (75g) semi-sweet chocolate chips
½ cup (75g) dark chocolate chips
⅓ cup sugar (65g)
1 egg
1 ½ teaspoon (7.5ml) vanilla extract
½ cup (60g) flour
¼ teaspoon (1.25ml) baking soda
pinch of salt
Lemon Bar Batter:
6 eggs
¾ cup (150g) sugar
2 teaspoon (10ml) lemon zest
½ cup (120ml) lemon juice
¼ teaspoon (1.25ml) salt
¼ cup (30g) flour
Raspberry Swirl:
½ cup (75g) of raspberries
Garnish:
6 Raspberries
Powdered Sugar
Fresh Mint Sprigs
Instructions
Spray 4x4 (10cm x10cm) (6.0z) ramekins or 9" (23cm) pie plate with baking spray. Place on a sheet pan lined with parchment paper.
Melt butter and chocolate chips in a microwave-safe bowl at :30 intervals until melted. Add sugar, egg, vanilla. Stir to combine. Whisk together flour, baking soda, and salt. Then add the dry ingredients to the wet ingredients and portion out into ramekins or pie plate. Bake at 350F (175C) for 15 minutes or until set. Allow to cool.
Puree the raspberries into juice by working them through a fine-mesh sieve with a spoon placed over a bowl. Set juice aside.
Then combine all ingredients for lemon bar batter and whisk to combine. Ladle the lemon filling over the cooled brownie. Spoon small dollops of raspberry juice over the lemon filling, run a skewer through the dollops to create swirls. Bake at 325F (162C) for 30 mins or until set.
Refrigerate once cooled.
Remove from the refrigerator 30 minutes before serving. Top with a fresh raspberry dusted with powdered sugar and a fresh mint sprig.
Nutrition Information:
Yield:

6
Serving Size:

1
Amount Per Serving:
Calories:

257
Total Fat:

8g
Saturated Fat:

3g
Trans Fat:

0g
Unsaturated Fat:

4g
Cholesterol:

217mg
Sodium:

119mg
Carbohydrates:

40g
Fiber:

1g
Sugar:

39g
Protein:

8g