Strawberry Spinach Salad with Poppy Seed Dressing
When it's too hot to cook, turn to a salad for dinner! This Strawberry Spinach Salad with Poppy Seed Dressing is one of my favorite dinner salad recipes.
It's hearty and filling with the grilled chicken but also cool and refreshing thanks to the strawberries and cucumbers. You'll love the sweet poppy seed dressing which is the perfect complement to the strawberries! And you can use up the extra poppy seeds in my Lemon Poppy Seed Pound Cake or Lemon Poppy Seed Scone recipes!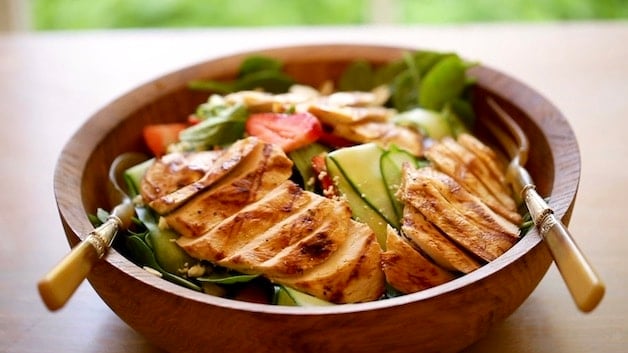 Spinach and strawberries may seem like a strange combination, but if you've never tried fruit in a salad you are in for a treat! Especially, this time of year when strawberries are in season!
Subscribe for weekly recipes
and new videos!
You can serve the grilled chicken warm or chilled and the poppy seed dressing can also be made ahead of time! Then all you have to do is assemble and serve!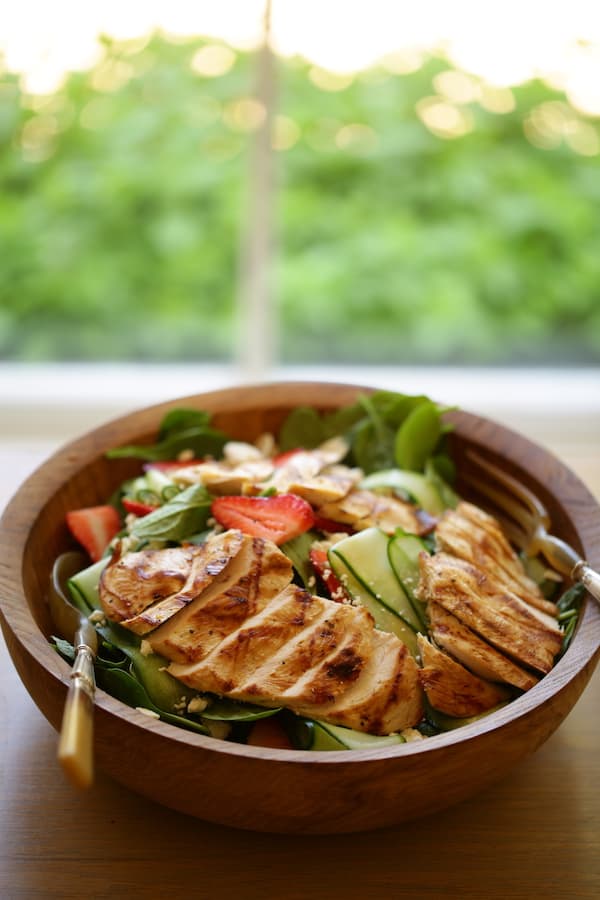 Watch My Video Demo of this Recipe Below!
What to Serve with this Recipe?
Spinach salads are often served as a starter or a side dish. It would pair beautifully with my Seared Salmon recipe. But if you add grilled chicken to it, it instantly becomes a meal! I like to serve it for a refreshing lunch, or a light dinner when it's just too hot to cook.
The sweetness of the strawberries just calls out for a Poppyseed Dressing, a dressing typically served at restaurants, but it's also so easy to make at home!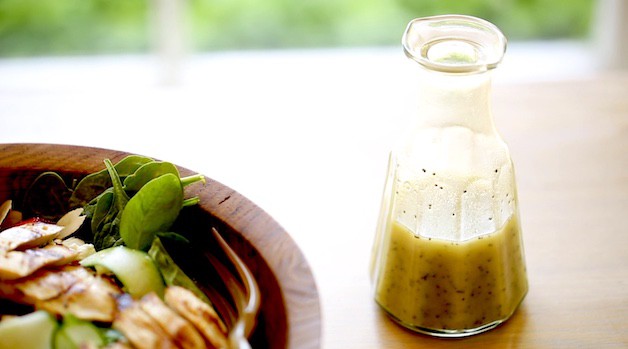 Top Tips for Poppyseed Dressing:
I think what makes poppyseed dressing so delicious is the sweetness it has, while also being light and refreshing.
Use White Balsamic Vinegar You may not be familiar with "white" balsamic vinegar, but it's one of my favorite types of vinegar that adds sweetness without the bitterness of traditional balsamic vinegar. And you can find it at Trader Joe's!
Use Grapeseed Oil vs. Olive Oil It's tempting to always reach for the olive oil when it comes to salad dressings, but I find the best oil for salad dressings is grapeseed oil! It's flavorless, allowing the other ingredients to shine through, and it's a lot lighter than olive oil, which can add too much heaviness and flavor to salad dressings.
Add a Little Bit of Honey which is a great sweetener in salad dressings. It breaks down quickly against the vinegar and will combine nicely. It also provides a more mellow sweetness than plain white sugar would.
Add Some Orange Juice for tartness without bitterness. In the springtime, I love to add blood oranges to this recipe which creates a beautiful hot pink dressing that is really striking against the strawberries.
Dinner Salads Call For Decorative Slicing
What I love most about this salad is how much flavor comes from so few ingredients. Whenever I serve salad for a main meal, I like to create some easy decorative touches to make it feel extra special.
How-To Slice the Cucumbers
I like to use English cucumbers for this recipe because they have a thinner skin and don't need to be peeled first. They also have smaller and fewer seeds.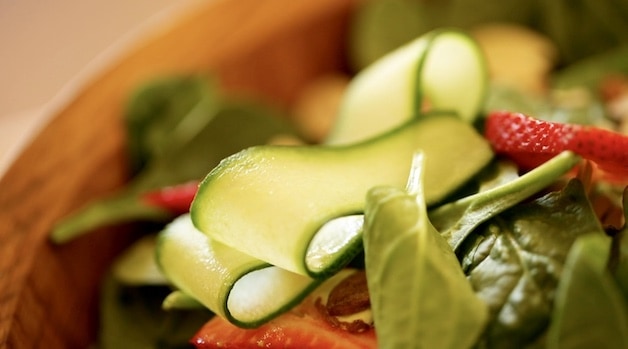 Slice them with a potato peeler for elegant cucumber ribbons. It's such an easy thing that will give you a "lot of look". English cucumbers are also longer cucumbers that will give you a better "runway" for creating longer cucumber ribbons, than a traditional cucumber would.
How-To Cut the Strawberries
Slice the strawberries thinly. This will give you lots of strawberry flavor without being overpowering. I also think they look prettier in the salad when cut this way, because they won't sink to the bottom of the salad the way they would if they were cut into bigger pieces.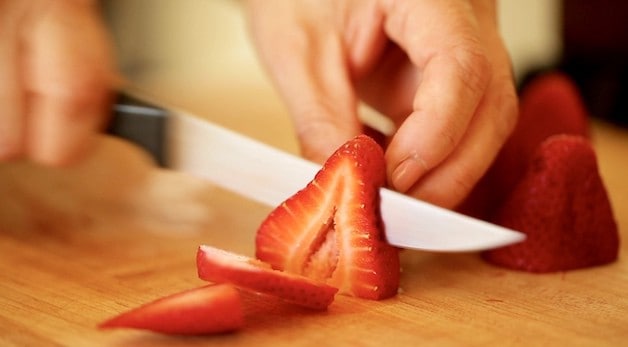 I also find you see more of the prettiest part of the strawberry, the interior with its delicate color pattern and almost heart-shaped design.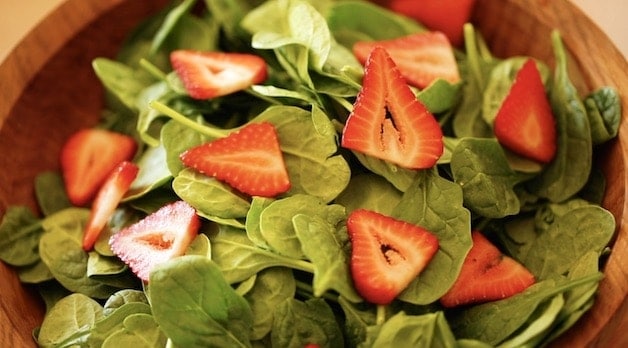 How-To Slice the Chicken
I like to slice the chicken on the diagonal. This is easy to do with a large chef knife positioned at an angle. You'll get thinner slices this way, which is a bit easier to eat, and each slice will have a good amount of grill marks, making it decorative too.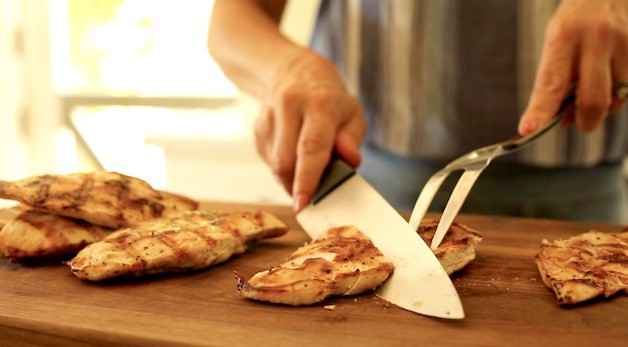 To transfer the chicken easily, place your chef knife under the chicken right after you slice it, then keep the slices intact with a carving fork. This will preserve the pattern when transferring to the salad.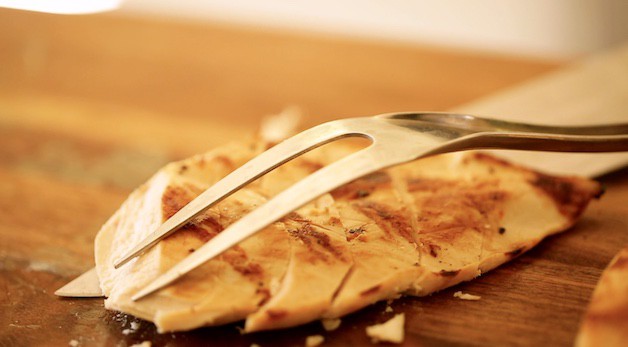 Not only will it create a prettier presentation but will also assure that everyone gets enough chicken on their plates and isn't left digging around the salad to find it!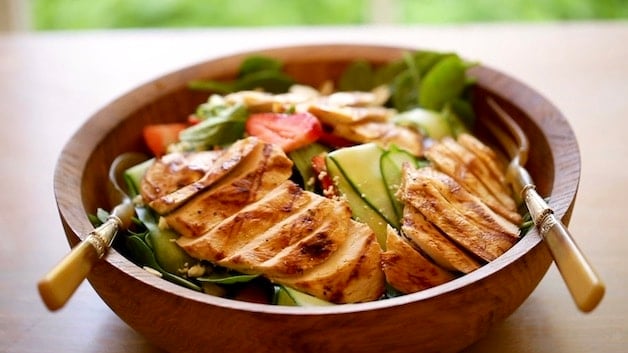 I also don't toss the salad with the dressing but serve it on the side. That way guests can add the amount of dressing they would like to their own plates!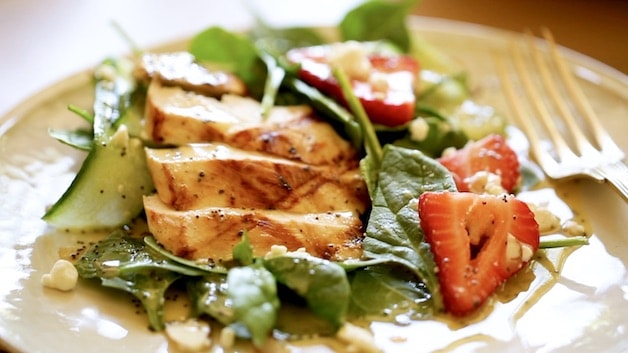 MORE GREAT SUMMER RECIPES!
If You Enjoy This Strawberry Spinach Salad Recipe
Please Leave a Rating and Review Below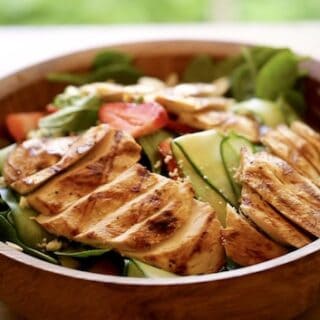 Strawberry Spinach Salad with Poppy Seed Dressing
When it's too hot to cook, turn to a salad for dinner! This Strawberry Spinach Salad with Poppy Seed Dressing is one of my favorite dinner salad recipes. It's hearty and filling with the grilled chicken but also cool and refreshing at the same time! 
Ingredients
For Chicken:
6 boneless skinless chicken breasts, pounded thin into cutlets
½ teaspoon (2.5ml) orange zest
¼ cup (60ml) fresh squeezed orange juice
1 tbsp. (15ml) grape seed oil
1 tsp. (5ml) Dijon mustard
1 tbsp. (15 ml) white wine vinegar
2-3 dashes of Worcestershire sauce
salt and pepper to taste
For Salad:
7 oz (200g) of baby spinach
8 large ripe strawberries, tops removed, and sliced
¼ cup (40g) sliced raw almonds
⅓ cup (50g) crumbled goat cheese
1 English cucumber, peeled into ribbons with a potato peeler
For Dressing:
2 tbsp. (30ml) Dijon Mustard
2 tbsp. (30ml) white wine vinegar
2 tablespoon (30ml) honey
4-6 tablespoon (60ml-90ml) grape seed oil
2 small oranges juiced
salt and pepper to taste
2 teaspoon (5ml) poppy seeds
Instructions
Lightly salt the chicken a few hours before grilling. This will make it tender and juicy. Place in a casserole dish, single layer, and refrigerate until ready to use.

Then an hour before grilling. Mix up the marinade. Pour it over the chicken and allow to rest at room temperature for 20 minutes.

Grill the chicken 4-5 minutes each side until cooked through. Remove from the grill and allow to rest.

In a small bowl whisk together the mustard, vinegar, and honey until combined. Slowly add the grapeseed oil until the dressing is thick and emulsified. Use 4 tablespoon for a tart dressing, 6 for a more mellow dressing.

Then add the blood orange juice, salt, and pepper and stir in the poppy seeds.

On a large platter create a bed of spinach. Add the almonds, goat cheese, strawberries, and cucumber ribbons.

Carve the chicken breasts on the diagonal, and then transfer the chicken with a chef's knife keeping the breast intact, to the top of the spinach. Top with freshly cracked pepper.

Serve the salad with the dressing on the side and warm crusty baguette.
Recommended Products
As an Amazon Associate and member of other affiliate programs, I earn from qualifying purchases.
Nutrition Information:
Yield:

6
Serving Size:

1
Amount Per Serving:
Calories:

786
Total Fat:

34g
Saturated Fat:

4g
Trans Fat:

0g
Unsaturated Fat:

27g
Cholesterol:

191mg
Sodium:

434mg
Carbohydrates:

31g
Fiber:

5g
Sugar:

9g
Protein:

68g