Oh the French macaron....the world's most finicky cookie! Let's face it, these cookies are hard! They can seriously drive you crazy! I too have had my battles and you can read all about that in my Huffington Post article on the matter!
But this foolproof French Macaron Recipe will come to your rescue if you follow my 6 tips to success! Curious how to make another tricky French dessert? Try my foolproof Chocolate Souffle recipe.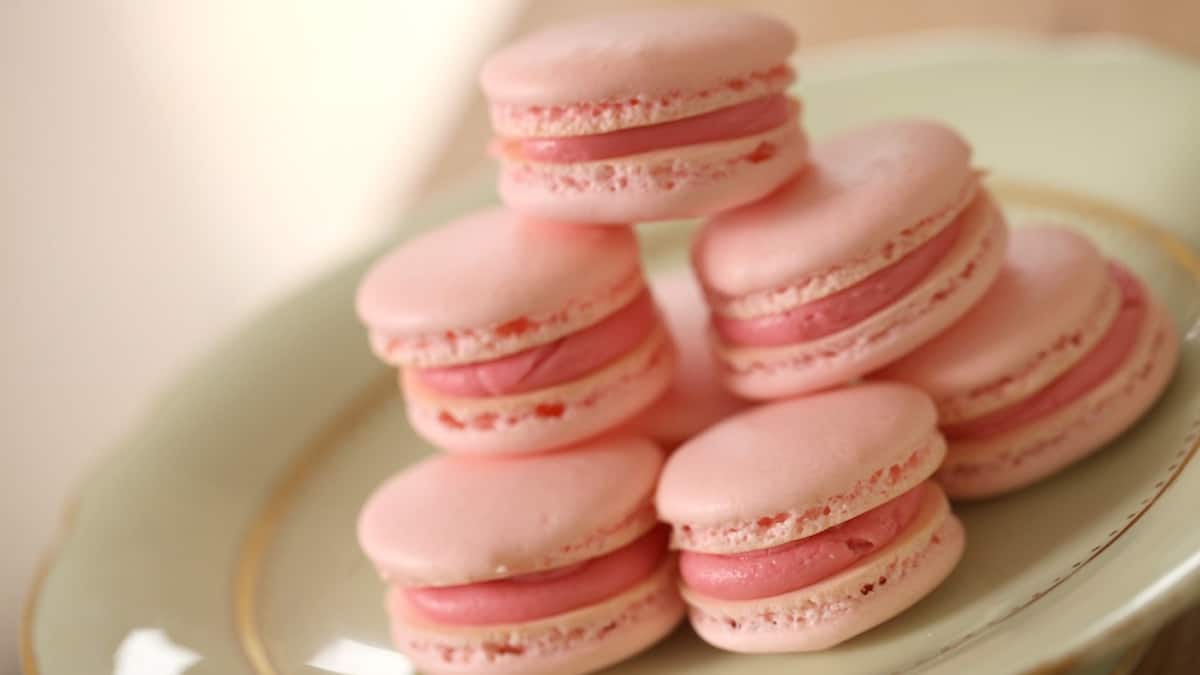 Why French Macarons Don't Always Work on the First Try
The trick with these cookies is patience and following the steps exactly! And if you don't succeed at first, the old age to try again applies! These cookies take practice, and you'll find each batch will get better the more you experiment with it! They are similar to French Madeleines and Chocolate Eclairs. The more you make them, the more you get to know "how they work" until one day you're a pro at whipping them up!
They don't always work, for every person, on every try! That's what makes them so revered when you finally get it right! So many things play a factor.
What My Video Demo of This Recipe
The biggest variables include:
How the egg whites were whipped (Don't under or over whip!)
If cream of tartar was used (Yes, Please use!)
What type of food coloring do you use (Gel is best)
How long they stay out before baking (at least 20 mins)
And believe it or not, the weather. Yes, the weather!
These cookies are finicky! They are the divas of the cookie-making world. They don't like humidity. They don't like rain. And sometimes, they don't even like air conditioning or too hot a kitchen!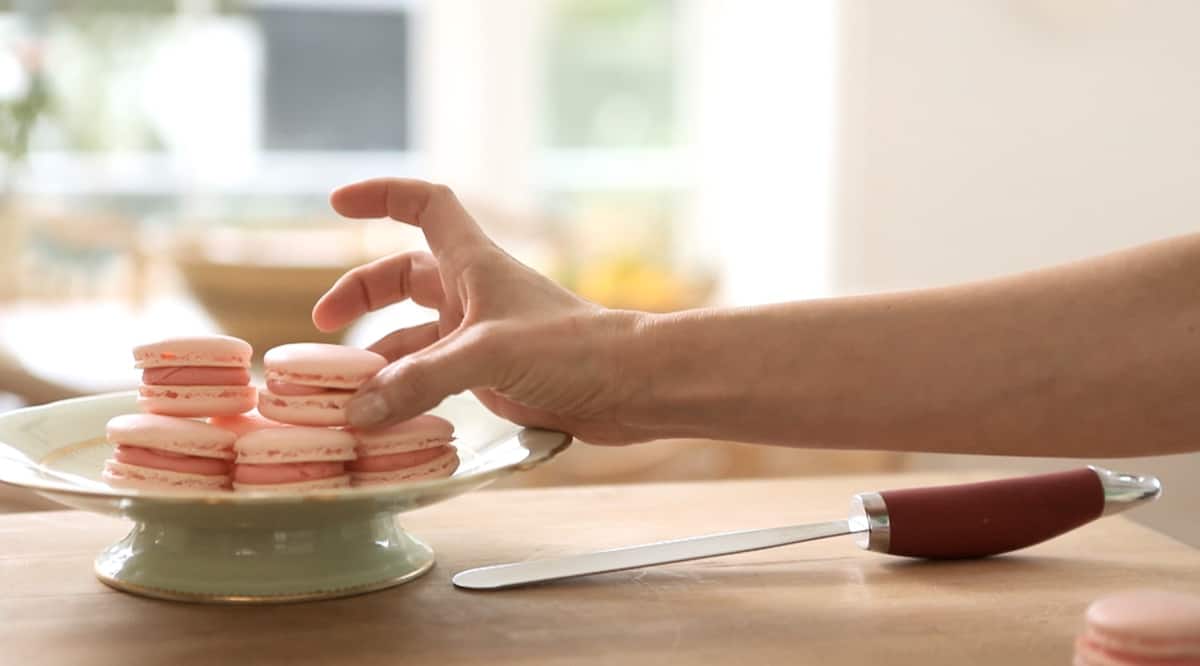 Are French Macarons Really That Hard to Make?
In a word, YES. There's just so much that can go wrong! Between the under-mixing and the over-mixing issues, the baking time, the cracks, the lack of feet....and the list goes on!
As a result, I set out to see if I could create a foolproof French macaron recipe. A recipe that may take some practice, but in the end would cause fewer problems and less hassle for us all. And friends, here it is!
Before You Begin
In fact, before you set out, it might be easier to watch my French macaron recipe video below and scroll through my French Macaron Troubleshooting Guide. This will set you up for the best success!
Step#1: Sift the Dry Ingredients
Sifting the almond meal (also called almond flour) and powdered sugar is an important step that is often overlooked. It will assure your dry ingredient mixture is as smooth and as light as possible.
Is Almond Flour Necessary?
Yes. Almond flour is the perfect nut for creating the right chewiness in the cookie.
Some people have had success with cashew flour and pistachio flour, but I can't say it has worked for me. I ended up with horrible cracks, whereas with the

almond flour

it's smooth sailing!

Bob's Red Mill brand is my favorite brand of Almond Flour that I highly recommend. For more product recommendations for achieving macaron success check out my post on 8 Great Products for a Foolproof French Macaron.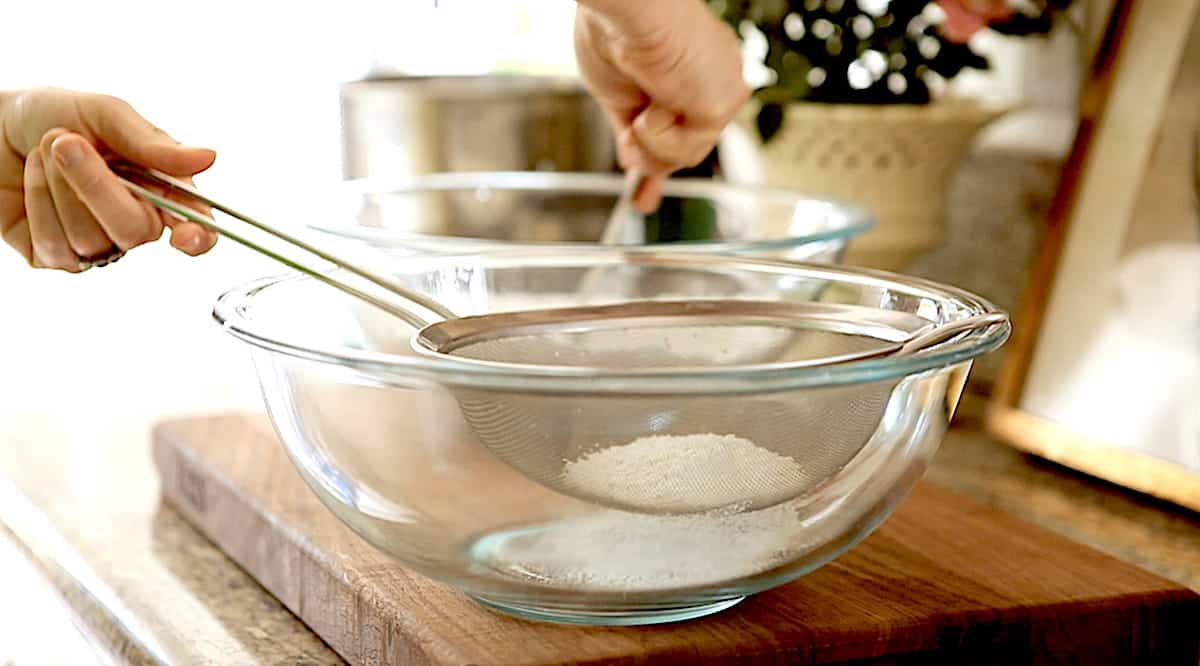 Tip#1: Why Sifting Helps Drive Success!
A smooth mixture will remove little pieces of almonds that are too big for the sieve and could create bumpy tops to your macarons.
I also find the weight of these morsels can also cause your egg whites to deflate and for your macarons to bake without "feet" that little lift at the bottom of the macaron that gives it its lift.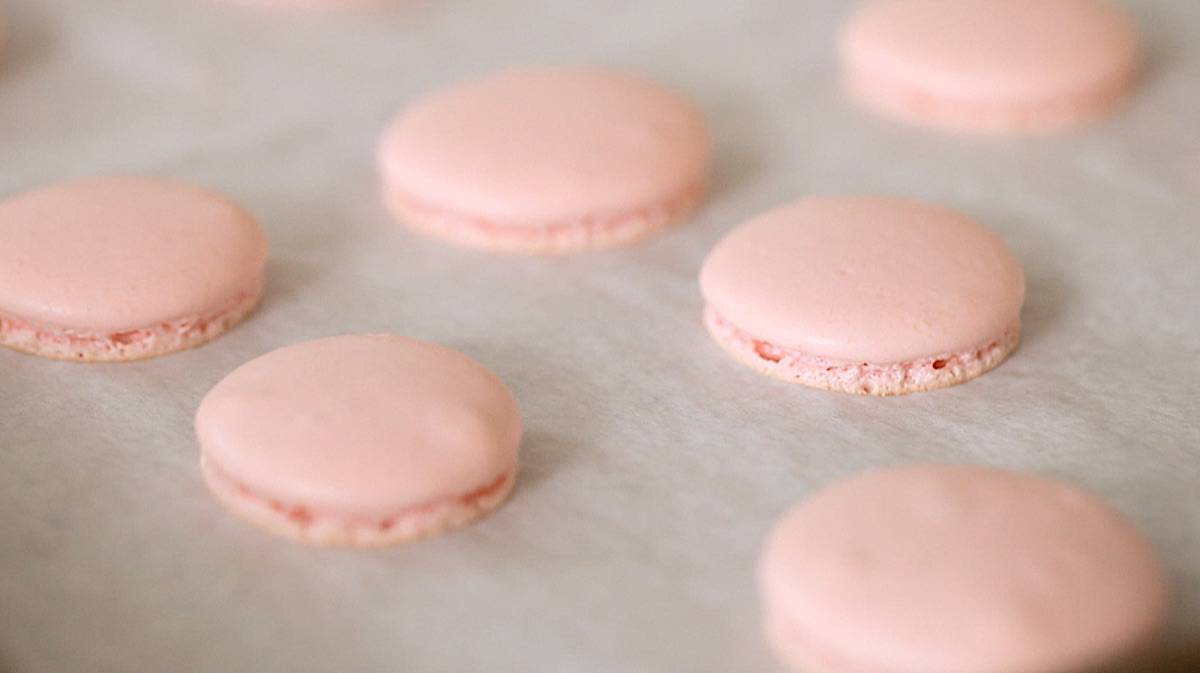 Step#2: Whip the Egg Whites
You'll mix the egg whites whites with cream of tartar and granulated sugar to achieve a stiff glossy mixture.
What Does Cream of Tartar do in Macarons?
The acid in the cream of tartar helps to stabilize and strengthen the egg whites.
A strong, stiff egg white will hold up better in the folding stage when you mix in the dry ingredients.
If you cannot find the cream of tartar you can substitute it for ½ teaspoon of fresh lemon juice or the same quantity of plain white vinegar.
How To Make Macarons Less Sweet?
It's important to note that French Macarons typically have two types of sugar. The powdered sugar in the dry ingredient mixture, and the granulated sugar in the egg white mixture.
If you are trying to lessen the sweetness of the cookie, it's best to reduce the granulated sugar, only by a tablespoon or so, as opposed to the powdered sugar. The powdered sugar is what gives the macaron shells their pretty glossy finish.
Tip#2: Don't Use Cold Eggs
The egg white stage has its own pitfall and here's what I've learned over the course of perfecting this recipe.
Be sure to start with room temperature eggs since it will be easier to whip them up to a nice volume if they are not cold.
If you forgot to take your eggs out just set them in some warm water for 5-10 minutes. When you crack the eggs open, you'll see they'll be at room temperature.
This is a great trick for any baked good since room temperature eggs will always combine better in a batter.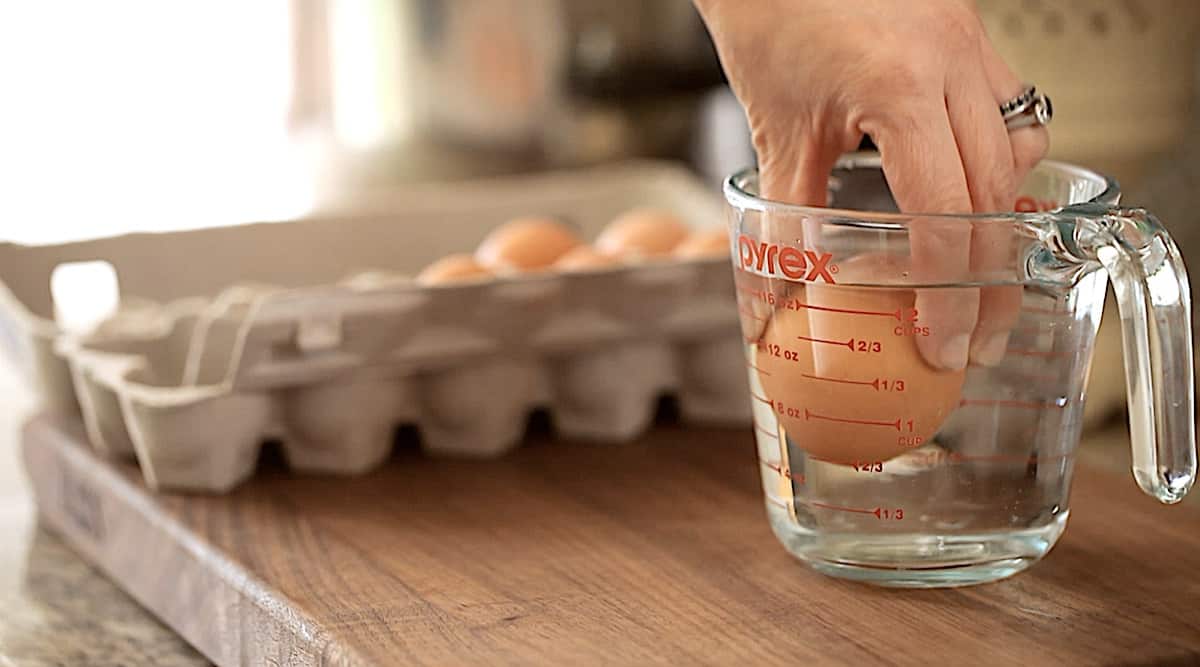 Do You Have to Age Egg Whites for Macarons to Work?
Personally, I say no. I have not seen much difference between "aged" egg whites and egg whites that are at room temperature.
"Aging" of egg whites refers to the process of separated eggs at least 24 hours in advance and leaving them to sit or "age" in your refrigerator.
But for as many times as I have made these cookies, I have never done this.
But if you are having trouble getting them to work, then sure why not try this approach. Since other bakers do swear by this tip.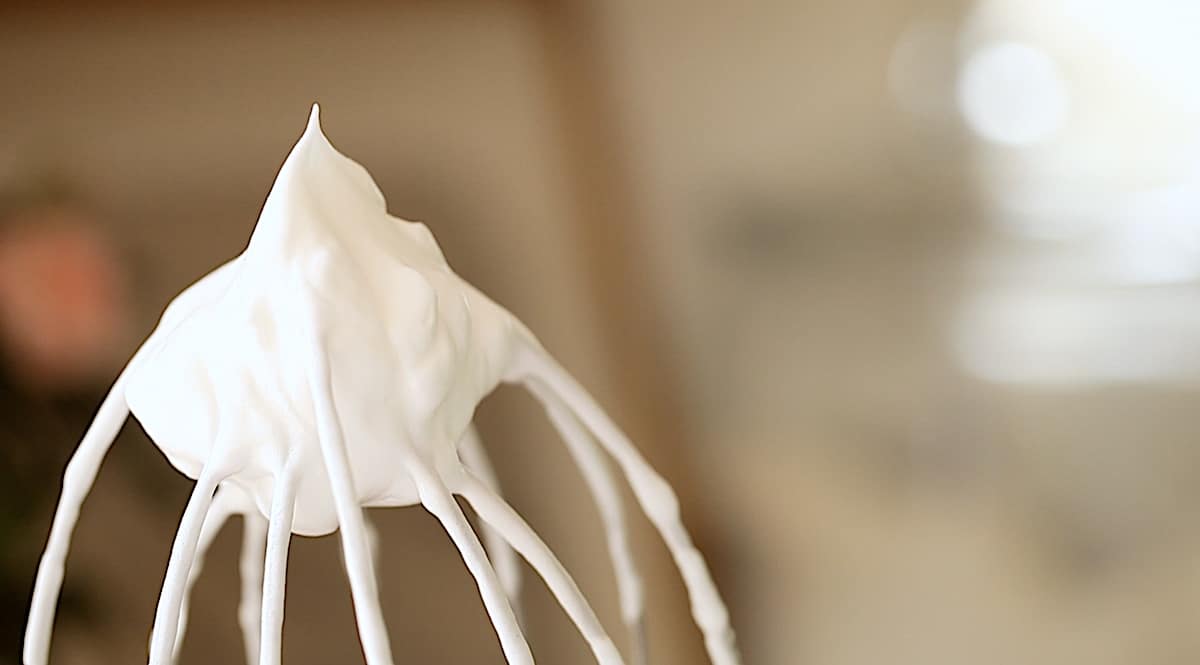 Once your egg whites have reached stiff, glossy peaks, this is the time to add the food coloring.
Tip#3: Be Generous with The Food Coloring
I prefer the gel food coloring, I think it's easier to control how many drops you put in and won't ruin the volume you've created in your egg white whipping. But the color tends to fade with baking so add a shade or two darker of coloring past the desired shade, when they bake it will fade a bit.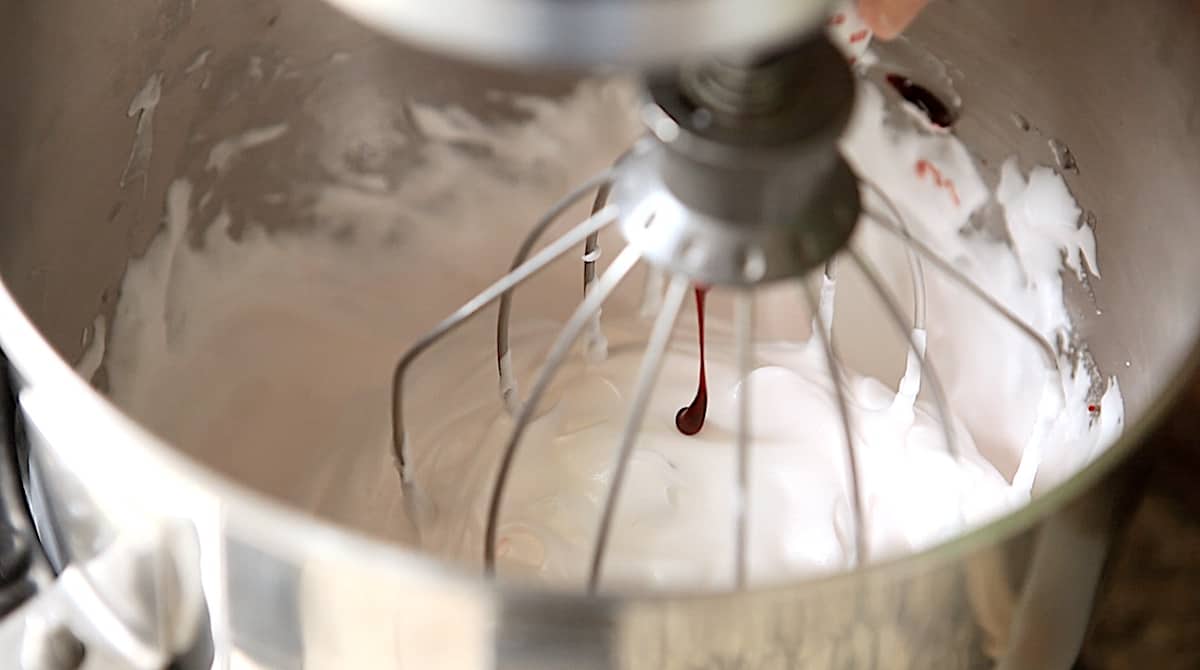 Step#3: Fold in the Dry Ingredients
You'll gently fold the almond flour mixture into the egg whites with a rubber spatula. This is usually where it can all go wrong. Getting the sense of when to stop is really a thing that just comes with practice.
Tip#4: Do Not Under Mix or Over Mix Macaron Batter
Under mix and your macaroons will be lumpy and cracked when they bake with no feet, over mix, and your macarons will be flat since you will technically deflate your egg whites with your vigor!
And over mixed macarons won't have the feet either. The "feet" are the mark of a well-made macaron.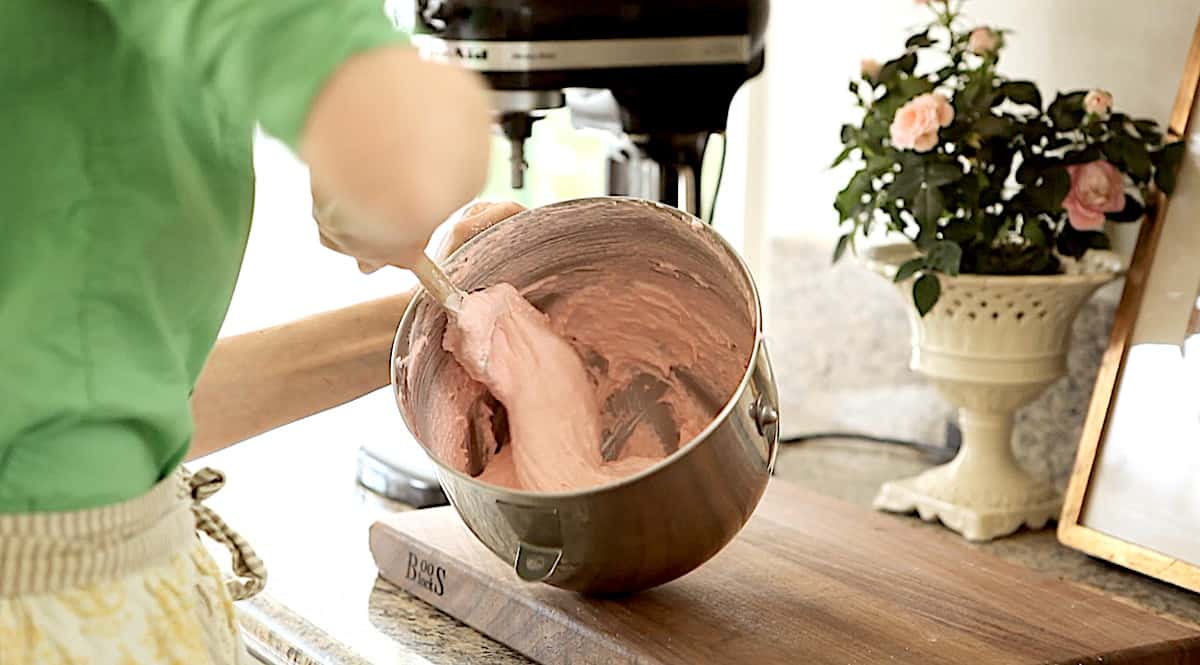 Tip#5: How Many Times Should You Fold Macaron Batter?
In my experience 65-75 turns of your spatula when folding, is about the right amount of time.
But again, it can be tricky, depends on how strong you are! So it can take a few tries to get it right.
But you'll know when you get it wrong when your macarons crack and look like this! This cracking can also be caused by humidity or rain too!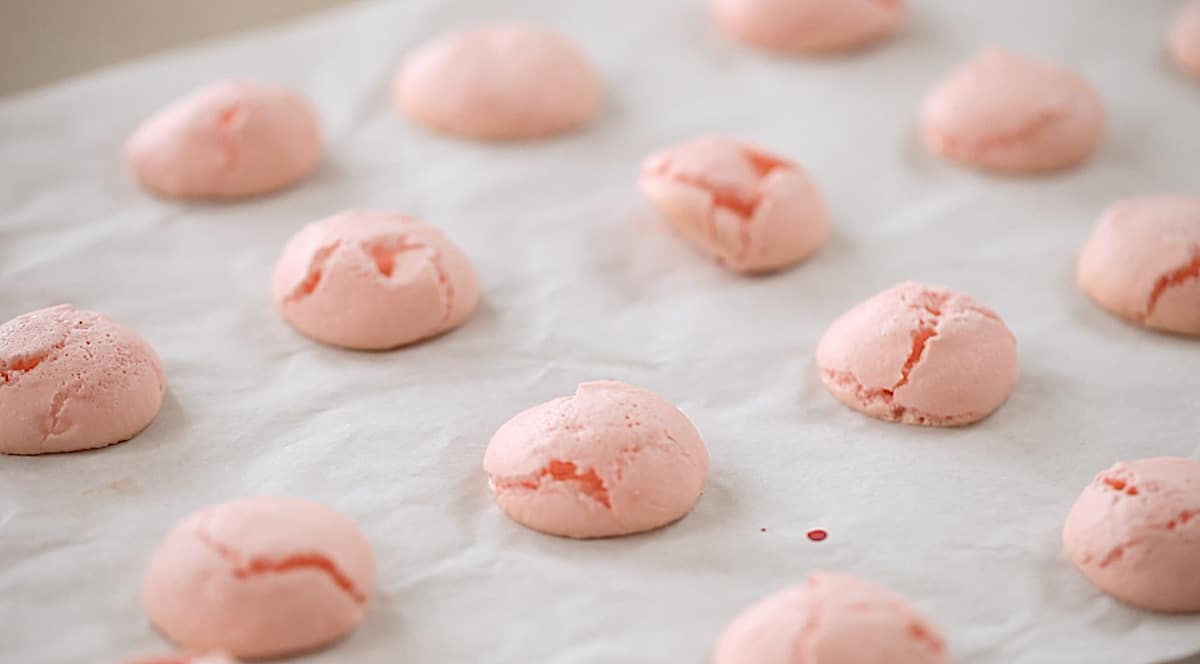 But when you do get it (and you will!) the trumpets will blare and you will feel SO accomplished! There's nothing quite like seeing the success of smooth macaron tops, with bottoms that don't stick to the pan complete with feet, come out of the oven!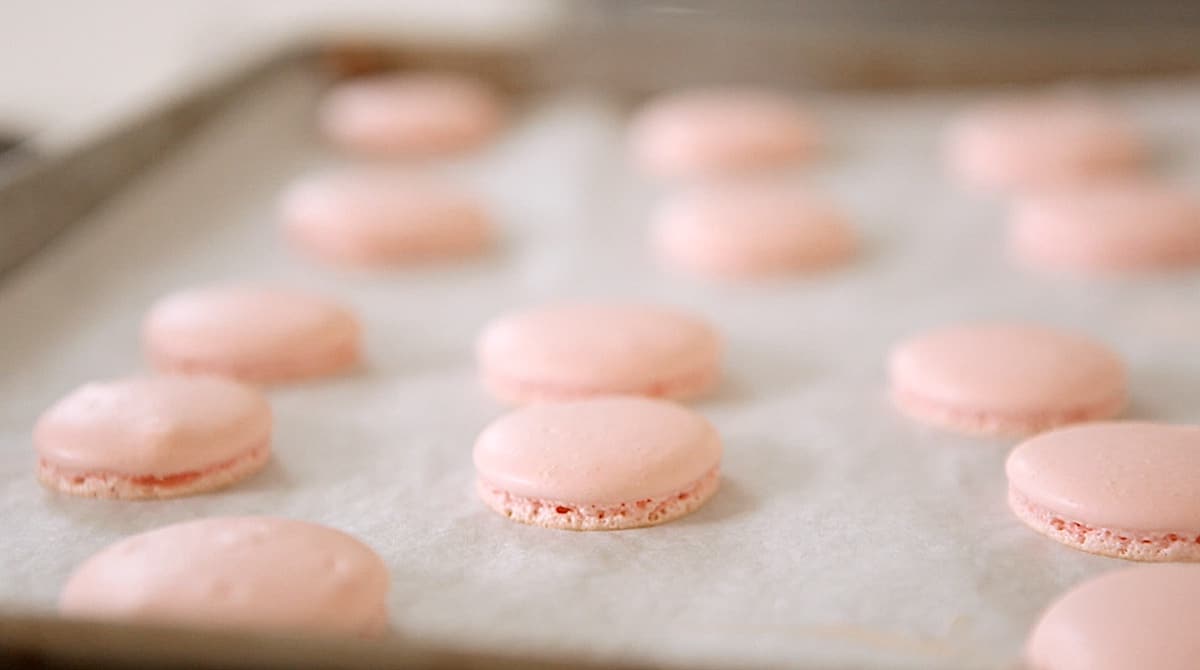 Step#4: Piping and Resting
I think the best equipment for piping macarons is a ½" round pastry tip and a cloth pastry bag.
The cloth pastry bag helps with the control of the bag so you don't under or over pipe, the plastic can get slippery, but it's OK for the buttercream.
If you want to be really precise in your sizing you can trace a quarter with a pencil onto the parchment paper, then flip the parchment paper over and use the lines that show through as your guide. This will help get uniform sizing.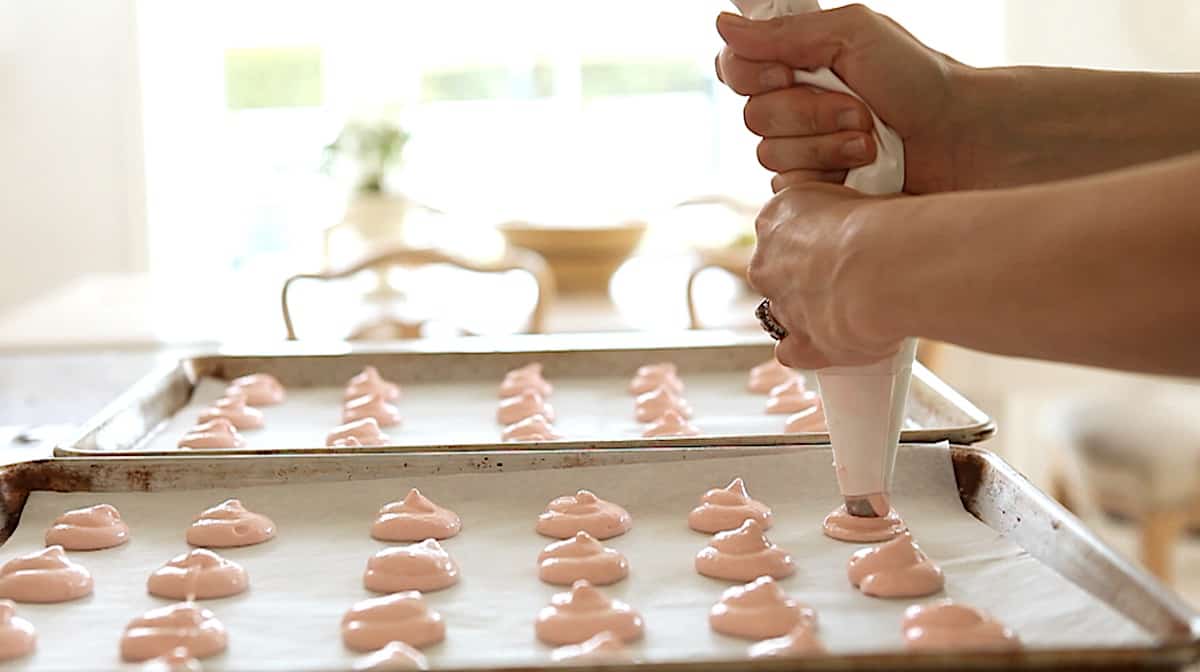 Pipe All the Batter
This recipe makes 24 sandwiched cookies. It's best to use two trays and pipe all the batter out at once and allow them to rest on the sheets (see Tip#6 below). As opposed to leaving it in the pastry bag.
Releasing the Air Bubbles
After all the batter is piped, whack the tray on the counter to release any air bubbles. That will also assure a smooth top.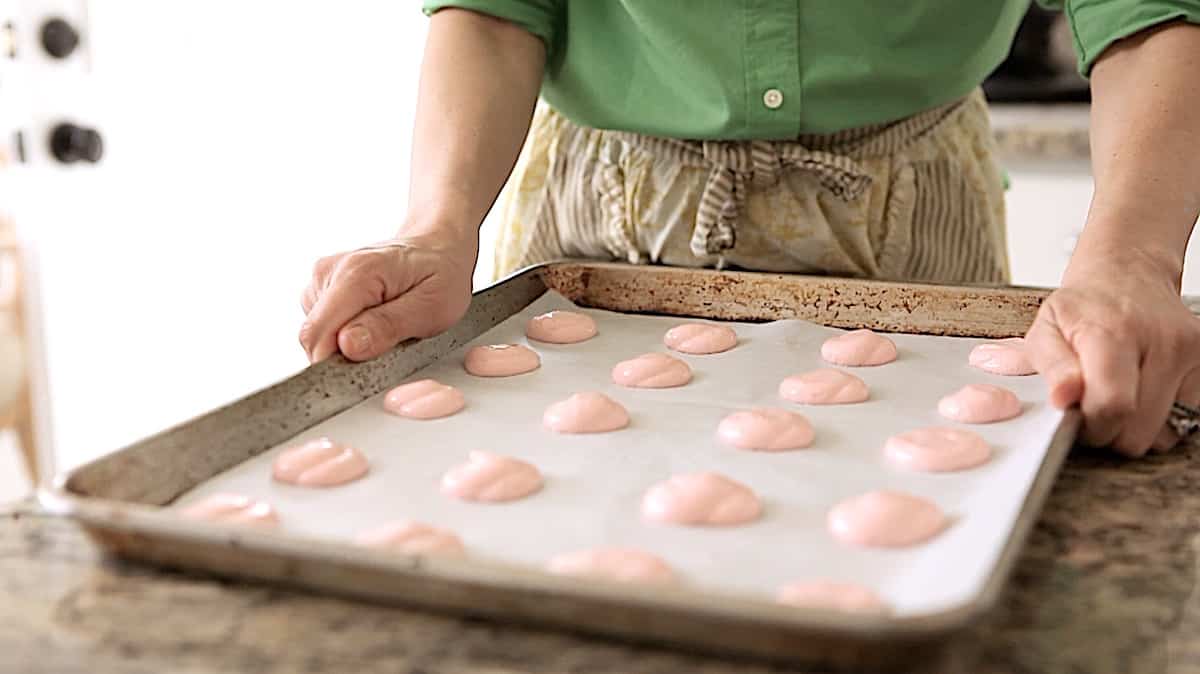 Tip#6: Let the Piped Batter Rest
It's best to allow the piped batter to rest on the trays for a minimum of 20 minutes before putting them in the oven. This will allow them to become slightly tacky to the touch. This is the other secret to getting them to develop the "feet" since the tackiness will force them to rise up instead of spreading out while in the oven.
Bake One at a Time!
As mentioned, these cookies are "divas!" and when it comes to oven space they want the oven all to themselves.
It's much better to bake one tray at a time so you don't have to open the oven door and disturb them by rotating the trays midway through, which can cause the feet not to form.
It will also assure they get even heat which will help them all bake at the same rate.
What are Macarons Typically Filled With?
Traditionally macarons are filled with a flavored buttercream, and the flavors can be as varied as the colors themselves! But you can also fill them with jam, chocolate ganache, salted caramel or lemon curd. For this recipe, I use raspberry juice to create a raspberry buttercream.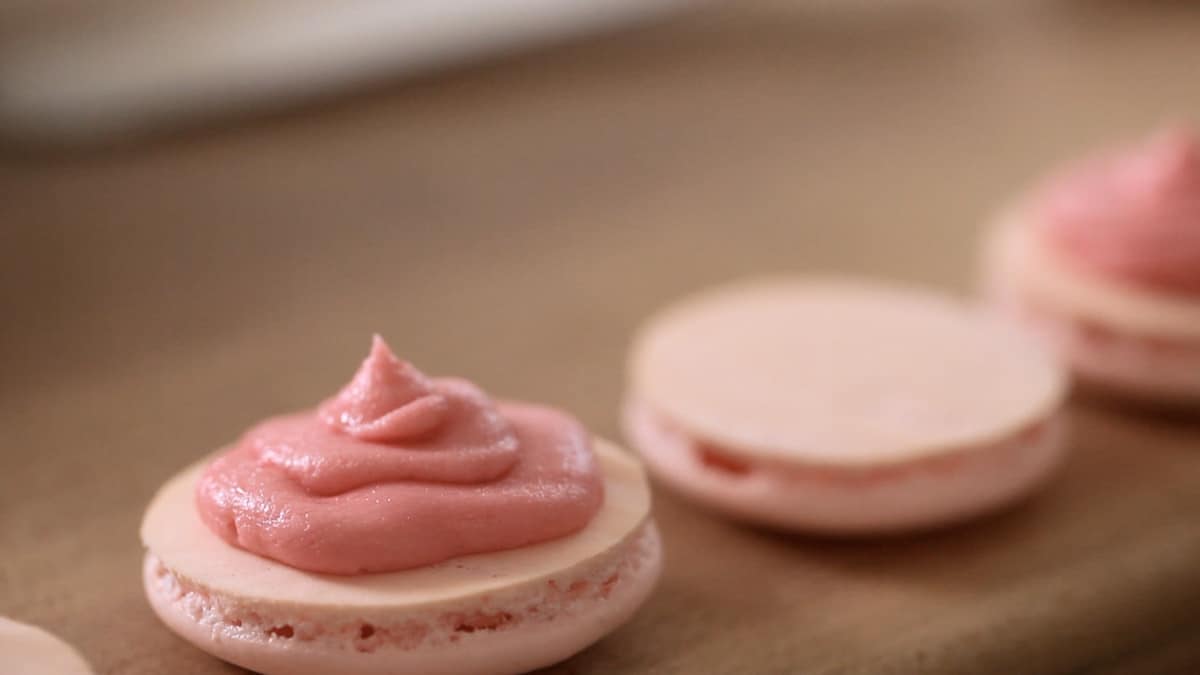 Use Room Temperature Raspberries
To prevent your buttercream from separating, make sure your raspberries are at room temperature!
If they are fresh out of the fridge, the juice won't combine with the softened, room temperature butter at all.
The butter will seize up and you'll have raspberry juice that will slosh around your bowl looking for somewhere to go!
It's a bit like making a vinaigrette. They need to "play nice" with each other and having the juice at room temperature helps them get along.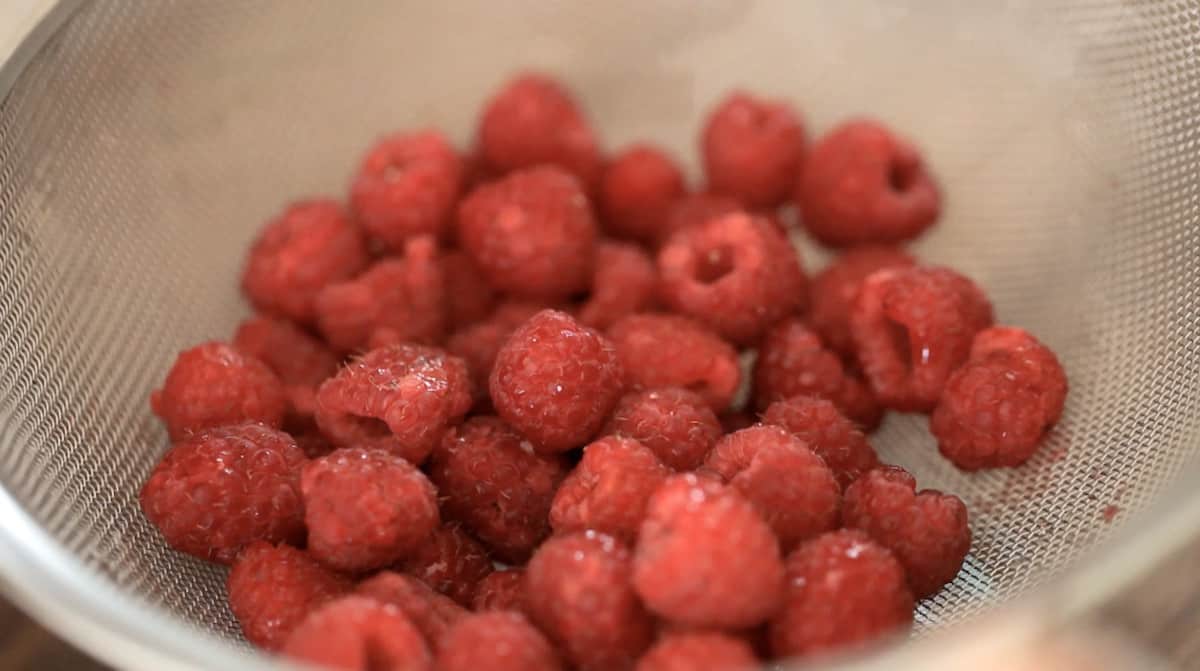 How Long Do French Macarons Keep? 
In my experience, French Macarons are best eaten the day they are made.
But if you had to make them in advance I would say only bake them a day ahead and keep them refrigerated, then take them out to come to room temperature before serving.
If you make them any farther ahead, the macaron shells start to become brittle and crispy. They lose their "chew" the longer they sit. This is why fresh is best! But you could make the buttercream up to 3 days ahead.

The Sweet Taste of Success!
There's nothing quite like seeing the success of smooth macaron tops, with bottoms that don't stick to the pan, complete with feet, come out of the oven!
And believe me, it took several tries, and endless revisions, to get it right! Yes, I too have "been there!" did I mention these cookies can drive you crazy? But the more you practice the more you will get it until one day, the trumpets will blare for you too!
More French Dessert Recipes!
Please let me know if you make this recipe
by leaving a rating and review below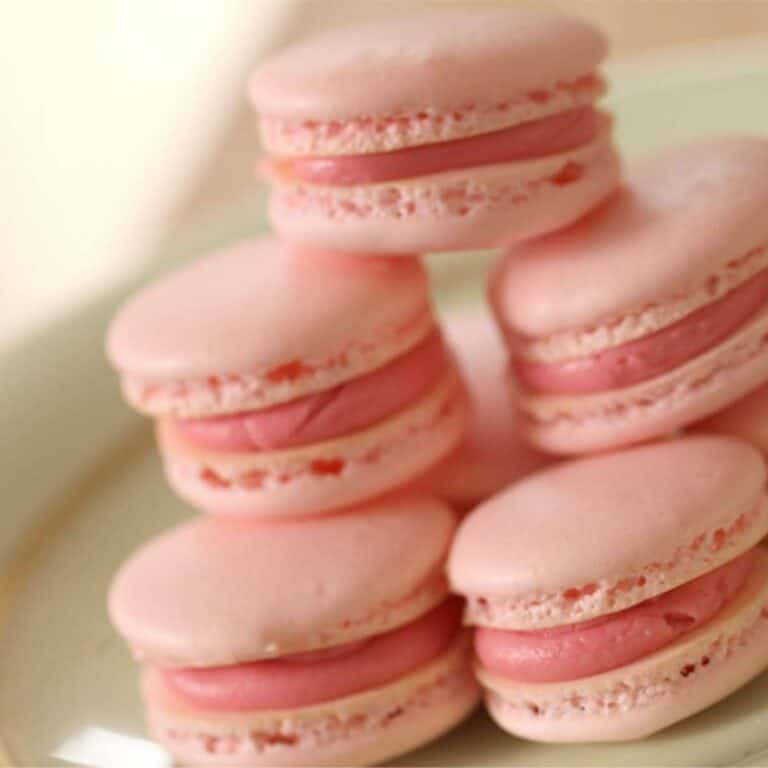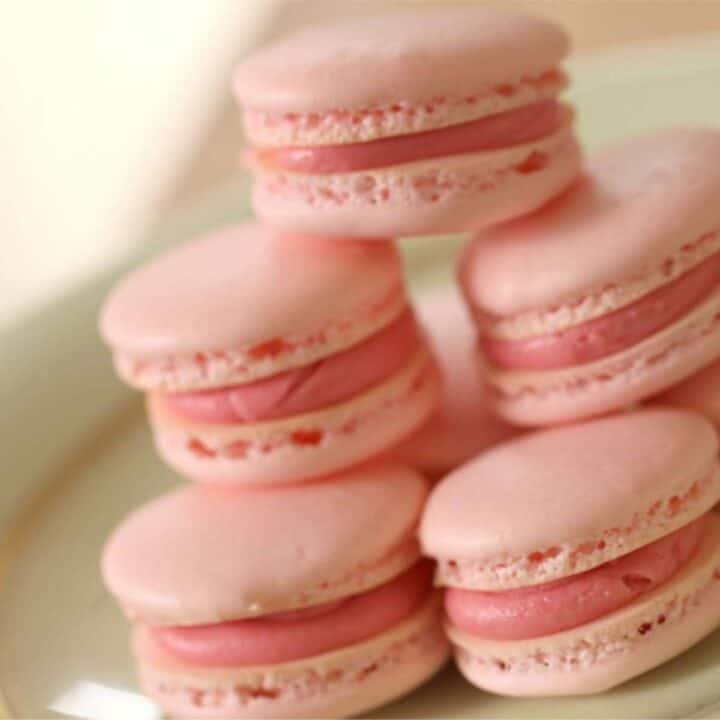 Beth's Foolproof French Macaron Recipe
Yield:
24 sandwiched cookies
Learn how to make a foolproof macaron using my 6 foolproof tips! A great cookie recipe for Valentines Day or Baby or bridal showers!
Ingredients
3 Egg Whites (at room temperature)
¼ cup white sugar (50 g)
2 cups powdered sugar (200 g)
1 cup almond flour (120 g)
pinch of salt
¼ teaspoon cream of tartar (2 ml)
RASPBERRY BUTTERCREAM
¼ cup salted butter (60g)
¾ cup powdered sugar (75 g)
1 cup (150 g) fresh raspberries, worked through a sieve to extract 3 tablespoon of juice
Instructions
Preheat oven to 300F degrees
Beat egg whites until foamy, then add salt, cream of tartar and white sugar for 8-10 mins.
Whip until they form a peak that stands upright. Think Seattle Space needle.
Then add the food coloring.
Sift almond flour, and powdered sugar. What remains will be the larger lumps of almond pieces. Just discard those, or use them to snack on 🙂 You want a really fine powder mixture to create a smooth and pretty on top to your cookie.
Fold flour/sugar mixture into the egg white mixture. About 65-75 good strokes.
Transfer batter to a pastry bag.
Pipe out 1 inch rounds on a baking sheet lined with parchment paper.
Tap the pan hard at least 2-3 times to release the air bubbles. This will prevent the tops of your macaroons from cracking.
Let them sit out for 20-30 mins, or up to an hour if you want. This will allow them time to dry out a bit before hitting the hot oven. They should be "tacky" to the touch, but not stick to your fingertips. This is another important step to assuring your macarons develop feet! When they dry out they can't spread out in the oven, and are forced to rise up. That's what creates the feet!
Bake for 20 mins. DO NOT UNDER BAKE, even if they look done! Otherwise they will stick to your tray.
Meanwhile mix the buttercream. Whip butter with an electric mixer until pale and fluffy. Slowly add sugar. Then place sieve on top of a bowl the same size. Work raspberries through the sieve with a spatula, pushing them through, mashing them around until you extract their juice. You want 3 tablespoons of juice.
Add juice to buttercream, and whip until combined. Transfer to a pastry bag, fitted with a small tip (about ¼ " in diameter)
Reverse cookie shells on their backs, and pipe a small mound of filling on one of them. Top with the other shell et Voila!
If not eating right away, keep refrigerated.
Notes
Be sure to start with with room temperature eggs.  If you forgot to take your eggs out just set them in some warm water for 5-10 minutes.
The color tends to fade with baking so add a shade or two darker of food coloring past the desired shade, when they bake it will fade.
In my experience 65-75 turns of your spatula when folding in the dry ingredients, is about the right amount of time.
Nutrition Information:
Yield:

24
Serving Size:

1
Amount Per Serving:
Calories:

115
Total Fat:

5g
Saturated Fat:

2g
Trans Fat:

0g
Unsaturated Fat:

3g
Cholesterol:

8mg
Sodium:

33mg
Carbohydrates:

17g
Fiber:

1g
Sugar:

15g
Protein:

2g