8 Great Products for a Foolproof French Macaron
French macarons are one of the trickiest French Recipes in my opinion! They can really drive you mad, trying to perfect the technique. For a quick primer, you should watch my YouTube Video for How to Make a Foolproof French Macaron.
While there are some tips and tricks I highly recommend, there are also a few key products that I think help ensure success.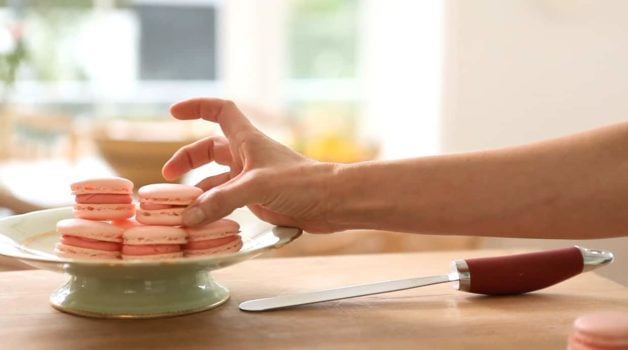 Here are some of my top favorite items that will help you achieve the best results! (These links go to Amazon where I am paid for products sold at no cost to the consumer)
Subscribe for weekly recipes
and new videos!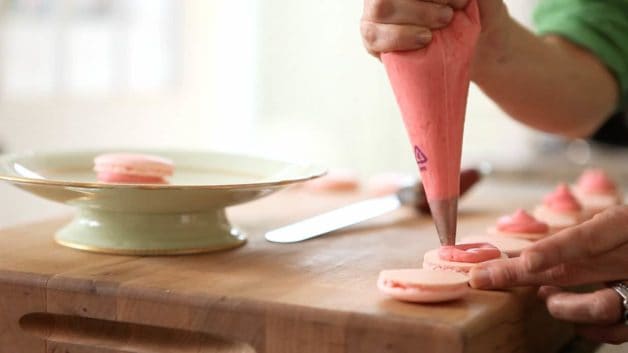 And if you still don't succeed, not to worry, these cookies are finicky! And they just take some practice. But you can also check my French Macaron troubleshooting guide for my tips and tricks!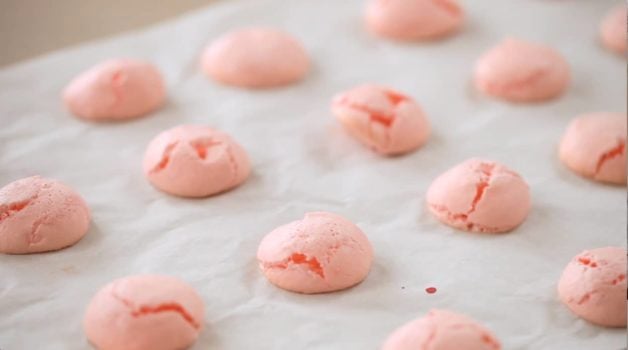 #1 CREAM OF TARTAR
Cream of tarta
r can be hard to find outside the US, but for macarons, it's worth buying it online. The acid in the powder actually acts to stabilize your egg whites. This will prevent them from deflating while folding in the dry ingredients. If you have ever ended up with runny batter while piping out your macarons, it's usually because your egg whites were not stable and deflated during the mixing stage. A ¼- ½ teaspoon of cream of tartar added to your egg whites during the whipping stage will ensure your whites stay intact and don't lose their volume.
#2 ALMOND FLOUR

I get a lot of questions about whether almond flour and almond meal is the same thing. Yes it is. And yes it is critical for a successful French macaron. It cannot be skipped or replaced with all-purpose flour. Macarons need the almond flour to obtain the right texture and consistency. There are a lot of almond flours to choose from, but for me Bob's Red Mill is the best. This a finely ground almond flour that will provide the light and delicate texture traditional macarons are so famous for.
#3 PARCHMENT PAPER
Unfortunately, parchment paper and wax paper are not interchangeable. To make a flawless macaron you need a non-stick, heat-safe surface to pipe your cookie on, and parchment paper is a great solution. Plus, not all wax papers are meant to go in the oven, they could melt or worse ignite (yikes!). I also like this style of parchment paper because it is pre-cut to fit a sheet pan and so easy to use!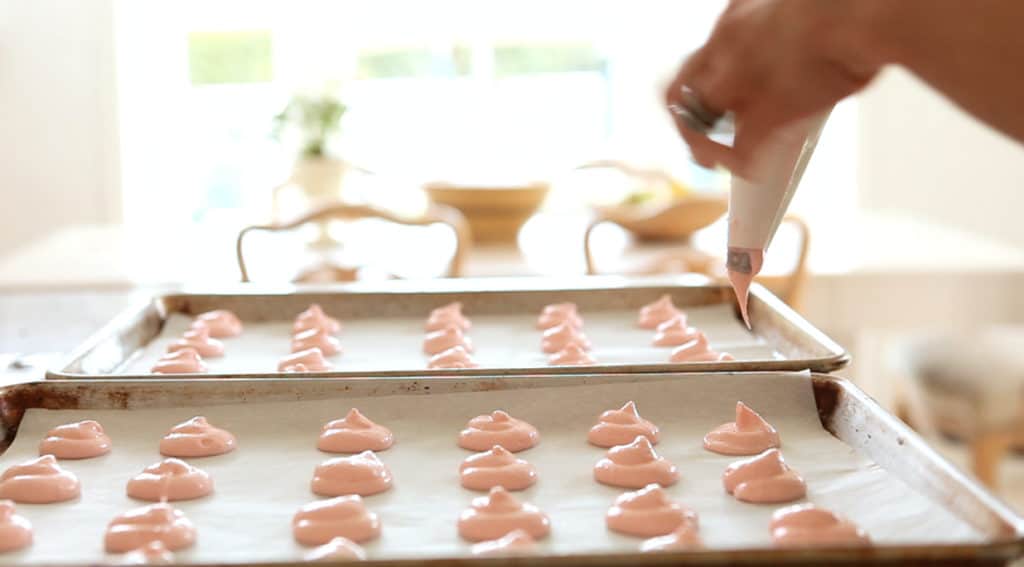 #4 SILPAT MACARON MAT
Now if you want to kick the "non-stick-surface" up a notch, you could always use a silpat mat instead of parchment paper. I love this version because it has the circles already drawn on the mat, assuring perfectly round and equal-sized macarons. This is really for the perfectionist at heart and your attention to detail will yield you Instagram-worthy macarons.
#5 QUALITY SHEET PANS
A good quality sheet pan is critical for good heat conduction when baking macarons. It will help your cookies bake evenly and avoid burnt bottoms. Inferior pans can warp, rust, and not bake your cookies evenly. Personally, I rely on these half sheet pans from Nordic Ware. They are well made, highly durable, and will last the test of time. They are also American made!
#6 ELECTRIC MIXER
Another pitfall I see with macarons is not getting the egg whites stiff enough before proceeding to the dry ingredient stage. A firmly whipped white needs to be firm enough to withstand 65-75 strokes of a spatula when folding and personally for me, I believe the best outcome will be achieved with an electric mixer. Ideally, a Kitchen-Aid stand mixer works best but a hand-mixer will work too!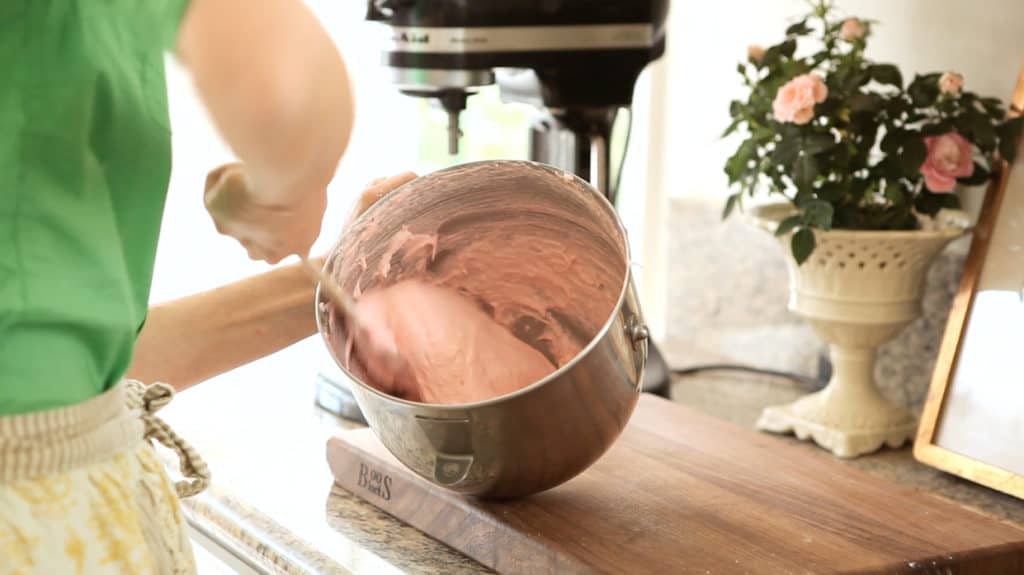 I really like this electric hand mixer from Cuisinart because it has 9-speeds, and whips up whites to a nice fluffy, cloud-like stage. I also love the storage case it comes in, which helps to keep all your attachments in one place.
#7 PASTRY BAG AND TIP
There are lots of fancy pastry bags out there and about a million tips to choose from! There's no need to go nuts. I find the Wilton plastic bags and 1 good sized tip is really all you need for making macarons. For extra precision, you can also buy the bag couplers which stabilize the tip in place, but I find you can also snip the bottom of the bag and slide in the tip. It will save you from buying 1 more product.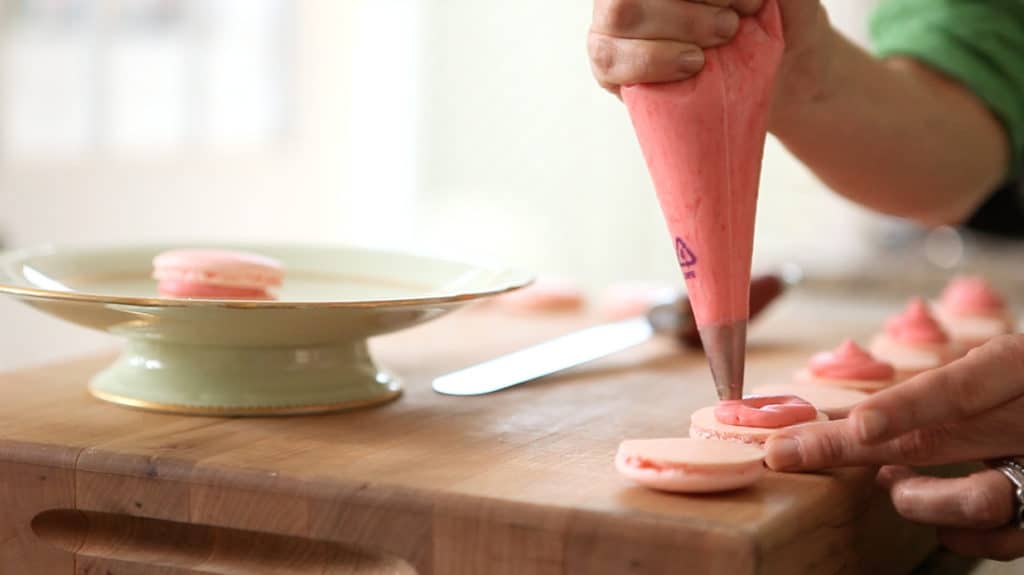 #8 PETITS MACARONS
Once you've mastered the basic recipe, you will want to branch out and try other flavors and designs. I love this book Les Petit Macarons because it's targeted to the home baker and also shares several different macaron shell methods ranging from the French to the Italian, to the Swiss. It's worth trying them all, as some you might find will give you better success than others. I also love all the creativity that goes into the assortment of fillings!