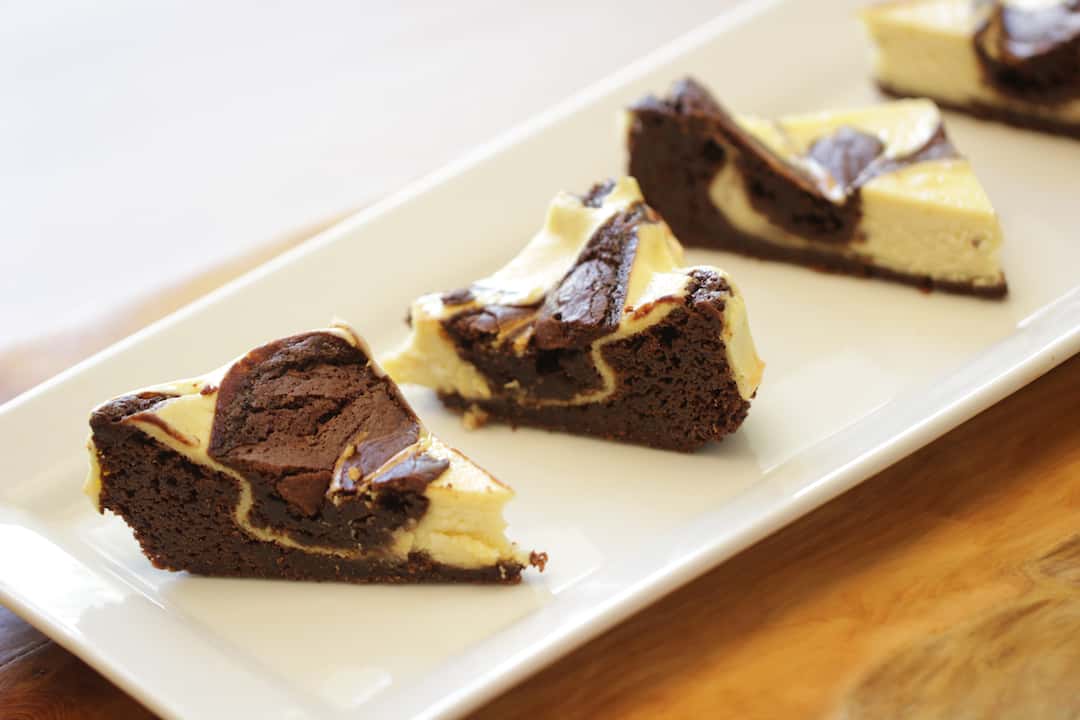 One of my favorite desserts to make is a cream cheese brownie.  Seriously, there is nothing more decadent for the chocolate lover than a rich chewy brownie dotted with cream cheese. They are also quite fun to make, especially if you have kids, because creating the swirl effect can be quite an art form.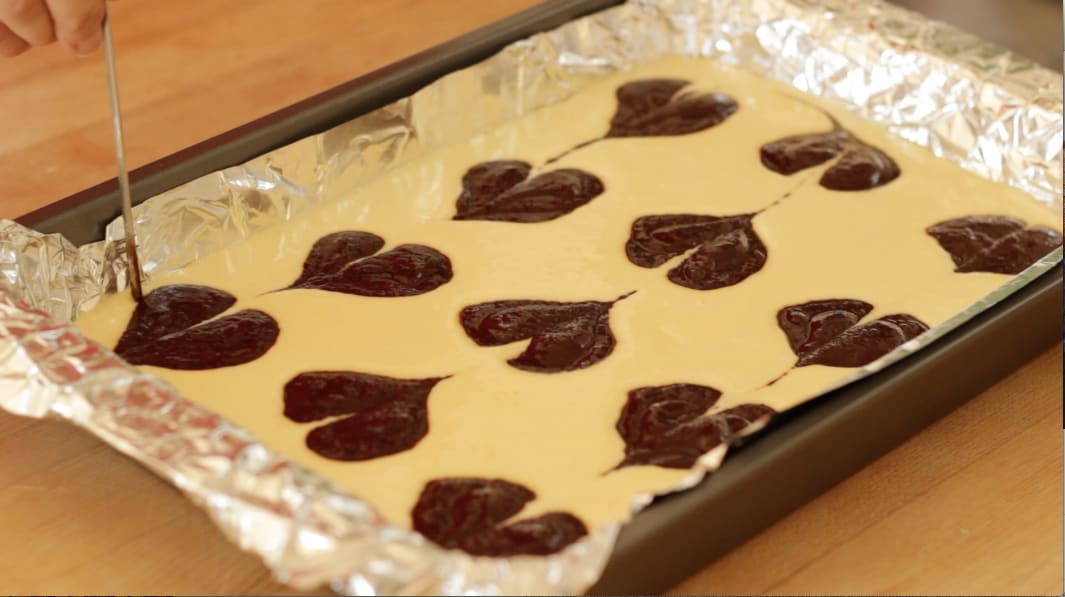 These are also the type of brownies that are best made the day before and allowed to firm up in the fridge.  It's a necessary step for the cream cheese, but what it also does to the brownie underneath is just divine!
To serve, I like to cut my brownie squares on the diagonal, turning them into elegant triangles.  I find it really elevates the dessert into something architecture and special.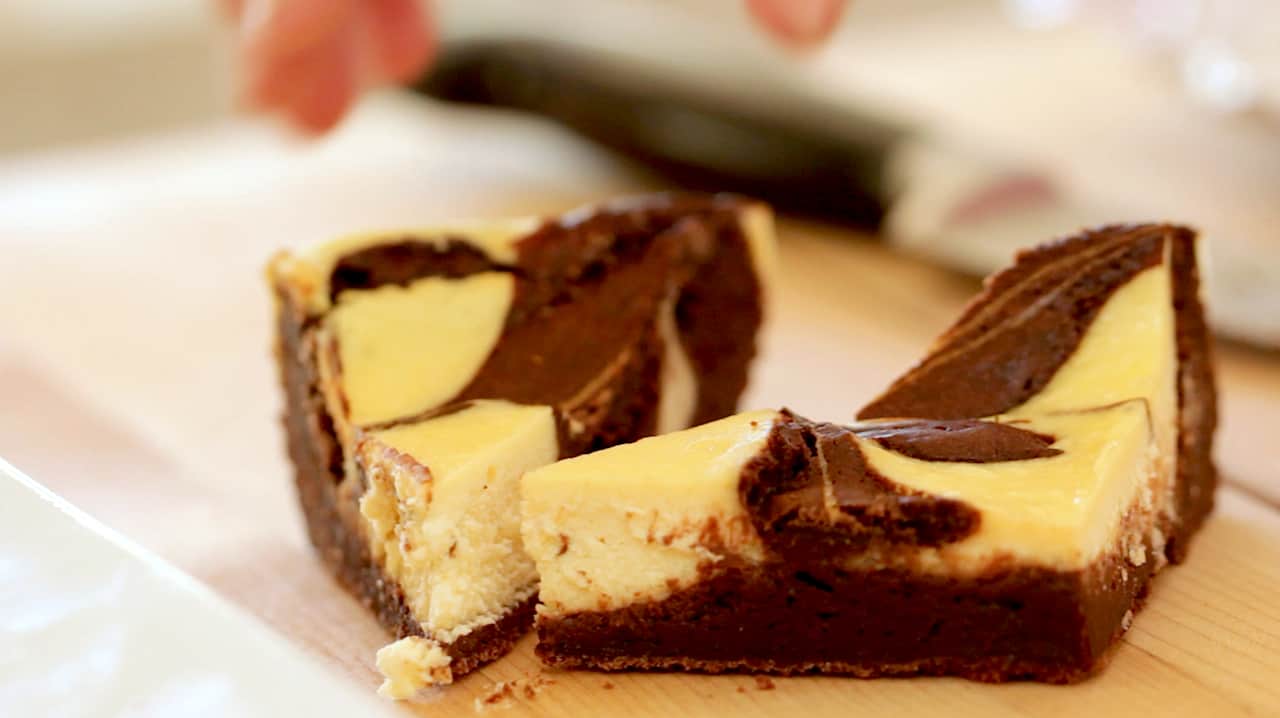 This is also a great trick for kids because that way they are only getting a "half-sized" portion, but really don't know the difference because it's the "same size" as everybody else, a key determination factor in a child's view of what is "fair" 🙂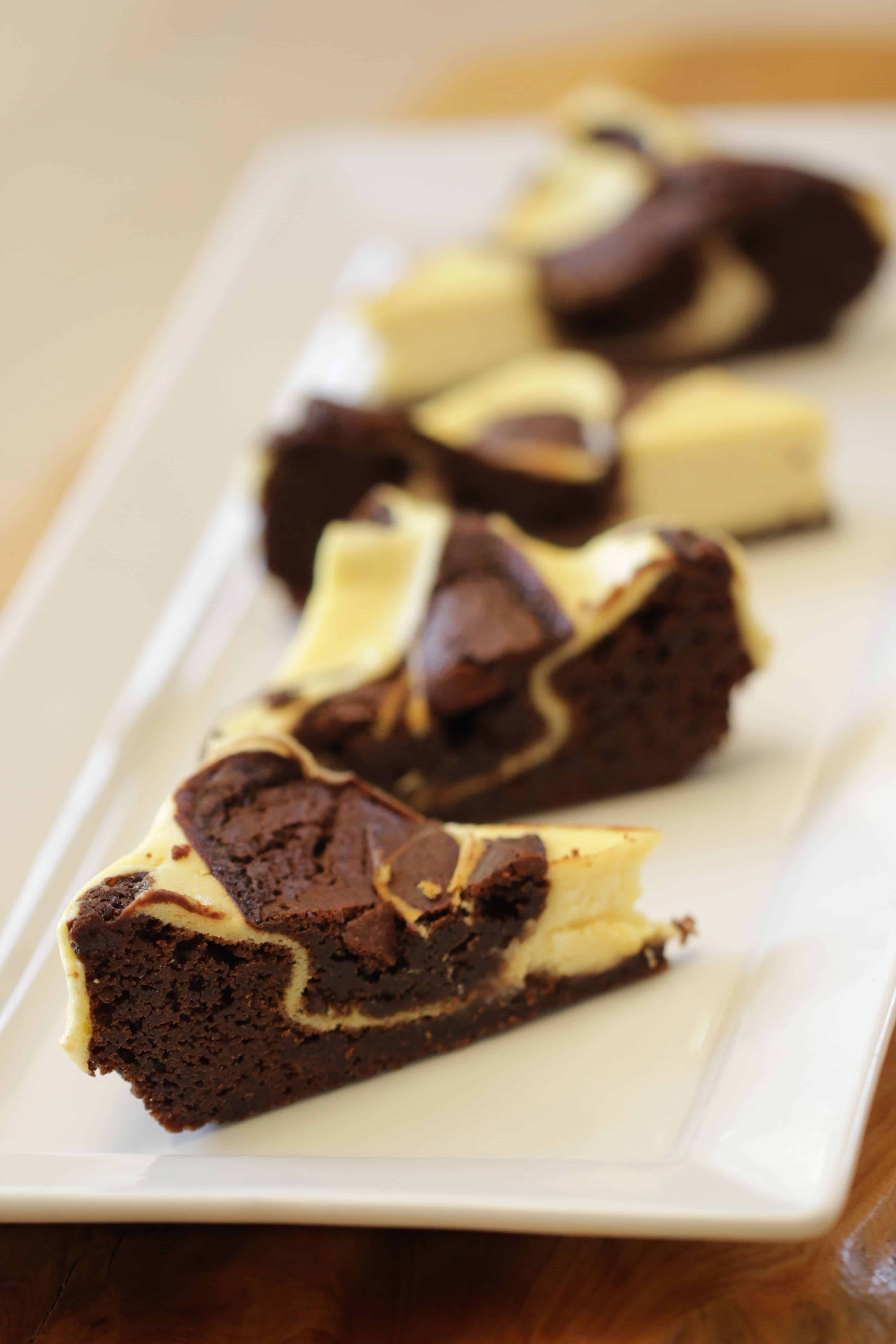 So go ahead and treat yourself to these this weekend!  You'll be glad that you did 🙂
For a step-by-step tutorial on how to make these brownies (including tips on creating the swirl) watch my video demo below. Subscribe to my YouTube Channel and never miss a recipe! (It's free!)
Print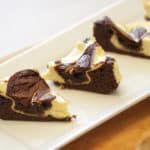 Beth's Cream Cheese Brownie Recipe
---
Author:

Prep Time:

45 mins

Cook Time:

27 mins

Total Time:

1 hour 12 mins

Yield:

12 brownies

Category:

Dessert

Cuisine:

American
Ingredients
1 cup (240 g) of unsalted butter
4 oz (113 g) semi-sweet chocolate (or about ¾ cup of chocolate chips)
12 oz (339 g) bittersweet chocolate
1 cup (200 g) of sugar
1 ½ tsp (7.5 ml) vanilla extract
½ tsp (2.5 ml) instant coffee
3 eggs
1 cup (120 g) of flour
½ tsp (2.5 ml) salt
1 tsp (5 ml) baking soda
8 oz (226 g) cream cheese
¼ cup (25 g) powdered sugar
2 eggs
½ tsp (2.5 ml) vanilla
2 tbsp (15 g) flour
---
Instructions
Preheat oven to 350F/176C.
Melt chocolate and butter in a sauce pan on low. Add vanilla and instant coffee, stir to combine. Allow to cool slightly.
Add sugar, and eggs and beat together until smooth.
In a small bowl combine flour, baking soda and salt. Whisk to combine.
Add flour mixture to chocolate mixture (right in the sauce pan) and whisk until smooth.
Transfer into a 13x 9 (32.5cm x 23cm) pan, lined with foil. Pour brownie batter into pan (Reserving 1 cup of batter for the topping), and smooth with a spatula. Set aside.
Meanwhile, beat cream cheese and sugar until combined. Add egg, beat until mixed, add vanilla, beat again, and then add flour, beat until combined.
Pour cream cheese mixture over brownie mixture until completely covered. Then with a spoon or mini ice cream scoop. Dollop brownie mixture every 1-2 inches (2-5cm) across the pan.
Then take a skewer or knife and run it through the brownie dollops and cream cheese mixture horizontally and then vertically. And swirls will form.
Bake for 25-30 mins until brownies are set. NOTE: NOT TO WORRY BROWNIES WILL PUFF UP AND CRACK WHILE IN THE OVEN BUT THEN THEY WILL SETTLE DOWN ONCE COOLED.
Allow to cool and then place in the fridge for 1-2 hours or overnight is even better! They really firm up that way and become very fudgy and easy to cut. So if you can do overnight it's worth the wait.
Cut into squares and then cut squares on the diagonal to form triangles.