Cream Cheese Brownie Recipe
This cream cheese brownie recipe is a fantastic dessert when feeding a crowd. They are rich, and chocolatey, and extra moist thanks to the cream cheese swirl and they also look so pretty too!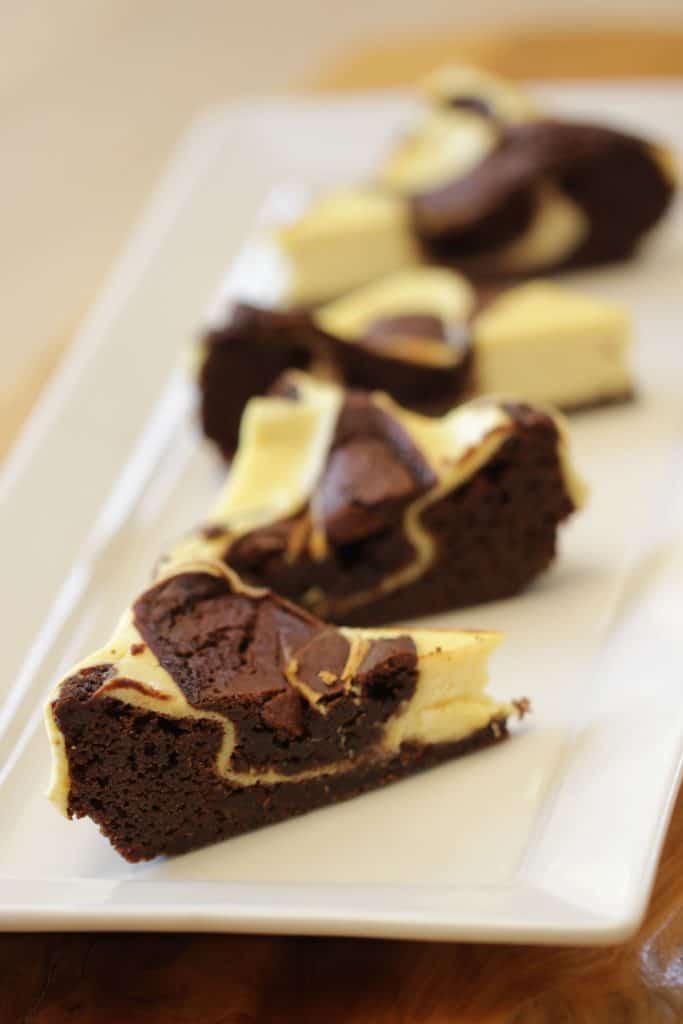 WATCH MY VIDEO DEMO OF THIS RECIPE BELOW!
One of my favorite desserts to make is a cream cheese brownie. Seriously, there is nothing more decadent for the chocolate lover than a rich chewy brownie dotted with cream cheese.
They are also quite fun to make, especially if you have kids because creating the swirl effect can be quite an art form.
Subscribe for weekly recipes
and new videos!
How do you make cream cheese swirled brownies?
Cream cheese brownies are fairly simple to do, but they do involve making "two batters" a brownie batter and a cream cheese batter, which then will become swirled together.
At first, this may seem like a lot of work, but it really isn't that bad and once you taste them, you'll agree they are so worth the effort!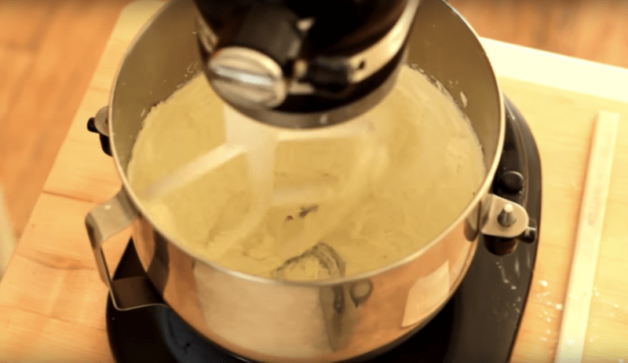 You'll make a cheesecake batter with cream cheese, sugar, eggs, vanilla, and flour (see recipe below)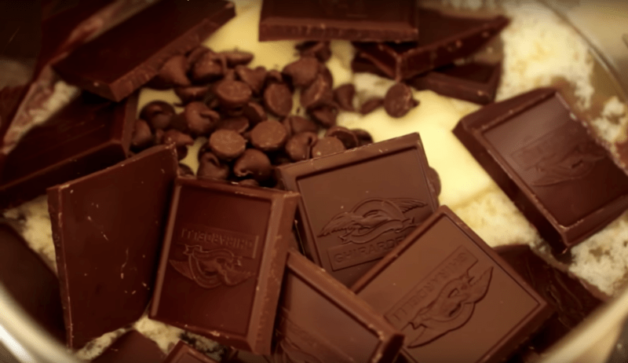 And then a classic brownie batter. But really this is the most time-consuming part, after that it's the fun part...swirling and of course eating them!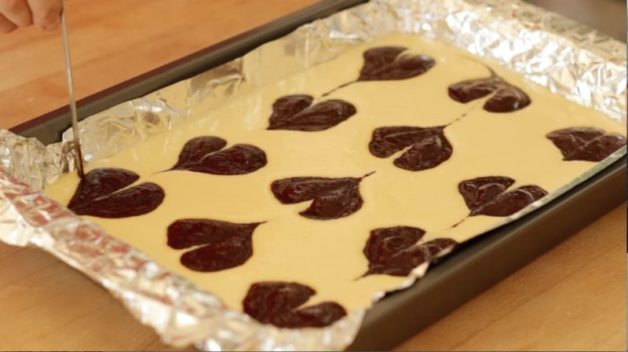 Can you add coffee to the brownie mix?
Yes! This is something I do all the time, in a lot of chocolate-based desserts and chocolate sauces because I find it really amps up the flavor of the chocolate. Just be sure to add the "Instant Coffee Granules" that dissolve in hot water (not coffee grounds!)

How can you tell when brownies are done?
OK, so this is a bit of a science because if you place a skewer inside the center and it comes out wet, it's underdone and they will be too mushy and fudgy, if the skewer comes up completely clean they can be overdone and then they'll be too cakey.
The best time to pull them out in my opinion is when the skewer is not wet but does pull out a few crumbs, this will give you the most perfectly done brownie with a good amount of chew once they are completely cooled...which leads me to the next tip on cutting.
How long do you let brownies cool before you cut them?
Normally I would say at least an hour, but because of the cream cheese these are really best refrigerated for at least 4 hours to firm up and set so that you get a nice clean cut, and overnight is even better!
To serve, I like to cut my brownie squares on the diagonal, turning them into elegant triangles. I find it really elevates the dessert into something architecture and special.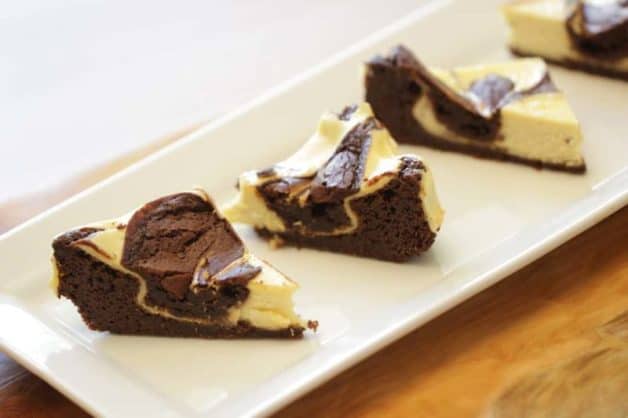 This is also a great trick for kids because that way they are only getting a "half-sized" portion, but really don't know the difference because it's the "same size" as everybody else, a key determining factor in a child's view of what is "fair" 🙂
So go ahead and treat yourself to these this weekend! You'll be SO glad that you did 🙂
MORE GREAT RECIPES!
Please let me know if you make this recipe by leaving a rating and review below!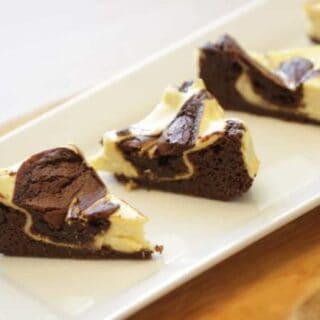 Beth's Cream Cheese Brownies
Total Time:
1 hour
12 minutes
Learn how to make Beth's cream cheese brownie recipe from scratch.  So easy and delicious and completely worth the effort! Includes video tutorial.
Ingredients
1 cup (240 g) of unsalted butter
4 oz (113 g) semi-sweet chocolate (or about ¾ cup of chocolate chips)
12 oz (339 g) bittersweet chocolate
1 cup (200 g) of sugar
1 ½ teaspoon (7.5 ml) vanilla extract
½ teaspoon (2.5 ml) instant coffee
3 eggs
1 cup (120 g) of flour
½ teaspoon (2.5 ml) salt
1 teaspoon (5 ml) baking soda
8 oz (226 g) cream cheese
¼ cup (25 g) powdered sugar
2 eggs
½ teaspoon (2.5 ml) vanilla
2 tablespoon (15 g) flour
Instructions
Preheat oven to 350F/176C.
Melt chocolate and butter in a sauce pan on low. Add vanilla and instant coffee, stir to combine. Allow to cool slightly.
Add sugar, and eggs and beat together until smooth.
In a small bowl combine flour, baking soda and salt. Whisk to combine.
Add flour mixture to chocolate mixture (right in the sauce pan) and whisk until smooth.
Transfer into a 13x 9 (32.5cm x 23cm) pan, lined with foil. Pour brownie batter into pan (Reserving 1 cup of batter for the topping), and smooth with a spatula. Set aside.
Meanwhile, beat cream cheese and sugar until combined. Add egg, beat until mixed, add vanilla, beat again, and then add flour, beat until combined.
Pour cream cheese mixture over brownie mixture until completely covered. Then with a spoon or mini ice cream scoop. Dollop brownie mixture every 1-2 inches (2-5cm) across the pan.
Then take a skewer or knife and run it through the brownie dollops and cream cheese mixture horizontally and then vertically. And swirls will form.
Bake for 25-30 mins until brownies are set. NOTE: NOT TO WORRY BROWNIES WILL PUFF UP AND CRACK WHILE IN THE OVEN BUT THEN THEY WILL SETTLE DOWN ONCE COOLED.
Allow to cool and then place in the fridge for 1-2 hours or overnight is even better! They really firm up that way and become very fudgy and easy to cut. So if you can do overnight it's worth the wait.
Cut into squares and then cut squares on the diagonal to form triangles.
Nutrition Information:
Yield:

12
Serving Size:

1
Amount Per Serving:
Calories:

216
Total Fat:

12g
Saturated Fat:

7g
Trans Fat:

0g
Unsaturated Fat:

4g
Cholesterol:

101mg
Sodium:

160mg
Carbohydrates:

18g
Fiber:

1g
Sugar:

9g
Protein:

9g