Savory Panna Cotta with Sweet Pea, King Crab and Lemon Dill Cream
This beautiful savory panna cotta with sweet pea, king crab, and lemon dill cream, is the perfect starter to up your game on Mother's Day!
You'll love the beautiful sweet pea flavor combined with the lemon dill cream, and the succulent king crab on top adds just the right touch of decadence to spoil Mom on her special day!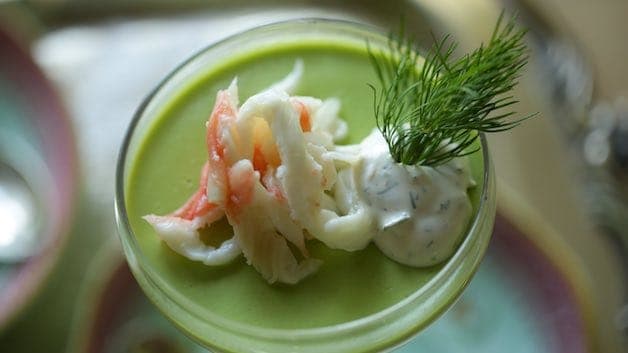 While it may look "extra fancy" the truth is it's super simple to make! These are always my favorite kind of recipes. The ones that look like you have been slaving all day, but actually, you barely broke a sweat.
Subscribe for weekly recipes
and new videos!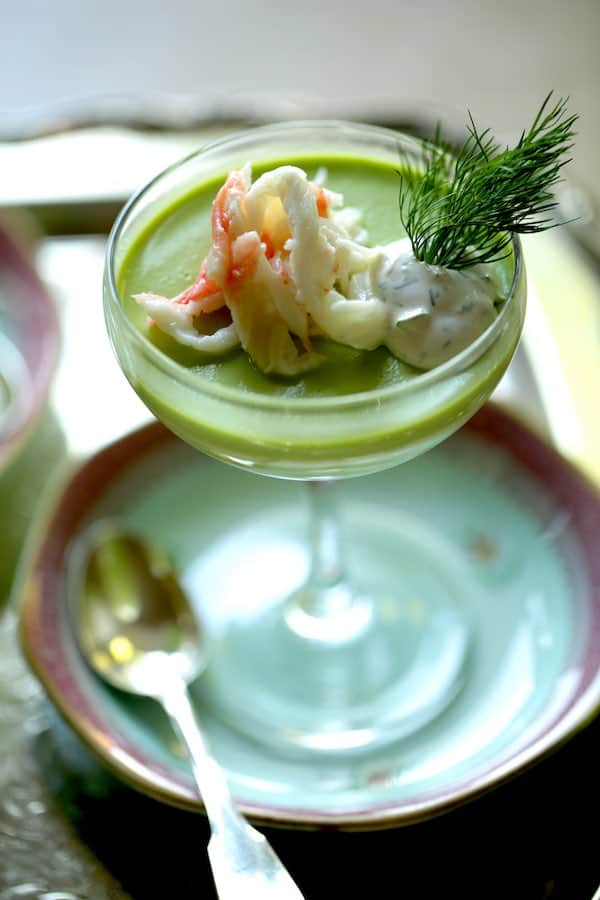 Recipe Pairings:
Watch My Video Demo of This Recipe Below!
STEP#1: Create The Sweet Pea Mixture
You'll begin by sautéing minced shallots in a saucepot with a little bit of butter. Once they are fragrant and translucent you'll add the peas. I love using frozen peas because their taste is fantastic and they are so easy! No shelling or prepping involved, open the bag and they are ready to go!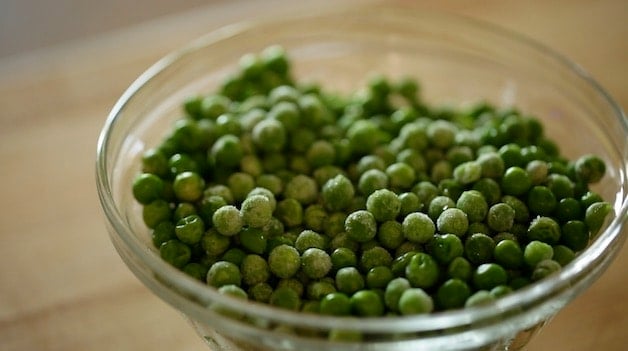 Next, you'll add the chicken broth. You could use vegetable broth as well, but I find the chicken broth makes the flavor of this panna cotta a bit richer and helps to preserve the beautiful green color.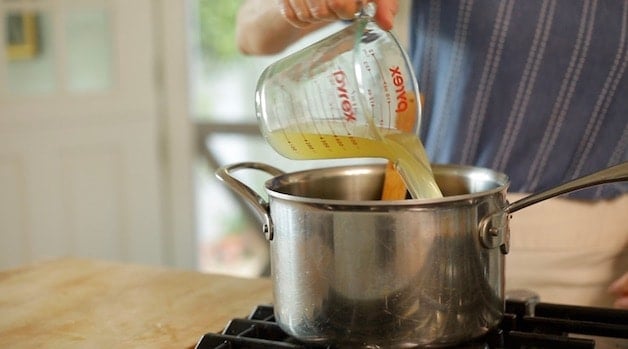 Why Chicken Broth Works Better
Vegetable broth can contain a lot of carrots which can alter the color of the panna cotta, whereas the chicken broth does not.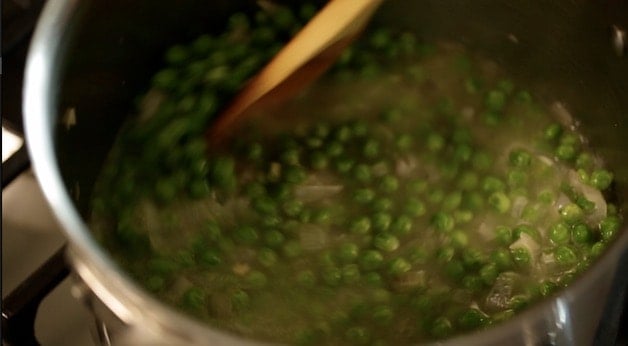 Simmer the peas and shallots in the broth just long enough to warm the peas through and make them tender. This will make it easier to blend and assure a smooth mixture.
Preserving the Pea Flavor
Do not overcook the peas or you'll lose the fresh pea flavor. Just simmer long enough to soften them for about 5-6 minutes.
STEP#2: Blend Sweet Pea Mixture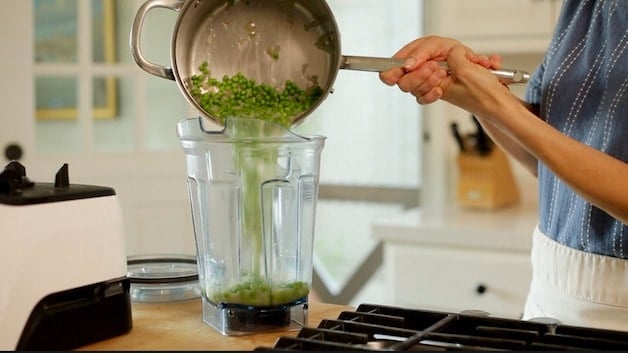 Transfer your pea mixture into a blender and puree until smooth. Then pour the mixture back into a cleaned-out saucepot.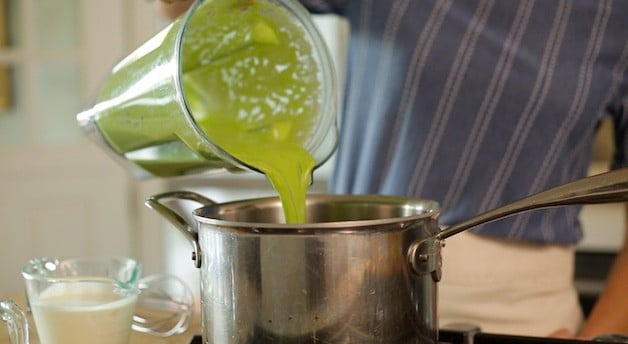 Ability to Serve as a Soup
At this stage you could actually stop right here and turn this into a lovely chilled soup. Garnish with fresh mint and a dollop of creme fraiche and that would be fantastic starter for summer entertaining too!
STEP#3: Create Panna Cotta Mixture
To your pea mixture you'll then add heavy cream and milk. I find using both creates a panna cotta that is rich but also silky. If you use too much cream it's actually too thick, and not enough it becomes too runny.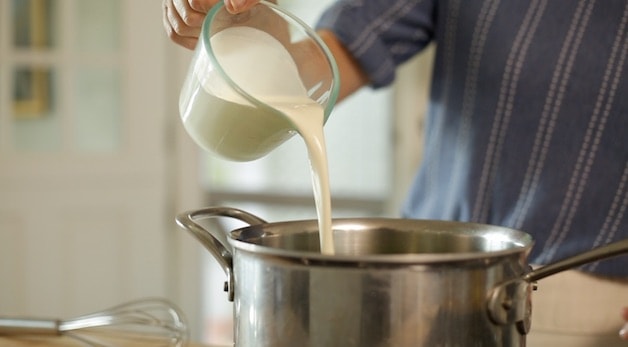 Then add a full packet of gelatine and cook, stirring constantly, for 5 minutes until the gelatine is dissolved and the mixture starts to thicken then remove from heat.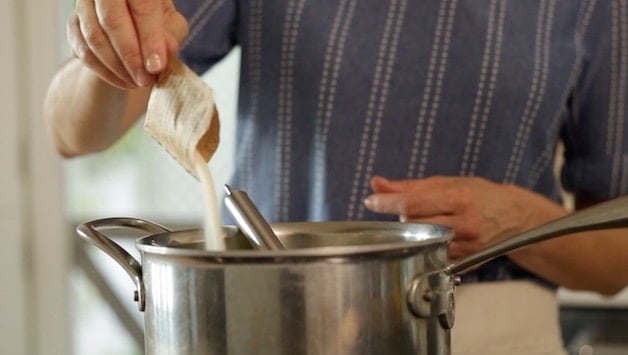 TIP: Transfer the mixture into a 4-cup Pyrex pitcher because it will be easier to pour into your glasses that way!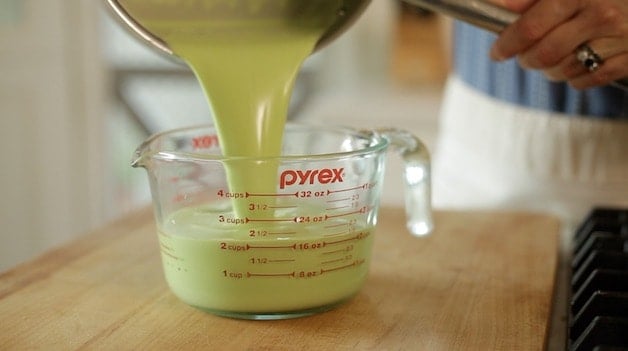 STEP#4: Fill Champagne Coupes
Fill your glasses ¾ of the way full. Then you will refrigerate the panna cottas until they are fully chilled and firm. This will take a minimum of 4 hours but overnight is even better.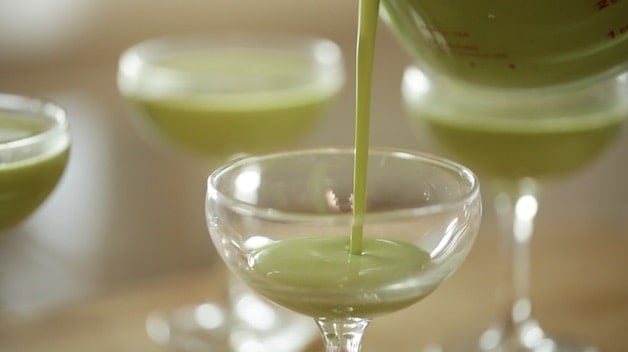 Skip the Platic Wrap
Do not cover the glasses with foil or plastic wrap, or it will create condensation which will then drip down onto the panna cottas. It's best to just place them in the fridge uncovered.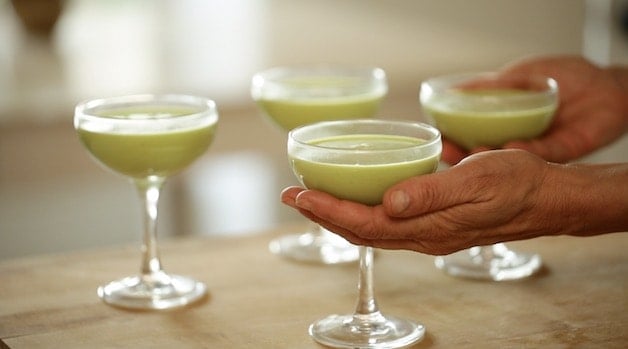 STEP#5: Prepare King Crab
King crab is such a decadent treat to add to the top of these savory panna cottas. The best part is you only need one King crab leg since they are a bit pricey. But not to worry, King crab legs are so large and filled with so much succulent crab meat you'll have plenty for everyone.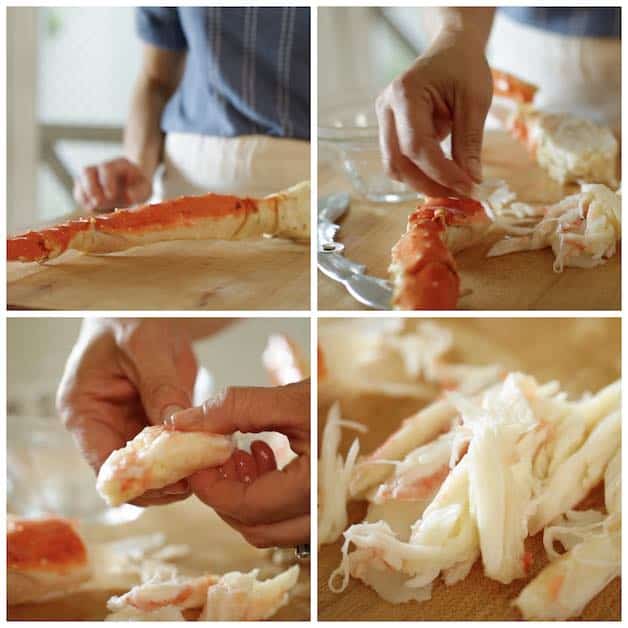 It's also so flavorful you don't need to add anything to it. Just pick the crab out and reserve for the topping. The lemon dill cream provides a nice lemony, and creamy sauce for the adjacent crab once assembled.
STEP#6: Mix the Lemon Dill Cream
You'll combine sour cream, fresh dill, and lemon zest in a small bowl. Whisk it together and store it in the fridge until ready to serve. This step can also be done the day before.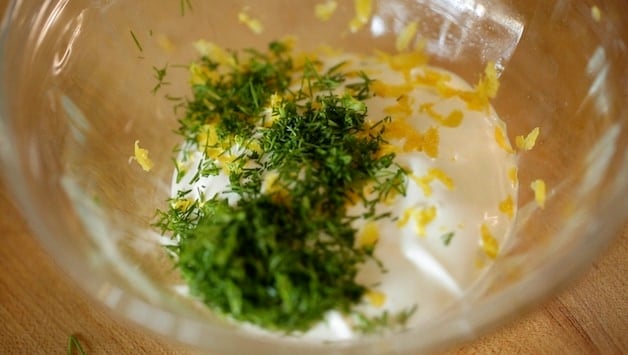 STEP#7: Assemble and Serve!
Once the panna cotta is fully chilled top each one with the crab meat, a dollop of lemon dill cream, and a sprig of dill.

SHOP THIS RECIPE:
These links go to Amazon where I am compensated on products sold at no additional cost to the consumer
Please let me know if you make this Recipe
by leaving a rating and review below!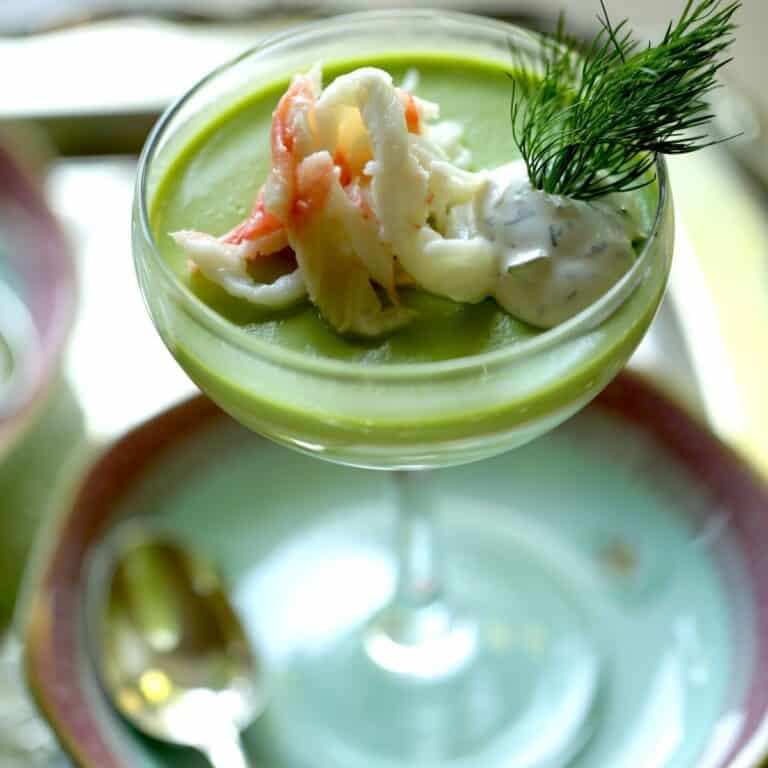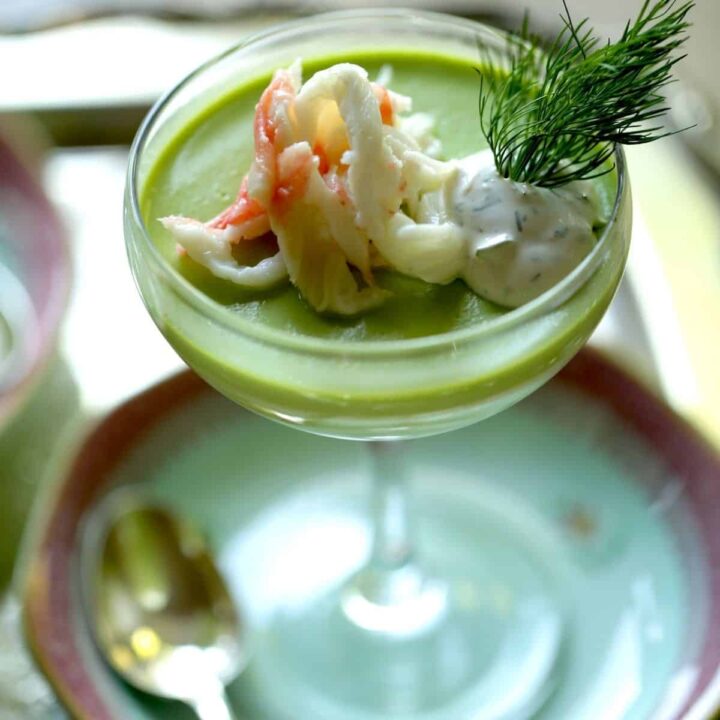 Savory Panna Cotta Recipe with Sweet Pea and King Crab
Total Time:
5 hours
15 minutes
These savory panna cottas with sweet pea, king crab and lemon dill cream, are the perfect starter to up your game this spring. So delicious and easy to put together! They only look fancy. But trust me they are so easy to make!
Ingredients
1 tablespoon (15g) butter
⅔ cup (100g) shallots, diced
salt and pepper to taste
2 cups (300g) frozen peas
1 cup (240ml) chicken broth
1 cup (240 ml) heavy cream
½ cup (120ml) whole milk
1 envelop of gelatin
1 cooked King Crab leg
¼ cup (60ml) sour cream
1 teaspoon (5ml) fresh lemon zest
1 teaspoon (5ml) fresh dill, plus more for garnishing
freshly cracked pepper to taste
Instructions
Melt butter in a medium sauce pan. Add shallots, salt and pepper. Cook shallots until soft and fragrant.
Add peas and broth. Simmer until peas are just cooked through. Transfer to a blender to puree until liquefied and smooth.
Pour purred pea mixture back into cleaned out pot. Add heavy cream and milk. Simmer until hot. Whisk in gelatin and continue to simmer for 5 minutes to dissolve the gelatin. Continue to stir for 5 minutes more until mixture is slightly thickened.
Transfer to a 4 cup (950ml) Pyrex pitcher. Cool slightly. Then pour into coupe glasses or ramekins. Refrigerate overnight.
Just before serving combine the sour cream, lemon zest, dill, and pepper. Set aside.
Crack crab leg and extract the meat. Pull apart into chunks.
Top each ramekin with a mound of fresh crab, a dollop of lemon cream, and garnish with fresh dill.
Notes
Do not overcook the peas or you'll loose the fresh pea flavor. Just simmer long enough to soften about 5-6 minutes.
Both the panna cottas and the lemon dill cream can be made the day before
It's best to use chicken broth for a richer panna cotta. Vegetable broth could effect the color due to the carrots in vegetable broth.
Nutrition Information:
Yield:

8
Serving Size:

1
Amount Per Serving:
Calories:

88
Total Fat:

3g
Saturated Fat:

1g
Trans Fat:

0g
Unsaturated Fat:

1g
Cholesterol:

16mg
Sodium:

272mg
Carbohydrates:

9g
Fiber:

2g
Sugar:

3g
Protein:

8g