Valentine's Day will be here next week, and if you're looking for a real showstopper of a dessert, this is it! My warm Chocolate Skillet Cake is truly flexible depending on how large or small your Valentine's Day dinner may be.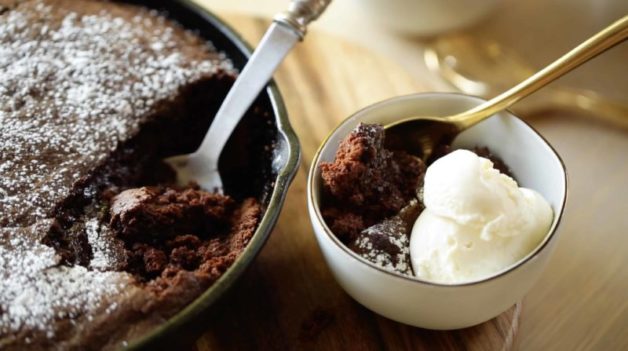 You can make it in a mini 6" Lodge Cast-Iron Skillet to serve as a shared dessert for two.
WATCH MY VIDEO ON THIS WARM CHOCOLATE SKILLET CAKE BELOW!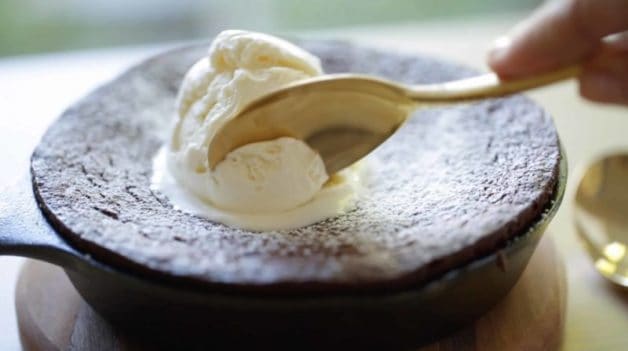 You can find one in my Amazon Shop (this link goes to Amazon where I am an affiliate partner)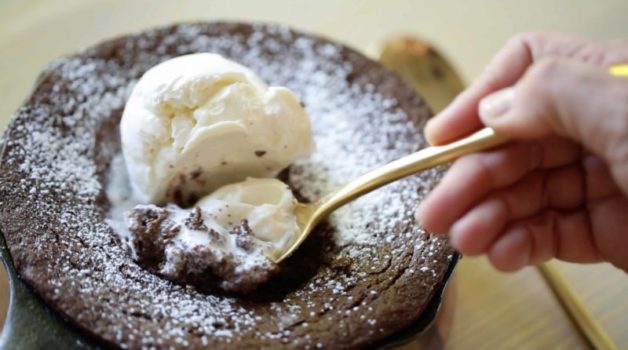 It's so rich and chocolatey that really 1 cake is all you need 🙂 It's also so easy it's great anytime of year if you just want to make a mini cake and have it all to yourself! That's a great idea too!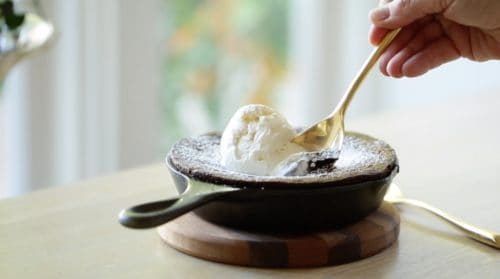 Or if you have a crowd to feed it also works as a large skillet cake in a 10" cast-iron skillet. You can find one in my Amazon Shop (this link goes to Amazon where I am an affiliate partner)
It's such a fun, casual way to serve a fantastic dessert. Set it out with a large serving spoon and let everyone help themselves.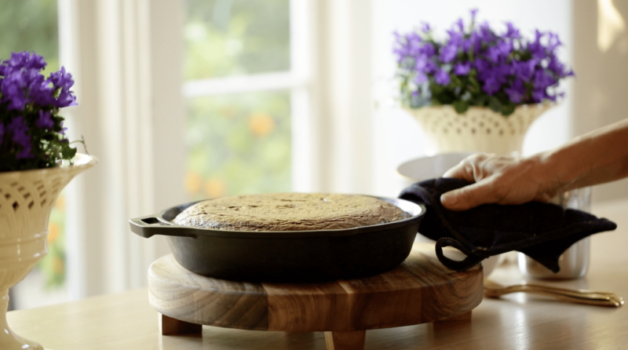 All they have to do is spoon out some cake, plop on the ice cream, and sail off to chocolate heaven! Easy peasy!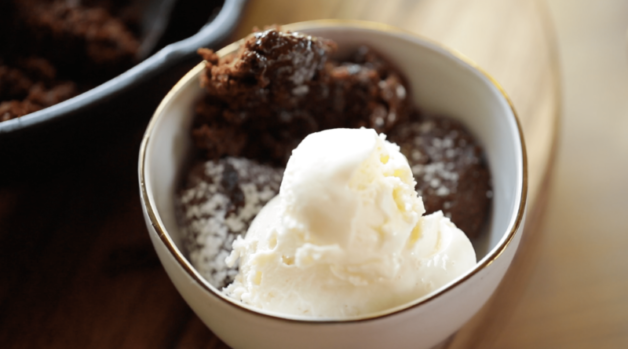 CLICK HERE TO SUBSCRIBE to my YouTube Channel and never miss a recipe! (it's free) new videos post each week!
Looking for my Valentine's Day dessert Ideas? Try my Heart-Shaped Strawberry Cobbler or my Chocolate Hazelnut Linzer Cookies.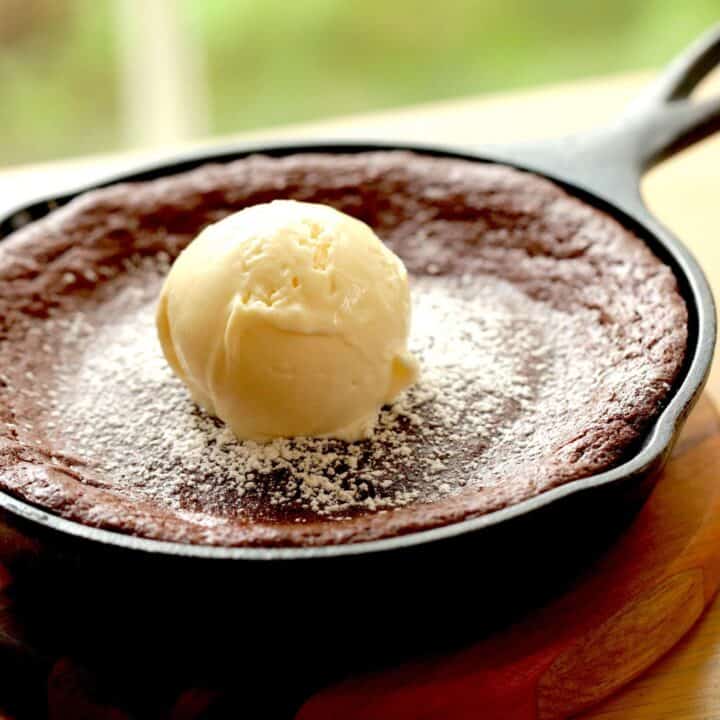 Warm Chocolate Skillet Cake for Two
A fantastic chocolatey dessert perfect for 2 on Valentine's Day! See notes for how to make a large one that will serve 8!
Ingredients
¾ cup (180 ml) of bittersweet chocolate chips
4 tablespoon (60 g) of unsalted butter
¼ cup (50 g) sugar
1 egg
¼ teaspoon (1.25 ml) of vanilla extract
¼ cup (30 g) all-purpose flour
⅛ teaspoon (0.5ml) salt
⅛ teaspoon (0.5ml) of baking soda
Instructions
Preheat oven to 350F (175 C) degrees. Grease skillet with butter and set aside.
In a microwave-safe bowl, combine chocolate chips and butter and microwave on high for 30 seconds at a time until melted. Add sugar, egg and vanilla and whisk to combine. Set aside.
In a small bowl add flour, salt and baking powder. Whisk to combine. Add dry ingredients to wet ingredients and whisk to combine.
Transfer batter to skillet and bake for 15-17 mins until a toothpick comes out "mostly clean". Cake is best a little underdone. Dust with powdered sugar and serve with a big scoop of vanilla ice cream. Enjoy!
Notes
To make in a large 10" skillet follow these measurements with the same method as instructed above.
3 cups (720 ml) of bittersweet chocolate chips
12 tablespoon (180) butter of unsalted butter
1 cup (200 g) sugar
4 eggs
1 teaspoon (5 ml) of vanilla extract
1 cup (120g) all-purpose flour
½ teaspoon (2.5 ml) salt
½ teaspoon (2.5 ml) of baking soda

Nutrition Information:
Yield:

2
Serving Size:

1
Amount Per Serving:
Calories:

897
Total Fat:

65g
Saturated Fat:

37g
Trans Fat:

0g
Unsaturated Fat:

24g
Cholesterol:

155mg
Sodium:

344mg
Carbohydrates:

64g
Fiber:

12g
Sugar:

26g
Protein:

15g