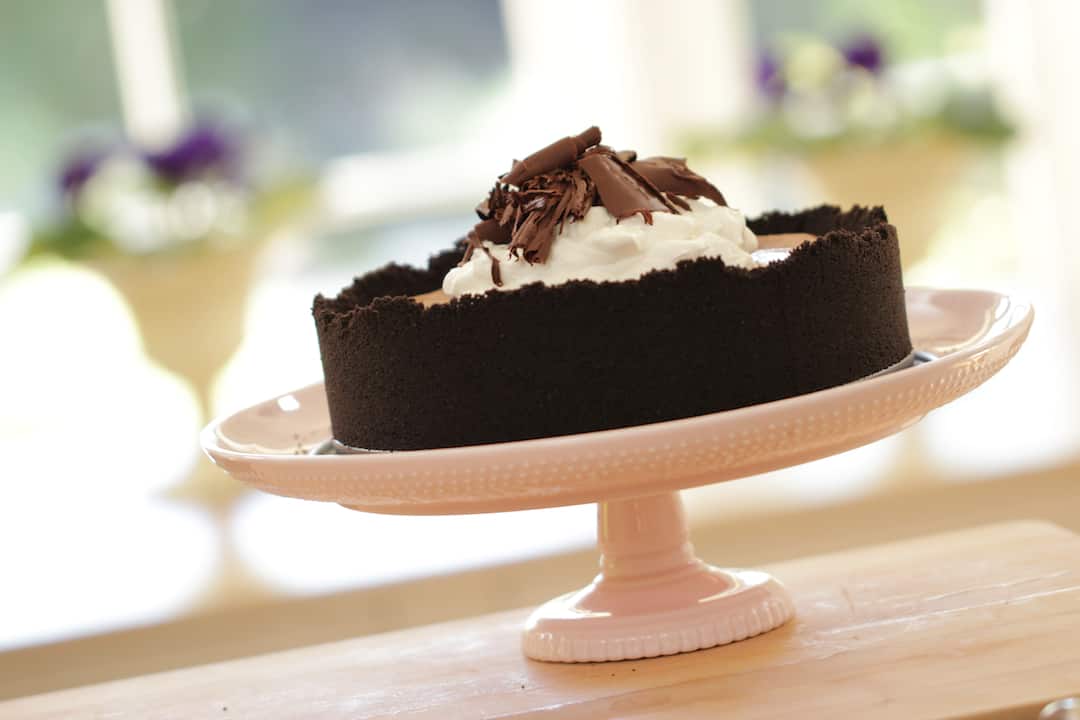 The easiest way to wow a crowd is with anything that involves "chocolate mousse".  This is why I love this Chocolate Mousse Cake Recipe.  It's decadent, a bit mysterious and oh so divine! It's really easier to make than you might think and in my video below I'll give you all my tips!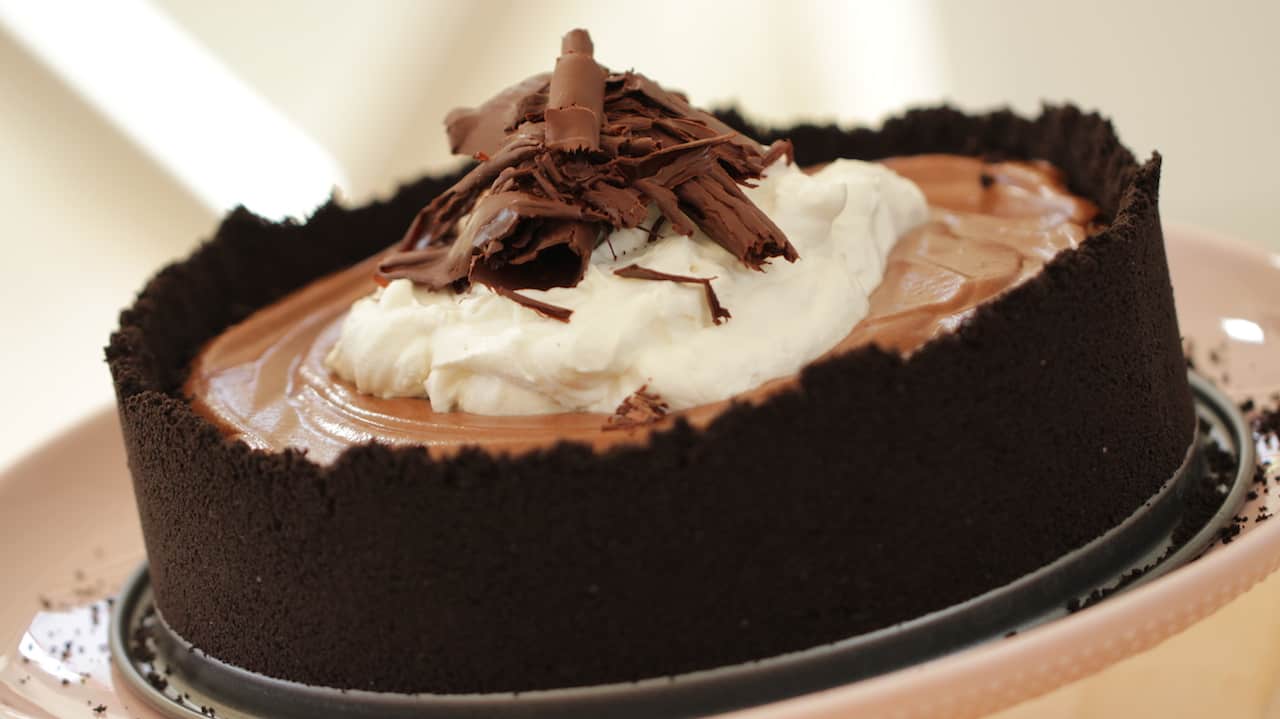 This recipe is completely worth the effort!  None of the steps are "hard", they just takes a little bit of patience and will be sure to be one memorable dessert! (Psst… Just be sure to plan ahead and allow enough time to refrigerate it, since it does take at least 4 hours to set up. )
For a step-by-step tutorial of my chocolate mousse cake recipe you can watch the video below. SUBSCRIBE TO MY YOUTUBE CHANNEL and never miss a recipe! (It's fee) and new videos post each Saturday!
You can buy the pink cake stand here which I think adds a pretty, elegant touch to the presentation.  It's a generous size stand which makes it ideal for holding a dozen muffins too! (the link goes to Amazon where I am an Affiliate)
Print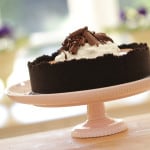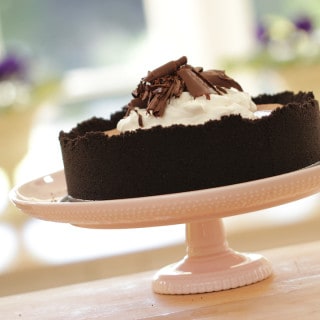 Chocolate Mousse Cake Recipe
---
Author:

Prep Time:

5 hours 30 mins

Cook Time:

8 mins

Total Time:

5 hours 38 mins

Yield:

serves 8

Category:

Dessert
Ingredients
For the Crust:
1 (9 0z) package of famous chocolate wafers
5 tbsp (75 ml) melted butter
For The Mousse Ingredients:
10 oz (286 g) bittersweet chocolate
2 tbsp (30 g) butter
2 egg yolks lightly beaten
2 tbsp (25 g) sugar
2 tsp vanilla extract (10 ml)
4 egg whites
¾ tsp (3.75 ml) cream of tartar
1 cup (240 ml) of heavy cream
For Sweetened Whipped Cream:
1 cup heavy Cream
1 tbsp powdered sugar
1/2 tsp vanilla extract
For Chocolate Shards:
6 oz (169 g) Bittersweet Chocolate
---
Instructions
Place wafers into a food processor and pulse until finely ground.
Or place wafers in a large zip lock bag and whack with a rolling pin until crushed and crumbs form.
Add melted butter to the crumbs and pulse to combine.
Transfer crumbs into a 9″ (23 cm) springform pan and press into bottom and up the sides of the pan to form a crust. Bake at 375F (190C) for 8 mins. Allow to cool.
Place 10 ounces of bittersweet chocolate and 2 tbsp butter in a large microwave-safe bowl. Microwave on high in 30 second increments until melted. Or melt over a double boiler. Allow to cool slightly. Add egg yolks, sugar, and vanilla. Set aside.
Place egg whites and cream of tartar in a mixing bowl and beat on high until soft peaks form. 2-3 mins.
Fold whipped whites into chocolate mixture, gently lightening the mixture in stages, until combined.
Then beat 1 cup of heavy cream until stiff peaks form. Fold the cream into the mousse mixture, and gently mix until combined.
Transfer mousse into cooled pie crust.
Garnish with a large dollop of sweetened whipped cream in the center, and chocolate shards or shavings. Refrigerate for at least 4 hours, but overnight even better!
To make sweetened whip cream:
Combine heavy cream, powdered sugar and vanilla in a bowl and whip until soft peak forms.
For Chocolate shards:
Place a metal baking sheet in the freezer for 15 mins. Melt chocolate in a microwave at :30 intervals until melted. Whisk until slightly cooled and smooth.
Pour chocolate over bottom of frozen pan, creating a thin layer. Allow to set until matt and cooled (pop back in freezer if need to help set up) Take a metal bench scrape and scrap chocolate until shards or curls form.
New recipe videos uploaded weekly!  Subscribe to my YouTube channel and never miss out!