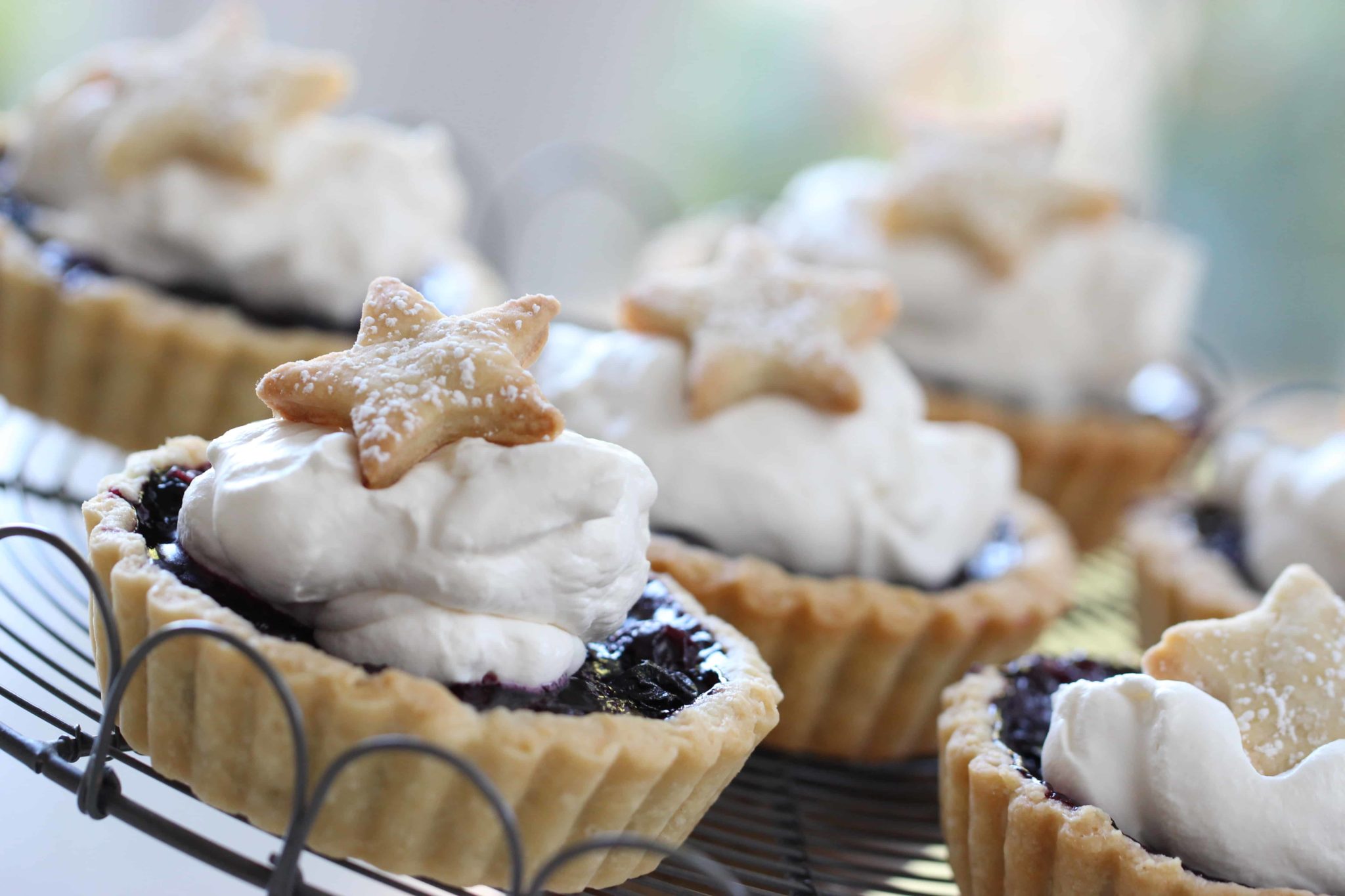 If you are looking for a fun and easy dessert for Memorial Day, this is a great one! Blueberry tartlettes are always a crowd pleaser and the addition of the star on top makes them extra patriotic 🙂 You could also swap out half of the blueberries for half raspberries to create a lovely red, white and blue theme.
For a step-by-step tutorial you can watch my video demo below. Subscribe to my YouTube Channel and never miss a recipe!  (It's free!)

SHOP THIS RECIPE: (These links go to Amazon where I am an affiliate)
These tins are great for these little tarts because they are deeper than most they also work great for mini quiches too! 4 Inch Tarte tins with removable bottoms "Deep" and for the little decorations on top these work great 2 Inch Star Cookie Cutter and will also come in handy at Christmastime too!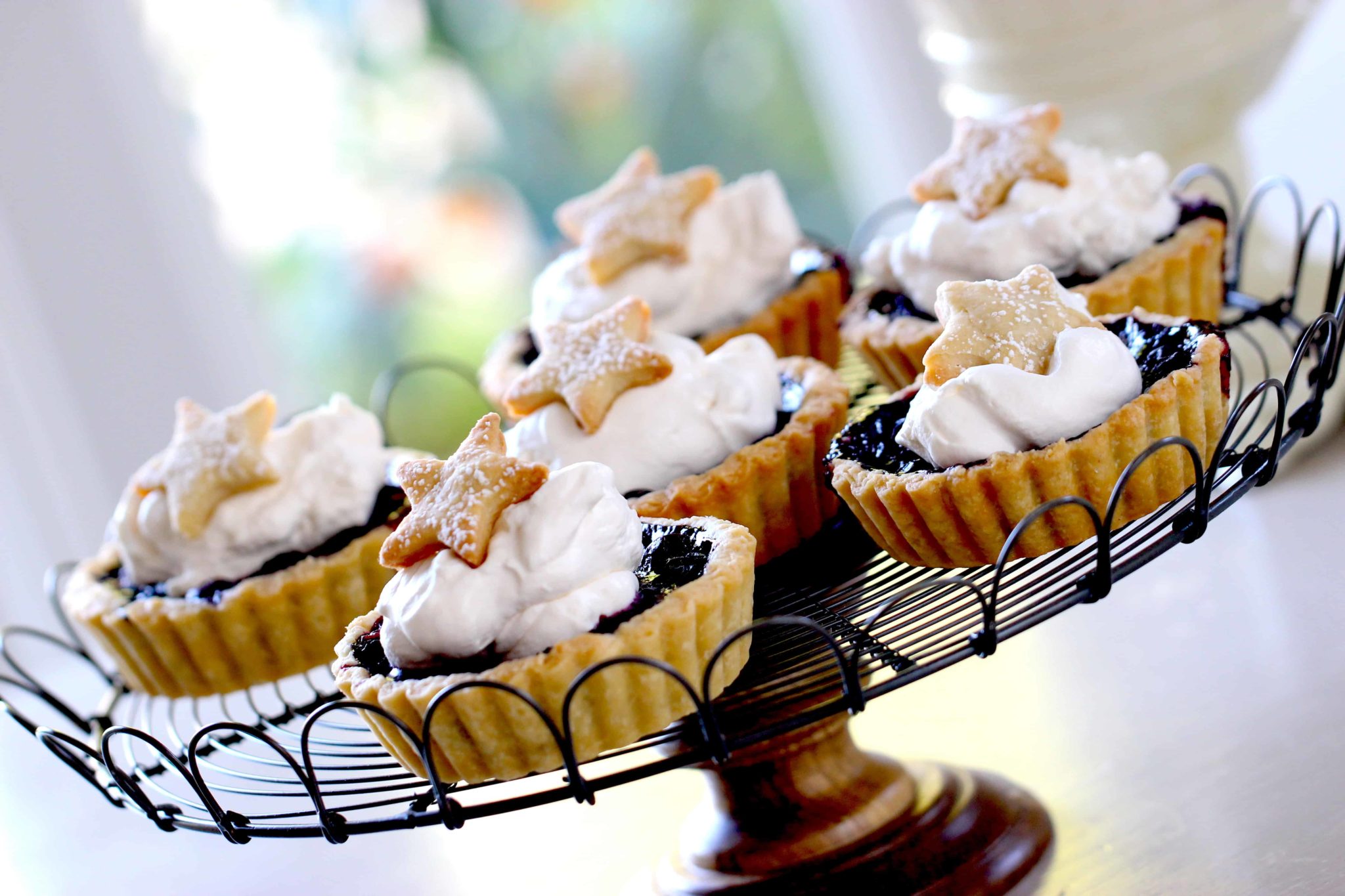 Print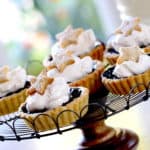 Blueberry Tartlettes
---
Author:

Prep Time:

40 mins

Cook Time:

40 mins

Total Time:

1 hour 20 mins

Yield:

8

Category:

Dessert

Cuisine:

American
Ingredients
For Pastry:
1 ¾ cups (210 g) flour
2 tbsp (25 g) sugar
½ tsp (2.5 ml) salt
10 tbsp (150 g) cold unbutter, diced
6-7 tbsp (70ml-85ml) very cold water
For the filling:
2 cups (300 g) blueberries
2 tbsp (25 g) sugar
2 tbsp (15 g) flour
2 tbsp (30 ml) lemon juice
6 tbsp (90 ml) blueberry jam
2 tbsp (30 g) butter
Powdered sugar for garnishing
---
Instructions
Place flour, sugar and salt in the bowl of a food processor. Pulse to combine. Then add butter, pulsing until a coarse meal develops. Then slowly add water one tbsp at a time until a dough forms.
Turn dough out into a floured surface. Form into a ball, press into an oval and cut in half (horizontally) then in thirds (vertically) this way you will have 6 pieces of dough.
Roll out to about 6 in circle. Place tartlette tin on top upside down. Draw a circle around the tin with a pairing knife, allowing a 1″ border.
Press dough into tin, folding over edges into the tin to create a thicker crust along the side. Trim dough so that it is flush with the top of the tin. Repeat the process for all 6 tins.
Roll out the dough that is left to ¼ inch thick. Cut out 6 stars.
Place tins and stars on a parchment lined rimmed baking sheet. Tins on one side tarts on the other, and pop in the freezer for 15 mins, or refrigerate for 30 mins.
Then place blueberries in a bowl and toss well with lemon juice, sugar and flour.
Remove baking sheet from the freezer and fill each one with 1 tbsp jam, a few spoons of berries (don't fill to the top, stop about ¾ way or it will over flow with juice while baking) then top with 1 pat of butter.
Place in oven for 16 mins. Then remove the stars if they are golden brown, otherwise bake for another minute or so. Then continue baking the tarts for another 20 minutes or until tart crust is golden brown and berries emit their juice and are bubbling.
Allow tarts to cool completely. I think these are best served a room temperature or chilled.
Moments before serving dust a tiny amount of powdered sugar on the centers of the stars.
Serve the tarts with a dollop of homemade whipped cream in the center, and top with a star.
Enjoy!
Notes
HOMEMADE WHIPPED CREAM
Serves 6
Ingredients:
1 cup (240 ml) heavy cream
1 tbsp (7 g) powdered sugar
½ tsp (2.5 ml) vanilla extract
METHOD:
Combine ingredients in a bowl and whip with an electric mixer until slightly stiff peaks form. This can be made the day ahead and covered and placed in the fridge.
Just whisk it up with a spoon before serving.