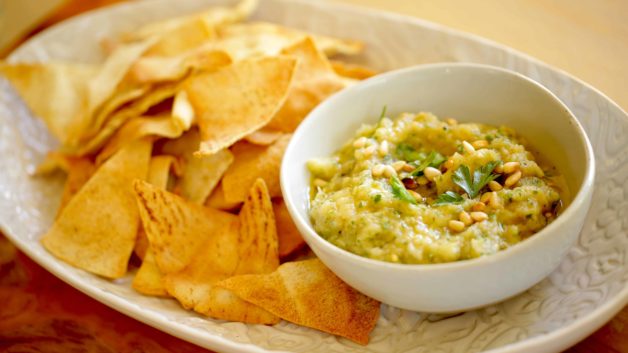 If you want a quick and easy summer appetizer you can't go wrong with my Baba Ganoush and Homemade pita chips!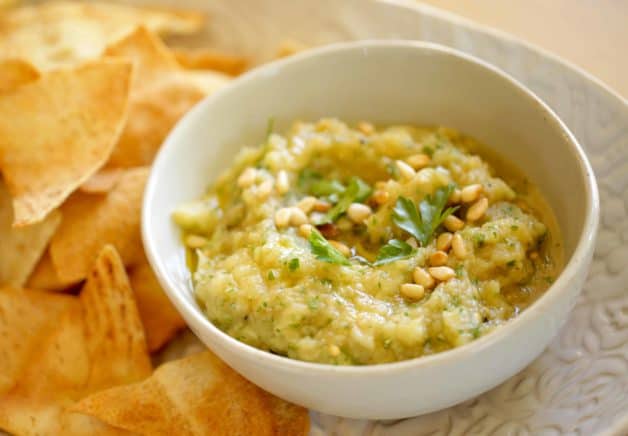 This recipe is easier than traditional recipes that call for "roasting your eggplant" over a cooktop (ugh who has time for that?! Takes forever)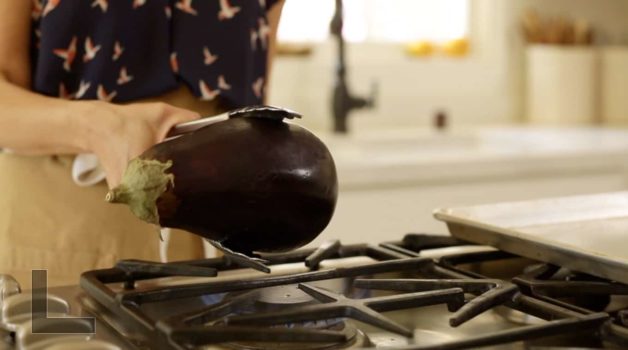 Instead I pop them under the broiler to char and it's way easier! But what sends this dish over the edge is the homemade pita chips!
You can certainly bake them in the oven (recipe below) but truthfully they are exceptional when made in an Air Fryer! No seriously worth the investment just for the pita chips!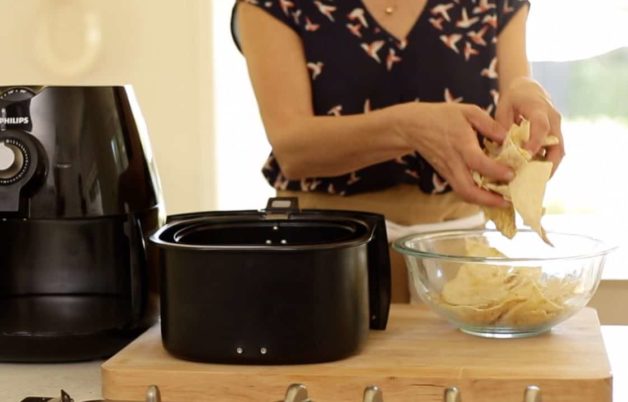 And you can also use it for making my Homemade Crab Cakes! They crisp up so beautifully with NO MESS in the air fryer! Can't say enough good things about it. I have this model and it works great!
This recipe pairs really well with my Homemade Hummus for a great companion dip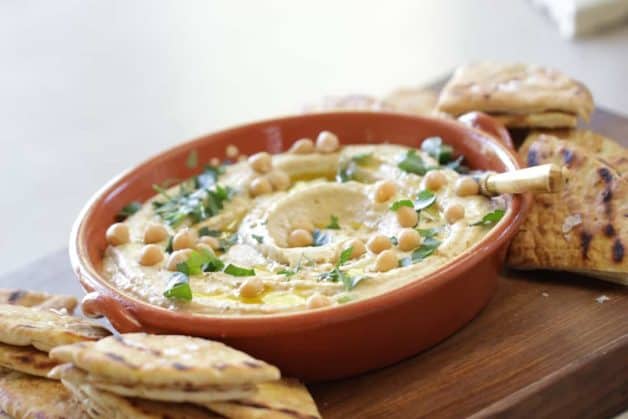 And for a main course my Chicken Brochettes is a great follow up act!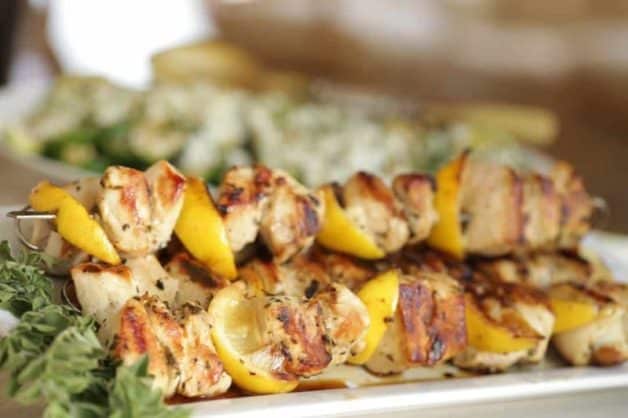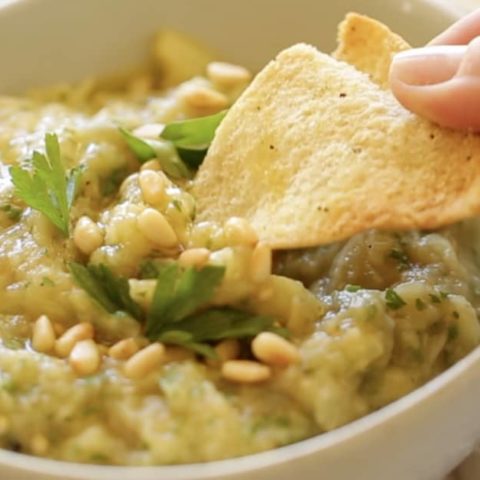 Easier Baba Ganoush and Homemade Pita Chips
Total Time:
1 hour
20 minutes
This is a great appetizer recipe to serve in the warmer months when you want to make something cool and refreshing. Tastes even better when made ahead of time!
Ingredients
For Baba Ganoush
1 eggplant
1 tbsp (15 ml) olive oil + more for garnish
1 garlic clove, minced
2 tbsp (30 ml) lemon juice
½ tsp salt (2.5 ml)
freshly cracked pepper to taste
1 tbsp (15 ml) fresh parsley + more for garnish
1 tbsp (15 ml) of pine nuts
FOR PITAS:
3 pitas
1 tbsp (15 ml) olive oil
salt and pepper to taste
1/8 tsp (a good pinch!) ground cumin
Instructions
Slice eggplant in half. Then on the flesh side, score the eggplant with a cross-hatch pattern of diagonal lines creating a pattern of diamonds. Drizzle flesh side with olive oil and season with salt and pepper.
Place eggplant, flesh side down, on a baking sheet and place under the broiler for 15-20 mins rotating the pan every 5 minutes until eggplant is evenly charred and flesh is soft and mushy to the touch. Remove and allow to cool.
Remove the skin off the eggplant, keeping little specs of the skin for additional Smokey flavor, and place in a food processor. Add garlic, lemon juice salt, pepper and parsley. Blend until smooth but chunky. Transfer to a bowl, cover and refrigerate until ready to serve.
For the pita chips, slice pitas in to wedges (1/8 slices work best) gently separate the triangles so that the wedges or only 1 pita thick.
Place in a bowl and toss with olive oil, salt and pepper, and cumin.
TIP: If you have an air fryer, these pita chips fry up beautifully! Just 6-8 minutes is all it takes!
Otherwise you can turn them out on a baking sheet and bake at 350F (175C) degrees for 15-20 mins, turning occasionally, until browned and crispy.
Meanwhile, in a small skillet, toast the pine nuts, set aside and allow to cool.
To serve: Place your baba ganoush in a serving bowl, drizzle with olive oil, sprinkle with the pine nuts and top with parsley. Serve the pitas on the side. And you have one delicious appetizer!
Nutrition Information:
Yield:

4
Serving Size:

1
Amount Per Serving:
Calories:

350
Total Fat:

13g
Saturated Fat:

1g
Trans Fat:

0g
Unsaturated Fat:

10g
Cholesterol:

0mg
Sodium:

681mg
Carbohydrates:

55g
Fiber:

5g
Sugar:

20g
Protein:

7g